Best Camo Backpacks Reviewed & Rated for Quality
In a Hurry? Editors choice: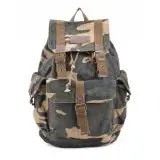 Test Winner: Gootium 21101

High-quality
camo
backpacks are great because they offer you a way to carry many items easily. Outdoor gear stowed is easily and suddenly everything you need on the trail you're carrying on your back. Now that's independence! Members of the military often carry camo backpacks for the same reason. But these days the
backpack
has moved way beyond that zippered pouch you carry on your back, these days, it's all about features, need room for your
laptop
? Check! Need room for a phone, and a nice water bottle holder? Check again. So, whatever you're doing and whatever you need to bring with you into the wild, or the urban jungle, well we've got you covered with this list.
Standout Picks
Criteria Used for Evaluation
Materials
I think it's safe to say that one of the most important considerations in picking out any product is the materials used in building and constructing it. When it comes to the backpack industry, manufacturers have access to dozens upon dozens of materials to use. So, when looking at different camo backpacks, you should assess what type of materials brands are using for their products. In doing some, don't automatically think that a product is considered high-quality if the brand calls it "high quality".
This is a common marketing tactic that companies use to hook, line, and sinker consumers. In the backpacking industry, the best type of material out there is something known as Cordura. This type of material is kind of magical in the sense that it can fend off whatever Mother Nature can do. For example, if it's raining, a backpack made of Cordura will literally fend off all water beads. Additionally, the material is self-extinguishable, which means it can't be used to start a fire. Other types of materials that you might find are nylon, polyester, or even cotton. Certain types of nylon bags will be waterproof or water resistant whereas many polyester bags, while some companies claim are water resistant, do not do a great job of handling nature.
Style
If we can all be honest, appearance matters when it comes to picking out a backpack. You don't want to pick out a camo product that looks less like camo and more like cow spots. Additionally, you can truly tell the difference between the quality of a company based on the design and pattern that they choose. You know, camo is not all the same, right? In doing your research, be sure to really look at the picture of the product the manufacturer provides. If you have the chance, also look at what consumers are saying about the appearance of the product. Sometimes, if you are lucky, you might find an individual who shared a recent picture of their new backpack. This is an important criterion to take into consideration because many backpacks typically do not look the same as the images do on a website.
Capacity
Not all backpacks are made the same. There are some backpacks that are designed to be small carry-on packs and then there are some that built to carry large items. Before you can purchase any camo backpack, you should know what size capacity is important to you. In this industry, companies tend to offer varying degrees and sizes to pick from. Do note, the larger the capacity, the heavier the bag will be and the more expensive.
Weight
Another component that we took into consideration when evaluating different camo backpacks is how much they weigh. In truth, when purchasing a camo product, you don't want to purchase an already heavy backpack. If you do, when you begin putting laptops, books, or any item into the bag, it's going to weigh even more and become a burden to carry. Forget about comfortability! In doing any research and evaluation, it's important that manufacturers use lightweight materials and do not load up the backpack with too many features that it sacrifices the weight of it.
Value
All consumers are interested in prices. It's a natural thing to be interested in and it's a pertinent role in evaluating different camo backpacks. What we suggest is establishing an initial budget before doing any research. This will help narrow down the type of products that are in your price range. Reason being, if you don't, you might find yourself interested in a camo backpack that costs well over $100, which they do! However, we would like to preface that, if you are looking for a serious camo backpack that is packed with features, lightweight, and touts value, you may want to look at some of those products. Becoming well-versed in the costs and value of camo backpacks can most certainly help define what you are interested in.
Best Camo Backpacks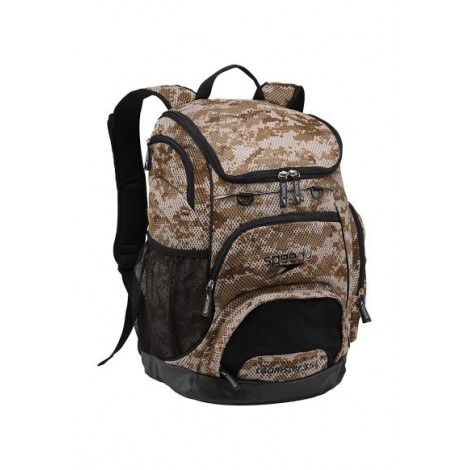 This is a camo backpack that is perfect for general usage. It's designed with athletes in mind, so you will see features such as an anti-abrasive shell and water resistance. There are also mesh pockets on the side where you can put a water bottle. This backpack also has other features such as laptop pocket and a water-resistant bottom. It is the perfect backpack for just about any use.
Removable Bleacher Seat
One of the unique features this backpack has to offer is a removable bleacher seat. Bleachers can be hot, dirty, wet, and generally uncomfortable. The backpack's bleacher seat is ideal because it offers you a clean surface you can sit on.
Removable Dirt Bag
Sometimes we need to carry clean and soiled items in the same backpack. This backpack has a removable dirty bag that allows you to separate the dirty items from the clean items.
Cost and Value
This backpack has an average price for camo backpacks. This is the perfect general usage backpack and it comes loaded with tons of features. This makes it into an excellent value for its price.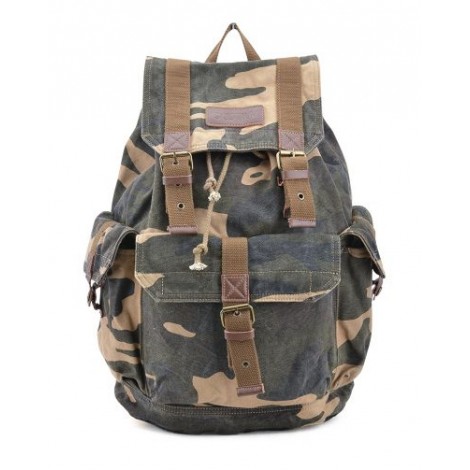 This canvas backpack is great for people who travel. It is spacious and is capable of holding a seventeen-inch laptop computer. The canvas is made out of 100 percent cotton that is extra thick so this backpack can carry heavy loads without tearing. The pockets are closed with leather buckle straps so you can fill this backpack to its capacity.
Padded Shoulder Straps
Since this backpack is large and can carry heavy loads the manufacturer added extra padding to the shoulder straps. The padding will help prevent the backpack straps from digging into your body when its filled with heavy items.
Belt Straps
The main and secondary pocket is shut with belt straps. The straps are fully adjustable which allows you to fill the backpack completely or even slightly over capacity. You just simply buckle the straps where you need them and the backpack stays closed.
Cost and Value
This backpack has an average price point. It is an excellent value for its price because it has the extra large capacity and is made out of materials that can hold heavy loads. This is the perfect school or travel bag.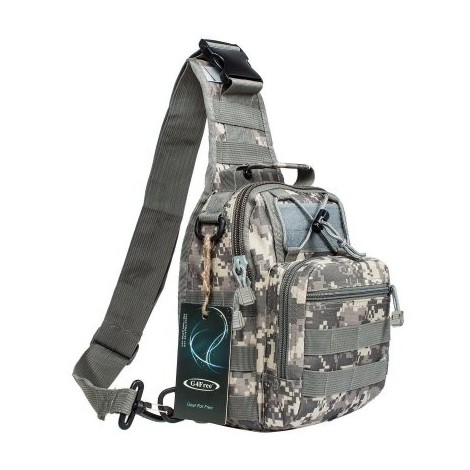 This backpack is versatile and can be carried in different ways depending on your needs. It has a main compartment and an additional secondary compartment. The bag is perfect for indoor and outdoor uses because of its lightweight design. The fabric is strong because it is made out of 600D polyester. This material helps the back resist water and abrasion when it's put to work.
Multiple Carrying Styles
You can carry this bag in three different ways. One way is to wear it like a traditional backpack. You can also carry this bag as a chest sling or you can carry it as a handbag.
Small and Compact
The size of this pack is also a feature because you can use this small pack in situations where a larger backpack is too big. You can easily fit this pack in small storage compartments or lockers.
Cost and Value
This backpack is super inexpensive thanks to its size. The small size, versatility, and plenty of pockets turn this backpack into an excellent bargain for its low price. You will get a great backpack without spending much money.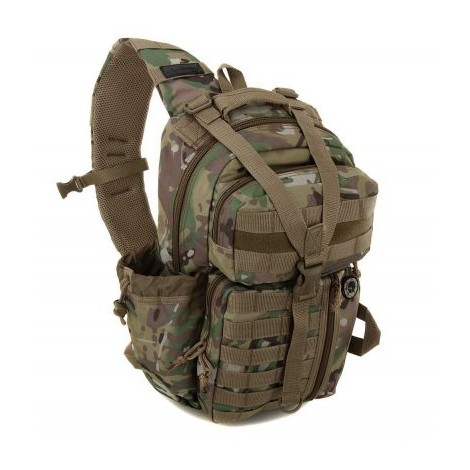 People who are going to spend a day in hot and arid weather might want to consider using this backpack. One of its main features is its ability to hold up to 2L of water which makes it ideal for situations where you need to stay hydrated. The backpack even has a slot for a water tube so that you can easily get a drink.
2L Water
This backpack has a zippered hydration pocket that can hold up to a 2L water bladder. The backpack also has a slot for a water tube. This is an essential feature if you need to stay hydrated.
Wide Shoulder Straps
Since this backpack is designed to carry heavy loads, the manufacturer has made the shoulder straps extra wide. The width allows the weight of the backpack to spread across your body so that it doesn't dig into your shoulders.
Cost and Value
This backpack has a cost that is slightly below the average. It is an excellent value for its price because it's designed to be a truly outdoor backpack. It is lightweight, durable, and can carry heavy loads.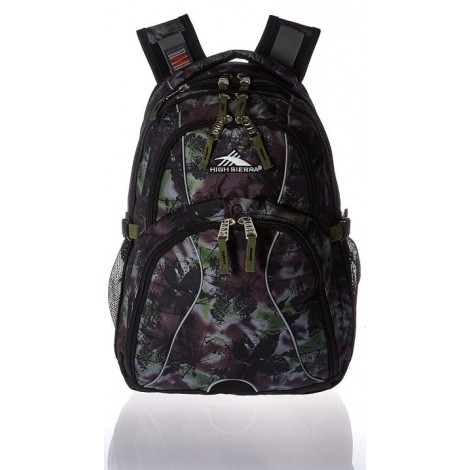 This backpack is perfect for school or work. It is a large backpack and has plenty of big pockets to store your gear. The main pocket is large enough to fit a seventeen-inch laptop computer. The bag itself is lightweight and durable because it is made out of 100 percent polyester material. It features wide shoulder straps that are padded so that you can comfortably carry heavy loads.
Laptop Cushion
You can store laptop computers that are as large as seventeen inches in this backpack. The laptop area is cushioned so that your laptop isn't ruined when the bag gets dropped.
Tablet Sleeve
This backpack also has a sleeve that is designed for tablets. Many people carry laptops and tablets with them and this is a nice feature for people who need to carry both devices.
Cost and Value
This bag has a price that is slightly above the average price for camo backpacks. It has an excellent value because it is specially designed for people who carry electronics. The bag is long lasting and has plenty of padding.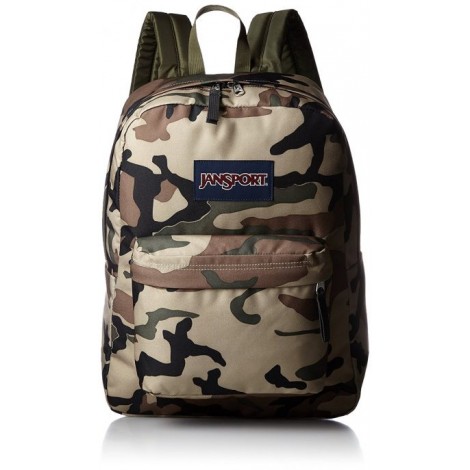 Students have fallen in love with this backpack over and over again. This is a lightweight backpack that is basic but useful. It features a main pocket that is perfect for carrying school books and a front pocket for extra items. The shoulder straps are wide and heavily padded so that the straps do not dig into your body under heavy loads.
Sized for School Lockers
Many school-aged children store their backpacks in lockers or cubbies depending on their age. This backpack is the perfect size because it fits well in such storage compartments. Its size is highly ideal for students.
Main Pocket
The main pocket is large enough for you to carry multiple textbooks, notebooks, binders, or some combination of the three. You can easily fit items such as a calculator or extra pens or pencils in the front pocket.
Cost and Value
This backpack has a low cost which makes it highly ideal for school use. Since the backpack isn't full of features and only includes the basics, the cost remains low. However, the backpack is still made of long-lasting and durable material.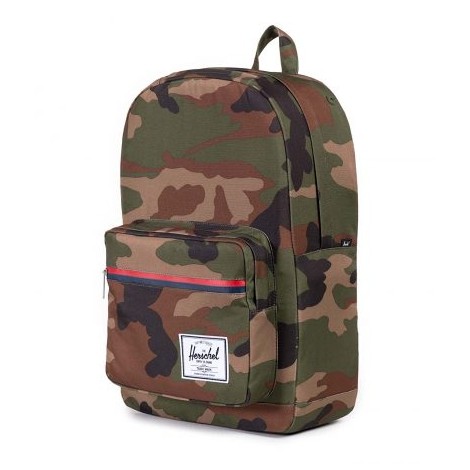 Here is another excellent choice for a school or office backpack. It is a high-quality backpack that is sold with a lifetime warranty from the manufacturer. It has a specialized slot for laptop computers that are up to fifteen inches. There are other internal compartments that are made out of mesh and help you organize your items. The backpack resists water and the zippers are waterproof.
Special Laptop Sleeve
This backpack has a specialized laptop sleeve that can hold up to a fifteen-inch laptop computer. The sleeve has extra padding that helps to protect the laptop if the bag gets dropped or knocked around.
Mesh Organizers
The main compartments interior also features mesh organizers. You can use these organizers to separate your stuff in the backpack. This helps you find your items quickly since they aren't all mixed together in the backpack.
Cost and Value
You should expect to see an above average price on this backpack. The backpack justifies its price because it is built to be long-lasting and durable. The manufacturer even guarantees it with a lifetime warranty.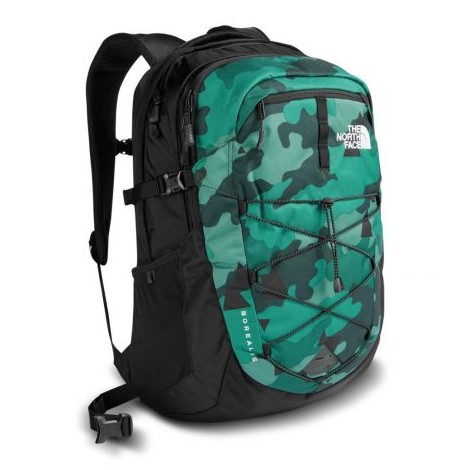 People who wear a backpack while there are active will love this backpack by North Face. The backpack has plenty of ventilation so that you can feel cool while wearing the backpack. It is large and can hold up to a fifteen-inch laptop computer. There are side pockets for water bottles and the exterior of the backpack has bungee cords for extra storage.
Ventalation
The backpack has ventilation along the shoulder straps and along the spine. These are two areas where sweat can build up so having ventilation helps improve comfort by allowing these areas to breathe.
Bungee Cord Storage
The front of the backpack has bungee cords. You can use these cords to store additional large items on the exterior of the backpack. This is ideal when you need more storage than what is available to the interior.
Cost and Value
This is a high cost and high-performance backpack. It justifies its price by packing a ton of features. For example, the backpack has spine ventilation and is endorsed by the American Chiropractic Association.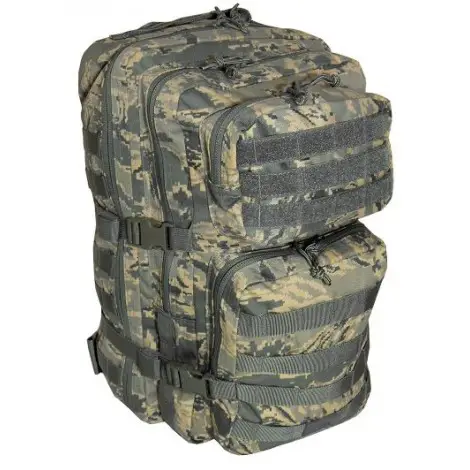 Here is the perfect camo backpack for when you are going to be spending several days outdoors. It is extremely large and has a storage capacity of 35L. This backpack also has plenty of heavy duty webbings straps so that you can easily and safely attach additional gear to this backpack's exterior. The backpack is also compatible with a 2.5L water bladder.
Four Expanding Compartments
This backpack features four compartments that expand as needed. This allows it to make room for all of your gear. You can easily organize your gear by storing it in the different pockets.
Reinforce Shoulder Straps
Since this backpack is designed to hold the heaviest of loads, the shoulder straps are reinforced so that they do not break under heavy loads. The straps are also mesh padded so that they breathe well and remain comfortable.
Cost and Value
The price of this backpack is slightly below the average. This makes it into an excellent value because you can store lots of gear into this backpack without having to pay a lot for it.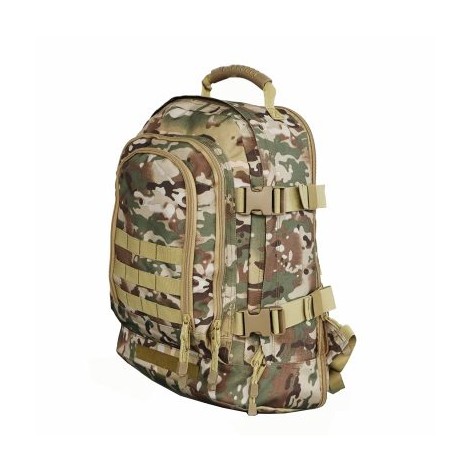 This is another large capacity backpack that is designed for spending up to three days outdoors. It has a capacity of 40L which is expandable to 64L. This makes it the ideal backpack for travel. The backpack also features molle loops on the exterior where you can attach additional pockets or gear if needed. It seals securely using heavy duty zippers.
Expandable Capcity
This backpack has a capacity of 40L but it can be expanded up to 64L when necessary. This capacity gives you more than enough room to store plenty of gear when you are traveling or spending time outdoors.
Molle Loops
You can use the molle loops on the front of the bag to attach extra gear or pockets. This allows you to expand the carrying capacity of this bag even further if needed.
Cost and Value
This is a low-cost backpack that is loaded with features. It has many of the features found in high priced backpacks but offers them at an incredibly low price. This combination makes the backpack into an excellent value.

Subscribe to our Newsletter