Best Lifting Straps Reviewed & Rated for Quality
In a Hurry? Editors choice: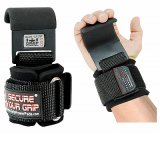 Test Winner: Grip Power Pads

Lifting straps are straps specifically designed to aid you when you're doing deadlifts. Straps won't shoulder any of the burden for you; however much you can bench without straps is the same as you can with them. What straps do, however, is
protect your hands while you're lifting
weight amounts that could easily injure you, and make sure that you don't lose your grip on the bar at the worst possible time. But not all lifting straps are of the same caliber and, more importantly, different lifting straps are recommended for different types of weightlifters. That's why we've put together an in-depth list of the top ten lifting straps available today, to give you the best indication of which pair of lifting straps is best for you.
Standout Picks
Criteria Used for Evaluation
Capacity
One of the most important things to judge about any lifting strap is how much of a load it can bear. That's an important question because using a lifting strap to lift a load larger than the strap can bear not only defeats the purpose of using the strap in the first place, it also could result in serious injury, or, best case scenario, a broken strap. The best straps aren't necessarily the ones with the highest loads, though. There are plenty of other factors that balance against the load that a strap can take. Rather than assume the higher the load, the better the strap, you should quantify your own workout routine, and simply make sure that the load of the strap is within the range that you're going to be lifting. If you're not currently training for a strongman competition, you can probably get away with using a strap with a smaller load, as long as it's enough to for your workout purposes.
Effectiveness
What sort of grip is offered by a lifting strap is another one of the primary factors that you need to consider when examining straps to use. That grip is usually provided by the strap itself, wrapping around the bar several times, although there are exceptions to that. Essentially, you want a strap that aids you in gripping onto the bar, so that you can focus on lifting it and lowering it, not maintaining your grip on it. Watch out for straps that accumulate sweat or have a tendency to slip, as that could create an issue at the worst possible time.
Durability
Durability is an important factor to consider, not just with lifting straps, but with consumer products of just about any kind. If you're not consuming something in some way, you want to be sure it will stick around, and not just fall apart right after you buy it. Durability usually has to do with the level of craftsmanship and the materials that are used. For the most part, all of the straps on this list have high durability levels, as long as they're used within their proper parameters, and not used when lifting weights beyond what the strap can handle.
Materials
For the most part, all of the straps on this list use cotton as their primary material. That's fine; cotton is a strong and versatile fabric and is perfectly adequate as a material to make lifting straps out of. There are some straps that utilize more complex materials, though: whether that be a stainless steel wire hook or a strap made of completely genuine leather. For the most part, there is some benefit to using those more advanced materials, but the tradeoff is that the straps that use those materials will generally cost more.
Value
It's important to consider the price when making any purchase, including lifting straps. There are some more expensive high-end straps that offer some specific advantages or edges. On the other hand, many lifting straps are quite affordable, especially the ones that have a more basic design. If you want to get a more expensive strap, that's fine; just make sure that the direct benefit that you get from that particular strap is one that is likely to be a factor in your weight lifting routine.
Top 10 Picks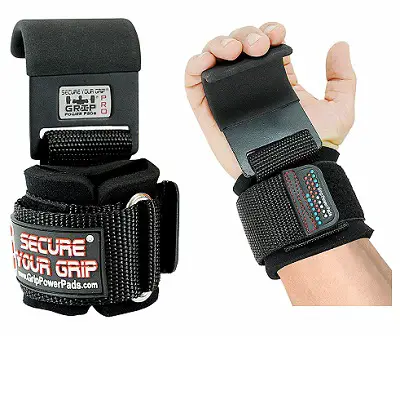 Now here's a lifting strap that won't give up any time soon. In fact, it's almost a stretch to call it a lifting strap. It's more of a lifting hook, although it serves the same purpose; giving you a better grip on the weights that you're lifting. The first entry on this list to have metal parts, though, the Grip Power Pads Heavy Duty really does live up to its name.
Hooks
In the palm of each hand are literal hooks, as wide across as the palm of the strap. That's the spot that makes contact with the weight, hooking it in and locking it into place. The innovative design makes the Grip Power Pads Heavy Duty one of the best products available for the heavier end of weightlifting.
Adjustable Wrist Strap
The thick and adjustable wrist strap serves two purposes on the Heavy Duty. It allows you to customize the fit, making sure the hook is right in the middle of your palm, and it gives you a ton of wrist support. It's a win-win.
Cost and Value
Understandably, steel hook is a bit more expensive to make a strap out of than fabric, synthetic or otherwise. Therefore, the Grip Power Pads Heavy Duty is one of the most expensive options on the list. The price is definitely worth it if you demand a lot out of your lifting straps.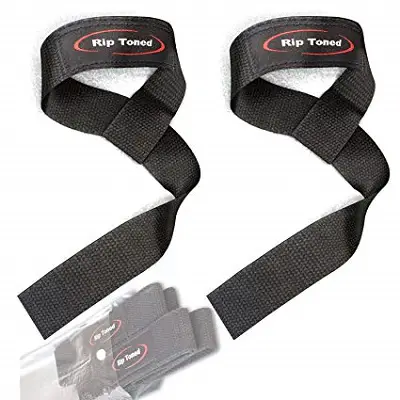 It's pretty much universally agreed in the lifting world that Rip Toned Wrist Straps are top of the line straps. They offer it all: strong support, comfortable grip, lots of padding. If you're looking for the overall top-end wrist straps, then you need to look no further.
Versatility
These straps can be used by just about anyone who knows how to use them. Men, women, big hands, small hands, massive lifters, and light ones. They are one size fits all, no difference between left and right, and will be comfortable on any wrist.
Durable and Supportive
The Rip Toned Wrist Straps look pretty simple and straightforward, but they are some of the most durable and supportive wrist straps available. No matter how much weight you're using, the Rip Toned Wrist Straps won't give up.
Cost and Value
Despite being easily one of the best pairs on the market, Rip Toned Wrist Straps are also very affordable, pretty low down on the totem pole of pricing. It's a no-brainer when it comes to value.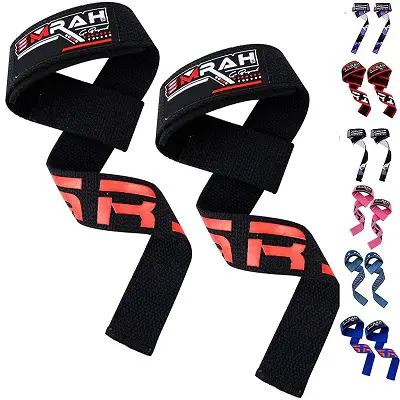 If you're looking for a simple pair of straps that won't break the bank but won't give up on you, look no further than the EMRAH Lifting Straps. The best deal on the market, EMRAH Lifting Straps don't have too much in terms of special qualities, but they're well made and inexpensive enough to be easily replaced.
Durability
Really the only major physical element of the EMRAH Lifting Straps that bears mentioning is that they are quite durable, able to stand up to a decent weight load without giving up.
Cost and Value
You simply will not get better value than the EMRAH Lifting Straps. They cost next to nothing, which means that they can be easily replaced or supplanted if need be, and they're durable enough to make the investment worth it.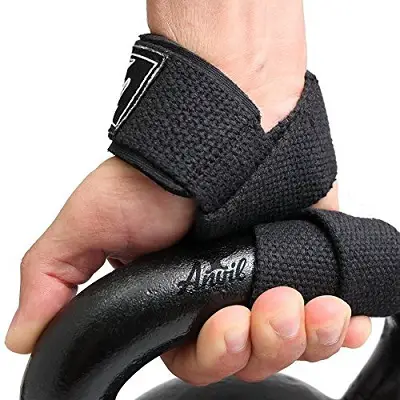 Compact, simple, and straightforward, the Anvil Fitness Lifting Straps are some of the best straps available for anyone who wants to get into lifting. They aren't ideal for intense workouts, but are more than adequate for just about any type of workout, whether it be deadlift, dumbbells, pull-ups, whatever you might favor. Just know you might get a new set if you start approaching high weight levels.
Ease of Use
Few lifting straps are quite as accessible as the Anvil Fitness Lifting Straps. They're long enough to wrap around any bar a few times, and are intuitive for any level of exercises.
Comfortable
Not too much padding, not too little, the Anvil Fitness Straps are the Goldilocks of padding. That's a large part of why you'd need an upgrade to go harder, but they're great for casual workouts.
Cost and Value
Anvil Fitness Lifting Straps aren't the least expensive straps on the market, but they aren't far off. Eminently affordable, these are a great choice for anyone who is getting into working out.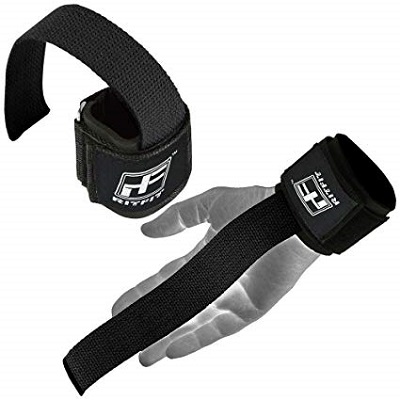 Heavy lifting, really heavy lifting, can easily do damage to your wrists. Even if you're a workout pro, no one is immune to injury, and your wrists are the most vulnerable part of you when you're lifting weights. If you're looking for a strap that will provide you with extra wrist support, then the RitFit Lifting Straps are the straps for you.
Strong Wrist Straps
The first thing you notice when looking at the RitFit is the solid wrist straps on them. They make up half of the material of the strap. And all this material serves a good purpose; extremely solid support for your wrists, protecting against injury at all weight levels.
Ergonomic Design
The RitFit Lifting Straps are designed to give you the best performance possible, using all of its material to support your hands and wrist as you lift, wasting none of the energy.
Cost and Value
Overall, the RitFit Lifting Straps are a bit more expensive than other straps, but what you're paying for is that special wrist strap. Plus, the difference isn't that much, so if you want that extra wrist support, you'll definitely get your money's worth.

6

. Harbinger Padded Cotton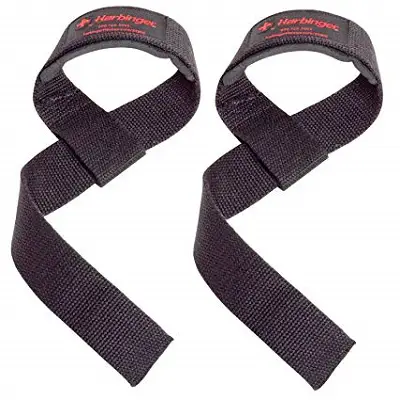 Harbinger is a legendary name in workout equipment, always trusted to deliver quality gear, and their lifting straps are no different. Harbinger Padded Cotton Lifting Straps manages to be simple and Spartan, while still having a lot to offer any weightlifter. Quality materials and a sturdy build make a lifting strap that you can't go wrong with.
Strategic Padding
Instead of making a bulkier strap with padding all around, the Harbinger straps localize their padding in one specific area, right in front of the wrists. That means that they are still moderately comfortable, but lightweight enough that they don't interfere in any way.
Substantial Length and Width
The straps themselves are reasonably long and relatively wide, allowing you a lot to wrap around the bar. The material here is high friction, giving you a lot of grip to hold onto.
Cost and Value
Most Harbinger products are reasonably priced, and the Harbinger Padded Cotton Lifting Straps are no different. A little bit more expensive than the more valuable items on the list, it still won't cost very much at all to improve your workout with Harbinger.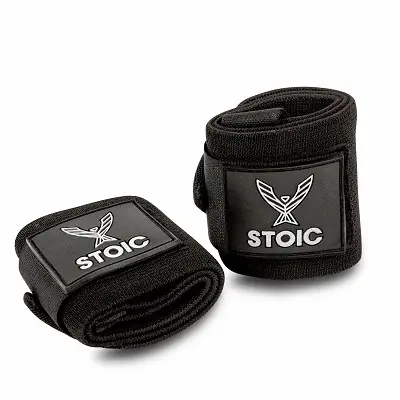 The final entry on our list takes a somewhat different form than the standard style of straps we've seen so far. Instead of a long fabric strap that can wrap around the bar several times, this option features a smaller piece of leather that you wrap around the bar once. This makes them easier to use than many other straps, and more accessible for beginners.
Smaller Form
With less actual strap, you've got less weight to deal with, and less flapping around to potentially distract you. The smaller design of this product makes them easy to use, and easy to store.
Leather Material
So far, we've discussed mostly fabric and synthetic materials. The Olympic Lifting Wrist Strap is completely different, made of leather, the real kind, not faux leather. This gives the Stoic straps nearly unparalleled grip.
Cost and Value
The most expensive item on this list by far, these straps by Stoic cost more than twice as much as the least expensive item. What you're really paying for, though, is the price of real leather. The grip it offers might make the heftier price tag worth it if the design fits your style.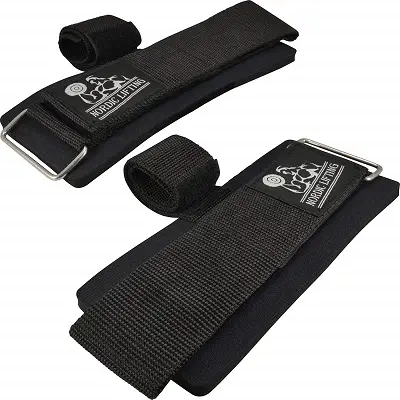 Nordic Lifting Straps are pretty standard as straps go, but they give a lot in every category. Highly durable, a lot of straps to spare, and neoprene for added comfort, the Nordic Lifting Straps are just a solid set of heavy duty straps.
Extra Long Straps
With nearly two feet of material, Nordic Lifting Straps have some of the longest straps available. That means a lot of support and a lot of grip.
Neoprene Padding
Neoprene, as we've previously gone over, is the best material around to use for padding, and the Nordic Lifting Straps use it to great effect, making each lift much more comfortable.
Cost and Value
Generally, on the more expensive side of lifting straps, the Nordic Lifting Straps don't really have anything specific to offer that another set might not. That said, if having the longest actual straps available is what you're looking for, then you'll definitely get the right value out of it.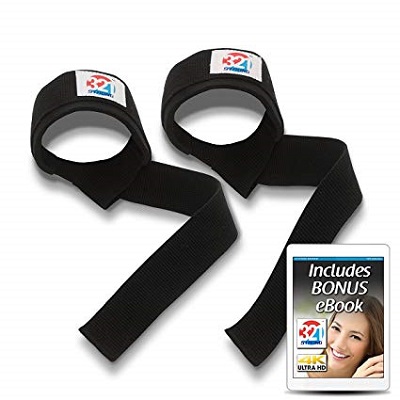 Any pair of straps with Crossfit in the name already has a big name to live up to. Fortunately, 321 Strong Crossfit Lifting Straps are a great set for many lifters. There are a couple of significant drawbacks, but those are mostly corner cases; for the majority of lifters, the 321 Lifting Straps will be perfect for your purposes.
Compact Design
Unlike many other straps here, the 321 Lifting Straps are quite compact and easy to fold up and carry around. They even come with their own vinyl bag, so you don't have to toss them loose into your gym bag.
Padding Around the Hand
The 321 Lifting Straps have a full 8 inches of padding, enough to wrap around your hand twice to get extra padding. This can be the difference when it comes to putting up that last rep or giving up.
Cost and Value
Pretty standard pricing for lifting straps, if a bit on the expensive side, the 321 are of great quality. They also come with a warranty, so any value that might be lost if they wear out can be recouped.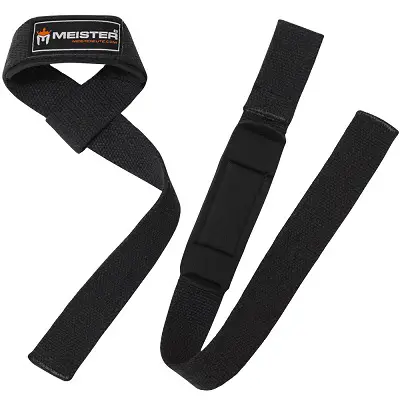 Meister Neoprene-Padded No Slip Weight Lifting Straps pack many words into their name and a lot of padding into their straps. You won't find many options with more padding, making them ideal for bigger weights. Lightweight, adjustable, and versatile, the Meister straps
Neoprene Padding
Neoprene is a substance you'll hear a lot about in the world of athletic gear. It's a special synthetic form of padding, superior in almost every way to things like silicate or gel. In the Meister straps, Neoprene serves to give you a very comfortable grip on heavyweights.
Slightly Stretchy
Unlike many other straps on this list, the material of the Meister straps is actually a bit stretchy, allowing it a bit more give when dealing with heavier weights.
Cost and Value
Barely more than the EMRAH straps in cost, the Meister Neoprene-Padded No Slip Weight Lifting Straps are more than their money's worth for any serious weightlifter.

Subscribe to our Newsletter