Best Coffee Tables Reviewed & Rated for Quality
In a Hurry? Editors choice: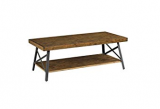 Test Winner: Emerald Home Furnishings

Looking for a way to spruce up a room in your house? Want to add a little flavor and maybe some extra space to set things? Sometimes an end table just is not enough, and you want a little more than one can offer in the way of space and décor. That's when you start looking for something between that and a full dining room table. You want the room to move, but you don't want it to take up too much space. A coffee table may be in store, and we have a great list of options for you that would tease the imagination of any decorative mind. We know that when you are looking for anything in furniture it has to match what you have and be appealing to you at the same time. Another part of the 'perfect look' is that with this type of furniture, you often want a good conversation piece as well. A plain looking wooden table may not be the right look, or it just might be what you need to set the whole thing off.
Standout Picks
Criteria Used for Evaluation
Style
Criteria Used in Choosing the Best Coffee Tables
We hope you found the perfect match on our list for your home. Each table, we feel, met all the requirements to earn its position on our top 10 list and then some. We would definitely pick from this list ourselves to decorate our homes with because each one has a great look and offers use mot just as décor, but a place to set things down and simply relax. If you want to know how we decided on these particular products over the many we had to choose from, look over our criteria section and see if you think we covered everything. If you want to know more about the tables and maybe even a little history or get ideas, check out our additional information section. If you have a question not answered under the table itself that you picked, and might be generally asked, check our FAQ's and our source sections. As always, we hope you had fun looking over our choices and found exactly what you were looking for. From all of us at Gearhunt, have a great day!
Durability
As with anything that we bring to your attention, one of the biggest things we look for is durability. Of course, with some types of products, including these, we have to assure that the product is durable- if used properly. A good way to plan for your table to last and not risk the possibility of it breaking is also to plan for the members of your household. A glass table top in a home with young children may not prove durable and could pose a health risk, albeit small. If everything is taken into consideration, every table in our list is built to last years.
Cost and Value
Some feel that this is a difficult topic when it comes to any piece of furniture that is meant mainly for décor. We chose to look at these tables from several different perspectives and found that each met and exceeded their value. From what it took to create them, to their durability and their functions, each one certainly has earned its place based on its quality and value.
Aesthetics
When it comes to smaller tables that are mostly meant as décor, this plays one of the most important roles in deciding if it should be on the top ten. Although a small few would disagree with us, there are tables that are simply nonfunctional, or unappealing to most people, and if you want the piece to inspire good attention, you want to consider the way it looks. Even if you like a table, sometimes it is simply too specialized to draw interest in a good way. While some may enjoy a dragon holding up the painted sky, or a fae emerging from the water whose wings serve as a place to settle your drink, not everyone will appreciate this. Some coffee tables are also unsuitable for having younger children around and may cause an undesired effect with their parents. To avoid this, we chose tables that were beautiful, but not going to cause too much of a stir. (Although, we might have wanted to add the dragons in!)
Versatility
A coffee tables main function is to serve as a place for drinks, small snacks or books- often times they have other centerpieces placed on them as well. This doesn't mean, of course, that it shouldn't be able to serve other functions. Some of these tables are great for end tables and others serve as nice places to store items other than directly on top. Where they can be used and how is a big bonus. So while not all of these might be able to go anywhere, or have drawers, we did try to find as many as we could that had added benefits.
Easy setup
When purchasing any piece of furniture, one of the first questions on the mind is "how easily will this be brought in and set up? If a piece requires a lot of work just to set it up you can either end up with broken or missing pieces, or you could simply decide that it isn't worth the effort. If any of these tables didn't come as one piece, already built, we made sure that it had instructions and wouldn't be too difficult to put together. Every table we chose, we felt, was worth the effort needed to put it together.
Additional Information
While many people might not think that a non-electric product is less likely to not be what you ordered, this couldn't be further from the truth. Cheaply made replicas are everywhere for everything you can think of- especially with furniture and decorations. Be sure when you are purchasing any of these tables that they are coming from the source and are not a knockoff of the original. You do not want to get what should be a tempered glass top only to find out that it isn't.
The origin of the coffee table is actually interesting since originally it was meant for any beverage. Coffee tables have been around for a very long time and have taken on many forms and names. In some countries, they serve as actual dining tables, and in others, they are thought of as 'tea' tables. What this means is when you are looking for them, you might find them under several different terms instead of just "coffee table'. Be sure to take measurements for whichever one you choose though so that your little table actually fits in your space when you do get one!
Something to consider when purchasing any coffee table is who you expect will be around it. If you like a table, but it has glass in it somewhere, you might want to check for what type, especially if there are going to be children in the house. While you may think that it is required for such items to have tempered or specific sturdier types of glass, there are no actual regulations on such products. By assuring your table has a form of safety glass you can rest easier knowing that if an accident, however unlikely, does happen, the injury from it will be minimal instead of life-threatening.
Don't take our warning as something to steer you away from your purchase, quite the contrary. While it is smart to think ahead in case of an accident, in all truth, it isn't a very high probability that you will have someone get hurt. Coffee tables have been getting a bad reputation in the last few years due to the rare life-threatening accidents coming into the limelight. Like many other objects, this reputation is hardly a deserved one. Having a coffee table can also serve as something to help the younger family members if treated right. It's a great way to give the kids a place to study, play board games or generally spend a happy family time together without spilling things all over the floor.
Another great and overlooked place to think of putting a coffee table to use is in an office. Why you may ask? To serve coffee to guests- why else? It can even be a great place to step aside and sit by to relax in a home office, giving you a small place that is specifically off-limits to work. Having a place where you are 'at home' job is not allowed to exist is a wonderful and much underappreciated mental health booster.
A coffee table has many places it can become a valuable piece of furniture, no matter what you need it to serve as- whether for decoration, storage or for a place to eat and serve coffee. Choosing which best works for your living space and needs can seem a grand undertaking. Maybe one has a more appealing look, but a different one just has too many other benefits beyond appearance. Whichever the case may be, take your time before deciding on which to purchase, and maybe consider that you could get the other for a different room!
Top 10 Picks
1

. Emerald Home Furnishings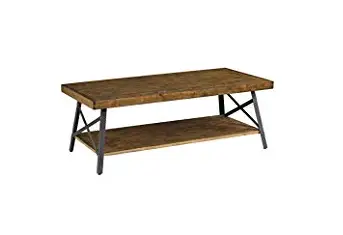 If you are looking for the old wood rustic look, this could be the perfect coffee table to add to your Livingroom. It has the charm and feel of an old cabin out in the woods, but the sturdiness of a hardwood surface that you can rely on! This is a great addition to any home!
Solid and sturdy!
This table comes with the knowledge that it will last and can take the abuse most family life comes with and keep standing. Made from solid reclaimed wood, it's more durable than compressed wood and won't fall apart under pressure. With its steel frame, it will also hold up to a lot of weight without the worry of it toppling or crumpling to the floor. This is great to know when you have kids who like to sit places even when told no.
Tools included
Rather than expecting you to know what you might need and have to go racing out to find a set, Emerald Home company decided to include what you needed in the package! Not only does having the right tools help, but they made everything easier to assemble. For most this product only takes minutes to put together and it fits right in with nearly any style of wood décor simply because of its old-style build.
Cost and Value
This is surprisingly a low-cost buy considering its shelves are solid wood and its frame is made of steel. If you are looking for something that pays for itself this is a great choice. It will last you ages, and even has rounded corners which are a great plus when you have little ones just learning to walk. No worry about getting cuts.

2

. Ashley Furniture Mestler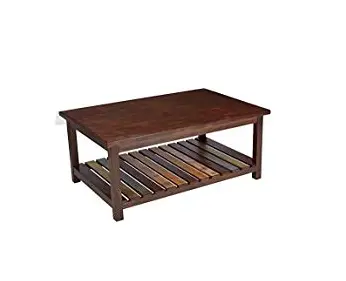 For a unique design to your Livingroom that crosses eastern and western appearances, you need to look no further. This beautiful piece of furniture is bound to draw attention and start a conversation or two. Check out more about this beautiful table below.
Interesting piece for conversations!
Where most solid wood tables or wood tables go in general, is to have all one solid color finish. To bring a little more life and interest to this lovely table, Ashley added color and texture to the bottom slats. Don't let its design fool you either, it is not as complicated as it looks! And with that, we go into the next great point of this table.
Easy to assemble
This pretty addition to any home is easy to unpack, and easy to assemble! The instructions are clear, it comes with the tools and doesn't come with the bottom separated as you might think! This gorgeous table can be assembled in minutes and be ready for use. This is definitely not your common looking rustic table, rather it blends the idea of a slatted bottom to a full solid top and splashes color into the room in a wonderful way.
Cost and Value
The price for this table will amaze! For the great quality and the fact you can tell it will last, you already know it will be around for a long time, giving it the durability plus we look for. Since it will definitely last, the only reason you would need to get another is if you wanted to, meaning it is already worth every penny, Add onto that, Ashley offers a limited warranty on their products, just make sure when you purchase from them that they have a warranty set up for you and will follow through.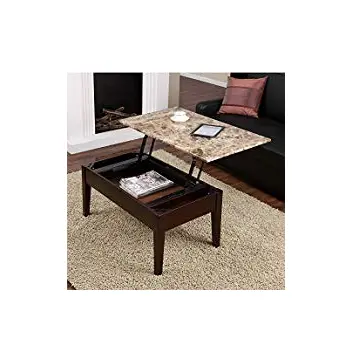 Looking for a table that offers storage without being obvious? This gorgeous marble-topped coffee table might be the one for you. With its mixed contemporary and old-style appeal, you can feel the upper-class charm and not have to break the bank.
Storage
If you are looking for a family table where you can store games for family night and not have to worry, this is it! Not only can you store the games inside, but when you pull up the top you can set up all the pieces and make sure you are ready to go before closing it. The top acts like a tray table when it is open making this a great table for a family night.
Rounded edges
While this may not seem all that important, with the recently unearned reputation of being a dangerous addition to a family home, knowing that your little one will have a harder time getting hurt is a big thing. With the smooth and rounded edges of this table you don't have to worry about your little ones, or the tiny tots visiting, getting hurt on the corners of the table beyond a simple bump or bruise. A great relief to those worried family members!
Cost and Value
While you might think that even a faux marble top would cost a pretty penny, this one doesn't. With the added 1-year replacement and repair warranty, you can also rest easy knowing that if something isn't right you can easily get a new table and not fuss over the price. This makes the value of your new coffee table definitely worth it.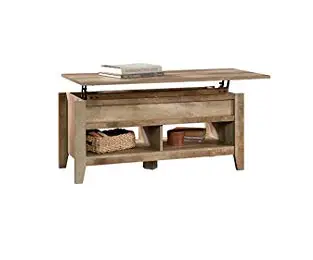 Sauder is a name we already know from the area of furniture, and if you have bought from our top ten lists before, you might already own and treasure one of their works. Why not add to it with this lovely coffee table- after all if you were happy with the last piece, this one will add more to that 'list of reasons to buy Sauder'.
Storage for everything but….
As the old adage goes, this table has enough storage space for everything but the kitchen sink! If you have limited room in your home to put everything, but you still want that extra coffee table, this is perfect for its cost. This table has 4 areas for you to place things: an under the table storage bin, two bottom shelves and of course the table top itself. If you need a table that can serve as an all-around study or work center in your Livingroom, you may have stumbled right into your perfect purchase at number four on our list.
5-year limited warranty
While many pieces come with a warranty, most only last a few months to maybe a year. With this table, you have up to five years where you can easily get your problems resolved without paying more money to replace it. With that in mind, undoubtedly this is one of the better products to consider.
Cost and Value
We can't say enough that a warranty can make or break the value of some items. When it comes to furniture like this, it definitely tosses the value through the roof and makes every penny worth it because you know you won't have to keep spending to keep your table around. On top of that, Sauder is known for its quality and reliability with furniture in general and this piece already comes at an excellent price.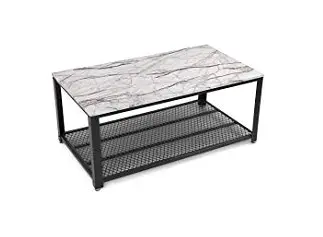 Need a more modern, but still more sophisticated look? Songmics has a great looking table at a jaw-dropping price that might just leave you breathless. Take a long look over what we found for number 5 and see if it brings with it that right level of spice into your décor.
Great idea!
Looking for a place to store your oversized books and items, and also need a new coffee table? Fit it all into one nice little package and give it a sophisticated modern look, but without a lot of work! This wonderfully built table has an oversized bottom shelf that allows you to have the perfect spot for all those too tall books that won't fit your shelves and maybe some extra statues you don't want to hide, but need a safe place where they won't get hurt.
Easy to make
If you are tired of things that look great simply being too complicated and taking up an entire day to finally enjoy, this table will make life easier. It comes with all you need to assemble it, and only takes minutes to put together!
Cost and Value
This table had us stunned with how great it looks, and its easy to put together, especially with how low the price already is. It looks like a sophisticated, and hard to assemble, piece of furniture, but it isn't and when used properly it lasts. We would recommend this for more of a single person or a couple though, it isn't built to withstand a lot, it is meant as decoration and the edges seem a bit sharper than most of the others we have reviewed. It would work well with older kids in the house too, but all in all, it is a great buy for anyone who just wants a great look with an interesting idea for storage.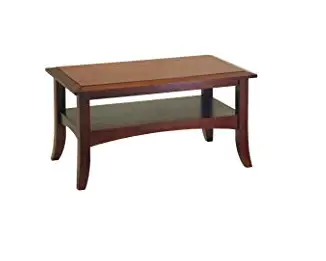 Needing a classic look that fits your living room without that older rustic appearance? If you want a great modern flair but an all wood finish, this table fits you perfectly. Its carved appearance and flared corners create a modern feeling to the old school table.
Small but sturdy
While this table isn't built to be sat on, when used as intended it is a sturdy little piece and is great for those who do not have a whole lot of room to set it up. If you are looking for a beautiful piece to add to your Livingroom where you can decorate, put your controllers down or just use for smaller items, this is your perfect purchase.
Easy in a box
This appealing wood table doesn't take much to get out and put together, and it looks good despite the ease. The tools are supplied and the table itself is practically self-explanatory in its build- just attach the legs and you are ready to go! With its small size, finding a place to do the work is just as easy, and with so few parts it's not hard to keep track of. If you are looking for that awesome yet simple table to add the finishing touch, you got it in the Winsome Wood table.
Cost and Value
This table is meant to be a small but useful piece of furniture for placing a smaller object on, and when used the way it was intended its value certainly exceeds its cost. Between its beautiful carved appearance, the stunning finish and the ease of assembly, this table could be well worth double its going price. The fact that you can buy this on practically any budget without emptying your wallet had us blinking and gave us all the more reason for placing it at number six on our list.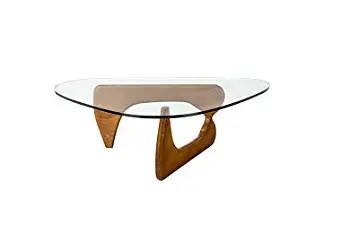 If you are looking for something to spark the imagination and draw out some interesting questions, we definitely found the right one for you. Although a bit on the pricey side, this table has definitely earned its position on our list. Read on below to see why.
Tempered glass
The big part when considering a coffee table in a home is knowing how safe it is. The good news is this one is made with tempered glass, which means if it breaks at all it won't be the cause of severe injury. The pieces will be small and only cause minor scratches, vs. untampered glass which breaks into larger shards and can cause deep enough lacerations to send anyone to the hospital. With that in mind, this is also a heavy and thick tabletop, making the risk of it breaking even smaller and less likely to occur, to begin with.
Easy to clean
When you have a wooden table top it can get difficult to care for properly. You need special cleaners and the right type of cloths. You also will likely need to get stuff to refinish or polish to keep that shine going. With a tempered glass top, a soft damp cloth or just a mild glass cleaner can be used. Instead of having to worry if what you bought will get it done, a simple soft paper towel and your kitchen sink has everything you really need to keep a gorgeous looking table in your home.
Cost and Value
This is one of the most expensive tables we came across, but it's unique design and the fact it can be so easily put together caught our attention quickly. Add in the fact they considered safety and used tempered glass and we knew it had to go on our list so we could share it with you. They also provide a 1-year warranty on all their furniture which gives you just that added comfort of knowing you can get help when you need it.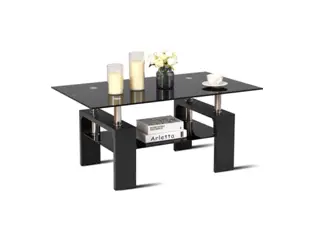 We've given you a lot of choices when it comes to obvious wooden architecture, but with this one, we've brought you a definitively different look that's modern and eye-catching to say the very least. With solid black to the wooden pieces, metal supports that cause you to stare and a black glass top this is a piece that will have anyone who sees it talking for days.
Looks can mean a lot!
This table has a very modern look and its appearance of being completely fragile can be deceiving. The look is exactly what gives this table the appeal and makes it something you'd want in your home right away. It can fit into almost any décor and grabs the attention from the moment you walk into view. This nigh perfect design is just awe inspiring!
Tempered glass
Although thin, you needn't fear if something happens to cause an accident. With tempered glass, you won't have lasting injuries. The only problem you may run into with this table is in the fact the edges may be too sharp for a little one to be hauling around nearby. Since it is easy to move, though, putting it away shouldn't be too hard, or even adding some safety measures as you prepare for a visit.
Cost and Value
This table looks like it should devour the bank account, but surprisingly it won't! It barely touches even the modest spenders accounts enough to bat an eyelash at, which is very impressive for something made with this kind of detail and quality. We can even add the extra information of its guarantee to replace damaged parts or discount the price if it comes damaged in any way and you know it's well worth every cent!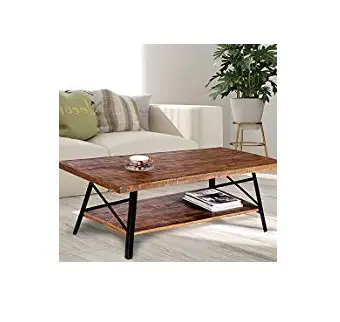 There are few things that people seem to appreciate as much as either embracing an older more traditional style or that or the modern decor. Wood furniture can fall into both of these depending on the use but we found the name Olee was one we can now associate with quality wooden products especially when it comes to a good coffee table.
Comes in Varies Heights
Of course, when we looked into this we wanted to make sure you understood the prices for each style of table is different. All are made of hardwood pine and steel legs for the best support that can be offered. Whether you decide to use it as a coffee table, end table, or sofa table this is a beautifully well made and a great addition to any room.
Easy to assemble
We were pleased to find that with the use of an Allen key and a few bolts this went together with no issues. The instructions were easy to follow as well as read and as long as we kept the bolts together without allowing any to roll away we did fine. This seems simple enough for anyone to put together without any real struggle and with minimal cussing.
Cost and Value
At 46x24x18 inches this isn't a small table to any stretch. It fits perfectly in front of a sofa and is even steady enough to set your feet on if the mood strikes you. Pay attention to all the instructions that come along with it when you order so you can be sure not to miss anything important to make your table as safe and beautiful as possible. Overall for the cost, this is a nice buy and a decent value.

10

. Ashley Furniture Kelton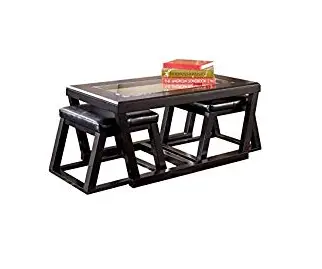 If your looking for an oriental style feel with your decor, why not start with your coffee table? Though not known by the same name in other countries, they have had a place as actual dinner tables or simply for serving tea. Of course, the added touch of chairs is mainly for the kids, and ads a western world touch to the eastern word feeling.
Game Night
A lot of customers could not help themselves and when we saw this great little set we immediately started planning how we could put them to use during something as simple as game night whatever that means for you. If you like to get together for the common board game then Yahtzee you found a winner. Of course for the rest of us, our D & D boards and dice worked just fine on this pretty little setup.
Easy to Assemble
We as a group were not pleased when we found out we would have to put this stuff together ourselves but then we reminded ourselves that most of the things we grew up using had been put together or made by family members and we set to work. What we also discovered was that the reason our families made it is because we lacked the skill but after a few friends together we got everything where we wanted it and in the correct order and were very pleased with the overall look and effect for the price.
Cost and Value
When you take into consideration that you not only get a fully finished coffee table but 2 unique chairs to go with it, you can say very easily that this is a good buy. If you take a look at this and you can appreciate the look of a real wood table and the unique take on the stools this may be for you.
Some of our kids or grandkids really loved the way it was just there size and made lunch a bit more fun than usual but of course, that isn't for everyone. Whatever you think you might use it for this is a nice coffee table and chairs.

Subscribe to our Newsletter