Best Garmin Dog Collars Reviewed and Rated for Quality
last updated:
May 23, 2019
Whether your dog is a working dog or a lounge-at-home-on-the-couch dog, you want the best for your pup, and that includes knowing his whereabouts at all times. For hunters who have invested time and money into training their canine companions, knowing their dog's location while in the woods or fields is critically important. For the average dog owner, there is a certain peace of mind in the knowledge that your dog is safe in the backyard. Garmin has created a series of dog collars using Global Positioning Systems that can help with obedience training, hunting, or even limiting barking humanely and effectively. We've researched a list of the top ten products so you can choose the right one for your dog and your lifestyle.
In a Hurry? The test winner after 12 hrs of research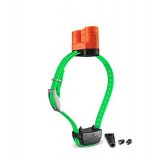 Delta Upland XC
Why is it better?
Pairs easily with Garmin handheld training devices
Features multiple stimulation and training levels
Barklimiter mode is appropriate for use both in the field and at home
Ideal for hunting dogs who are in training
Range capabilities are suitable for up to ¾-mile away
In a
Hurry? Editors choice: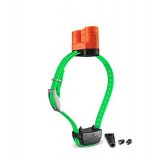 Test Winner: Delta Upland XC

18
Researched Sources
20
Reviews Considered
12
Hours Researching
10
Products Evaluated
Effectiveness
Features
Value
By Default
10 Best Garmin Dog Collars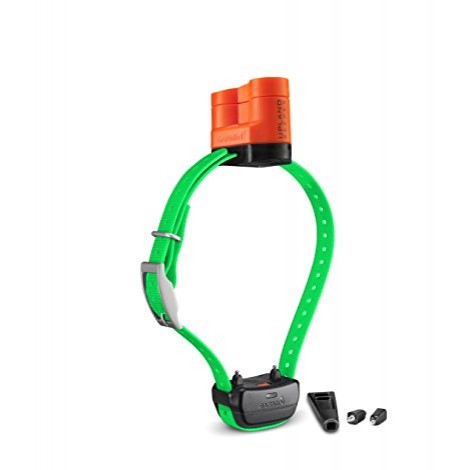 Pairs easily with Garmin handheld training devices
Features multiple stimulation and training levels
Barklimiter mode is appropriate for use both in the field and at home
Ideal for hunting dogs who are in training
Range capabilities are suitable for up to ¾-mile away
The beeper attachment may slide around the dog's neck, causing points to move
Some users are unhappy with the battery life
The Delta Upland XC is designed primarily for upland hunting dogs. With a variety of levels of continuous and momentary stimulation and contact points, this product is ideal for keeping track of your dog while in the field.
Improved Stimulation and Range
The Delta Upland XC includes 36 improved stimulation levels for momentary and 18 levels continuous stimulation. It also offers tone and vibration levels for each type of stimulation. The range capabilities are within a ¾ mile to correct your dog's behavior while hunting.
Extra Features
This comes with many additional features, predominately the long and short contacts that are replaceable and changeable and 5 training and correction configurations to address behavioral issues your dog may display. It also has a built-in Barklimiter training mode for further corrections and training. The package is completed with a beeper to help define your dog's location, four hunt sounds, and two point sounds.
Cost and Value
Fo rwhat it is, the Upland XC is very reasonably priced; additional features are available as add-ons which will increase the total product price in the end. Even with the collar alone, this Garmin is a highly effective tool for hunters and their dogs.
2

. Alpha 100/TT 15 Mini Bundle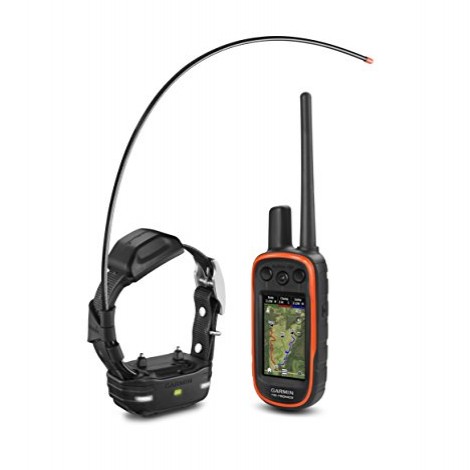 Users like the micro sd card that provides updated GPS maps
Ideal for hunting with multiple dogs
Tone and vibrations levels have a wide range to keep dogs from wandering off or getting lost
Waterproof and durable, even in cold weather conditions
Accompanying GPS screen is made of shatter-resistant plastic
Some users complain that the GPS display needs to be bigger and brighter
High purchase price
The Alpha 100/TT 15 bundle is ideal for people hunting in groups with multiple dogs or for dog walkers or dog sitters who have many dogs to care for at once. The Alpha offers tracking for a number of canines along with Garmin's GPS capabilities to keep track of the dogs' locations.
Multi-Dog Tracking
This option with accompanying handset can track up to 20 dogs when additional Alpha 100 or TT15 dog devices are being used. The preloaded detailed maps and 3-inch color touchscreen make it easy to keep track of where your dogs are at any point in time.
Extra Features
The Alpha 100/TT 15 has an emergency alert with the ability to send your location with the signal to other Alpha users in the area. The included electronic compass measures your dog's speed, direction, and distance; notifications can be set for when your dog has treed or is on-point. Additionally, there are 18 stimulation training levels with vibration and tone alerts.
Cost and Value
This bundle is amongst the priciest on this list; however, it is ideal for hunters who work with large groups of dogs or for people who look after multiple dogs at once. The technology available in this is first rate and worth the high cost for people with many dogs to manage.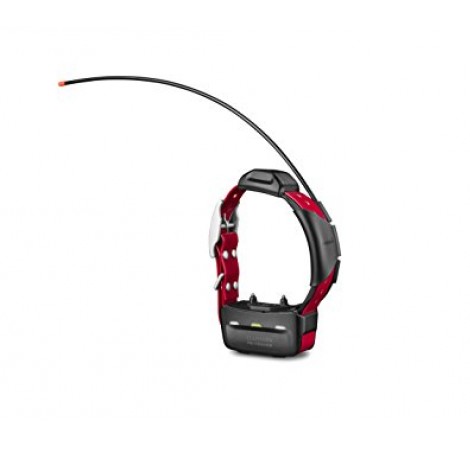 Users report that their dogs are more obedient and respond better to voice commands while wearing this
Makes it easy to locate your dog at wide distances
The TT 15 is highly durable and waterproof up to 10 meters
Serves as a tracker and a trainer at the same time
The TT 15 offers extended battery life
Some users note that it begins to crack after six months of use
Antennae may prove annoying to some users and their dogs
For dog owners who to keep track of dogs for long periods, the Garmin TT 15 is an option to consider. With a rechargeable battery with long life and broad range coverage, the TT 15 is ideal for hunters or people who own dogs and live in rural areas.
Long Battery Life
The Garmin TT 15 has a battery life of 20 - 40 hours and covers a wide range of up to 9 miles. The Li-ion battery is highly dependable and rechargeable, and users can count on this coming through should your dog wander off or get lost for hours or days. This system also provide 18 levels of stimulation with vibration and audible tone modes.
Extra Features
The TT 15 is loaded with plenty of features including a 1-inch red strap, a charge clip, AC adapter, 18 ½-inch standard and 22 ½-inch extended range antennas, a contact point set with a wrench, and a vehicle power cable. The entire system is waterproof up to 10 meters. Also included are LED beacon lights and a rescue mode for emergencies.
Cost and Value
The TT 15 offers a lot of bang for the buck. This product and accompanying system are very reasonably priced, and for everything the buyer gets with this system, we can rate this product a steal of a deal.
4

. PT10 Device (Pro 70/Pro 550)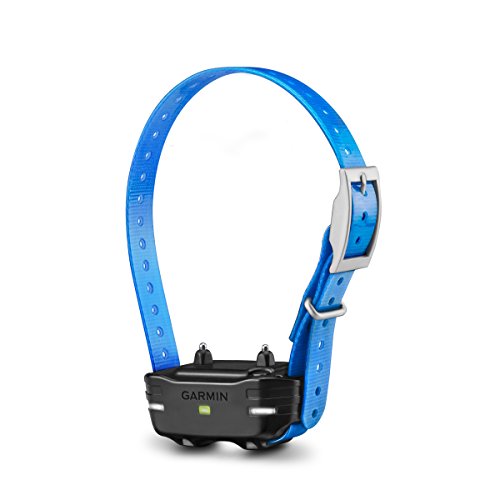 The obedience training modes and ranges on the PT 10 are effective and impressive
Users appreciate the bright LED beacon lights
The BarkLimiter helps dog owners whose canines bark too frequently
The PT 10 is designed to perform all its functions even in cold and wet weather
The PT 10 transmitters are capable of use on 3 - 6 dogs
Some users have experienced malfunctions between the collar and transmitter
May not be tough enough to withstand strong canine chewers
For dog owners who want a reliable, durable GPS option that can handle anything that comes its way, the Garmin PT 10 is a viable option. This durable and rugged system delivers quality performance no matter the conditions, and all for a highly reasonable price.
Reliable in All Conditions
The Garmin PT 10 has short and long insulated contact points on stainless steel. This design ensures that this product can deliver reliable performance in wet and cold weather environments and is comfortable for any coat lengths. It has a 1-mile range at a specific radio frequency for PRO 70 and PRO 550 devices.
Extra Features
The PT10 features a built-in BarkLimiter with advanced bark correction technology, and the device, which aside from the collar includes a charging clip, AC adapter, and contact point set with a wrench. The package also has LED beacon lights for use at night as well.
Cost and Value
For all that the Garmin PT 10 has to offer, its price makes it an incredible deal. All the basics and then some are included with this GPS option, so if you've always wanted one of these but have a budget to work with, give the PT 10 a try.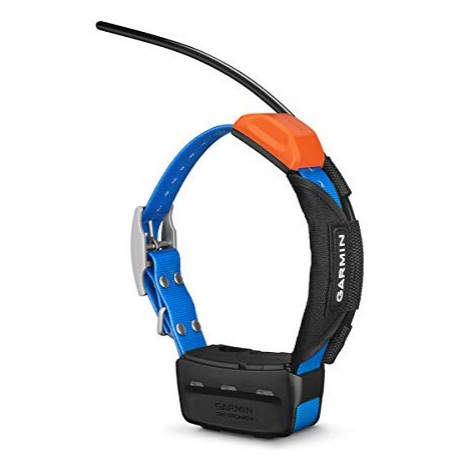 Battery power lasts up to 15 hours
Offers superior tracking capabilities via GPS and satellite subscription service
Keeps running analytics and metrics of a dog's speed and miles traveled
The higher-sensitivity levels to satellites make this accurate even in challenging weather and environmental situations
A preloaded map of the U.S. and Southern Canada is included
Comes in only one size and so may need to be trimmed for small or medium breed dogs
The product is not authorized for use outside the U.S. and Canada
The Astro 900 bundle goes the extra mile in providing location and statistics on your dog with real-time updates. Owners who want to know the what, where, and when of their dog's location, activities, and behavior will find this model a perfect addition to their lives.
Rapid Updates
The Astro 900 provides updates on your dog at a rate of 2.5 seconds, which means it gives a much faster rate of tracking when your dog is on the run than some other GPS models. With a higher-sensitivity to satellite reception, this can keep track of dogs in the most challenging of environments and weather conditions.
Extra Features
This option can track up to 20 dogs on a 2.6-inch color display and can be paired with other Garmin devices for a tracking range of up to 5 miles. Included with the purchase of the Astro 900 is a preloaded mapping system for the United States and Southern Canada and a 1-year subscription to the Birdseye Satellite Imagery program for an even higher level of location awareness. For training purposes, the Astro 900 features analytics that processes and records a dog's speed, time afield, and distance traveled for more effective training.
Cost and Value
The Garmin Astro 900 is a moderately priced option but is much higher priced when paired with the bundle containing numerous features and advantages for both human and canine users. It is a worthy investment for people who need to keep close track of their dogs or for hunters in the field who of necessity need to know their dog's whereabouts.
6

. Pro Trashbreaker System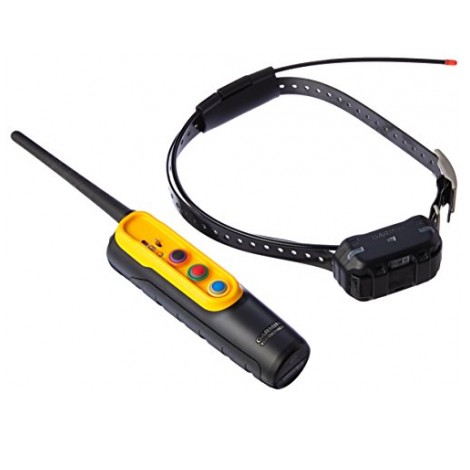 Excellent training and tracking tool for hunting or obedience training
Users are pleased with the durable, rugged quality
Battery charge holds for upwards of 2 - 3 days
The included BarkLimiter helps to control your dog's excessive barking with tone and vibration warnings
This GPS system is available at an affordable price
Some users note that the antenna that wraps around does not stay in place
For the price, some buyers would have liked more than six levels of tone and vibration
The Pro Trashbreaker is designed to be a quick, handheld dog device that helps track and train your dog. Regardless of the conditions or how beaten up it gets, the Pro Trashbreaker is durable and sturdy enough to get the job done.
Rugged, Classic Design
The Pro Trashbreaker and handheld transmitter are crafted with a rugged design meant to uphold peak performance no matter the environs or damage encountered during hunting or training; the product is water resistant up to 10 meters. With a tracking range of 4 miles and MURS frequency, the Trashbreaker is an ideal system for training with six levels of tone and stimulation.
Extra Features
This system includes the BarkLimiter for bark correction technology and training. Along with the device are an antenna and keeper, a split adapter cable, AC adapter, contact point set with a wrench, and a charging clip. The system also has remote control LED beacon lights that are visible up to 100 yards.
Cost and Value
For a top quality system, the Garmin Pro Trashbreaker is available at an average price in this market. Dog owners or trainers looking for a tough, effective GPS training system at a low price should give the Pro Trashbreaker consideration.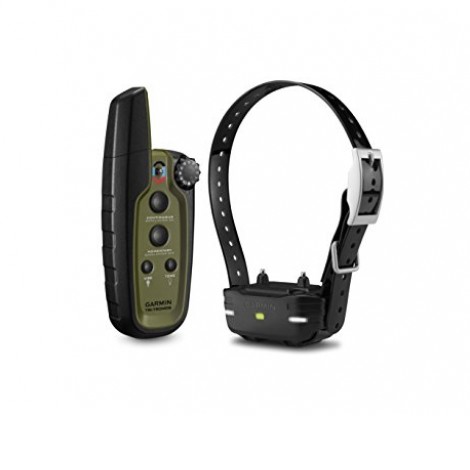 Users like the option to beep or vibrate before giving their dog a correction
Durable and waterproof
Extra bright LED beacon lights that are remotely controllable
Charger is long-lasting up to three weeks depending on the number of hours used per day
Includes the BarkLimiter for bark corrective purposes
Some complaints that the product is much too large and needs to be cut down for most small and medium breed dogs
Comes with short contact nodes that may need to be switched out for long nodes on dogs with thick fur
The Sport PRO GPS bundle is a lightweight and intuitive training system that is ideal for training dogs, either to learn boundaries or for hunting purposes. For an extremely reasonable price, a dog owner can have a high-performance program to train their dogs quickly and efficiently.
Simple and Intuitive Operation
The Sport PRO device is easy to operate thanks to its ergonomic design and one-handed controls. The quick turn dial on the handheld device makes clicking sounds to indicate changes between the ten simulation levels. All of this can be managed easily with one hand so you can keep an eye on your dog's whereabouts. The handheld device features four training buttons for momentary and continuous stimulation, tone, and vibration.
Extra Features
This model includes remote control beacon LED lights, so your dog is visible in dark conditions up to 100 yards away. An AC adapter, charging clip, split adapter cable, and contact point sets with a wrench are also part of this package. Additionally, the system comes with ten levels of stimulation or vibration and tone settings for up to three dogs. The Sport PRO comes with a BarkLimiter with various settable levels that can be increased to correct your dog's unwanted barking.
Cost and Value
The Sport PRO is the complete package and at a manageable price, ideal especially for buyers on a budget. Get the full benefits of a Garmin tracking and training system and enjoy having a trained dog in no time at all.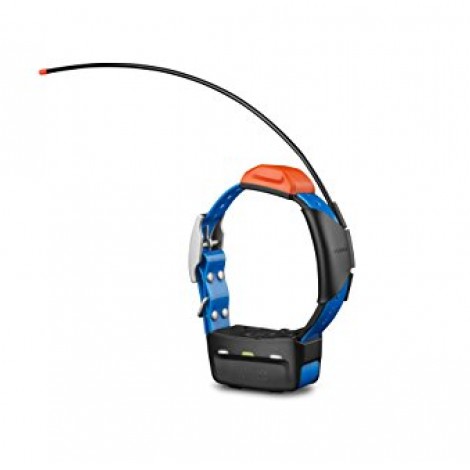 Durable and holds up well under intense weather and environmental conditions
Easily fits medium-sized breeds such as whippets pit mixes, and airedales
Water resistant and easy to clean when dirty
The Li-ion rechargeable battery has a long life of 20 - 40 hours
The T5 provides an emergency rescue mode in this GPS system
Users must update any existing Garmin systems to sync with the T5
Only works within the United States
The long-lasting and hardy T5 is a sensitive device that keeps track of your dog with extended range antennas and a high-sensitivity receiver. Perfect for hunting or training, the T5 will keep you in the know about your dog's location at all times.
Water-Rated and Durable
The Garmin T5 is designed for dogs who are rough and tumble and who spend more time in the water than on land. Water resistant up to ten meters, the T5 is the perfect option for dogs who love to swim, roam, and get muddy.
Extra Features
The T5 has a tracking range of up to nine miles and includes bright LED beacon lights and an emergency rescue mode. The long-lasting rechargeable Li-ion battery life runs from 20 - 40 hours in length. The device itself comes with standard and extended range antennas and a charging clip.
Cost and Value
The Garmin T5 is one of the least expensive options on this list mostly due to the lack of extra bells and whistles. This product is straightforward and crafted for the rugged outdoors and wherever your dog takes them, and for dog owners who want the basics, this Garmin model is a great place to start.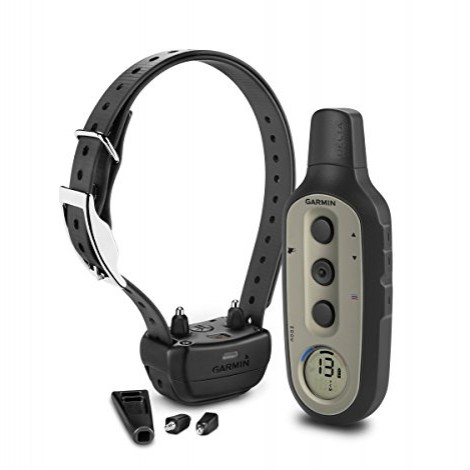 Users appreciate the handheld device's design and ease of use
Both the collar and handheld device have extensive battery life
Built for rugged conditions and is waterproof
Highly intuitive for users
This system offers multiple training and behavioral settings, plus the BarkLimiter system
The contact points may not work well with long-haired dogs
Some users find the power switch challenging to turn on due to its location
Active dog owners or hunters training their dogs will enjoy the capabilities of this bundle. With improved stimulation levels and range tracking, the Delta Sport XC will help owners keep track of their dogs in the field or woods.
Adjustable and Effective
The Delta Sport XC comes with a three-button handheld device with LCD display for easy use and adjustability with 36 different levels of continuous and momentary stimulation along with vibration and tone. With five training and correction configurations for behavioral issues, this product and system help owners train and track their dogs quickly and efficiently.
Extra Features
This model offers short and long changeable contact points on the collar and a range of up to ¾-mile to correct your dog in the field. The handheld device offers 80 hours per charge and the collar includes 60 hours per charge. The system also includes a built-in BarkLimiter that is adjustable from the handheld device and which lets the owner use the advanced bark correction system to limit inappropriate or excessive barking.
Cost and Value
The Delta Sport XC bundle is reasonably priced and offers many of the same features and qualities of more expensive Garmin GPS models. Dog owners and trainers can benefit from a quality training and tracking system that won't put a dent in your bank account.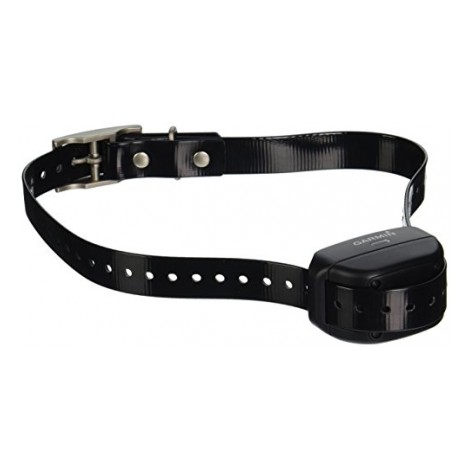 Users have noted that the BarkLimiter Deluxe works quickly and efficiently just on low settings
Holds a charge for multiple days
Teaches dogs to stop nuisance barking, not alert barking
Can be plugged in to charge
Does not overcorrect dogs
Some users complain that it slips too much around the dog's neck
Does not work as well on dogs with long hair
Dog trainers or owners who deal with canines with barking issues may find some relief with the help of the BarkLimiter Deluxe. Designed to train dogs to cease inappropriate or excessive barking, the BarkLimiter Deluxe is a finely designed tool that can give dog owners peace of mind and quiet.
Exclusive Bark Differentiation Abilities
The BarkLimiter Deluxe offers a system that offers multiple means by which to control your dog's barking habits. This system includes a Bark Odometer that counts the number of barks to measure effectiveness and which reduces over corrections or false positives; this means a dog won't receive a correction because of another dog's bark or another nearby sound. This Garmin model has seven alternate correction modes, both manual and vibration and a TriTonics program that makes this system one of the best to prevent nuisance barking.
Extra Features
The BarkLimiter Deluxe has contact points of integrated stainless steel that are able to fit every type of coat thickness and dog breeds. The system has a rechargeable Li-ion battery that can last up to three months while on full charge.
Cost and Value
The BarkLimiter Deluxe device is available at a low price compared to the other GPS trainers and trackers on this list. This system can help train dogs to bark only when necessary and bring much needed peace and quiet to homes or kennels.
Criteria Used for Evaluation
Effectiveness
Anyone who purchases one of these systems for their dog is hoping for a solution to a particular problem: training, tracking, or inhibiting nuisance barking amongst other possibilities. As such, our research team felt that effectiveness was the top criterion to focus on for this top ten list. Garmin is well-known for its quality GPS products, and we compiled this list based on their design and construction and the likelihood of effectiveness. The variety of correction programs and tracking abilities make these products the most successful training and tracking systems available.

Features
Each of these devices has a series of additional features that come with their respective packages. Our team considered those extras as an important criterion for rankings because of the variety of different needs that the users may have for these products. Dog owners who want to limit their dog's nuisance barking will want to look at the products that come with a BarkLimiter program while hunters training their dogs to accompany them through fields and forests may prefer one that provides multiple ways with which to track the dogs and ensure they do not get lost or injured. Because of the multitude of uses the device may provide, our team determined that extra features were a critical criterion in our findings.

Value
For value, we looked at both the price of the Garmin systems as well as the attributes they provided for users. With these products, the cost of the system is often linked to how well it functions; in other words, you get what you pay for. They are expensive, and even the basic models can be costly; however, these models have had great success with many dog owners more so than less expensive options. The record of success with the Garmin models helped us choose value as one of the top three criteria for this guide.
Expert Interviews & Opinions
Most Important Criteria
(According to our experts opinion)
Experts Opinion
Editors Opinion
Users Opinion
By Default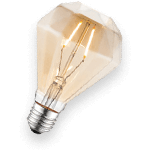 Choose With a Purpose in Mind
Before you make a purchase, determine what your goal is for the training you have in mind. Is your dog an excessive barker? If so, consider a product that provides barking correction to solve this issue. Are you a hunter who wants to train a dog to hunt? You will want one that provides tracking options and training for bird dogs or dogs who have "treed" their prey. Perhaps you are looking for basic training and obedience for your dog at home. Look for an option that provides corrections for recall and respecting boundaries. Know what you want out of your product before you buy it.
Take Time to Read the Manual
Many new owners either rush through the "quick start" instruction or skip the directions altogether, and then wonder why the system isn't working or doing what they want. The manual is vitally important for understanding the ins and outs of the device you've purchased. Digital technology is more natural for some people to grasp than others, and you can avoid a significant amount of frustration by reading the directions carefully and letting them walk you through the proper use of the system.
Check the Battery Life
Modern options are digitally enhanced and need to be charged every so often depending on the type of battery used and the battery's charge capabilities. All are rechargeable, but some hold a charge much longer than others. Certain models may go for upwards of a week without needing a recharge; other versions will need to be charged every day or so. The most significant drain on the battery is the GPS tracking, so gauge the battery life and keep it charged up. Should your dog ever run away or get lost, you will want that battery sending you signals for as long as possible.
Other Factors to Consider

Durability
Durability is a critical criterion for these GPS systems. As anyone who has owned a dog knows, dogs tend to get into anything and run through everything. These need to withstand the wear and tear that they will be subjected to from a dog who runs through fields or races through streams and creeks. Additionally, they have to continue to work through these environments and circumstances, whether that be through tracking, recall, bark correction, or other behavioral correction. Therefore, the Garmin models on this list have been vetted for their sturdiness and hardiness.

Comfort
It is vital that your product not only properly fit a dog, but do so comfortably. Because they have contact points built into them, they must make contact with the dog's skin to communicate the vibration or tone to provide the correction. They should not only make contact with the skin but should be comfortable, not slipping too much or rubbing up too tightly against the dog's neck. These products are one size fits all and can be trimmed down to match each dog's proportions. The comfort and adjustability factor makes this criterion vital to the overall assessment of these products.
Frequently Asked Questions
q:

How do I fit this on my dog?

a:

First, remove the charging clip, then place the collar around the middle of your dog's neck. Make sure the GPS device is in the front of your dog's neck with the contact points against the throat and the LED light pointed toward the dog's chin. Pull the strap around the throat until it is snug against the neck; make sure it is not too tight. Your dog should be able to eat food and drink water normally while wearing it. Then, fasten the buckle and it is on and ready for use.
q:

Does my dog really need one?

a:

About 14% of dogs who go missing are never found. If your dog is prone to running off or if you are training your dog to hunt in unfamiliar territory, GPS can keep you apprised of where your dog is, how far he has traveled, and how fast he got there. Additionally, they often offer corrective vibrations or tones, and a dog that runs off may come flying back home at the first beep for "recall" that he hears. It's better to be safe than sorry, so if you need to work hard to keep an eye on your dog, then you should invest in one of these.
q:

How much range do I need?

a:

The amount of range you need depends on several factors. They can include ranges from 150 feet to four miles. If you are training your dog to stay strictly in your unfenced backyard, a smaller range may be an appropriate choice. If you have a hunting dog who likes to chase prey, you will want one that covers a much wider range of space. Generally, most users can benefit from options that cover up to 1/2-mile, but more coverage is always better than less.
q:

What is the difference between continuous and momentary stimulation?

a:

Continuous stimulation allows the user to control the length of the correction. Pressing the button on the transmitter will begin the stimulation on the collar; when you take your finger off the button, the stimulation stops. Momentary stimulation is a preset and brief "attention getter" that only lasts a fraction of a moment, no matter how long you hold the button down. In modern options, this stimulation will start and stop faster than you can press the button on the handheld device.
q:

How do tone and vibration settings work?

a:

Many GPS-enabled options, including Garmin models, have two non-stimulation settings for correction: tone and vibration. A tone is a quiet sound that is delivered close to the collar, and the vibration option gives a slight "buzz" sound and pulsated movement. The purpose of these two settings can be to give your dog a warning or to give silent commands.
q:

Are all options waterproof?

a:

No. While some, including some Garmin models, are waterproof, others are merely water resistant usually up to 10 meters in depth. Some are not waterproof or resistant at all. Be sure to carefully review the details and all its included features before you make your purchase.
Subscribe to our Newsletter