Best Electronic Dog Collars Reviewed & Rated for Effectiveness
In a
Hurry? Editors choice: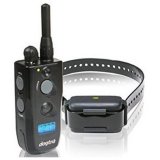 Test Winner: Dogtra 1900NCP

We all know that dogs are our best friends. They're our pals our confidants and in some cases, they are our companions and blankets on cold nights. But they're also animals and sometimes (especially if you have an older rescue dog) they can be unpredictable and even dangerous without training and discipline. Now before we go any further we think that shock collars are a last resort kind of product but we also know that dogs are simple creatures and a few hits with a shock collar and they're going to stop doing whatever it is they got shocked for. That's how conditioning works, just ask Pavlov. But when push comes to shove and your
dog is engaging
in unsafe behaviors then an electronic dog collar is definitely the way to go because your dog needs you to know what's best for him or her.
Standout Picks
Criteria Used for Evaluation
Materials
If you have a dog, then you are fully aware of how dogs can completely shred anything that comes across their path. With that in mind, we knew that the material quality behind the product was of the highest priority for us when taking each product into consideration. With that, we wanted to ensure that each item within the packaging had to be of the best quality. The items that most brands include is an electronic collar system, an adjustable strap, a remote for the collar, a charger cord, and the packaging.
When it comes to the adjustable straps we realized that most are made from a type of high-density rubber or TPU material that allows individuals to easily wear them while also making them extremely strong. With that, the remote and the electronic collar system are made of the highest grade materials ranging from plastic to rubber for better durability. This was crucial because the material of the collar would be able to tell a lot about the brand and what users can expect from each quality product and brand.
Durability
This was one of the most important aspects that we took into consideration when including specific dog collars. When it comes to a dog, you never know when they will decide to dig a hole or jump in the pool. Therefore, we had to include the best quality products that were designed with durability in mind. When looking for durability we made sure to check each piece of the equipment to make sure nothing was designed in a cheap way.
For example, the charger cord had to be of the best quality as well as the adjustable strap. The adjustable strap had to be designed with strength in mind and we took into account the fact that the electronic device had to be made from the best tech team out there. This is where looking at reviews came into place, to be able to see what is the average lifespan of an electronic dog collar. With that said, we found that most of the companies had a lifetime warranty guarantee to build better and more trust with every consumer. Other than that, we can attest that every product was able to pass durability inspection!
Responsiveness
As the next criteria on the list, we realized that the range was vital to the success of the dog collar and an aspect that individuals were specifically looking for. With the proper range, individuals were pleased by the effect of the dog collar both training the dog and teaching the dog how to stay in a specific area. With that in mind, we realized that the dog collar range was very important for the success of the dog to feel and for the happiness of the dog owner.
Now, most of the ranges we discovered ranged between 300 yards to 500 yards, with 500 being the most common. Of course, a remote with better durability and a longer ranger cost more. However, we ensured to include a wide variety so individuals felt that they had a variety to choose from.
Battery Life
Obviously, when dealing with electronics, battery life or electronic charge is necessary. With that in mind, we had to take into consideration the battery life of this particular item. Now a question that comes up often is if the item is rechargeable or if it requires batteries and all of that truly depends on the manufacturer. With that in mind, we wanted to include battery life as one of the must-have criteria because we did not want to include any product that has a less than usable and great battery life. With that said, this is what we discovered.
As we said, most of the collars came as a rechargeable system. Many brands tout the ability to charge the system in 1-4 hours with the system lasting as long as 50-70 hours depending on range length and use. Now, it is important to note that many brands have a disclaimer that it is not safe to leave a collar on a dog for more than 12 hours at a time. With that in mind, we realized that each brand had safety and functionality in mind, considering that the runtime for each collar ranged between 50-70 hours, making it the ideal training companion for individuals.
Value
Now we have come to what is considered one of the most talked about aspects of many of our articles. Of course, individuals want the best bang for their buck and so, our goal is to always supply the best of each quality product. When it comes to electronic dog collars we realized that depending on the dog collar, individuals would receive different levels of functionality. Of course, more basic dog collars would cost much less. While other dog collars that had four response modes, different adjustment levels, and other features cost much more.
Another element that brings up the cost and the value of each individual product is the charge time of each collar and the running time of the collars battery. All of this together created a blend of cost and value where individuals can really pick between the best product that is best suited for their situation. Lastly, another aspect was the size of the collar. While some brand has adjustable collars, some brands also offer different sized color straps that can range in price.
Now that we have covered the most important aspects of electronic collars, we are eager to move onto the frequently asked questions. This is for the viewers that have these questions in mind.
10 Best Electronic Dog Collars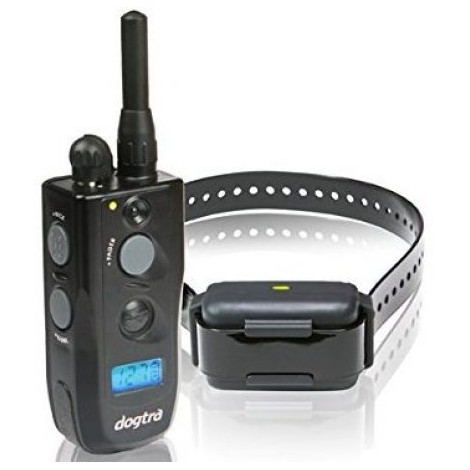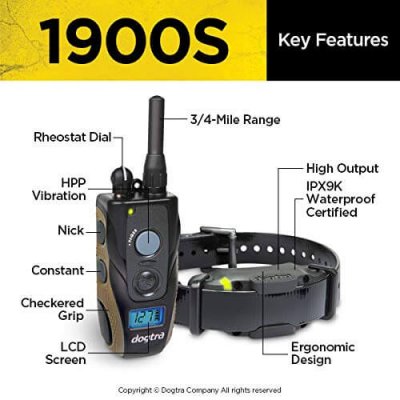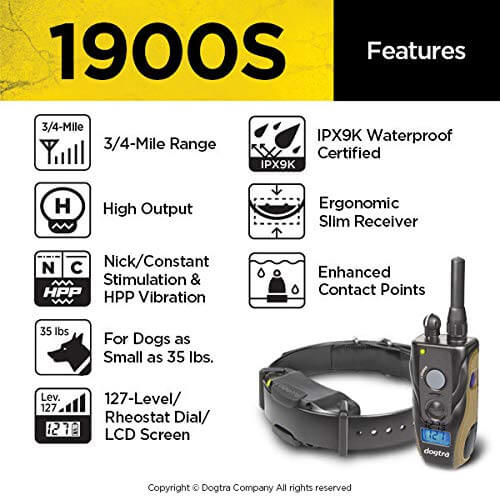 The Dogtra Fieldmaster, originally designed for hunting dogs, has become a quick favorite among pet owners and hunters alike. With a beep, vibration and shock settings and many stimulation levels to choose from, in combination with a long-range and durability to match, this is a go-to favorite for those who expect their equipment to hold up to their rugged lifestyles. Also includes an LCD screen for low-light use and rechargeable batteries.
1/2 Mile Range
With a long half mile range, this high-strength collar is a great choice for anyone with hunting dogs or dogs who just insist on running a little too far away.
Waterproof Collar and Remote
No longer will you ruin your remote because you get soaked in the rain or drop it in a puddle. This remote will hold up in wet conditions, equally the strength and durability of the collar.
Cost and Value
While this Dogtra model is the second most expensive collar outlined here, the features offered - match the price with the ability to hold up in the harshest of conditions. If you are looking for a long-term solution for your spirited animal, this could be a great fit.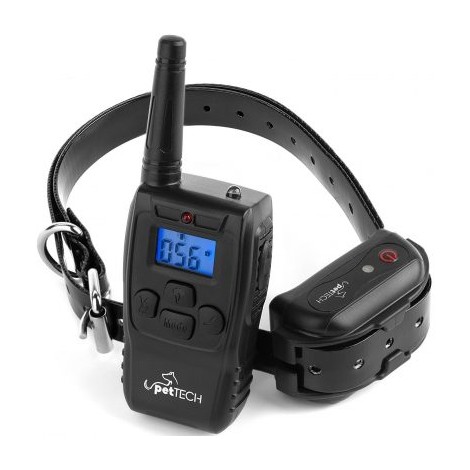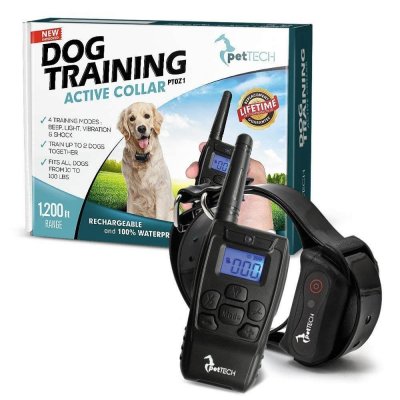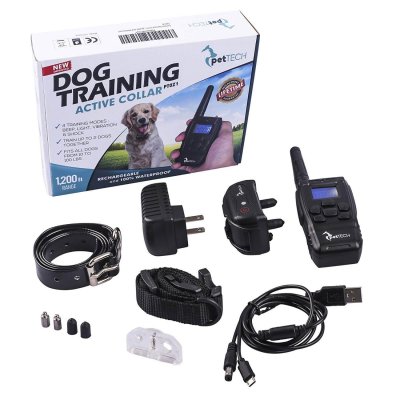 PetTech's training collar offers a full package hard to resist for those who need a basic training device for their pets. With a 1200 foot range, four modes (light, beep, shock, and vibration), waterproof collar, and complimentary dog training advice, this is a product for many different dog temperaments.
Long-Lasting Battery Life
The rechargeable lithium-ion battery is sure to give a long-lasting charge. In addition to the "sleep" mode when not in use, this helps your battery last longer and reduces the chances of it dying when you need it most.
Lifetime Replacement Guarantee
PetTech's lifetime replacement guarantee ensures that even if it does break on you, rest assured you will receive a new one in the mail. Or, if you aren't satisfied, they will provide a full refund.
Cost and Value
One of the most cost-effective options outlined on the top 10 list, combined with the lifetime replacement guarantee, there is a very little risk in giving this collar a try with your pup.

3

. 3. Petrainer PET998DBB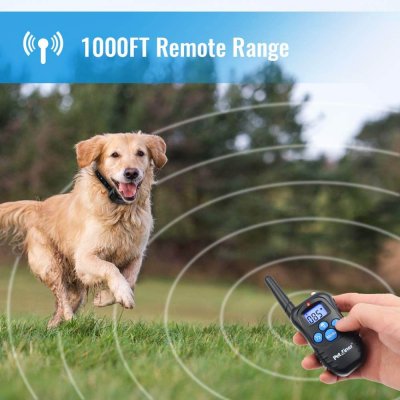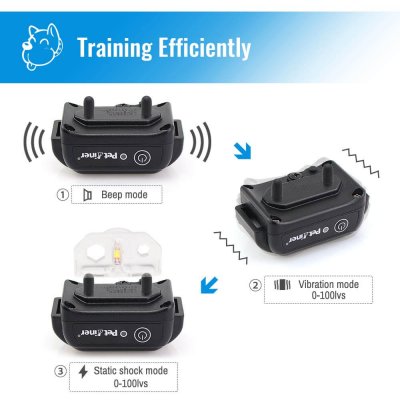 At an amazing price, Petrainer combines a simple design with all the right features to help you train your dog. Tone, vibrate and shock with 100 levels of intensity, in addition to a waterproof collar and a 5-year warranty make this a great option for those looking to train in the backyard, park, or family hikes. You can also buy an additional collar to train up to two dogs with the same remote.
330 Yard Range
The working range on the Petrainer is great for those who plan to use this on easy hikes, jaunts to the park, or in the backyard. With the added bonus of a waterproof collar, this is a great package for pets who like to swim.
LED Screen
Unlike others on the market, this LED screen makes it very easy to ensure you are on the proper channel and intensity level, even at night, to reduce confusion and mistakes.
Cost and Value
Ranking in as Best Value, the Petrainer has a complete package for dog owners who don't need any extra frills, but still want a reliable, reasonably durable training device for Fido.

4

. SportDOG Fieldtrainer 425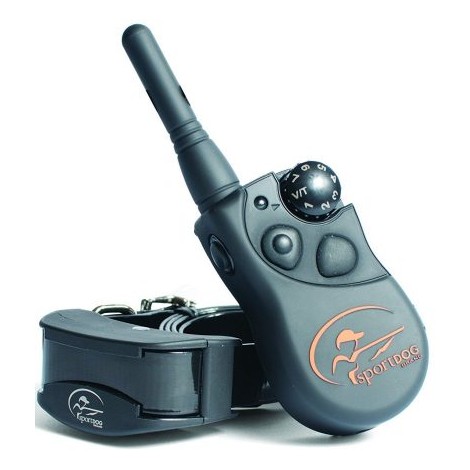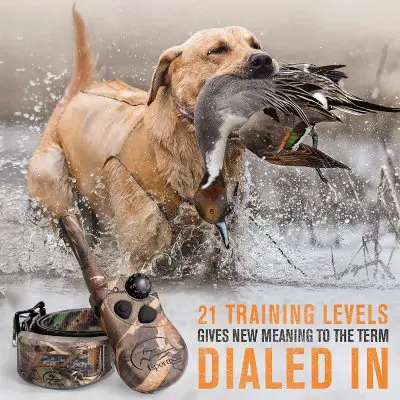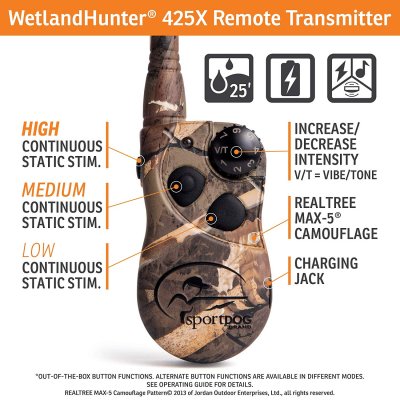 With a 300 yard range, and a fully waterproof collar and remote, the SportDOG 425 is durable enough to go anywhere you do. Sporting tone, vibration and shock settings, plus low and medium ranges to customize to your pet depending on size and resistance level, this is a great option for those who use their dog for hunting or simply want a collar that can hold up in any weather.
Train up to 3 Dogs
With the ability to buy up to two additional training collars per remote transmitter, there is no need to carry out multiple remotes while out in the field.
Fast Charging
Obtaining a full charge in two hours and lasting between 50-70 hours per charge, your collar is not what you will have to wait for to leave the house. The added ability to charge both the remote and collar at the same time make the SportDOG time-efficient.
Cost and Value
For being smack dab in the middle compared to prices of other collars outlined here, the SportDOG offers many features to help get your active pooch trained.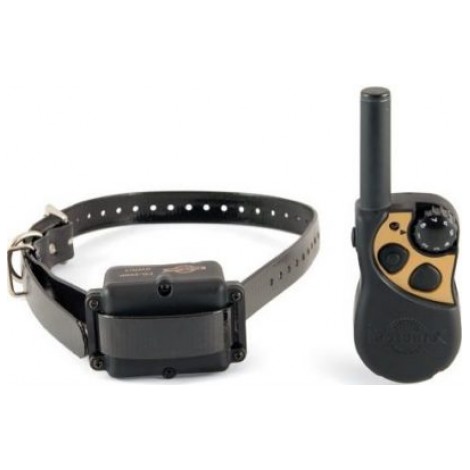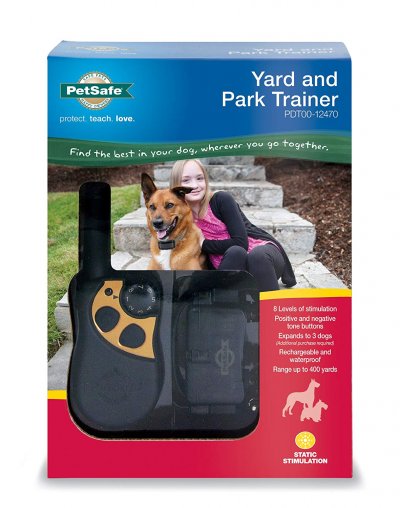 While the name specifies "yard and park" the PetSafe has become a great choice among many different recreational users due to the 400-yard range, fully waterproof design and option for both tone and shock. With the option to buy up to two more collars to train 3 dogs with one remote, and responsive buttons for easy toggling between collars, this is a great choice for those with multiple active dogs.
Small Collar
The small electronic device on this collar is a popular feature for those who hate the look of other, bulkier options on the market. Not only does it get in the way for your pooch less often, but it is more visually appealing.
Collar and Remote Waterproof
No longer will you have to worry about dropping your remote in the puddle, leaving your pooch to their own devices while out in the woods. With a waterproof design, rest assured it won't be butterfingers that break the PetSafe.
Cost and Value
Another middle-of-the-pack as far as cost goes, this collar boasts many of the features of higher-end products while keeping it at an affordable price.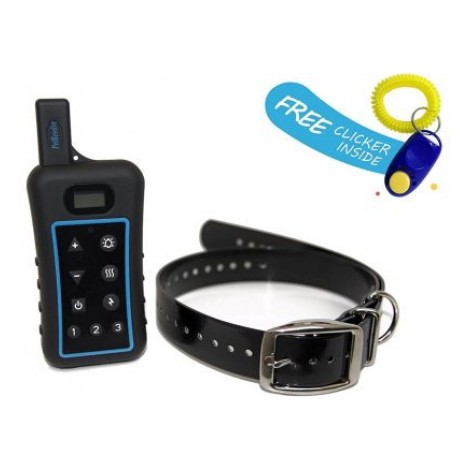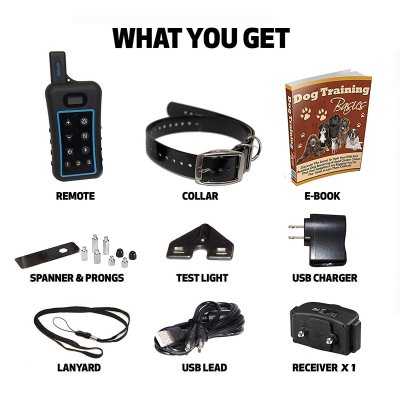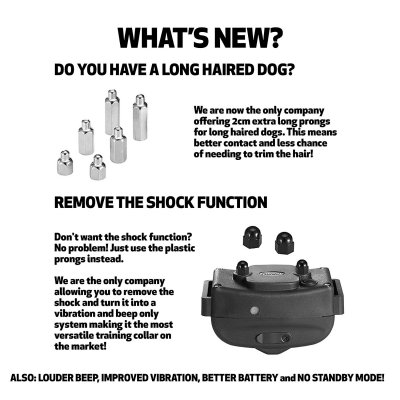 Having been recently updated to incorporate a new "remove the shock" option, the Pet Resolve has a setting for all comfort levels. If you don't want to use the shock setting, simply stick with the vibration or tone settings. Backed by a 2-year warranty, 3/4 mile range, and a waterproof collar, this collar can work great for a variety of desired uses.
3/4 Mile Range
For most pets, 3/4 of a mile is just about as far as you'd want Fido to stray away from you. With the Pet Resolve, you can rest assured that just in case your dog gets a little too far away, you will be able to reign them back with the long response range.
Lightweight Remote
Unlike some other electronic collars on the market, the light built of this remote means no more unnecessary weight added to your pocket or hand when out in the field.
Cost and Value
Surprisingly, the Pet Resolve boasts one of the less expensive price tags outlined in the review, even while boasting a long-range, waterproof design, and great battery life.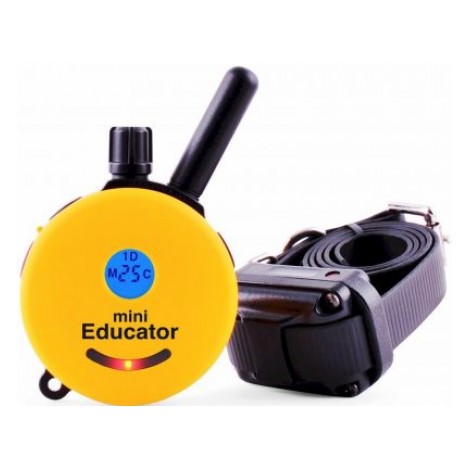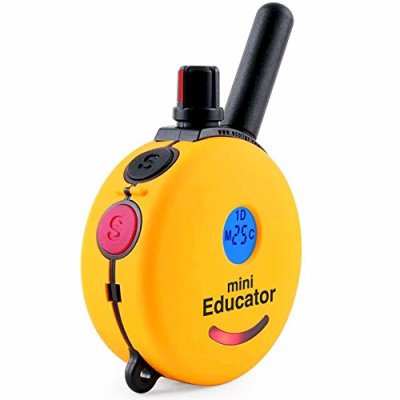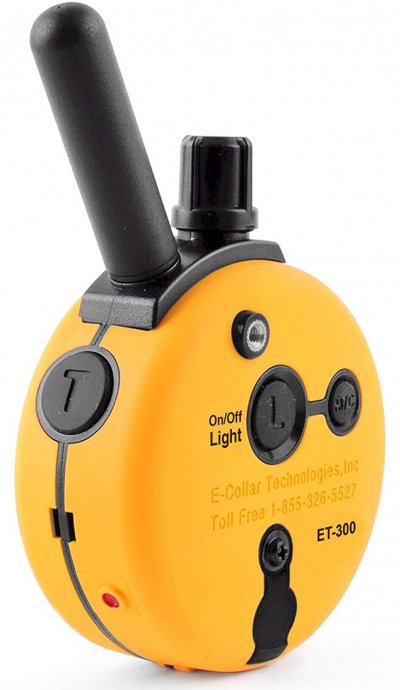 From 1/2 mile to 3/4 miles, the Educator E-collar has a variety of options, also allowing you a choice between 1 and 2 collars per remote. Not only are the collar and remote waterproof, but the remote FLOATS on water, making it a great choice for those who take their dogs on many water adventures. Instead of the usual vibration setting, it boasts a similar tapping sensation, which is slightly more intense, therefore more likely to get your dog's attention. It also comes with the tone and shock settings, as well as a 2-year warranty.
On/Off Function
With a touch of the remote to the collar, you can easily turn it off and on to conserve battery life. This setup also makes it hard to accidentally turn off when you don't mean to.
Ergonomic Remote
With a design built with your hand in mind, the round shape and buttons placed strategically to be just where your fingers want them, the remote has a natural feel to it.
Cost and Value
While the Educator is a slightly bigger financial pill to swallow than some others, it has a design and durability to back it up, truly designed for the outdoor enthusiast in mind.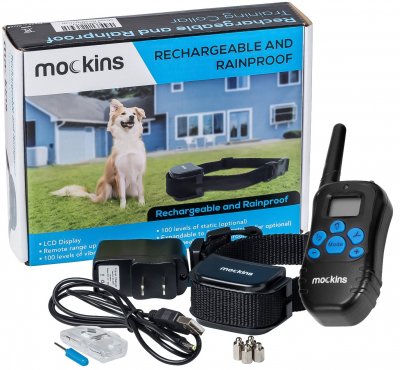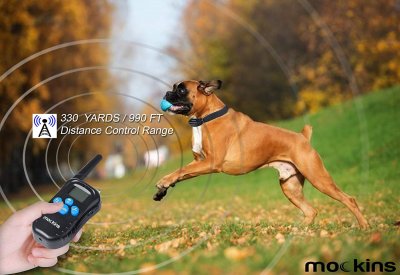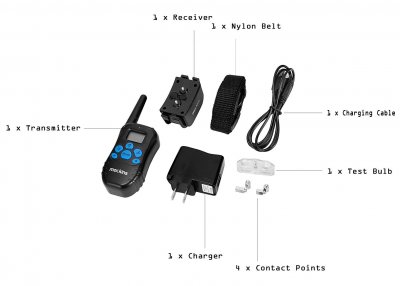 We like the Mockins collar because not only is it a fully adjustable collar but it comes with a nifty little warning beep before the shock is delivered. Once your dog gets accustomed to the beep then depending on how stubborn your dog is you may never need to use the shock function and we think that's a great little feature. We also like the range, up to 330 yards so in case your dog takes off you can stop him in his tracks before he gets too far gone. All in all a great product.
Safety Beep
Here's how this works, the collar will deliver a warning beep before any shock is delivered. And it won't take many jolts before the dog associates the beep with the coming jolt and hopefully, you won't need to use the jolt very often at all. Depending on how smart (or dumb) your dog is he might start responding only to the beep as soon as one or two jolts. A great humane feature that we think is a smart add.
Fully Adjustable
This collar will fit just about any dog that's head is bigger than it's neck (you bulldog owners might have a problem) from 2 inches to 22 inches so it's literally a one-size-fits-all product that once it's on will stay snugly in place and let you start training right away.
Cost and Value
This collar comes in at a great price. With the warning beep and the fully adjustable collar and the lifetime satisfaction guarantee honestly, we would have been willing to pay a bit more but the low price point on this collar made it a great bargain.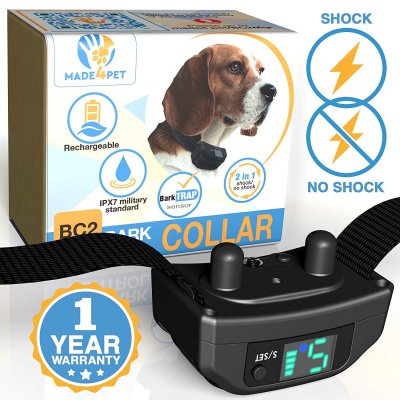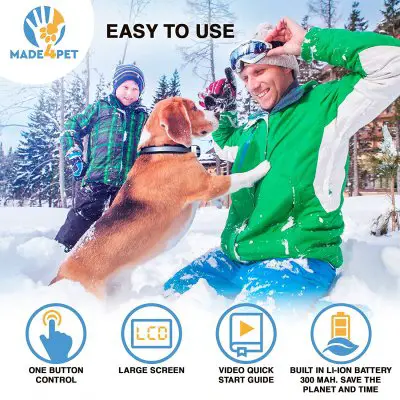 We like this collar because it has easy settings and is easy to get on your pet and it stays on your pet. We like the range and we like the price. We also tend to think it works really well and the two contact points really do stay in contact with the dog and make sure the product works like it's intended. We also like that this collar is rechargeable and that makes it a bit easier on the wallet.
Rechargeable
When it gets low simply plug it into the rechargeable jack and in no time at all you'll be able to stick it right back on the pet and get back to your training. There's no telling how much this little feature is going to save you on batteries but we think depending on how stubborn your dog might be it might be quite a bit.
Fully Adjustable
This collar has a number of different intensity settings so you can custom set it for your dog and make sure you're not actually doing any harm to your best friend in the world. No matter how petite or large your canine might be you'll find a setting that your comfortable with and that they're mildly uncomfortable with.
Cost and Value
This collar comes in at a great price. There aren't a whole lot of bells and whistles with the collar but it's effective and it's rechargeable, so we're fans.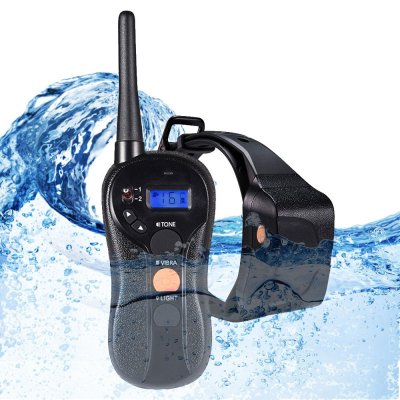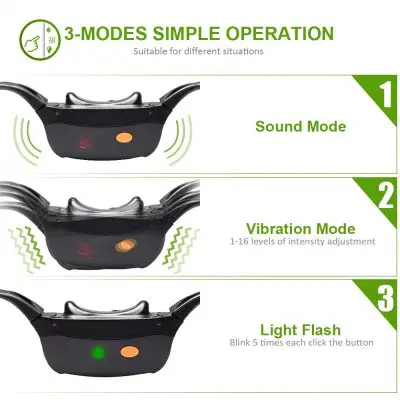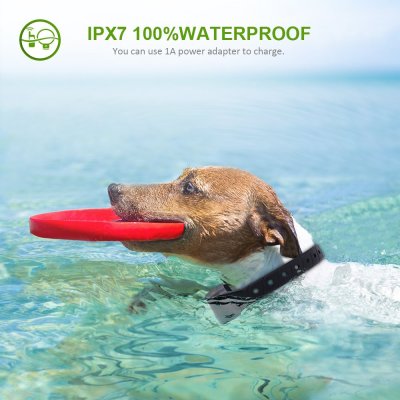 Who thought you'd need a shock collar that sells its waterproof status as one of its main features. Well when you think about it, everyone should because you know your dog and dogs like water. So, this is a nice feature. We also love the crazy range on this collar and its rechargeable function.
Long Distance
The 660-yard range is about the longest we've found on our search and 6 football fields is a long way to be able to even see your dog much less get him back in line.
Waterproof
This is actually a useful tool made especially so on that day you're going to forget to take it off before heading out for the wet walk in the morning. That might kill some other collars but not this one.
Cost and Value
A bit on the pricey side but we just like this collar, it's rechargeable, easy to use, waterproof and just looks good.

Subscribe to our Newsletter