Best Waterproof Dog Collars Reviewed & Rated for Quality
In a Hurry? Editors choice: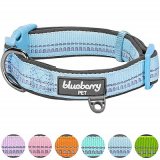 Test Winner: Blueberry Pet Soft

We all know that the one thing about a dog that revels in the outdoors is that at some point or another they're going to get into some kind of god awful mess. For instance, we've heard tell of a certain family with a dachshund who thought he was 10 feet tall that routinely
tangled with the skunk
that lived on their acreage. The result was a constant necessity to be able to throw the animal in anything that would
remove the foul stench
of skunk from this mighty hunter. And we all know hounds that can't resist a good puddle. The point is that when you have a dog then you have to be prepared for all kinds of messes. And that's why companies are kind enough to make waterproof dog collars. And here are some of our favorites.
Standout Picks
Criteria Used for Evaluation
Comfort
When picking out a dog collar, no matter the type, the most important factor to consider is how comfortable the collar will be for your dog. While many of the other facets that we use to evaluate are important (durability, style, and design, or cost), the one who is wearing the collar should have some say or bark. The goal is to provide your dog with the added level of support, comfort, and happiness that a collar can provide .
In the waterproof collar market, what we have seen is a variety of different products that offer different innovations, build quality and features. In efforts to find a product with the maximum degree of comfort, it's important to seek one that has a dedicated interior focused on comfort. This may mean including unique foam material or new padded innovation.
It's also important to keep in mind that waterproof collars are designed to keep the collar dry. In light of this, since a dog typically wears a collar for the entire day, you should consider what it might feel like to wear a collar when it's raining or when they are sleeping. These are all different facets that we took into consideration when evaluating our choices.
Durability
There is no greater frustration than purchasing a new dog collar just to find out that it breaks or rips after a few uses. In evaluating the best waterproof dog collars, it's vital to hone in on how a brand or company improves the life expectancy of their product. In reviewing and scanning dozens of different collars, it's safe to say there are many products built from poor-quality materials – and you can tell! The rule of thumb is true that, the more you spend, the better the product. When evaluating different dog collars, many products that are not necessarily offering competitive prices, but might be priced higher, typically offer the best durability out of any other product.
If you are interested in evaluating the durability in person, take the time to handle the collar. If you are able to stretch or maneuver the collar to extremes, chances are, after a few runs or walks with a larger breed, the collar will break. Additionally, take the time to pour a small amount of water onto an area of the product. Pay attention to how the collar responds. If you are noticing the water seep into the collar – it's not waterproof, nor is it durable.
Style
While purchasing a comfortable collar is important for your dog, we also know that it's important to look at the style and design of each collar. Typically, brands and companies that provide dog owners with fashionable options, while maintaining the high-quality build the product needs, tend to be the most successful and tout the best reviews. With that being said, we were keen on how companies were differentiating themselves in the market.
One way that companies are doing this in the dog collar market is through offering customization and personalization features. One route that companies take is offering a variety of different colorations and patterns that dog owners can choose from. This is the most sought route by businesses as it's the cheapest route for customization. An additional way that companies are customizing their products is by offering personalized nameplates. Here, owners can add the dog's name, phone number, address, and choose the color of the plate and text.
Another route that companies are able to offer different styles and designs is by including new innovations, like LEDs or reflective stitching into their products. In researching many different companies, we were interested in the different creative routes that these businesses took to stand out. However, in doing so, we also kept in mind the quality of the product. There are many companies that have sacrificed the quality of their product for looks and appeal.
In looking at any waterproof dog collar, it's important to consider the balance between style and design with the build quality. In our opinion, the products that have made our list are those that demonstrate the expertise and balance between both of these categories.
Adjustability
When picking out and evaluating different collars, it's important to look out for different companies that offer variable or adjustable sizing. Typically, dog owners only stick with what they know and purchase a one size collar for their current dog. However, what many people do not know is that collars will grow, or shrink, depending on the material and dog. With that in mind, finding products that offer adjustable sizing makes it easy for dog owners to adjust the collar according to the dog or circumstance.
When it comes to waterproof collars, it's clear that these products are typically stiffer on the exterior. As a result, these products tend to either stay the same size or slowly stretch over time. So, in purchasing a collar, a rule of thumb is to purchase one that is slightly bigger than the dog's current neck size (2 inches).
Value
Choosing the best waterproof dog collar has never been easier with the highest rated dog collars right at your fingertips. You will find a variety of collars that are not only cost-effective but long-lasting. These collars will save money in your pocket and keep your working dogs happy for many days on the job. Each one listed has many features and benefits to a dog that is prone to get wet while working. The waterproof collars repel germs and bacteria, making your dog's life a lot healthier and stable. A healthy dog will consistently perform for you time and time again. So why waste any more money on those dog collars that do not support your dog's daily duties?
BEST WATERPROOF DOG COLLARS REVIEWED & RATED FOR QUALITY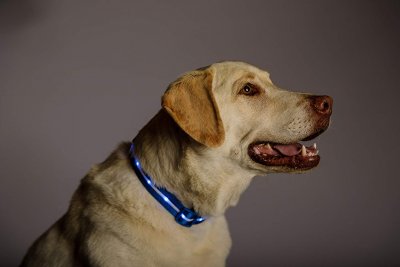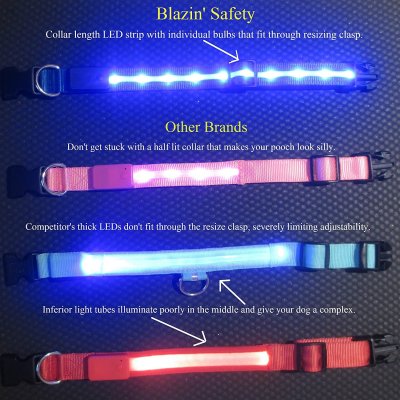 If you are looking for a highly-reputable collar that has taken over the industry by storm, it's the Blazin' Bison Safety LED Dog Collar. This product has received rave reviews due to its unique LED design and waterproof features. The collar is built with some of the best-LED technology, with visibility over 350 yards away. Given its USB recharge features, this product can be charged from any USB device and lasts over 8 hours. Combine this with a lifetime guarantee and this is one product to consider!
LED Safety Features
What sets this product aside from the competition is it's unique LED safety features. Customers have the option to choose from six different LED options that can be seen over 350 yards away. The purpose of this feature is to help protect dogs and make them visible at night. In the competition, there are no other products that can compete with this collar, given its options and visibility. Additionally, this product has the slimmest bulb strip, which makes it easier to size with each dog.
100% Lifetime Guarantee
In this industry, many companies offer limited warranties or guarantees on their products. This dog collar comes with a 100% lifetime guarantee, demonstrating an even stronger case for value. What this means is, if a dog owner is ever unhappy with this product, or it breaks during the lifetime of use, they may contact the company's customer service department and file a claim. As a result, the company will either refund the costs of the collar or send a replacement.
Cost and Value
Out of the many other products on this list, this dog collar is relatively fair priced and competitive. This may come as a surprise to many readers when you consider the immense amount of value, technology, and innovation that comes with this great collar. On top of the high-quality LED safety features, this product can even be charged by USB from any able device. With a battery life of 8 hours, a dog owner can have the LED lights all night without fear of the collar batteries dying.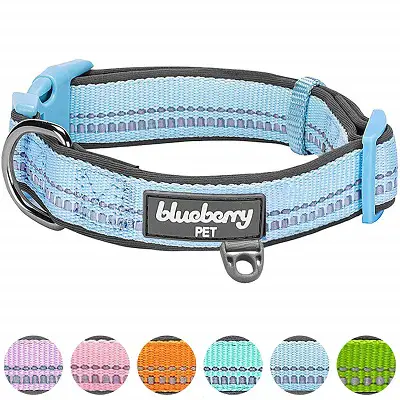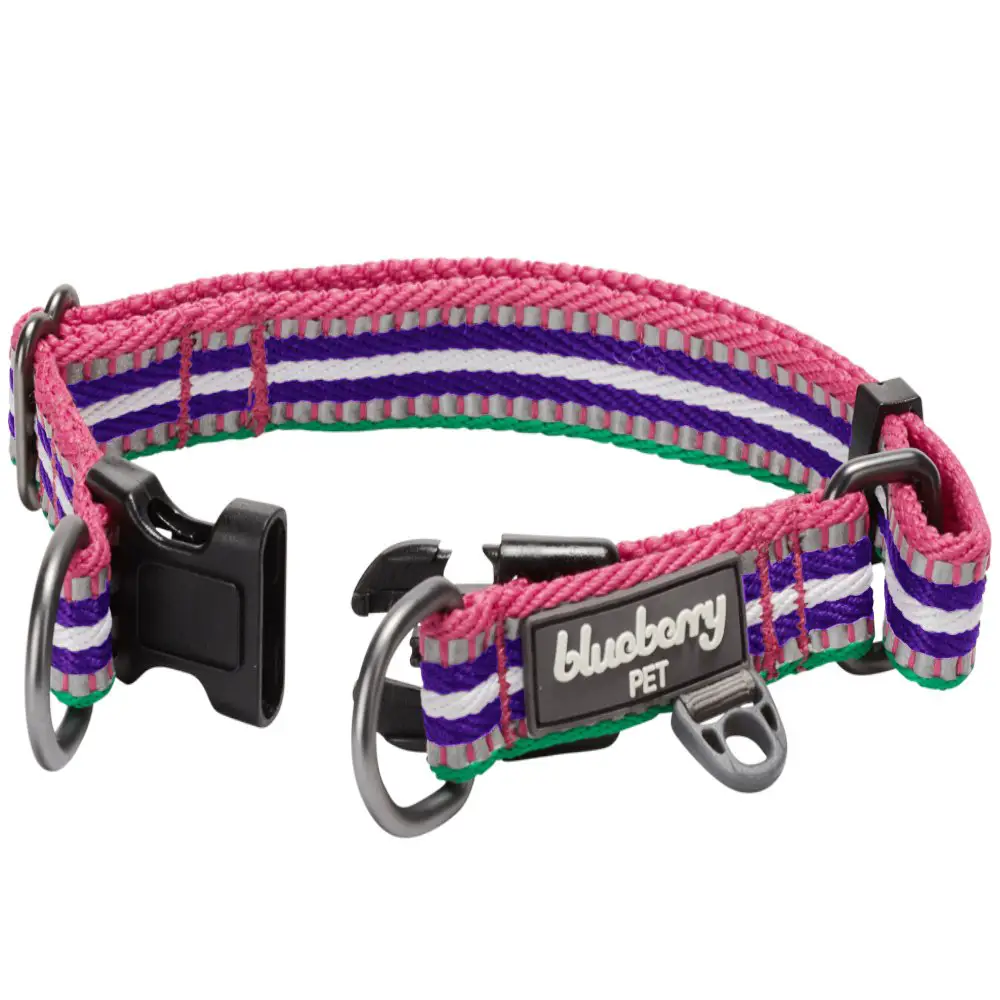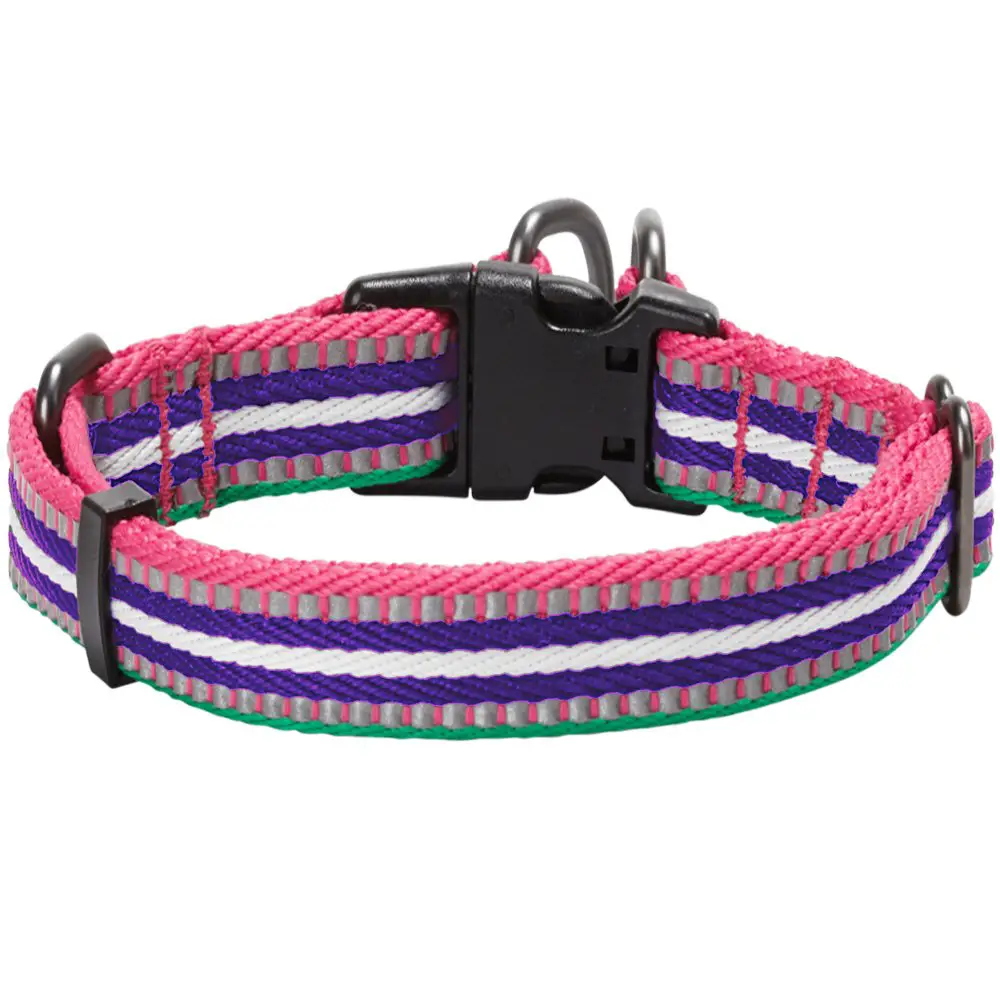 The Blueberry Pet Soft & Comfy Padded Dog Color offers dog owners the opportunity to purchase a high-quality and durable waterproof collar that is also fashionable. The company is known for its many fashionable items, all of which have been highly praised as sturdy, durable, and long-lasting. This product comes in six different pastel variations and built from comfortable materials for the dog's sake. There are also reflective threads stitched into the product, ensuring your dog's safety even at night.
Six Different Color Variations
It should be anticipated that this brand would create a collar with numerous color variations. Dog owners have the opportunity to select from six different eye-catching pastel colors, ranging in baby pink, mint blue, to orange. Each of these variations come with the same padded interior to help ensure maximum comfortability for your dog. Additionally, each one of these variations has the same reflective stitching to help with nighttime walks.
High Quality Nylon
Another area where this product succeeds is in the build and construction of the physical collar. The product is crafted high-quality nylon that is built not only to last but to be waterproof. Many dog owners are surprised when they learn how effective and durable this product really is. However, it is highly encouraged by the manufacturers do not use this product to tie up a dog outside. By constantly tugging and stretching of the material, it may rip and break.
Cost and Value
Out of the many products on today's list, this dog collar is, without question, one of the cost-friendliest options. In fact, when most dog owners get a glimpse at the price tag, they are in shock at how such a high-quality and valued dog collar can be so cheap. This product provides value in its stitching, material build, and the personalization options of six different stunning pastel color variations. On top of this, it's probably one of the most comfortable options for your dog, which is considered the most important.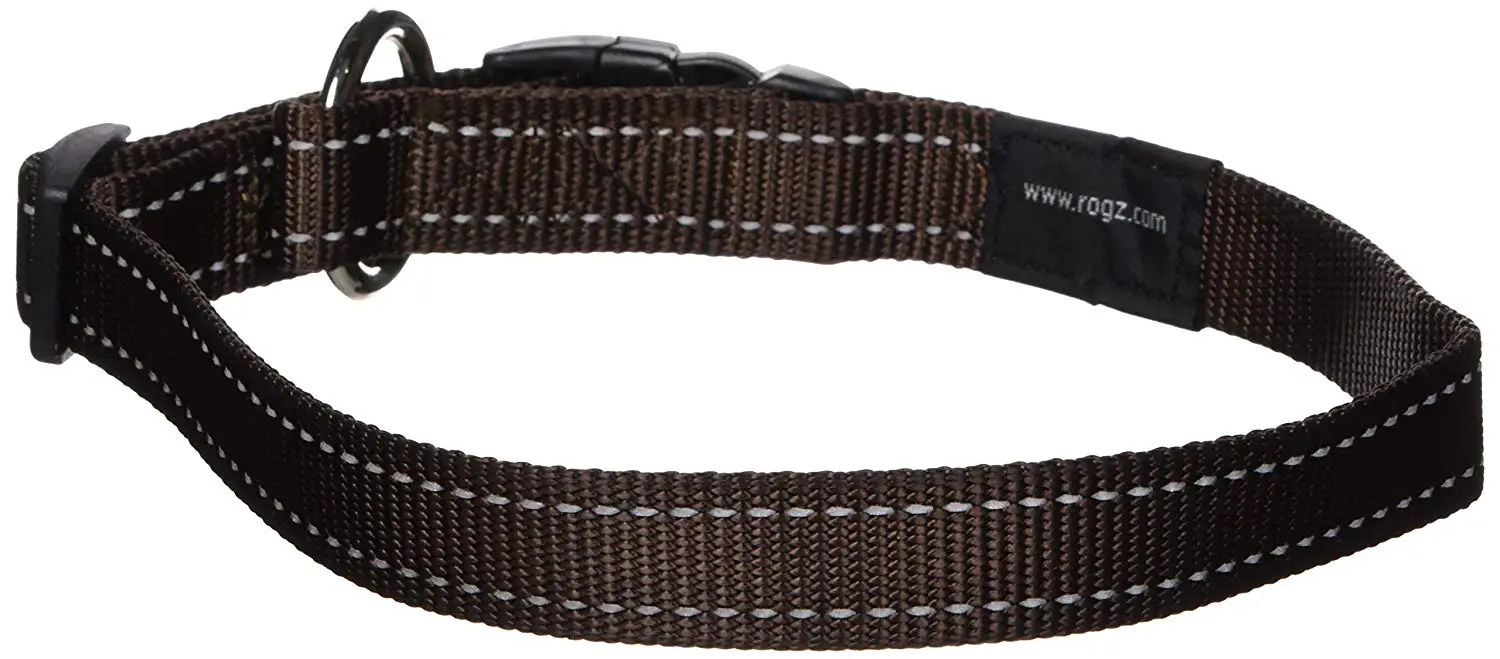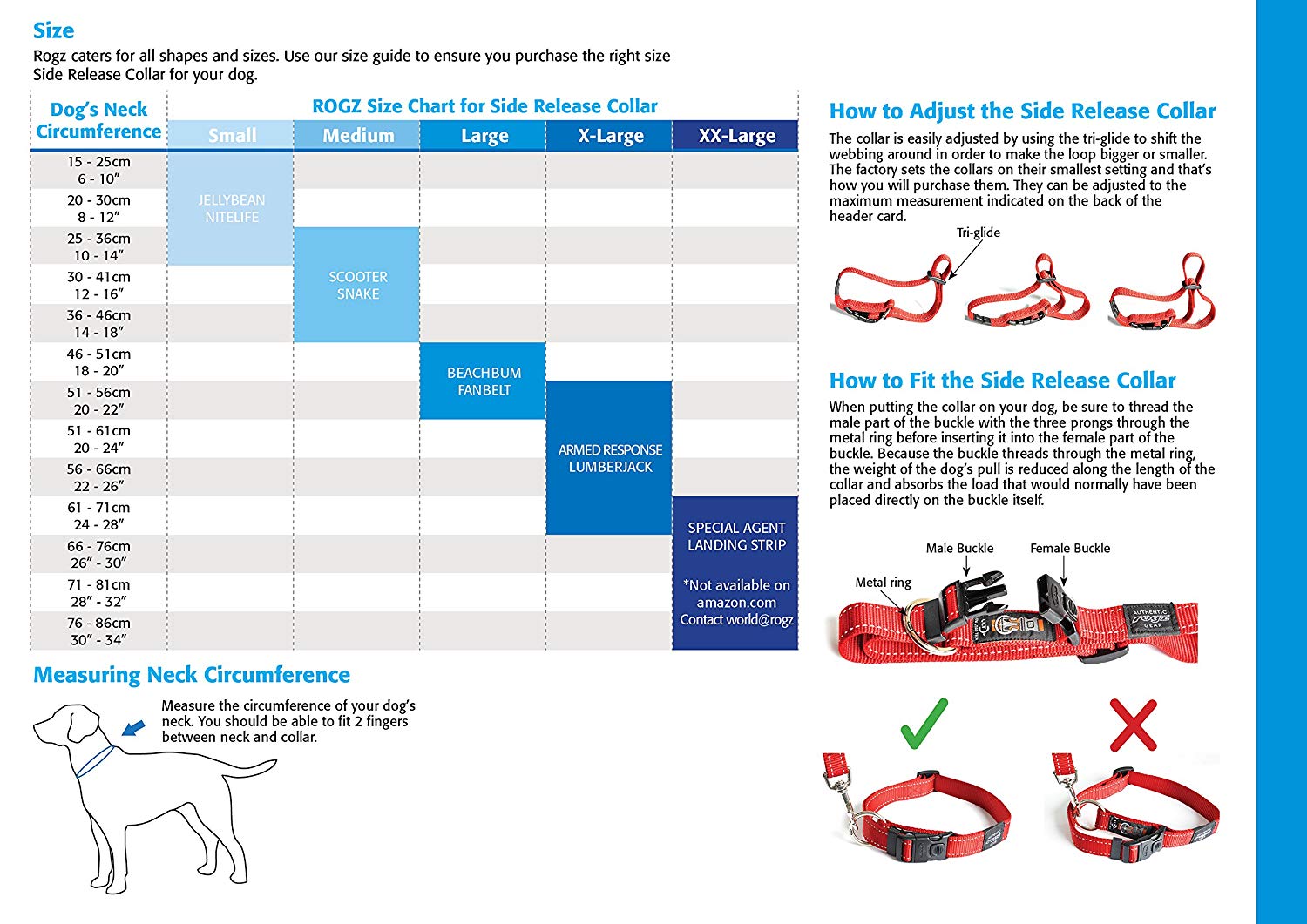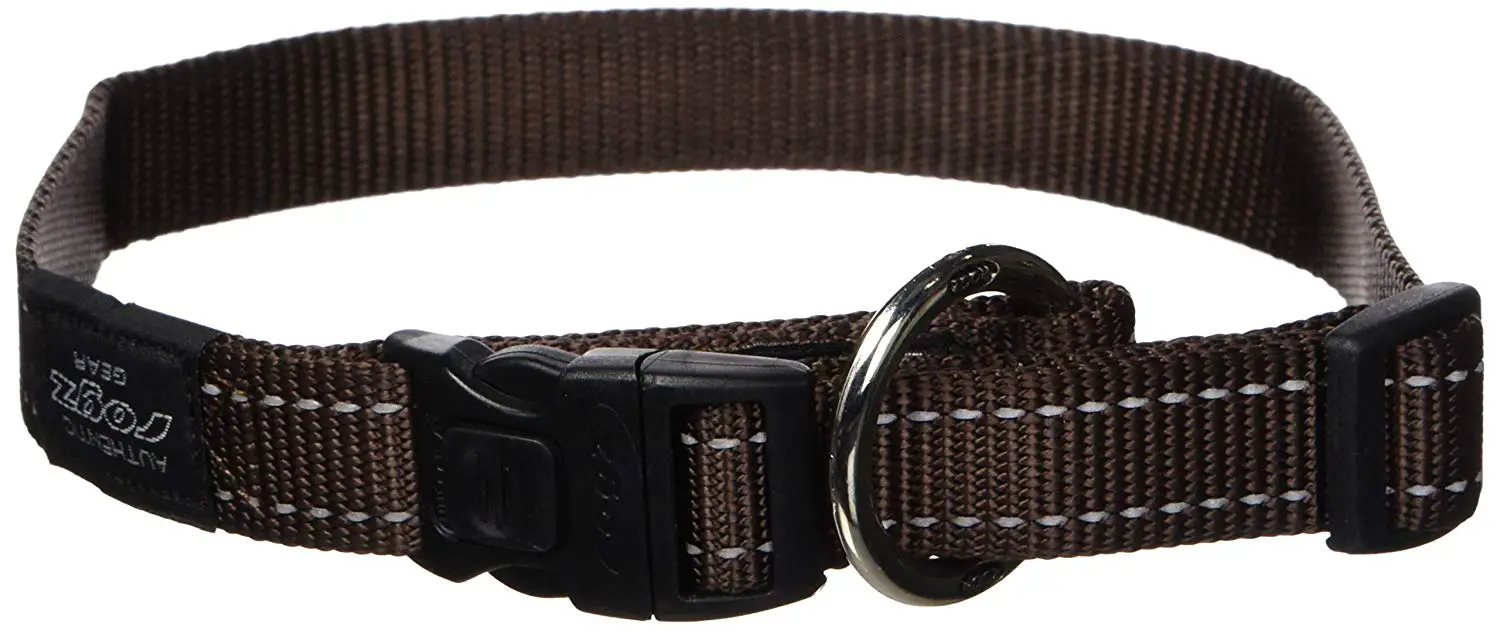 This is a simple collar that will stand up to just about anything your dog throws its way. This large reflective brown collar adjusts easily to fit just about any dog, comes in all kinds of colors and for a little extra dough, you can add a matching leash and harness. It's also designed tough enough to safely hold onto even the biggest dogs so if you're looking for a great all-purpose waterproof collar we like this one.
Fits Almost Every Dog
This collar adjusts from a neck size of 13 inches to as large as 22 inches that will be plenty big or small to handle most dogs we come across. Granted it's not quite going to small enough for your chihuahua or big enough to a really broad bully or a giant St. Bernard but on anything in the middle of the spectrum shouldn't be much of a problem for this belt.
Reflective and Well Built
This collar shows up really well in even dim light. Shine a flashlight out into the dark and this collar will light up like it has batteries We also like how the collar attaches to a leash through a fabric created D bolt which takes a lot of stress off of the collar itself.
Cost And Value
This collar comes in at a very reasonable, very affordable price. For just a bit of scratch, you're getting a great collar that's not only reflective but is also well built enough that it will outlast Fido's biggest watery blunders.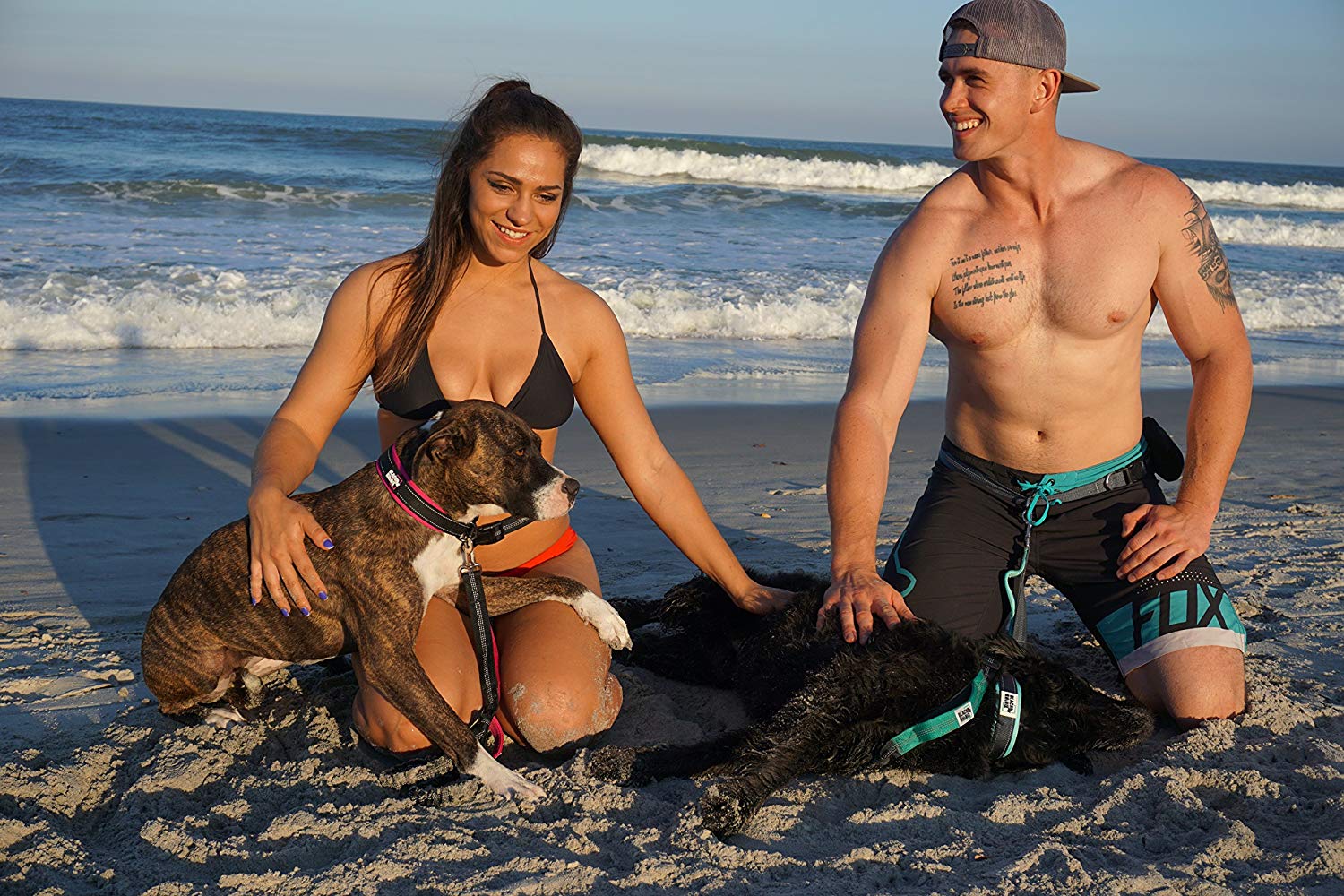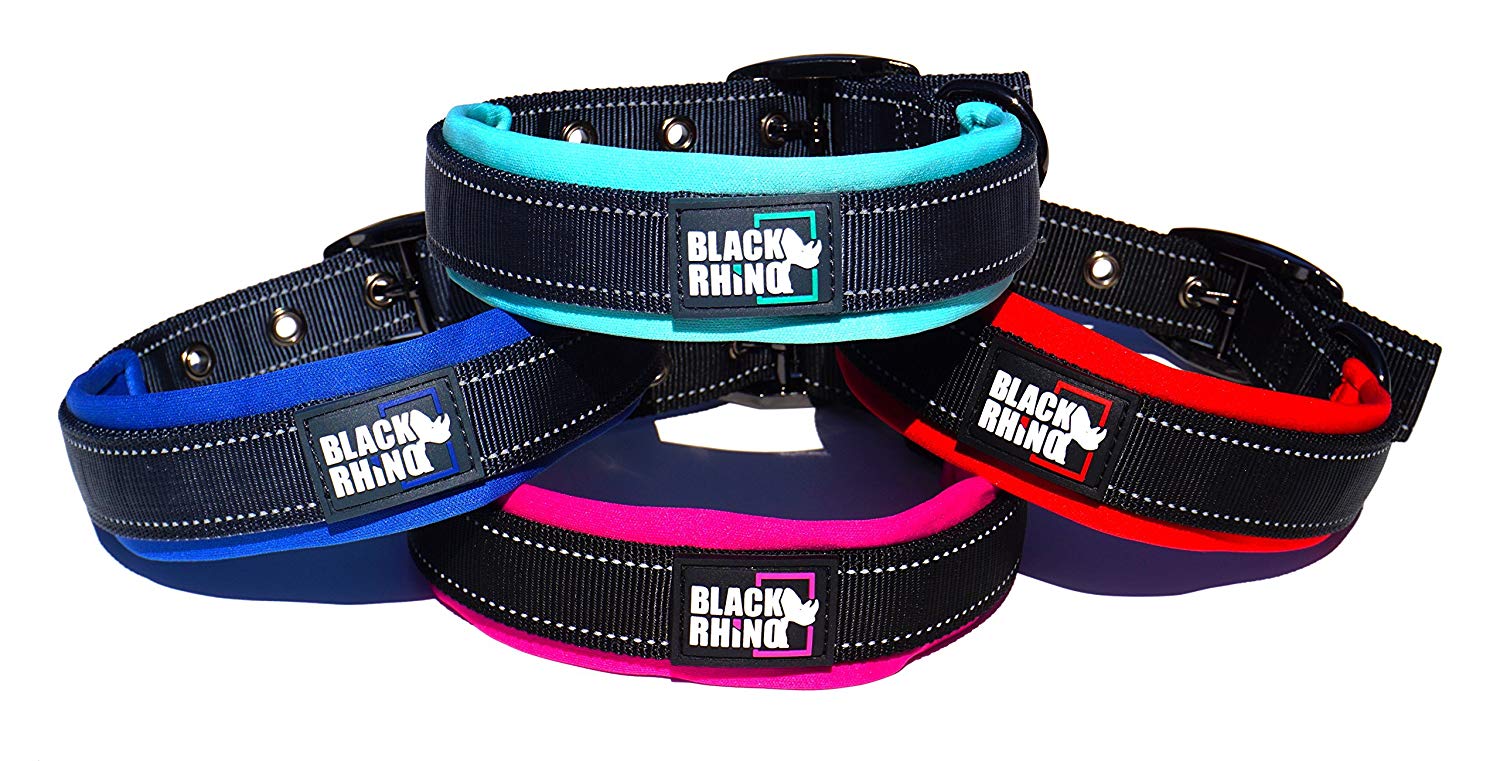 Soft, durable, and strong, Black Rhino - The Comfort Collar is a perfect collar for any working or overly active dogs. A soft, rubber neoprene material coats the back of this collar, making it a flexible and comfortable feel while around your dog's neck. Lightweight, this collar also offers a reflective strip to help aid in safety while working or walking at night.
Neoprene Material
The Black Rhino - The Comfort Collar offers a soft, neoprene material that is both lightweight and waterproof. Flexible and soft, this collar's neoprene material is made to prevent irritation around the dog's neck.
Quality Material
Quality material is well known in the Black Rhino - The Comfort Collar. The materials put into this collar are carefully chosen for strength and durability. Guaranteed to withstand environmental hazards, the Black Rhino - The Comfort Collar is made to put up with the most active dogs' lifestyle.
Cost and Value
With so much value built into the Black Rhino - The Comfort Collar, there is no reason to turn your heads away. Made with the most solid materials, this collar is designed to keep up with your dog's busy lifestyle. Soft, neoprene backing is in place to keep constant comfort while maintaining a healthy coat. Topped with a reflective area, you will always know where your dog is, no matter what time of the day.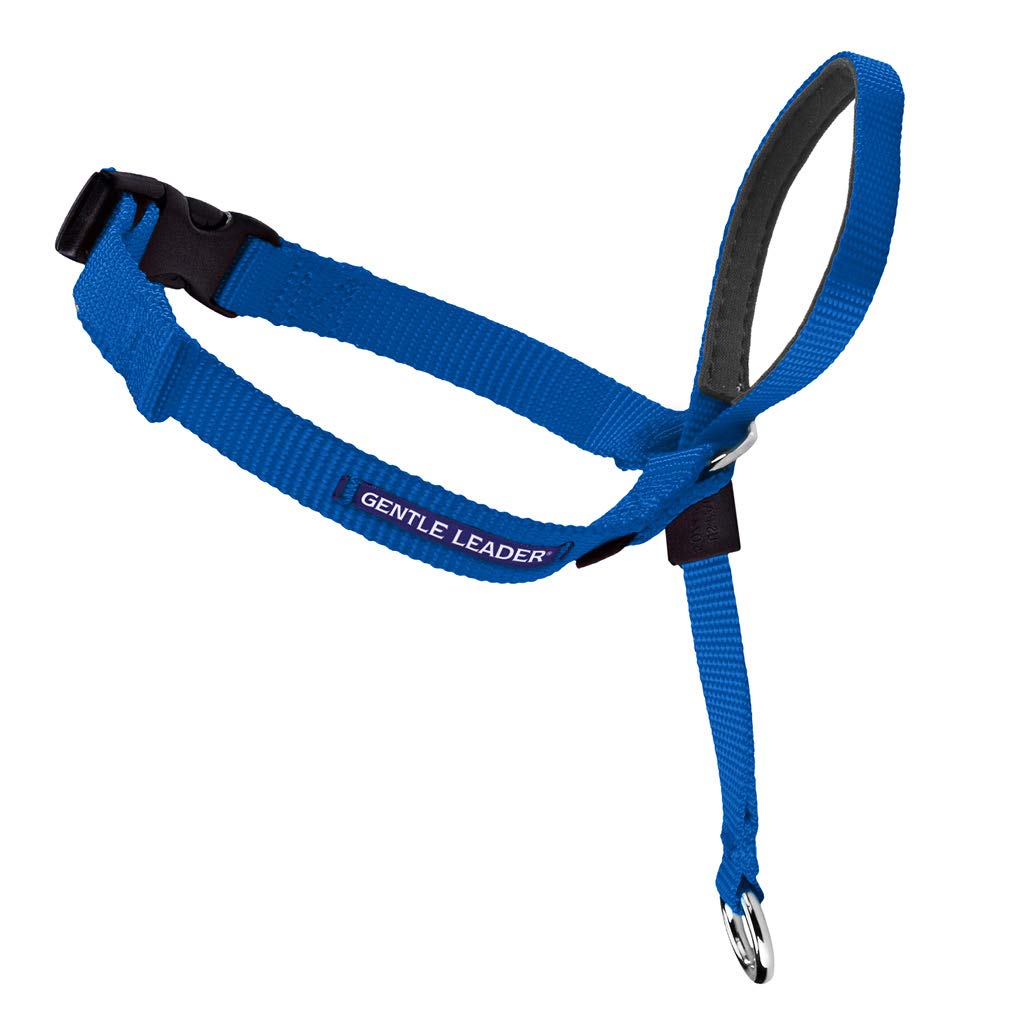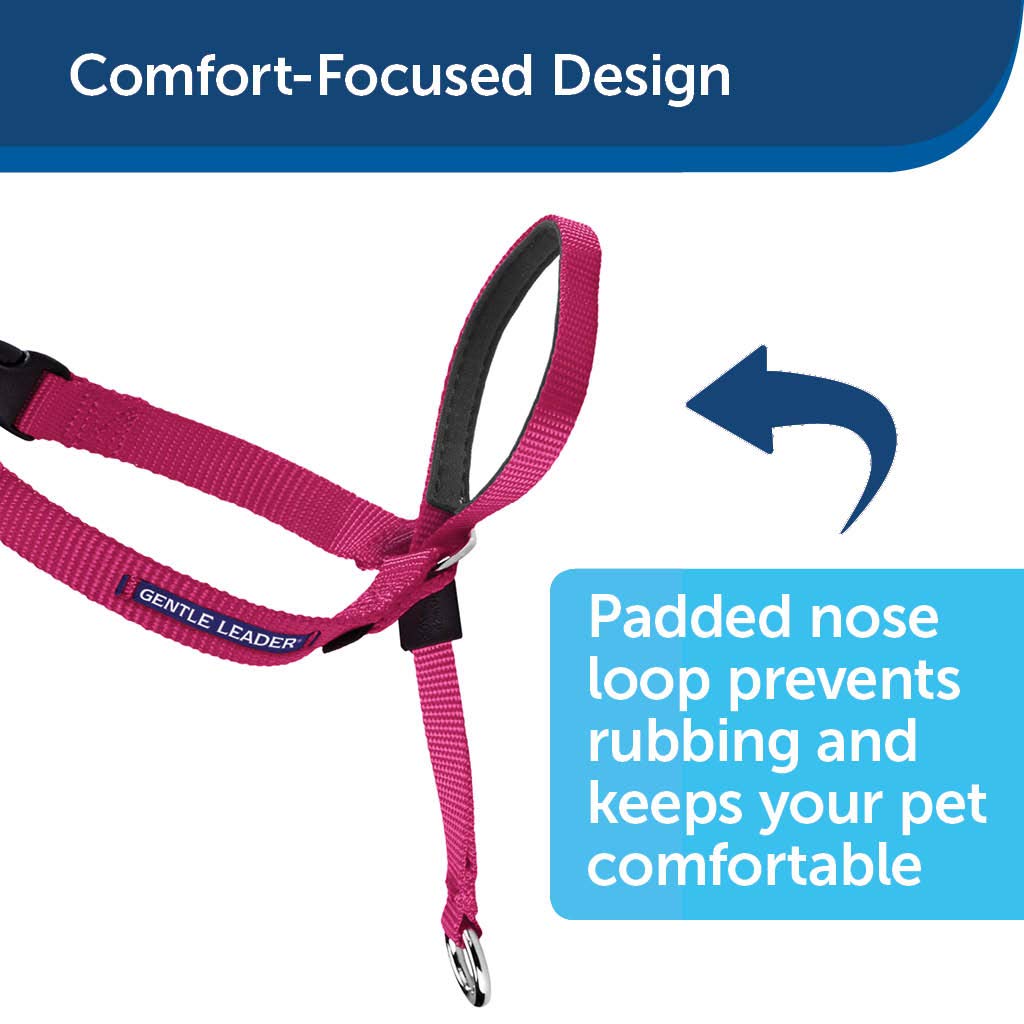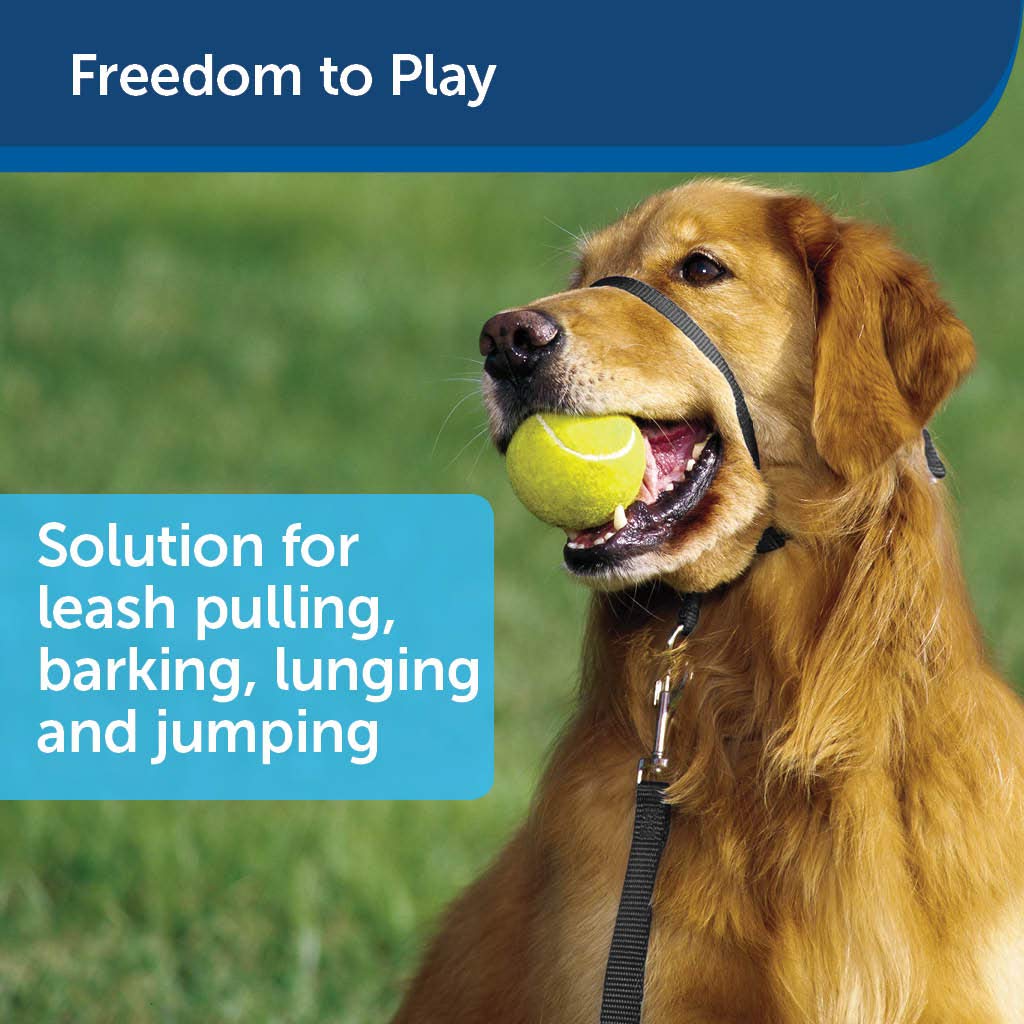 This comfortable fitting collar fits around your dog's nose and keeps steady comfortable pressure away from the dog's neck which minimizes the chance that the dog will choke when you're trying to keep it from doing something it out not be doing, like chasing squirrels. Not only is this collar simple to use and apply but it's safer than a simple choke collar. We also like the money-back guarantee just in case your dog chews it to pieces.
Safe Design
This collar fits around the nose and neck and not just the neck which applies a completely different kind of pressure on the dog and avoids the choking that comes with other collars. It's also a much more effective way to discipline as exerts a much more gentle but insistent pull on the dog's nose.
Easy to Apply
With just a few snaps this collar will lock right into place. It's just as easy to get off. But truth be told this collar is so comfortable you might not find it a problem to just keep it on your pet just to make the trips outside that much easier.
Cost and Value
A bit more pricey than some of the other models on our list but nothing really much more expensive. The fact is most of these collars aren't going to set you back too much.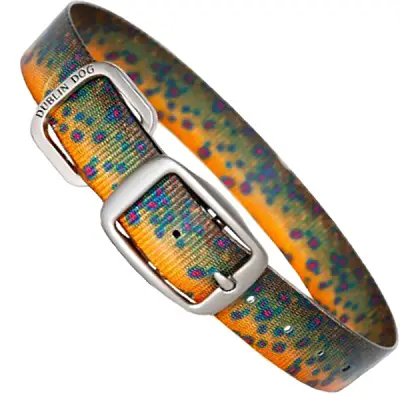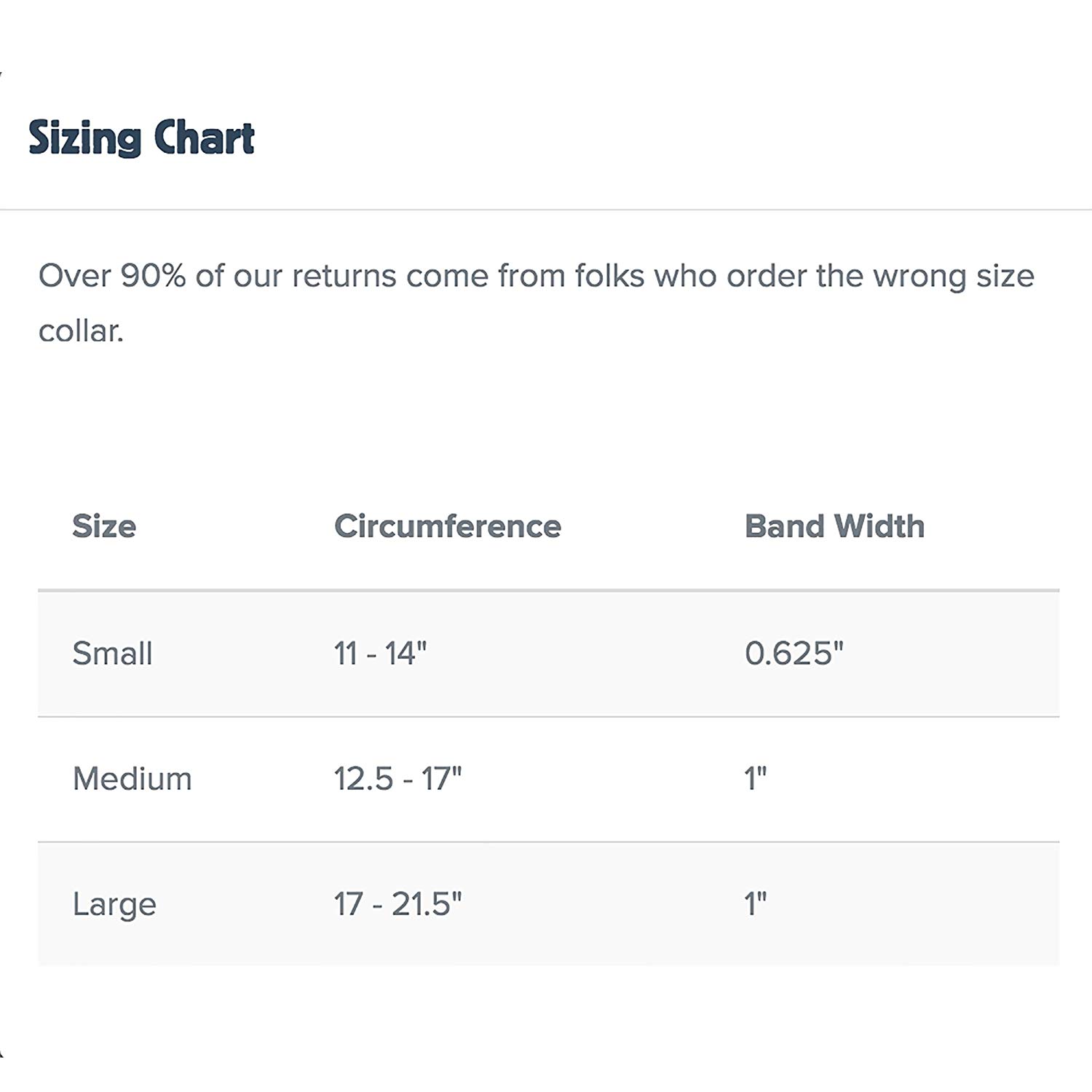 Dublin Dog KOA is built with your dog's safety and comfort in mind. This collar is made with the most durable materials and combined with UV inhibitors, this collar will not fade against the environments harshest elements. The Dublin Dog says no to odor, dirt, and moisture.
UV Inhibitors
This is made with UV inhibitors entwined in its materials, preventing any fading of color or dry rotting to the collar. These inhibitors block damage for years.
Rust Resistant
rest assured it is made for swimming, working, or any kind of dampness because it is 100% waterproof and the hardware is dipped in a rust-resistant material, preventing corrosion and rust.
Cost and Value
With so much value built right in, there is no reason to pass this collar up. Blocking all bacteria, odor, and dirt, this collar is low maintenance. Offering UV inhibitors to prevent fading and dry rot, there is no way this collar will let you down.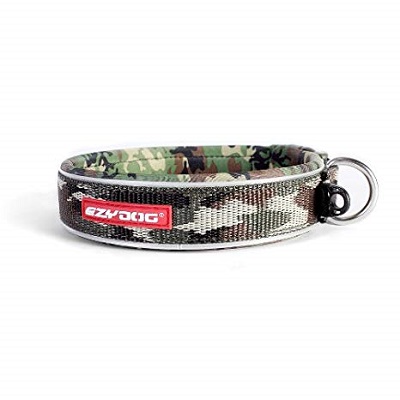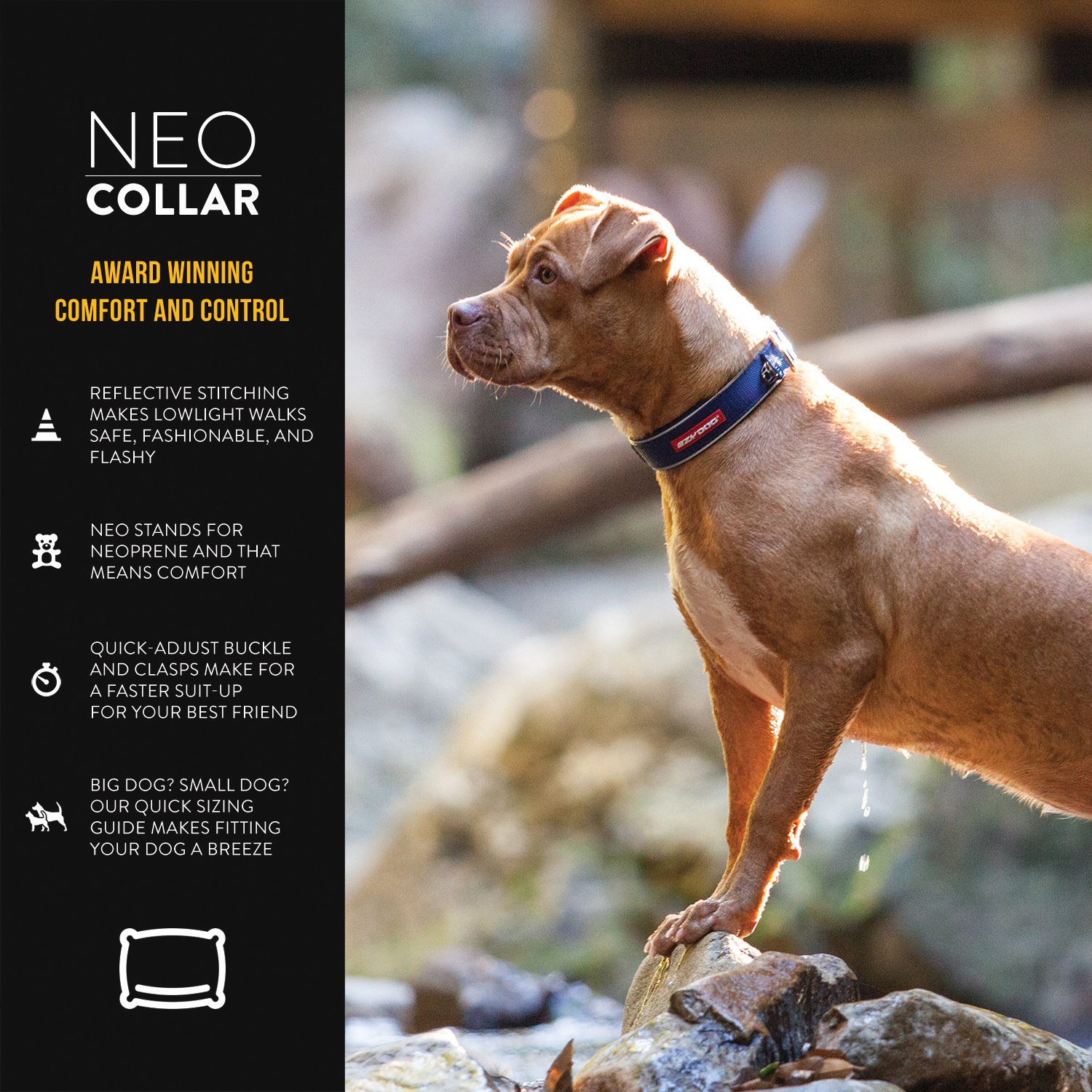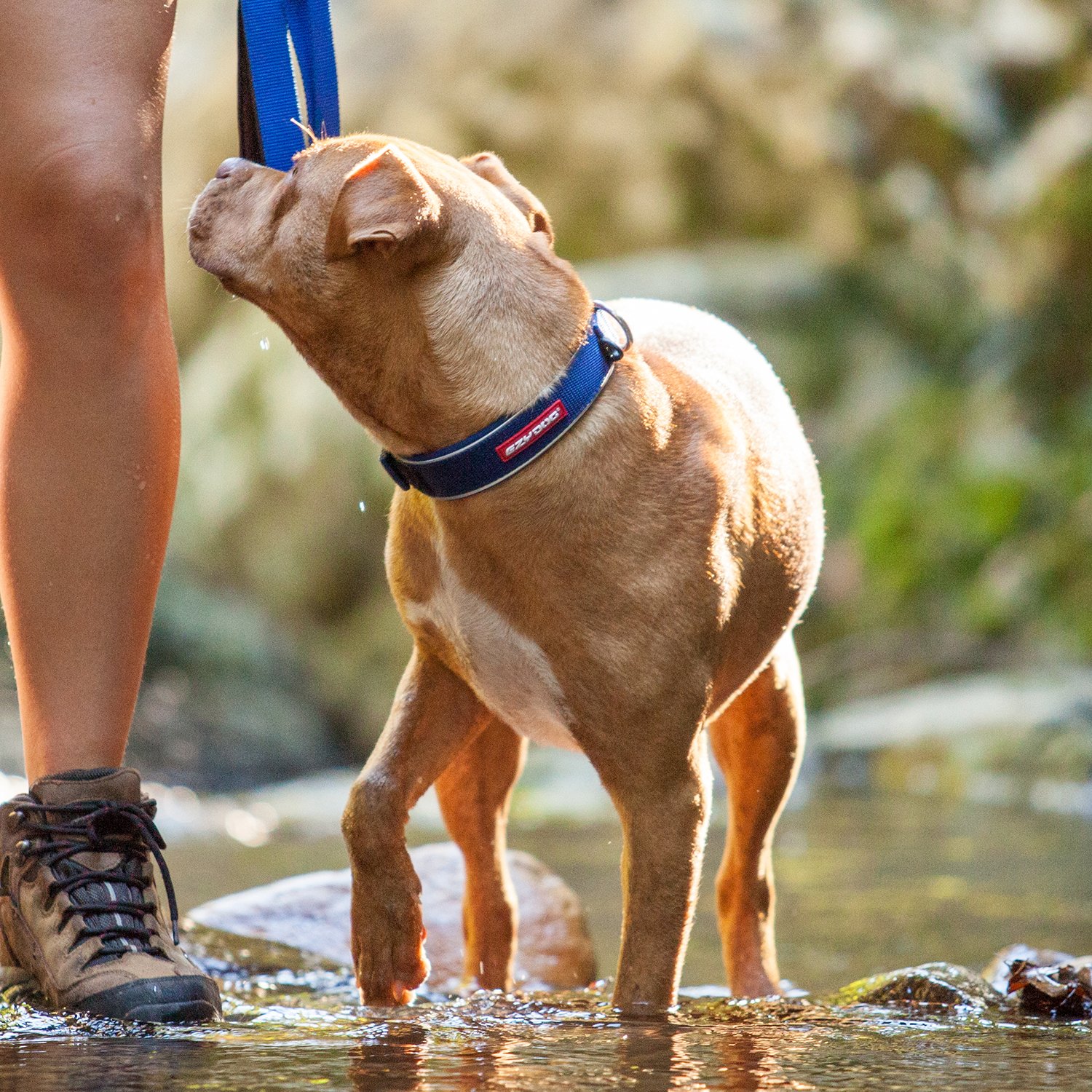 The EzyDog Neo Collar is a durable waterproof collar. Made to last, this collar has a rubber material on the inside the repels any sort of foul odors. Fast drying and easy to clean, this collar has become an all-time favorite for dog owners. The EzyDog Neo Collar offers a safety buckle feature that is quick release and helps control any accidents that may happen. Nighttime safety is supported with reflective piping so you can see and locate your dog on even the darkest of nights. With a collar that offers so much, why look any further?
Neoprene
The EzyDog Neo Collar is not only made with a water-resistant polyester but also with a strong, closed-cell neoprene material that repels water and is easy to clean. The closed-cell neoprene also prevents stink, unlike the traditional cloth collars.
Quick Release Buckle
The quick-release buckle feature is an added safety feature to the EzyDog Neo Collar. Never get into sticky situations with the quick release. This will help prevent any damage the collars could do if the dog were to get hung up.
Cost and Value
The EzyDog Neo Collar is an all around the collar that is ideal for the working dog. Repelling water and odor, the soft, closed-cell neoprene will help prevent any irritation that may occur around your dog's necks. Durable and easy to clean, the EzyDog Neo Collar is really low maintenance and offers safety features for scary situations. Look no further, this is the collar for you.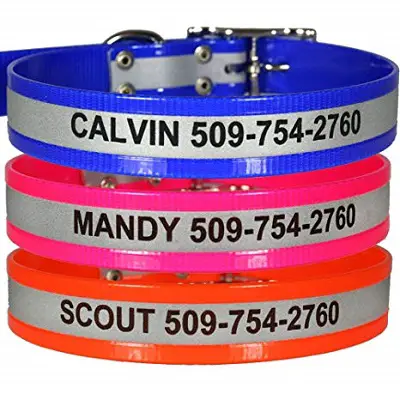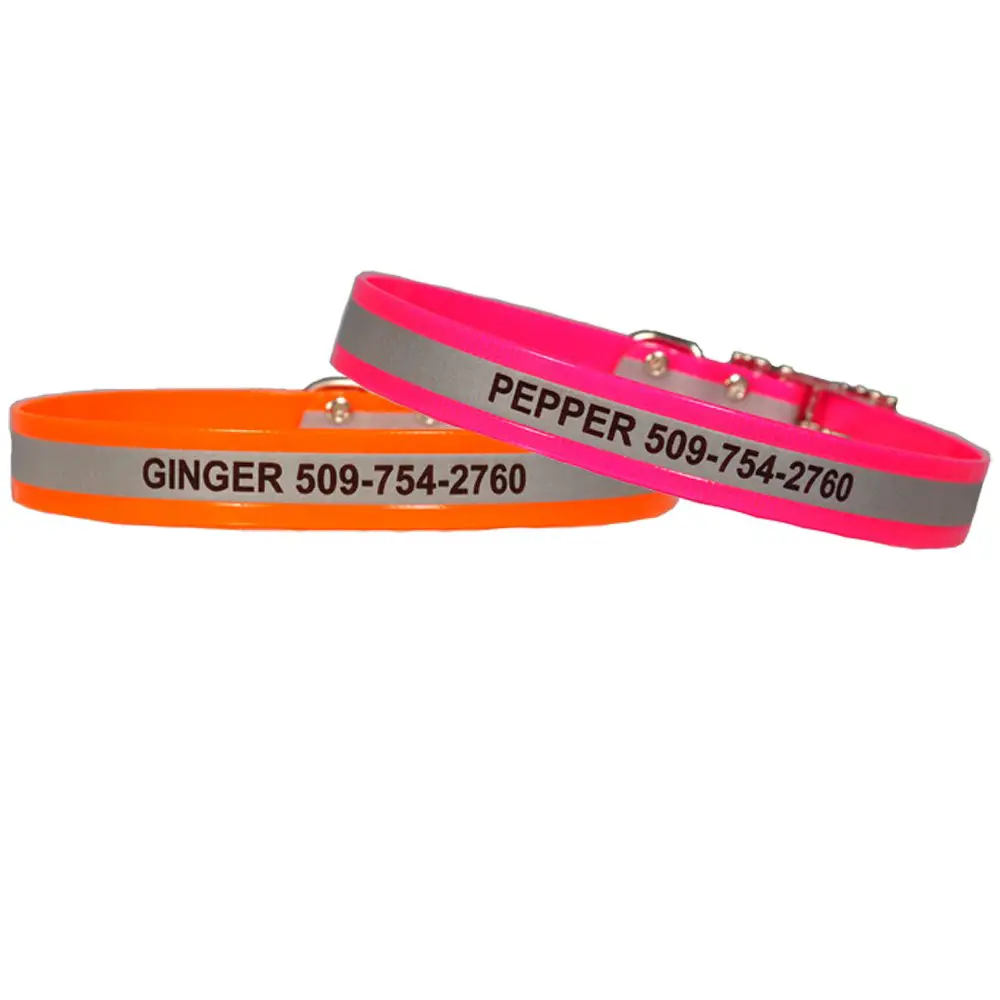 Made to last, the GoTag Reflective Waterproof Collar has materials that are reflective, waterproof, and durable, packed into one dog collar that fits most breeds. With the ability to be personalized, you can feel at ease knowing that your dog always has identification, whenever his collar is on. With many colors and sizes available, you can be sure that this collar is made specifically for your dog. Why miss out on such a fabulous collar?
Biothane Material
The list of benefits for BioThane material is endless. Each GoTag Reflective Waterproof Collar is made with BioThane material to help assist in reflecting on the darkest of nights. BioThane material is easy to clean and waterproof as well, keeping bacteria and orders at bay.
Personalization
Each GoTag Reflective Waterproof Collar can be made to order with personalized information. Having your name and number engraved into your dog's collar puts you at ease knowing that if your dog gets lost in the field, you are sure to see him again.
Cost and Value
GoTag Reflective Waterproof Collar's come in many different shapes and sizes. With the ability to engrave personal information in your dog's collar, you can put your mind at ease, knowing that if your dog is lost, he will be sure to return. Reflective materials allow you to locate your dog in the darkest nights while the BioThane material will keep him comfortable for long days on the job. The benefits definitely outweigh the cost with this collar!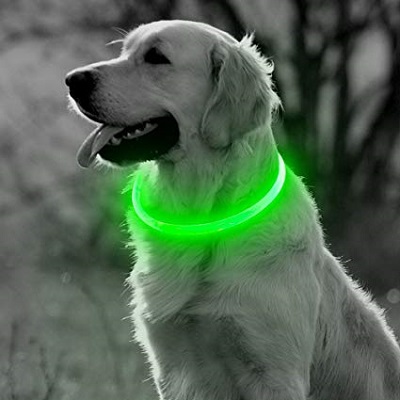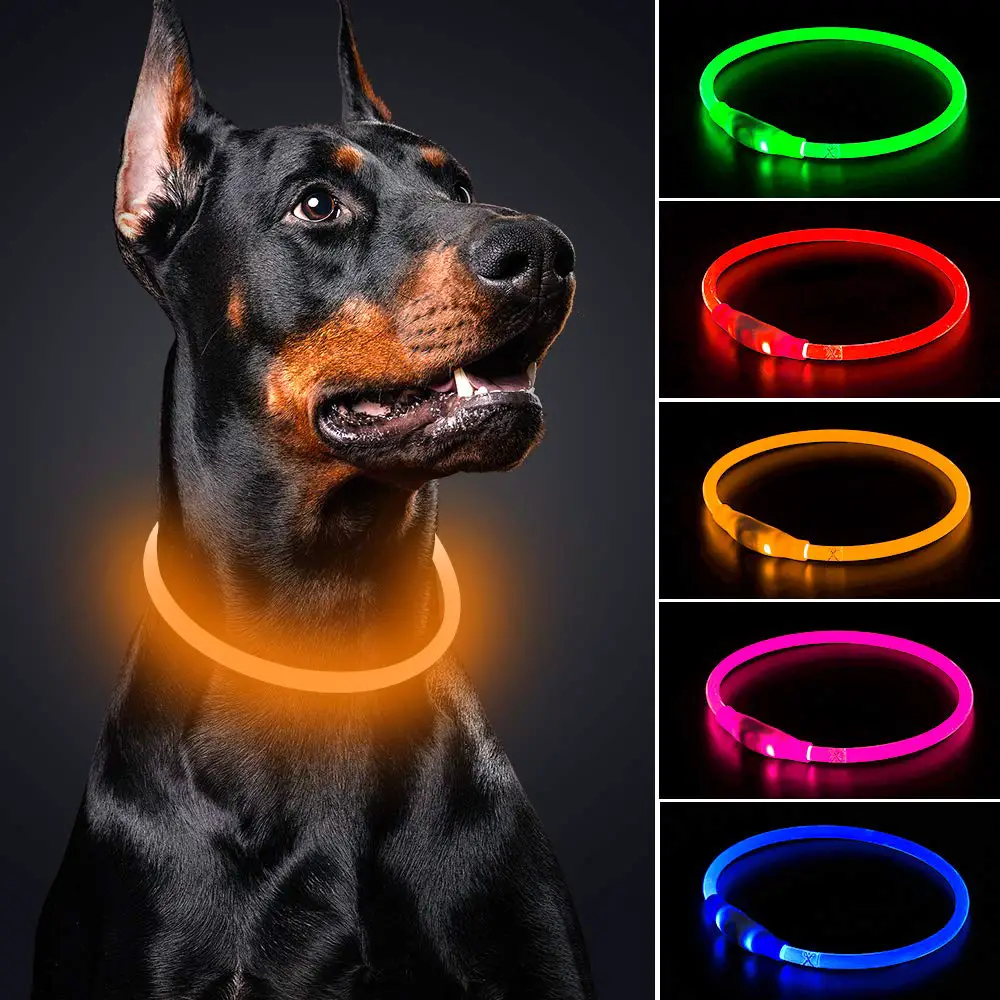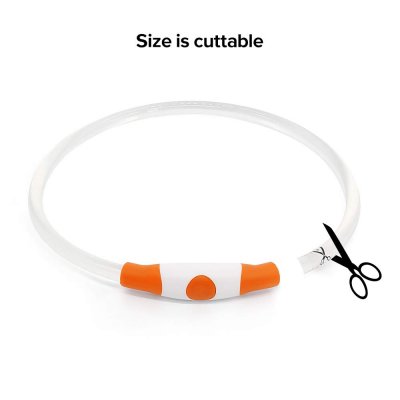 This collar seems to be the perfect choice to keep your four-legged friends in your visual field, even during nighttime. Consisting of an LED glowing tube, this collar works in multiple modes. Therefore, it allows you to choose how powerful the glow will be. What's more, B.Seen LED collar is adjustable. If it doesn't fit your dog's neck circumference, you can either double wrap or cut it. Being waterproof, it's perfect for any kind of outdoor activity.
Multiple Modes
The B.Seen LED dog collar comes with 3 useful modes for different circumstances: slow blink, quick blink, and light continuously. For instance, if you are not near an electricity supply, you can opt for the slow blink because it lasts the longest.
USB Rechargeable
Another big plus for buying this collar is the recharging design. You can use the included USB cable wherever compatible. But if it happens that you're in a hurry and can't find it, don't worry! It's compatible with other USB cables or smartphone chargers too.
Cost and Value
The cost is really affordable but slightly varies, depending on the color you choose. It comes in six different colors and is incredibly durable. So don't hesitate to invest a little in the safety of your dog!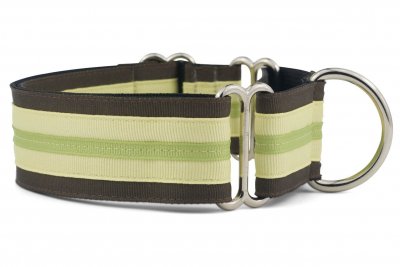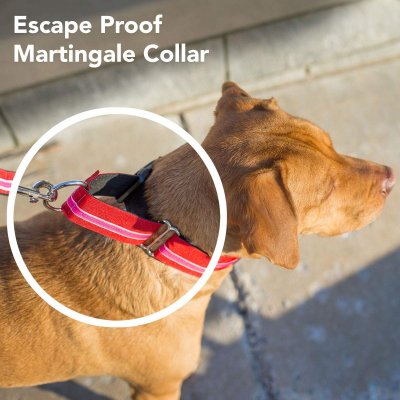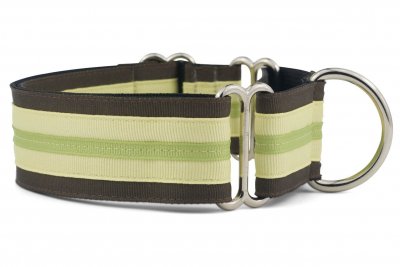 This wide reflective collar is easy to apply and will stay put once it's in place. Also, this has a unique no choke system that allows you to get control of your dog without blocking off its air supply. This is also a great tool for dogs whose necks are bigger than their heads so all you bulldog lovers this is a great choice for you.
Tough Construction
The collar is made x-tough fabric which ensures that it won't get ripped up by any shenanigans your dog manages to get in when you're not around.
No-Choke Collar
While this looks like a regular collar this collar has a unique d-collar construction that will allow you to control your unruly dog without choking the poor animal out.
Cost and Value
This collar is a bit more expensive than some of the others on our list but the tough construction, wide reflective band, and no-choke element make this a collar well worth considering.

Subscribe to our Newsletter