Best Hunting GPS Reviewed & Compared
For many men and women, hunting is one of the greatest activities to partake in. Spending long hours in the peaceful outdoors and waiting patiently for that perfect buck or turkey can be one of the most exciting and calming things to do. When you go out on any hunting trip, especially one in an area that you're not entirely familiar with, it's always a great idea to bring along a handheld GPS for hunting. These GPS's are made explicitly to be brought along on hunting trips, and today we have a list of devices that are the best hunting GPS available on the market today.
Our Top 3 Picks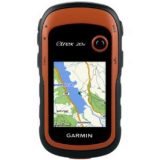 GARMIN Etrex 20

Our rating
Includes a worldwide basemap with shaded relief
Price:

See Here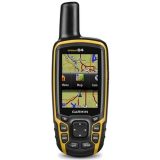 GARMIN GPSMAP 64

Our rating
Preloaded with a number of TOPO 100K Mapping, Full US Coverage
Price:

See Here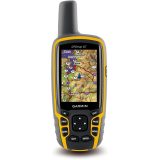 GARMIN GPSMAP 62

Our rating
Built-In worldwide map with shaded relief, BirdsEye Satellite Imagery
Price:

See Here

Factors to consider when buying a hunting GPS device
Handheld GPS devices are able to help greatly enhance your hunting experience. Providing you with accurate location tracking you will be able to know when you are within the legal boundaries, keep track and log the path you have taken and never find yourself out of place. However, with multiple options on the market and with hunting GPS products being costly devices means that you should consider a multitude of factors, so you can be certain that you have made your right choice before making a final purchase.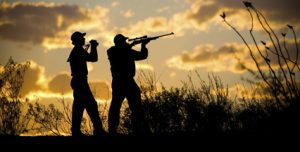 What is a hunting GPS handheld device?
A Hunting GPS handheld device is considered to be any portable GPS product that is suitable for hunting tips and experiences. Whether the product would be solely aimed at the hunting market or will be a more general device marketed for both hiking and survival, a hunting GPS is a handheld tracking device that is able to accurately keep track of your location and give you further updates needed on your hunting trip.
Why do you need a hunting GPS handheld device?
Most hunters require a hunting GPS handheld device in order to be able to freely roam in the hunting areas, without having to worry about keeping track of their position. Furthermore, such a device would greatly improve your ability to be in the legal hunting zones and will give you further information about the hunting area of your choice, which you can use to analyze in order to get the best pray. Also, some hunting GPS devices provide you with amazing features that allow hunters to communicate about different areas and hunting paths.
What will you be using your hunting GPS handheld device for?
Most notably, you will be using your hunting GPS handheld device for keeping track of your location and finding your way around different hunting zones. With such a device by your side, you will be able to fully enjoy your trip, without the worry that you might get lost in an unknown area. Furthermore, you will be using your device to pinpoint important locations and waypoints on your trip and some devices will also help you plan out your trip and get familiarized with the area you will be hunting in beforehand. Also, you will be using your hunter GPS to be certain that you are within the legal hunting boundaries of an area.
Different factors to consider when buying a Hunting GPS handheld device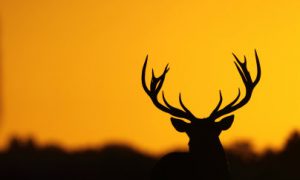 There are multiple factors to consider when purchasing a hunting GPS device. Usually a great battery life of more than fifteen hours and a great backlit display that can easily be seen in direct sunlight on a hunting GPS device that is able to track your position within a decent accuracy of about ten meters would be perfect to you. Another factor to consider, if you are going to purchase a GPS device is your budget and what features are most important for your hunting personality. For example, if you use a compass often, make sure that the device has an electronic compass, so the device would be able to further help you out on your hunting trip. There are multiple options on the market in different price ranges, so knowing what exactly you are looking for beforehand will greatly help you in purchasing the exact hunter GPS device you need.
Best features to look for
Some of the best features in a handheld hunting GPS device you should look for include
Decent Backlit Screen with Great Direct Sunlight Visibility
A Battery Life of 15+ Hours
Accuracy About 10 Meters
Decent Storage Space to Allow You To Upload Hunting Maps
Availability and Support of Hunting Maps
Availability and Support of Topographical Maps
Ease of Use with One Hand
General Ease of Use
Decent Waterproof Rating
Additional Features, such as Electronic Compass and Barometer
Needed Mapping accuracy and Battery Life
One of the most worrying issues for people when they are about to purchase a handheld GPS device is the mapping accuracy and battery life. For those who are mainly concentrated on hunting and won't necessarily use their GPS device for other adventures, such as survival, a device that has about 10 meters accuracy is great. Furthermore, most people get irritated at devices that take longer when updating your position. This shouldn't be a problem for the hunter as urgency in the pinpointing of your location is not that vital to the success and enjoyment of your hunting GPS experience. When it comes to battery life, anything that is able to sustain you fifteen plus hours is decent. However, you can even go for options with a lower battery life, as long as replacements of the batteries are possible, as hunting trips without access to electricity during the day are a rare occurrence.
Hunting GPS devices can greatly increase your hunting experiences, allowing you to fully enjoy the nature surrounding you and focus on your pray. With a hunting GPS by your side, you won't need to constantly check the maps or keep track of the path you have taken or how to get back to your hunting hut, as the GPS will keep track of this for you. Furthermore, you won't have to worry whether or not you are within the legal hunting boundaries, as your GPS companion will be able to easily remind you when you are getting close to them. On top of that such devices can provide you with an array of additional features, such as hunting maps that will give you important information about the areas you are in, electronic compass and even barometer. That way you will always know where you are located and how to get back, even if you don't know where you are headed. Following your pray around, you will be certain that you won't get lost with a hunting GPS device by your side.
6 Best Hunting GPS Devices 
1. GARMIN Etrex 20
One of the better GPS trackers on the market, that is also perfect for hunting, is definitely the Garmin Etrex 20 GPS. Featuring a number of upgrades, compared to other models, the Etrex 20 has an upgraded display, can load more maps and has a number of amazing features including preloaded basemap and HotFix satellite prediction. If you are looking for a stable and durable device that can keep track of where you are located, the Ertex 20 is a perfect choice.
Expand to see more
Features
An affordable option, the GPS tracker has almost 4 GB memory and a microSD slot for additional memory, where you can store a number of maps. Furthermore, it supports a huge variety of map version, including the HuntView, TOPO 24K, City Navigator NT, BlueChart g2, and BirdsEye Satellite Imagery. This makes the item ideal for hunters, who'd like to have a sense of safety and security, while doing any wilderness activity.


2.2-inch 240x320 pixels 65K Display in color


3.7GB of Internal Memory


Support of a huge map variety


Preloaded Worldwide BaseMap


High-Sensitivity WAAS-Enabled GPS Receiver


HotFix Satellite Prediction and support of GLONASS


Conclusion
If you are looking for the best lightweight GPS on the market, you should definitely go for the Garmin eTrex 20x. While its small size impacts its accuracy, the device should be perfect for your hunting trips. And while the interface does require some getting used to, the BaseCamp software integrated on the device adds a whole another level of experience to your hunting.
Great value
Preloaded basemap WAAS-enabled GPS receiver for high-sensitivity HotFix satellite prediction and more.
Waterproof
Lightweight
Small screen
Slower response
2. GARMIN GPSMAP 64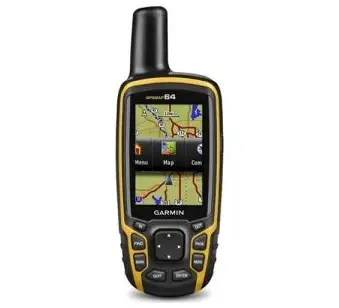 The Garmin GPSMAP 64st provides you with boasted wireless connectivity and a high-sensitivity GPS receiver that works extremely well with both the Russian GLONASS and the U.S. GPS systems so you are able to navigate to your pray with high accuracy. Perfect for the hunting season, the GPSMAP 64st is one of the best hunting GPS devices on the market, packing a number of great features.
Expand to see more
Features


A 2.6-inch, 240x160 pixels, 65K Display in color that is Sunlight-Readable


Dual Traditional Double-A Battery System


Smart Notifications-ready, compatible with a number of optional ANT+ Sensonrs


Wireless Data Upload


Preloaded with a number of TOPO 100K Mapping, including Full Coverage of the US


Water-Resistance Rating of IPX7


Weight of 9.2 Ounces


Position Accuracy of 3 Meters


High-Sensitivity Quad Helix Antenna


Conclusion
The Garmin GPSMAP 64st is a great hunting companion for those who would like for their GPS to find them no matter where they are and no matter of the weather conditions they are in. Packing with a number of amazing features, the GPSMAP 64st provides its users with new additions, such as wireless and bluetooth connectivity, which allow for the better handling of your mapping. While some MAC users might experience some software problems, as they'd be required to install a plug-in for the downloading of new maps via Safari or Firefox, the GPSMAP 64st nonetheless works perfectly even out of the box, with its pre installed TOPO maps.
Amazing accuracy
16 hours battery lifetime
Precise even in extreme weather conditions
Lack of support for Safari and Firefox
3. GARMIN GPSMAP 62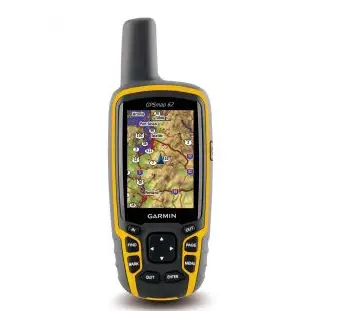 Coming with a worldwide basemap that has shaded relief right out of the box, the Garmin GPSMAP 62 is a great hunting device that also provides you with exciting new features, such as photo navigation, which you can load from the official Garmin website. Furthermore, on top of the basemap you will be able to freely purchase new maps, including hunting ones on the aforementioned website for a fairly affordable price and then load them upon your device. The Garmin GPSMAP 62 comes packed with a number of features.

Expand to see more
Features


6.3 by 1.4 by 2.4 Inches of Size


Weights about 9.3 Ounces


Works with Double-A Batteries


Features a 2.6-Inch Transreflective 65K Display in Color


Built-In Worldwide Map with Shaded Relief


Supports BirdsEye Satellite Imagery


Waterproof Design


Conclusion
The Garmin GPSMAP 62 is one of the best hunting GPS systems to ever come out. Even though the device lacks an SD card extension slot, its onboard storage should be good enough for your hunting maps and any additional one you would like to purchase. Purchasing those maps is easy and simple through the Garmin website and loading them on your device is even more simple. Furthermore, with over 20 hours of battery life, you will be able to fully enjoy your hunting trip, without having to worry about the batteries. The device is able to locate you with 10 meters of accuracy and is a perfect handheld for the average hunting enthusiast.
Pre-packed with a worldwide basemap
BirdsEye satellite imagery
Transreflective display technology
20 hours battery life
4. GARMIN Oregon 600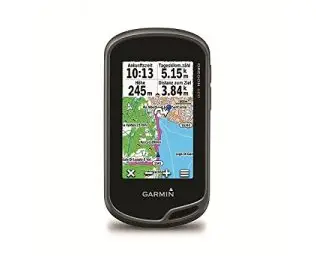 A world-class handheld GPS, the Garmin Oregon 600 is the perfect hunting GPS device you could own. Containing all the features anyone would need from a tracking companion, the Oregon 600 certainly takes it to the next level.
Expand to see more
Features


Device Size: 4.5 by 1.3 by 2.4 inches


Display Size: 3 Inches


Device Weight: 7.4 Ounces


Sunlight-Ready Display with Touch Screen Technology


Dual-Band GPS/GLONASS Satellite Tracking


A Number of Sensors, including 3-axis Compass, Accelerometer, Barometric Altimeter


ANT or Bluetooth Wireless Technology


Double-A 2 Battery System


Conclusion
The Garmin Oregon 600 is the perfect high-tech handheld GPS tracker for the hunting enthusiast. While adventurers do find its inability to sustain cold temperatures quite worrying, this should not be the case for the hunter community. Furthermore, while the price of the device is quite steep, the handheld GPS Oregon 600 provides you with amazing value for the money, packing almost every feature a hunter would need from their GPS device. With great battery life, amazing display and being extremely easy to use, the Garmin Oregon 600 also provides its users with access to amazing mapping on the official Garmin website, which can truly help you out on your hunting trips.
Huge touchscreen
Sleek and modern design
Fast signal-picking abilities with both GPS and GLONASS
Inability to sustain cold temperatures
5. GARMIN GPSMAP 60CS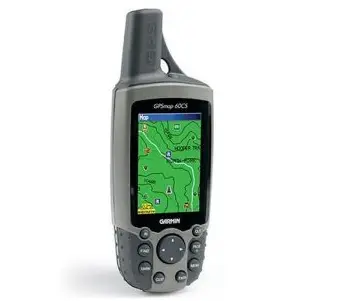 Most handheld GPS manufacturers usually don't target their devices directly to hunting enthusiasts. That's why, when searching for the perfect hunter GPS, most hunters tend to check out the best hiking ones. And if you check out the Garmin GPSMAP 60CS Water Resistant Hiking GPS, you would know why this is the case. Providing you with reliable tracking and a number of amazing trail maps, as well as hunting maps, available through the Garmin store, the GPSMAP 60CS includes a number of great features that provide for a decent handheld GPS device at a fairly reasonable price.

Expand to see more
Features


All-Purpose 12-Parallel-Channel GPS+WAAS Receiver


Electronic Compass


Barometric Altimeter


Great Transreflective TFT Display, 256-color, 2.6-inch


56 MB of internal Memory


20-hour battery Life on a 2 AA Batteries


Conclusion
The Garmin GPSMAP 60CS is an extremely decent handheld GPS device. Even though it has been on the market for quite some time, it has managed to age extremely well, perfect for those who would like a device that has proven its reliability over the years. Furthermore, coming packed with all of the features you would need from a hunter GPS, the GPSMAP 60CS also has amazing user-generated hunting maps available for download through the Garmin store and while you are not hunting, it provides you with amazing fun geocaching games and activities you can check out. What's more the device is highly waterproof, has a long battery life and its display is amazing enough so you can see it under direct sunlight or in the dark, making the Garmin GPSMAP 60CS truly an outstanding and reliable handheld GPS perfect for hunters and enthusiasts.
Super accurate
Extremely water-resistant
Over 20 hours battery life
6. MAGELLAN EXPLORINS 350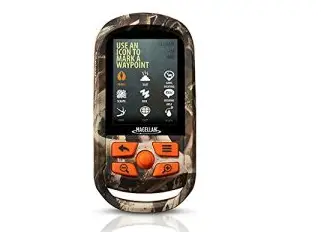 One of the best devices in the Magellan GPS eXplorist family, the Magellan eXplorist 350H Handheld GPS comes packed with amazing features that make it one of the greatest hunting GPS devices. Aimed at delivering a great experience for the hunter, the 350H is truly a device that will help you out on your hunting journey.
Expand to see more
Features


Hunt-Specific Waypoints


Topographic Map contour layout


Boundary Alerts for Hunting Zones


2 GB Built-In Storage


500 MB User Available Storage


18 Hours of Battery Life


IPX-7 Waterproof


Color Transmissive QVGA Display


GPS Accuracy of 3-5 Meters


Conclusion
The Magellan eXplorist 350H is one of those rare handheld GPS devices that is especially designed for the hunter. While it comes packed with some amazing features that can help you out on your hunting trips, the device nonetheless has its drawbacks. For example, having topographic maps and hunt-specific way points is great, but inability to use those features to the full extent might irritate some users. The device is pretty accurate when doing its GPS tracking and location duties and with an extremely easy to use user interface provides you with a great overall experience. The Magellan eXplorist 350H definitely has some setbacks, despite being an amazing handheld GPS device aimed at hunters, but especially having in mind its extremely low and affordable price, it is a device that is worthy buying.
Features Hunt specific waypoint icons, hunting boundary information and more
Trip planning options
2 GB internal memory
Affordable
Slower satellite information acquisition
Best hunting GPS brands
The handheld GPS market is a highly niche market, thus it comes as no surprise that there are only a few brands that produce these tracking devices. Specializing in GPS tracking technologies these brands have proven to be the most reliable and consistent in providing customers with continuous innovation in the industry. When it comes to hunting GPS brands also provide specialized solutions and devices, helping hunting enthusiasts know where they are located at all times and keep within legal hunting boundaries. Here are the two main best hunting GPS brands.
GARMIN
Founded as early as 1989, Garmin is widely known for their specialization in the development of GPS technology. While they provide with different solutions for a range of industries, including automotive, aviation, marine and more, their handheld devices are most renowned to be the best on the market. Aiming at delivering a great satellite tracking solution for outdoor activities, Garmin developed one of the first ever handheld GPS receives. Their first handheld GPS solutions were used in military action as early as the 1991, in the Gulf War, and by the early 2000s Garmin felt confident enough with the technology, that they released the first device of their compact eTrex series in 2000. Today, the eTrex line of devices continues to be one of the most widely used handheld devices on the market.
When it comes to hunting activities, Garmin have specialized teams that help turn their outdoor and sports related handheld GPS devices into a truly helpful tool for the hunter. They do so with specialized software and mapping, which is usually accessible on their devices via their official website. Garmin users that are also hunting enthusiasts also have built a reliable community that further provides Garmin devices with new and exciting GPS solutions for the hunter via the use of software and mapping. The hunter community build around the Garmin GPS devices also help it become one of the best hunting GPS brands in the industry.
Founded even before Garmin, in 1986, Magellan Navigation is an American satellite tracking company, named after the infamous explorer Ferdinand Magellan. While some may say that the company is overshadowed by their competitors, Magellan Navigation has been focusing on innovation and affordability of their devices, which make it a great option and also one of the best hunting GPS brands. Focusing more strictly on the handheld market, they also design customized mapping software.
What's great about Magellan Navigation is the fact that they invest in new technologies with confidence. For example, their devices were one of the first ones to incorporate the Russian GLONASS system. Furthermore, the company delivers a wide range of handheld products each focused in a specialized niche area. Magellan is also considered to be one of the best hunting GPS brands providing people with specialized handheld devices strictly for the hunting enthusiasts.
Conclusion
There you have it! While there may be a great number of good hunting GPS devices out there, these are the best hunting GPS-enabled gadgets that we were able to find. Whether you want extreme power, great affordability, or something right in the middle, these devices on this list are going to be your best bets. Good luck and happy hunting!