Best Leather Dog Collars Reviewed & Rated for Quality
In a Hurry? Editors choice: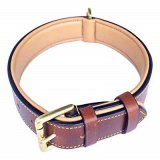 Test Winner: Soft Touch Collars Luxury

Hunting with a friend is something to talk about.
Hunting with man's best friend
is memories created. Everyday hunters use dogs to help them achieve their hunting goals.
Hunting dogs are trained
, fed, and cared for in special ways. When you have a companion like a hunting dog, you tend to look out for their best interest and what is good for them. A good quality comfortable collar is exactly, what your hunting companion needs. With as hard as your dog is working, you will want to find a durable, flexible collar that offers comfort in the most active situations. Many dogs will undergo situations where they are put to the test in snow, rain, heat, and bodies of water. Shop for durability and comfort, not price. Here are our picks for best leather dog collars on the market!
Standout Picks
Criteria Used for Evaluation
Comfort
Out of all the components that we utilized to evaluate different collars, the one that means the most is comfortability. The reason being, while it's important to evaluate the type of leather, the durability, the style, and design, or the sizing, what's more, important is your dog's comfort and happiness.
In the leather collar industry, there are ample products that are designed to look beautiful but are rough on the edges, irritating a dog's neck. With that being said, it's essential to select a leather collar that is built with a soft, insulated, or padded leather interior. If you can place yourself in the paws of a dog, a padded collar would feel much gentler on your neck than cold leather and metal loopholes.
Additionally, for dog owners that keep collars on their dog throughout the entire day, a padded leather collar is of utter importance. When you consider that a dog enjoys sleeping during the day or rolling around on the floor, a collar with no padding can be irritating and frustrating for the dog.
Materials
Leather is, without question, the most traditional and classic material utilized to manufacture dog collars. Like leather for humans, a leather collar possesses such a unique element that is otherwise not captured by nylon or plastic collars. In light of this, while many companies may say that their collar is made of leather, it's important to evaluate the type of leather a company utilizes to produce a product.
In the industry, there are a wide variety of leathers that a company may choose to use. For example, there is:
English Bridle Leather
Padded Leather
Italian Leather
Full Grain Leather
Faux Leather
Understanding the type of leather that a company uses to make a product can help provide insight as to the type of collar it is, the quality, and the size of the dog best suited for the collar. For example, a traditional bridle leather collar would be most beneficial for a large dog, like a Great Dane, American Bulldog, or a Husky. However, a collar made from Italian leather is best suited for a smaller dog given their lightweight nature. Additionally, it's important to know if you are paying for a faux leather collar or a real leather collar, as real leather is naturally more expensive than fake.
Durability
We all know that leather is one tough material, which is why many of us are in the market to purchase a leather dog collar. The rule of thumb in this industry has always been, the cheaper a product, the lower the quality of the product will be. In other words, the more you spend, the better the durability. With that in mind, in evaluating different leather collars, it's important to judge the quality of the leather.
To do so, one can smell the leather or pull on the ends. A high-quality leather collar will smell more like a traditional leather couch. If the collar ends up stretching, chances are, it's poor quality and not durable at all. In evaluating different collars, it's important to consider what would happen to the collar after use with your dog. For an active dog that loves to run or pull, that can quickly break or stretch the leather and harm a dog's neck.
Adjustability
Like that of comfortability, it's essential to purchase a collar that matches your dog's size, shape, and provides the feature of adjustable sizing. The truth is, leather will stretch and grow to match your dog.
In looking at an assortment of different products and brands, it should be anticipated that the product will expand. Therefore, it's important to find a collar that fits properly, given this fact.
A rule of thumb from the experts is that, when the dog is wearing it, the owner can fit a minimum of two fingers between the collar and his/her neck. If you are purchasing a product for a puppy, the collar should come with adjustable sizing so that the collar can be used while the puppy is growing.
Style
If you are going to spend money on a leather collar, it's important to purchase one that not only is stylish but the design is high-quality and classy. For this market, brands and companies have capitalized on the opportunity of making leather more fashionable than ever before.
For example, depending on the company, dog owners can purchase a collar in a variety of colors, designs, shapes, and even customize different aspects of it. Did you know that you can engrave your dog's name or make the entire collar a name-tag for your dog?
The options are endless as far as style and design for leather collars. However, it's imperative to make sure that when picking one out, the style and the design do not compromise the quality of the product, leather, or irritate the dog. While it may be nice to have a stylish collar with studs or flowers, if it makes the dog uncomfortable the style and the design are not relevant.
In evaluating different products, it's worth measuring what type of options companies offer consumers. The more professional and prestigious companies will only offer one type of leather collar – the standard brown, white, or black leather. Once you start getting into the multi-color leather, you start risking the quality and grade of leather.
BEST LEATHER DOG COLLARS REVIEWED & RATED FOR QUALITY
1

. Leather Padded by Viosi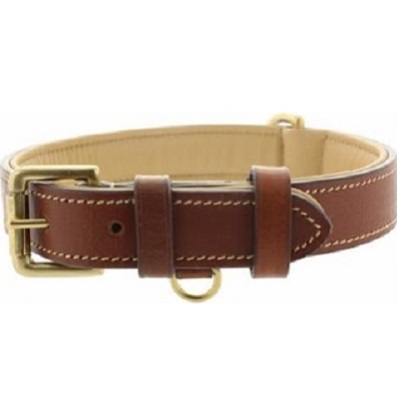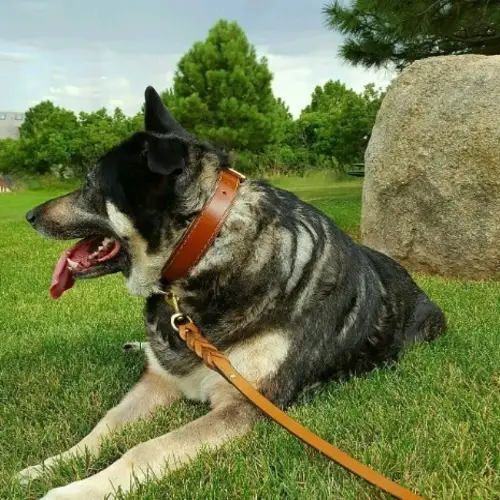 This collar is everything you could want and more for your beloved poochie. The Leather Padded Dog Collar by Viosi is an excellent, minimal stretch, tanned buffalo hide collar. With soft leather and padding, this collar is also known for extreme comfort for your working dog.
Extra Cushion
The Leather Padded Dog Collar by Viosi is made with an inner layer of leather that is designed to keep the comfort all day long. The idea behind this extra cushion is to support the area around the neck from becoming bothered or inflamed while the dog is out working.
Added Stitching
The Leather Padded Dog Collar by Viosi is made with several stitches of extra durable thread. The extra durable thread is designed to hold the collar together and help with the prevention of shrinkage in the collars leather material.
Cost and Value
The features and benefits of the Leather Padded Dog Collar by Viosi are endless. The tanned buffalo hide leather collar is an eco-friendly collar that offers strength for any conditions, extreme or not. An overly active dog will remain at ease and pain-free with this flexible padded collar. Put your dog first when considering the Leather Padded Dog Collar by Viosi.

2

. Soft Touch Collars Luxury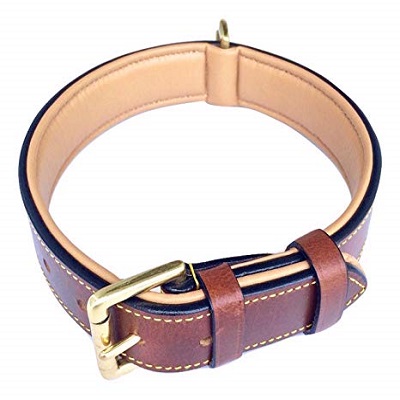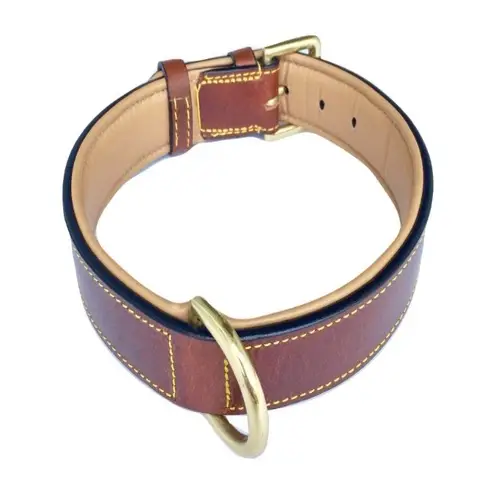 The Soft Touch Collar is a top-rated dog collar because of it's quality and value all packed into one leather collar. Made with soft and durable materials, this dog collar is the one to stay dry, smell free, and offer a genuine leather style. While no harsh chemicals are used, this selection is made with a fully tanned, natural sheepskin leather, designed for durability and comfort.
Hardware
The Soft Touch Collar has been designed with some of the best materials for hardware. The D-ring and buckle have been made with non-corrosive materials, allowing the metal to get wet time and time again, and remain solid and rust-free.
Sheep Skin Leather
The Soft Touch Collar is made with real sheepskin leather. What does that mean for you and your hound? That this leather is tanned with the sheepskin and wool, making this collar exceptionally comfortable for all activities.
Cost and Value
With no other collars to compare, the Soft Touch Collar offers good potential for any hunting situation. The soft leather material will get your dog through any day, pain-free! The smell free leather collar also offers non-corrosive hardware to keep long-lasting durability to the buckle and leash ring, making this collar, a top pick.

3

. Perri's Padded Leather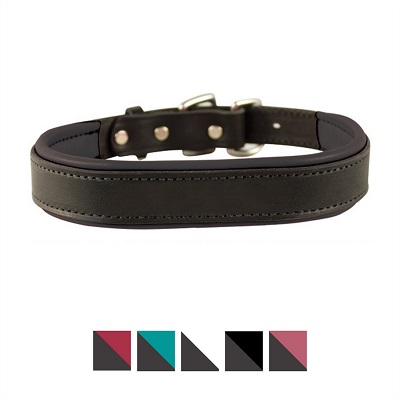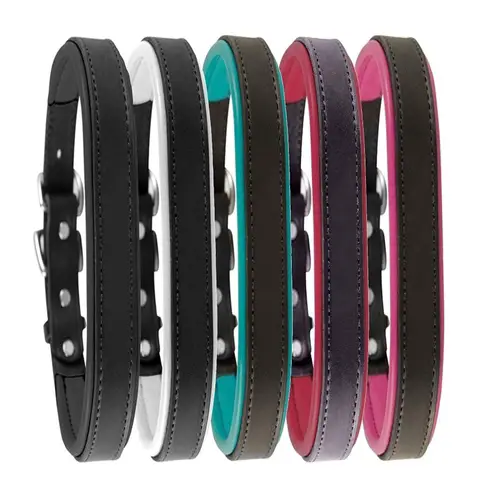 Amish made, the Perri's Padded Leather Dog Collar is a soft, lambskin collar that is made for your hound's comfort for every day on the go use. Made in several colors, you can choose the type of metal material that will combine with this soft collar, for style and durability. This handcrafted collar has padding to ensure extra comfort packed with super-strength, making any day's work, a success.
Lambskin
This is a handmade collar made out of padded lambskin material. The benefit is that lambskin is used mainly for comfort when worn, close to the skin, keeping your dog comfortable, all day long.
Strength
Protection and extra cushion around the neck isn't the only thing that this collar has to offer. The Amish made collar is made with extra stitching in its lambskin material, guaranteeing a super strength feature for your excited canines. This collar is built to last.
Cost and Value
At an attractive price, this offers so many benefits to both the dog and the buyer. As an Amish made, handcrafted dog collar, you are sure to see the comfort last all day long. With padded lambskin that has extra stitching, this collar is made to last in any situation as it is both tough and durable. Why wait any longer for quality when it is already at your fingertips.

4

. Signature K9 2-Inch Heavy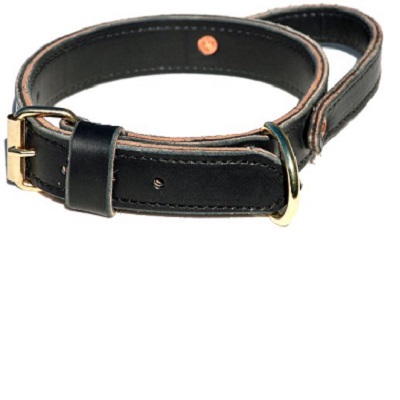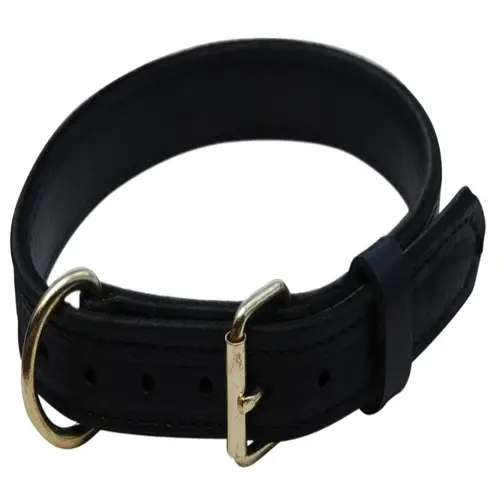 The Signature K9 2-Inch Heavy Agitation Collar is full of surprises. Made to last, this collar's material is suitable for both military and law enforcement use, promising super strength and durability. This collar is designed to keep that constant pressure off of your pup's neck, making it one of the safest and comfortable collars on the market.
Collar's Function
The Signature K9 2-Inch Heavy Agitation Collar has been designed for safety purposes while working with your dog. The Signature K9 2-Inch Heavy Agitation Collar has been designed to spread the stress weight evenly around the dog's neck, to keep that constant pressure off of the parts that count, the throat.
Materials
The Signature K9 2-Inch Heavy Agitation Collar is a handcrafted, Amish made the collar, using only high-quality materials. The leather is a full-grain double leather material that is designed to become more attractive with everyday use, resulting in a durable collar.
Cost and Value
The high quality, double-layered leather, with safety features and an attractive price should be all the mention you need while shopping for a good, quality collar. Keeping your canine safe in the field should be a priority and a promise with the Signature K9 2-Inch Heavy Agitation Collar.

5

. Weaver Leather Sundance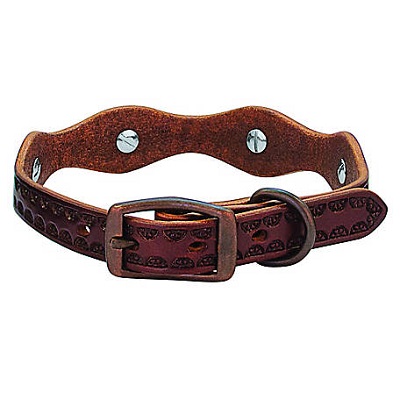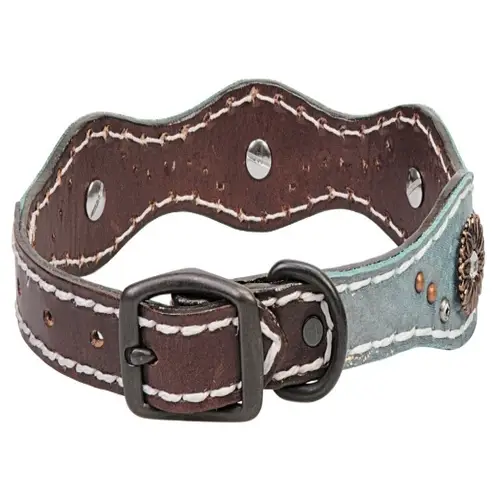 If you are looking for high-quality, the Weave Leather Sundance may just be for you. This is a premium dog product that is built from one of the highest grades of leather. When you partner this with a beautiful and stunning design, this collar is the perfect match for any active dog. The best part is that high-grade leather is fade-proof and rip-proof. This is the perfect collar for owners that are tired of nylon dog collars that either rip, shred, or end up fading after a few months use.
High Grade Leather
The biggest selling factor of this collar is the high-grade leather used to construct it. This premium leather is meant to last for many years. Additionally, the leather is built to avoid irritation, which can be attributed to the unique smooth design and edge.
Fade-Proof and Rip-Proof
With traditional nylon and plastic collars, the materials can only last a couple of months prior to fading, ripping, or tearing. If this sounds familiar to you, this collar was created specifically for you. This leather collar is not only fade-proof, but it is also rip-proof. No matter how active a dog may be, this product was designed to last.
Cost and Value
In comparison to other products that we have reviewed, this collar is one of the most costlier ones. This can be directly attributed to the high-grade brown skirting leather, stunning antique appearance, and fade-proof and rip-proof features. With that in mind, the value that this collar brings is second to none, making it most certainly worth consideration.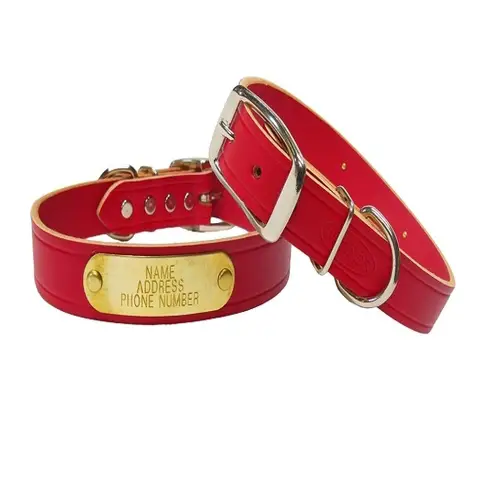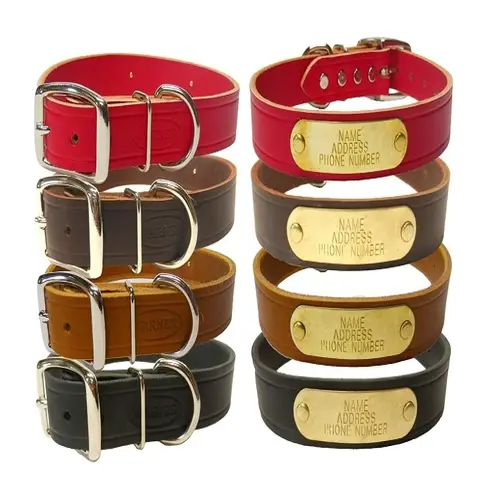 We all know having a dog is one of the best luxuries you can have, which is why it's important to give them a comfortable collar that comes with added features. If you have been seeking a unique form of combining a collar with a dog tag, consider the Warner Cumberland. It brings you the ability to engrave your collar so you no longer need to have the tag.
Free Engraving
As stated above, this collar takes away the need to have a dog tag, as it can be fully engraved. The beauty of having this feature is instead of having to use two items to ensure your dog is returned in case something were to happen, you can have one. Not only is the collar made of quality leather but the free engraving will ensure your pet gets the most out of it. With this collar, you can add the name the address and your phone number directly on the collar that makes it twice as easy to read than its traditional tag. With a tag, you will need to minimize the size of the text that is displayed. With a collar, you will not need to do such a thing as its perfectly sized to fit the collar seamlessly.
Fits Most Dogs
Let's face it not all dog collars are created the same, and this one is no exception. Measuring one inch in width and overall neck size this collar fits medium to large dogs. It comes in 5 different sizes to provide an equal amount of options depending on your dog. However, it is made out of premium genuine leather so it isn't the stretchiest item to have. Which means you do want to measure your dog's neck before purchasing.
Cost and Value
As for the cost and value of this product, you are looking at a bargain. Not only is it constructed out of US genuine leather but you are also getting free engraving to help you add fewer items to your dog's neck. This is an excellent feature that is also quite versatile and unique. Furthermore, you have the option of selecting a few colors to make your purchase as personal to your pet as possible.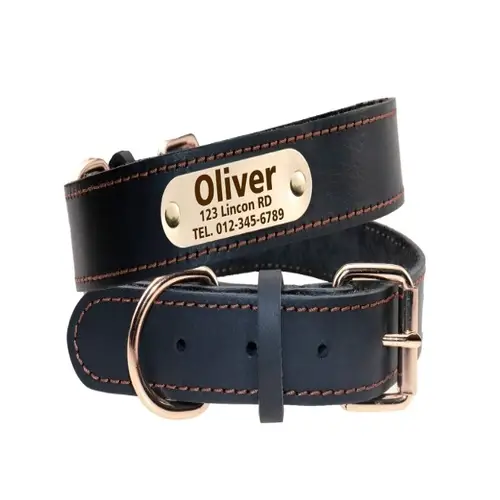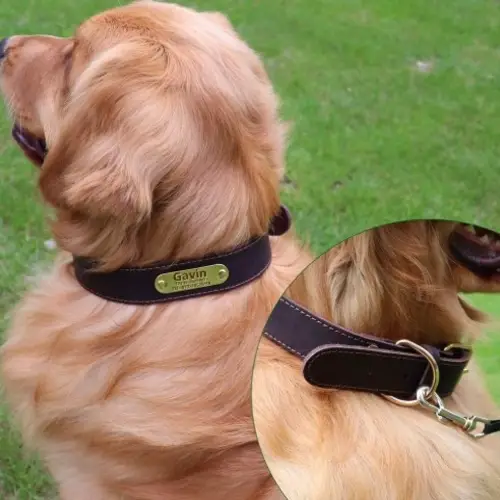 It has always been notoriously difficult to find dog collars for larger dogs. Taglory has completely changed that. Featuring three different sizes in three different formats this collar is perfect for a dog of all sizes. Having this aspect makes it easy for you to find a collar that will work for you and your beloved pet. The brand has worked hard at creating a comfortable product that all dogs will love.
Comfort and Safety
As mentioned this collar is quite comfortable, while most leather collars are not as comfortable as they are mainly stiff, this one is created out of top-grade grain Latigo leather. This leather is not only sturdy and durable but its also quite pliable which makes it easier to work with. It also adds a comforting featuring so your dog will not feel restricted while wearing this collar. Furthermore, the safety element comes into play as its strong enough to hold a 200-pound dog without ripping or braking in case of pulling. Its durability is unmatched.
Engraving
We love the idea of having a graving element. Having the ability to engrave your collar directly works exceptionally well when you don't want to bombard your pet with too many items. Instead of having a collar and a dog tag with your information, give them the ability to have a collar with all the information on it. It's a simple task that will leave them with as much of a weightless product as possible.
Cost and Value
The cost and value of this product are quite good. You will be paying a reasonable price while having the ability to choose between two different leather shades and if you want your collar engraved or not. Its the perfect form of getting a double task knocked out the ballpark in one swift motion.

8

. Blueberry Pet Multi-Colored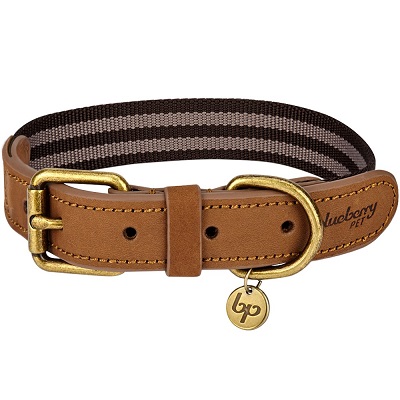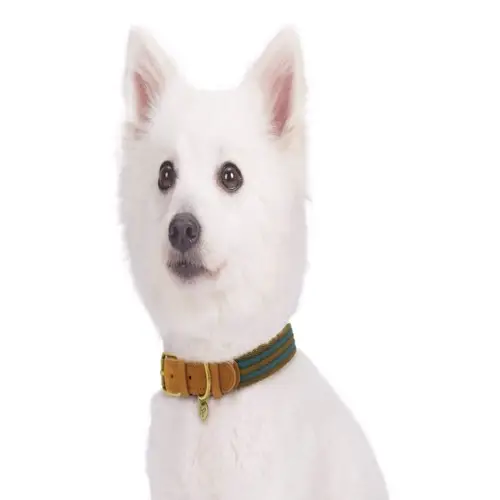 The Blueberry Pet Multi-colored Stripe Collection offers unique qualities with the collars that they offer. The collar is made with a mix of materials that offer different benefits to the way that the collar fits. The eco-friendly brass coating allows a clean finish to the hardware on the collar and will remain rust-free for years to come. Get in line! These collars are wanted, by popular demand.
Collar Material
The Blueberry Pet Multi-colored Stripe Collection is made with a unique mixture of material to offer superb flexibility and comfort to your hounds. The special webbing polyester and leather combination makes this collar pure comfort, all day long.
Leather
This collar has prime support in keeping put, around your pup's neck. The Blueberry Pet Multi-colored Stripe Collection is made with durable, genuine leather material in the buckle area. With the leather located in the buckle area, the buckle has a secured fit, with no future errors of coming undone.
Cost and Value
As a favorite, the Blueberry Pet Multi-colored Stripe Collection loudly speaks of durability and comfort. The webbed polyester design will help maintain your hound's comfort all day long and remain flexible in any situation. As a dog's best friend, we stand to make our canines comfortable and protected, so why not start with the valuable Blueberry Pet Multi-colored Stripe Collection collar?

9

. Aolove Basic Classic Padded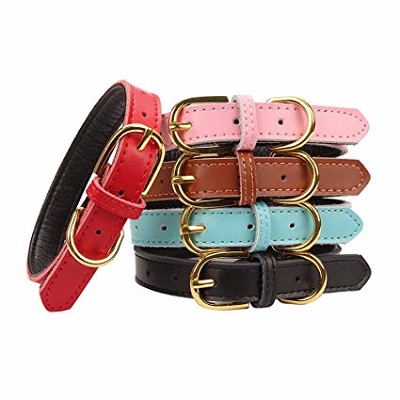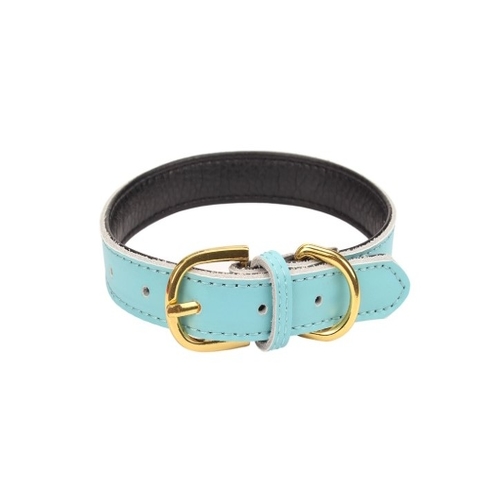 The Aolove Basic Classic hits value right on the head with its attractive pricing and unique benefits that it has to offer both the buyer and the canine. This collar is an attractive, comfortable fit, built to last. Made with genuine leather, nickel hardware, and a padded inside, comfort and quality are on your side.
Alloy Leather Material
This offers an alloy leather material. What that means is this is made to last. With added alloy materials, the leather has been designed to have extra strength, making this collar a no-brainer.
Quality Hardware
Featuring quality hardware, the Aolove Basic Classic offers nickel buckles and d-rings, making it strong, durable, and safe to be around your sports dog's neck. Safety is key while protecting a man's best friend.
Cost and Value
If you are looking for a durable, all-purpose dog collar, you found it. Made to last, this alloy infused leather is both durable and packed full of strength, controlling even the most active dogs. Made with a nickel buckle, this collar is both safe and strong. At an attractive price, you can't go wrong.

10

. Coastal Pet Latigo Leather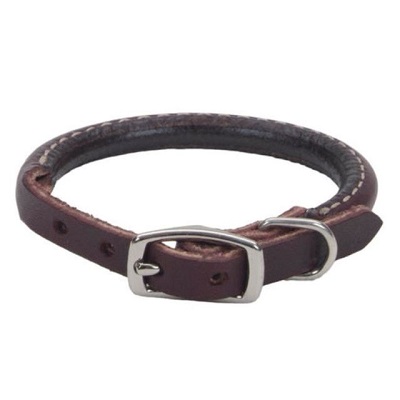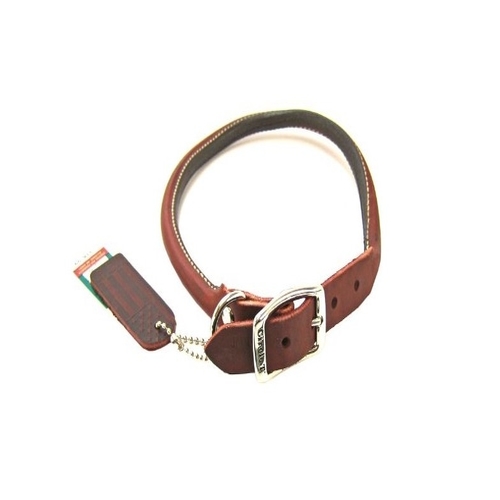 Looking for a dog collar that offers safety and ultimate control? Look no further! The Coastal Pet Latigo Leather Round Collar is one of the safest collars on the market. Offering a soft, rolled leather style, this collar is flexible and allows easy control. This handcrafted, durable collar is made for long hair dogs and dogs with sensitive skin, specifically.
Leather Material
The Coastal Pet Latigo Leather Round Collar is made with English bridle leather, making this a tough leather. Ideal for training, the hot-stuffing oil and allows the collar to have the upper hand.
Resistance
The Coastal Pet Latigo Leather Round Collar is made of high quality, full-grain leather. The full-grain weather makes this collar water-resistant, stain-resistant, and weather-resistant, making this one stable dog collar.
Cost and Value
The Coastal Pet Latigo Leather Round Collar is an all-around great value for the purchase price. There is no doubt that this collar is one of the best. Offering an English bridle leather style, this collar is great for dogs with long fur to help prevent mats or dogs with skin allergies. Made safe for your pooch, this collar is a one of a kind, durable value.

Subscribe to our Newsletter