Best Dog Vests for Outdoor Use Reviewed & Compared
It can be easy to assume your best hunting, camping, or fishing partner is always warm and comfortable with their fur coat. However, on a cold winter day, it is important to consider options for keeping your dog warm, particularly if they will be exposed to wet environments for an extended period of time. Whether you are venturing out for a daily walk or a long afternoon of hunting, a vest is a beneficial addition to your dog's gear and can greatly improve their comfort. This guide provides recommendations and details to consider when selecting the best vest for your dog.
Featured Recommendations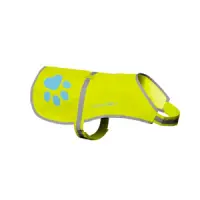 SafetyPUP XD

Our rating
300D Fabric
Price:

See Here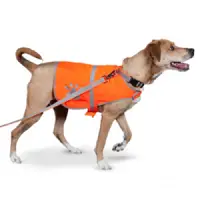 Petflect Reflective

Our rating
Breathable Nylon
Price:

See Here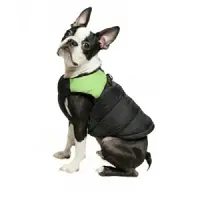 Gooby Padded

Our rating
100% Polyester
Price:

See Here

These top three outdoor dog vests are high-performing and suitable for keeping the warmth in for your favorite friend. In this guide, you will find our 15 top picks to meet the unique needs for your dog and activity of choice.
Maintenance/Usage Tips
To ensure maximum use out of your dog vest, clean it regularly. Some vests are not machine washable, so be sure to check and follow all manufacturer guidelines.
15 Best Dog Vests
1. Safetypup XD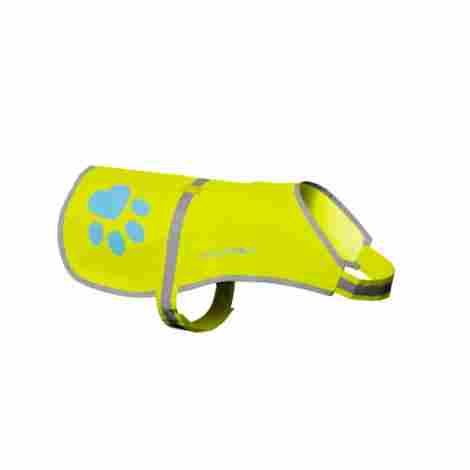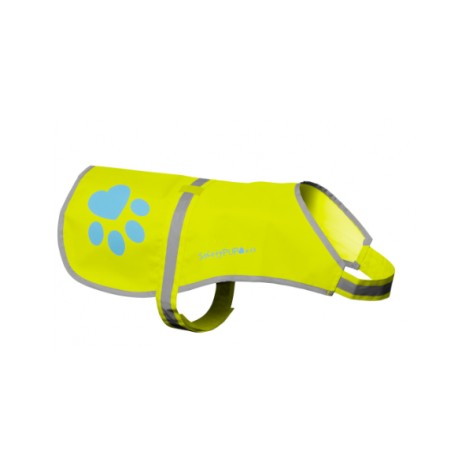 First, up on the list, we've got the SafetyPUP XD Dog Reflective Vest. With this vest, we're looking at something that's able to fit dogs between 61 and 100-pounds, and it features 300D Oxford Weave fabric with reinforced stitching that allows it to be as durable as possible with all of your dog's running and other physical activity.


Expand to see more
Adjustable straps
Easily adjustable straps allow the vest to be quickly modified to fit your dog just so, giving extra comfort and fitting. And the bright orange color means that your dog should be easily seen no matter where you are.

Quality
The Oxford weave on this vest give an edge over other brands, and this ensures quality and gives peace of mind the vest will stand the test of time. The reliance on one coat makes this a one time buy and it has good stitching for strength.

Cost and Value
The quality of this vest, coupled with the reasonable price means that this is excellent value for money. The assurances about the longevity of use and the different colors and sizes ensure you get what you pay for.


High visibility even in the darkest conditions
Rip and tear resistant
Reinforced stitching
Multi-size
Adjustable straps
Sizing may be a bit off
Thin material
2. Petflect Reflective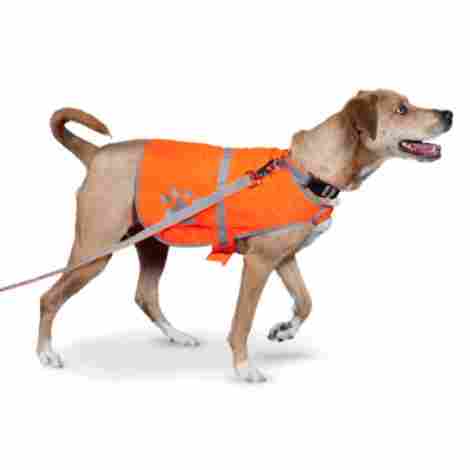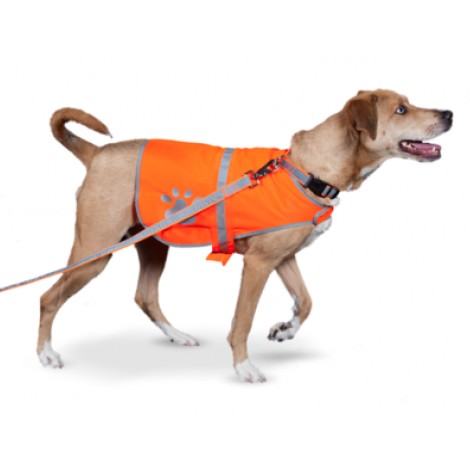 What if you're looking to get a solid dog vest for your outdoor companion, but money is a bit of an object? There's nothing wrong at all with saving money on this purchase, but you want to be careful about not cutting back too much and buying something that isn't worth a mere dollar. If this happens to be the case for you, you'll want to take a look at the Petflect Reflective Dog Vest.


Expand to see more
Versatile
There are three sizes to ensure that it fits any size or type of dog, and the bright, reflective orange color helps to ensure that your dog stays as visible as possible at all times. The vest itself is made out of a lightweight and breathable nylon material, and it even features a decorative paw print on the side with even more reflective stripes for maximum visibility.

Adjustable Velcro
Velcro fasteners allow the vest to be fully adjustable, and the vest is rated to be visible from more than 500 feet away. This ensures the individual comfort of your dog and reduces the risk of the vest slipping and becoming uncomfortable.

Cost and Value
The peace of mind gained with this vest and the reflective value it covers, means it is really good value for money. Not only will your dog be warm - it will be seen and safe as well.
500 ft visibility
Breathable
Adjustable fit
Burr deflection
Velcro straps
Rips easily
Not hard wearing
3. Gooby Padded Vest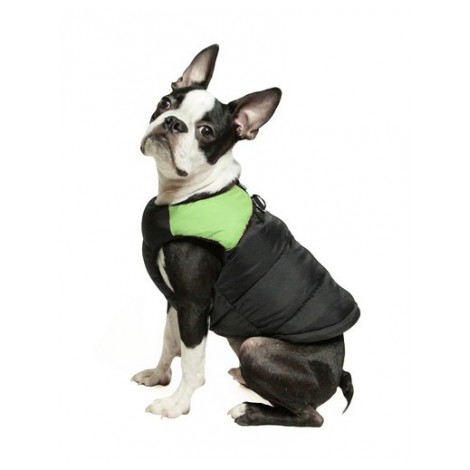 We've looked at outdoor vests for larger dogs, but what about smaller ones? Big dogs might be popular but so are the smaller furry friends so they need warmth too. Size certainly doesn't matter when it comes to what makes a dog good dog, and if you've got a smaller dog, getting a safe and comfy vest for them is just as important. If you happen to be in this boat, the Gooby Padded Cold Weather Vest for Small Dogs is an amazing option that's sure to please you on all fronts.


Expand to see more
Quality
The outer layer of the vest is incredibly resistant to water, so if your dog is out in the cold with you in the rain or snow, you won't have to worry at all about the vest itself getting ruined. The zipper closure keeps it secure and snug on your dog while you're out and about.

Easy Care
The vest is machine washable for added convenience, this is a must if your dog likes going off the track. It comes in sizes ranging from XS, S, M, L, and XL, and, as a nice bonus, there are numerous color options included as well.

Cost and Value
The overall cost and value of this vest are in perfect balance, with the superb features and easy care detail, this vest is excellent value for your money.
Padding for extra warmth
Water resistant
Different color options
Great fit
Various sizes
Low visibility
Sizing is iregular
4. Dogoc Vest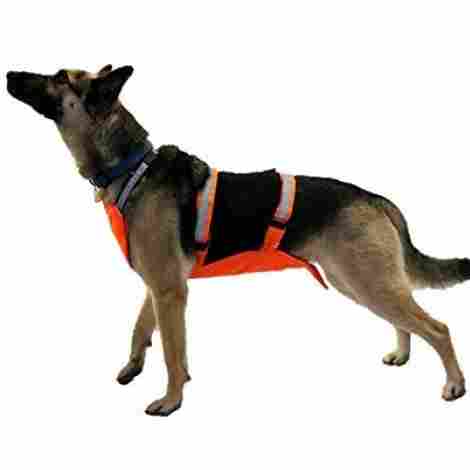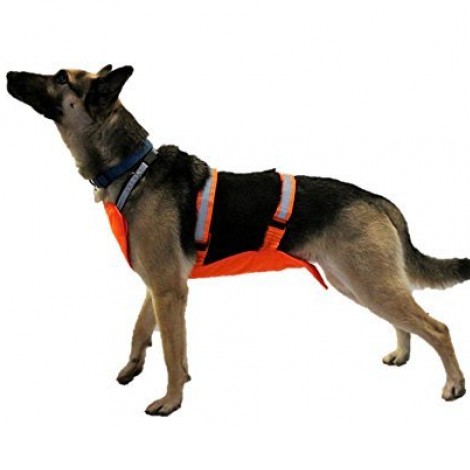 DOGOC is one of the most popular brands out there when it comes to vests for outdoorsy dogs. The design here is actually quite similar to the other one we already looked at in the sense that it covers your dog's underbelly and chest at the same time. This option does cost a bit more money, but that's because it's the XL option for bigger dogs.


Expand to see more
High Visibility
The vet itself is incredibly visible thanks to the bright orange color and reflective strips, and the polyester fabric with the flannel lining should help keep your dog as warm and comfy as possible even on the longest outdoor trip.

Versatile
Also, the included collar makes a return with the XL option. It still offers that same great hi-visibility, and just like the other DOGOC vest, it can be easily and quickly removed so you can add your favorite collar that your furry friend has grown accustomed to wearing.

Cost and Value
This version is still as good on cost and value as the alternatives, and added to that is the fact you can almost customize the vest with items that your dog is already familiar with.
Great visibility
Protects against irritations and abrasions
Waterproof
Various Sizes
High end
Expensive
Iregular sizing
5. Bingpet Cooling Dog Jacket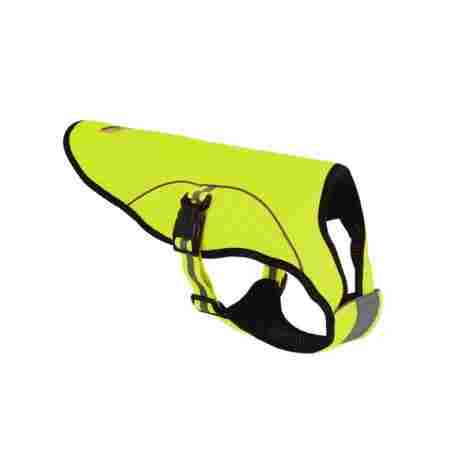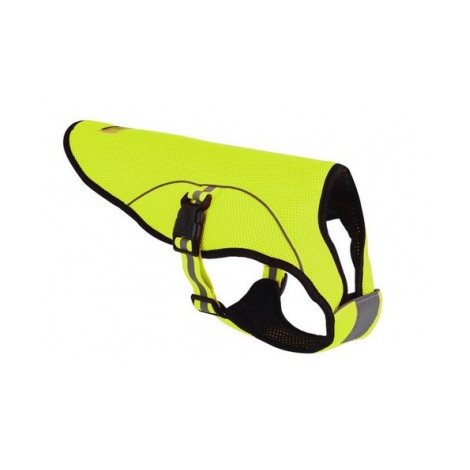 Moving right along, we've got the BINGPET Dog Cooling Jacket up on our list next. This particular jacket comes in two different color options, and both are highly reflective so your dog will be easily spotted if they happen to get out of your range of vision. There are also numerous sizing options available as well, ranging from Small, Medium, Large, Extra Large, and Extra-Extra Large.


Expand to see more
Quality Features
The vest itself is made out of a high-quality PVA material with an air mesh panel, helping to make it lightweight, breathable, and incredibly soft to the touch. It comes with evaporation cooling and heat reflection. All of that ensures that your dog stays cool in the summer, and warm during the winter.

Cooling
This is a vest that's more than likely going to be best-suited for use during hot weather, so if that's going to be the kind of weather your dog will be out with you the most in, this is definitely going to be one of your best choices.

Cost and Value
This vest is well balanced in terms of both cost and value. The trusted brand means you know what you are getting for money and this ensures excellent value.
Various sizes
Suitable forall weather
Breathable
Manufactured with high quality material
Smart design
Sizes run big
Not hardwearing
6. Dogo II Vest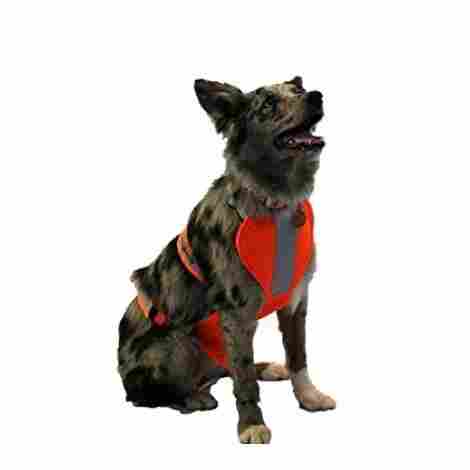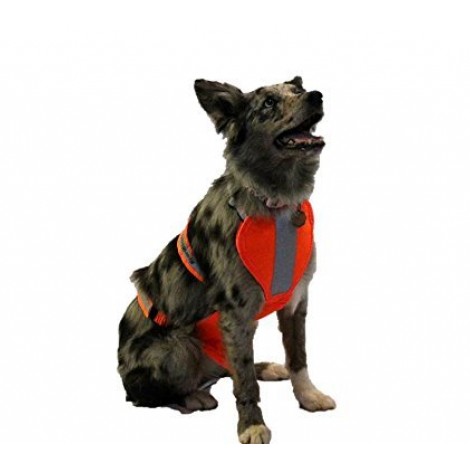 To follow up the previous option, we've got the DOGOC Dog Vest. This vest is a bit different from the other designs; as it covers your dog's chest and underbelly. This makes the vest a bit more complex, and as a result, the price is driven up a fair amount. However, you are getting a lot of added features including waterproofing.


Expand to see more
Comfortable
It provided superb protection against abrasions and skin irritations that dogs who go outdoors a lot are very prone to experiencing. The vest is highly visible, and it's made out of a polyester fabric with an extra layer of flannel to help keep your dog as warm as possible during the extra cold winter months.

Versatile
There's a collar included with this vest, and it offers fantastic hi-visibility with reflective tape. However, if you want to use a collar that you already own, it can be easily swapped out without any hassle at all.

Cost and Value
As we mentioned earlier, this vest does cost a bit more than other options, but as you can see, spending a few more dollars can really make a difference in all of the features that you can get.
High visibility
Adjustable fit
Made with high quality material
Waterproof
Added collar
7. Remington Dog Vest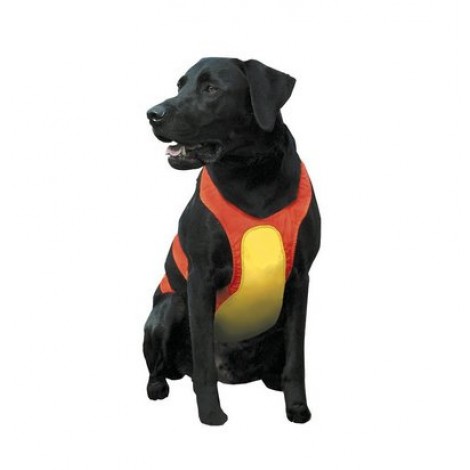 If you've spent any time at all outdoors with your dog; then you know that Remington is one of the most well-known and trustworthy brands that exist. Their expertise and knowledge carry over excellently to their vest for dogs, and that's first noticeable with the secure velcro adjustments that help to ensure as secure of a fit on your companion as possible.
Expand to see more
High Visibility
In addition, the vest also features an extremely bright yellow and orange color that allows your dog to have the best visibility possible.

Various Sizes
The vest has been endorsed by enthusiasts all over the world, and it comes in both a medium and a large size to help you get the best fit possible for your dog.

Cost and Value
For the benefit of such a well-known brand, the cost and benefit of this vest are equally matched. The quality and expertise that go into this vest make it excellent value for money.

Affordable price
Two sizes
Full chest coverage
Trusted brand
Value for money
Not hardwearing
Thin material
8. Kuoser Cozy Waterproof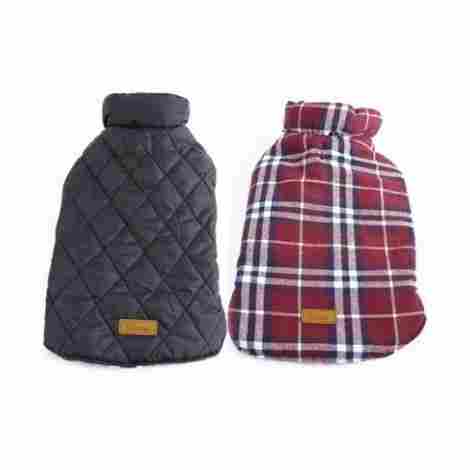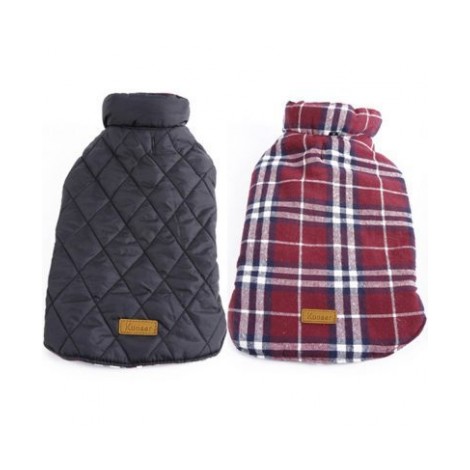 This stylish dog vest comes in a variety of colors and sizes for the ultimate, individual purchase. It is made from polyester fiber, boasts a water-resistant outer layer and a warm inner layer. Three very important factors when your furry friend needs to keep warm and protected in the colder months.
Expand to see more
Stylish
The vest is created in a style that includes superior stitching and comfortable, easy to use velcro straps for speedy placement and removal - essential for a fast trip in the cold.

Water repellent
The design also helps to keep your dog dry when the showers come in unexpectedly; very practical for the winter when the weather can be so unpredictable. The windproof shell also helps to repel cold.

Multi-size and color availability
The vast sizes available range to fit most dogs between 4-6lbs to 60-100lbs. And the choice of colors and designs guarantee a style to suit individual requirements.

Water resistant
Warm lining
Wind resistant
Stylish
Convenient to use
Sizes run small
Velcro not adjustable
9. Voyager All Weather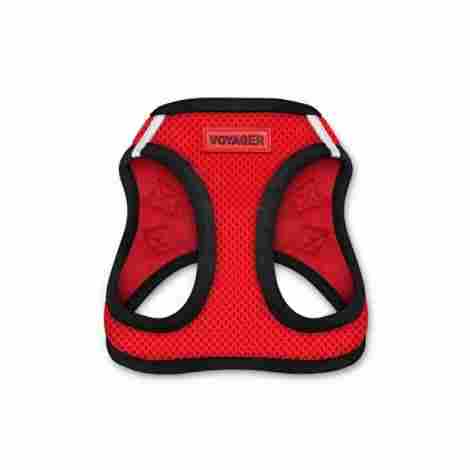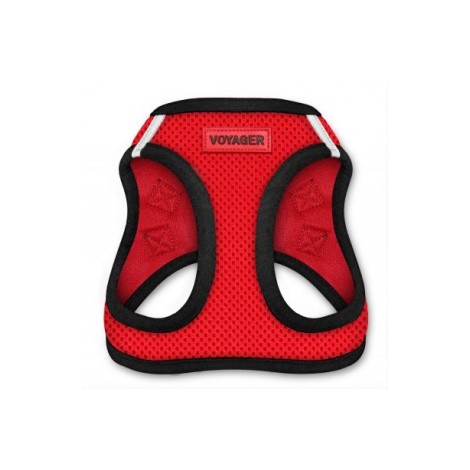 The Voyager all weather vest is manufactured with a breathable fabric for those not so cold walks. It is suitable for all weathers and adjusts to the climate. The step-in design means you can get ready for the outdoors in no time - adding to the overall convenience of this vest, and allowing more time to spend together on the walks.
Expand to see more
Secure
The Voyager comprises of double secure features - strong velcro for a snug, comfy fit; and heavy duty D rings so the vest stays in place. This also improves the overall comfort for your dog.

Multi-sizes and colors
These vests come offered in a wide choice of colors for any discerning pet and owner, and the various sizes mean they are designed to fit almost every breed.

Cost and Value
The value of this vest is reflected in the price, this does not, however, detract from the quality and performance of it. The added features of the extra security make it excellent value.

Step-in base
Wide range of colors
Multi-sizes
Double security
Comfort fit
Sizes are off
Not suitable for larger pets
10. Bark Outfitters Real Service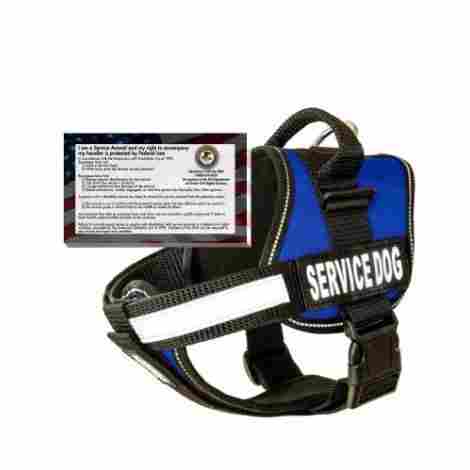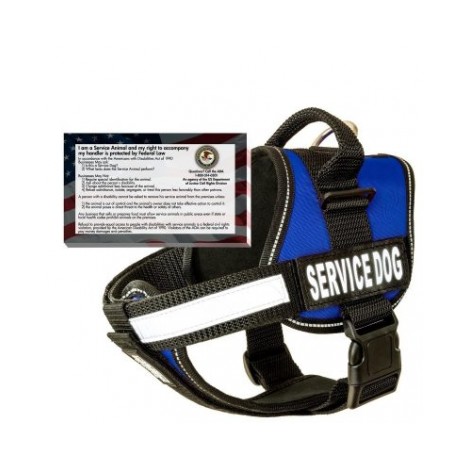 These vests are an invaluable asset for any hard working dog, the chest plate design is unique because it reduces abrasion on your dog's chest. This makes it more comfortable for more taxing outdoor activities and stops the vest from slipping around your dog's girth.
Expand to see more
Versatile
This vest comes with a built-in handle so is ideal for many support roles. This increases user control and gives extra confidence when outdoors independently. It also has an incorporated stainless steel D ring for adding leads and ID tags.

Lined
The vest is lined with soft neoprene, this is breathable and has the benefit of being fast drying for your dogs added comfort in any weather condition. A boost is the removable chest plate for less strenuous activities.

Cost and Value
This vest is mid-range on the price, but the features it includes to assist with any working requirements make it very good value for money. The design and convenience of the vest give confidence to the user.
ADA info cards included
Removable chest plate
Built in handle
Reflective strip
Adjustable straps
Tricky to put on
Sizes are off
11. Pet Cee Dog Jacket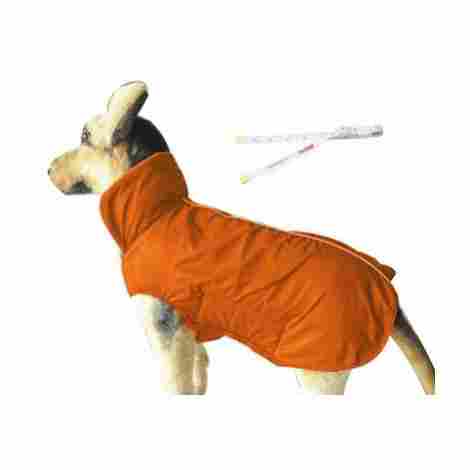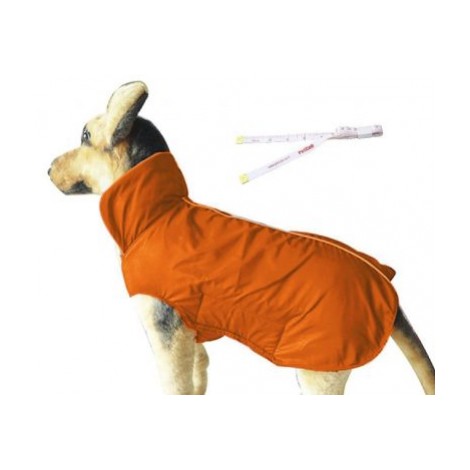 This PetCee dog jacket comes in four colors and boasts being suitable for larger breed dogs such as German Shepherds. It is made of a 100% polyester outer, and a 100% fleece lining; this not only provides a waterproof barrier, it has the warm lining for the colder days in winter. It also benefits from being machine washable - an added bonus for those long, muddy treks.
Expand to see more
Adjustable
The PetCee is fully adjustable around the chest and boasts magic buckles on the chest and neck for individual sizing and premium comfort for your dog. It is easy to get on and off and this is a real plus when the outdoors are calling, or you arrive home wet and muddy.

Versatile
The sizes make this vest suitable for an array of different sized dog, from XS through to XXXL. It benefits a reflective outer for darker trips outdoors and comes in four complimenting colors.

Cost and Value
This vest is equally matched on both cost and value. The waterproof and windproof outer coupled with the warm liner, mean that there is less requirement to buy separate vests for different weather conditions.


Fleece lined
Waterproof
Reflective
Multi-sizes
Adjustable
Fragile stitching on velcro
Not suitable for extreme cold
12. Lesypet Doggie Puppy Coat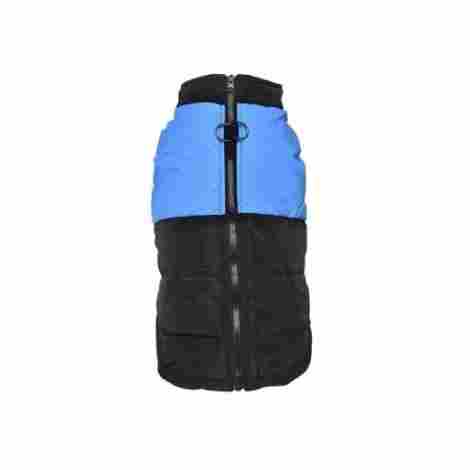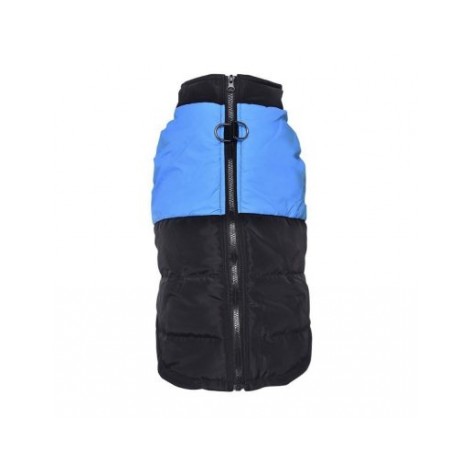 This Lesypet doggie puppy coat is suitable for pups ranging in weight between 2-5lbs and up to 15-20lbs. It is stylishly designed and is suitable for many outdoor activities with your pup. It comes in a wide range of colors and benefits from being rain, wind and waterproof. The Lesypet is specifically manufactured for pups and small dogs; this ensures a cozy fit for the daintier sizes.
Expand to see more
Pockets
This vest has two small pockets incorporated into it, so you can take treats and/or other essentials on trips out. It also has magnetic closures so is really quick and easy to put on and take off.

Practical
The Lesypet vest is very practical due to its resistance to wind, water and cold. The smooth lining means your pup will stay snug on even the coldest days. Ideal for walks in unpredictable winter weather and the fur trim adds to its style.

Cost and Value
This vest is very well balanced when it comes to cost and value, the practical features such as the magnetic closures and treat pockets make this a must for the outdoor adventures; and provides excellent value for money.
Suitable for smaller dogs
Wind and waterproof
Treat pockets
Magnetic closures
Stylish
Sizing is off
No place for harness attachment
13. Ruffwear Jet Stream HP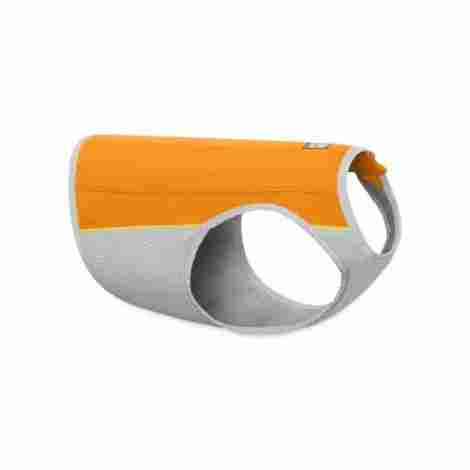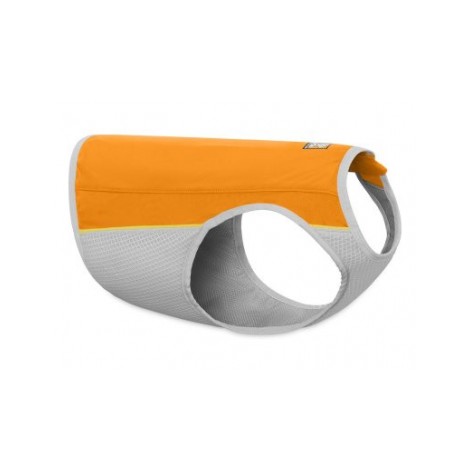 This vest is designed for use in warmer temperatures when your dog needs that extra cool burst. It is easy to activate by wetting it and wringing it through, the vest works using shade and unique evaporating cooling system for use in hot weather activities. The vest boasts have a heat reflective outer layer that also acts as a sunscreen for reduced chances of sunburn.
Expand to see more
Zipper Closure
The vest is designed with a zipper closure for a more cozy and comfortable fit for your dog, this offers freedom of movement without restricting activities. Its three-layer manufacture gives a cooling support that is designed to last.

Construction
The layers act in different ways to benefit your dog, whilst the outer layer deflects heat, the middle layer soaks up and saves water so it evaporates and thus; helps to keep your dog cool.

Cost and Value
This Ruffwear vest is in the mid-range of the market, but the benefits of being able to keep your dog cooler in the hotter weather make this an outstanding purchase for the money. The longevity and practicality of its use also make it a very good buy.
Deflective outer
Moisture evaporater
Comfortable fit
UV protects
Great Value
Zipper is tempremental
Sizing is off
14. Gooby Cold Weather Fleece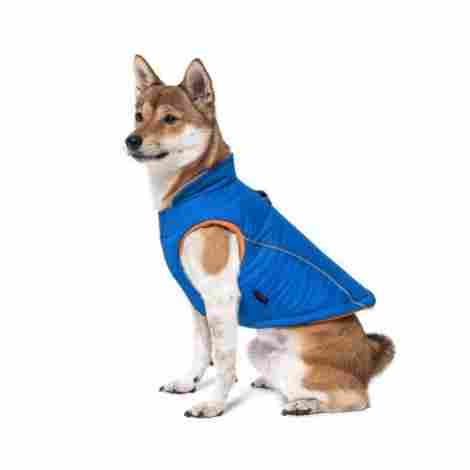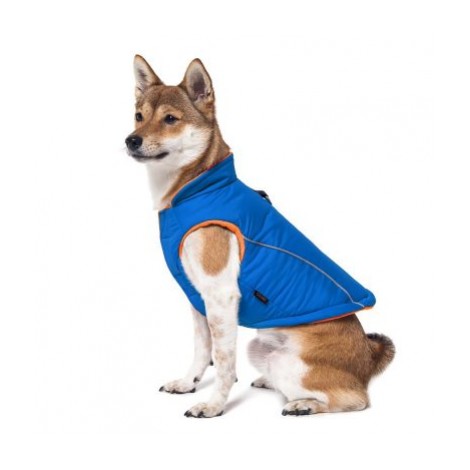 The Gooby cold weather vest is manufactured with a reflective and fleece lining. It comes in a good variety of colors and various sizes for a good fit. It benefits from having a leash attachment - a must for the free-loving temperaments. It is water resistant so ideal for when the weather turns on the walk, and has the ease of a three-point velcro system closure.
Expand to see more
Versatile
The warmth offered by this vest is coupled with rain protection, which makes it an ideal one time purchase. The added feature of the built-in harness ensures your dog will be comfortable on every walk.

Good Fitting
The three-point closure makes this vest very snug around your dog's girth but doesn't restrict movement. And it benefits from not being bulky, is sleek in design and is very stylish.

Cost and Value
This vest is great value for money and the design, style, and convenience combined make it an ideal one-off purchase. The built-in harness means one less thing to worry about and this provides excellent value.
Built in harness
Water resistant
Three point velcro closure
Reflective lining
Very stylish
Small sizing
Fragile leash attachment
15. Expawlorer Fleece Dog Hoodies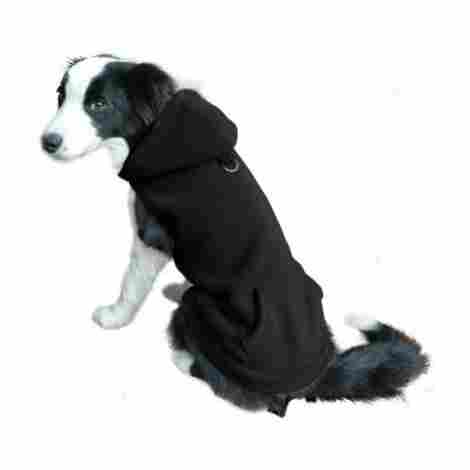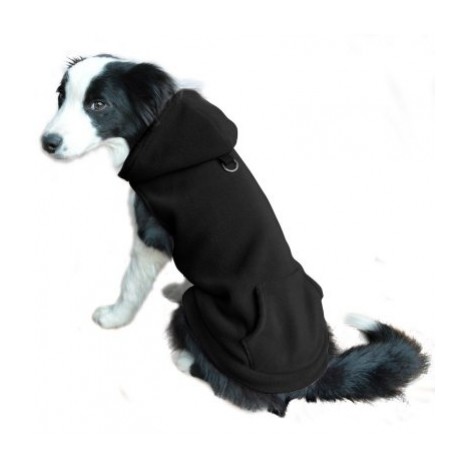 The Expawlorer fleece hoodie is very stylish and comes in a good variety of colors and sizes. The vest is manufactured with 100% polyester and a polar fleece inner to keep your friend warm when it gets cooler. It comes with an incorporated O ring for ease of leash attachment and doesn't have any fiddly straps or closures to slow down putting on/taking off.
Expand to see more
Handy Pocket
The Expawlorer fleece comes with a small pocket on the back, so your pets favorite treat can be taken along. The ease of attaching the leash to the O ring is very practical and means more time for the outdoors.

Polar Fleece
The hoodie is made using a polar fleece which provides comfortable warmth when the temperatures start to cool. And it is suitable for outdoor use, and indoor use when there's a chill to avoid.

Cost and Value
This fleece hoodie is at the lower end of the market, but this doesn't detract from its design and style. The incorporated pocket and leash attachment ensure this vest provides good value for money.
Soft and comfortable
Pocket on rear
Leash attachment
Large hood
Stylish
Sizing is off
Not for colder weather
Criteria Used to Evaluate the Best Dog Vests
We used the following criteria to evaluate a number of dog vests on the market and narrowed down to the top 15 choices.
Material Quality
Material quality should be durable and lightweight. It is crucial that your dog is not laden with extra weight that will contribute to fatigue and restricted movement.
The material should be sturdy so it can withstand contact with thorns and brush. Most recommended dog vests are either made of neoprene or nylon. These materials are also suitable for many weather conditions. When exposed to water, nylon does not retain moisture and will dry quickly to keep you dog warm. Alternatively, neoprene retains water but is well-insulated, so your dog will stay warm even when fully submerged.
Waterproof
One of the advantages of an outdoor vest is the provision of warmth to keep the dog safe and warm during a drop in temperature. If your dog is exposed to water, a vest can greatly increase their warmth retention.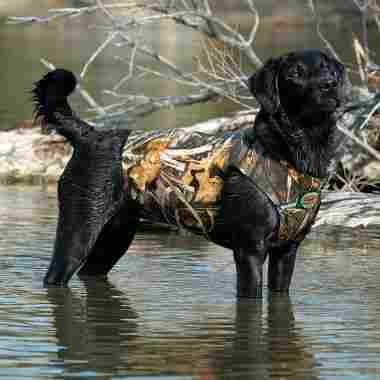 Neoprene vests with an inner foam lining can also help increase insulation in particularly cold environments.
Fit
The fit of your dog's vest is the most important factor and will vary for every dog. When selecting a vest, it will be helpful to take measurements and read the manufacturer's sizing guides. Correct fit is important so your dog does not get snagged on a branch or other hazard. A loose vest also does not offer warmth. Conversely, you also want to avoid an overly tight fit that can be uncomfortable and restricting. A buckle, strap or Velcro element can help with custom adjustment.
Visibility
Reflective vests are highly recommended for hunting or other activities that require you to be able to easily spot your dog.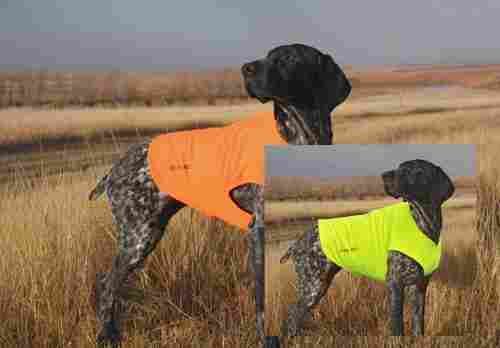 Most vests will reflect differently depending on their material. It will be helpful to have a clear idea of what typical conditions you will be in to determine the level of visibility you need.
Price
The cost of a dog vest falls within the $10 to $50 for most brands. A higher price does not necessarily indicate that vest will be the best fit for your needs. Consider the activity, level of use, and likelihood of needing repairs or replacements over time when selecting your vest.
FAQs
Frequently Asked Questions
Q: Do all hunting vests for dogs feature reflective properties?
A: Not necessarily, but many do since it is a desirable feature.
Q: How can I tell if a vest will fit my dog?
A: All outdoor vests are made differently, so the best way to ensure it will fit your dog is by looking at the manufacturer's sizing chart. Most sizing guides can be found directly on the listing or on the manufacturer's website.
Q: What steps do I need to take before buying a dog vest?
A: The most important thing you need to consider before buying your dog vest is the size of the dog. It may be helpful to take measurements, including the circumference of the next, girth at the widest point of the chest, and from the collar to the beginning of the tail. Knowing the weight of the dog could also be helpful if selecting a vest with a handle or lifting strap.
Q: How do I know that the dog vest is fitting properly?
A: If the vest is full-coverage style, it should fit the belly and neck comfortably. Ensure that the fit is snug but not tight. If the vest does not reach to the base of the dog's tail, it may be too small. It's best that you select a vest that is easy to put on and take off. Most vests will also be adjustable to allow for custom fit.
Some dogs may exhibit initial discomfort when wearing the vest, but they often get used to it over time. If your dog continues to seem uncomfortable, consider sizing up or loosening the straps slightly.
Q: How Do I Get My Dog Used to a vest?
A: When your dog wears an outdoor vest for the first time, it may scratch and roll around. Allow your dog to get comfortable wearing the vest inside or at home. When wearing the best, give your dog treats or play its favorite game. It may take a few sessions for your dog to get used to wearing the vest.
Q: Which material is best?
A: Most dog vests are made of nylon or neoprene. Nylon is preferable because it is breathable and also water resistant. On the other hand, Neoprene helps to keep the dog warm even when wet.
Sources
Sit Stay, Service Dog Vests & Patches
Service Dog Certification, Dog You Need a Vest for Your Dog?
Field & Stream, Dog I Need a Dog Vest for Hunting?