Best Nikon Rangefinders Reviewed & Rated For Quality
last updated
Feb 27, 2019
Although wind is unpredictable, distance and gravity always stay the same, and being able to gauge those two constants makes it more likely you're coming home with dinner. Gravity's just math, but accurately gauging distance is a bit more challenging and that's where a rangefinder comes in. Rangefinders are used to measure distances of objects, and with the right features, they can really improve your overall hunting experience. They are also very versatile and can be used for other things like golfing. Although there has been an influx of range finders hitting the shelves lately, one brand continues to stand above the others. Nikon, after all, has built their business on optics so it makes sense that their rangefinders are some of the best out there.
This is the best product on our list that is currently in stock:

Arrow ID 3000
Why is it better?
Advanced features are easy to use
Lightweight and affordable
The advanced ID is fine-tuned in this model for better scalability
Some of the best eye relief you'll find on a rangefinder
In a
Hurry? Editors choice:

Test Winner: Arrow ID 3000

18
Researched Sources
12k
Reviews Considered
11
Hours Researching
10
Products Evaluated
Ease of Use
Accuracy
Weight
Water Resistance
Battery Life
By Default
In Depth Review Top 10
Aculon 8397
Arrow ID 3000
Prostaff 7i
Forestry Pro
RifleHunter 550
Prostaff 3L
Laserforce Rangefinder Binocular
Monarch 7i/ 16210
Archer's Choice 8376
Inc D 600
Table of contents
Criteria Used for Evaluation
Frequently Asked Questions
Sources
Best Nikon Rangefinders
About the size of a smartphone
The LCD display is easy to read and uncluttered
The unit can be operated with a single button
Multilayered optics
Long eye relief for bow hunters
Slightly underpowered for some users
Big things come in little packages, which is why the Nikon Aculon has been chosen as the best rangefinder in their lineup. What this little unit does in its uncluttered design is amazing, with the compact design allowing for a lot of customization options and settings.
Read more
Smallest In Their Lineup
Nikon is proud that this is the most compact rangefinder in their lineup, not just because of the size, but because of what it can do. Having a compact rangefinder that has the power of a model twice its size is a big achievement. It can do everything that the other models can do while also fitting in your pocket.
Great Distance
This one is pretty easy if the 550-yard range meets your necessities. If you need something more, then there are plenty of others on the list. Otherwise, enjoy the best product out of Nikon's lineup.
Cost And Value
A low price ensures that this compact model is purchasable by all customers. It is the lowest priced on the list, which is a great thing since it is also the #1 choice.
Advanced features are easy to use
Lightweight and affordable
The advanced ID is fine-tuned in this model for better scalability
Some of the best eye relief you'll find on a rangefinder
Some features lean more for bow hunters
Missing some vital range data
With the #2 spot comes the Nikon 16224 Arrow ID 3000, and while it is billed as a bow hunting rangefinder it has the power to be a lot more. Some of the features in this model are not available on others which makes it a bit of a niche product, which is always a good thing!
Read more
A Lot of Eye Relief
Since this was made for bow hunters there is a lot of eye relief at 20.3mm. That is something that bow users look for, and it doesn't get much better than that number. Finding your target and ranging it is quick and easy and will lead to higher accuracy on the shot.
Good for all kinds of Hunters
Regular buyers may think it is unorthodox to purchase a rangefinder that is marketed towards bow hunters. If the Arrow ID 3000 has proven anything, it's that multiuse products are always a great sell.
Cost And Value
This is a high-end rangefinder with a low price tag. The reason it is in the #2 spot rather than #1 is due to it being made more for bow hunters. But the superior power and features of the unit make it suitable for all users.
The most durable rangefinder on the list
Multilayer coating makes images crisp and bright
Accurate from 8-1,300 yards
Horizontal and Actual distance display is instant
Some features lean more for bow hunters
Missing some vital range of data
Plenty of customers have had nothing but praise about the Nikon Prostaff 7i. It breaks the top 3 when it comes to best Nikon options, and surprisingly bested the Monarch in head to head comparisons. There are a lot of special qualities with this model, with a few here and there that Nikon used later on in their other lines.
Read more
Waterproof Design
It isn't exactly a GoPro camera, yet it is the most durable of all the rangefinders on the list. This model can handle 3.3 ft. of water for up to 10 minutes without damage. And to beef up its waterproofing techniques, they even made the battery chamber water resistant.
Built Tough
It's nice to have a rangefinder that is a little more durable than the average model. Buyers that tend to roughhouse their equipment will find this to be the best choice for long-term sanity.
Cost And Value
Having a rangefinder this durable is a value that is hard to find. The Nikon Prostaff 7i pays for itself within the first year when you realize just how indestructible it is compared to the other models. In the end, it may be the best purchase decision you ever made.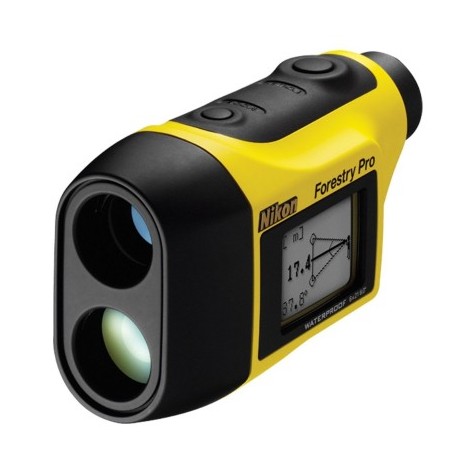 Best LCD screens on any rangefinder
Multiple programmable options
Lightweight
Built to last
Waterproof
Doesn't measure the speed
Power is the first thing that comes to mind when customers look at the Nikon Forestry Pro. At the #4 spot, it strikes a great balance with its powerful features and strikingly professional design. There are so many different points to touch on with this model, yet amazingly it is just out of the top three.
Read more
Internal and External LCD Display
An informative LCD display on the side of the unit gives you all of the information you could ever want. And the best part about the external display is that it runs independently of the internal one. The external shows all information, while the internal one shows selected information.
High-Quality LCD Display
There is no other rangefinder on the list that has a better setup of LCDs than the Nikon Forestry Pro. If that is a feature you can't live without, then this will be the best purchase you ever made.
Cost And Value
The Nikon Forestry Pro is very competitively priced, proving that value can be found in products that are priced in the midrange. It isn't the best product on the list but may very well be the best value.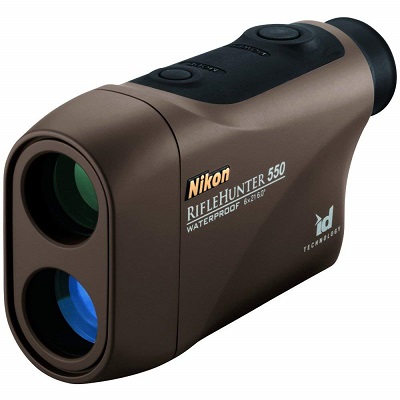 Can prioritize objects
6x multicoated optics
Features Tru-Target system
18mm eye relief
Battery drains quickly
Hard to see readout in low light
With the Nikon Riflehunter 550, you'll never have to guess the distance of your target again. Made for the hunter, it can easily fit in the palm of your hand and has advanced technology features that allow it to compensate distances for varies decline and incline shooting positions.
Read more
Tru-Target System
Nikons' unique and exclusive Tru-Target system allows you to zero in on smaller and harder to reach targets with the simple push of a button. It also has a half yard accuracy on targets less than 100 yards and one-yard accuracy measure on targets ranging from 100 to 550 yards.
High-end second Priority Range Finder
If you are a rifle hunter and spend a lot of time in wooded and wet areas, then this item will be great for you. It is more costly than others on the list, but it is worth it.
Cost And Value
This is a little on the expensive side, but its accuracy is unbelievable. It's compact and very portable. It's also designed to withstand water and fog, for a very durable product.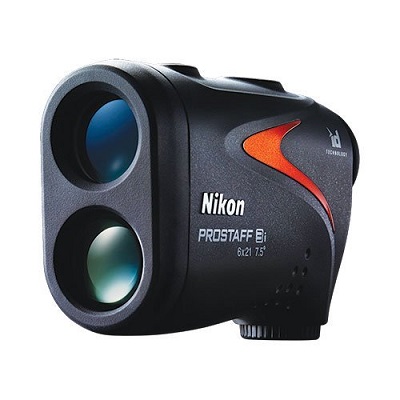 Displays 0.1 yard increments
Large ocular lens
Features ID technology
Ultra-compact design
Not very durable
Some complaints about automatically shutting off too fast
This ultra-compact range finder is popular with gun and bow hunters alike. It is easy to use and displays increments of 0.1 yard for amazing accuracy. The Prostaff line of range finders is some of Nikon's most popular products and for good reason.
Read more
Uncluttered Display
Some companies think that if they put as many features in one item as possible, then it will be better. Sometimes it actually makes it worse. The LCD display only provides you with the information you actually need.
Compact Design
This has a lot of great features in one small, compact design. If you prefer a smaller product that can easily fit in a pocket and still provide you with an accurate distance, then this is for you.
Cost And Value
This comes in the mid-price range and has a lot of great features without overdoing it. It is designed to accommodate hunters that use a bow and a gun and is backed with a 2-year limited warranty.
7

. Laserforce Rangefinder Binocular
A high visibility OLED display
Has multicoated lenses
Can measure up to 1900 yards
Made of strong aluminum-alloy
Very expensive
Sand and dust may stick to the rubber coating
If you're a serious hunter looking for the best, then look no further. This rangefinder binocular has a 10 to 1900 yard range and a bright OLED display that can read under the toughest lighting condition. It can also measure continuously for eight seconds.
Read more
Ergonomic Design
It's important that you keep track of your target in the wilderness, and having to look away to find a button, is all the time the animal needs to disappear. Having the mode and power buttons ready at your fingertips is a big plus with this item.
Built Tough
Although this is a very costly item, if hunting is your passion and you want something you can depend on in the toughest conditions, then this would be a good choice for you. It's also built to last a lifetime, so if you have many years of hunting in front of you, then this can actually save you money in the long run.
Cost And Value
This item is by far the most expensive on the list, but it is also the most durable. This was built for the serious hunter who isn't afraid to face harsh weather conditions. It is built from a lightweight aluminum-alloy that will last a lifetime.
Vibration Reduction system reduces vibrations by 80%
World class range at 1,000 yards
Range display updates in real time
Supports +/- 89 degrees angles
Battery lasts an average amount of time
Nikon went all out with the Monarch 7i, which has been the first choice of many looking for an all-around rangefinder. This model covers speed, information, distance and even has the usual Nikon killer accuracy.
Read more
Revolutionary
New to this model is the Optical VR Vibration Reduction system. This is similar to the anti-shake feature found on high-end cameras. Not only does it work well, but it adds an entirely new dimension to how you use rangefinders.
Advanced Internals
With the most advanced internals so far on the list, the Monarch 7i is a really good purchase to make. There are barely any cons attached to it, and the price seems about right for the technology.
Cost And Value
It's a little pricey but nothing out of the ordinary. It's worth the price for the Vibration Reduction technology, which by itself can justify the purchase. There are only about 3-4 other rangefinders on the list with similar features.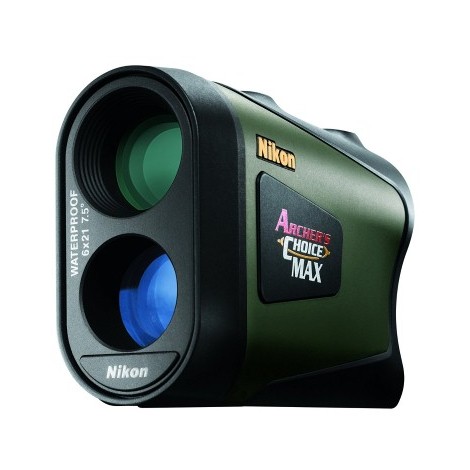 Lightweight at only 6.9 ounces
Best eye relief on the list
6x magnification
21mm exit pupil
Information is real-time/instant thanks to Tru-Target Ranging system
Average range for a rangefinder
Customized more for bow hunters
With #2 being one of the favorites for golfers, what rangefinder is a favorite for bow hunters? The Nikon 8376 Archer's Choice Max Rangefinder is used in competitions around the world and there are some really famous names attached to its creation.
Read more
Made for Bow Hunters
Bow hunters have ridiculous accuracy by default, so when a rangefinder comes out that is designed by Ralph and Vicki Cianciarulo, then eyes tend to be on it. The Archers Choice TV hosts helped design and engineer the 8376 so that it is especially useful to bow hunters.
Perfect for Bow Hunters
The Nikon 8376 is a prime example of how to make a rangefinder that speaks to a specific group of users. If you're a bow hunter, this is the best rangefinder on the list for your money.
Cost And Value
The price is about mid-high and is just right for what it offers. Make it a point to realize that this is a rangefinder geared towards bow hunters so won't have the range that regular hunters or golfers are used to. However, there is value for here for photographers that use rangefinders.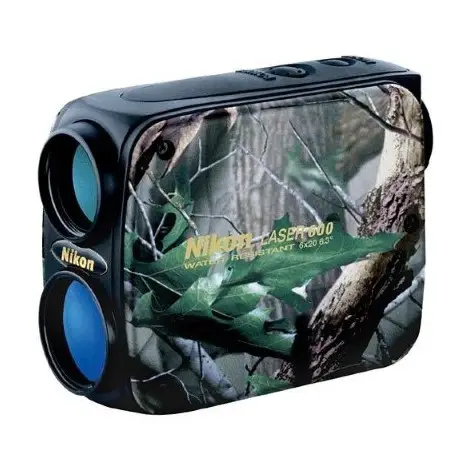 Beautiful design
Lightweight as an attachment
The metal body is long lasting
The battery is one of the best on the list
6x magnification
17mm eye relief
The design might not be for everyone
Older model
Sometimes the aesthetics of a device can make the buying decision a lot easier. When you get beyond the how pretty this Nikon looks, you'll notice that the hardware isn't half bad. It's in a fitting position on the top ten list for more than just looks, and will prove a reliable rangefinder for years to come.
Read more
Design Envy
This is the best looking rangefinder on the list, which is saying a lot since there are sleeker ones further down. Underneath the beautiful design is a powerful Nikon Laser 600, which is easy to miss if you get lost in the outer qualities.
Well Priced
A beautiful art piece wrapped around the Nikon Laser 600 makes for a formidable pair. It's an awesome rangefinder in its current state with a price that doesn't offend.
Cost And Value
The price is idling at around the middle for rangefinders in the industry, so it is worth the buy if you like the design. Buyers that want something a little more powerful will end up with something further down the list.
Criteria Used for Evaluation


Ease of Use
Buyers will use their rangefinders several times a day, so ease of use was important. We rated this category with the amount of user-friendly functions, comfort and whether the device was weather or water resistant. The last thing you want to deal with while carrying golf clubs is an overly complicated rangefinder. Measuring distance should take seconds, not minutes at a time. When you find yourself fumbling around with options/buttons and still not coming up with the information you need, then it is time to change rangefinders. There is a small learning curve with all models, yet nothing that should prevent you from mastering the basics in a short amount of time. Hunters can relate since wasted time can cost them a lot. A rangefinder that is difficult to use can really get in the way of a successful hunt. Usually, the models that had an informative instruction booklet proved to be easier to get into. Since this is Nikon, that pretty much covers them all. So we isolated manuals that specifically pointed out golfing and hunting specific features of a device. These rangefinders were better to use out of the box since the most important instructions were front and center for a user to read.


Accuracy
Accuracy was the second thing we rated, with a lot of time going into how well the device focused, what the max magnification was and also how it handled low light conditions. Across the board, all of the Nikon rangefinders performed exceptionally well in the daytime. Trying to measure them just based off of daytime usage would be splitting hairs. Because of their superiority in the light, we measured them based on low light performance. That doesn't include dark since it would be more optimal to see how they performed in their intended conditions. It didn't take long to see which ones were the best in this area, with some making the top three while the others went to the bottom. All of the Nikon products were able to perform in low light, but some required a lot more changes to their settings than others. Think of the top of the list as the portion that worked right of the box with low light, and the bottom of the list as the rangefinders that needed a lot of tinkering to make them efficient. Max magnification was an easy feature to sort out the list, and we only included the rangefinders that held focus when they were at max. This reordered the list a bit by itself, with a lot of the high powered Nikon models really showing what they were made of.


Weight
Weight was an important part to measure with all of the rangefinders, even if it separated some by a few ounces. In an ideal situation, you would want to have the option to put your rangefinder in a pocket-sized space. It would have slightly more bulk than an average smartphone, and possibly the same or less length. There is no technical reason to have a larger rangefinder, so smaller and lighter gained the most points for us with this criteria. We had no problems reordering the list by weight, and buyers will be surprised at how big a difference a half inch can be. For someone that doesn't have any extra space to store a rangefinder, it could make all the difference in the world.


Water Resistance
A lot of the Nikon choices were resistant in some way, and at the very least absorbed shock. So it is no surprise that water and weather resistant rangefinders are at the top of the list above all others. This was a very important criteria to consider since it helps to determine the durability of the product. Low or no resistance leaves a rangefinder open to harm, and possible destruction in the wrong situation. Even if you keep your equipment in a case and away from danger when possible, it's still a good idea to favor the more durable choices from Nikon. Surprisingly, not all of them meant that the price tag would be higher. There are many instances of the price being lower at the top of the list.


Battery Life
Popularity, battery usage and design were the last three things we looked at. The design may seem like a superficial criteria for some, but it is worth noting that rangefinder designs influence a lot of purchases. They also led to some models being more popular than others, even if the other model had superior features. You'll be able to see that a bit in Nikon's lineup, with some of the popular choices, also getting the added benefit of being tournament approved. It's more likely that a popular Nikon rangefinder will be on an approved list than one of their lesser known models. You should still check the current list for the sport you plan on using it in, just to be sure. We're happy to say that battery usage was the same across all but one of the rangefinders, so the only change based on that had to do with the last on the list. The Nikon Inc D Nikon Laser is an older model, so by default had the worst battery usage.
Expert Interviews & Opinions
Most Important Criteria
(According to our experts opinion)
Experts Opinion
Editors Opinion
Users Opinion
By Default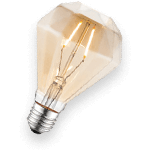 Not all Rangefinders are the same.
There are two different kinds of rangefinders: first priority and second priority rangefinders and the difference are important. First priority rangefinders are really useful when golfing because they work really well when you're dealing with unobstructed views (assuming you can hit the fairway, but that's a personal problem). But for hunters you're going to need to look at second priority rangefinders. A second priority rangefinder will ignore the closest object in its range (likely limbs or bushes) and hopefully help you get a better bead on the partially obstructed object of your hunt. Big difference, so pay attention!
Frequently Asked Questions
q:

What Makes Nikon Rangefinders Different?

a:

Brand name notoriety is nothing new in an industry that prides itself on optics. Nikon is a leader in this area, so when buyers settle on a rangefinder from their lineup, at the very least it will have superior optics. There are a lot of choices from other brands, yet none of them can guarantee optical quality in all of their products. Only a select few like Nikon can back that guarantee up, and then deliver when needed. With their large lineup of cameras and accessories, making a quality rangefinder was an easy task for them.
q:

What Are The Different Types Of Models?

a:

The two main types of models are for golf and hunters, which are vastly different in their approach to how their features blend with the user. The same concepts that would be beneficial to a golfer in measuring distance will become a hindrance to a hunter. In the Nikon lineup they have made combo rangefinders that work for both golfers and hunters, yet getting a rangefinder for your specific purpose is still the preferred method. The combo unit is fantastic, yet is a jack of all trades and a master of none when you need it the most.
q:

Is Bigger Always Better For Range?

a:

Not all the time. The #1 item on the list is the smallest of the bunch and does respectable yardage, about 550.
q:

So Smaller is Better?

a:

Smaller is always better when it comes to rangefinders, as long as the core features stay intact. This includes having a large screen to compare distance results with and to also change the options. Having too small a screen on your rangefinder defeats the purpose since no one wants to strain their eyes trying to make out the details of the image. For rangefinders without a screen, then they should be much smaller than the ones with screens- if not, then what was the point of not including the screen? You're going to be spending a lot of time using the rangefinder, so make sure that the size is something that doesn't work for what you want.
q:

How important is Magnification?

a:

Magnification helps with ranging your target but also reduces your field of view. This is why having a rangefinder with good hardware capabilities is more important than the actual magnification power.
q:

Can Rangefinders Replace DSLR's?

a:

No- and they never will. When using a rangefinder for photography it is used more as an additional tool rather than a replacement.
q:

Nikon or Leica?

a:

This is one of those battles that will never have a winner. And the reason? Bushnell, Simmons, Wildgame Innovations and Carl Zeiss are still big names. Nikon and Leica are tops in the industry for rangefinders, but they are hardly alone.
q:

How Far Can Rangefinders See Accurately?

a:

Currently, there is a high-end model out that can reportedly see up to 3,400 yards (reflective). Your mileage may vary, as there are plenty of conflicting reports on its accuracy. The best Nikon rangefinders on the list were tallied from 1,500 yards and under models where their accuracy could not be put into question.
q:

How Do Advanced Functions Help?

a:

Specific to Nikon, their advanced features are powerful enough to stand out from the competition. Some of the advanced features that are game changers with rangefinders are optical VR, Hyper Read Technology, Tru-Target Technology, and ID Technology. These are all Nikon exclusives that enhance normal functions like target acquisition so that you can line up your shot better. They can even reduce vibration so that you don't struggle to keep the target in sight. These advanced functions all come together to bring you the best range finding experience possible with a Nikon product.
q:

Are They Weatherproof?

a:

Not all rangefinders in the Nikon catalog are guaranteed to be weatherproof, or even waterproof. Always check the features to see if they fall into either category. About the only thing that is guaranteed for each model is that they will have some type of shock absorption feature, something that was implemented when they first started creating Nikon rangefinders. Having a weather resistant model can come in handy on rainy days or even when you happen to drop it in water. It takes one bad water accident to end a rangefinder that doesn't have adequate protection against the elements.
q:

How Dependable Is The Magnification?

a:

The superior magnification of Nikon products helps out a lot when you need to spot long distances. Size doesn't affect magnification, and it all comes down to the optics paired with the mechanics of the model. So even if you take it to a wooded area, once you spot your target the magnification will result in a beautiful image. Some things to look out for in non-Nikon rangefinders are lack of magnification. Yes, some competitors sell their rangefinders without magnification. This isn't a problem with Nikon, as all of their current models for sale have magnification included by default.
q:

Are There Any Differences In The Lenses?

a:

A Nikon monocular is one of the top three lenses in the industry and guarantees quality directly out of the box. When choosing a rangefinder, the optics are the most important thing to pay attention to. The coating of the lenses is what you'll pay the most attention to, as they reduce reflection, glare and other undesirable effects while finding your target. While there are differences in the coatings provided, largely the most important thing you'll be looking at is whether they were coated at all. All of Nikon's rangefinders come coated, so there is no need to check for that feature unless you're looking for a specific type of coating.
q:

Can Nikon Rangefinders Be Used For Tournament Play?

a:

In amateur and professional events, there is a list of approved rangefinders that the players have to go by. This list changes yearly based on requirements of the tournament and the introduction of new equipment. It gets a little confusing when looking for a rangefinder since these lists aren't always readily available. A good example is how a Nikon rangefinder is approved for one year but banned the next due to new regulations. This is a rarity, but just something to think about if you use a rangefinder in competition. Buyers that are afraid of purchasing a Nikon rangefinder that doesn't follow current standards will have a safer bet sticking to models in their lineup that is at least a year old since being on the market- these are less likely to get caught with an unfair restriction.
q:

How Long Does The Battery Last?

a:

Nikon rangefinders have superior power saving capabilities so are usually good for an entire year. It's rare that you'll have to recharge or swap them out sooner than that, and at the bare minimum, they are good for a full season. You'll get a low battery warning before it is time to switch out the power. This will let you finish about a days' worth of use from the product without it dying while using it. Battery cost isn't an issue, and you can find cheap batteries just about anywhere. Another bonus to rangefinder batteries is that they don't lose a lot of power while idle.
q:

What Are Some Cons Of Rangefinders?

a:

Even the best rangefinder on the market could do with a better display. The displays on Nikon models are good, but trail behind what is offered with their top tier cameras. It's not that they are low quality, and most of them get the job done- but that's it. HD displays aren't common with viewfinders since you won't be watching videos on them. A bump up in display quality would really help for the Nikon models that offer multimedia capabilities and may be something that is looked into as a focal point in the future. As of right now, it is something that you'll only find on the most expensive Nikon rangefinders.
q:

Is There A Big Difference Between Low Priced And High Priced Models?

a:

In terms of quality, no. The difference with price comes with compatibility and extra features. A higher priced Nikon model may provide better resistance against the elements than a low-cost option. Judging Nikon models by price doesn't really do a lot beside highlight features that are not majorly used with rangefinders, like media capabilities. In fact, buyers that purchase the lowest priced choice from Nikon are pretty much getting the bulk of the main features in their cheapest model. Unless you are a diehard fan of a specific rangefinder feature, purchasing by price with a Nikon won't get you anything special.
q:

Can You See In The Dark?

a:

No, but some rangefinders can be used in the dark. A true 'night vision' rangefinder isn't available from Nikon, even though it is something that is in high demand. In low light conditions, rangefinders that are set up properly can be just as effective as they are in the daytime. This is great for golfers that play late into the evening and for hunters whose game only comes out at a certain time. It can be a bit of a pain to set up at first, but a joy once you get the settings exactly how you want. Nikon lays out the low light settings in their rangefinders well so that you know how to set it up.
q:

Will It Hold Focus At Long Distances?

a:

This is a feature that Nikon models are great at, which can be maddening with lesser brands. When you are handling the distance and targeting with your rangefinder, constantly losing focus can really destroy any progress you make. In golf, a rangefinder that is hard to focus at long distances can cause delays in a current game. As long as the distance is within the limits of the device, then it should be able to hold focus. And if it is a Nikon product, changing conditions won't bother it too much even at the max distance.
q:

How Good Is The Warranty?

a:

Another pro of going with a company like Nikon is the speed of the warranty service. If anything should go wrong with the rangefinder, they are quick to resolve the issue. Warranties for their products differ based on the model, so there may be longer benefits to newer iterations than the older ones. Always make sure to check the current warranty conditions so that you get the best coverage possible.