Best Camouflage Shirts Reviewed & Rated for Quality
In a Hurry? Editors choice: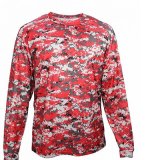 Test Winner: Badger Sportswear

Any hunter can tell you the value of being able to blend into your surroundings. Animals have many adaptations that are designed to ensure their survival. Generally speaking, they can smell better and hear better than humans can. Of course, one of the most common forms that a hunter takes to mask oneself is by
wearing clothing that helps us blend in with our surroundings
. Camouflage shirts are one of many ways we can help ourselves blend into the surrounding environment. The shirt we wear while
hunting
can help make or break the hunt. Fortunately for us,
camouflage clothing
comes with added benefits for the hunter wearing them. This list features the best on the market and we even include the features that got them there to make your decision making easier!
Standout Picks
Criteria Used for Evaluation
Comfort
No camouflage shirt is worth its money if it is uncomfortable. Nobody will want to wear a shirt that doesn't fit properly in the right areas or scratches your skin. Instead, you should be on the lookout for camouflage shirts that fit your body properly and feel soft and comfortable against your skin. This will improve your overall satisfaction with the shirt and make you want to wear it more often. A shirt that is uncomfortable is likely to spend most of their life in the closet and dress until you are ready to give them away or sell them at a rummage sale. You can do yourself a large favor by making sure that the shirt is comfortable when you are trying it on.
The first thing that you should check when you are purchasing a camouflage shirt is how well it fits. There are a few different areas that you should check in terms of how the shirt fits when you are trying it on. The first place to check is the overall length of the shirt. It should be long enough to cover your waist and not show anything that you do not want the public to see.
After you have looked at the length of the shirt, you should also check how it fits in the critical areas of the stomach area, the chest, arms, and the neck. The shirt should feel comfortable in all of these areas and it should not feel too tight or too loose for your comfort. A shirt that is overly tight in these areas can cause the shirt to rip and tear at the seems.
Once you have checked the fit of the shirt, you should move onto checking how comfortable it feels overall. If you are someone who has skin allergies, then you should check over the tag on the shirt to make sure it does not include any materials that are allergic too.
Some materials are known to be more comfortable than other materials. For example, wool is known for its ability to keep you warm and insulate your body, but wool can also be scratchy and rough and for this reason, many people tend to avoid wool clothing as a layer that touches your skin. Many people like to wear cotton or polyester as these materials are known to feel soft and smooth rather than rough and itchy. Nylon is another popular fabric because once again, it has a tendency to feel soft and comfortable.
Style
Your hunt is more likely to be a success if you blend into your background so that animals do not see you. Nevertheless, you also need to stay safe while you are hunting and staying safe can mean making yourself visible to other hunters. In this case, you will need to make sure that your shirt works for the kind of hunt in which you are participating.
When you are looking for a camouflage shirt that isn't going to be used for hunting, then you are able to pick from a wide variety of colors. For example, many shirts have a camouflage print but they use colors such as yellow, purple, and black. None of these colors are ideal for hunting purposes, but they can make for a great look when you pair the shirt with other clothing.
Many people wear camouflage shirts when they are at the gun range or when they are paintballing as well. If you are going to wear camouflage for paintball, then you will want to pick a color that makes you blend into your background since most people can see color. On the other hand, people at the gun range do not need to be concerned about the color of the camouflage shirt they are wearing as there is no need to blend into your background while you are at the shooting range.
The color of the camouflage shirt can matter depending on your situation and use case. Many hunters tend to wear camouflage shirts because it helps them with blending into their background so that animals do not spot them.
However, there are times when hunters may need to wear camouflage shirts that use different shades of orange so that they can be seen by other hunters and comply with local regulations. Of course, there are plenty of use cases for camouflage shirts that do not involve hunting. In this case, people have a wide range of colors to pick from and may need to choose the color that best fits their situation or their style preferences. The color of the shirt matters when you are picking out a camouflage shirt so you should look for a shirt where the colors are correct for your needs.
Protection
The shirts also need to protect us from more than just the weather. We may need shirts that protect us from insects such as mosquitoes. If we are walking through heavy brush, we may want to wear a shirt that protects us from getting scratched by twigs and branches. Our camouflage shirts need to be durable enough for such situations. We also expect our shirts to last a long time. We want them to look new and stay comfortable while we are wearing them. All of these qualities are highly critical in picking out a camouflage shirt.
Sometimes we need a shirt that will help us stay cool. This can be especially true if we are hunting in warmer weather. Other times we are hunting in cool or even cold weather and we need shirts that are appropriate for such conditions, keeping us warm, not too bulky, and most importantly disguised.
Value
The quality of the camouflage shirt will make the difference between purchasing the shirt once or having to purchase the shirt over and over again. A high-quality shirt will be a shirt that is long lasting and will provide you with plenty of value for the price that you paid for it. On the other hand, a low-quality shirt will become a headache as you have to deal with the shirt not fitting right due to shrinkage or having it wear out prematurely.
You should always be on the lookout for quality camouflage shirts because even if you have to spend a little more upfront on the shirt you will be happier with the shirt overall. The quality of the shirt can mean the difference between a shirt that you actually want to wear and a shirt that you either never wear or have to get rid of because it didn't last.
Features
Camouflage shirts can have different features that you may find useful when you are picking out a shirt. Features in a shirt can make the difference between a shirt that you just like and a shirt that you absolutely love to wear. Some of the common features that can be found on camouflage shirts may include pockets on the chest, button-up shirts or zippers, and hoods.
There are also features that you may not even think of such as insect repelling material that helps keep you free from bugs while you are outdoors. You should always take the time to look at a camouflage shirt in detail and make sure that it has the features that you are looking for in a shirt. Some of the features are just for show while other features are useful and can increase the versatility of the shirt.
BEST CAMOUFLAGE SHIRTS REVIEWED & RATED FOR QUALITY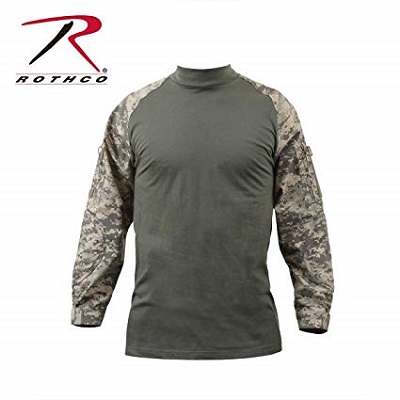 If you need a higher quality camouflage shirt, then you may want to consider the Rothco Combat shirt. This shirt has advanced features such as moisture wicking to remove your sweat. The elbow patches are padded and resist abrasion. You will also find a zipper on the sleeve and a glint tape holder in case you need IR tape. It is also made out a blend of polyester and cotton.
Moisture Wicking
This shirt is designed to be worn underneath heavy gear so the fabric is highly breathable to support moisture wicking. You can expect this short to help remove sweat very easily and keep you dry. This makes an ideal choice for hunting or sports.
Padded Elbows
The elbows have extra padding so they resist tearing or abrasion. The extra padding helps protect your elbows from getting scuffed. You will also benefit from the abrasion resisting pads which protects the shirt from tearing on the elbows.
Cost and Value
This shirt has an above average price but it is engineered to work and justify its price. The value of the shirt comes from its highly breathable and moisture wicking capabilities which helps keep you cool.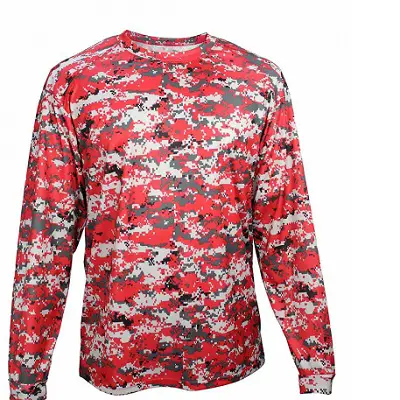 Having a versatile shirt is great for clothes buyers everywhere. This particular long sleeve shirt is an example of one of the most versatile shirts you could possibly own.
B-Dry Fabric
The part that makes this long sleeve shirt so versatile is the B-Dry fabric design. Imagine sitting in the woods waiting for that big buck to come in, worrying if it will catch your scent, knowing you just finished your daily run. The technology in the fabric of this shirt removes that worry with its B-Dry philosophy. Designed to wick away sweat while drying quickly, with antimicrobial odor protection that won't wash out.
True Camo Pattern
Never be spotted by your prey in your tree stand again when your wearing one of these long sleeve shirts. Their true woods camo pattern will keep you blended into your surrounding for all your hunting seasons.
Cost and Value
Good for all your athletic and outdoor hunting needs, this shirt will make a great versatile addition to your closet. No need to spend the extra money on separate shirts again. Purchasing one of these long sleeve shirts can give you plenty of use at a user friendly cost.

3

. Minus33 Chocorua Merino Wool


Here is a shirt that is highly ideal for fall seasons. This is a crew style long sleeved tee shirt that is made out of 100 percent wool fabric. The shirt is super soft and extra comfort and makes a great shirt to wear in cooler weather. It has moisture wicking properties so that you don't feel cold and clammy after walking out to the woods prior to hunting.
Moisture Wicking
The wool in this shirt has moisture wicking capabilities. This is important because it helps keep your skin dry so that you don't feel sweaty and then later cold from sweating.
Insulates
In order to help you stay warm, this shirt will insulate your body when it gets wet. Wool can absorb a lot of moisture when it gets wet and the moisture serves as insulation to keep your body warm.
Cost and Value
This shirt has an above average cost but is well worth its price. The value of the shirt comes from the fact that it is made from 100 percent wool. The material is super soft and incredibly comfortable.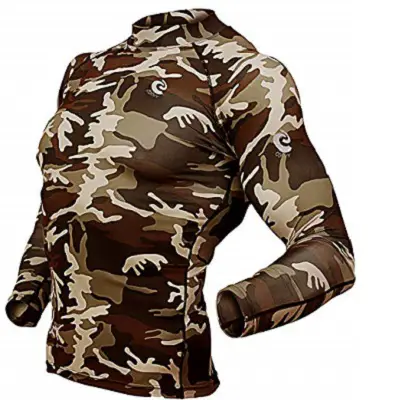 Here is a long sleeved shirt that is very ideal to wear on its own or underneath heavy gear. The shirt is made from a compression thermal fabric which hugs your body and keeps you really warm without a bulky feeling. It is very lightweight and dries quickly when it gets wet with sweat or the weather. The shirt also resists odors and continues to smell fresh even after heavy sweating.
Compression Fit
The shirt is made from a thermal material with soft fleece on the inside. It fits your body very snuggly which makes it a great base layer when wearing it underneath winter gear.
Moisture Wicking
Since this shirt is also highly breathable it wicks away moisture which helps your skin stay dry. This can be especially important in winter environments since sweating lowers your body temperature.
Cost and Value
This shirt has an above average price. Its value comes from the construction of the shirt which is made out of soft fleece on the inside and thermal fabric on the outside. It fits you tight and fits and works well as a base layer.



If you need a shirt that is more suited to colder temperatures, you may want to consider this camouflage flannel shirt. This shirt is made from 100 percent cotton. It has features such as a chest pocket that includes a pencil slot. The collar and cuffs are corduroys lined to help it feel good and retain body heat. You may also like the adjustable cuffs that help the sleeves stay put.
Adjustable Cuffs
The sleeves have adjustable cuffs which are a great feature. These cuffs can be adjustable to create a nice fit around your wrists. That way, your sleeves stay in one place rather than moving up and down your arms.
Left Chest Pocket
There is a pocket located on the left side of the shirt at the chest. The pocket even has a special slot for holding a pencil or a pen. It's a great place to store your smartphone also.
Cost and Value
This shirt has an above average price but also has features that make it worth its price. The shirt is made from thick 100 percent cotton material so it looks great and has long-lasting durability.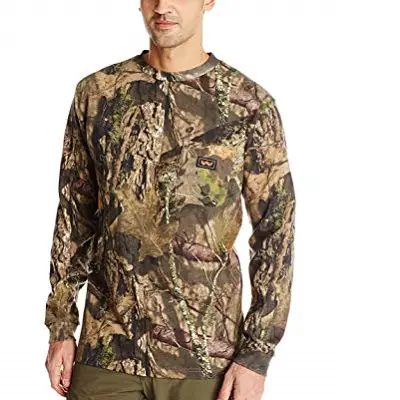 This long sleeve camo shirt on the list could be an amazing addition to your hunting gear or your everyday wardrobe. Made for comfort and outdoor wear all at the same time. This camo shirt can have you fully functioning no matter what your day hold.
Outdoor Lifestyle
These camo shirts are built breathable and durable to protect you from the elements while you enjoy your outdoor activities. Made from a soft and quiet cotton jersey knit, you are sure to be comfortable and confident in the woods while wearing your long sleeve camo t-shirt.
Full Cut
Fully functional for both work and play, Uniquely this shirt has a full cut design. This means you will have a full range of motion while adding an extra comfort level. The tagless label design adds to the comfort you will feel wearing one of these shirts.
Cost and Value
These long sleeve camo shirts have plenty of comfort and functionality to offer no matter what you intend to wear it for. Who wouldn't want to own a shirt that has a character all it's own.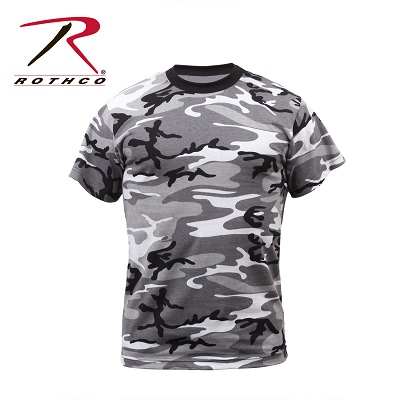 This is another military-style camouflage t-shirt. It comes in a variety of different camouflage colors which allows you to pick the proper color camouflage that best suits your needs and taste. Since this is a short sleeved shirt, you can expect it to stay cool when you are in warmer weather. It is made from a blend of cotton and polyester camouflage material.
Lots of Patterns
You can purchase this shirt in lots of different camouflage patterns and designs. There are traditional colors such as green colored camouflage but you can also purchase orange camouflage or even different shades of purple camouflage.
Screen Printing
This shirt has a tagless label and is inexpensive. This makes it a great choice for screen printing. For example, a paintball team could print their team's name or logo on these shirts.
Cost and Value
This is a very low cost and an inexpensive t-shirt. Its value is justified by its low price which makes it an excellent candidate for a team shirt. You can purchase it in a wide variety of colors and camouflage colors.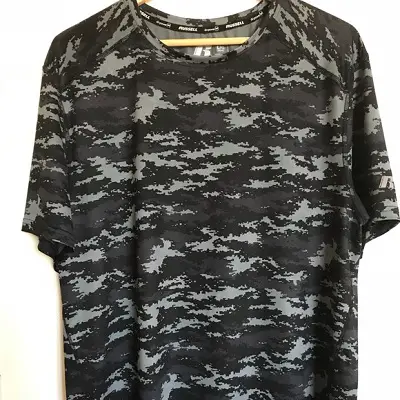 If you are looking for a t-shirt that will keep you cool and protected from the sun, then you may want to consider the Russel Athletic performance t-shirt. This shirt features moisture wicking that helps you stay both dry and cool. It also offers UPF 30+ protection to help protect your skin from the sun's harmful UV rays. Finally, you can continue to smell fresh since the shirt has odor protection.
Odor Protection
The shirt resists odors from your sweat so it continues to smell clean even after heavy sweating. This makes it a great shirt to wear when you expect to get hot and sweaty.
100% Polyester
The shirt is made from 100 percent polyester which has a few different properties. For one thing, the shirt is very breathable and wicks away moisture. It also can protect your skin from UV radiation.
Cost and Value
This shirt has an average price and offers features that justify its value. For example, it can protect your skin from UV radiation. Since it wicks moisture away, you will also not get rashes from sweat.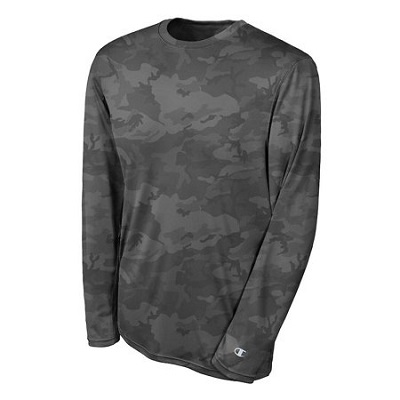 This is a great shirt if you are going to be in the bright sun or hot weather. The shirt is made out of 100 percent polyester so it's highly breathable and moisture wicking. It also offers 50+ UPF to protect you from UV radiation from the sun. You can purchase this shirt in a wide variety of camouflage colors and prints as well.
Moisture Wicking
The shirt is highly breathable and offers moisture wicking to help you stay dry. That makes it an ideal shirt to wear with items such as a backpack because the shirt will help your body remove back sweat.
UV Protection
The shirt is designed to protect you from harmful UV radiation. It has long sleeves and features up to 50+ UPF. This makes it an ideal shirt to wear in bright hot environments because it protects your skin from the sun.
Cost and Value
This shirt has an average price and offers some excellent features for the money. It builds its value by protecting your skin from UV radiation and also has moisture-wicking fabric.

10

. District Made Crew Tee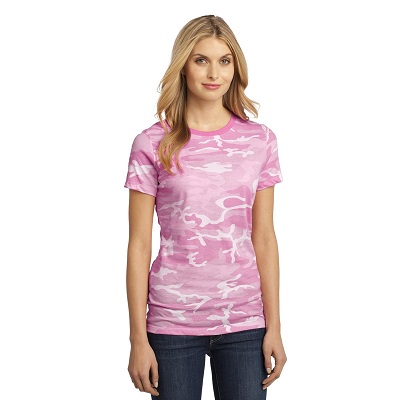 When looking for a shirt what is one key factor that comes to mind? For me its a certain level of comfort. After all who wants to spend their day readjusting their shirt because it just doesn't feel right. This style of crew tee keeps your comfort in mind with their materials and design.
Ring Spun Cotton
This style of crew t-shirts are made from 100% ring spun combed cotton. What does this mean for you? Well, let me explain that for you. With this type of material, you receive a more comfortable fit. Which can lead to a better overall experience?
Pigment Dyed
This style of crew tees has that unique look that is all their own. Giving each shirt its own distinctive color. This t-shirt comes with just the perfect faded look so you know you won't blind the crowd in one of these shirts.
Cost and Value
Just in case I lost you somewhere, This specific shirt is made from 100% ring spun combed cotton. Making them extremely soft, satisfying that comfort level you're looking for. With this shirt, you can be sure that no two shirt colors will look the same. Pigment dyed to give you that faded look, so you can stand out in the crowd without blinding them.

Subscribe to our Newsletter