The 10 Best Camouflage Pants Fully Reviewed
In a Hurry? Editors choice: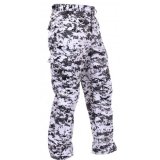 Test Winner: Rothco BDU

Hunters
or those that live in the wild benefit greatly from wearing camouflage clothing. From being on the hunt to pursuing prey to just or blending in with your environment might mean the difference between living to see tomorrow, getting that
hunt kill
, or not being noticed by other predators in the wild.
Many of the items on this list can, and do come in so many various patterns and colours to simulate some of the surroundings one might find themselves in while needing to camouflage. The pants in question range from snow camo,
desert camo
, wood camo, water camo, and even black-which is camo for the dark … sans any traditional camouflage pattern.
Here's our list of the ten best camouflage pants found on the market today.
Standout Picks
Criteria Used for Evaluation
Materials
Build
Cotton or polyester? Polyester or cotton? Or maybe a grand old mix of the both in one percentage or another? There's a lot of fine details when it comes to the strength and quality of a pair of pants build. The marketplace for clothing is a thick one that comes down to a lot of nitty-gritty details if that's what you're looking for.
The options on our list a mostly polyester or cotton (for the sweatpants), but the best of the tough list is the poly and cotton blends that are designed to be a little stiff, and stand up against abrasion.
Other types of great build quality notifiers are the level of thought and construction put into the pockets. Or the zipper. Whether or not there is a button fly or a zip fly doesn't necessarily denote the level of quality or care put into the pants, but it might make a big difference in how things go out in the wild if you have a button fly rather than a zipper.
It's important to understand and be sure you're aware of the quality of materials, and the thought and care put into the manufacturing of a garment before you purchase it. Especially online.
Versatility
Variety
The pant game isn't an overly complicated one. But there has been a long-standing battle within the apparel world regarding the dizzying amount of variety, even in the slightest amount between common clothing items that are very close in theory, but become different very quickly when you reach down into the finer details.
Things that stand out off the top are the variety in camouflage colors. Considering this is a list about camouflage pants, it would make sense, wouldn't it? Well there are a handful of standard camouflage prints (the shapes and design of the camo, in a particular way to aid in the blending in with one's environment), and among those standard prints, are the variety of colors that come with it.
The basic selection for camouflage prints are the sea, the desert, the forest, and the grass. Things get more varied from there in which the colors chosen for said camouflage have a huge impact on how or where the camouflage can blend. Some camos have a variant that includes a bit of white to ensure that even in a slightly snowy forest, there will be minimal visibility on you. But most standard camos will blend in with their base natural colors. Beiges for desert, shades of green for forests and grass, and blacks and blues for the sea.
The modern pants, they have various additions as well that include different types of waistbands, various kinds of taper (the youths these days like a good taper). There's a lot less combative, or survival use built into the ideals of these modern camouflage pants because they weren't necessarily designed to be used in camouflage situations, rather, they are simply modern pants with a selection of camouflage prints or color variations available.
Our list attempts to strike up a good balance between the modern, and the meticulously crafted outdoors specific options. There's a good mix of both. It goes without saying, also, that both the modern makes of pant and the utility or military fatigue makes will both make a decent cross over into the other's world.
Value
Price
There's a lot of price differential in the world of fashion. You're looking at one of the world's biggest, and most lucrative businesses, now aren't you. The bottom end is so far away from the top end that most people live within a single range for their entire lives, and nothing really moves them around. It's pretty bonkers the difference in decimal placement when comparing a budget piece of clothing with something more couture.
But that big scary "c" word isn't coming anywhere near this list, for good reason. There's no place for couture clothing in a list about camouflage pants.
At the bottom end of our own scale is a beautiful place filled with comfortable lounge sweatpants and nice additions to your basic wardrobe that just so happens to get the camo treatment form the paint department. These might run you a few bucks, and generally range from dinner for one at the golden arches, to dinner for two at your local pub. We kept away from the dizzying price tags.
The commercial remakes, the finds from the surplus stores are going to vary a little less in price, and stick to roughly the dinner for two at a real diner, plus desserts.
Things in both fields don't shift in price too much depending on the size of the garment, but they can on occasion.
Keeping with our intentions to not over-complicate this list, and our choices to put the specific pants on said list, we stuck to a healthy (and relatively cheap) price range, and it makes it easier to put all of the items up against one another when playing the compare game. Price matters in all choices for purchasing, and it matters with camouflage pants as well.
10 Best Camouflage Pants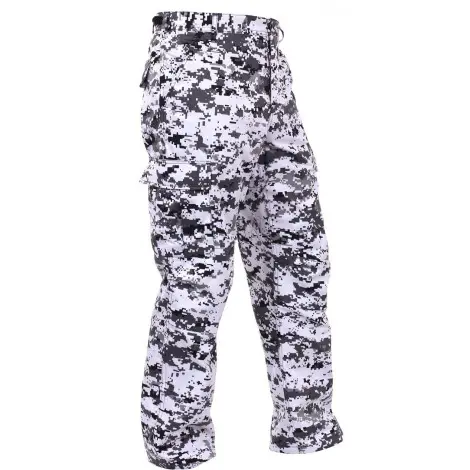 Now, even though we mentioned that many of the non-outdoors specific pants are great, we felt it necessary to ensure that the number one item on our list does the thing you imagine it too when you think of purchasing camouflage pants. These BDU Pants from Rothco aren't going to pop up in your Forever 21 shops, but they might arrive at the 21 Gun Salute. Rothco has put together a gold standard for camouflage pants, in both use and variety.
Ready for Anything
One of the best things about the Rothco offerings with their BDU Pant is that it comes in over twenty visual options. There's different colour desert prints, wood prints, grass prints, and even solid colours. There's even pink camo. You might be asking your screen right now, but GearHunt, why would anyone want pink camo? Well, faceless friend and commenter, pink is a "no colour" which means most animals in the woods that one might hunt can't see pink. But humans can. This means you're more easy to be spotted by other hunters (making you way safer), and you'll still blend into your environments thanks to the patterns (keeping you from being noticed by that which you stalk.)
The Sauce
The Rothco BDU Pant is the king of essential build and structure within the universe of camo pants. When you're out and about, doing outdoor things, you probably want a cargo pant. That's exactly what these are. You get cargo pockets on either hip, flap-top back pockets, two front "slash" pockets, and extremely well made reinforcement on the knee areas, keeping your pants from the normal wear and tear of being on your knees or bending at the knee excessively.
Cost and Value
While most of the items on our list will be a standard price throughout their offerings, the Rothco BDU Pants are so meticulously manufactured that, depending on the size you choose, the price might differ. Though, for the amount of well constructed, and useful pant you get, the value is over-the-top with these.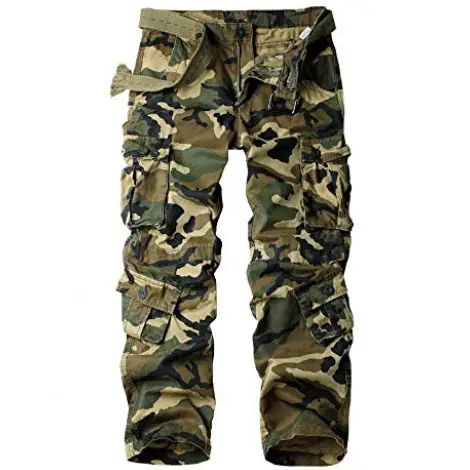 The Ochenta apparel company has come to bat with a slugger of a pair of pants, right at the bottom of the ninth inning. Too many sports references? Sure. Okay. But this is our last slot, and these cargo camouflage pants truly knock it out of the park. The quintessential pair of camo fatigues runs straight into the standard mold that nearly everyone seeking a piece of clothing like this will see in their mind. They're nearly picturesque.
Lightweight Cotton
If there's something that one must consider when applying a pair of pants to their legs (via wearing them … I'm sorry that I made that so awkward), it should be the materials the pants are made out of. We've spoken a ton on cargo fatigues from other manufacturers that are built from a rugged blend of polyester and cotton, but these fatigues from Ochenta are made from one-hundred percent cotton, making these fatigues quite a bit more comfortable than others, but perhaps without the strength.
Pocket Monsters
If you're going to "catch 'em all" you might as well have the pocket capacity to transport them all right? This reference to a cartoon and video game franchise is going on a little long, right? The Ochenta Cargo Combat Trousers comes with the standard 6 configurations of pockets that almost all cargo pants come with, but also include two more pockets further down the leg of the pant. So many places to put things.
Cost and Value
Roughly a bit higher than the budget pants of yore, the Ochenta Cargo Pants come in a few camo colors, and a lot of civilian colors, but they're one-hundred percent worthy of making this list, even if it's just by the skin of their teeth (disclaimer: there are no teeth on, around, or in these pants.)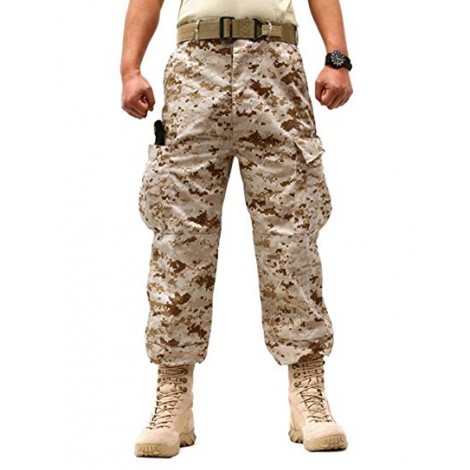 You might want to read the full title of these pants again. And then you might want to ask a fair few questions. But tell me this; when was the last time you saw the word "casual" and the word "tactical" in the same product description or name? Probably never right? I mean, they're a tad contradictory. But ZLSLZ truly has its cake and eats it too.
Pockets of Perfection
With your two normal front pockets, you've got some very deep pouches. They cover a large portion of the thigh area. Then you've got two large back pockets with top flaps to keep your stuff safe, though they're not the biggest pockets on earth. But the kicker it the backpack (slight exaggeration) size of the cargo pockets on the side of the leg.
The Blend
Much like the other pairs fatigues on this list, the ZLSLZ Men's Military Tactical Casual Cargo Pants are made with a special polyester and cotton blend that makes for a mean and tough pant. There's not a lot of give to the materials, but there's also not a lot of give when it comes to abrasion.
Cost and Value
Luckily for the rugged and outdoors types, there's an optimistically low price set on these multi-pockets BDU Cargo Pants, and they can easily be yours for very little. An added benefit is the extremely well-made blend of materials that ensure you won't be running into any holes or scrapes anytime soon.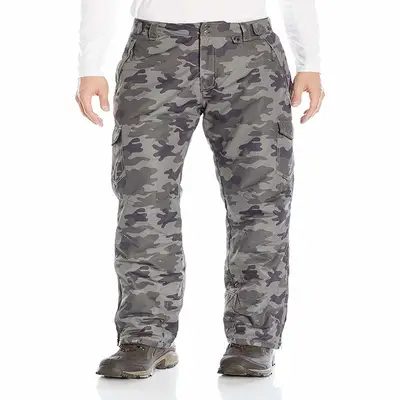 If you're looking for a pair of camouflage pants specifically created to be used outdoors during colder weather look no further! These pants were particularly designed to give you a custom fit regardless of what you use them for. Featuring an adjustable waistband for a secure fit and boot zippers for easy on and off motion these pants keep you secure even when you're partaking in extreme sports.
ThermaTech Insulation
Constructed with multiple layers of fabric these pants come with 85 grams of lightweight ThermaTech insulation integrated into them, these pants give you the warmth you need even during the coldest winter months. This is mainly due to the heat-trapping microchambers that are weaved into the pants for that added layer of warmth. Furthermore, these pants offer a thicker exterior that keeps moisture away in order to ensure you remain dry the entire time.
Extreme Flexibility
While these pants are constructed out high-quality thick material, they are also extremely flexible. As previously mentioned, these pants were created for high performance so having a flexible appeal completely makes sense. This is mainly due to the material having a four-way stretch, that allows you to move in all directions without losing its concrete shape.
Cost and Value
When it comes to the cost of these pants, they are on the pricier end depending on the size you require. Unlike other options, these do come in an extensive range of sizes to choose from and that allows for the price to go up or down on the scale. While this might seem a bit odd this allows you to find the right size for you and your specific needs.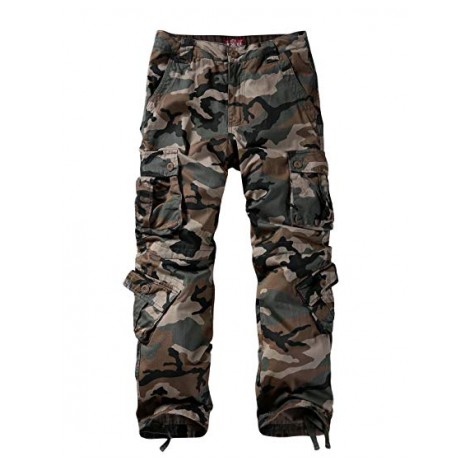 Some might say that there's no church in the wild (I'm looking at you Kanye, and Hova. Is it Hova? Or THE Hova? … doesn't matter), but these "Wild" cargo pants sure want to put you out in the sticks. Match is a wonderfully clean and comfort-focused design company for men and women with a unique spin. Match's Men's Wild Cargo Pants are no different than the rest of their collections.
Options Galore
There's no ifs or buts here, the Match offerings with the Men's Wild Cargo Pants is a nutty total. Going over forty options for all sorts of situations (only about a third of those being true camouflage patterns) is a little crazy, to say the least. Ranging from great desert camo colours to snow or urban camo, you're sure to find the camouflage pattern you're after with the Wild Cargo Pants.
Pocket Ties
In the true spirit of working outdoors pants, these are a wonderful Match made in heaven. Get it? Because the brand name is Match? … Okay. Moving on. The Match Wild Cargo Pant at the core is a standard cargo pant with from slice pockets, cargo thigh pockets, and reinforced stitching. But it also comes with two shin pockets, and leg-hole drawstrings to keep the things of the wild from climbing up your legs.
Cost and Value
Could be that all of this awesomeness in one pair of pants is the cheapest item on our list, and deserves (very much so) to be within your window of consideration. Heck! At this price, you can afford to get a few pairs of various patterns or colours. And if you like them so much, you can get regular fashionable colours too for that ever-necessary blending in at a Starbucks.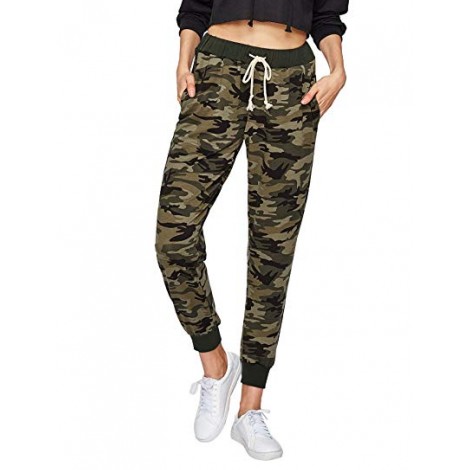 Another pair of exemplary sweatpants that also comes in an awesome camouflage pattern, with woodland camo colors. The SweatyRocks Women's Pants are the "female" equivalent of the joggers we showed you earlier on this list. Luckily for the ladies, these awesome sweatpants, or joggers, also come in a snowy version of the woodland camo print.
Movement is Free
It might sound a whole lot redundant, but these sweatpants can truly move. There's nothing restricting about them. Which is essential in a lounging pair of leg coverings, or if you're keen to be in motion, the joggers have got to have a ton of give in order to facilitate such a thing. Being as they were designed without any sort of structure in mind, sweats or joggers are a great route to go when shopping for something to move around freely in.
Comfortable and Sturdy
With a soft interior to the material, the inside of these is crazy comfortable to wear. The drawstring waist, and the ankle cuffs also work to ensure that not a drop of cold air seeps into your comfy joggers as well.
Cost and Value
A great budget option for those comfortable nights in, or those exercising days out. The camouflage designs are also perfectly designed. They're versatile and warm, and won't be busting up your wallet in order to come and be a part of your closet. SweatyRocks truly has something going with this magical with their Yoga Jogger Sweatpants.



Taking the jogger pants game to the next level, the folks at ProCube USA have created what is essentially a sweatpant, and put some awesome colors on them. The camouflage version of the ProCube Men's Casual Jogger Sweatpant might not be available at hunting stores around the world, but that doesn't mean that these sweats are any less an option for your days and nights in the woods.
The Jogger
A relaxed around the thighs, drop-crotch design, paired with the taper of the calves, and a cinch at the leg hole is the essential design of a "jogger" pant, and ProCube's offering does those things almost better than anyone else. Jogger-style pants are all the rage these days, and there's no need to be unfashionable when heading out into the brush.
Final Form
Perhaps one of the best uses for a camouflaged out pair of sweatpants is that they can become the final piece to your outdoor puzzle. Wear whatever you may underneath, be it pockets galore, or perhaps a warming, or sweat wick layer, but you throw on this pair of camouflage sweats and you've all of a sudden become a lot harder to see, and a lot warmer.
Cost and Value
The smallest of these pairs comes in at just about nothing on the price scale, and even the most expensive of the lot are barely more than a meal for two at a fast food chain. Which is fitting because they don't have a whole lot of frill. But you get a whole lot of warmth, and style out of this potentially epic top layer out in the woods, or lounging around in your cabin.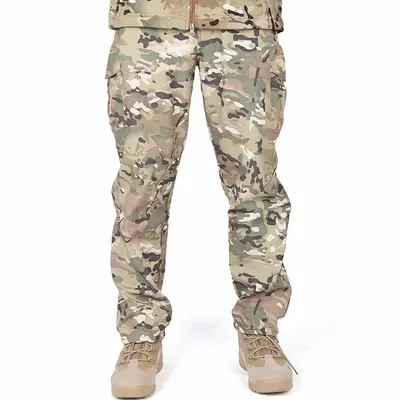 Created specifically for outdoor use these fleece-lined camouflage pants are essential if you enjoy spending time outdoors on a regular basis. With that being said, these pants are constructed out of 94% polyester and 6% spandex with an internal antistatic breathable fleece fabric that allows you to get the warmth you need for those cold winter nights without feeling overheated. Additionally, the spandex in these pants allows for larger movement without restriction at any moment.
Waterproof
When you're in the wild hunting, camping or even just hiking you want to have something that will protect your skin from the natural elements around, that is where these pants come in to play, the waterproof element known as PU tech allows water to simply trickle down without sitting and soaking into the fabric.
Multiple Pockets
Who doesn't love having access to pockets, particularly when you are carrying different items with you at once? Thankfully, these pants cover that for you. They come with multiple functioning pockets that are deep enough to carry essentials, yet they do not get in the way of the aesthetics of the pants.
Cost and Value
If you're looking for cost-effective camouflage pants these are an excellent option, they feature multiple essentials that are great to have when you're looking for a pair of pants that can be used in multiple different settings.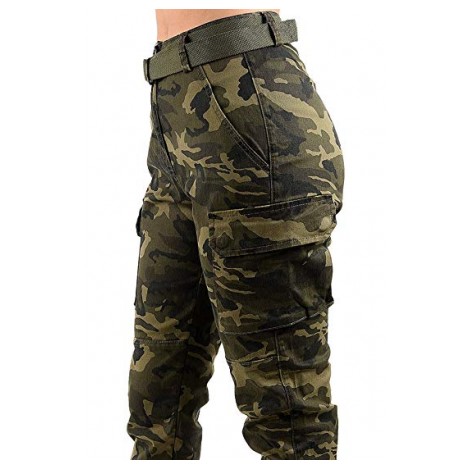 Making and selling clothes to the public is hard. It's a rough market and sees a lot of rise and fall stars. Which is why we can't blame some manufacturers from making a bunch of variations to the same piece of clothing. The wider the offering, the more people it can appeal to. It's with this that we ignore half of TwiinSisters variety with the High Rise Jogger Pants, because half of the various styling don't include cargo designs, nor do they have camouflage patterns. But the half that does, is the perfect solution to the previous pants con list.
Flatter Matters
No, not flatter as in more flat, rather, the idea that a "female" body type can find and wear a pair of well-made camouflage pants without having to look like they've hopped into a funnily patterned burlap sack. Function and aesthetic are on two different wavelengths for a very good reason. But, TwiinSisters takes pride in offering a camo pant that looks as good as it should, all while maintaining the use of great front pockets, and cargo pockets.
Colorways
TwiinSisters offers a lot of non-camo alternatives, but we're focusing on this list. In the vein of camouflage purposes, the High Rise Jogger Pant from TwiinSisters has amazing options. Not only do they have standard camo patterns and colours, but they also have unique designs that include one pant leg of one colour, and another pant leg of a different colour. Keeping them fairly useful in the field, but also interesting and fashionable on the street.
Cost and Value
We haven't yet established a budget end to this market on the list, but the TwiinSisters Camo High Rise Jogger Pants sure do land somewhere near it. You shouldn't be able to get this well-made of a product at this price-point, nor one that offers unique styles. If you're looking for a flattering pair of cargo camos, look no further.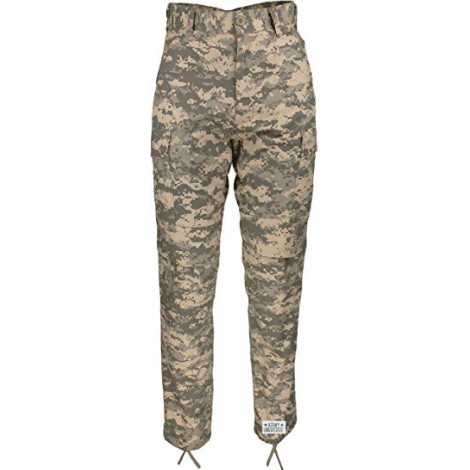 Obviously, the birth of camouflage pants as we know them today come from the different arms of the military. Depending on the situation, most modern militaries have camouflage for it. Whether it's sea, grass, forest, desert, or snow, the ideal squad blends in with their environment. So when a brand labels themselves as the real deal, you've got to take their attention to detail a little bit more seriously.
Strength Without Fatigue
The camouflage Fatigues are designed and manufactured with a poly/cotton blend that is reinforced with durable, and high-quality materials. The kind of fatigue that doesn't have a lot of give. A real pair of protective pants. The design of the extra-durable BDU Pants are made with comfort and fit in mind, so even though they are reinforced, they're not uncomfortable.
Closed Button Pockets
These wonderfully rugged, and truly magnificent pants come standard with six pockets all with deep pouches. But the best addition is the button pocket openings, meticulously designed to keep all of your important things within the pockets you put them in. Two from pockets, two back side pockets, and two large cargo pouches on the side.
Cost and Value
You'd rightfully want to pay a little bit extra for a few extra reassurances, and that's okay. But the real reason why this pair of camo fatigues made our list was simply because it is an extremely high-quality pair of camouflage pants without an extremely gut-wrenching price tag.

Subscribe to our Newsletter