Top 10 Military Compasses Reviewed and Rated
last updated:
Jan 31, 2020
Having an actual compass can seem a bit quaint these days. You've got one on your phone right? And in our car? So why do you need an old antique looking real-life compass? Good question? Here's why, because your phone dies, and your car runs out of gas, and when all your electronics go South, your compass will keep on keeping on. And military grade compass is the way to go. They're built tough, for a reason and can be your main lifeline in the day or night. When you have a map and need accurate directions, these compasses need to be precise and error-free. Even though the majority are built to take punishment, they're more than just compasses with a bulky amount of protection built around them.
In a Hurry? The test winner after 15 hrs of research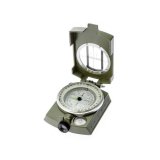 SE CC4580
Why is it better?
36-inch lanyard included
Floating dial is precise and quick
Comes with a built-in ruler on the side of the product
Designed with a nylon case
In a
Hurry? Editors choice: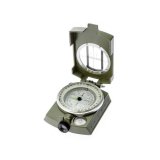 Test Winner: SE CC4580

15
Researched Sources
12k
Reviews Considered
15
Hours Researching
10
Products Evaluated
Value
Accessories
Ease of Use
Protection
By Default
10 Best Military Compasses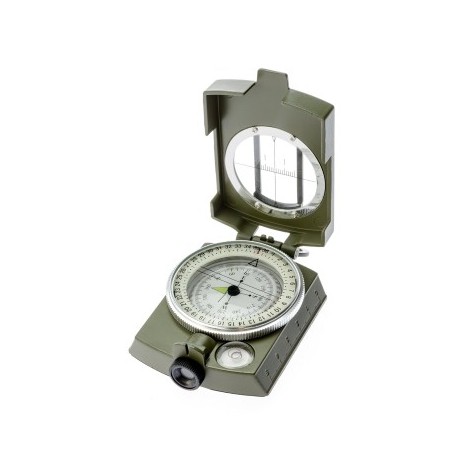 36-inch lanyard included
Floating dial is precise and quick
Comes with a built-in ruler on the side of the product
Designed with a nylon case
Takes a second to zero out
The top spot on the list goes to the SE CC4580, the ultimate directional tool for any level. Never get lost and never worry about the accuracy of your compass, since this will be the last model you have to purchase.
High Quality Pouch
Included with the purchase is a water-resistant nylon pouch that adds an extra layer of protection. The compass by itself is tough, so having the pouch included keeps minor scuffs off of the model.
Extra Accessories
Ruler units on sides for inches and centimeters, and adjustable diopter sighting lens
Cost and Value
At a low price and with all of the extras, this is a value that comes highly recommended. The nylon case will protect your investment and keep it in tip-top shape.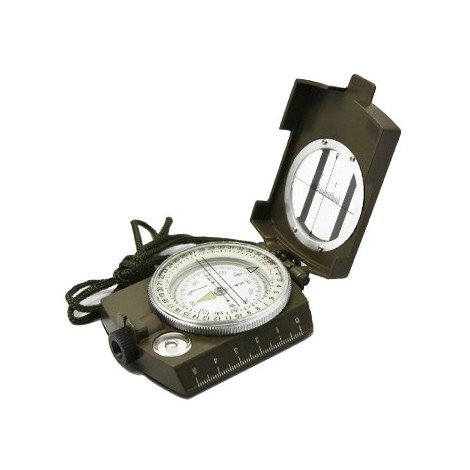 The luminous inside display works wonders at night
Waterproof and shake-proof for extreme conditions
The manufacturer designed the compass to include a sighting window with a sighting line
Consumers have the option to pick between a few different colors
Instructions are difficult for beginners
Without getting too fancy with some of the features Ueasy produced another great option for a compass that makes the list. Going beyond the basics while staying within a balanced scope is what made this one of the better compasses in the industry.
Variety
This is only one of two compasses on the list that offers the customer more than one color. Available colors for this model are green, black and camouflage.
Lots of Features
This compass comes with a reference table for distance and scope, and a sighting window with sighting line
Cost and Value
Built like a tank and low priced, buyers can purchase this compass and never have to look back. Having some extra accessories would have been nice, but wasn't necessary to boost the overall value.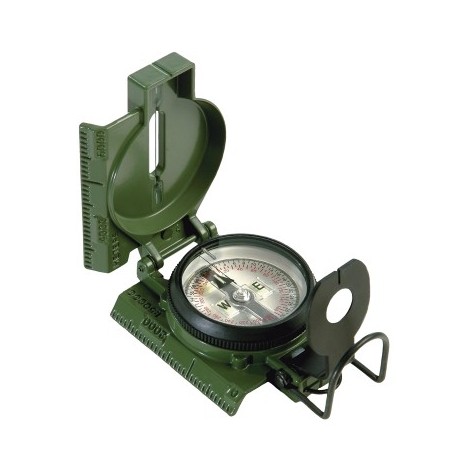 Handles low light conditions with seven tritium microlights
Comes with carrying pouch, belt clip, and lanyard
This product is designed with durability in mind
This product is shock, water, and sand proof
Carrying case is low quality
The Rothco 3H Cammenga uses a well-proven classic design that gets the job done. And to top it off, it is used currently in some of the toughest conditions in the world.
Built Tough
The high expectations of the US Fighting Forces are what determined the specifications of this compass. Even with all of its extra durability, the weight doesn't go beyond 7 ounces.
Sturdily Built
This compass is built to be shock, water and sand proof and has a powerful aluminum frame.
Cost and Value
With the company aiming at the mid-price range, customers that are serious about their compasses will find this one appealing. It has grade A materials and a lot of cool extras.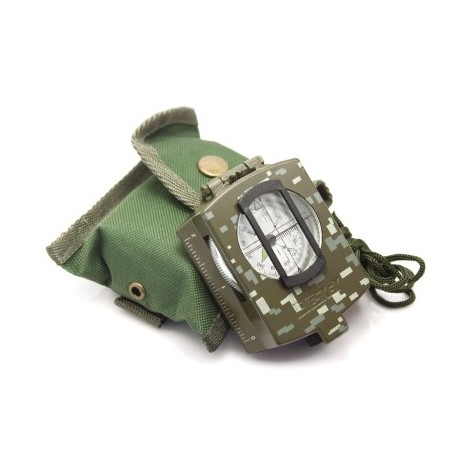 Can get to your target if it absorbs enough sunshine
Handles rough weather conditions like a champ
The manufacturer offers each standard purchase a lifetime warranty 
The product has built a reputation for its great accuracy
Does not open all the way
Eyeskey went all out by providing an accessory rich compass that appeals to a wide range of users. With a little bit of learning, this can be the best compass you've ever owned.
Increased Accuracy
Using a built-in bubble level allows this compass to give accurate results at the highest level. With such a massive decrease in errors, you'll also gain the confidence to get to your target faster.
Your Forever Compass
This compass is built to be waterproof and shockproof and if for some reason it succumbs to the elements it comes with a lifetime warranty.
Cost and Value
This is a low priced compass that holds its value for durability and a lifetime warranty. You won't have to worry about a product that breaks on you for no reason at all.
5

. Cammenga 27CS Lensatic Compass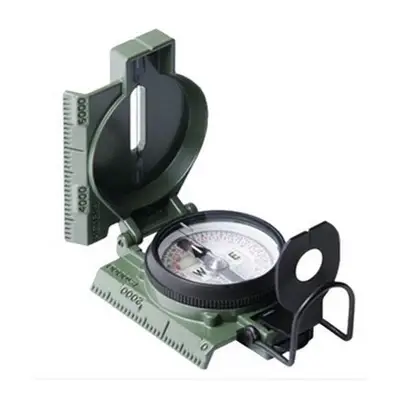 Rotating, bi-directional bezel
Solid frame
Can withstand rough use
Perfect for hunters
The bezel might be hard to click in some ranges
Phosphorescence may not be as bright as expected
This Cammenga 27CS lensatic compass is well-made and therefore considered a premium compass. That is why it makes our list. It is durable, easy to read and made stand against wear and weather. What more could you want?
Lightweight
This Cammenga 27CS lensatic compass is well-made and therefore considered a premium compass. It is cast in aluminum, and it is not filled with liquid as are some other compasses. Therefore, it is a lightweight compass.
Extra features
This compass has a built-in magnifying glass, a small ruler, a belt clip, and a small cutout on the cover. It's kind of like a Swiss-army knife of compasses. It is also waterproof and can withstand the elements.
Cost and Value
This Cammenga 27CS is a premium compass. Because of that, it is one of the pricier options on our list. The price compensates for its reliability and quality.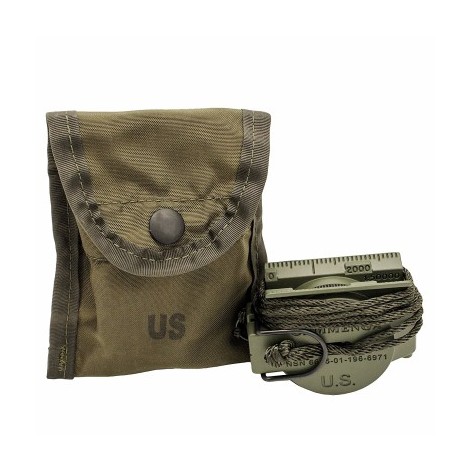 Doesn't use liquids
Remains luminous for 12+ years
This is shock-resistant, waterproof, and sand proof
Many functions not suitable for normal civilian use
Now, this is where things get interesting, as the official US Military compass enters the next spot on the list. Don't let the ranking fool you, as this compass can stand up against any other on this list easily.
It's Official
Buying a product that has been used and tested by millions of professionals gives you a sense of pride and security. It's also a good way to learn about the tools used in the US Military.
Damping System
This compass is built to last but it also has a copper induction damping system that keeps the needle centered.
Cost and Value
This is the first mid-priced compass on the list, and it is worth every penny. You will find only a few other compasses that have this many features crammed into one unit.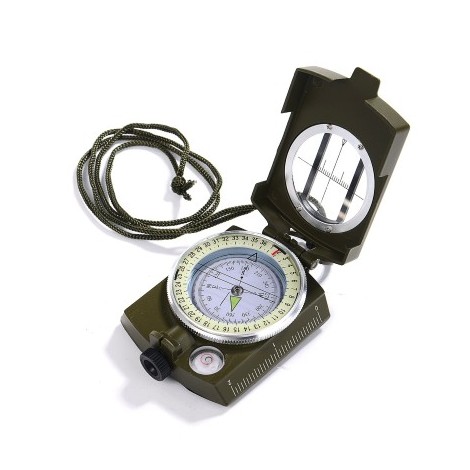 Can convert angle, distance, and gradient
Only weighs 175g
Consumers have the option to pick from numerous different colors
This is incredibly durable
This is another one of the rugged design you can purchase, built to take a beating. Even if it gets a little dinged up you'll still get 100% accurate directions.
Color Selection
There aren't a lot of compasses on this list that give the user an option of colors, so that is a nice bonus feature. You can choose between an army green or green when buying this compass.
Great Accessories
An 18-inch lanyard keeps this compass handy and safe and it also has a very handy conversion chart included
Cost and Value
Like all of the compasses so far the price is low for this GWHOLE model. With all of the extras included, it could lighten your accessories load and surpass its value.
8

. Under Control Tactical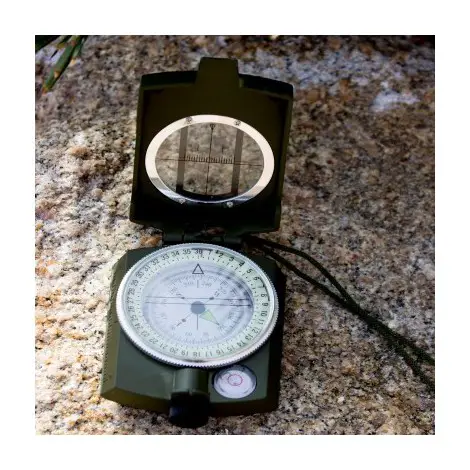 Includes a necklace for the compass
Reference table helps with estimating distance and scope
Users will find the magnifying viewer helpful
Some features confusing for beginners
Under Control Tactical released this model to some pretty positive reviews worldwide. This one does a really good job with its design and only including necessary features.
A Good Foundation
This is an upgraded model of their previous compass and it includes a lot of improvements and new features. Some of the improvements include a floating luminous dial, magnifying viewer, and an adjustable luminous marching line.
Big Compass, Small Package
This is an interesting entry because it has a folded size of 75x57x30mm just to conserve a tiny bit of extra space. It also has a sighting window with sighting line
Cost and Value
The value is great, just make sure that you're familiar with the basics of a compass. Buyers will spend a low price on this model, just like their previous one.
9

. Brunton Military Compass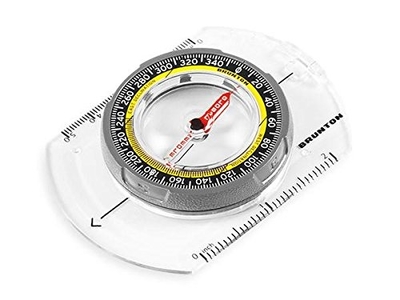 Reliable orientation
Resists magnetic interference
TruArc Global Needle system is accurate in both hemispheres
Easy to use
Measures in inches and centimeters
Not the most durable option
This Brunton TruArc will keep you on track. Or, get you back on track. It is easy to use with tool-free adjustments and precision.
TruArc Global Needle
No matter which hemisphere you are in, you can use this Brunton compass to navigate. The TruArc Global Needle system measures accurately in both the northern and southern hemispheres.
Measures in two units
Just like how this compass works accurately in two different hemispheres, it also offers two types of measurement, inches, and centimeters. This way, many users can use this compass easily and understand the reading.
Cost and Value
For what this compass offers, it is definitely an affordable option that performs well. You can rely on this compass to get you back on track if you lose your trail. No matter where you are in the world, this compass will be a helpful companion.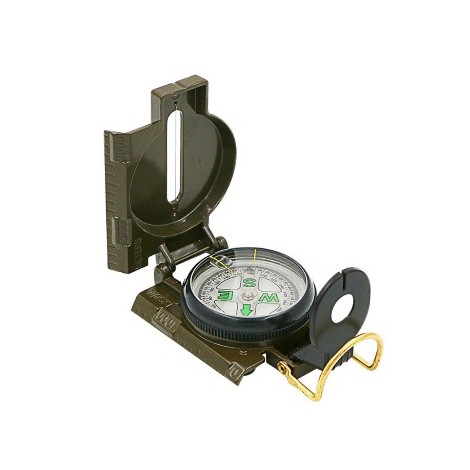 The folding cover protects the face of the product
Magnifying viewer built-in this compass is designed from some of the most durable materials in the industry
Has some unnecessary bulk to the design
Finding out which direction to go using this compass is easy and fun. The build is also solid, so there is little chance you'll need to replace this as it gets older.
Solidly Built
A metal case from this professional-grade compass is only the beginning of how well it is constructed. Even with the metal frame, it is still lightweight so you'll hardly feel it in your pocket.
Helpful Accessories
This has an incredibly helpful adjustable luminous marching line. We also like its size, the dimensions are 7.6×5.7×2.5
Cost and Value
They are offering this compass for a really low price, so consumers should be pretty excited about the purchase. This would make a great gift for scouts or anyone that does a lot of hiking.
Criteria Used for Evaluation


Value
Price was our starting point, and it made things easy once we got rid of the overpriced choices on the list. Once we were done, there really weren't any overly expensive models in our top ten list. And when you consider all of the ones that were removed, none of them provided a much different experience than the lower cost items. We were able to keep the top-performing compasses on the list and move on to our next criteria after balancing out the top ten to reflect the change.


Accessories
Extras were next, which is a criterion directly tied to what a brand includes in their products. Lanyards, cases and belt clip options were all considered in the extras category. Products without any extras were not penalized since it is easy to throw in low-quality extras and pass it off as a bonus.
Those that had low-quality extras were left off of the list, as those extras only inflated the price. We judged the extras on the same level as the compass they came with, so not a lot of products passed this criterion. In some cases, it would have been better for them to not include extras, as their failure in this category nullified a rather robust feature set from the compass.


Ease of Use
We handled ease of use next, although a good portion of these criteria can be based on the user. But there are some things that a brand can offer to help users of all levels like clear sighting lines, a large dial, and a bubble level. Some handled this better than others, meaning their accuracy readings were easier to make out than other models.
Luminosity is another ease of use feature, which if done right makes the entire compass glow in the dark. Products that had spotty luminosity (left important parts of the compass dark) were removed from the list. This is another example of a feature that needed to be done right, or not included at all.
Advanced use of the compass is another story, and instructions helped to round out the top products on the list. Unclear instructions didn't lead to being removed from the top ten, and instead, products were moved out of their spots. Brands that had a copy of their instructions online made a big impact on this criterion, which is helpful to customers that lose their original instructions.


Protection
When we looked at warranty coverage and length, there were only a few products that stood out. Even some of the better choices on the list only had an average of 1+ years of coverage. We moved products up the list that had better than average warranties, and also looked at the company's customer service record in order to add more points. Using warranty as a criterion separated a lot of the good from the great ones, reshaping the entire list in the process.
Expert Interviews & Opinions
Most Important Criteria
(According to our experts opinion)
Experts Opinion
Editors Opinion
Users Opinion
By Default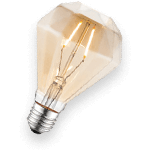 Finding The Way Towards A Compass
We're not Luddites here at the Gear Hunt, we don't do retro just for the sake of retro. Instead, we're practical and we're realists and we're dedicated to doing what we can to help keep you safe when you're outback. That's why we're doing a bit on military compasses. If you head out far enough from civilization having a compass you can rely on isn't just a cool idea, it's a necessity.
Frequently Asked Questions
q:

Are Military Compasses More Accurate Than Smartphone Compasses?

a:

In an area without service, yes 100%. But in an area where there is service, you'll find they are both comparable to one another. Compasses take the guesswork out of the accuracy portion.
q:

What Makes them Different?

a:

Durability is the top concern. It is made to deal with the toughness of the conditions it's being used in. That is why many are waterproof and shockproof to offset any disadvantages to the current weather conditions. You can drop them without worrying about it affecting the condition of the device.

Good uses for them are during a storm, climbing a mounting, hiking, hunting and of course during a military operation. Using a regular compass during any of these situations leaves the user at a disadvantage if the device breaks. So if you're in the middle of nowhere, having a military compass is preferable to having a regular one.
q:

How Important Is Shock Protection?

a:

Shock protection keeps your accuracy honest if you are on the move. You'll notice the feature also goes hand in hand with waterproof models, adding an extra layer of protection in extreme conditions.
q:

Are The Official Models The Only Trustworthy Ones?

a:

Not at all- official models are great but have been improved/changed by other companies to meet those specs while stripping down (or building up) specific features at the consumer level. Unless you are hardcore, official models will be a choice among many.
q:

How Should You Hold A Compass?

a:

There are several techniques used to hold a compass. Users can choose whichever one is the most comfortable, or the ones that are appropriate for the current situation. The two most used techniques for holding a compass are Compass-to-cheek and Center-hold.

Both methods require two hands for efficiency, but the former is easier for users that have fired a gun before. It uses similar positioning and relies on a simple alignment technique to get the compass working. Center-hold is the technique that requires more practice since it can lead you in circles if done wrong.
q:

Will Metal Objects Affect The Reading?

a:

Not only will metal objects affect readings, so will other objects. The list of things that lowers the accuracy of a compass is short, so a little reading will go a long way in finding out if there is a problem. A good example of this is trying to use a compass while carrying a metal object.

A compass that uses magnetic energy will give a false north reading because of this and will lead you in circles until you figured out what the problem was. Avoiding false readings is a big thing with a compass, and even becomes problematic when using advanced electronic compass devices with GPS support.
q:

How Long Does Tritium Last?

a:

Tritium is a natural light source so you can see it in the dark. No configuration is required to get it working, and it is a necessary inclusion even if you have a flashlight. The soft glow is perfect for navigation, but it doesn't last forever. On average, the luminosity of tritium lasts over a decade.

It's more accurate to say that the full strength of tritium lasts 10 to 12 years. After that, there is a decline in the glow, but how fast that decline is will always be different based on the compass. Purchasing a new one is preferable since a used one will have used up all of the good years of tritium.
q:

Is A Full Reading Of The Instruction Booklet Necessary?

a:

This is going to be a hit or miss requirement depending on the person you ask. A military compass is more than just a device to find directions so it will include a lot of great information about its other features. Even an experienced user will miss out on important information if they skim through the entire instruction booklet.

With so many great features in one small product, a lot of leading companies have begun posting a copy of their instructions online. So even if the original booklet is misplaced, customers can find everything they need on the company's website.
q:

What Is A Lensatic Compass?

a:

A Lensatic Compass is a military compass but refers to a specific type rather than all. It is not designed with speed in mind like other types and instead finds its strength with accuracy. A lensatic compass isn't a huge technological leap forward, and the type is built around a lens on the rear sight.

With this lens in place, a more accurate reading can be made due to it magnifying the card dial. In short, a Lensatic Compass is a rugged compass that boosts its accuracy by including a magnifying lens. There are pros and cons of the design, and it is used by casual and professional personnel.
q:

What Makes A Good Military Compass Besides Durability?

a:

Accuracy is a big feature with any compass and follows the same guidelines with military versions. An inaccurate device is useless, even if all the other features work just fine. Thankfully there are no new weaknesses introduced with a military compass, so it will be on 1:1 accuracy with any other compass on the market.

Buyers should be aware of the usual compass weaknesses with accuracy that can be affected by magnetic fields and metal objects. Because accuracy is based on the quality of the compass, tying the two together when making a purchase is recommended. Anything less than average accuracy means it is an inferior product.
q:

Is A Compass Mirror Important?

a:

When using the compass mirror a user can view their target and compass capsule together. Sighting is a lot less problematic thanks to this feature but is not used in all compass models. Baseplate compasses, in particular, lack this feature, so customers tend to avoid certain types of they want the mirror.

A little knowledge is required when using a compass mirror, so it's not as user-friendly as other types. The feature is useful but is still going to be hit or miss depending on which compass user you ask. For the best of both worlds, purchasing multiple types is a good choice.
q:

Is A Global Needle Necessary?

a:

Getting a compass with a global needle has no benefit if you're never going to use it outside of America. The design is still ingenious, and it takes on worldwide magnetic zones with ease. But even as a 'just in case' purchase it is wholly unnecessary for the average user.

Professionals will have a different take on it if they plan to travel a lot. It will be more useful to them than a casual user that is staying within the country. Prices for those with global needle support isn't that much different from other types, so the good news is that you won't have to pay a premium.
q:

How Useful Is A Tripod?

a:

Having extended features like a tripod screw hole is a nice benefit if you plan to use it. By setting the compass up on a tripod in a fixed position, you can survey an entire area from your current point of interest. This is used a lot by customers that want to take down readings, detect changes and are sometimes referred to as a surveyor's tripod. Military use of this type of compass can be found in kits going back as far as 1927. With a modern version, the tripod is sold as an option rather than together as a kit.
q:

Should You Use A Case Or Lanyard With A Compass?

a:

The high durability makes it resistant to damage that would destroy other products. That doesn't mean it is indestructible, and it also doesn't mean that you can't lose it. When brands offer lanyards or even a case, using both is optional but still recommended. The lanyard, in particular, is useful when you're using a compass a lot throughout the day/night cycles. It is easier to have it around your neck rather than pull it out of your pocket. And if you tend to have a utility belt that is already full, a lanyard option is always welcome. How To Make The Best Decision.

The more advanced features can get confusing, even for an intermediate user. If you're not going to use the advanced features of a particular model, then go for a beginner-friendly model from the list that omits advanced features. You won't be missing out on anything if you're not going to be using it.
Subscribe to our Newsletter