Top 10 Insect Foggers Reviewed for Effectiveness
In a Hurry? Editors choice:
Test Winner: Raid Deep Reach

Insect foggers are one of those things that regular folks should treat with utmost care. There is the reality that you are dealing with something that releases a deadly fog of death to all the insects that come into its area of effect. so you know right away that stuffs dangerous so be careful. That being said we know too many people who have come home from vacation to be welcomed by an infestation of fleas or roaches and the only thing that we're going to allow in our homes are kids, dogs, and guests. Humans win! So, with that in mind, we offer you the best of the best when it comes to ridding your home of the kinds of pests that simply cannot be allowed a foothold in your home or yard.
Standout Picks
Criteria Used for Evaluation
Style
One of the first things that you will want to think about when purchasing a mosquito fogger is what kind you are looking for. Foggers come in two broad categories: thermal foggers and cold foggers. Each category can be broken down further into two additional subcategories: gas or electric for thermal foggers and ULV or propellant style foggers for cold foggers.
Each type will have different price ranges, effectiveness, and ease of use so you will want to take some time to become familiar with all of the different kinds of foggers that are available prior to picking out a mosquito fogger. Thermal foggers are mosquito foggers that use a heating element to heat and ultimately vaporize the pesticide that you are using in the unit. You can get thermal foggers with either gas or electric heating elements.
You will also see cold foggers which do not use a heating element to vaporize the pesticides in the fogger. These foggers use air pressure to force the chemicals through nozzles which create a fog of insect repellent. Cold foggers are more versatile than thermal foggers and you can use them for other tasks besides repelling insects. For example, you can use a cold fogger to kill mildew or mold in your home and they can even be used as a humidifier.
Application
You will also want to think about the zone of coverage when you are picking out an insect fogger. The size of the coverage area will determine how much of an area that you can effectively fog while penetration will determine how well the fog is able to reach into nooks and crevices where the insect may be borrowed or hiding. Some foggers are for outdoor use only while other styles of insect foggers can be used indoors and outdoors.
A thermal fogger is ideal for treating large outdoor areas for insects. The fog will normally disappear 5 to 10 minutes after treatment at which point it will be safe for you to continue with your outdoor activities.
Cold foggers are suitable for both outdoor and indoor usage, but you are likely going to get better results when using this kind of fogger in an indoor setting as opposed to an outdoor setting.
Size
Insect foggers come in different shapes and sizes so you will need to look around and find one that is the right size for your needs. Large insect foggers are often worn on the operator's back using shoulder straps. The size of the fogger for bugs allows it to have a larger motor which will help produce a larger cloud of fog when using the machine. It also means that the fogger can have a larger tank so that there is less need to refill the fogger between uses.
Most of the time, a stationary insect fogger will be larger. Since there is no need for you to move a stationary insect fogger around from place to place, there is less reason to make them small and lightweight. That doesn't mean a stationary insect fogger is extremely heavy or difficult to move. Many stationary insect foggers are about the same size as a countertop kitchen appliance. The propellant style insect foggers are the smallest size of insect fogger and are also the most portable.
Ease of Use
Every kind of insect fogger is operated differently so you will want to think about how you operate a fogger that you are interested in purchasing prior to buying the fogger. For example, thermal foggers have more start-up procedures than ULV foggers. And a propellant based fogger is the easiest kind to use while a thermal fogger tends to be more effective.
Value
Insect foggers can range from a few dollars all of the ways up to thousands of dollars depending on the kind of fogger and what sort of features you want to include in the fogger. Some people need a high-end fogger that can cover a large area or be used throughout an entire day of work while other people only need an inexpensive insect fogger for single use. As always look for the fogger that is right for you at a price that you are comfortable spending.
10 Best Insect Foggers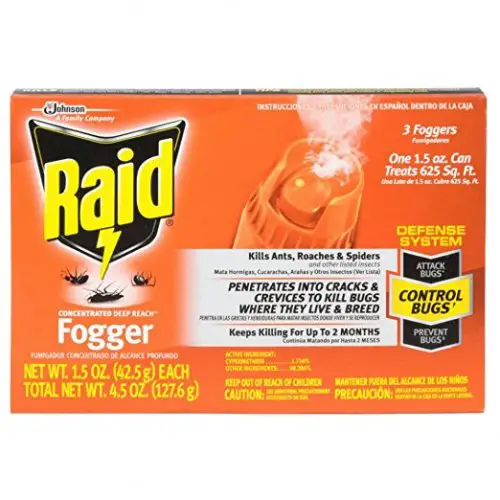 RAID? I know Raid. Who hasn't heard of them? That kind of recognition is usually a good thing. It tells you right away that you are buying the best bug fogger that will most likely do the job you need it to. Since it's on this list, it's a good bet that this fogger is no exception. If you're in the market for a fogger for a smaller, more domestic problem, you can't go wrong tossing this into your cart.
Gets right in there.
Unfortunately, if you have an infestation, the insects you can see are generally just the tip of the iceberg. It's down in the cracks and recesses of your home where the problem really lies. That's why the makers of this Raid fogger designed it to seep into those cracks, exterminating the heart of the matter so it doesn't keep creeping back.
Keeps on working
With a lot of pest control products, they do their job on contact, and then that's about it. The bugs came back? Buy more and do it again. Not this time. Raid made sure that this stuff would get rid of the problem right away, and then stick around for up to two months. You know, just in case.
Cost and Value
There are a few other products of the same type with a similar price point, while I wouldn't necessarily sing their praises in terms of value, this one is different. This one was made by a trusted company with decades of experience. You know what you're getting, and sometimes that's all you need.

2

. Hot Shot Indoor Fogger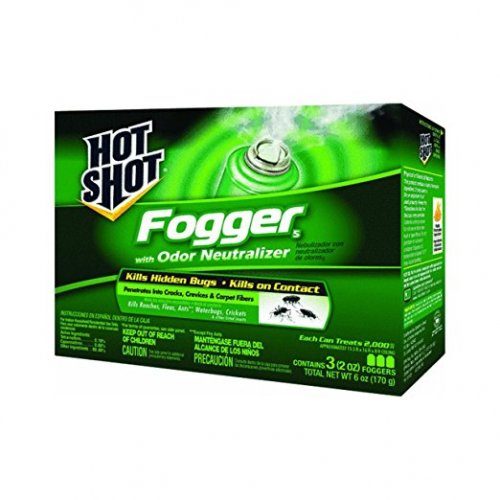 This is one of the best foggers that is really unique in a way that it uses a dry fog to exterminate, as opposed to a spray or traditional fog. This makes it no less effective, though the coverage is a bit reduced, so keep that in mind. What's good about that is there's no messy cleanup of oily residue, and it includes an odor neutralizer. This goes far above and beyond to offer a hard-working product.
No Smell.
The dry fog formula used in the HotShot Fogger not only cleans up well, but it will also blanket the area, helping to eliminate nasty odors left by your new housemates or even pre-existing smells you had no idea about.
Cleans up quick
Now that you've used a fogger to get rid of pests, how do you get rid of the mess it leaves? The spray has to somewhere, and that's usually a greasy smear on your walls and floors. The HotShot fogger luckily doesn't leave that mess.
Cost and Value
I can usually find great value in everything I review, but this one is a bit of a hard sell. That's not to say the product isn't any good. It does its intended job well and comes packed with three cans for convenience. The tough part is the cost is high for the relatively small area this stuff covers.

3

. Createch USA Tri Jet ULV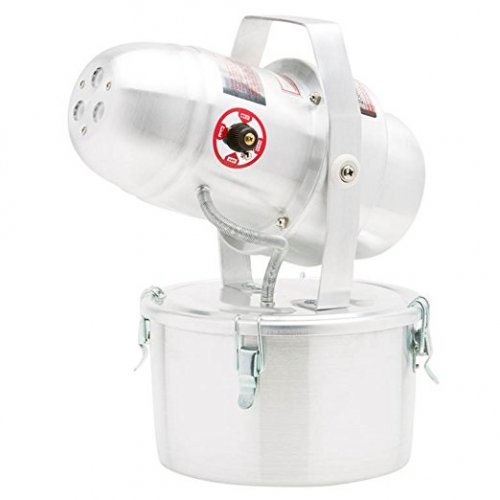 This is a big shiny change of pace from the smaller household foggers we took a look at up above. This beast is much better suited to large-scale, long-term jobs, and just judging by its appearance, it seems to be more than up to the task. Looks aren't everything though, and this fogger has been designed for the harshest environments. It uses a cold, nonthermal dispersion, resulting in a fine mist that coats the area, as opposed to the usual fog that can get everywhere.
Great coverage
This is meant as a stationary fogger, not one to be carried around. That's okay though because you'll get up to thirty feet of coverage, making sure to get every little square inch coated and protected from those unwanted critters.
Cold, not hot.
It doesn't seem like such a big deal but think about it for a second. As a cold solution, it comes out in a fine mist that blankets the target area. When it's hot, it comes out like a fog, which will cover the area but will also go everywhere else, causing a nuisance at best, and a health hazard at worst.
Cost and Value
The Createch USA Tri Jet ULV Non-Thermal Fogger is a more cost-effective option compared to other more well-known products. Still, they offer comparable performance to those ones, and the lower cost makes this one worth checking out.

4

. EcoSmart Mosquito Fogger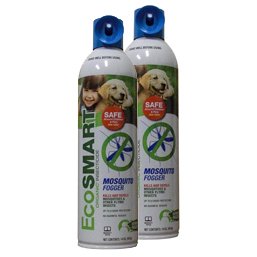 Obviously, it's always nice to have a product that's environmentally conscious, but you are going to pay more for the privilege, both in terms of money, and patience because while they are good for the planet, they don't contain any of the known agents that have proven effectiveness. That being said, if you don't need an immediate result, the pros here definitely outweigh the cons.
Good value
I know, I've already mentioned the cost as a negative, so how can I use it as a good thing? Easy. The initial cost is higher than normal, but then you'll get it home and start using it. Then again. Months later yet again. It comes with three cans, and each use just requires a light spray, so yeah. Pay upfront, then reap the rewards for the long term.
No harsh chemicals
That is definitely the main draw of this product, and the whole reason to buy it. The harshest ingredient is probably rosemary oil, which is completely harmless to humans, but luckily bugs hate it. This stuff gets bonus points for smelling so nice too.
Cost and Value
Be careful, because you may well cringe at the cost of this fogger. However, the price is completely justified when you see that it's a completely organic product. When it comes to protecting the environment, a little more money is nothing.

5

. New Invatech Backpack Fogger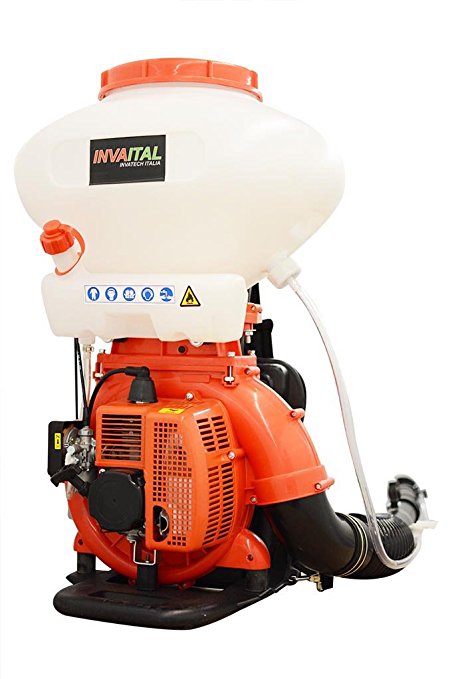 Want to get rid of nasty pests while looking like a Ghostbuster? Now you can! That's just one of the many perks you get to enjoy with this backpack sprayer. The rapid dispersion, remarkable range, and competitive price are important features as well. None of them are really as cool though, but they all combine to create a really well-made piece of equipment.
Easy on the back
comfort is pretty crucial when you're spending your day walking around with a fogger on your back. The ergonomic design of the harness is a great help to that regard, providing posture and stability to keep you going strong.
Goes where you go
Of course, it does, it's strapped to your back. Quite comfortably too I might add. This portability coupled with its range makes this perfect for greenhouses, farms, fields, any large area, really.
Cost and Value
It's big, it's heavy, and it's cheap. At least compared to other similar products. It's made by a newer company, and they are doing it right by giving high-end quality at an affordable price.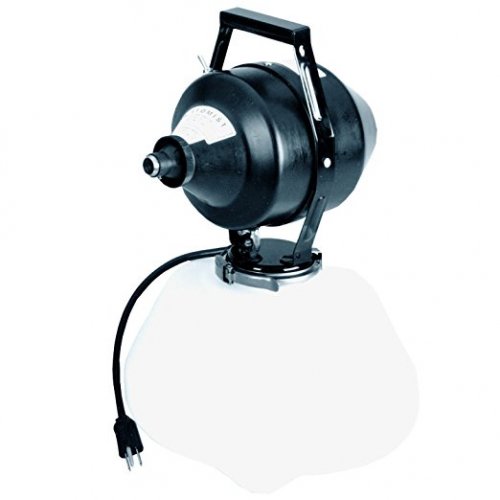 This one is a great choice if you like to putter around the house and have an unusual amount of bugs getting underfoot. It's electric, so the home and surrounding areas are where you want to be. Nonetheless, Hudson designed this for more domestic residential and commercial situations, and the Hudson 99598 Fog Electric Atomizer Sprayer thrives in that world.
You are covered
As long as you're close to a power source, you can cover as much ground as you need to without anything to hold you back. The shoulder straps give you the freedom to go where you need to go.
Built tough
Just because your pest control needs may be on a smaller scale, that doesn't mean you don't deserve top of the line quality in a fogger. Hudson agrees with that and built their atomizer to give an industrial performance in a great package for home use.
Cost and Value
Anything that claims to be industrial quality and can back it up already has a lot going for it already in terms of value. Now, when it also happens to have a very reasonable price point, it just becomes a no-brainer.

7

. Silver Bullet ULV Fogger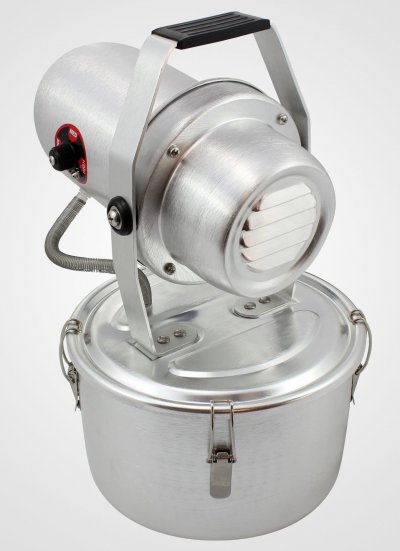 I like these foggers, as much as you can like a fogger. The thing that sticks out for me is the nonthermal cold dispersion present in this one. That goes a long way to keep the affected area contained, without the concern of the harmful chemicals seeping into the neighborhood. Pest control is a necessary evil that not everybody needs to be exposed to.
Won't corrode
Housing this hard-working fogger is a nice shiny stainless steel shell. Besides looking sharp, the use of this material achieves a sturdy corrosion-free construction that will hold up for a long time to come.
Power to spare.
Why would a fogger need a powerful motor? It's pretty simple, really. The extra power this thing packs makes it a beast as far as distance and coverage go, meaning you can say goodbye to that pest problem.
Cost and Value
Another high-quality nonthermal fogger with the top of the line features and a very nice price point. I think I'm beginning to see a trend. It's always good to have options at different costs, especially for those unfamiliar with the product.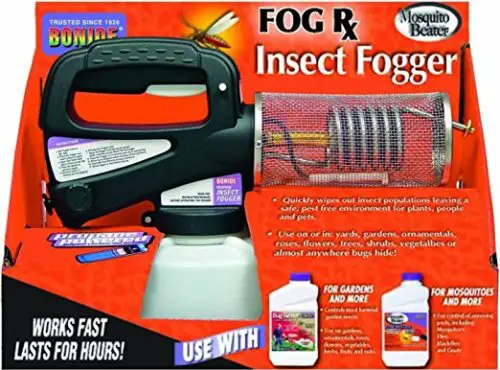 Here's a bit of a surprise: this fogger is housed primarily in nylon. If nothing else, I'd say that makes it pretty lightweight and durable. All good things when the main use if a fogger is to be carried around in various conditions for an extended time. So not only do you get convenience, with its rapid dispersion and a large area of coverage, you get it all.
Doesn't leave a trace
After the Bonide 420 Fog-Rx Propane Insect Fogger does its job, the only reminder you're left with is a bunch of little bug carcasses, and not a big messy, oily stain to clean up.
Works fast
For a lot of the foggers on this list, I've talked up the benefits of a great coverage area, but this one has an equally important trait: it gets the solution out of the tank and onto the target area fast.
Cost and Value
If you happen to have a decent-sized garden that you're passionate about, the money that you'd put out for this fogger (which isn't a lot) wouldn't be an issue after just a few uses of it. It's a perfect ally for your garden, and you'll be glad to have it.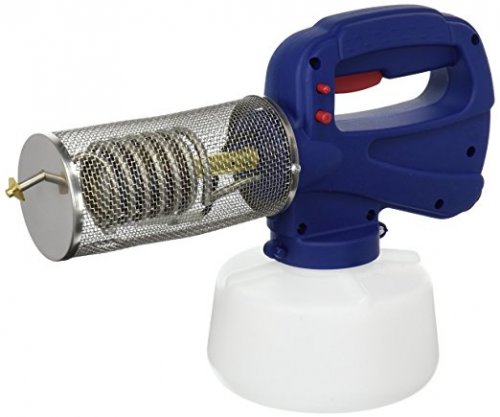 Just as effective as their commercial model, yet aimed at those who have pest problems on a slightly smaller scale, the 62691 Propane fogger is the perfect alternative when bigger foggers would only be overkill. It still bears the Hudson name and commitment to quality that has kept them around for so long, it just happens to be a bit smaller and lighter so you can easily carry it around your property and take care of business without any inconvenience.
Locked out
This may seem like a minor feature, but really, it's pretty huge. The last thing you need when you're busy exterminating those pests is your fogger accidentally going off and spraying toxic chemicals all over. It's a waste of money, and it could prove to be very harmful. A simple trigger lock, as found on this model, eliminates that issue.
Lightweight Construction
The smaller ½ gallon tank and lightweight construction make the 62691 Fogger by Hudson the ideal fogger for around the house. One-half gallon may not seem like much, but it will be more than enough for your home.
Cost and Value
Another case of you get what you pay for, this fogger is admittedly more expensive than many other choices, but Hudson, the manufacturer, has over a century of expertise and knowledge in the field of pest control, so it's a price well earned.

10

. Longray Basic ULV Fogger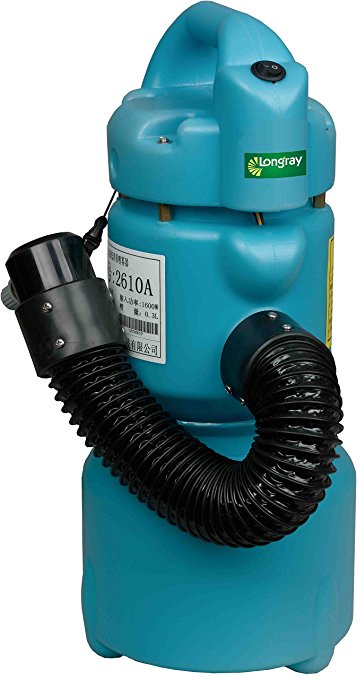 This is the one I mentioned above that looks like it belongs in an old 60's sci-fi show, and because of this, it is my favorite one. Beyond the unique appearance, I swear they built this fogger to make your life easier. Every feature it has to seem geared toward efficiency, performance, and results. If you have a big bug problem, and a few dollars to spare, the Longray fogger is the robot, I mean fogger, for you.
Fill and go
The tank on the Longray Basic ULV Fogger is super easy to fill up so you're not wasting time with preparation and can get out there and chase away the insects and pests. It also lends well to keeping everything nice and clean, as you are less likely to cause any spills.
No clog!
The nozzle for this fogger doesn't clog up. I like that. The last thing I'd want to do if I were in an exterminating mood would be to have to mess around with a plugged up fogger, getting chemicals all over the place while the bugs flourish and multiply. The whole design of this one is to make the job quick and easy.
Cost and Value
This is a huge piece of equipment meant to carry out a huge amount of work, thereby making your workload lighter. You are going to have to pay up a bit for that assistance, but in the end, it's well worth it.

Subscribe to our Newsletter