Best Scent Blockers Reviewed & Rated
You have applied for and received your deer hunting tags for the season. You take out all of your gear, along with your rifles, bullets and even your tree stand. You clean it all up, and prep it for your first Saturday morning hunting trip. You get up before the sun comes up, and you go out to a great spot you had scouted out a few weeks ago. You set up your tree stand, you check to ensure you have the right amount of ammunition. You set up the deer decoy you just invested in a little distance away from where you will be sitting. You get up into your tree stand and you wait…
And wait…
And wait.
And although the conditions seemed to be perfect for catching a deer, and everything is set up perfectly for you, there are no deer coming your way. You start questioning various different aspects of how your decoy is setup, as well as your deer stand. You see some movement, but realize it is not a deer, just another small animal. After sitting there for a few hours, you go and pack everything up and head home without any deer in tow. You hop into your truck, and as you sit in there, you realize the problem with how today went – you have a natural odor, an odor which must have wafted itself down into the kill zone, which kept the deer away on this day.
Deer have a very keen sense of smell, and if they smell something that is not natural, they will stay away from that area until the odor dissipates. Even if you shower before you head out, the scent of the shampoo or soap you use can actually deter deer from coming your way – same for the deodorant you might typically use. However, there are some products out in the marketplace which can help you overcome this problem.
Within this article, we'll go over some of the different types of scent blockers, and what makes each kind of scent blocker unique. After this, we'll review ten of the best scent blockers out in the marketplace today. We'll then provide a checklist of what to look for within a scent blocker which will best meet your needs.
Let's get started!
Featured Recommendations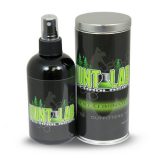 Hunt Lab

Our rating
Versatile
Price:

See Here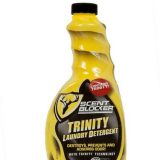 Scent Blocker SB

Our rating
Affordable
Price:

See Here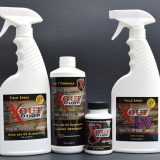 X-Out 360 Scent Blocker

Our rating
Lures Included
Price:

See Here

What makes a great scent blocker?
There are many different types of scent blockers which are available to you to choose from. Here are some of the more popular types of scent blockers.
Aerosol Spray
The most common type of scent blocker is one which comes in an aerosol can. This type of scent blocker is very easy to use, as you just spray it over your clothes before you go and set up. It should be sprayed over the top layer of clothes you are wearing; if you are wearing multiple layers, you don't want the outer layer to conceal the smell you want to go out. The outer layer, if not sprayed properly, will give off the scent of wherever it was last, whether that was doing yard work or working on the car or was in the washing machine.
The great thing about the aerosol can is that it can be applied to your outer clothing multiple times per hunting trip if needed. Most of the sprays should last for the entire time you are out hunting, but if you happen to run into something while out in the wilderness, or you feel that the scent is starting to fade away, you can easily reapply at any time.
Lure and Scent Bombs
Another product line you could use is actually a scent which is intended to not only mask your own odor but to actually lure deer over towards you. Most lure scents are ones which have to be applied using a tip or a brush of some sort and can be applied to only certain areas of your clothing. Most of the lures are made up of some kind of deer or buck and their natural scent, which could be urine or excrement. Depending upon the brand, you can actually pick out a scent which is advertised to be from a bigger buck, which actually sends out a signal to other bucks which are nearby who want to challenge for supremacy. This will help bring bigger bucks over to your area, so you need to ensure you are ready for this kind of hunting.
A scent bomb does the same kind of thing, but instead of applying it to your clothing, you can actually drop it in an area and allow the scent to spread out into the woods. This kind of action will ensure the lure is where you want it to be placed, which should be right in the kill zone area you have planned out.
Spray Bottle and Concentrated Liquid
Another way in which a scent blocker can be applied is using a spray bottle, which typically comes in a combo pack along with a bottle of concentrate for you to be able to make your own scent blocker. This will allow you to decide how strong or weak you want the scent blocker to be, which is advantageous, especially if you know the area you are hunting within. You should have an idea of how strong the aroma needs to be to block your scent to help draw the kind of deer you want to hunt.
The beauty of this product is it can be applied well ahead of time to the outer clothing you will be wearing on the day of the hunt. Depending on the brand and the concentration amount you use, you can apply the blocker the morning of, a couple of days ahead of time, or even a couple of weeks ahead of time. Depending upon how absorbent the clothing is you are wearing for hunting should determine how soon you will need to apply this kind of scent blocker.
10 Best Scent Blockers
1. Hunt Lab Technologies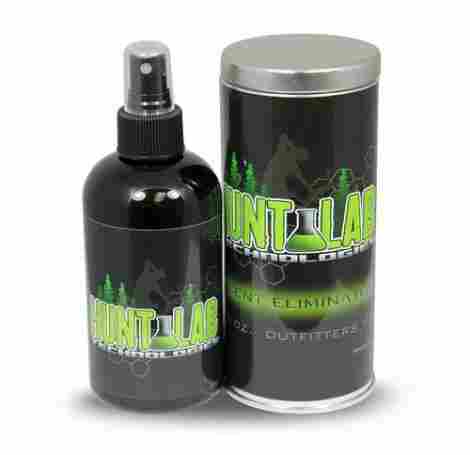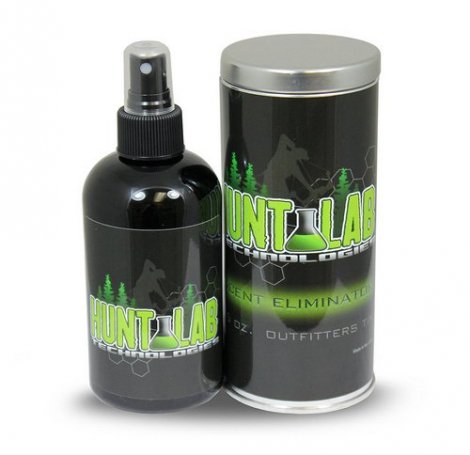 Our Number one scent blocker out in the marketplace currently is a kit which comes from Hunt Lab. Not only can this scent blocker be used for deer, but for other animals as well, including Moose, Coyote, Elk and Bear, making this product very versatile for any hunting needs.

This organic material will seek out all odor-causing bacteria and help eliminate it from any surface, so you can be assured your equipment and clothing will be ready for your next hunting trip.
Expand to see more
Size:

With this combo kit, you will receive a spray bottle, as well as concentrate which can make up 256 ounces of scent blocker, which equates up to 2 gallons worth of material.

Price:

Great price for value!
Very versatile for any hunting needs
Great price for value
Long lasting and made of organic material
2. Scent Blocker SB Detergent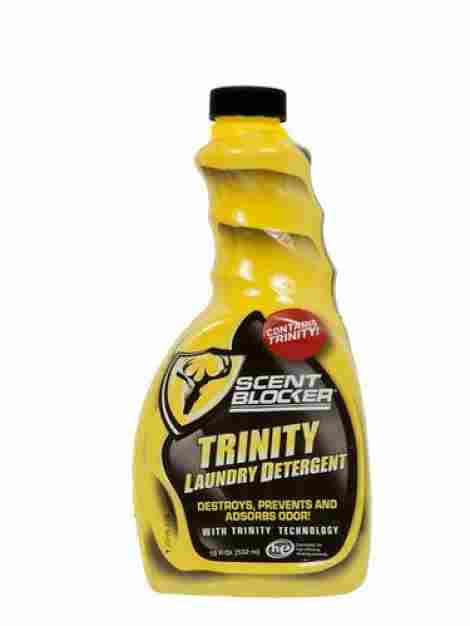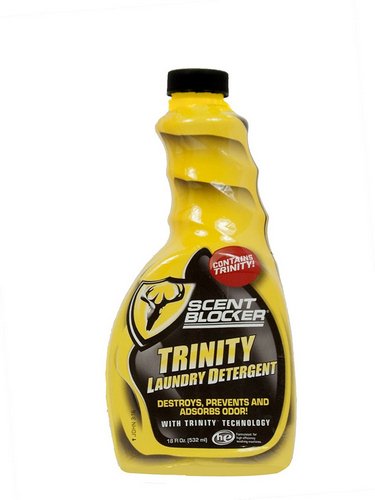 This detergent has a deep cleaning aspect to it, meaning it will dive deep into your clothing and knock out any alarming scent and help absorb the scent so it does not give away your position to any potential deer.

There are no UV brighteners within this detergent, and it is made from biodegradable materials. This detergent comes in a yellow color, so you can easily differentiate it from another detergent you have on the shelf.
Expand to see more
Size:

There are two different sizes available for this laundry detergent, which are 18 and 32 ounces.

Price:

Extremely affordable.
Has a deep cleaning aspect to it
There are no UV brighteners within this detergent
Comes in a yellow color so you can easily differentiate it from other detergent
3. X-Out 360 Degree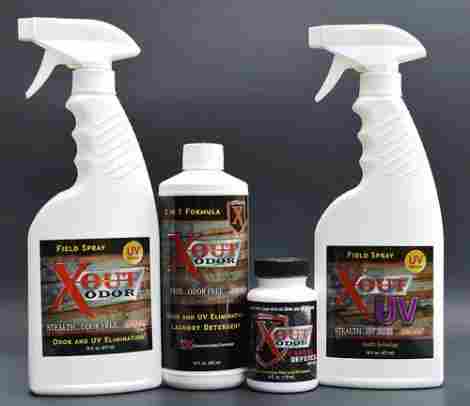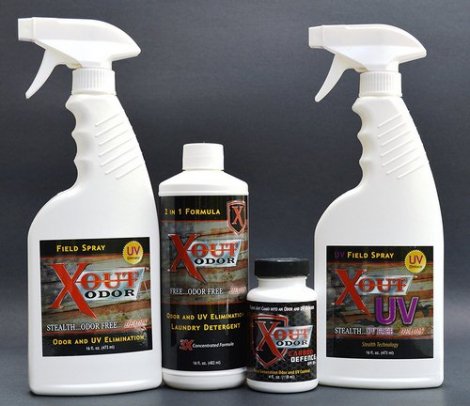 X-Out has this Kit available to you which offers you a variety of different solutions to help take care of any need you might have to eliminate odors.

There are two different types of spray bottles which come in this kit, to help give you a more direct spray application to any surface you are looking to help cover the scent of. You will also receive a bottle of concentrate, so you can help choose the strength of the scent blocker depending upon your environment. There is also a carbon defense bottle, which will help you lure deer into your area. These products work together well to ensure there is not extra brightness added to your clothes or decoys while taking away your personal odor.
Expand to see more
Price:

A bit expensive but worth it if you are looking for an extremely efficient scent blocker.
Offers you a variety of different solutions
Two different types of spray
A carbon defense bottle which will help you lure deer into your area
4. Scent BlockSoap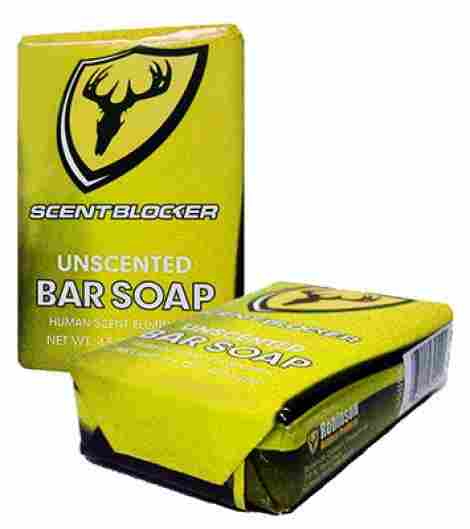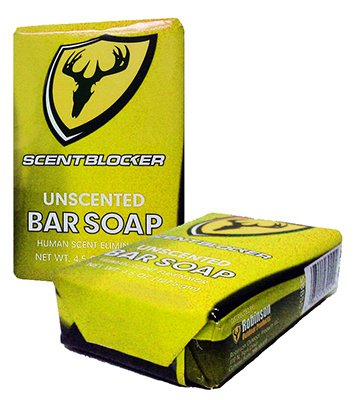 Coming to you in a soap, this solution from Scent Blocker can be used on various pieces of hunting equipment, as well as on your hunting clothes, blinds and boots.

This can be used for any surface, whether the surface is wet or dry, and it will do the job decently. The soap will neutralize any odor on contact, and will absorb any odor no matter how obnoxious it might be.
Expand to see more
Price:

Very decent price.
Can be used any surface
Will absorb any odor no matter how obnoxious
Requires washing with hands
5. Nose Jammer 3021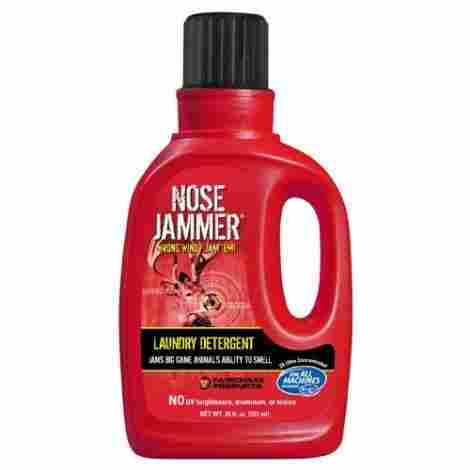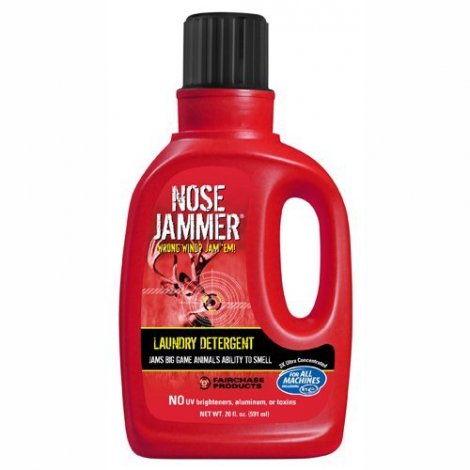 Our #5 scent blocker is actually a special formula laundry detergent. This particular laundry detergent will deeply clean your hunting clothes while also penetrating the clothes to help embed some compounds which will give off an aroma to help block the noses of any deer.

The laundry detergent can be used within any washing machine while also ensuring that your hunting clothes do not fade, especially camouflage designed clothes. There is no extra UV brighteners used within this detergent, as well as no added toxins or aluminum materials.
Expand to see more
Size:

20-ounce bottle of detergent.

Price:

Ok price for the quantity you get.
Contains a special formula laundry detergent
No extra UV brighteners or toxins
20-ounce bottle of detergent
6. Scent Thief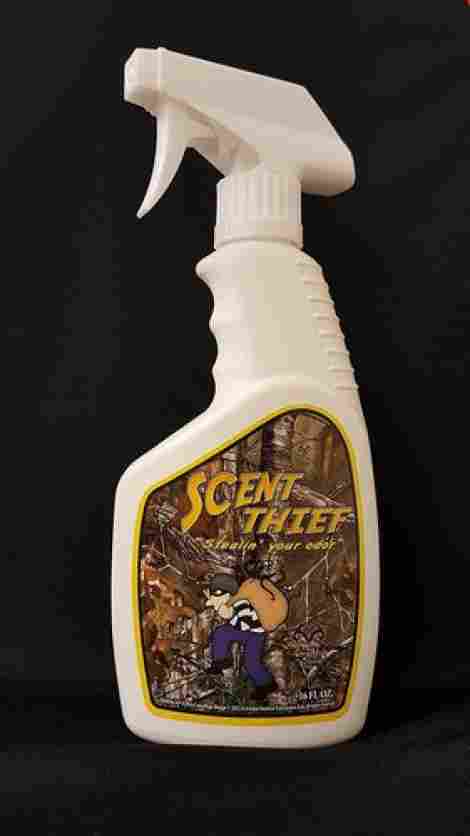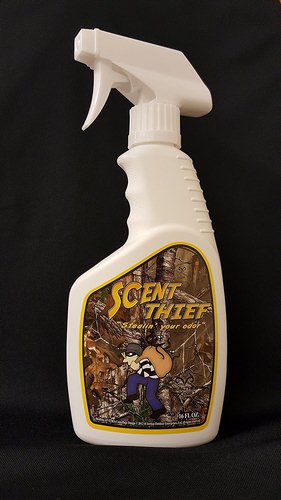 Coming to you in a spray bottle, the scent blocker from Scent Thief promises to eliminate any odor which might be coming from you to help bring more deer into your kill zone. This unique and patented formula within the spray bottle will help block the smelling sense within any deer, which should confuse them a little bit which should then help lure them into your area.

This spray can be applied to either a decoy or to your clothing, making sure it does not damage either. The scent of this spray can have a calming and relaxing effect on any deer, making them more liable to walk into your zone without even realizing it.


Expand to see more
Size:

This spray bottle comes in three different sizes, which include 16, 32 and 64 ounces.

Price:

Quite expensive.
Created with a unique and patented formula
Can be applied to either a decoy or to your clothing
Larger quantity to be used to truly eliminate odors
7. Scent Shield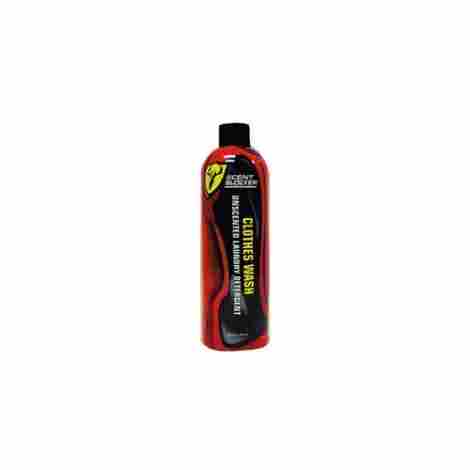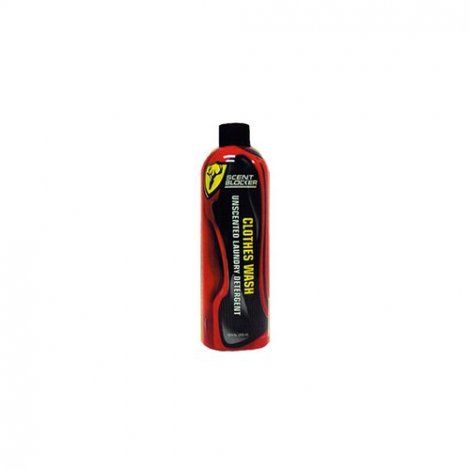 Scent Shield has this detergent concentrate out in the marketplace, which comes in a 12-ounce bottle. This detergent is very powerful and will help deodorize and clean any of your hunting clothes and gear to ensure they are fully decontaminated from any human odor. It will also help eliminate any other non-natural odor, so the deer won't be able to use their keen sense of smell to flush you out.

This particular wash will ensure your clothes are washed without blemishing those clothes, while also helping you get out any tough stains which might be embedded in your clothing.


Expand to see more
Size:

This particular wash is available in a 12-ounce bottle.

Price:

Good price for what you get.
Comes in a 12 ounce bottle
Helps eliminate any other non-natural odor
Good price for what you get
Will not remove heavier stains
8. Buck Nut Acorn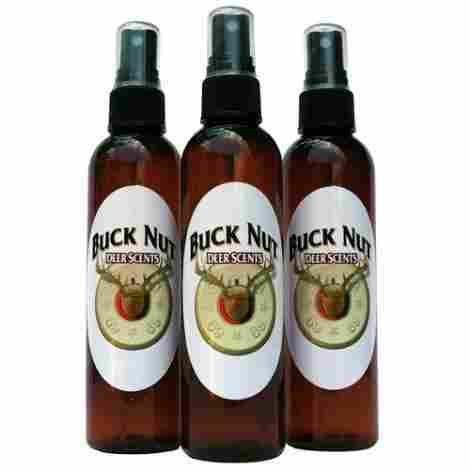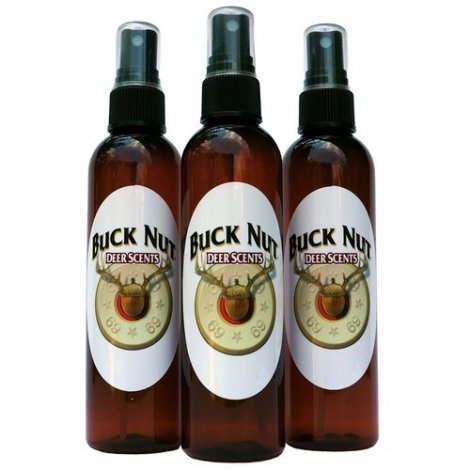 This spray bottle solution from Buck Nut has a few different scents for you to choose from, which include Acorn, Apple, Pine and Dirt scents. This type of scent blocker can actually be used as either a scent blocker, or to help attract deer to your area, depending upon what your needs are.


Expand to see more
Size:

This four-ounce spray should last you your entire hunting day trip, but allowing you to apply more as needed.

Price:

This scent blocker comes at a very reasonable price.
Comes at a very reasonable price
Has a few different scents to choose from
9. Bar Soap Clam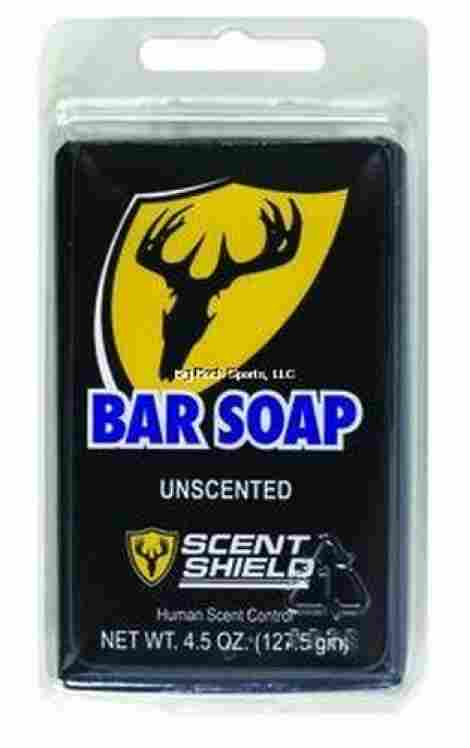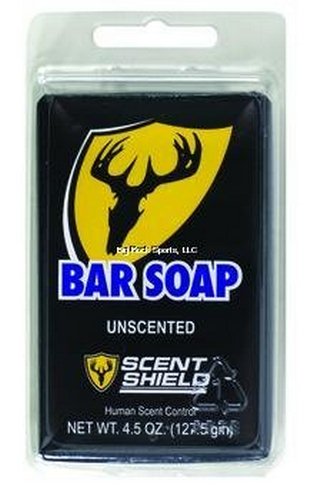 The scent blocker from Scent Shield is actually a bar of soap which can help eliminate odors on any of your hunting clothes and accessories.

This bar of soap will keep you scent free for 12 hours plus by utilizing an antiperspirant formula. This formula will not only help you cover your natural odor, but it will also clean any clothing of any dirt or unnatural scent which may be imbedded in the clothing. It will also remove any grime in the most effective way possible.
Expand to see more
Size:

The bar of soap is 4.5 ounces and comes in a fully sealed up package to ensure it is effective when you need it to be.

Price:

A bit on the expensive side for a bar of soap.


Will keep you scent free for 12 hours
The bar of soap is 4.5 ounces
10. Scent Kapture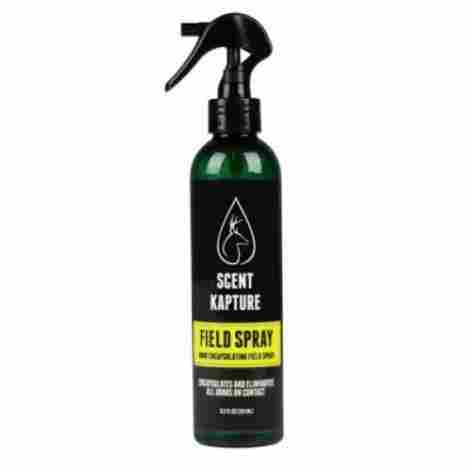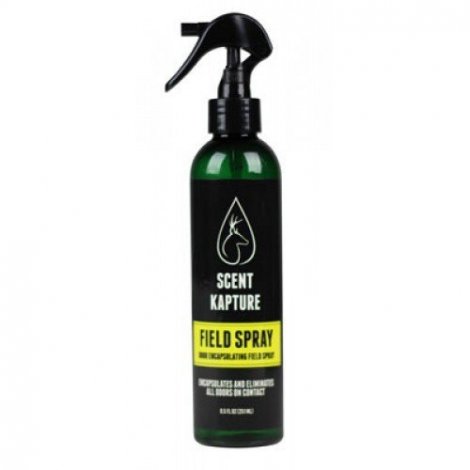 This scent blocker form Scent Kapture comes in a spray bottle, which allows you to have more of a direct application to your clothing. It is also great for spraying onto your decoy, to ensure any human odor which may have been transferred onto the decoy is eliminated, so the decoy will perform to the level you desire.


Expand to see more
Size:

This particular option comes in two different sizes, which are 8.5 ounces and 34 ounces.

Price:

The price varies depending upon which size of bottle you want; all in all, affordable.
Affordable and effective
Comes in a spray bottle
Comes in two different sizes
Criteria Used in Choosing the Best Scent Blockers
After looking at the top 10 best scent blockers in the marketplace currently, you might be wondering what kind of product will be best for you and your needs.
What you should first determine is whether or not you want to apply the scent blocker to your clothes, or if you want to put a lure in place instead. If you have a Decoy, you can also spray the decoy with a lure, but there is no sense in spraying the decoy with a scent blocker, as most decoys should actually look like a deer, and should not have any scent on it. There is nothing wrong with spraying the decoy, but you should not have to do it very often.
Once you have determined whether or not you are going to spray your clothes, or set up a lure, it should help narrow your choices down to which kind of scent blocker you need. If you want a lure, you just need to decide if you want a bottle which you use a brush or a tip to apply to certain areas of either your clothing or your decoy, or if you want to put out a scent bomb in your kill zone. Most of the lures are sold in packages, so you will have the option of what to do and how you want to apply the lures out in the wild.
If you would rather go with a spray, then you will have a couple of different choices in which to choose from. You can go with an aerosol spray, which will ensure you are fully covered, but there will be some waste as it is in an aerosol form, which means it is more like a scattershot. If you'd rather have the option of having more of a direct amount of scent blocker applied, as well as choosing how weak or strong you want the scent, then you can go with a spray bottle and concentrate combination. This option gives you the flexibility to give you the right amount of strength within this scent blocker to match the environment you are hunting within.
Using a Scent Blocker Properly
When hunting, humans have adopted ways to lessen the effect of animal senses so that the animals are less conscious of their presence. Regarding sight, the use of camouflage clothing has been adopted. With regards to hearing, well, like cats, it's easy for humans to remain still for long periods of time or wear clothing that doesn't make lots of sounds when they rub against stuff. The most challenging is the sense of smell.
How scent blocker works
It's easier to understand how to use a scent blocker more effectively if you have an idea of how it works. Scent blockers work in two principal ways: either killing the smell before it is even produced or capturing it once it has. The process of smell in the human body starts with sweat. However, sweat alone does not produce odor until it has mixed with bacteria that starts to breed. This is what the animals in the wild smell even before they see the hunter.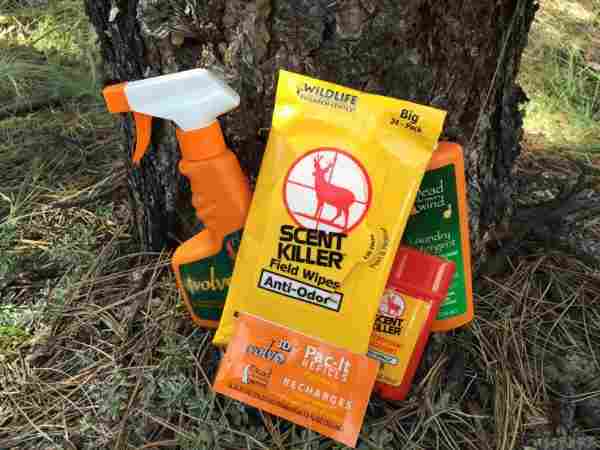 Some of the strategies used to control scent attack the bacteria so that it does not get a chance to reproduce. Yet some scent blockers eliminate the smell after it has been produced. However, it would be a travesty for anyone to say that all scent can be eliminated. The idea is to reduce the scent to levels so low that only the sharpest nose is able to dictate it.
Think of it as a strategy
It's important that hunters treat the whole idea of scent blocking as part of their hunting strategy as opposed to an afterthought. What this means is that you should have the right budget for purchasing these products when the hunting season is upon you. You will then need to know the steps to be followed if you have decided to use a scent blocker as overlooking some of the steps could render the whole process ineffective.
Watch the wind
As has been noted above, scent blockers will not block one hundred percent of the scent your body produced. This is the reason why even when you have used as scent blocker you need to act as if you haven't. Knowing that your scent will be carried by the wind, will ensure that you are always conscious of the wind direction. While it can be difficult on certain days to tell the direction in which the wind is going, most of the times the vegetation will tell you. You can also tie a piece of string onto a tree so that if the direction of the wind changes you will know.
Shower before the hunt
To ensure that your scent blocker works for as long as possible, you will need to shower before you head out hunting. While many people will find this strange, showering before you hunt ensures that all the bacteria that was already growing on your body is eliminated. This also ensures that all the dead bacteria is removed and any smells that were in your hair are also removed.
Spray everything
Effectively using scent blocker means that everything associated with your hunting is sprayed. This means spraying down the weapons you are going to use, the boots, your backpack, and of course the clothes. This ensures that any scent molecules gathered on any of your hunting equipment is neutralized.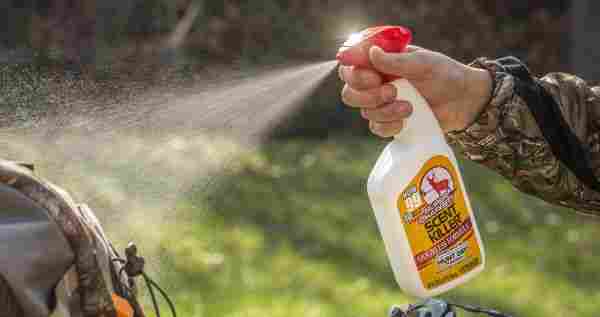 If you have used any scent blocker on your gear, you would also want it to be properly sealed away before you hunt so that it is not contaminated. If you are not careful, the contamination could actually happen just before you head out if you dress in your hunting clothes before getting to the place where you will be hunting.
Eliminate breath smell
Using a scent blocker and them forgetting to eliminate the scent which comes from your breath could just be a waste of time. Even after you have brushed your teeth, you still need to use scent blocker in your mouth. This is effective if done as the last thing just before you head to the stand. Carrying hunting gum is also a great idea.
Control the scent from internally
You can also make your scent blocker work more effectively if you control your scent internally. Chlorophyllin copper complex tablets have been identified as some of the most effective at the internal control of scent. These over the counter tablets have shown to have the capacity to control human odors, whether it is perspiration or bad breath. These tablets are also available from major online retailers like Amazon.
Today's Most Popular Scent-Control Technologies
When it comes to scent blockers, a good rule-of-thumb is never to disregard the wind direction when you are hunting. With today's scent-control technologies, when you use the wind direction in conjunction and comprehensive scent eliminators, you can fool your prey's nose and walk away victorious. Here are types of technologies to consider:
Zeolite
Zeolite is not a new technology. But it is new to hunting. Zeolite is a naturally occurring mineral that is formed from volcanic ash and alkaline groundwater. Its value comes from its highly porous structure which makes it an odor collector. The porous body invites odors in and traps them, ultimately removing them from the environment they are in.
Today, there are companies using this same type of odor-eliminating process by creating synthetic zeolite technology. For example, Under Armour uses zeolite in their hunting clothing to absorb human odors. However, it will not absorb odors from gasoline, cigarettes, deer urine or other smells associated with a hunter. It only takes in the scent of the human. So, you still have to be alert of your scent-associations.
Activated Carbon
Activated carbon, or activated charcoal, offers natural filtration. "Activation," when associated with carbon or charcoal, means that the carbon or charcoal has been processed to have a surface area that is covered in tiny pores. These tiny pores chemically absorb or trap odor molecules that come into contact with them.
Engineered Polymers
An engineered polymer resin can also trap human odors. This synthetic material contains macropores and micropores. Opposed activate carbon only having tiny pores, the engineered polymers have macropores that provide a large surface area while the micropores work to trap human odor molecules.
Antimicrobials
Antimicrobial technology is similar to zeolite because it is also not a new concept. An antimicrobial is an agent that has been known to kill bacteria growth for more than 2,000 years. Tried and true.
Unlike zeolite and activated carbon, which each work to trap human odors, antimicrobials penetrate the bacterial cell walls and prevent their reproduction.
One common antimicrobial material is silver, and it can be applied to things like clothing to control human odor.
Antimicrobials destroy bacteria to control odor, however, if the bacteria has already formed, they have no effect. They also do not have an effect on human odors that come from any other source than the human.
For example, sulfur or sulfide compounds that are found in breath have odors, and these are commonly caused by medications, diet and a human's overall health. Antimicrobials will have no effect against these odors since they are caused from other sources than the person they emanate from.
You can find antimicrobials in a handful of product from a variety host of companies. Antimicrobials are commonly used in hunting apparel, scent-eliminating sprays, body washes and laundry detergents, among other products.
Ozone
The ozone? Yep!
Again, the ozone is not a new discovery. However, its use when it comes to hunting and scent-blocking is.
Since the ozone is a made up of highly unstable gas, its first priority to cling to other molecules, some of which can compromise human odors. When the ozone attaches to these human molecules, the chemical composition of the human molecules is altered, ultimately stomping out the human scent.
Ozone molecules are heavier than air, so they filter down through the human scent stream as they travel downwind. They bond with human odor molecules and make them undetectable to deer and other game. Win.
The ozone doesn't destroy all odors. It can only alter the odor molecules that it comes into contact with. Ultimately, the ozone changes the human odors into something else that does not smell human. Also, the ozone has a mild odor itself, something similar to chlorine.
FAQ
Frequently Asked Questions
Q: Will a hunting scent blocker eliminate 100 percent of my body scent?
A: No matter what those advertising hunting scent blockers would rather have you believe, it is extremely difficult to eliminate one hundred percent of the scent. However, the idea has always been to ensure that the scent is weakened as much as possible. So, this should not be understood to mean that scent blockers do not work.
Q: Is it just a gimmick that manufacturers use to sell more hunting products?
A: While in every industry you will find people who cut corners and come up with products whose state of quality is suspicious, there are still honest companies producing the real stuff. If you consider that animals have remained in the wild for millions of years because of their sharp senses, especially that of smell, you will understand why scent blocker is important. Hence, it is advisable that a hunter who wants to achieve success would do themselves a favor by trying different scent blockers until they find one that is most effective.
Q: Why do I sometimes still hunt successfully without scent blocker?
A: Your success when hunting depends on a number of things which include among them your hunting skills. Also, your success depends on the direction of the wind on a particular day you are hunting. If the wind isn't carrying your scent in the direction of the animal, it is easy to think that success in hunting does not require a scent blocker until one day the wind refuses to move in your favor.
Q: In the past, people used to hunt without scent blocker and they were successful, why do we need it today?
A: Even though it is true that ancient people successfully hunted without scent blocker, it is also true that people used to travel successfully without Airplanes in the past. The fact that people did something in the past does not mean that the process cannot be improved. Scent blockers help to improve your chances of coming back home with a harvest.
The depletion of animals in the wild has also made hunting even more difficult. If we follow the theory of evolution, we can say the animals that have remained in the wild are the ones that are sharpest and best at survival. So, the hunter needs everything they can use, including scent blocker to have an advantage over the animal.
Q: If I have used scent blocker, can I ignore the direction of the wind?
A: Remember that using a scent blocker is only one of the methods you use to eliminate as much scent as possible. As we have already indicated, eliminating 100 percent of the odor your body, and other things you come into contact with, produces is almost impossible, you are expected to use a number of tactics to ensure the animal does not detect you through its sense of smell. So, we would still advise you to work with the direction of the wind and ensure that you have the best advantage.
The idea is that even if you have used scent blocker, act as if you haven't. There are different ways through which you can detect the direction of the wind from using the soil to looking at the direction in which the trees and grass are being blown.
Q: How should I avoid scent contamination when I am using a scent blocker?
A: Even though we like to advise hunters to dress at the hunting site, we know that others would prefer to dress at home. For those who dress at home, it's advisable that they leave as soon as possible. This will help ensure that they don't pick up undesirable smells. If you need to fill up your car with gas for the hunting trip, rather do this well before your trip and before you use any scent blocker. If you find that you have to fill your tank after you are dressed for the hunting trip, then avoid stepping on the petrol station's forecourt. The smell of petrol will overpower your scent blocker as it is generally designed to block the scent coming from the human body. Even though you have used a scent blocker, it is advisable to remain in your vehicle a little longer after arriving at your hunting site so as to avoid contamination from exhaust fumes.
Q: How can I ensure that I get the best out of my scent blocker?
A: You need to think about all the types of smells that need to be addressed. You should use a type of soap that eliminates odor when you shower. The same should be the case when you wash your clothes; use a detergent that kills the odor. Once you have washed your hunting clothes, seal them away so that they do not get contaminated with smells around your house.
Once you are out in the field, ensure that you have field wipes and your scent masking spray with you at all times.
Q: How can I know if a scent blocker works before I buy it?
A: The internet has made it possible to gain as much information as possible about a product before you spend your hard-earned cash. Trusted websites, such as this one, are always working hard to review products that have just come into the market. You can also rely on the websites of big retailers like Amazon where all reviewers should be verified purchasers. Even though this task could consume your time, in the long run, it will ensure that you get the best product.
Q: Can I use it for all my hunting stuff?
A: Yes, you can use scent blocker on all your hunting stuff from the firearm if you are using one of the boots that you are wearing. If you are carrying a backpack, also treat it with scent blocker. This ensures that whatever little scent is still left is eliminated before you head to the stand.
Decision Time

The next time you go out hunting, you need to ensure your own natural scent is completely covered up. There might not be anything worse in the hunting world than having a couple of deer tags and going out to hunt and come up empty-handed. The season does not last that long, and so you need to ensure you capitalize on each opportunity you have to go out in the wild and capture the deer you want.
You don't want your own scent to be the thing which keeps deer away, especially when this is something that is very preventable. Even if you have never used scent blockers before, the strong the buck or deer you want to hunt for, the more tools you need to employ to help bring those bigger and strong bucks over to your area. These kinds of scent blockers will not do any damage to you or to your clothing but can help you in finding the right deer at the right at the right time.
We hope you find the right scent blocker for your hunting needs, and that it will help you be successful on your next hunting trip.
Sources