Best Bidets Reviewed & Rated for Quality
In a Hurry? Editors choice: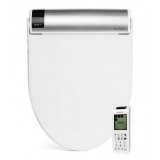 Test Winner: BioBidet Bliss

They are very popular in Europe, but the Bidet is just starting to be discovered in North America. The funny thing is that every person who buys one is amazed at how much better they are than using toilet paper. You press a button, or flip a switch, and then you get cleaned off for the day. No more awkward positioning, and no more having to wipe twice. A bidet makes doing your business into a much more sanitary and pleasant experience. Some people are concerned about getting water shot at your bum, but it is not uncomfortable, at all. On the other hand, it is quite pleasant. Bidets have lots of different features that they have been designed with. There are warming seats, choices of power, and even blow dryers to think about getting. This list has ten of the best bidets that you can find on the market.
Standout Picks
Criteria Used for Evaluation
10 Best Bidets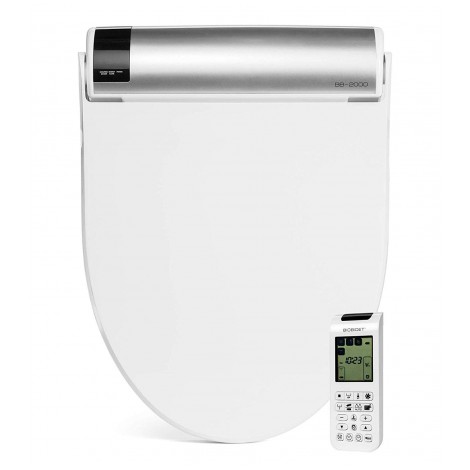 The BioBidet Bliss is the best bidet set up that you can find on the market. This bidet is great for taking care of business in the most comfortable way possible.
Smart Toilet Seat
The Bliss is packed with interesting and useful quality of life features. The most important are thee styles of cleaning that it has, which includes posterior, feminine, and vortex washes. Vortex washing is an extra powerful stream that will leave you feeling incredibly clean. The Bliss also guarantees an unlimited supply of warm water so that your always comfortable, no matter how long it takes.
Other Features
The BioBidet has many other features to convince you to get it. It has a heated seat, which means that it will be easier for you to get comfortable when you have to sit on the toilet during a cold day. It also comes with a night light, so that you can go to the bathroom without turning the lights on, and a slow closing lid which will close without a sound once you get off the pot.
Cost and Value
The biggest thing between you and the BioBidet is the cost. It costs quite a bit, but if you are in the market for a bidet, it will prove its worth time and time again. It has every conceivable feature you could hope for when shopping around for a bidet. This is the right choice for anyone who has the money to buy it.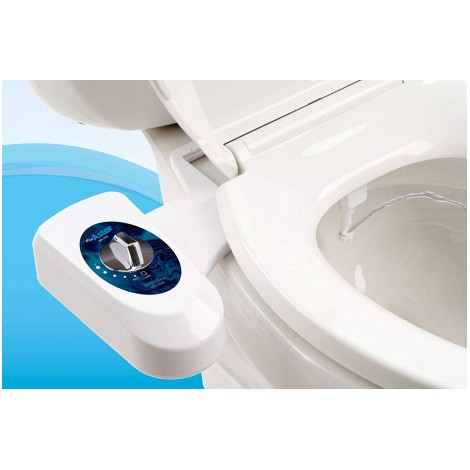 This is on the opposite side of the price spectrum. This is a very affordable and effective alternative to the more full featured bidets on this list.
Simple Bidet
This bidet doesn't have any of the extravagant features that are attached to many of the bidets on this list. It uses a simple lever that lets you choose the intensity of the spray. and that's all there is to it. It will make it so that your toilet is turned into a fully functioning bidet. The installation only takes around ten minutes before you'll be ready to go.
Other Features
The Astor is a smart buy for anyone who likes to keep it simple, and that is because all the features of the Astor are smart and necessary. It has a retractable nozzle for where the spray is so that you can choose the perfect height for your specific posterior. It also comes with well-designed brass knobs that won't ever rust or become worn down.
Cost and Value
The price when compared to the BioBidet is almost laughable. The Astor is affordable for just about any family, and is a good buy is you have been thinking about buying a bidet, but are worried that it might be too expensive. This bidet does everything that you need, and nothing more. It is definitely well-built, and simple to use.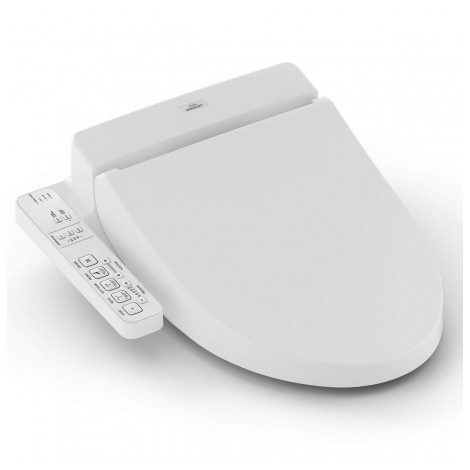 The TOTO is an effective bidet that comes with a multitude of features that make the experience a sanitary and comforting one.
Toilet Cleaner
The TOTO has a clever feature that makes it easier to keep your toilet clean. It has a pre-misting spray that you can use to wet the sides of the toilet bowl. This makes it so that when you go to the washroom, none of your debris will stick to the sides of the toilet and will just slide down into the toilet due to the wetted walls.
Other Features
There are lots of other great things going on with the TOTO. It has five different settings for the pressure of the bidet's stream, which will let you choose the one that you are most comfortable with. It also gives you five different settings for the heat of the bidet's spray, so that you can find the one that has the least disconcerting effect on you.
Cost and Value
The TOTO galls between the first two options on this list. Its price is still no slouch, but it is much less than the BioBidet. This toilet will make it easier on you to go to the toilet, and to keep the toilet a cleanly place. It has lots of other features to enjoy too, such as a dryer, a deodorizer, and a comforting warming toilet seat.



The Blooming is a fully decked out bidet that will give you all the features that you're looking for, and some you didn't know you wanted.
Bidet with Remote
To use a bidet, you have to let it know when you want to flush, like a toilet. Also like a toilet, you have to press a button. You can't use the bidet while you are standing, so sometimes it feels awkward trying to use the controls while they are on the side of the bidet. This bidet comes with a remote, which will make your life much easier when it comes to using all the other features of the Blooming.
Other Features
The Blooming comes with all the features that you could want from a bidet. It has a heated toilet seat, which is great for letting you feel comfortable when you sit down on the pot. It also has heated water, which is great for not getting a rude awakening when you use the bidet. Finally, it also has a night light, which means you don't have to expose yourself to bright light when you are using the toilet in the night.
Cost and Value
The Blooming costs a little less than the other fully features bidets on this list. It has all the things that you might need from a bidet, and if you want to get something that feels like the top of the line, it is hard to go wrong by buying the Blooming. Sitting on this bidet will make you feel like a million bucks, and it doesn't cost nearly that much.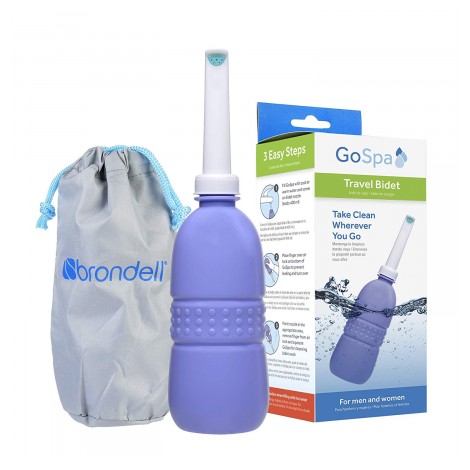 If you have become addicted to the comfort and cleanliness of using a bidet, then think about giving Brondell's Travel Bidet a shot.
Designed for Travel
This bidet is designed to come with you on all of your trips. People who buy bidets quickly become believers in their magic, and it stands to reason that eventually it might be time to buy this little guy. The GoSpa is a small squirt bottle with a specially designed nozzle that will make sure the pressure is just perfect to keep yourself clean.
Other Features
There are lots of clever design decisions that make the Brondell the perfect choice for anyone who wants to be able to clean themselves comfortably when they are traveling. It comes in a small bag that doesn't say what it is, so you don't have to be worried about explaining it. It also carries a lot of liquid, so you don't have to worry about having to refill before you're done.
Cost and Value
The GoSpa is a unique choice on this list. As mentioned before, people who buy bidets quickly become total converts. If you are traveling somewhere where you are unsure if you will be able to use toilet paper, the travel bidet is a good idea. The GoSpa is incredibly affordable too, so if you are even remotely interested, give it a shot.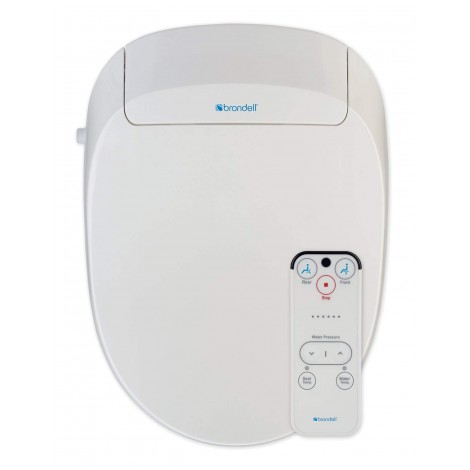 This is the more traditional entry from Brondell. This is a luxury bidet that comes with some great features to get excited about.
Luxury Bidet Seat
The best thing about the Swash is that it makes sure that you don;t have to put much effort into maintaining it. It has lots of features that focus on being automatic. The toilet seat is an automatically closing toilet seat. This means you don't have to worry about putting the seat down after you are done in the bathroom.
Other Features
There are other clever features in the Swash. It has self-cleaning nozzles, which are great for letting you not have to worry about keeping them clean yourself. Some of the water from your spraying will wash off the nozzles of the bidet. This makes it a hands-free experience using the Swash. The toilet seat can also spring up if you are in a hurry.
Cost and Value
Something really cool about the Swash is that it costs a bit less than the other luxury bidet seats on this list. It is still packed with features, and will do a great job keeping you clean with no effort. The fact that the bidet also keeps itself clean is great for anyone who is worried about the extra mess that comes from using a bidet.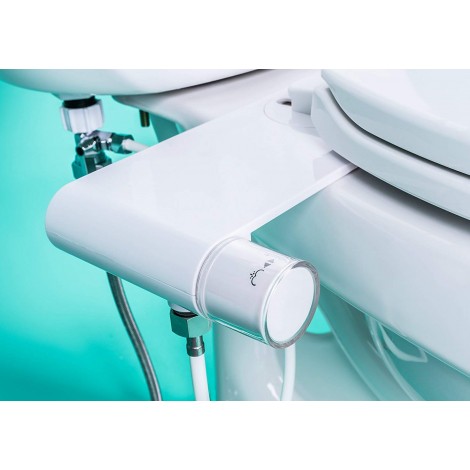 If you are interested in a bidet, but have been scared off by the price or the fact that you have to install it yourself, think about buying the GenieBidet
Simple Installation
The big selling point of the GenieBidet is that it keeps everything very simple. It is a hose that is attached to your toilet tank. There is no electricity or plugging in that you need to do. It also isn't a full toilet seat. The GenieBidet is small, flat piece that goes behind your toilet seat and hangs down over the side of the toilet bowl.
Other Features
Even though it is simple, the GenieBidet has lots of extra features that make it worth it for everybody. The temperature is kept at an ambient temperature, due to coming from your toilet tank. This is good for keeping the water as unobtrusive as possible. Another great thing about the GenieBidet is that it has an adjustable level of power, so that you can choose how you would like it.
Cost and Value
The big selling point of the GenieBidet is that it is being sold at such a low price. The GenieBidet is one of the cheapest bidets on this list. It is very easy to install, and can be used by anybody. It doesn't have any of the fancier features that the other options on this list have, but it will still do a good job of making sure that you have a good time on the toilet.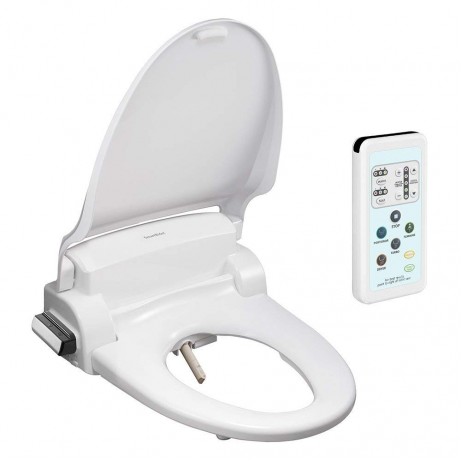 The SmartBidet is great because it gives you lots of different options for how you want your bidet seat to be treating you.
Adjustable Bidet Seat
The SmartBidet has lots of different options for all the things that have to do with your bidet. There are multiple pressures that you can choose for your water, which is great for finding one that you are comfortable with. There are also five different positions that the nozzle can be put in so you can find the right angle. Finally, there are three different temperatures to choose from too.
Other Features
The SmartBidet has lots of other features that make it a good choice for anyone looking for a bidet. It has a softly closing toilet seat so that you never have to be worried about that loud clanging toilet seat sound that always scares people awake in the night. There is also a remote that is very easy to control. This will let you stay comfortable when you are on the toilet seat.
Cost and Value
The SmartBidet is a good choice because it lets you choose the exact fit that you want out of your toilet seat. Many of the bidets on this list offer you some options for what you want your bidet experience to feel like, but none of them offer as many options as the SmartBidet. The SmartBidet is also competitively priced with the other more luxurious options on the list.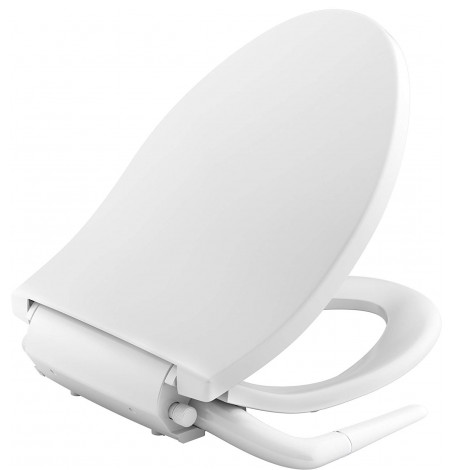 This is another good choice if you are looking for a bidet seat that doesn't involve all the fancy gadgetry or electricity.
Handle Operation
The KOHLER is designed so that you can adjust the angle and use the nozzle with a single simple handle. This makes it very easy to clean yourself and find just the right angle. The lever is very easy to navigate, and it also has a very intuitive way that it works. This also means that you don't need to worry about anything like plugging the bidet in.
Other Features
The KOHLER Puretide has lots of other features going for it to. Just because it is a manual toilet seat, doesn't mean it can do things for you. It has a quick release hinge that will make the toilet seat spring up when you go to sit down on it. It also silently closes. Another great features is that the Puretide cleans the toilet bowl and the nozzles for you after you use it.
Cost and Value
The KOHLER is a great choice for anyone who wants a simple bidet. Unlike the GenieBidet, this one does require you to install a new toilet seat. On the other hand, it is a very comfortable one, and it won't take up any more room than your old toilet seat. The KOHLER is also very reasonably priced, and can be afforded by just about anybody.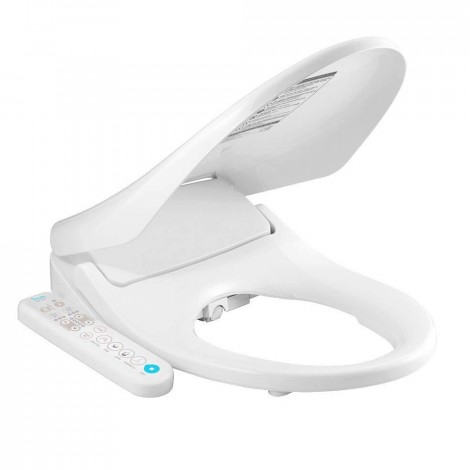 The Inus is a great bidet seat that will make sure that you get warm and comforting water cleaning your posterior at any time that you need it.
Warming Bidet Spray
The Inus is able to give you warm water almost instantaneously. It is designed to be able to warm water as it shoots through the nozzle, which is great for knowing that the water is very clean. It doesn't use a warming tank, which takes up space, and leaves the water stagnant between uses. This means that you are only cleaning yourself with fresh water.
Other Features
There are lots of other great features attached to the Inus. It has many different settings that you can pick from, including choices in temperature, and position. It also has a self-cleaning nozzle that will make it very easy on you when it comes to cleaning the bidet. Finally, there is a convenient and clear panel that gives you all the options that you might need.
Cost and Value
Something great about the Inus is that it costs less than the other luxury toilet seats, but still gives you many of the options that make them so great. it is missing some of the more prominent features, like a night light, but it is still great at what it does. This is a simple and dependable bidet that doers a good job for whatever you need from it.

Subscribe to our Newsletter