Best TV Wall Mounts Reviewed & Rated for Quality
last updated
Feb 05, 2019
Looking to buy a new TV? Or do you have one that looks out of place on that rickety table that you have in your living room? Not to worry, there are plenty of solutions to both making room and making it look good at the same time. TV mounts are a good place to invest to give you what you're looking for. There are a wide range of options to look through, and this buying guide will show you the top ten best options, whether you're in tight with the guys on This Old House, or more like Tim Taylor, you will find something here to suit your needs and your taste.
In a Hurry? The test winner after 264 hrs of research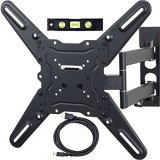 VideoSecu ML531BE
Why is it better?
Easy to follow instructions
Individual parts are clearly labeled and organized
Very durable and flexible
In a
Hurry? Editors choice: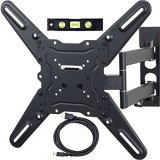 Test Winner: VideoSecu ML531BE

4
Interviewed Experts
17
Researched Sources
10k
Total Readers
14k
Reviews Considered
264
Hours Researching
10
Products Evaluated
Weight
Durability
Advanced Features
Bottom Line
By Default
In Depth Review Top 10
VideoSecu ML531BE
Cheetah APTMM2B
Mounting Dream MD2380
ECHOGEAR
VonHaus Ultra Slim
PERLESMITH
Mount-It! LCD
Heavy-Duty Full Motion
WALI
Fleximounts Arm 32-60 inch
Table of contents
Criteria Used for Evaluation
Expert Interviews & Opinions
Frequently Asked Questions
Sources
Criteria Used for Evaluation


Weight
The amount of weight can be a tricky balance. It really depends on what surface you're mounting your display on. Wall studs are the most reliable and industry-friendly. Most wall mounts recommend attaching the device to two studs from 12 to 16 inches apart. However, some of the more obscure – and cheaper – options do not play nice with this. All too often particular models with either overshoot or fall short of the measurement. In either case, the potential for your mount to come crashing down is very high. An unsecured tv mount not only damages the mount potentially but a very costly tv.
Some models even come with drywall or mortar anchors, but often these methods are the most precarious as drywall can be weak and the anchors themselves are usually only thick plastic.
The bottom line to weight comes down to three factors: how much your display weighs, how much the mount can support, and what kind of surface you attach the mount to.
For example, say you have a relatively standard mount that attaches to two studs, and the listed weight support is 70 lbs. Pretty straightforward. In most cases with some careful homework, this is a perfect setup. Now suppose that the mounting plate doesn't quite touch the second stud in the wall. No amount of duct tape or crazy glue will keep your tv on the wall. In a perfect world all mounts are built the same and have the same requirements, but this is not a perfect world, is it? You can avoid disaster buy pre-measuring where your studs are and select the appropriate mount accordingly.
Something to bear in mind, however, is that some tv mounts are obscenely heavy and will most likely be too much for the typical home consumer to handle alone.


Durability
Most – but not all – tv wall mounts are made with sturdy metal. Either high carbon steel or iron. Aluminum is also a way to go yet it can bend or break easily. Obviously, the former metals are stronger but much, much heavier. With all the swiveling, tilting, and rotating, steel or iron are a must have. Aluminum mounts are notorious for bending when the mount arms are extended.
Next time you are at a doctor's office, or if you happen to notice a guard station take note of the mounts they use. What kind of metal is it? What's the design? Does it have one arm, or two for a scissor motion? More than likely these will be steel or iron. If you're on a tighter budget aluminum or some other light metal might be alluring, as well as the cheaper price, but it is definitely worth shelling out a little bit extra for a more durable model rather than having a broken tv or having to replace a tv mount with another.


Advanced Features
Function
Now for the flare. With so much talk about stability let's shift focus a bit on the reason you want the mount in the first place. There are four factors to consider here: swivel, tilt, rotation, and extension. The more functions an item has, however, means there are more ways it can fail. So, while we want to bring you the most awesome piece of equipment available, we also make sure that 'awesome' equipment holds up to the values our company aspires to bring you. After all, a flexible arm is great when it can hold your Tv so that it is staring at you from above your pillow, but we are here to make sure that same arm doesn't decide to one day drop your TV on top of you or smash it into the wall above your headboard.
Swivel
As the term suggests this is where you point your monitor. Simple right? Well… somewhat more complicated depending on the model you get. Some mounts have extreme swivel angles, the most common being 180°, while other have substantially less. Since swiveling the mount concerns the "arms" of the apparatus it is imperative that said arms be sturdy and smooth. The best example of a good swivel is with a single arm approach as these allow the full range of motion more often than not. Good practice for those models is in a situation where space and angle is in short supply, such as RVs or perhaps a long room.
In contrast, the more bulky models with the scissor action have a somewhat limited swing range. These are the larger models and mostly used by people with large displays of 30 inches or more.
Since the swivel works in tandem with the extension those of us with stationary models are out of luck. While these are often more elegant, creating the illusion of a floating screen, they are absolutely stationary.
Extension
Not every product is meant for all situations. Extension is most useful in specific scenarios. Hospitals for instance where the display is pulled out from the wall for easier viewing. Another instance is a bar or lounge. Not especially useful for homes when sitting in a living room where everything is within close proximity. There is always the possibility, however that you may move into Ian Flemming's house and find a tv on an extension hidden in an armoire.
Tilt
Tilt can be the most useful when applied properly, such as having a tv high up, or even when looking down. A trend these days for some gamers is playing while standing. In this regard having an upward tilt is beneficial. Conversely, an overhanging display may be tilted downward such as while lying in bed. There are a myriad of ways tilting can be used effectively.
Rotation
Mostly used for balance if your mounting is a little off kilter, small corrections can be a welcome addition in this instance. The levels included in most kits help with this process, and therefore make it easy to properly use the arm and not cause yourself, your equipment or anything nearby it any damage.


Bottom Line
Most models of tv mounts come with several items whether they be assembly aids, tools, or individually wrapped baggies with spare parts and so on. One of the better options of these is cable ties to keep unsightly tangles of wires behind the scenes. Nothing ruins the experience of your pristine setup than having a rat's nest of cables running along the walls or baseboards.
The bottom line when purchasing any mount is determining what best suits your needs. Everyone is different. Maybe you like to host Super Bowl parties and need a high-hanging screen for everyone to see while they bounce on the sofas screaming at the referee as if were Tom Cruise on Oprah. Maybe you're watching a how-to video from an adjacent room and need to swing your display to follow along. Or most commonly maybe you just want to keep your viewing experience simple and don't need or want a bulky entertainment center taking up valuable space.
In this day and age, with people's eccentricities, one can come up with all kinds of clever uses for tv mounts which are not intended by the manufacturer, so don't take a product out of its official "sweet zone" for use. Always read your owner's manual and the instructions for installation, improper use not only means broken equipment, but it also means that even under a warranty the company is not obligated to refund, replace or help you with their product in any way. If it says your mount should not be extended to a certain length or aimed in a certain direction, the best choice you can make is to follow that guide.
Always keep your ability level in mind when installing anything with heavy equipment. You may want to do it all on your own, but if you aren't built or healthy enough to lift that 100+ pound TV, look for someone willing to help who is. A great viewing is always made best when you can enjoy it without aching or sprained muscles.
Expert Interviews & Opinions
Most Important Criteria
(According to our experts opinion)
Experts Opinion
Editors Opinion
Users Opinion
By Default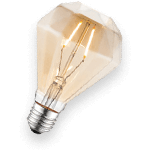 Do your research and know what you are buying!!
Choosing a tv wall mount requires careful attention to a few details. Namely support weight of the tv as well as the mounting itself, the VESA (or the Video Electronics Standard Association) for the pattern on the back that the bolts go into, as well as the different aspects of the functionality, such as swivel, tilt, and what material the model can be mounted on. No one wants to be the one who lives through the nightmare of a faulty product costing them so much money, so we here at Gearhunt aim to make sure that the details are right and the item has proven to too exactly as it is described.
Frequently Asked Questions
q:

What is an HDMI cable for, and why would I want/need one?

a:

These are useful cables used today to connect your DVD, Blu Ray, gaming console or computer to your TV to use. For those who are lacking a computer monitor, this could be a defacto answer to what you need as an HDMI cable actually lets you use your TV as your monitor. This is also great news for those using small computers who could use a break for their eyes.
q:

How do you choose which wall mount is best for your home?

a:

Measuring the area you have to work for, knowing the size of your TV and understanding how each mount works are all important factors in deciding which mount is best. With this in mind, we have supplied you with the sources needed both to decide which one is best, and how to safely install one.
q:

Can you place any wall mount anywhere in the room?

a:

No. Some are ideal for corners, while others are best for the center of a wall. There are even some out there that can mount a TV to your ceiling! We chose the best quality mounts for everyday use, but if you are looking for something unique, please check our sources for information on whether or not it is the best planning you could have when considering what you want to do.