Best Antler Mounting Kits Reviewed & Rated for Quality
In a
Hurry? Editors choice: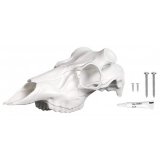 Test Winner: Mountain Mike's Reproductions Skull Master

An antler mounting kit is a good way to turn your hobby into something that you can admire when you are at home. Hunting is great, but it isn't something that you can do all the time. Taking trophies is fun as well, just because it gives you something to do while you wait for hunting. An antler mounting kit is great because it lets you bring your hobby home with you. These kits let you display your trophies in a tasteful and artful way. You could just leave them in the shed, but why not display them in one of these cases instead? This is a list of ten of the best antler mounting kits on the market, and they will do a great job at displaying those things that you are proud of.
Standout Picks
Criteria Used for Evaluation
Fit
The most important thing to look for with an antler mounting kit is the kit's ability to hold your antlers firmly in place. This can be done through a few different methods. There are kit that just have the antlers rest in small holes or indents. This is very easy to do, and will cut out a lot of time that you'll be spending with your tools. On the other hand, these kits will be a little less consistent in how steady and sturdy the antlers will stay. You want your antlers to not move at all, and resting loose in the saddle will make the antlers move with the smallest nudge. Other kits have it so you need to drill the antler into the mount. This will ensure that your antlers are held completely still by the mounting kit. These kits will mean that you will need to do a bit more work than with the simpler kits.
Ease of Use
One of the most important things about an antler mounting kit is how easy it is going to be for you to install it. Every antler mounting kit is going to be a bit of a project. Mounting antlers is actually a fun thing to do if you realize that it is going to take a bit of time and effort to pull off. This category is referring to the simplicity, or at least the lack of stress, that will come with setting up your antler mounting kit. These kits will usually come with some kind of instructions, which will make it easier for you to set up. They should also come with everything you need to get it on the wall. You will likely need a few tools to get the whole thing put together, but besides the tools that you should already have, these antler kits should come with screws, brackets, and mounts.
Adjustability
Most people who get themselves a set of antlers for a mounting kit are probably going to be going out for another round of hunting some time in the future. This means that the trophy that you are so proud of during this season, might turn out to be not as impressive as the trophy from your next season. It might be a good idea to find an antler mounting kit that makes it easy for you to switch out the antlers for something that you might find better. Of course, you could buy another antler mounting kit, but it is often the case that you don't have the space for multiple sets of antlers hanging on your wall. Even the kits that require you to drill the antlers into the mount are usually quite easy to reverse if the kit is designed properly. This category is an indication of how easy it is to take the kit apart, and replace the antlers if you would like to.
Visibility
The big reason that people usually buy an antler mounting kit is that they want to present the antlers that they have earned in an aesthetically pleasing kind of way. One of the big reasons this is useful is for concealing the bases of the antlers. You can polish and sand the bases of the antlers as much as you want, but there will always be a sense of the unnatural to a set of antlers that still present the base. There are many clever ways that these kits go about making it look like the antlers are protruding naturally from the mount. There are easy to place plates that perfectly conceal the bases of the antlers. There are also clever ideas like using a length of cord and surrounding the base of the antler with it. This category is a ranking of how successfully the mounting kit does at concealing the seams of where the antler attaches to the mount.
Value
There is a wide variety of prices that are associated with these antler mounting kits. The one great thing about these kits is that most antler mounting kits are very affordable, especially when compared to the price it costs to get the entire front of the deer stuffed and mounted. This, and the smaller size, are big reasons that people buy antler mounting kits. The kits that cost more than the others usually have more complexity put into their design and style. The most expensive ones, which are the ones from Mike, and the Camo Buck, use either more complex design, as seen with the reproduction of the skull, or are quite large, as seen with the Camo Buck. The smaller mounts usually costs quite a bit less. They are all quite similar to each other, so it might be in your best interest to find something that looks good to you, before you find something that costs less.
10 Best Antler Mounting Kits
Subscribe to our Newsletter