Best Ski Boot Bags Rated & Reviewed for Quality
In a
Hurry? Editors choice: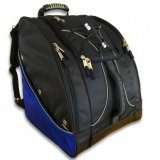 Test Winner: Athalon Everything

If you are serious about skiing, it might be a good idea to get yourself a ski boot bag. Many of the bags on this list also have many features that you probably didn't even think of that will aid you in having the most painless experience getting on and off the slopes. As everyone knows, the worst part about skiing and snowboarding is getting to the hill. Having a ski boot bag will remove at least one of those issues. Listed here is a good selection to help narrow down your search.
Standout Picks
Criteria Used for Evaluation
Materials
Ski boot bags can be made of many different materials. Any boot bag worth anything will be made some kind of waterproofed material. The bag is going to spend at least some time lying in the snow. The best bags have a bottom made of an easily cleaned material like tarpaulin or vinyl. Another good element of waterproofing is how well sealed the main pouch is. Nothing is worse than opening up that pouch and finding some wet clothes to put on.
Other important materials to look for are in the zippers and handles. The zippers should be made of some kind of high quality metal that won't fall off or get stuck. The handles should be well sewn on so that they won't tear off. Ski boot bags can get heavy and those handles have to put up with a lot of strain.
Capacity
The capacity of a ski boot bag is important, but it is also a delicate balance. The larger the capacity of the ski boot bag, the more that can fit in it. It takes a lot of gear to go on a successful ski trip. Besides the boots, there'll need to be room for at least some goggle, snow pants, helmet, and extra clothing. The larger bags on this list will have room for some extra supplies like some food or maybe something to play some music.
On the other hand, a large bag will take up space and weigh more. It is quite likely that at some point the ski boot bag will have to be lugged a very long distance. The bigger the boot bag, the more effort it will take to get it where you need it.
Comfort
Having to take a ski boot bag a long distance can be a lot of hard work, but having a comfortable bag will at least help ease that burden a bit. There are many ways that ski boot bags accomplish this. The more support given by the straps and back of the bag, the better.
Straps will often be padded so that they won't dig into your shoulders. Some bags will have a few extra straps at the waist or chest to better distribute the weight. It can be even better if the back of the bag has some padding or cushioning. A little extra lumbar support could do everyone some good.
Most boot bags are extra large laterally. The more secure the materials within the bag are, the less uncomfortable the swaying of the bag will be.
Features
Having some extra features with your bag will only make it more convenient for all of your ski trips. Great features to look out for include things like extra compartments, or some exterior straps to leave your important equipment.
Most ski boot bags have one or two compartments for your ski boot bags, and then a large compartment for the rest of your equipment. A useful feature that some bags have are extra compartments for specific items. Some bags will have some specifically shaped compartments on the inside of the large pouch for goggle and gloves. Other bags have a specific compartment for your music player, including a hole for the cord so that the music player can stay safe.
Another great feature that some bags have are external weave to place items in when you don't have enough hands. It is nice to not have to place your gloves in the snow when adjusting something. The weave, sometimes made of bungee cords or the like, can hold your things while you are getting yourself together. Another helpful feature is a place to stand while putting on your boots. The Dakine bag, with its lunch box style construction, can be stood in while putting on your ski boots. Quality of life features like these can really make the difference on a ski trip.
Drainage
One of the biggest things that set ski boot bags apart from a simple backpack is that there's a specific area to put your boots. The logical extension of this is to make those compartments as welcoming to your ski boots as possible. Nothing is worse than putting on a wet boot. Draining grommets are in most of the boot bags on this list. They are usually metal holes that give the moisture coming off the ski boots somewhere to go. If you just throw some wet boots into a sealed compartment then it might not dry. Even worse, it is more than likely that they'll get that terrible mildew smell once they do dry. Having a ski boot bag with good drainage is important to avoid these terrible scenarios.
Subscribe to our Newsletter