Best Ski Boot Bags Rated & Reviewed for Quality
In a Hurry? Editors choice: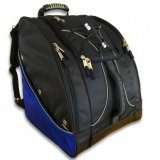 Test Winner: Athalon Everything

If you are serious about skiing, it might be a good idea to get yourself a ski boot bag. Many of the bags on this list also have many features that you probably didn't even think of that will aid you in having the most painless experience getting on and off the slopes. As everyone knows, the worst part about skiing and snowboarding is getting to the hill. Having a ski boot bag will remove at least one of those issues. Listed here is a good selection to help narrow down your search.
Standout Picks
Criteria Used for Evaluation
Materials
Ski boot bags can be made of many different materials. Any boot bag worth anything will be made some kind of waterproofed material. The bag is going to spend at least some time lying in the snow. The best bags have a bottom made of an easily cleaned material like tarpaulin or vinyl. Another good element of waterproofing is how well sealed the main pouch is. Nothing is worse than opening up that pouch and finding some wet clothes to put on.
Other important materials to look for are in the zippers and handles. The zippers should be made of some kind of high quality metal that won't fall off or get stuck. The handles should be well sewn on so that they won't tear off. Ski boot bags can get heavy and those handles have to put up with a lot of strain.
Capacity
The capacity of a ski boot bag is important, but it is also a delicate balance. The larger the capacity of the ski boot bag, the more that can fit in it. It takes a lot of gear to go on a successful ski trip. Besides the boots, there'll need to be room for at least some goggle, snow pants, helmet, and extra clothing. The larger bags on this list will have room for some extra supplies like some food or maybe something to play some music.
On the other hand, a large bag will take up space and weigh more. It is quite likely that at some point the ski boot bag will have to be lugged a very long distance. The bigger the boot bag, the more effort it will take to get it where you need it.
Comfort
Having to take a ski boot bag a long distance can be a lot of hard work, but having a comfortable bag will at least help ease that burden a bit. There are many ways that ski boot bags accomplish this. The more support given by the straps and back of the bag, the better.
Straps will often be padded so that they won't dig into your shoulders. Some bags will have a few extra straps at the waist or chest to better distribute the weight. It can be even better if the back of the bag has some padding or cushioning. A little extra lumbar support could do everyone some good.
Most boot bags are extra large laterally. The more secure the materials within the bag are, the less uncomfortable the swaying of the bag will be.
Features
Having some extra features with your bag will only make it more convenient for all of your ski trips. Great features to look out for include things like extra compartments, or some exterior straps to leave your important equipment.
Most ski boot bags have one or two compartments for your ski boot bags, and then a large compartment for the rest of your equipment. A useful feature that some bags have are extra compartments for specific items. Some bags will have some specifically shaped compartments on the inside of the large pouch for goggle and gloves. Other bags have a specific compartment for your music player, including a hole for the cord so that the music player can stay safe.
Another great feature that some bags have are external weave to place items in when you don't have enough hands. It is nice to not have to place your gloves in the snow when adjusting something. The weave, sometimes made of bungee cords or the like, can hold your things while you are getting yourself together. Another helpful feature is a place to stand while putting on your boots. The Dakine bag, with its lunch box style construction, can be stood in while putting on your ski boots. Quality of life features like these can really make the difference on a ski trip.
Drainage
One of the biggest things that set ski boot bags apart from a simple backpack is that there's a specific area to put your boots. The logical extension of this is to make those compartments as welcoming to your ski boots as possible. Nothing is worse than putting on a wet boot. Draining grommets are in most of the boot bags on this list. They are usually metal holes that give the moisture coming off the ski boots somewhere to go. If you just throw some wet boots into a sealed compartment then it might not dry. Even worse, it is more than likely that they'll get that terrible mildew smell once they do dry. Having a ski boot bag with good drainage is important to avoid these terrible scenarios.
10 Best Ski Boot Bags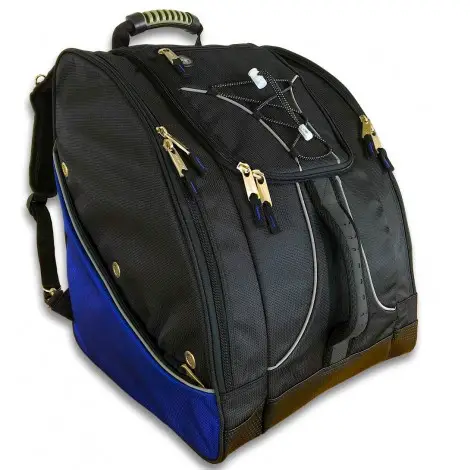 The Athalon Everything does as advertised; everything. It can carry everything you think you might need, from jackets to headphones. It also has great back support for when you have to lug your gear from one place to another.
Carries Everything
The Athalon Everything lives up to its name. It can carry all the gear you might need and includes small features to make each item as convenient to access as possible. The main compartment for your boots is ventilated and has small holes on the bottom to keep your boots from being wet or smelly. The secondary pockets have clips to hold your smaller items in place. There is also an expandable top pocket to carry extra clothes and larger items. There's more than enough room to carry anything you may want to bring with you fro a trip out.
Supports Everything
After you have everything fit in your bag you're probably going to want to carry it somewhere. The Everything has a fleshed out carrying system that makes sure you are comfortable for those long trips from the parking lot to the lodge. It has extra padding for your lumbar and padded straps if you want to carry it like a backpack. It also has hidden padded straps like a travelling back pack to better distribute the weight.
Cost and Value
The Everything costs about as much as other mid-range ski boot bags, but it has every feature you could want out of one. When buying this bag, you aren't sacrificing anything for that lower price. That's why it is number one.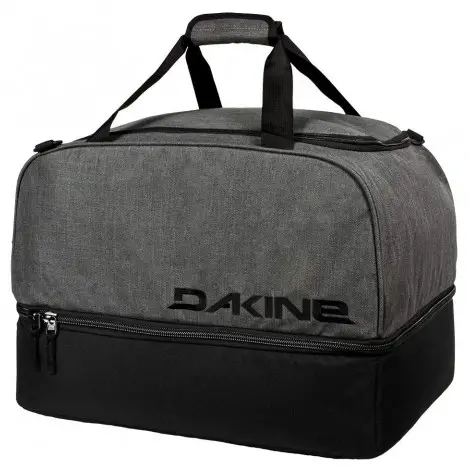 This is the choice if you are looking for something simple and effective. Dakine is a respected company with their fingers in all types of sportswear. You won't have to worry about this bag in any way if you buy it.
Simple and Effective Design
The Dakine Locker Boot Bag is different Athalon in that it is a shoulder bag instead of a backpack. This means it might be a little less cumbersome when taking it on and off. It has a simple split-level design where the boots go in the bottom half and everything else you might need goes in the top half.
Durable and Convenient
This one doesn't have vents, but it does mean that it can be thrown in the back of your car without having to worry about it draining onto anything important. Of course, this might mean that your boots will smell, but not wherever you leave this bag. This is a good bag for trips from the parking lot because of its convenience. The bag's simple construction is great because it means nothing unexpected will fall apart, either.
Cost and Value
The Dakine bag has an average cost for a boot bag. It is effective and simple. This bag is best for some one who doesn't want to overthink their ski boot bag choice and just wants something they can lug around and forget about. Adding to this one's value is that it comes with a lifetime warranty.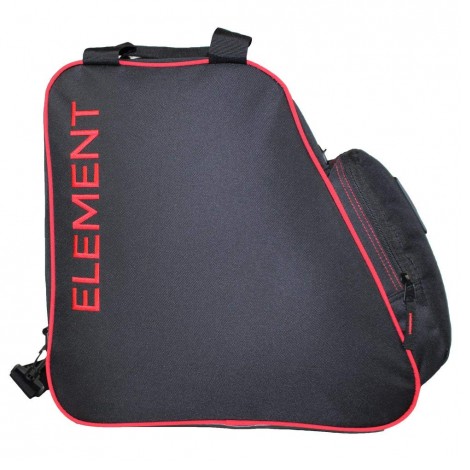 This is another simple choice for your boots, but with the added bonus of being a great budget choice. It has effective design and will remain reliable for a long time.
Budget Bag that Doesn't Cut Corners
This is a shoulder strap bag that has the shape of the backpack ski boot bags. It is vented to better dry your boots and has just enough extra room for a few extra items, but not as much as the previous two items on this list. What makes this one special is that it does everything many other ski boot bags do at a much cheaper price point.
Stable Construction
The Element Boot Bag has a strong construction, especially at its base. This helps the bag keep its shape, and helps your boots stay settled at the bottom. It has vents for drainage and airflow. It is completely waterproof so you can leave it anywhere, as well.
Cost and Value
As stated before, the Element Boot Bag is the choice if you are on a budget. It is almost half as much as the mid range boot bags on this list. It doesn't sacrifice anything to do this either. The one issue is that it doesn't carry as much as the previous two bags on this list. Some users have said that they had to clip their helmet to the outside of the bag because it couldn't fit more than just their boots. It would be best if you are the sort of person who travels light.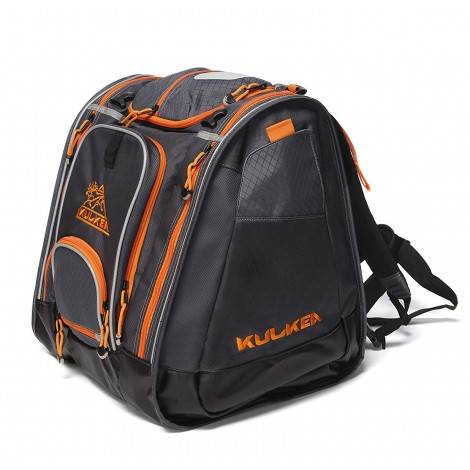 The KULKEA Boot Trekker is the premium option when it comes to ski boot bags. It is made of durable materials so you won't have to worry about your expensive ski boots, and it has enough room to carry everything you might need on a day trip.
Enough Room for Anything You Might Think Of
The Boot Trekker has specific compartments for every item that would come along on a ski trip. There are two separate inserts for your ski boots so that they're nicely packed in. There's also individual pockets for gloves and goggle, and a top compartment for snow pants, jacket, and any other extra clothing you might need. There's an individual helmet sling to carry your helmet, but it will easily fit in with your extra layers of clothing when taking it on the plane where it needs to be covered up.
Premium Materials and Design
The Boot Trekker is made of waterproof nylon and other water resistant materials. It has grommets for liquid drainage and is well ventilated. When you handle the KULKEA you can tell it is made of the good stuff.
Cost and Value
The superior design and materials of the Boot Trekker comes at a literal price. This ski boot bag costs twice as much as other midrange boot bags. This is a lot more than you would expect, but users who bought this bag all note that it is worth it. This bag will last you long enough that you will forget about the high price point eventually.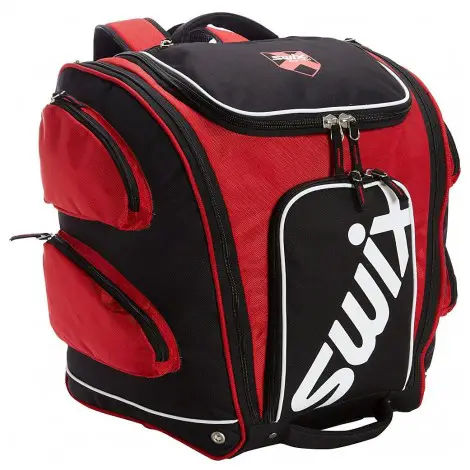 The Swix Tripack is an extra large ski boot bag that will fit all your gear and then some. This one is good enough to carry everything you need for the whole trip.
Extra Large
The Tripack has an extra large main compartment that fits between where the two boots are placed. The extra room of this compartment means you can put anything you need for the trip, even beyond what you might need to go skiing. The Tripack is also adorned with many smaller pockets on the sides for items you may need on the fly, like protein bars or board wax.
Back Support
With the extra load brought on by all those extra things you'll be carrying in this bag, the Swix Tripack has put a little bit of extra design into the shoulder straps and back support. The shoulder straps are cushioned and adjustable. However, the real extra benefit of the Tripack is the cushioned pad for your back. The pad leaves some room between your back and the rest of the pack to ensure that your back won't get too hot while lugging this bag around.
Cost and Value
The Swix Tripack is a bit more expensive than the other items on this list. However, not as expensive as the KULKEA. What gives this bag extra value is that it should always have room for all the extra you end up buying along the way. Buying the Tripack is a good way to future proof your next trip up the mountain.

6

. Select Sportbags Teampack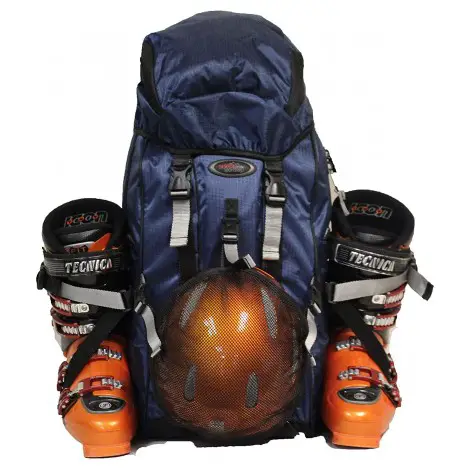 The Select Sportsbags Teampack is a bit different than the other boot bags you've seen so far. It is a daybag, similar to something you would take on a multi-day hike, but designed specifically for carrying skiing supplies.
Unique Design
The differences between this boot bag and others on the market make for some interesting comparisons. Instead of being fit inside the bag, your ski boots will be placed on the sides of the bag. This is helpful because it will ventilate and dry your ski boots naturally. The same goes for the helmet, which is placed inside a mesh net at the back of the bag.
Comfort of a Backpack
People use backpacks like this for long trips because they are designed to stay comfortable and supportive over long trips. The same can be said for the Teampack, which has the complex strap system one would expect from a daypack. It has large padded straps for your shoulders, and cushioning for your back.
Cost and Value
The Teampack is a little more expensive than the top options on this list, but not as expensive as thee premium bags, like the Swix and the KULKEA. This is a great bag if you plan on taking your snowsports a little bit off the beaten path, or even to your local mountain.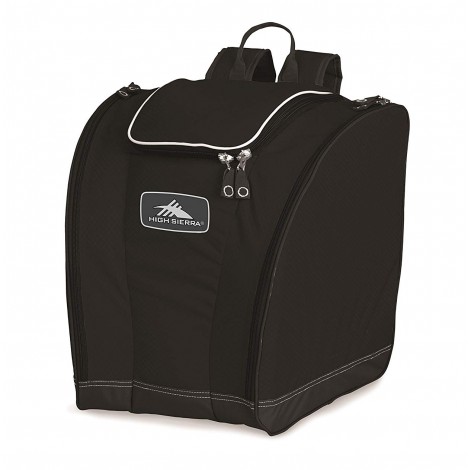 Sleek and simple, the High Sierra Trapezoid Boot Bag is a no-frills choice for a ski boot bag. It is made of a high quality duralite fabric that keeps it lightweight, but sturdy.
Simple Design
If you have got this far on the list, then none of the features in the High Sierra bag should surprise you. It has two side pockets for your ski boots with draining grommets. There is also a curved opening between the boots where you can place all of your extra gear. This boot bag is of a medium size.
Quality Material
The Trapedzoid Boot Bag is made up of duralite composite fabric. Duralite is a ripstop material that is designed for extra durability through cross-hatching. As skiiing can be a rough business, it pays to have material that can withstand the elements.
Cost and Value
The High Sierra Trapezoid Ski Boot Bag is also quite standard price-wise. it rests in the middle of the pack, between the Element bag and the Swix. This is a good choice for a skiier looking for a standard boot bag, but one they can rely on.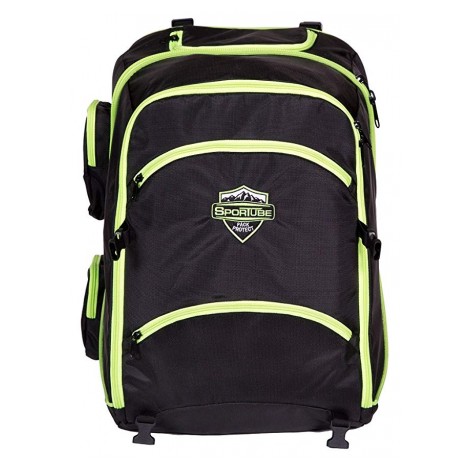 The Sportube Overheader Boot Bag is a ski boot bag designed for travel, specifically air travel. If any of your ski trips involve flying then this is a good option to check out.
Flight Ready
The Overheader is designed to be a carry-on bag for when you're flying to that mountain that's worth all of the trouble of a flight. It is compact enough that it will even fit on smaller jet planes. It carries fifty liters and has a piece of durable fabric on the outside for carrying your helmet. On top of your boots, it will also have some room to carry a few extra items, but not as many as other bags on this list.
Ergonomic Design
The Overheader is designed with maximum comfort in mind. It has padded back support for those long trips through the airport. It also has padded shoulder straps that won't dig into your shoulders. It even has the capability to be fastened to Sportube's hard luggage for quick wheeling through the airport.
Cost and Value
This one belongs is on the higher end of ski boot bags. If your trips regularly end up in other parts of the country, or if you have had bad experiences with baggage handlers, then the Overheader may be worth a look.



The Athletico Ski Boot Bag is a good, mid-priced option for entry-level skiers. It has lots of space and convenience features to make your next ski or snowboard trip as easy as possible.
Strong Storage Options
The Athletico has a great amount of space. It isn't as roomy as the Swix, but is roomier than the other options on this list. It has grommets in the side pockets for your ski boots for draining purposes. The middle compartment is good enough to hold everything you need. It uses a bungee mesh on the back of the bag to hold all of the gear you may need at a moment's notice like goggles and gloves.
Convenience Features
The Athletico also has a smattering of extra options to keep you from being inconvenienced. It has a small port on the side of the bag that you can put your headphones through so you can be distracted from your long hikes. The backstraps can be stored inside the bag for air travel. It also has reflective material so it can be easily found in the fog.
Cost and Value
The Athletico is good value for the price. It is another midrange option and has all the features of those bags, but with a lilttle extra room. The one issue with the Athletico is there have been a few complaints about the design of the zippers and seams. Some users have complained about these things not working after a first trip. However, Athletico have great customer service and will fix any mistakes with few questions.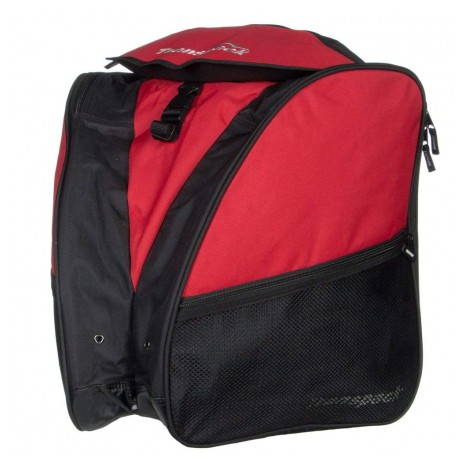 The Transpack XT1 is a ski boot bag with a slightly modified design that puts your ski boots closer to the back of the bag. This helps keep the bag compact and comfortable.
Isosceles Design
They call this design the Isosceles design because instead of the trapezoid design of many ski boot bags, the XT1 more resembles a triangle. The advantages of having the ski boots further from the sides of the pack is that it makes it extra comfortable for the user. Many times when carrying a traditional boot bag the boots will get in the way of your swinging arms or dig into your back. Having them distanced from your body makes for a less irritating experience.
Compact Design
The Isosceles design also makes the bag take up less space. This also makes for a more comfortable experience. Coupled with the padded shoulder straps, and the buckling strap that goes across the chest, the XT1 is a very comfortable, stress-free experience.
Cost and Value
The XT1 is more expensive than the mid-range options like the Athalon and the Dakine, but less than the Swix and the KULKEA. Many users who bought this bag consider it a great deal at this price. This is a good choice if you plan on lugging your ski boots a fair distance.

Subscribe to our Newsletter