Best Snowmobile Helmets Reviewed for Safety
In a Hurry? Editors choice: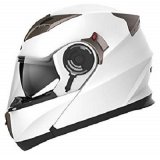 Test Winner: IV2 Dual Visor Modular Flip-Up

Snowmobiling is a sport that ranges from basic travel over the snow, to recreation, to fully organized race. The most important part of any sport is
having the right equipment
. This arguably makes the Snowmobile helmet the most important part of what you put on before you head out the door and up the snowy mountain. But what is the best helmet? It obviously needs to be safety certified and one geared toward high speed and potentially
high impact sports
. But what about the less obvious needs? Do you want full face, modular, flip up, or perhaps a
heated
helmet? There are helmets that match all your needs – even your financial ones. Let's make your decision a little bit easier with a breakdown of the best Snowmobile helmets money can buy!
Standout Picks
Criteria Used for Evaluation
Effectiveness
The number one priority in any sort of high-speed sport should be safety. Snowmobiling is no exception. Proper head protection will help protect you more than any other piece of gear you put on. You don't want to get out on the ice, snow, and rocky terrain without having full confidence that your helmet will keep you safe.
This is something you should absolutely be comfortable spending more money to satisfy your needs. As such, most helmets are DOT certified, even some of the cheaper options, and live up to those safety demands for obvious reasons. If all you're looking for is to be able to check that DOT certified box, that should be a fairly easy thing to do with most helmets. It should be noted, however; that some companies have a much stronger focus on safety and pride themselves on being the best in the industry. You'll pay more for that, but it may well be worth it in the long run.
Breathability
One of the most important qualities to look for in a helmet is ventilation. This can vary widely between all of the different styles of helmets available. A full face, modular, or flip up style is going to have a much greater tendency to fog up than, say, an open face helmet would. Anything that fogs up is a big no because your ability to see is right up at the top of importance when you are driving at high speeds. To prevent fogging, all helmets have some form of ventilation. Some have vents that are more complex than others, some have vents that are removable, and unfortunately, some have vents that are cheap and break easily.
A key point of ventilation is to look for a helmet that can control moisture. Moisture equals fog and fog means limited visibility. This is also incredibly important because when it's freezing outside anything moist that touches the air is going to also freeze and result in making you colder, not warmer like it is originally intended to do. A lot of helmets accomplish this with a breath guard while others can do it with the vents built in throughout the helmet.
Bottom line: find something that will breathe, but also keep you warm and dry.
Size
Snowmobiling is a sport that many choose to participate in for as little as an hour or so at a time or could last all day – for days in a row. Because of this, it is highly important to find a helmet that is comfortable for YOU! A helmet that may be comfortable for your friend may fit you very differently and end up giving you a headache.
Helmet designers are aware of how important this is and have made options. Some helmets are more comfortable than others, but if you're willing to do a little research and perhaps measuring, you are bound to find one that works for you. All helmets come with padding, but some of it is tighter fitting than others. Some companies size different than others. Make sure you consult each individual sizing chart and take the extra time to measure your head before making the purchase. This is critical and will prevent you from ending up with a helmet that is too tight or too loose, and you'll ultimately be happy that you did it in the long run. It is important to note here that each manufacturer will likely size based on their country's standards and they are not all the same! Base your measurements on each specific manufacturer's recommendations and you will absolutely be much happier with your choice and save yourself the hassle of having to return a helmet that is too big or too small.
To size, you want to get the biggest circumference of your head and use that. Start about an inch above your eyebrows and wrap around to the point on the back. Take a couple of different measurements above and below that general area and use the biggest one. If you happen to fall in between sizes, it is likely better to size up. You want to be able to get the helmet on and you can't do that if it's too small.
Comfort
As an added measure of comfort, most helmets also come with a liner. Also in most helmets, this liner is removable and washable. This is a good feature because it not only makes things a little more comfortable, it also allows you to stay clean and fresh as well – even if you do end up a little (or a lot) sweaty inside the helmet. Some of the higher end helmets will come with an anti-microbial and sweat-wicking liner, keeping things just that much more fresh.
Another potential benefit of the liner, depending on the helmet, is that it allows you to choose how much added warmth you want. This is helpful when you may have less predictable temperatures or the sun comes up, warming you more than anticipated mid-ride. There are thick and thin versions and everything in between to suit your preference and needs. Do note though, that your ability to wear a liner directly correlates with the size of your helmet. If you opted to get a tighter fitting helmet, your ability to line it will be very limited. On the flip side, if you fall between sizes and opted for a larger one, you can help it to fit a little more snugly by using a thicker liner. This is a win-win.
Style
Perhaps one of the biggest considerations and the one that brings all the other ones listed above together is what type of helmet do you want?
The full face gives the ease of just one piece. It is a helmet, chin guard, and face shield all in one. It gives excellent protection with minimal chances of pieces breaking off. All of this makes it safer, all in one package. However, it can also be a pain to get on and off and is a lot harder to customize to your liking. Breathability is a bigger issue here as is access to your face, should you need to scratch your nose.
Modular solves all of the problems presented by the full face helmet. It easily flips up or comes off giving you quick and easy access to your face for whatever reason you may need it. It also vents much easier, helping to minimize fogging up problems. All of this comes at a price, however, and you do lose some of the guaranteed safety you get when you have only one piece as in the full face model. Things are more likely to break because there is greater access to them. Modular does win in the comfort contest though, no questions asked.
The open face has its own problems and advantages as well. It is much more comfortable if you have any sense of claustrophobia. You are able to feel the wind on your face, for better or for worse, but also hear the noise of the wind at a much greater level. You can choose your own eyewear and have the visibility that is unmatched in either of the two other types of helmets. Safety wise, this one is bottom of the pack as it covers less of your head. It does get the job done though and meets all required safety standards. It'll typically be the cheapest option, which can also be appealing.
BEST SNOWMOBILE HELMETS REVIEWED FOR SAFETY


This helmet is absolutely one of the best. It is Safety Approved and provides industry-leading crash protection in the event of an accident. It is well ventilated and comes with a Cold Weather breath box that is easily installed. You'll be comfortable and happy in this aerodynamic helmet.
Cold Weather Breath Box
The cold weather breath box that comes with this helmet is easily installed and removed. It is a must when snowmobiling because it will keep you both warm and dry - which anyone who has spent any time in the snow knows that it's much colder once you're wet. This breath box functions well in even the harshest conditions.
Aerodynamic Visor Feature
The aerodynamic visor feature locks into place in a top center mount. This is awesome because it stays place and prevents any unwanted movement, which is a major problem in many snowmobile helmets.
Cost and Value:
This is the second most expensive helmet on the list. However, you are paying for a VERY high-quality helmet. The company is incredibly focused on safety and this helmet reflects that. If you're looking for a helmet that you have no doubts about its safety this is the one for you despite it's higher price tag.

2

. IV2 Dual Visor Modular Flip-Up


This Professional Grade helmet is DOT safety approved and is made by a company that has 20 years of experience in the development and production of quality helmets. It has room for Bluetooth and your sunglasses and a liner that is fully removable. It is comfortable and allows for good ventilation.
Ventilation System
The YEMA ventilation system is very functional. It has fully adjustable intake and exhaust vents that allow excellent airflow throughout the helmet. Any sort of fogging that may happen when sitting is quickly dissolved once you start up again. There is no excessive heat or difficulty seeing.
Comfortable Liner
Not only is the liner fully removable and washable, but it is also made of antimicrobial fabric. It starts fresh and will stay fresh no matter what you put it through. There is a chin curtain (great for blocking snow that flies in your face) and a reinforced chin strap that ensures a good fit.
Cost and Value:
Overall, this helmet is a great buy for the price. It's not too expensive and offers a lot of the luxuries found in more expensive helmets. This is a cost-effective helmet that those who don't want to sacrifice quality but also don't want to shell out a ton of money will love.

3

. FreedConn Motorcycle Bluetooth Helmets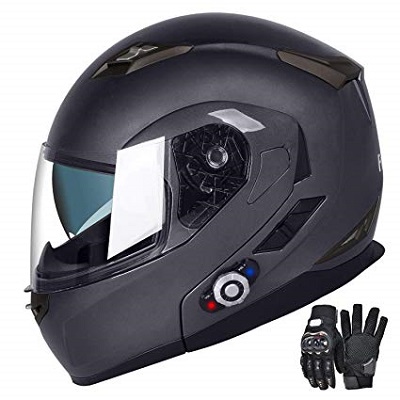 Safety first, this helmet is DOT approved. It has a dual visor and has the ability to convert from a full-face to an open-face helmet. It is easily and quickly controlled while wearing gloves - which is a must when taking temperature into consideration. It is lined and ventilated with the ability to fully remove and wash the interior when it starts to smell a little less than fresh.
One button, One-Hand Flip-up System
The one button, one-hand flip up system that converts the helmet from a Full-face Helmet to an Open-face helmet allows for much convenience. You get the protection of a full face, but the ease and ventilation of an open face. Once mastered, it is an easy, smooth transition from one to the other.
Lightweight, Durable Shell
A heavy, bulky helmet is a big no go. It takes a lot of the fun out when you are spending all of your recreation time focused on keeping it on your head. That is not the case here. This helmet is lightweight, aerodynamic even without a windshield, but still manages to feel sturdy.
Cost and Value
This helmet is on the expensive side but comes with some great features for fun and safety. It offers great ventilation and built-in sunglasses for eye protection.

4

. AFX FX-39 Full-Face Dual Sport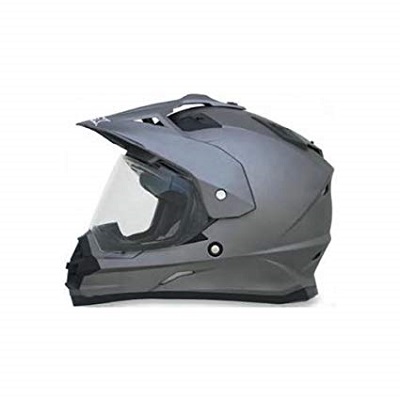 This sleek, head-turning helmet is safety approved and has a lot of nice features. From it's plush like a hypoallergenic and antimicrobial liner to its lightweight build you can't go wrong with this AFX FX-39. It is largely water resistant and incredibly well ventilated. The value of this helmet at its price point is unmatched.
Ventilation
This helmet has the ability to keep you nice and warm on a cold winter's day when the wind is whipping past you on your snowmobile. Amazingly, it also has the ability to keep your head cool and dry should you choose to wear the same helmet on a motorcycle in the middle of the summer. Shockingly, it will also keep you dry in both circumstances as it is water resistant. This is a win-win for everyone.
Removable Everything
Everything on this helmet is removable. From the visor to the liner to the cheek pads, they can all be taken out and washed. This is especially helpful should things start to get a little sweaty and smell the part despite the antimicrobial properties of the material. It also brings comfort knowing that you're not damaging the safety or construction of the helmet by removing pieces to clean them.
Cost and Value:
This is easily the most expensive helmet on the list thus far. However; it is also the highest quality helmet on the list thus far. If you take all the best aspects of the other helmets, they can be found here. Every penny is well spent here and once you have this helmet you will be shocked that it didn't cost more than it does.

5

. Core Vintage Open Face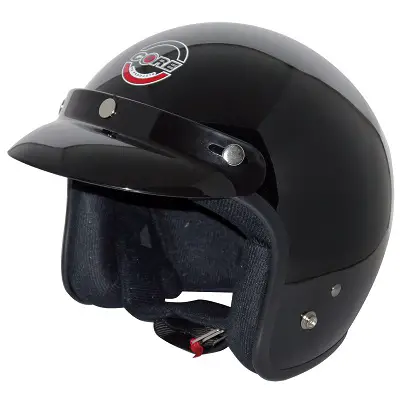 This helmet pulls together the look and feel of a Retro Helmet made in the 60s but has all the modern safety features of a helmet made today. It's the best of both worlds. It's simple and straightforward and exactly what you may be looking for. It has a comfortable lining, a sun visor, and is painted with automotive paint which makes it extra shiny.
Safety Features
Not only does it meet the DOT FMSV218 standard for safety, but it also goes above and beyond that. The combination of the outer shell and the absorbent inner liner absorb and dispel the force of impact in the case of a crash. Though it looks vintage, the safety features are anything but.
Simplicity
Sometimes all the bells and whistles are too much. It can be easier and more convenient to just have exactly what you need. This helmet allows you to choose your eye protection, as it isn't included, attach Bluetooth without interference, has a straightforward and secure under chin fastening, but also allows you to attach snap shields should you desire. It's very customizable, which is something the fancier models can't compete with.
Cost and Value:
This is a very inexpensive helmet. Don't let that lead you to believe it is cheap or unsafe though. It is a far cry from either. It is well built to withstand a great amount of force, has the safety ratings to prove it, and will serve you very well for a long time without much investment on your part.

6

. X4 Modular Flip up Anti Fog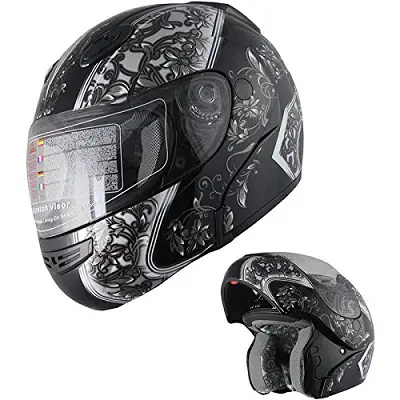 This modular anti-fog helmet does exactly what it is supposed to. It flips up easily for easy wear and removal, but also sits snug and secure while in use. It comes in different sizes so you can best fit your head. Like the last helmet we covered, this one is also specifically a Snowmobile helmet.
Flip Up Opens Easily
Having a flip-up helmet that you have to fight with to get up is a real buzz kill. This is not an issue with this helmet. The flip up works exactly as it should - smoothly and easily. You can quickly and easily access your face for whatever reason as well as quickly and easily remove the helmet.
Sizing
Sizing is exactly as it states. Often times, the biggest complaint with any helmet bought online is that it doesn't fit like it says it will and you have to order a size up or down. This helmet measures exactly as the company says it will so there should be minimal issues with choosing the size that you need.
Cost and Value:
The X4 Modular Flip Up Helmet is priced appropriately. It is about the middle of the pack cost wise and it's price accurately reflects all of its features. It's a good helmet for the price and will serve you well.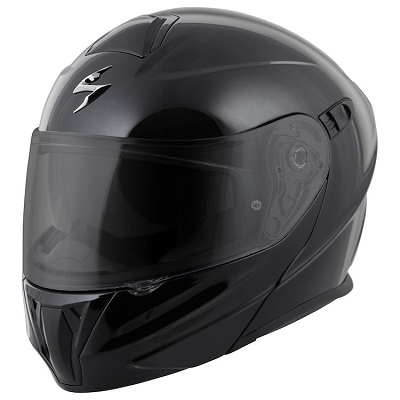 This helmet has a lot of good features that will cater to those who want it all from their helmet. It is lightweight but strong. Has all the benefits of a modular helmet - including a modular chin bar. There is a retractable sun visor, moisture wicking liner, and state of the art anti-fog technology. Most importantly, and obviously, it is DOT certified. This aerodynamic, sleek, and comfortable helmet is sure to meet the needs of all; even those who only want the finer things.
Ever Clear Anti-Fog Face Shield
There is no match for the anti-fog faceshield on this scorpion helmet. It's state of the art technology keeps you fog free and allows you to see optically clear. In addition, it has UV-A and UV-B protection and also comes with an anti-scratch coating. Win-win here.
KwikWick II Washable Comfort Liner
This liner does everything you want it too. It is anti-microbial to keep you as germ-free as possible in an enclosed, moisture filled space. If that's not enough, it is fully removable and washable to really keep things fresh. The fabric is also designed to wick away moisture keeping you cool in the summer and warm on your snowmobile in the winter. Plus it's comfortable which is definitely a requirement in a helmet you plan on wearing for extended periods of time.
Cost and Value:
This tops the list in price. However; you won't feel bad at all about spending the extra money. The liner, anti-fog technology, and cool sleek, but safe, the shell will be sure to keep you satisfied. It's absolutely worth spending the extra money if you are one who believes that you pay for what you get. Rest assured that that is the case here.

8

. ILM Full Face Street Bike Helmet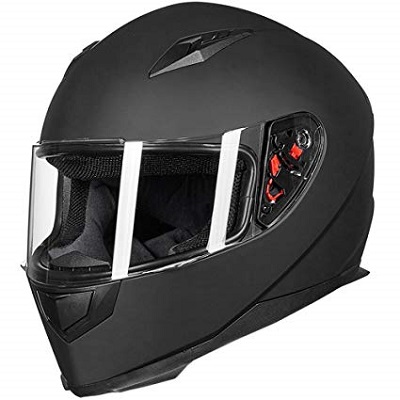 As with all the others on this list, the ILM Full Face Helmet meets all the required safety standards. It is streamlined and aerodynamic as well as lightweight. As an added bonus, it comes with two visors - a clear one and a smoked one for those bright and snowy days. It also has a winter neck scarf and quick release strap.
Streamlined design that reduces noise
Perhaps one of the biggest complaints of a helmet is how loud it is. It's hard to manage the amount of noise produced when the wind is whipping past as you fly through the snow. This helmet seems to fair better than others on that front. Less noise means you don't have to block out that distraction and will better be able to focus on enjoying your ride.
Comfortable
By and large, this helmet seems to be the most comfortable of all those on this list. It fits snug and secure, has the soft (warm!) winter liner, and a chin strap that doesn't dig in. These are all critical parts of something you will be wearing for hours at a time.
Cost and Value:
You're definitely getting a good deal with this Full Face Helmet. It has all the bells and whistles - two visors, winter liner, room for Bluetooth. It runs near the bottom of this list cost wise, so you can't really go wrong with this helmet if you're looking to save a few dollars. You aren't compromising quality but also won't be compromising your wallet.

9

. Raider Snowmobile Helmet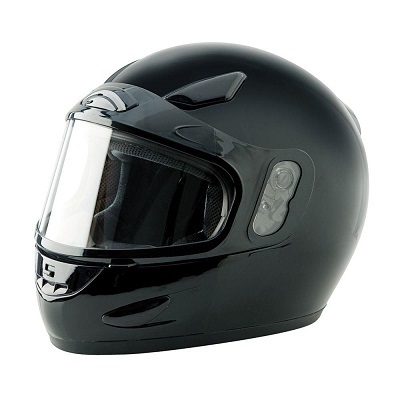 Unlike a lot of others on this list, this Helmet is built specifically for Snowmobiling - that can be a more or less than desirable depending on what you're looking for. It keeps you warm but has room to add a 'baclava' warmer if you would like. It is a straightforward, quality helmet that comes in 3 different shell sizes to help ensure the right fit.
Straightforward, Simple Design
This is a full-face helmet without any frills. No need to worry about extra parts falling off or breaking - because there aren't any. That being said, it is quality construction, lightweight, and will very successfully do the job of protecting your head.
Built Specifically for a Snowmobile
While most helmets on this list are approved for motorcycles as well, this one is specifically for Snowmobiling. That means it's warm enough to deal with the snow and has the option to make it warmer if needed. There's no sifting through motorcycle speak or getting confused about what is being said.
Cost and Value:
This helmet runs middle of the pack of the helmets included on this list. It's not the cheapest, but certainly not the most expensive. If falls right there on features too - meets all the basic requirements without many frills. Overall, you're getting what you pay for with this helmet.

10

. Snocross Helmet & Goggle Combo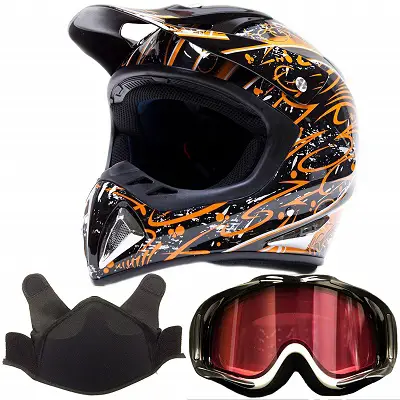 This helmet is unique in that the helmet and the goggles are completely separate. That being said, they do come together and are meant to work together so they fit and function as one. The goggles are fog resistant and excel at keeping your face warm. The helmet meets safety standards and will satisfy all your snowmobiling needs.
Helmet, Goggle, and Breathguard Combo
Unlike the others on this list, this Snocross helmet comes in completely different pieces. This adds functionality as you can take everything apart for cleaning or for simply customizing for the particular ride you are on. Despite being separate pieces, it all fits together like a dream and will live up to any expectations you have for a helmet.
Goggles
The goggles that come with this modular helmet are next level. They have triple foam construction, fit snugly, and have a silicone-ribbed strap. They are strong and durable and come with two lenses - clear and rose - so you can customize as appropriate. They also come with anti-fog coating and a handy case to store them in.
Cost and Value:
You are getting a big bang for your buck with these Snocross goggles. It comes as a combo in two pieces, but only carries the price of a standard helmet. There are others on the list that you are paying more for just the helmet than you do for both the helmet and goggles here. This is a solid, durable helmet + goggle combo that will serve you well - especially for the very reasonable price tag it carries.

Subscribe to our Newsletter