Best Tree Stands & Ladder Stands for Hunting Reviewed
There might not be a better adrenaline rush than when you wake up early in the morning on a hunting day. You know that this day could bring you the best haul you have ever had, and the dream of bringing down a 7 pointer, or even a larger deer or animal, is always at the forefront of your mind. You might spend your days leading up to your hunting day daydreaming about what it would feel like to take one of those kinds of animals down. The question is, do you truly have the right equipment to be in the right place at the right time to accomplish your goal?
Featured Recommendations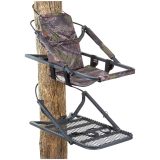 Guide Gear Extreme Deluxe

Our rating
built strong, with a durable and sturdy steel
Price:

See Here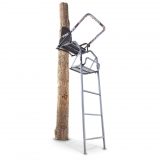 GUIDE Gear 16 Foot

Our rating
Heavy-duty steel construction for seasons of use
Price:

See Here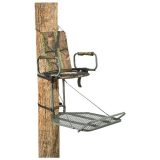 Guide Gear Deluxe

Our rating
Quick setup and superior comfort, guaranteed. 300-lb. weight capacity
Price:

See Here

One of the ways which you can ensure you are in the right spot at any time is by utilizing a tree stand. You might have some of the best shooting equipment available to you, but as you know, if you are walking around like a bull in a china shop, you will never get close enough to any large game to make use of your shooting equipment. By taking advantage of a tree stand, you can set yourself up on a perch, out of sight from any animal, and you can wait for those animals to come towards you, where you can then make the perfect shot.
Within this comprehensive review, we are going to look at every aspect of a tree stand, and answer some of the most asked questions. What are the different types of tree stands? What are the advantages and disadvantages of each tree stand? What are some of the best tree stands available within the market today? We'll also provide you with a section that covers other Frequently Asked Questions, all in a quest to ensure you have all the answers you need to find the tree stand that is most suitable for you.
10 Best Tree Stands
1. Guide Gear Deluxe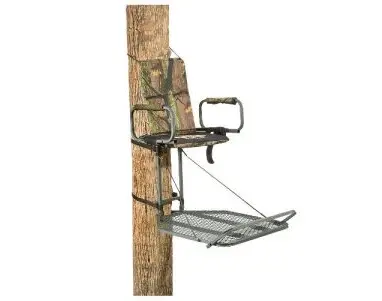 This hang-on tree stand has a 300 pound capacity, along with a 17" x 10" seat which is suspended. The seat is 21" high, and is covered in padded camouflage. This stand has support for your back as well, with a backrest which will ensure your back doesn't tighten up on you over long sits.
Expand to see more
This hang-on tree stand also comes with a 24" by 29 ½" platform, made out of a thick mesh, which is supported by cable supports. This stand is made out of steel, which is covered with a coated surface to ensure it does not corrode over time. The stand comes with a safety harness for safety and security.
Has a 300 pound capacity
Covered in padded camouflage
Comes with a 24" by 29 ½" platform
2. Guide Gear Extreme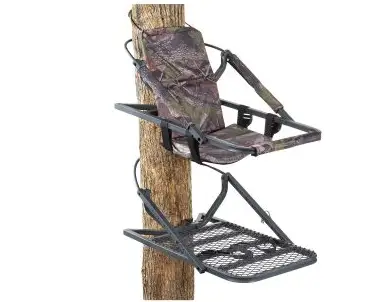 This climber tree stand is constructed out of steel, which means you can feel safe and secure while up in the tree. With a 10" x 17" sling seat which is encased in 1" padded foam, along with a backrest that is 18" x 14", you will feel the comfort every time you utilize this stand.
Expand to see more
To add to this comfort, this stand comes with a padded climbing seat bar, armrests and backrest. The platform is a large 19" x 26", and this tree stand can support up to 300 pounds. This stand comes with foot straps made out of nylon, which allows for easy and quick climbing. This tree stand weighs 33 pounds, which makes it easy for transport.
Comes with a 10" x 17" sling seat
Comes with a padded climbing seat bar
Foot straps made out of nylon
3. Guide Gear 16 foot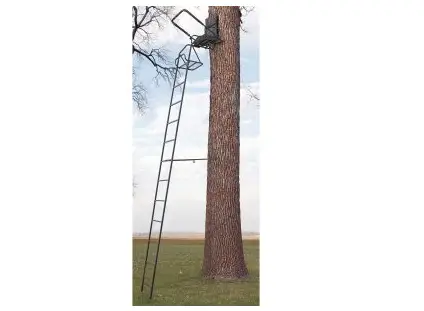 This ladder stand, which is intended for one person, goes up to a height of 16 feet and is made completely out of a steel construction. It comes with a platform which is 17.25" x 12.25", along with a padded 19.25" x 13.5" x 21" seat, which provides you with the comfort you need for the long nights, days or mornings when you hunt. This ladder stand also comes with an extra accessory, which is a flip-up rail, giving you an extra level of stability while shooting.
Expand to see more
This ladder can hold up to 300 pounds, and weighs 52 pounds overall. This ladder stand has been tested out in all different types of climates. In addition, Guide Gear brought in various outdoorsmen in order to scrape away any unnecessary frills, and provide you with the what you needed the most, in the most durable and comfortable way possible.
Goes up to a height of 16 feet
Completely out of a steel construction
Can hold up to 300 pounds
4. 18' Sniper Ladder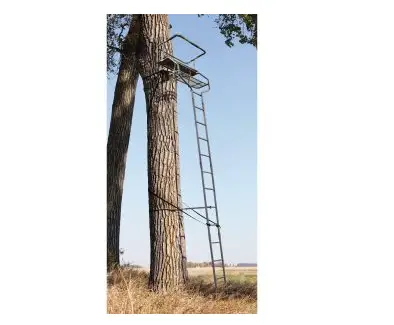 This two-man ladder gives you the flexibility needed to hunt with a buddy, while also providing the stability and durability needed to hunt successfully. This ladder goes up to 18' high, allowing you to find the right perch needed for any animal you are hunting. This also comes with a padded rail flip, which allows you to shoot steadier for any shot that is needed.
Expand to see more
This ladder is made out of steel, and comes with a 37" x 13" platform, along with a seat that is 38" x 13". The seat comes with a 1" cushion, and has a seat height of 17". This tree stand can accommodate up to 500 pounds safely, and needs at least a tree which is 9" in diameter. The ladder weighs 65 pounds, and comes with 2 safety harnesses to provide safety and security.
Two-man ladder
Goes up to 18' high
Comes with a padded rail flip
5. Big Dog Foxhound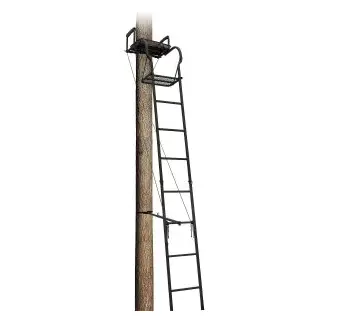 This 16' one person adjustable ladder is constructed out of steel, yet only weighs 41 pounds. This tree stand comes with a seat which is 19 ½" x 12", as well as being 21 ½" tall. The seat is padded with a 1" pad, and also comes with a padded arm strap, ensuring you stay comfortable while on the lookout for the game you are hunting. This ladder also comes with a foot platform which is 17 ¼" x 12" in size.
Expand to see more
This ladder can support up to 300 pounds, and comes with the necessary straps to ensure you stay safe, including their fall-arrest safety system.
Can support up to 300 pounds
Adjustable ladder constructed out of steel
The seat is padded with a 1" pad, and also comes with a padded arm strap
6. Guide Gear 24" x 29 ½"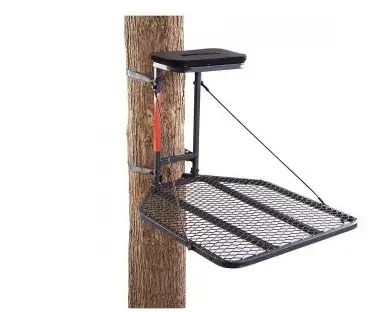 This one person Hang-on tree stand is made out a steel construction, which is coated to ensure it does not rust or corrode out on you. This hang-on stand comes with a padded seat which is 14" wide x 8" deep, and sits 21" above the platform.
Expand to see more
Talking about the platform, it is made out of mesh material, and is 24" x 29 ½", making it one of the larger platforms within the market. This comes with a two ratchet straps, to ensure you are stable and secure each time you are in the tree. This stand can hold up to 300 pounds, and weighs 21.5 pounds for convenient transport.
Made of steel construction
Comes with a padded seat
Platform made out of mesh material
Straps might not be sturdy
7. Millennium M150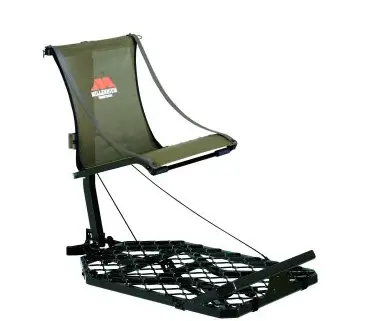 This one person tree stand comes with a V-Brace technology, which gives you the stability and strength you need while also only weight 19.5 pounds overall. With this tree stand, you are given an adjustable seat, so you can find the right height for you, which is between 17" and 20". In addition to this, you can also adjust the lean of your seat – rather than always sitting at a 90 degree angle, you can adjust the lean by 15 degrees, so you can perch on a tree which might be leaning a little bit. You also receive a leveling system, so you can always ensure you are as level as possible while perched looking for your next shot.

Expand to see more
With its Silent Hunt Design, you can ensure you are completely quiet while setting up your stand for each and every hunt. In addition, this tree stand comes with a CamLock receiver, which gives you the flexibility to set up some pre-set settings, so you can set up your tree stand at a few different locations, and then put it in the right setting. This way, you do not have to change the settings manually each time, which saves you time and makes you much more efficient out in the field.
Only weights 19.5 pounds
Comes with an adjustable seat
Silent Hunt Design
8. Summit Treestands 85249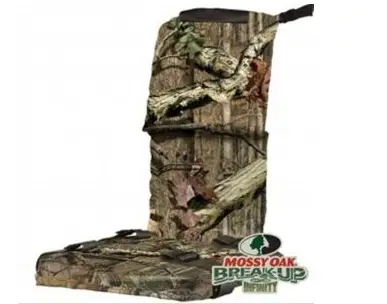 Maybe you have a tree stand already, but just need to replace the seat you currently have. If that is the case, then this seat might be the best option for you. Covered in dual foam padding with a camouflage print, this universal seat will mold right into most tree stand seats.
Expand to see more
It comes with four rubber buckles, which allows you to easily and quickly change this seat out. This seat can also be cut, to allow for anyone to utilize this seat. Although it is easier to use with other Summit tree stands, by allowing you to cut it, meaning it can be customized to fit any tree stand out in the market.
Comes with four rubber buckles
Seat can also be cut
Covered in dual foam padding with a camouflage print
9. Tangkula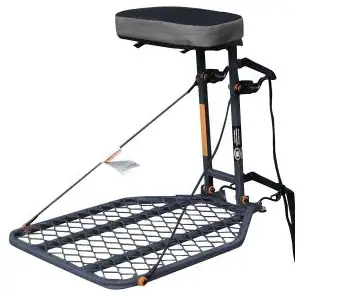 This one person hang-on tree stand, constructed out of a steel material which provides you with the necessary security and stability, weighs 20 pounds for easy transport.
Expand to see more
The platform is made out of a steel mesh material, and is 20" x 24", and is 21" below the seat. The seat is 9.4" x 14.5", and has a 1" padded foam to offer you comfort for as long as you use the stand. This stand can hold up to 300 pounds.

Constructed out of a steel material
Offers support for your back
Can hold up to 300 pounds
One person hang-on tree stand
10. Guide Gear 13'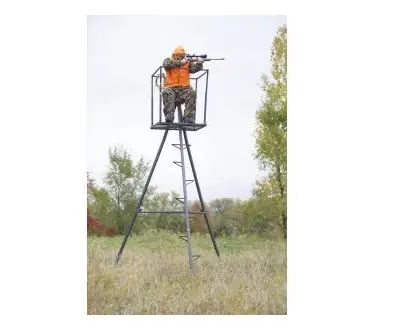 This one person deer stand is not a tree stand – you don't need a tree in order to utilize this stand, which makes it very unique within this marketplace. This stand is built upon a 3 legged tripod system, which comes with a 360 degree swivel platform. You have a 19" x 14" seat, which is fully padded.
Expand to see more
The platform is a square, 34" x 34". Made completely out of steel, the tripod legs have six different adjustment points on them, so you can be level no matter what terrain you set up on. This deer stand is constructed out glare free steel, and can support anyone up to 300 pounds.

Easy to assemble 
Portable
Rotating chair
11. Millennium Treestands L-110
MIllennium makes really good, reliable treestands. That much I know, though I hadn't heard of them before starting this review. When you look at this particular one though, with its simple yet sleek design, high quality padding and sturdy construction, it becomes totally obvious. This single ladder tree stand is the perfect companion for the solo hunter who wants the most out of their hunt.

Expand to see more
Steady as she goes
I've looked at treestands with armrests before, so that much is new, but what I haven't seen, until now, is a padded rail added specifically to help you steady that perfect shot.

So much comfort
The Millennium Treestands L-110-SL Single Ladder Stand with Folding Seat has padding almost everywhere you could think of. It's comfortable enough to keep you out hunting all day without getting sore.

Cost and Value
This ladder stand is a bit on the pricier side of things, but that can both be expected and justified by the fact that this is a Millennium product, so you know that you'll be getting top quality construction and unparalleled versatility with your purchase.

Contoured padded seat for comfort

Strong welded steel construction

Padded shooting rail to steady shot

Designed for all day use
Difficult to set up

Not the quietest seat
12. Ameristep 15-Feet Two Man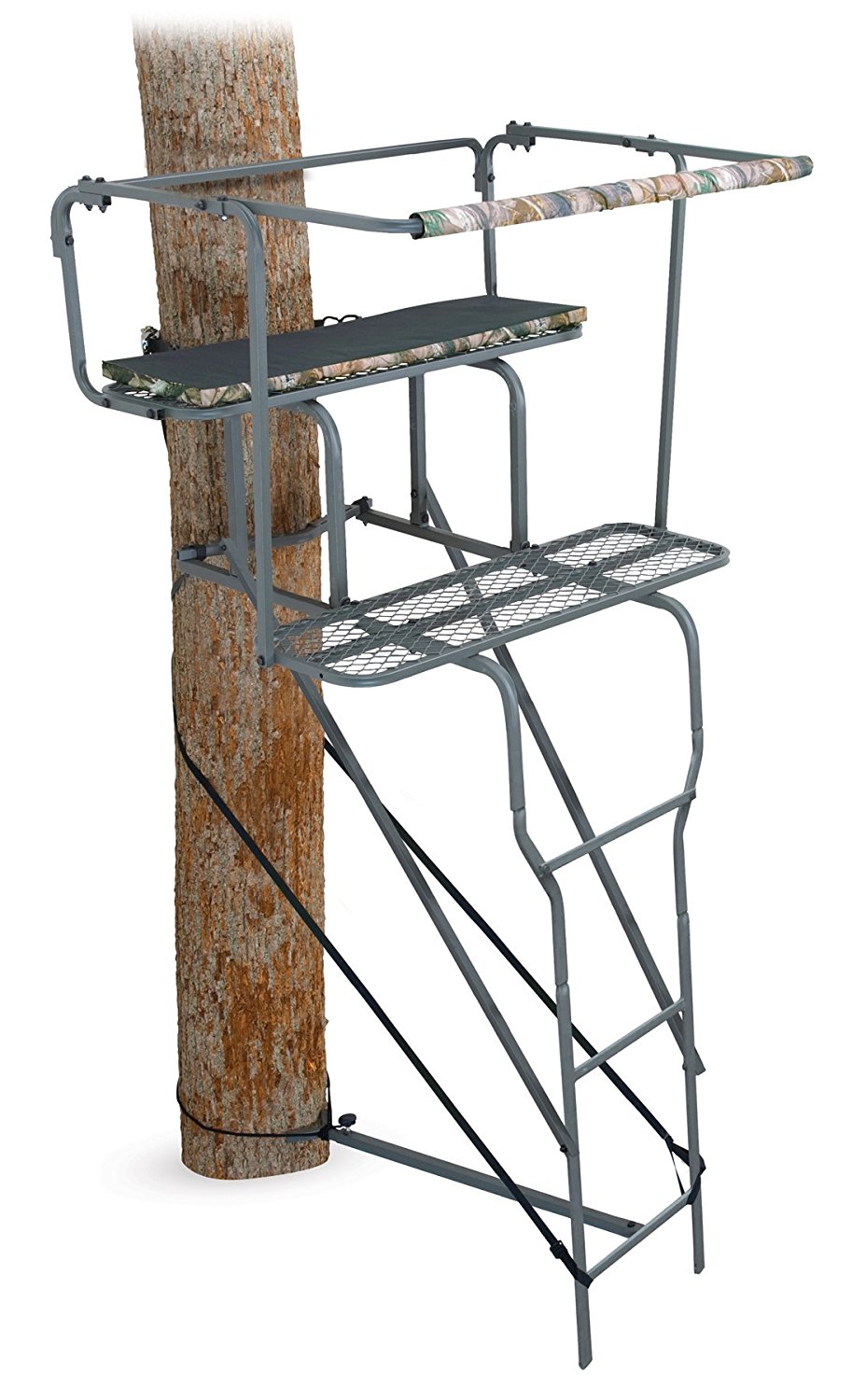 This Ameristep 15-Feet Two Man Ladder Stand is avery no-frills stand perfect fo those who just want to go hunting, and would rather not concern themselves with unnecessary add-ons and features. This one consists of a ladder, a frame, and a padded seat, which in turn makes it easy to transport and set up. That's it, because really, that's all you need.

Expand to see more
Holds up tough
Ameristep went ahead and powder coated the frame of their tree stand, because on top of classic, strong construction, they want their stands to hold up to the elements for years to come.

Roomy
Of course it's roomy. It`s marketed as a two-person treestand. Unfortunately, there are many stands advertised as being for two people, but when you get up there, they must mean two very small people. In this case, it's meant to tow full sized adults.

Cost and Value
Despite its increased size, this stand manages to still remain one of the best priced pieces on this list. Thanks to its simplistic design, fewer materials are required, therefore making it cheaper for the consumer.

Plenty of room for two hunters

Two harnesses included

Powder coated for protection

Easy to assemble
No back brace

Flimsy feel to it
13. Millennium Treestands L220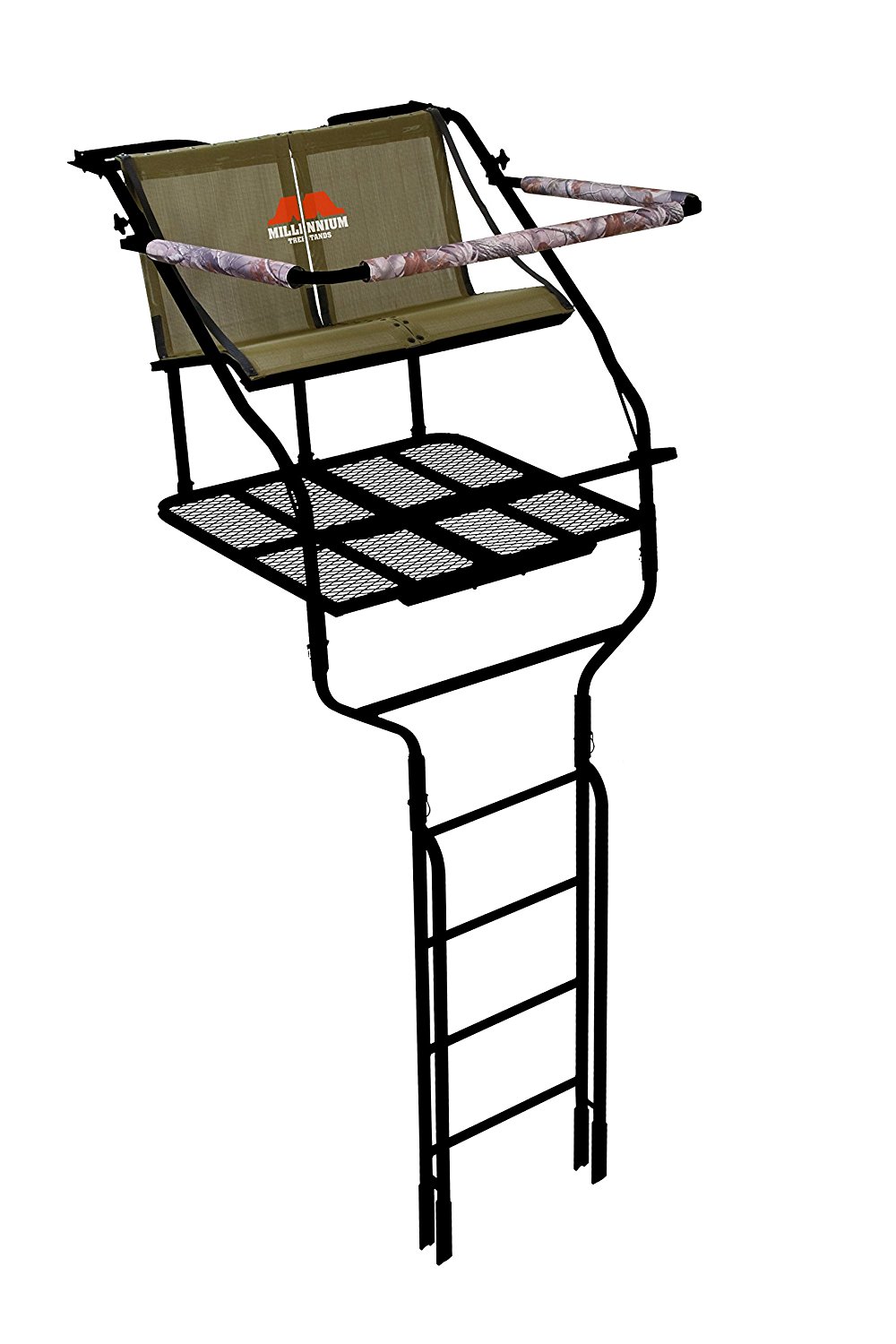 For the final time on this list, we`re back with Millennium once again. This one makes the list because I wanted to highlight their top quality construction, but in a two person option. Granted, this one is more ideal to hold one hunter plus a whole bunch of gear, but it can accommodate two hunters without skipping a beat.

Expand to see more
Comfortable seating
THought he stand itself may seem a bit cramped for two people, that's mainly when up and moving around. While sitting in the spacious bench seat however, you have room to spare.

Hunt in style
This is a first. I haven't seen a tree stand that is concerned about a hunter`s comfort and well being that it comes equipped with a folding footrest. A very nice touch.

Cost and Value
Millennium is known for producing top quality tree stands that hold up to the test of time and deliver great performance. Taking all this into account, it's easy to list this stand as a solid value despite being one of the most expensive.

Built solid to last

Fully adjustable shooting rails

Folding footrests

Bench seating is ideal for two hunters
Difficult to put together

Expensive
14. X-Stand The Duke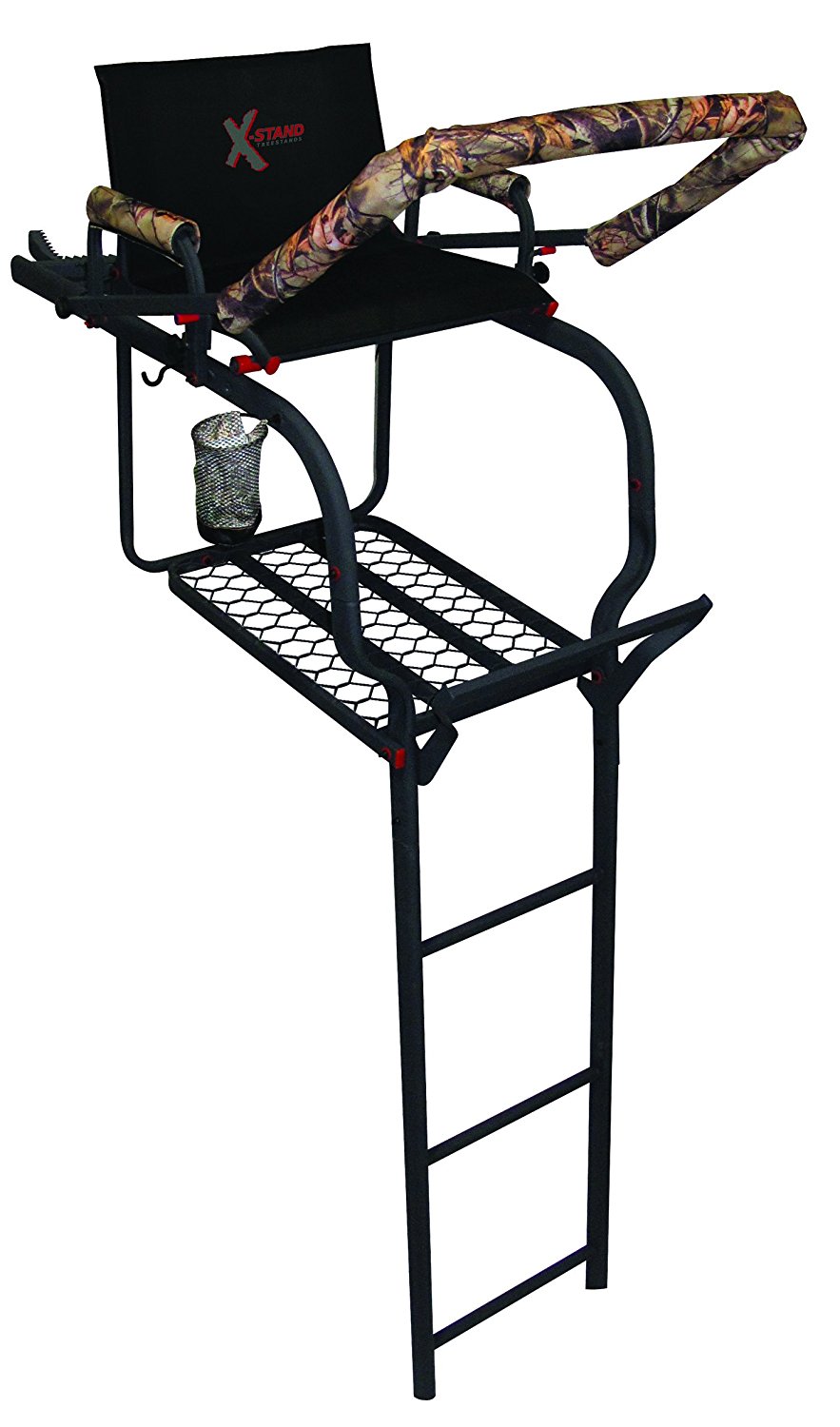 The "Duke" is a high end treestand meant for the most extreme hunter who won't rest until they bag their trophy.Everything about this stand is done to an extreme, with it's huge 300 pound capacity and thick padded seat cushion. It's clear that X-Stand wants their stands to be remembered for their quality, and they will.

Expand to see more
Safety first
Unfortunately, many, but not all tree stands come with safety harnesses included. It should be mandatory for all of them, especially when you may find yourself setting yours up alone in the woods. Kudis to X-Stand for including theirs.

Holds up well
When I boast about this stand's 300 pound capacity, what I mean is that it can easily handle a hunter and any gear he may feel is needed on his hunt.

Cost and Value
For a single person tree stand, this one is up there in cost, even after you figure in all the features included. It's a great value for hardcore hunters, but for the average sportsman, it can be a bit daunting.

Can hold a lot of weight

Included safety harness

Large, comfortable seat

Powder coated frame
Difficult for one person to set up.

Very heavy
15. Summit Dual Pro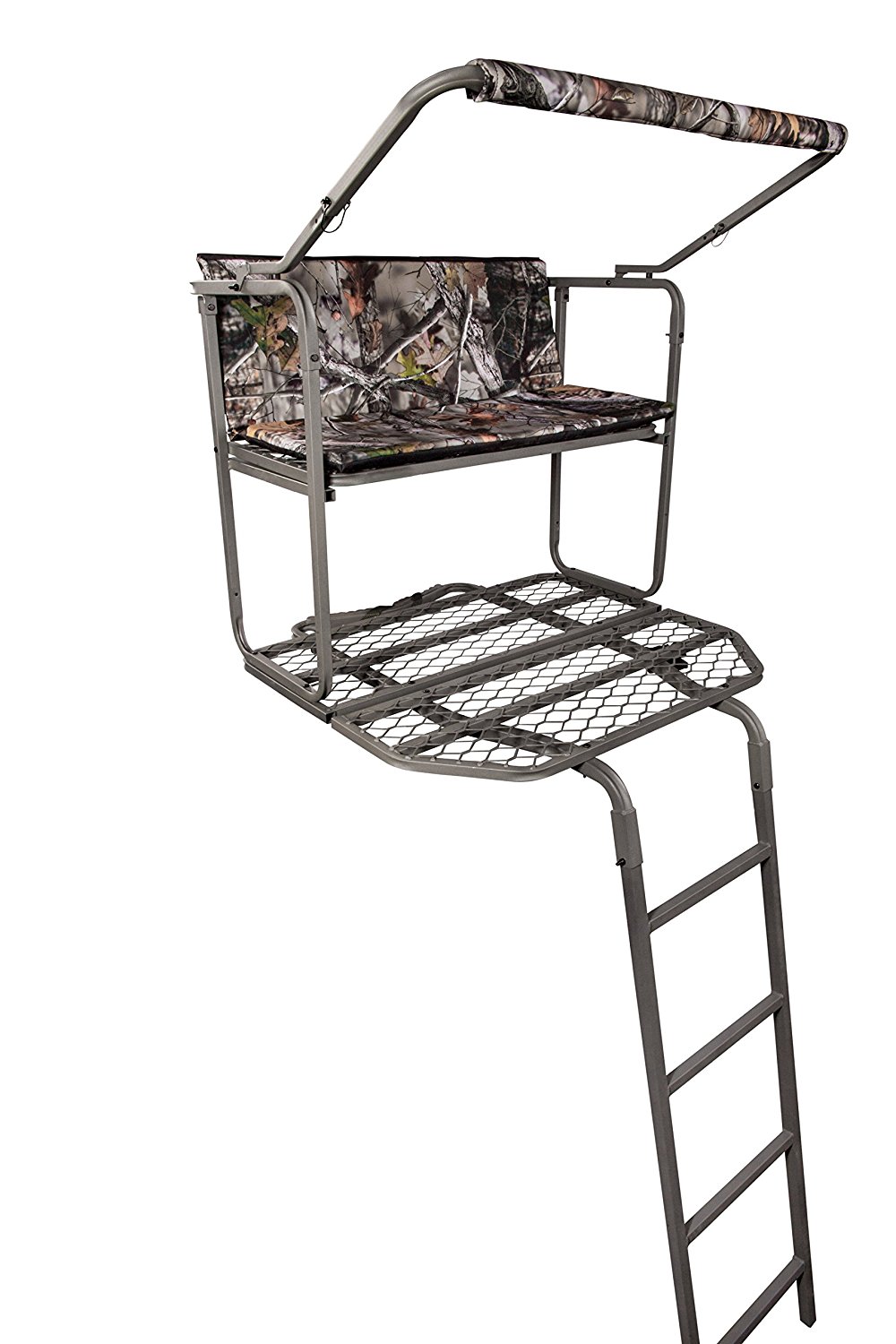 I'm ending this list with one of my favorite products. While it may seem a bit biased, a quick review of the Summit Dual Pro Ladder Stand should have everyone agreeing with me. As far as I'm concerned, it's the Cadillac of tree stands, offering a perfect blend of performance, style, and strength that is rarely ever seen on the market today.

Expand to see more
Do it yourself
Of all the ladder stands I've looked at, most of them are heavy and bulky enough to require set up my at least two people, even if they are meant for one. This one happens to be the opposite, letting one person set up while the other takes care of other tasks.

Stay dry
The backing to this treestand is polyurethane coated, making it water repellent enough to help keep you dry on those rainy fall hunts that would otherwise prove to be quite miserable.

Cost and Value
This ladder stand is made to give great performance and have unmatched functionality, and it shows immediately. It's very well designed and offers great value, making it's high price point seem quite justified in comparison.

Durable, water repellent fabric

Easy to install for a single person

Lots of padding

Removable gun rest
Heavy and difficult to pack in

Quite short
What makes a Great Hunting Tree Stand?
When looking at what makes a great hunting tree stand, there are a few different factors to choose from. First and foremost is the type of material it is made out of. Although most tree stands are made out of steel, there has been some movement towards having some made out of aluminum. Aluminum is a lighter material, which also means they will not be able to hold as much weight in the tree, and they will be less durable over time. Depending upon what your needs are, you will need to ensure you have a tree stand that is made out of the right material.
Most tree stands, no matter if it is a ladder, hang-on or climbing, have padded seats to provide you comfort. However, the size of the seat is important, as you need to know which size of seat best suits you and your style of sitting. You might be comfortable with a smaller seat, or you might need a larger seat. It's always better to err on the size of having a larger seat, as it is better to have a seat that is big rather than dealing with a smaller seat.
In addition, one other feature that sometimes gets overlooked, but is important, is whether or not you have a place to put your weapon where there is no action going on. Not only should your tree stand have a place for you to rest your weapon, but it needs to be a place where you can easily access the weapon in a quick manner, so you don't miss out on any opportunity. This will help keep your arms loose and ready, and allow you to make a more accurate shot.
Because you are planning on being out for a while on a tree stand, you need to ensure you have as much comfort as possible. This means you need to have a tree stand which gives you the right amount of height from your seat down to the platform. You also need to ensure you have a big enough platform to be able to keep various different accessories needed, including ammunition, food, drinks and any other accessories, like a caller or binoculars.
Lastly, you need to ensure you have a tree stand that allows you to get to the proper height you need in order to see everything that is going on around you. This does not always mean you need to be higher than everyone else, but you need to be able to perch yourself in the right spot, no matter your environment. If you need to go higher, then you need to have the capability of doing so. However, if you need to be lower, then you should have the flexibility to attain this.
In addition to all of this, making sure you have a tree stand that you can easily take up and down and move is vital towards your success on any hunting trip. The quieter and more efficient you can move, the more time you can spend actually hunting, rather than getting set up for hunting. By doing this, it sets you up for a greater chance of success for each and every hunting trip you take.
How to Choose Which is the Best Tree Stands for Hunting
There are three different types of hunting stands available for you to choose from. You have a Ladder Stand, a Hang-on Stand and a climbing tree stand. Each of these three options give you some flexibility and choices on where to setup. Each one is better for one kind of environment compared to another. And of course, they also have a wide range of pricing available, depending upon what your needs are, and how long you want it to last. Whether you are looking to purchase a tree stand for the first time, or if you are looking to upgrade, knowing which one will be the best fit for you and the terrain you typically hunt in is typically your first step, to help narrow down the choices.
Ladder Stand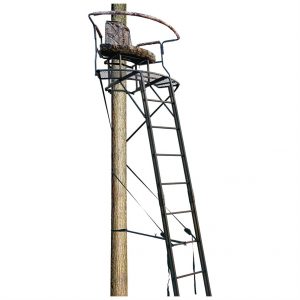 Ladder Stands are a great way to break into the world of using a stand when you hunt. A typical ladder stand will rise up to about 15 feet in the air, with a sitting platform at the top of the ladder. In order to set up the ladder stand, you have to extend it out on the ground, and then lean it against a tree, while being aware of different branches which might be protruding out. You also need a tree which is a little bit straighter, as a crooked tree could cause an issue, depending on where the curve is within the tree.
Another advantage of the Ladder tree is that almost any kind of tree is perfectly acceptable to rest up against. Being you will most likely be in the woods, it's just a matter of finding the best location, and setting up your stand. As with picking out any tree, the wider the trunk, the sturdier the tree will be. Once you set up your ladder, all you have to do is climb up the stairs, secure it, and you'll be ready to hunt in no time. In addition, most ladder stands can support someone who is 250 pounds or bigger, so this option works for a wide variety of people.
There are also ladder stands available which can support one or two people, where the weight of the stand can obviously withstand a lot more weight. Those ladder stands offer a very wide platform at the top, which not only allows you to be comfortable with two people, but gives you enough room for when you are ready to take a shot, you are not bumping into each other. If you are taking your son our daughter out for a hunting trip, this is a great option to ensure they the two of you get to spend some great time together, and help them learn the tricks and tips of hunting.
However, there are a couple of drawbacks with the ladder stand.
The first is the weight of the actual stand – a typical ladder stand will weigh around 75 pounds. This means that it will typically take two people to set up a ladder stand. Although not impossible to do by yourself, because the ladder stand is a little bit more cumbersome and awkward, it is tough to maneuver by yourself. Due to needing to strap the ladder stand at both the mid-height point, as well as at the top where you will be sitting, from a safety perspective, it is important to have someone at the feet of the ladder stand to hold it in place while you are strapping.
Due to this process taking a little bit longer, for both setup and tear down, it is not a very agile stand. If you are sitting at a spot for a couple of hours, and have not seen any animals cross your path, and you want to move, it is a process as far as taking it down, moving it, and setting back up. This all takes precious time, time which could be used for hunting, rather than setting up.
Lastly, the height you can be at is already pre-determined. You can go no higher than what the ladder extends – you can set it up lower, but it can go no higher. So, even if you find a good tree, if there is a branch in the way, you'll either need to cut the branch, or find another tree.
Hang-On Stand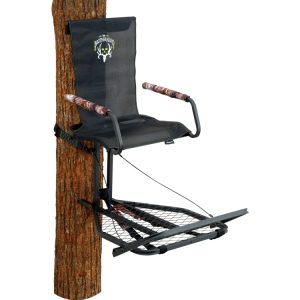 A Hang-on Stand is an excellent stand for those who are out hunting by yourself, or even if you are with a group, it allows you to set up a perch that might be in a different place or a different angle than your hunting buddies. Most hang-on stands are very lightweight, weighing between 11 and 18 pounds total. Even with the lightweight, they can support up to a 350 pound person, making this one of the most versatile stands within the marketplace.
Compared to a ladders stand, where you can climb up the stairs, with this particular stand, you have to actually climb up the tree. By doing this, though, you can set up your stand at any height you want. If you are in a tree, and 10 feet looks like the right perch, then you can set it up there. If you want to go higher, say up to 25 feet, you can do this as well. Depending upon what you are shooting on that particular day, you can completely adjust to match both the animal and the shooting device you use.
Most platforms for hang-on stands are around 18" x 28", with some being a little larger. Because of the larger platform, you should be able to find a sitting position that is most comfortable for you, while also allowing you to find the right shooting position. Due to the larger platform, you can attempt many different positions, in order to keep your body loose, and not have your body tense up, so when the right moment comes, you'll be ready. Also, most of these stands have a place for you to keep your weapon, so you don't have to hold it constantly, but can easily grab it when you see an opportunity.
When looking at some of the aspects which might be a hindrance, there are a couple to consider. Although it is lightweight and easy to manage, the hang-on stand can still make a lot of noise. Although technology continues to advance within this marketplace, setting up the hang-on stand can still make a lot of noise on both set-up and tear-down.
In addition to this, because you need a little bit of a longer smooth surface in a tree, you might need to have to cut down more branches in order to find the right perch. Cutting branches creates noise, and takes time, and some places do not want you to touch their trees in that way. If you do set up, and need to move, you may have to go thru that entire process again, which can be tiresome, and takes away both time and enjoyment.
Concerning climbing the tree, you may actually need to bring steps with you if you do not feel comfortable climbing up and down a tree. If you need to put steps into a tree, you literally have to screw the steps into the tree using either a screw win style step, or homemade steps. In order to do this, you should bring a drill with you to allow for ease of screwing them in and out. By using a drill, though, you make more noise, which will mean your wait will be longer initially on having any animals coming towards you. If you decide to use a screwdriver, or have the screws already in the step and then literally turn the steps into the tree, it will make less noise, but will take much longer.
Lastly, if you are attempting to do all of this in the dark, well, you can see where you could really have some issues. Even if you have a helmet which has a light on it, that light will once again scare away any game while you are attempting to set up. Plus, this has all kinds of safety concerns. If you mostly hunt at night, or very early in the morning, then this stand could present a challenge for you.
Climbing Tree Stand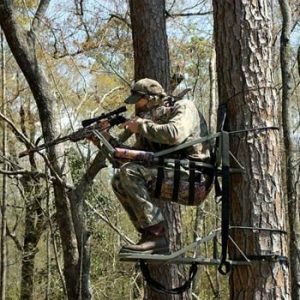 As the name implies, if you have a climbing tree stand, it means that you are a tree climber, and don't need steps to get up a tree. By being a climber, it means you do not need to put in steps to find the right place in the trees. Due to this, the Climbing tree stands are very lightweight, yet durable.
Most climbing tree stands weight between 15-33 pounds, and are made out of a variety of different materials, depending upon your needs. These tree stands can support people who weight up to a minimum of 250 pounds, with a majority supporting 300-350 pounds. All of these stands have an actual seat for you, with a rest place for your feet. The typical seat is around 21" wide, giving you a very comfortable experience, so you stay relaxed and ready to shoot.
What is most surprising about any climbing tree stand is how quiet they are, especially compared to other types of hunting stands. Due to their quietness, you can easily take them down, and put them back up anytime you need to move. This kind of characteristic gives you a vast amount of versatility while out hunting, so you can find the optimal spot for hunting, no matter whether it is during the day, or late at night or early in the morning. Most of these stands fold up into a 4"-5" profile, which makes them very easy to carry, both around while hunting, and too and from your vehicle.
The best trees for the climbing tree stand are ones which are between 6" and 18" in diameter. Once your tree stand is set up, there is an easy to reach place for your weapon, so you can take it out when the time is right, while making sure your arms do not tense while holding the weapon at all times.
There are not many disadvantages with this climbing tree stand model. Two things which do stand out are its size and cost. For those who are taller, 6'4" and taller, this stand sometimes can be a little cramped for those people, especially if you have longer legs. The more your legs cramp up, the more uncomfortable you will be, which takes away from your enjoyment of hunting.
The other drawback to this stand is the cost. They typically cost a lot more compared to other stands; if you don't have a lot of disposable income, then these stands are going to be tough to justify. Between what you might already spend in camouflage, your weapon, and any other gear you need, spending a larger amount on a climbing tree stand might just not be in the budget, especially since you don't *have* to have a tree stand in order to hunt.
Terminology
Ladder Stand: Exactly how it sounds.  Once the stand is set up, it is accessed by a ladder extending out from the front of the stand.  These stands are the easiest to use, though they are prone to making more noise.  Ladder stands offer the most stability while up in a tree.
Climbing stand: Hunting stands with no visible means of access.  The stand is reached by the hunter literally climbing the tree, either with a climbing harness, steps screwed into the base of the tree, or a combination of both.  These tend to be lighter and much more portable. They are also easier to set up, especially for a single person.
Hang on stand:  These strands are permanently affixed to a tree, being bolted directly into the trunk.  They are structurally very similar to climbing tree stands, and are also accessed by climbing the tree.  They are ideal when a hunter has staked out a specific hunting spot to act as a base of operations throughout the season.
Powder coating:  Tree stand frames are constructed from metal for its sturdiness.  In order to protect the metal from the elements, the frame is sprayed with a polyester or epoxy powder, which is then heated to fuse into a protective layer, keeping the weather out and preventing rust.
Shooting rail: A metal bar that is attached to a tree stand at a suitable level to act as a stabilizer for a rifle while the hunter takes their shot.  Since the shooting rail can at times also act a s an armrest, some rails do come with protective padding.  Shooting rails are only meant for rifle hunting, as they are unnecessary for hunting bows, and can in fact just get in the way and become a hindrance.
FAQs 
Frequently Asked Questions
Q: How high should I set up my tree stand?
There is no right answer concerning what the right height is for any hunting expedition. Obviously, you should never go higher than where you are comfortable – this might mean you are only 8 feet off the ground, which is still better than only being at eye level with any animal. However, depending upon your height, you will have to adjust how you hunt. The lower you setup your tree stand, the lower the branches within trees need to be in order to give you better cover. The higher up you are, the more options you have, but the tougher shot you also have, as you are further away. There are many advantages to both, and so it really does come down to where you are most comfortable with your hunting style. You can hunt from the different heights, and really find your sweet spot for hunting, no matter if it is eight feet high, or up to 25 feet high. There is no wrong hunting spot.
Q: What is the proper placement of your tree stand?
Among hunters, you have to be very aware of not only where a good spot for you to set up, but also where you can be set up where you are not in the way of other hunters. If you go into an area, and see other hunters who are already set up, it is common etiquette to not set up where you are within their line of site. Once you have taken this into consideration, then you need to determine the path that is most traveled upon by the game you are hunting. For deer, this could mean setting up near a creek or a point along a river, or if you notice a trampled path area, then setting up near there is a great idea. However, you never want to be sitting right up over a perfect shot point, as you don't want to be shooting directly beneath you. You need to ensure you are set up where you have the best angle for any animal that will cross your path, while also close enough to where you can see them. This might mean you need to attempt to set up on a couple of different trees, to test out the angle of your shot. If this is an area where you will be hunting a lot, then you can take the time over a couple of weekends to try out different trees, and different heights, until you find the right angle from the right height. If you are more out in the open, this could be a disadvantage, as you will have less cover, and you will be easier to spot by any animal. You need to ensure you have a clean shot in the direction you are looking, but also are covered by trees behind you, so you can maximize your stealth.
Q: Should I just go out and hunt without letting anyone know where I am going?
Although you are going out hunting to get away from the world, you must let someone know where you are going hunting. Whether it is a loved one, a friend or any other family member, they should know where you will be. Although you may move from where you told them you planned on being, they will have at least a semblance of an idea of where you will be. If the person you are telling is unfamiliar with the area, then you can either take them out ahead of time, or draw them a map to alert them on where you plan to be. This needs to happen in case someone needs to come alert you of a situation, or if you don't return well after your intended time to come home, they can come and search for you. If you do not let anyone know where you will be, you leave yourself open to suffering more long-term damage from an injury. It is an extra step, that will hopefully never need to be used, but it is best for everyone if you just let them know where you intend to hunt.
Q: Is safety really that important?
 When it comes to hunting, nothing is more important than your own safety. Although you are going out to relax, have fun and provide some relief from the worries of life, if something goes awry, it takes all of that away. There are plenty of different accessories which are available to you to ensure you stay safe.
The first accessory you need to look at is a safety harness. Even if you are perched up in a tree, if you happen to slip for whatever reason, instead of falling straight to ground, the safety harness will help keep you safe by ensuring you don't fall straight down to the ground. You need to ensure you set the height of the harness to where you do not hit your head on the tree stand when you swing out, and you will need to ensure you know where the tree is, so when you swing out, you don't fully crash into the tree.
No matter which tree stand you use, you have to ensure it is stable and safe while you use it. Although you are hunting animals, you don't want to upset any of the animals where they start to come attacking you. You for sure do not want to do anything to spook the animals, as not only will they not come towards you, but you also never know what a spooked animal will do. This is very important as well as you are walking within your hunting ground, before you are setup. With all of your gear typically packed up, you may not have a good way to defend yourself if attacked by an animal.
Make sure your weapon always has the safety on, until you are ready to shoot. If you don't, your weapon could misfire, which could cause all kinds of different problems. Your weapon is designed to kill animals, and it doesn't know if it is shooting at an animal or a person, so ensure your weapon is completely safe until you need to use it.
Q: Should I familiarize myself with my tree stand before I take it out to hunt?
Before you go out and use your tree stand, it is highly recommended that you read up on all the instructions for your tree stand, and even take it for a test drive with a tree at your house, or a public park. You don't want the first time you use a tree stand to be hampered by attempting how to put it up, which can cause you stress and agony. No matter if you are a beginner, or a veteran hunter, anytime you have a new tree stand, the best practice is to put it up and take it down at least once before taking it out to hunt.
By testing it out ahead of time, you can then take the time to ensure everything is fully functional, and will not fail on you as you are out in the field. Although the manufacture might say it is built for certain heights or weights – it is best to ensure the stand will work for you before heading out. You can also check all of the different straps and ratchets, and ensure they work smoothly and correctly. This is a vital step towards ensuring you stay safe while out hunting, and that the tree stand does not fail you during a time when you least expect it.
Q: Do I really need to understand the limits of my tree stand, as well as my own limitations?
You might think you want to test out your equipment, and truly see where the limits are. Although it is good to truly know what the limits are, that should be done in a safe environment, and not out in the woods. There are manufacturer recommendations for a reason, and that is because they have done all of the stringent testing required providing you with the best and safest equipment possible.
In addition to this, if you can only safely carry 75 pounds at a time, then buying a tree stand that weighs 100 pounds does not work. If you are afraid of heights, then getting a ladder that goes 20 feet high doesn't make sense. Make sure you understand what your own limitations are, so you can ensure you stay safe, and enjoy the time while out hunting.
Conclusion
When it comes to finding the best tree stand for you and your needs, there are many options available to you. Due to these bevy of options, you can find any tree stand with any features and accessories you desire. The pricing for the tree stands varies dramatically, depending on how much comfort, stability, features and height you desire.
There is no need to purchase a new stand every year, as each stand should last 5-7 years, depending on how much you use the stand each hunting season. Because this is the case, you can plan on purchasing a tree stand, and breaking down the cost of that stand over the life of the stand. Having a stand which is flexible to meet your needs for both today, and in the future, is vital towards the success of all of your hunting expeditions.
Once you have decided that purchasing a tree stand, or replacing one you already have, is the right decision, we hope this guide has helped you figure out what is out in the marketplace today, and what you might want out of your hunting tree stand. After you have created a checklist of what you want, you can easily figure out which is the best tree stand for you. At the end of the day, you need to have a tree stand that provides you with comfort and durability, and it is perfectly acceptable to try out a couple of different stands until you find what is truly best for you. You don't have to settle for good, when you can have great – so, take the time and find the best tree stand for you. You will be happy in the future for taking the time today to fully vet each and every tree stand you are looking at purchasing.
Sources