Best Tree Stands & Ladder Stands for Hunting Reviewed & Rated for Quality
last updated:
Oct 10, 2020
There might not be a better adrenaline rush than when you wake up early in the morning on a hunting day. You know that this day could bring you the best haul you have ever had, and the dream of bringing down a 7 pointer, or even a larger deer or animal, is always at the forefront of your mind. One of the ways which you can ensure you are in the right spot at any time is by utilizing a tree stand. By taking advantage of a tree stand, you can set yourself up on a perch, out of sight from any animal, and you can wait for those animals to come towards you, where you can then make the perfect shot. Check out our top ten list now!
This is the best product on our list that is currently in stock: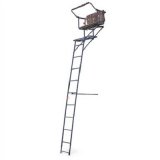 Guide Gear 16 foot
Why is it better?
Easy to climb
Made from steel
Weather Resistant
Give you a high point of view
In a
Hurry? Editors choice: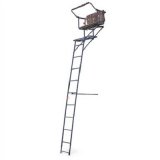 Test Winner: Guide Gear 16 foot

14
Researched Sources
9050
Reviews Considered
15
Hours Researching
15
Products Evaluated
Materials
Size
Weight
Comfort
Value
By Default
Best Tree Stands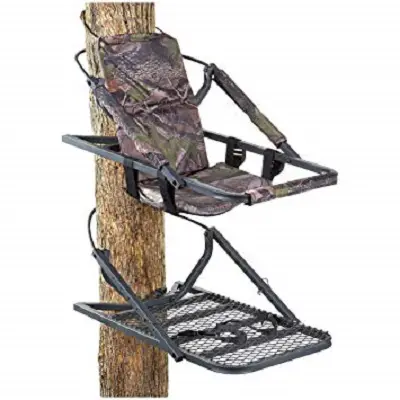 Can hold up 300 pounds
Great seat padding
Durable construction
More expensive
Can be heavy to carry
This Gear Guide Extreme climber tree stand is roomy, comfy and rock solid. It is durable to the extreme, which means it is perfect for a hunter like you. If you are the dedicated type that will sit at his post all day to get that 10-point buck, then this tree stand might be the solid choice.
Securely Built
This climber tree stand is constructed out of steel, which means you can feel safe and secure while up in the tree. With a 10" x 17" sling seat which is encased in 1" padded foam, along with a backrest that is 18" x 14", you will feel the comfort every time you utilize this stand.
Comfort & Convenience
To add to this comfort, this stand comes with a padded climbing seat bar, armrests, and backrest. The platform is a large 19" x 26", and this tree stand can support up to 300 pounds. This stand comes with foot straps made out of nylon, which allows for easy and quick climbing. This tree stand weighs 33 pounds, which makes it easy for transport.
Cost & Value
This Gear Guide Extreme climber stand is great for the price. If you thought the Gear Guide Deluxe version was great, then you will love this one even more. Though it is a bit higher priced than the Deluxe model, it offers the same comfort with better and more solid security.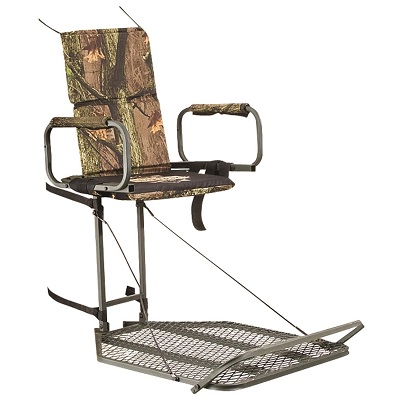 Lightweight
Easy to set up
Very affordable
Durable construction
Not much room
Hard to climb
Hang out up in your favorite hunting spot in this Gear Guide Deluxe hang-on tree stand. It is designed to attach to the tree with durable straps that you can trust. Once you're up in the tree looking out at your best shot, you won't regret getting this tree stand. It offers plenty of comfort and room.
Comfort Control
This Gear Guide Deluxe hang-on tree stand has a 300-pound capacity, along with a 17" x 10" suspended seat. The seat is 21" high and is covered in padded camouflage. It offers support for your back as well, with a backrest that ensures your back doesn't tighten up on you over a long amount of sitting.
Durable & Safe Design
This hang-on tree stand also comes with a 24" by 29 ½" platform made out of a thick mesh, which is supported by cable supports. This stand is made out of steel, which is covered with a coated surface to ensure it does not corrode over time. The stand comes with a safety harness for safety and security.
Cost & Value
This tree stand is durably crafted, making it a bit of a heavier one on the market. That being said, it is at a great price for being is heavy-duty as it is. Every dollar is worth the comfort, roomy platform and good quality construction.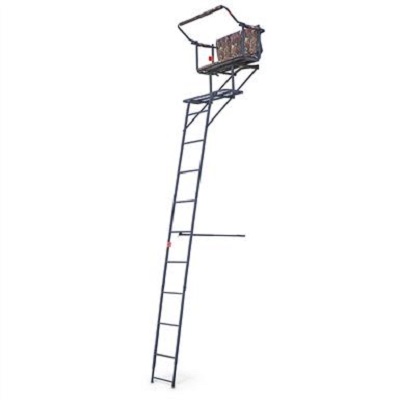 Easy to climb
Made from steel
Weather Resistant
Give you a high point of view
Needs two people to set up
Not very portable
The Gear Guide 16-foot ladder is perfect for the solo hunter. It is a sturdy ladder tree stand ladder that will give you the view that you need to get your best hunting season started. This ladder stand also comes with an extra accessory, which is a flip-up rail, giving you an extra level of stability while shooting.
Durable Construction
This ladder is tall and sturdy because it is made completely out of steel construction. It comes with a platform which is 17.25" x 12.25", along with a padded 19.25" x 13.5" x 21" seat, which provides you with the comfort you need for the long nights, days or mornings when you hunt
Tested Against the Elements
This ladder can hold up to 300 pounds and weighs 52 pounds overall. This ladder stand has been tested out in all different types of climates. In addition, Guide Gear brought in various outdoorsmen in order to scrape away any unnecessary frills and provide you with what you needed the most, in the most durable and comfortable way possible.
Cost & Value
Because of how sturdy, tall and tested this Gear Guide ladder tree stand is, the price and value just cannot be beaten. You will be amazed at how helpful it is to invest in a tree stand like this one for your upcoming hunting season.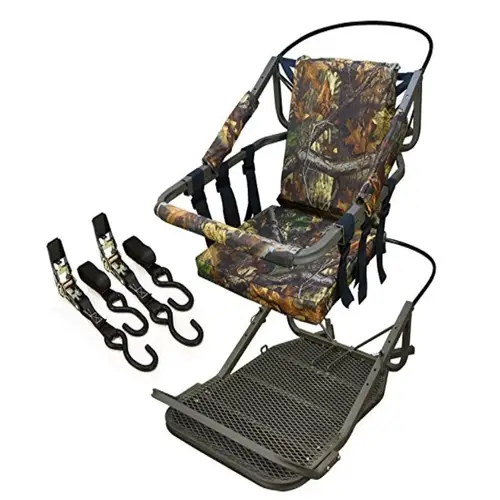 A foldable frame that can be nested together
Easy to carry
Lightweight
Durable
Padded cushion seating for those long hunting hours
Excellent price point
Customer service is not the easiest to get a hold of
The XtremepowerUS tree stand climber is one unique item. Featuring a portable aesthetic this tree stand is perfect for active hunter that want to be as tall as possible and hunt from the highest peak of their desired area. It's for those that want a quality product that will ensure you can place it on any tree and get to hunting quickly and effectively. Furthermore, this tree stand brings forth a unique way of reaching higher grounds, without making a permanent change to your favorite tree.
Comfortable Seat
Every hunter knows, there takes a special kind of patience to hunt, especially when you are seeking to hunt a specific type of animal. Due to needing that type of time and patience you want to be as comfortable as possible. That is where having a tree stand with a comfortable seat comes in handy. This product comes with a foam padded seat that can be adjusted to your liking. The foam padding will allow you to sit for longer periods of time without feel uncomfortable along the way.
Also worth reading best folding chair
Highly Portable
One of the best features of this tree stand is just how portable it is. Its portability increases due to how collapsible yet portable the frame is. The frame itself can nest together to help you pack it away easily and seamlessly without much effort needed. Furthermore, it shrinks so well that you can put it away in your backpack.
Cost & Value
As for the cost and value of this product, it is priced in the mid-range. The features allow you to have enough elements to work with where you don't feel like the product is overpriced but you also know you are getting quality over anything else. Consider this tree stand as one of those elements that are quite necessary to have.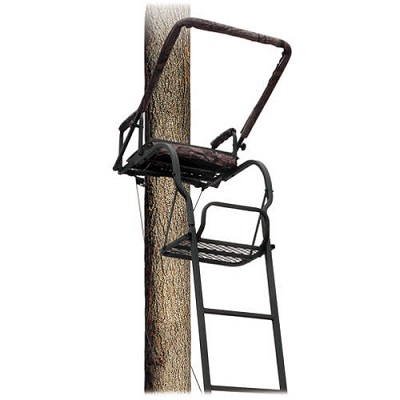 Can support up to 300 pounds
Adjustable ladder constructed out of steel
The seat is padded with a 1" pad, and also comes with a padded arm strap
Time to bring in the big guns. Or, the Big Dog Foxhound ladder tree stand, rather. This tall, one person stand will help you get ready for the hunt. It is designed to be comfortable as you pass the time up there scouring the fields. You can feel secure with this stand due to its durable construction and included a fall-arrest safety system.
Lightweight & Fully Equipped
This 16' one person adjustable ladder is constructed out of steel, yet only weighs 41 pounds. This tree stand comes with a seat which is 19 ½" x 12", as well as being 21 ½" tall. The seat is padded with a 1" pad, and also comes with a padded arm strap, ensuring you stay comfortable while on the lookout for the game you are hunting. This ladder also comes with a foot platform which is 17 ¼" x 12" in size.
Full Support
This ladder can support up to 300 pounds and comes with the necessary straps to ensure you stay safe, including their fall-arrest safety system.
Cost & Value
This Big Dog Foxhound ladder tree stand is fairly priced for what it provides: stability, comfort and a great view to get your best shot. This tree stand is a great investment for this hunting season and the rest to come.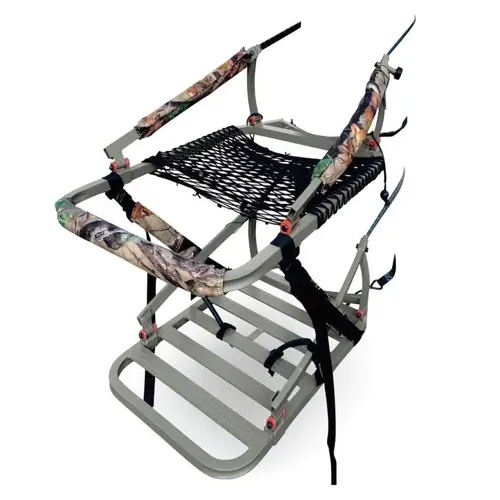 Lightweight yet sturdy
Comes with backpack straps for easy travel
Aluminum frame
Comfortable seating that allows 2 people to sit
Exceptionally quiet
Climbing gear aspect of the stand isn't as sturdy as most work like
Hooking it to the tree isn't as easy as other options
Those that hunt regularly know some places are better to hunt at than others. Which means you want to have a tree stand that you can take with you anywhere you desire to go. With an ultra-lightweight design, the X-Stand Deluxe allows you to do just that. Weighing at 18.5 with all accessories included. This one is a must-have for those that travel regularly and want to have a portable element every time.
Durability
Though we all want a light-weight feature, you also want to know that when you are high up on a tree you will be safe and secure. Keeping that in mind, this tree stand is extremely durable, with a construction made out of aluminum. Paired with nylon washers at every joint ensure you have the most silent display possible, without taking away from the sturdiness that comes with having an aluminum frame.
Comfortable Seating
One of the features you always want to look for when you are considering a tree stand is comfort. There is never any clear indication of how long your hunting trip will last so having a comfortable display is always nice. Furthermore, the seat is big enough to seat two people. What this means is you can hunt from a distance with a friend without feeling uncomfortable along the way.
Cost and Value
As for the cost and value of this item, you are getting a bargain. The price is exceptional while providing you a quality product. Consider it a good investment that makes sense to your everyday hunting trips.
7

. Millennium M-25 Loc-On Tree Stand
Only weighs about 17 pounds
Highly Maneuverable
Large Seat and Footrest
Adjustment Chains Are Short
The Millennium is a simple little tree stand that does a big job simply and well, which is really all we're looking for when it comes to a hunting stand. The big seat and even bigger footrest fold up easily and travel lightly. The Chains are easily attachable to most tree trunks and the footrest has a safety bar to keep you settled and safe. It's a no-frills seat that feels more luxurious than it looks.
Strong Stability
This one person tree stand only weighs about 17 pounds overall. With this tree stand, but it has a really large seat and an even larger footrest. And while it looks like it might be a bit of an uncomfortable perch, it's much bigger than it looks in the picture and there's plenty of room to maneuver.
Quiet Construction
This seat is designed to be quiet. It folds up easily and quietly and deploys quietly. Beyond that, it's designed to be highly maneuverable and quiet all at the same time. So, feel free to move around this should let you shift your weight or your feet without giving away your perch.
Cost & Value
This hang-on tree stand is on the cheap side. If you are able to put in a little more for a tree stand that is built to last, then this one shouldn't disappoint. With its strong stability, adjustability and silent design, you will feel comfortable while conquering the fields this hunting season.
8

. Summit Treestands Viper
Foam Padded Seat
Easily Adjustable Seat
Covered in Camo Padding print
Difficult to Assemble
Rapid Climb Stirrups Are Flimsy
This Climbing Treestand has just about everything that you could ever want in this kind of product. It's designed to be lightweight enough to get up into the limbs easily but once there it's got enough padding and add-ons that the trick might be staying awake while you're waiting on the day's catch to wander into view. A foam-padded seat and backrest, and a full-body arrest harness for one extra layer of safety.
Closed-Front Construction
Like a roll bar in front of you, this closed front construction bar pulls down in front of you once you're set up in place. It allows another layer of protection when you're high up in the sky, and also serves as a convenient gun rest.
Adjustable Seat
An incredibly important feature, the foam-padded seat easily adjusts upward for bow hunting and lowered for gun hunting. It's also configured to allow an easy transition from sitting down to standing up which can make all the difference when the perfect shot shows up.
Cost & Value
A bit on the high side but you're really getting all of the bells and whistles with this product. The arrest harness and front bar, the raising and lowering seat, the foam padding, the camo exterior, there's a reason why this product has been so popular going on 20 years. The lightweight but sturdy aluminum construction makes it a great choice for veterans or first-time climbers.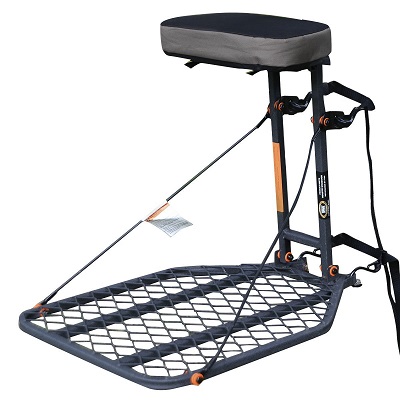 Constructed out of a steel material
Offers support for your back
Can hold up to 300 pounds
One person hang-on tree stand
The Tangkula hang-on tree stand is quality made and sturdy. It allows you to sit or stand while you are searching or taking aim. Many points of clipping in allow you to feel comfortable and secure when you attach your harness to this tree stand.
Secure & Stable
This one person hang-on tree stand, constructed out of a steel material which provides you with the necessary security and stability, weighs 20 pounds for easy transport.
Comfortable Seat
This platform is made out of a steel mesh material, and is 20" x 24", and is 21" below the seat. The seat is 9.4" x 14.5", and has a 1" padded foam to offer you comfort for as long as you use the stand. This stand can hold up to 300 pounds.
Cost & Value
Your budget will be impressed with the strong build and high-quality of this Tangkula hang-on tree stand. It offers comfort, security and is quiet. It is all around a good tree stand to have.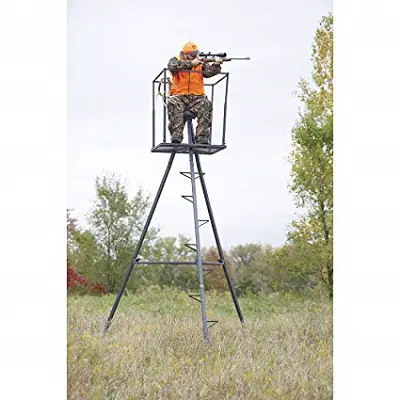 Easy to assemble
Portable
Rotating chair
With this tripod stand, you won't have to worry about missing your blind spots out in the field. This stand allows you to swivel and see all around you! It is heavy-duty but still fairly lightweight to transport. Not to mention, it is insanely quiet so you won't have to worry about scaring off a potential shot.
No Tree, No Problem
This one person deer stand is not a tree stand – you don't need a tree in order to utilize this stand, which makes it very unique within this marketplace. This stand is built upon a 3 legged tripod system, which comes with a 360-degree swivel platform. You have a 19" x 14" seat, which is fully padded.
Adjustable Legs
The platform is a square, 34" x 34". Made completely out of steel, the tripod legs have six different adjustment points on them, so you can be level no matter what terrain you set up on. This deer stand is constructed out glare-free steel and can support anyone up to 300 pounds.
Cost & Value
This tripod stand is pricier than others on this list, but it offers a different advantage to tree stands. You can see everything around you, pop up almost anywhere and it's crazy quiet. If you have the budget, it's worth the investment.
Criteria Used for Evaluation

Materials
When looking at what makes a great hunting tree stand, there are a few different factors to choose from. First and foremost is the type of material it is made out of. Although most tree stands are made out of steel, there has been some movement towards having some made out of aluminum. Aluminum is a lighter material, which also means they will not be able to hold as much weight in the tree, and they will be less durable over time. Depending on what your needs are, you will need to ensure you have a tree stand that is made out of the right material.

Size
In addition, one other feature that sometimes gets overlooked, but is important, is whether or not you have a place to put your weapon where there is no action going on. Not only should your tree stand have a place for you to rest your weapon, but it needs to be a place where you can easily access the weapon in a quick manner, so you don't miss out on any opportunity. This will help keep your arms loose and ready and allow you to make a more accurate shot.
Lastly, you need to ensure you have a tree stand that allows you to get to the proper height you need in order to see everything that is going on around you. This does not always mean you need to be higher than everyone else, but you need to be able to perch yourself in the right spot, no matter your environment. If you need to go higher, then you need to have the capability of doing so. However, if you need to be lower, then you should have the flexibility to attain this.

Weight
Check the weight of the actual stand. Is it going to be too bulky to lug around with you out on the field? You want one that is sturdy and one that can hold your weight as you climb up it, shift on it or while sitting still. But you also want it to be lightweight so that you can tote it on your shoulder to your destination and then onto the next one.
There are ladder stands available which can support one or two people, where the weight of the stand can obviously withstand a lot more weight. Those ladder stands offer a very wide platform at the top, which not only allows you to be comfortable with two people but gives you enough room for when you are ready to take a shot, you are not bumping into each other. If you are taking your son or daughter out for a hunting trip, this is a great option to ensure they the two of you get to spend some great time together and help them learn the tricks and tips of hunting.

Comfort
Most tree stands, no matter if it is a ladder, hang-on or climbing, have padded seats to provide you comfort. However, the size of the seat is important, as you need to know which size of seat best suits you and your style of sitting. You might be comfortable with a smaller seat, or you might need a larger seat. It's always better to err on the side of having a larger seat, as it is better to have a seat that is big rather than dealing with a smaller seat.
Because you are planning on being out for a while on a tree stand, you need to ensure you have as much comfort as possible. This means you need to have a tree stand which gives you the right amount of height from your seat down to the platform. You also need to ensure you have a big enough platform to be able to keep various different accessories needed, including ammunition, food, drinks, and any other accessories, like a caller or binoculars.

Value
Tree stands can cost a pretty dime, and if you are an avid hunter, they are worth every penny. So you'll want to make sure that you are getting the most bang for your buck (pun intended)! Check out what material they are made of, how big they are and what other customers say about the product to get a good idea if the price is worth it. There are also a variety of different types of stands as well, each with their own benefits and drawbacks. Figure out which kind is best suited for your needs in order to make sure you're not throwing money away. Do you need something that is lightweight and portable or something more stable and permanent? If possible, try sitting in it before purchase so you also have an idea of how comfortable it is as well.
When it comes to finding the best tree stand for you and your needs, there are many options available to you. Due to this bevy of options, you can find any tree stand with any features and accessories you desire. The pricing for the tree stands varies dramatically, depending on how much comfort, stability, features and height you desire.
There is no need to purchase a new stand every year, as each stand should last 5-7 years, depending on how much you use the stand each hunting season. Because this is the case, you can plan on purchasing a tree stand, and break down the cost of that stand over the life of the stand. Having a stand which is flexible to meet your needs for both today, and in the future, is vital towards the success of all of your hunting expeditions.
Expert Interviews & Opinions
Most Important Criteria
(According to our experts opinion)
Experts Opinion
Editors Opinion
Users Opinion
By Default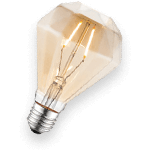 What is a shooting rail?
A metal bar that is attached to a tree stand at a suitable level to act as a stabilizer for a rifle while the hunter takes their shot. Since the shooting rail can at times also act as an armrest, some rails do come with protective padding. Shooting rails are only meant for rifle hunting, as they are unnecessary for hunting bows, and can in fact just get in the way and become a hindrance.
What if there are no trees where I hunt?
So you prefer to hunt in a weedy field rather than from a tree? No problem. A tripod stand is your better option than a tree stand. As the name suggests, it is a platform or seat stand that has three durable legs that extend out much like a camera tripod, but for your hunting game. They are sturdy enough to hold your weight without you needing any trees around. A win for you.
Frequently Asked Questions
q:

How high should I set up my tree stand?

a:

There is no right answer concerning what the right height is for any hunting expedition. Obviously, you should never go higher than where you are comfortable – this might mean you are only 8 feet off the ground, which is still better than only being at eye level with any animal. However, depending upon your height, you will have to adjust how you hunt.

The lower you set up your tree stand, the lower the branches within trees need to be in order to give you better coverage. The higher up you are, the more options you have, but the tougher shot you also have, as you are further away. There are many advantages to both, and so it really does come down to where you are most comfortable with your hunting style. You can hunt from the different heights, and really find your sweet spot for hunting, no matter if it is eight feet high, or up to 25 feet high. There is no wrong hunting spot.
q:

What is the proper placement of your tree stand?

a:

Among hunters, you have to be very aware of not only where a good spot for you to set up but also where you can be set up where you are not in the way of other hunters. If you go into an area and see other hunters who are already set up, it is common etiquette to not set up where you are within their line of sight.

Once you have taken this into consideration, then you need to determine the path that is most traveled upon by the game you are hunting. For deer, this could mean setting up near a creek or a point along a river, or if you notice a trampled path area, then setting up near there is a great idea. However, you never want to be sitting right up over a perfect shot point, as you don't want to be shooting directly beneath you.

You need to ensure you are set up where you have the best angle for any animal that will cross your path, while also close enough to where you can see them. This might mean you need to attempt to set up on a couple of different trees, to test out the angle of your shot. If this is an area where you will be hunting a lot, then you can take the time over a couple of weekends to try out different trees, and different heights, until you find the right angle from the right height.

If you are more out in the open, this could be a disadvantage, as you will have less cover, and you will be easier to spot by any animal. You need to ensure you have a clean shot in the direction you are looking, but also are covered by trees behind you, so you can maximize your stealth.
q:

Should I just go out and hunt without letting anyone know where I am going?

a:

Although you are going out hunting to get away from the world, you must let someone know where you are going hunting. Whether it is a loved one, a friend or any other family member, they should know where you will be. Although you may move from where you told them you planned on being, they will have at least a semblance of an idea of where you will be. If the person you are telling is unfamiliar with the area, then you can either take them out ahead of time or draw them a map to alert them on where you plan to be.

This needs to happen in case someone needs to come to alert you of a situation, or if you don't return well after your intended time to come home, they can come and search for you. If you do not let anyone know where you will be, you leave yourself open to suffering more long-term damage from an injury. It is an extra step, that will hopefully never need to be used, but it is best for everyone if you just let them know where you intend to hunt.
q:

Is safety really that important?

a:

When it comes to hunting, nothing is more important than your own safety. Although you are going out to relax, have fun and provide some relief from the worries of life, if something goes awry, it takes all of that away. There are plenty of different accessories which are available to you to ensure you stay safe.

The first accessory you need to look at is a safety harness. Even if you are perched up in a tree, if you happen to slip for whatever reason, instead of falling straight to ground, the safety harness will help keep you safe by ensuring you don't fall straight down to the ground. You need to ensure you set the height of the harness to where you do not hit your head on the tree stand when you swing out, and you will need to ensure you know where the tree is, so when you swing out, you don't fully crash into the tree.

No matter which tree stand you use, you have to ensure it is stable and safe while you use it. Although you are hunting animals, you don't want to upset any of the animals where they start to come attacking you. You for sure do not want to do anything to spook the animals, as not only will they not come towards you, but you also never know what a spooked animal will do. This is very important as well as you are walking within your hunting ground before you are set up. With all of your gear typically packed up, you may not have a good way to defend yourself if attacked by an animal.

Make sure your weapon always has the safety on, until you are ready to shoot. If you don't, your weapon could misfire, which could cause all kinds of different problems. Your weapon is designed to kill animals, and it doesn't know if it is shooting at an animal or a person, so ensure your weapon is completely safe until you need to use it.
q:

Should I familiarize myself with my tree stand before I take it out to hunt?

a:

Before you go out and use your tree stand, it is highly recommended that you read up on all the instructions for your tree stand, and even take it for a test drive with a tree at your house or a public park. You don't want the first time you use a tree stand to be hampered by attempting how to put it up, which can cause you stress and agony. No matter if you are a beginner, or a veteran hunter, anytime you have a new tree stand, the best practice is to put it up and take it down at least once before taking it out to hunt.

By testing it out ahead of time, you can then take the time to ensure everything is fully functional, and will not fail on you as you are out in the field. Although the manufacturer might say it is built for certain heights or weights – it is best to ensure the stand will work for you before heading out. You can also check all of the different straps and ratchets, and ensure they work smoothly and correctly. This is a vital step towards ensuring you stay safe while out hunting, and that the tree stand does not fail you during a time when you least expect it.
q:

Do I really need to understand the limits of my tree stand, as well as my own limitations?

a:

You might think you want to test out your equipment, and truly see where the limits are. Although it is good to truly know what the limits are, that should be done in a safe environment, and not out in the woods. There are manufacturer recommendations for a reason, and that is because they have done all of the stringent testing required providing you with the best and safest equipment possible.

In addition to this, if you can only safely carry 75 pounds at a time, then buying a tree stand that weighs 100 pounds does not work. If you are afraid of heights, then getting a ladder that goes 20 feet high doesn't make sense. Make sure you understand what your own limitations are, so you can ensure you stay safe, and enjoy the time while out hunting.
q:

What size tree can I put my tree stand on?

a:

Most commercially made tree stands will fit on trees roughly 8" to 24" in diameter. They are designed to fit in this range. There is never really a need to go smaller or larger than this. But, if you are still unsure about your specific tree stand, the manufacturer's instructions that should be provided can also better guide you for the proper use of your tree stand.
q:

What is a shooting rail and is a shooting rail necessary?

a:

A shooting rail is a metal bar attached to the stand that acts as a stabilizer for your rifle. Like with most things, it's all about preference. It is not necessary to have a shooting rail with your tree stand, however, it can be beneficial. Since it acts as a sort of armrest and stabilizer, there is potential for a better aimed and successful shot. But, if you feel secure in your shot without one or you are a bowhunter, then no, it is not necessary. Especially for bow hunting, it can actually get in the way.
q:

Can I leave my stand out all year long?

a:

It is not advised to leave your stand out more than two weeks at a time, let alone all year long. Though, it is not an impossible thing to do. However, it is not recommended because of the many factors that can jeopardize the installation, performance the safety of your stand. If it is left out too long, tree growth can intercept and stress the supporting straps, chains and/or buckles. This damage not only costs your stand but also your safety and even your life. It is important to always inspect your stand for any of these stresses or damage. You can actively avoid these from happening by not keeping your stand up all year.
q:

Will my tree stand damage my tree?

a:

While most tree stands are portable if you want an extra dose of secure some will include screws. Those that include screws are a bit more aggressive on your tree, but neither will damage it completely. Furthermore, once you have placed the holes you won't need to do them again allowing you to be secure on that aspect. The key is being gentle when placing the stand and removing it.
q:

What should I do if my stand gets stuck?

a:

When you have found a place for your stand and secured it there is always the chance that it could become stuck when you are ready to take it down. If that is the case, you want to ask for assistance and work on slowly taking it down so that you don't break or mishandle it causing a rift in your seat.
Subscribe to our Newsletter