Best Yoga Blocks Reviewed & Rated for Quality
In a
Hurry? Editors choice: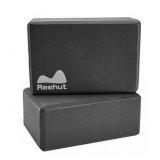 Test Winner: REEHUT

You being here means that you are passionate about
yoga fitness
. It also means you are on the lookout for information and products which can effectively work you out. Well, we are devoted to these twin issues.
Yoga blocks are one of your worthiest companions. These items can expedite the fitness process, as they help to dampen vibrations, bolster your posture, and streamline your body for exercise. Use of these blocks also cuts down on injuries considerably.
Indeed, the market today is flooded with many such brands. They are available in multiple shapes, weights, and colors, not to mention the different manufacturers that make them.
For these reasons, finding the right one may not be that simple. Because of this, a suitable buying guide of this kind is, by all means, essential. Our review below endeavors to shed more light on 10 of the best brands on the market.
Standout Picks
Criteria Used for Evaluation
Style
In the past, getting a crafted item was quite a hustle. This is because the initial product was a rectangular shape. But as time passed, more modern designs were invented. This made it possible and easier to access the preferred style of the item -- egg-shaped, for instance.
This is very effective with the lean back and bending back positions due to the curved shape of the product. The wedge's design addresses wrist injury issues and the semicircular design is effective when addressing the balancing of the arm. It can also be hollowed out for better grip.
Materials
The items feature a diverse range of materials to cater to the consumer's diverse needs. Moreover, the materials dictate the application and the quality. Some of the materials used are cork, wood, foam, and even soil in cases of brick types.
Cork: A material made from natural sources and is also eco-friendly. It's lighter compared to wood and also cheaper in general. Apart from being light, and with a texture that is flaky, it is stable, won't give in when pressed, high-quality, non-slip, durable, and has a comfortable grip.
Other than its advantages, it possesses a few limitations. Because of its porous surface, it's harder to reach some areas to clean, and it's absorbent of sweat and surrounding moisture, which can interfere with product integrity. Also, cheap and poor-quality models will start disintegrating, beginning with the corners.
Wood: The original or traditional products were carved from birch, bamboo, or pine wood. Despite being traditional forms, they are still currently used by some yogis, because they are an option which is durable and will last longer. Because of this, some have a lifetime guarantee. However, to be eco-conscious, some manufacturers make products from sustainable sources such as bamboo.
The products created from this material are hard and sturdy, thus serving you best when your focus is on strength building. But it can also help with exercises that involve balancing. Due to its smooth surface with no crevices, it is easy to clean, revealing a natural and appealing look.
The product also has limitations, some of which are: it is expensive compared to the other types. Moreover, it can be harder and heavier, which makes it less portable, and it can have a slippery surface, which makes it more difficult to have a firm grip. Besides, due to the hardness, you cannot use it for backbend exercises.
Foam: Among these items, foam is the most popular type of material that many users may consider, so you will encounter it more often. The properties that make it more utilized are that it is more affordable compared to others, and as it is cheaper and more lightweight, it is suitable for a newbie.
They are squishy and soft compared to wood or cork. It's preferable for exercises that involve gentle pelvis and spine support in restoration postures. Moreover, it is easier to clean, non-slip, and portable.
Some of the demerits are that it can be shaky; making it hard to support body weight and balance. It may collapse and cause serious injuries. It's also susceptible to dents, scratches, and even wear and tear, and it's the least eco-friendly.
Size
Yoga blocks are available in varying sizes, but the dimensions of the items that are standardly used are 3×6×9 inches and 4×6×9 inches. This means they are available in two sizes that differ, and thus considered versatile. The largest size is 9 inches, which is best for standing and posture.
The larger blocks will support the pressure from your hamstring and lower back. The smallest of the dimensions serve to support the bones used for sitting, but include many other positions that can apply because of its flexibility. Due to that, it gives you a seamless and smooth exercise.
Challenges may arise in selecting the right product. When evaluating personal capabilities, use the size of your hand to consider which may be right for you. For instance, shorter individuals may appreciate a much smaller product size, because, apart from easy grip, it will feel much more comfortable in their hands. Bigger products may fit and offer a better grip to taller individuals.
Durability
The best choice should last you a lifetime, because there is no retirement age for yoga classes. Besides, you may decide to practice it daily, so a poor quality will become expensive due replacing it from time to time. When purchasing, ensure the product will be durable.
How do you determine durability?
It's simple: the material is the main determinant on how long your item will last, and better quality material means it will last longer. Besides, it will ensure the greatest service and will give you a chance to grow with it. If you continually exchange products, you will have to frequently work to adapt to each of them, which can be a waste of time and resources.
Weight
The majority of people may consider weight as a nuisance, while others may be comfortable with it. So it's imperative to consider the place of use when considering weight. Home practices can do well with any kind of density. In the cases of field or gym practices, you will need to carry your item with you - so it would be more helpful to buy a lightweight product.
A product's density is determined through its composition. A material such as wood is heavier compared to cork or foam. So, when considering weight during buying, it's important to know what the item is made of.
10 Best Yoga Blocks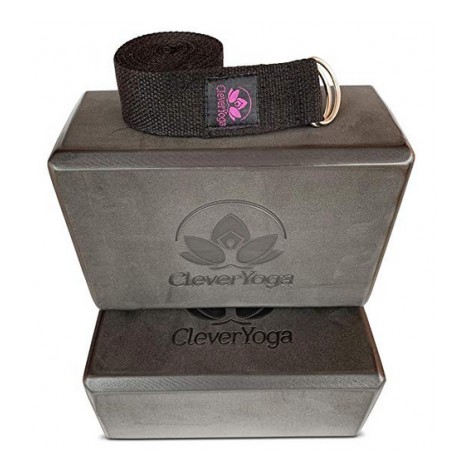 Do you change locations often? If you do, we recommend this particular block, as it is very light, weighing only six ounces. You will be able to transport it easily to your remote yoga studio.
It is also compact in size, given its four inch width by six inch depth by nine inch length. Apart from allowing for easier transportation, it also takes up less storage space. All of these guarantee your convenience while in use.
High-Density EVA Foam
Unlike your ordinary blocks, this one is not made of wood. Instead, it features high-density, EVA foam materials. The material is firm and sturdy, yet comfortable enough to handle.
Two benefits come along with this arrangement. One, you will hardly sustain any injuries while exercising due to the safe nature of the foam materials. Secondly, you also obtain maximum support, because EVA foam is largely unaffected by fidgeting.
Lightweight Versatile Fitness
As stated earlier, this block weighs six ounces, so carrying it out and about is simpler. At the same time, engaging it is also relatively simple, which will make it more convenient while working out.
You will not have to put in too much effort to yield the desired ends. Further, it allows for smooth changing of positions at all times during the workout. Chances of getting bored are therefore greatly suppressed.
Cost and Value
The manufacturer has made deliberate attempts to make the block safer for purchasing. That is why it has put in place a risk-free purchasing policy, featuring the 'Namaste' warranty.
In case you are not entirely satisfied with your purchase, you can ask for a free replacement. You may also receive a full refund if you so wish. These aside, this product has been noted to be great and fulfilling.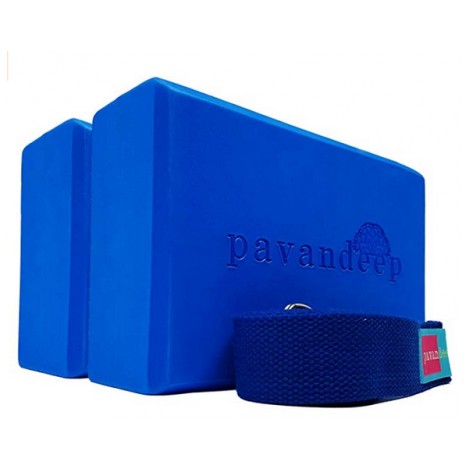 Pavandeep is a well-known manufacturing company for fitness items. That is why you want to give this item a try, especially if you want long-term reliability. What's more, this item is also very stable.
This one in particular measures nine inches long by six inches wide by three inches deep. It weighs a moderate 15.2 ounces. Given these two awesome dimensions, it is stable enough to endure the most intense impacts.
Multipurpose
Regardless of your skill level, you will find this item suited for you. That is because it is optimized for beginners and advanced yogis alike. The main reason underlying this is the ability to adjust your posture.
With this tool at your fingertips, it is possible for you to build your strength effectively and stretch out completely. Consequently, you won't have to replace them very often. The benefits of reduced expenses are yours to leverage.
Comprehensive Set
This is not just one item. Instead, it comes as a comprehensive set. It comprises the tools and accessories you would find in a studio-standard yoga kit: yoga bricks, a yoga mat, and other vital accessories.
With this set, you will not have to look elsewhere for your workouts; instead, you will enjoy all your workouts 'under one roof.' This saves you time, effort, and definitely money. You also gain the required benefits faster.
Cost and Value
For your complete peace of mind, this item comes with a full one-year warranty. Furthermore, it gives you the chance to enroll in a two-year warranty version, free of charge. Its secure benefits do not just end there.
You may receive a free replacement if things go south, although it's rare that this would occur. The item in and of itself is truly great and handy for your use. Its longevity and stability are two particularly crucial traits.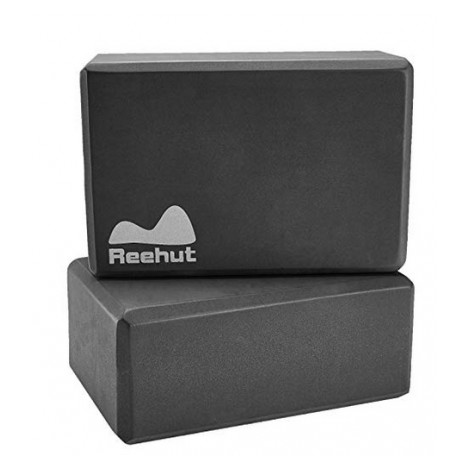 The Reehut range of products is the one to look up to for enhancing your fitness regimen. That is because they are tougher and more resilient to the common elements of deterioration. They are also very stable.
This one measures an impressive nine inches long by six inches wide by three inches deep. However, it weighs only eight and a half ounces. Due to this, it is agile enough to allow for multiple applications and postures.
Comfort Grip Beveled Edges
Generally speaking, this item is designed for your comfort. This is made possible by its beveled edges, which ensure a steady grip whenever you lay your hands on it. In so doing, the edges minimize unnecessary injuries.
Your use of it saves you from challenges that users of other brands confront. Your workouts are therefore made very fruitful. You also attain the utmost peace of mind.
Non-Slip Surface
Yoga, being a rigorous exercise, requires trust and adequate support. This can only happen if your brand of choice is designed with these two items in mind. Yet again, this item makes that possible.
Its surfaces are resistant to slips and fidgeting, because the surface is textured to allow for a secure hold. Also, it hardly fidgets or loses stability anyhow. This can provide you with some peace of mind.
Cost and Value
Your choice of this brand is not a gamble at all. This is because it is accompanied by a 100% satisfaction warranty. This comes in two forms: a 60 day, money-back guarantee and an 18 month replacement warranty.
Additionally, the manufacturer provides great after-sale services in case you are dissatisfied with your purchase. As a whole, this it yields great workout outcomes. Your consistent use of it is a great way to stay in shape.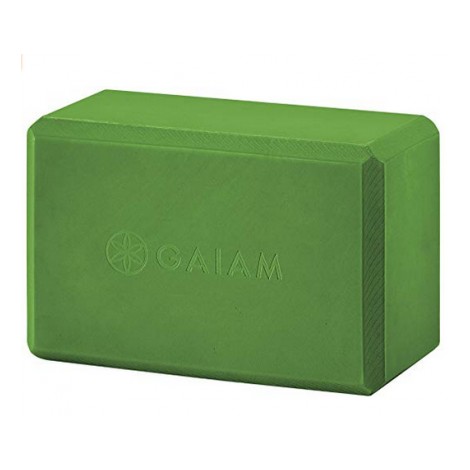 Gaiam is undoubtedly an expert in all areas of yoga. That is because the company has been engaged in the manufacturing of gear for over 25 years. You should count on its product to be truly high in value.
This particular product measures a comfortable nine inches wide by six inches high by four inches deep. It weighs only 4.6 ounces. You will find it comfortable and sturdy enough to handle as the need may so dictate.
Optimal Alignment
In all, this product is optimally aligned with added stability and balance. This lets you practice with all the peace of mind you may require. You will be able to enjoy deeper and prolonged poses.
Your continued and consistent use of it is a sure way of increasing your strength. It is great for considerably building and toning your muscles. Notwithstanding, it takes less effort compared to other brands.
Durable Supportive Foam
This yoga block is made with durable, supportive foam to enrich your workouts. The foam is lightweight and the top has a non-slip surface. This provides the stability you need to practice fearlessly.
Its edges are also beveled for the sake of tight grips. As such, you derive the comfort needed to practice repeatedly and for an extended duration of time. No matter how much you sweat, you will still be stable.
Cost and Value
Just like every other product, this one also includes a warranty. This warranty and the associated support is given out discretionally. You have to contact the manufacturer for information regarding your eligibility.
That aside, this brand is truly a high value for your money. Its longevity, resistance to breakdowns, and reliable performance are just some of the benefits you stand to gain from it. You definitely want to give it a try.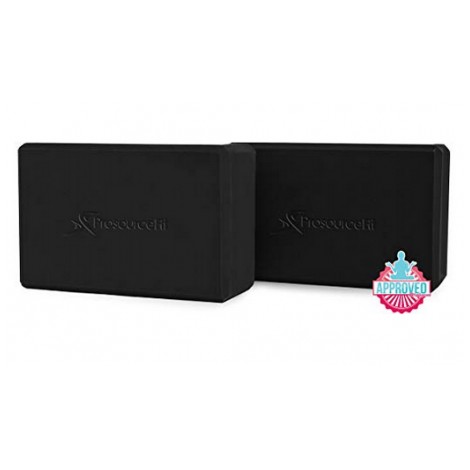 The Prosource Fit brand is well-known for quality products that are optimized for strength and resistance. You'll want this particular item if you are intent on leveraging these advantages. It is also a great purchase for commercial applications.
Measuring 4 inches deep by 6 inches wide by 9 inches long, and weighing only 5.6 ounces, this is truly a great piece of workout equipment. These attributes offer awesome stability, which in turn provides adequate support to you.
Flexible High-Density Foam
By all accounts, this product is flexible, lightweight, and of higher density. These are the three vital traits that any good brand has to possess. They work jointly to make your workout hassle-free.
Furthermore, its lightweight nature also makes transportation of it a breeze. You will be able to take it wherever and whenever you desire. This allows for remote workouts at times that are convenient for you.
Solid Structure and Contoured Edges
In all, each contains a solid structure. It is tough, compact in size, and firm enough to allow for the most rigorous workouts possible. Its contoured edges are designed purposely for your comfort.
They are not sharp and will scarcely inflict any incisions or cuts on your skin. Many people have sustained injuries while using other brands. However, you will certainly not be part of this statistic.
Cost and Value
The product also contains a warranty. However, this warranty, alongside other support issues, is available in a discretionary manner. You will have to contact the seller for in-depth information about the policy.
Besides the warranty, the product itself is a great and worthy purchase. It enables you to enjoy the most comfortable and enduring workout results. It also negates the need to set aside huge work spaces to be able to do so. This item is readily available for purchase.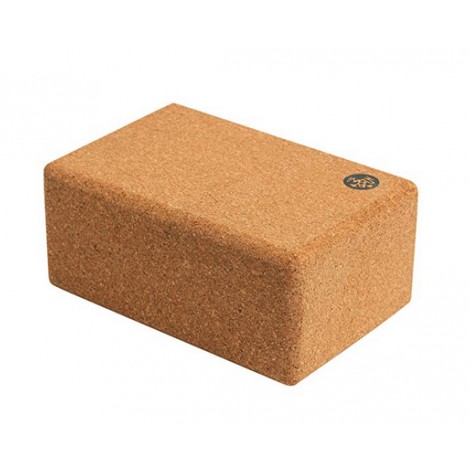 Do you care for the environment? If you do, we welcome you to try the Manduka range of products. That is because they are made of biodegradable materials; the primary example of these is cork oak trees.
This yoga block measures nine inches long by six inches wide by four inches deep. It weighs just about 2 1/2 pounds. It may be heavy, but that is what you truly need for intense workouts.
No Toxic Chemicals
Also, during the manufacturing and harvest of this item, no harmful chemicals are produced. This is an important factor for many yoga students and teachers. In addition, these blocks are made out of 100% cork.
Stable
These items have great durability and stability so you have no worries about them not being able to maintain your weight due to them being too soft. They make it less difficult to get into hard poses and hold them for longer periods.
Cost and Value
For all accounts, the Manduka range of products is suited to the highest experience levels imaginable. Chances of your block breaking down prematurely are heavily suppressed. It is made to last a long time.
Purchasing it is a great way to show your appreciation of nature. That is because you will contribute towards minimizing the effects of environmental degradation. While you're at it, you will build muscle.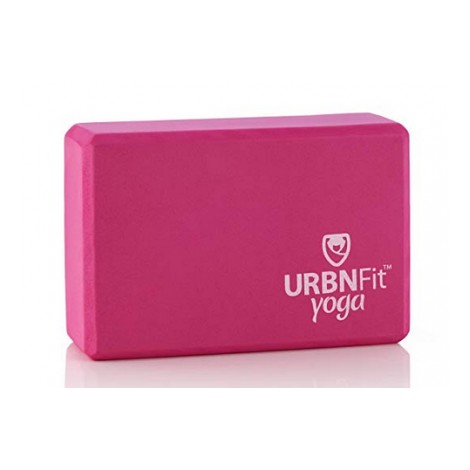 Some yoga exercises include the enhancement of respiratory faculties. The blocks that are used for these workouts definitely has to be safe to breathe, which is the need that this brand endeavors to meet. It is mainly made of EVA foam material.
Apart from being light, this material is devoid of unnecessary toxins, including heavy metals, chlorides, phenols, and latex. It is subsequently safer to breathe. Its three inch depth by six inch width by nine inch length further provide a sufficient work space.
Moisture-Proof
In all, it is moisture-proof and designed to resist the intrusion of moisture. With regards to this, this product is unlikely to encourage any growth of moisture, which definitely makes it safer.
These factors make it more reliable for use in extremely damp conditions. That is because they are the ones that are most affected by the menace of bacteria and mold. It also wards off any associated health problems.
Seamless Handling
If you're carrying it for long distances, you can make use of its strong cotton straps. These strong straps allow for smooth and hassle-free transportation. It also minimizes strains your body feels naturally.
You will not have to struggle to be able to carry this block whenever the situation may arise. This means you will enjoy impromptu applications, even more so in remote and inaccessible locations.
Cost and Value
This particular brand, alongside all the other products in its range, is accompanied by a 100% satisfaction guarantee. This means that you will have all your issues sorted out if and when you come across them.
This item is in and of itself a great purchase. It will grant you the support and comfort you need to enjoy your workouts. You only need to use it consistently to be able to leverage those advantages.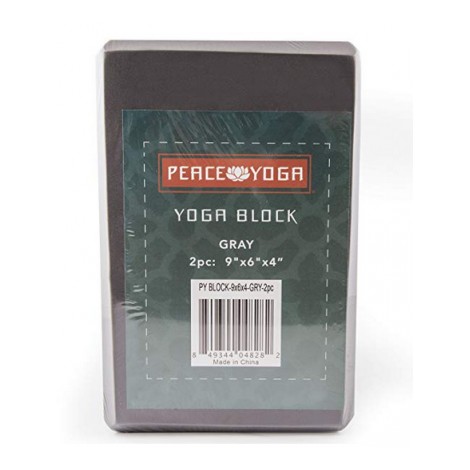 Peace Yoga blocks are mostly known to be great for traveling. They are applicable to use at home, in the studio, and on-the-go workouts. This specific brand, however, is mostly optimized for aesthetics because it is stylish and colorful.
You may want to use it to add to your interior décor. For you to do this, you'll just need to choose your desired color. This item measures 9 inches in length by 6 inches in width by 3 inches in depth and weighs merely 3.2 ounces.
Versatile and Stylish
As stated, this item is mostly suited to add to your interior home décor. This stems from its versatile and stylish appearance. As a result, you may place it strategically in a location that is highly visible to any incoming visitor.
This notwithstanding, it is also capable of the normal benefits expected of a brand of its kind. It has a tough, stable, and reliable work surface.
Built to Last
On the whole, it is built to last. That is because it is made of high-density foam material. Because of this material, it can endure the most intense workouts and impacts.
You'll benefit from added value for your money and unconstrained peace of mind by getting your hands on this item. This is not to mention that your maintenance expenses will be brought down considerably. Why would you even look elsewhere?
Cost and Value
As you may have already deduced, this is not your standard brand. That is because it does so much more than let you practice yoga seamlessly. It adds to your interior décor, performs while on the go, and is also truly reliable.
Your purchase will potentially yield the highest return on your investment. It includes excellent customer service backing, which makes this expense all the more worthwhile.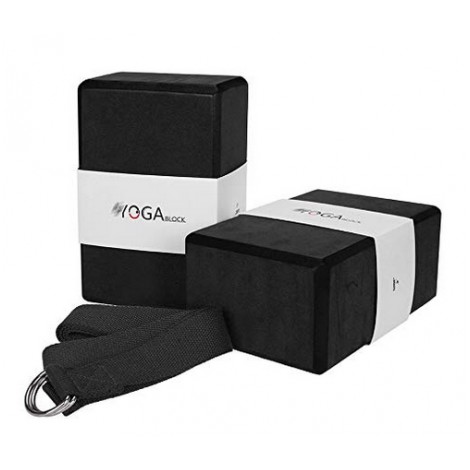 If you are just starting out in the field of yoga or meditation, this is a nice item for beginners. It is simplistic in scope and construction. It measures only nine inches wide by six inches wide by four inches deep.
What's more, it is also stylish in appearance. You will find that it will make a great addition to your workspace or living room. This makes it a better purchase as well.
Odor-free Yoga Blocks
Unlike ordinary brands, this one is free of any odors. The main reason underlying this is its moisture-proof and non-absorbent nature. You will not have to worry about any respiratory illnesses, even with direct exposure.
Many different brands get contaminated with bacteria. This will not be the case at all with you due to the clean and safe nature of this item. It will spare you of any such incidences and you will have the confidence to exercise freely.
Perfect Yoga Cushions
The manufacturer understands that you may not only be interested in yoga alone. That is why it was deliberately designed to handle many kinds of applications and workouts.
Examples of these are Iyengar, Yin, Hatha, Kundalini, Bikram, and of course, meditation! Your choice of this item is a great way to save yourself some money. You also will not have to use various fitness accessories during your workouts.
Cost and Value
Given that it handles a number of yoga-related workouts, it brings about a higher value for your money. You just have to buy one block to have all your needs met.
This, combined with the time you save, allows you to achieve any outcomes you have in mind. It is nonetheless costly and backed by a limited warranty. It still guarantees your comfort and convenience. You cannot afford not to opt for this item.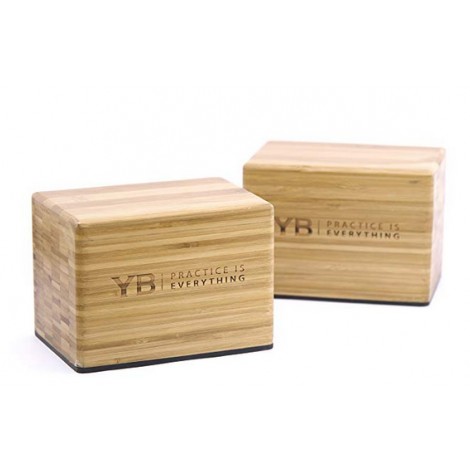 We started earlier by acknowledging that there are many different kinds of yoga blocks. This one is designed for gymnastics training and intense body movements. It main strength is its tough and durable nature.
At the bottom of the block is three millimeters of non-slip rubber. It measures a comfortable 5.12 centimeters long by 3.5 centimeters wide by 8.8 centimeters deep, weighing a decent 3.6 pounds. The combination of these aspects will make your workouts effective.
Non-Slip Rubber Bottoms
The bottoms of this block are quite stable. That is because the non-slip rubber adorns the entire length and breadth. You may place it atop any surface and work out without fear of fidgeting or slipping.
Because of this, you will also be capable of carrying out intense applications which many brands are ill-equipped to support. This adds safety and peace of mind to your workouts.
Industrial-grade Construction
Only strong and reliable materials are used to make them. These materials are industrial-grade and have been tested to endure all kinds of impacts. This being the case, it is unlikely to dent or sustain damage easily.
Apart from long-lasting outcomes, this arrangement also diminishes the costs of repairs and maintenance. You will ultimately spend less to keep your items in the best shape at all times.
Cost and Value
All factors considered, the main advantage to purchasing this product is its strength. It is tough and generally capable of enduring the harshest impacts. Also, as previously mentioned, its cost of maintenance is limited.
This is the brand you want if you are on a budget. It is also good for those intense workouts which have been noted to reduce the life expectancy of other brands.

Subscribe to our Newsletter