Best Yoga Cushions Reviewed and Rated for Quality
In a Hurry? Editors choice: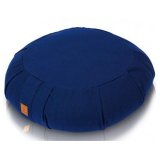 Test Winner: Seat of Your Soul

It's well known that the frequent practice of meditation can bring tranquility to your life, but did you know it can also fight against diseases and reduce the negative effects of aging? In fact, some studies suggest that meditating is better than pain killers and other pharmaceuticals at treating what ails you.

But to engage in an effective meditation practice, you need to be comfortable and free from back and neck pain. That's why we've created this Ten Best List.

We feature buckwheat cushions that are naturally sturdy and durable. We also showcase a few different styles of pillows from the circular zafu style, to the crescent style, to the rectangular zabuton style.

So no matter what your body type or desired comfort, there is a cushion on this list for you that will allow you to deepen your meditation practice and start reaping all of its amazing benefits.
Standout Picks
Criteria Used for Evaluation
Style
When making this Ten Best List we made sure to include only those products that are the most functional for their purpose and that can deliver the best support. But that being said, we also try to showcase products that are aesthetically pleasing and that offer a variety of designs to suit each person's unique aesthetic and shape needs.
We work to highlight products that offer an array of colors--some items on our list come in as many as 40 different colors--as well as unique designs and patterns so that you can be sure to find a product that fits your design preferences.
When considering style, we also took a look at the shape of each product. Traditional yoga and meditation cushions come in 3 different styles. The zafu is a round cushion that varies in diameter and height, but it is perfectly round. The crescent style is shaped more like a crescent moon and comes in similar lengths and heights as the zafu. The zabuton is more rectangular in shape and it usually not quite as high as the other two cushions, though these can often be folded in half to give you more flexibility in desired height. Companies that offer multiple different styles in their product shapes rank highly on our list.
Finally, we feature companies and their products that offer multiple diameters for each cushion. As we are all aware, our beautiful bodies range greatly in size and in needs. That's why companies that offer larger diameter sizes in their products rank highly on our list so that all bodies can get the meditation and yoga support that they need.
Adjustability
In terms of adjustability, most of the products on our list rank right at the very top. This means that they are filled to the brim with buckwheat hulls or cotton and that they can be adjusted to suit your specific height and comfort needs.
Almost all of the products on our list contain a cover packed with fill and then another cover on top of that that can easily be removed and washed. This design allows you to gain access to the stuffing part of your pillow and to remove hull or cotton so that you can get a seat that is just right for you. This also allows you to remove the cover without letting all of the stuffing out.
A few of our featured products, while still offering a washable cover, do not have an inner cover that holds the stuffing in. This means that you have to remove all of the stuffing and re-stuff your pillow when you are done washing and drying the cover.
Comfort
As comfort is one of the main purposes of purchasing a product like this, it was, of course, one of our main considerations when making our list.
These products are meant to alleviate pain in the hips, spine, and neck during long stints of sitting and meditating or when needing a bolster for support in difficult poses. They work by aligning your spine and elevating your hips so that you can achieve a longer line and better posture. This helps you to maintain poses for longer and to achieve deeper states on concentration and focus.
While buckwheat fill is pliable, it is also sturdy. This means it won't sag underneath your seat during long periods and it also means it won't break down over time. Plus, these products are designed to memorize your seat and to conform to your body over time. That being said, they can feel a little firm to some people. That's why we feature products that you can adjust.
The more fill that you remove from your product, the softer and more pliable it will be. The more fill you leave inside of your product, the more firm it will be. We always remind you to keep any fill that you take out so that you can play around with the density and feel that is right for you, and so that you will always have extra to add in should your cushion begin to lose its density.
Of course, we also love the products on this list with cushiony covers made from quilted cotton to give even more comfort to the tooshy.
Materials
Most of the products on this list are made with cotton or hemp covers that are both soft to the touch and durable so that they can stand up to heavy use and also work to be thrown in the washing machine for a quick rinse when things start to get a little dirty.
Buckwheat is a great fill because it is a renewable resource, it is sturdy, and it is also pliable. In fact, some of the buckwheat is sourced right in the United States. It is easy to take out and re-stuff and it also provides stability while still giving a soft seat.
Value
We work to bring you the products with the highest value. Most of the products on our list are super affordable and are meant to last through many long yoga and meditation sessions. We always highlight companies that have great employee benefits, as well as amazing customer service and we, work to bring you products that are responsibly and consciously produced so that you can feel good about enriching your practice from start to finish.
10 Best Yoga Cushions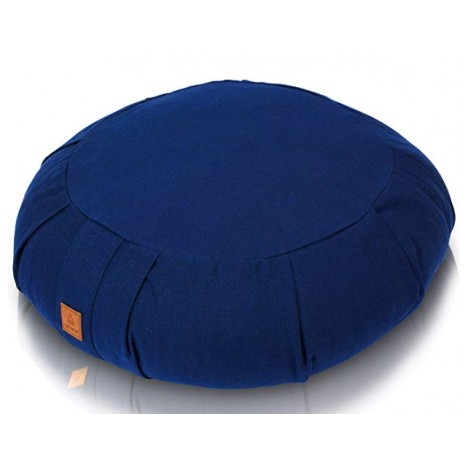 Seat of Your Soul is the first company to make our list because we and so many others have fallen in love with their products. Not only do they offer a diverse array of cushions, but they guarantee them to last a lifetime and they are committed to helping you engage in a healing meditation practice that can transform your life. What's more, they are firm enough to be used in your yoga practice as a bolster, not simply a cushion.
Zafu, Crescent, and Zabuton Cushions Available
We love that Seat of Your Soul offers multiple different cushion designs to fit every body type and need. The standard zafu is round and measures 5.5 inches high with a 15-inch diameter. The crescent design is shaped like a crescent moon and measures 5 inches high and 17 inches across. The zabuton is rectangular in shape and measures 4 inches high by 24 inches long. You can get each one of these styles in any of 7 deep cool colors.
Made from GOTS Certified Organic Materials
Seat of Your Soul makes quality products made from materials you can feel good about. All of their products are certified to be made from organic materials by GOTS. Each cushion is filled with buckwheat husks that are designed to memorize your seat and mold to it, and they are durable enough to last a lifetime. You can also remove husks to adjust the seat and to suit your needs. The cover comes with a handy handle making it easy to carry around and it is made from 100% cotton. That means you can remove it and throw it in the washing machine if it ever starts to get less than fresh. Did we mention that the cover is handmade?
Cost and Value
Seat of Your Soul products ring up in the middle of our price range and we love their value because they can be adjusted to suit your personal practice and because they come with an optional lifetime warranty so you know you'll get a lifetime of amazing use out of your product.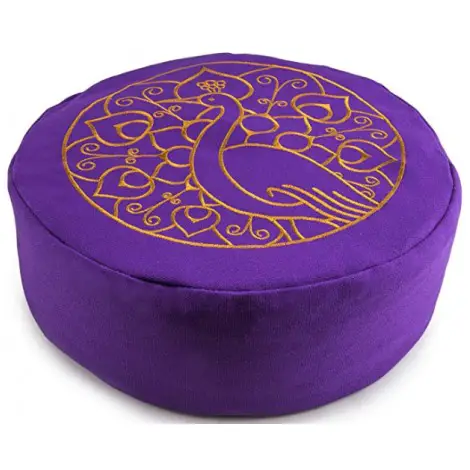 The Peach Yoga Zafu is a wonderful product to take with you on yoga training where you are expected to sit for lessons for hours at a time or in your daily practice as a bolster. You can also use this product around your coffee table on family game nights or when watching TV to help with your posture. Whatever you're looking for, this product can do it.
6 Intricate Designs
The Peace Yoga Zafu is a round cushion that comes in 2 different sizes to suit all body types. The small size measures 13 inches in diameter and is about 6 inches high while the large size measures 16 inches in diameter and about 6 inches high (a bit higher than the last product on our list). It comes in 6 amazing designs that feature natural images and geometric shapes with vibrant color options to choose from.
Handle Makes it Easy to Carry
The Peace Yoga Zafu is made with buckwheat stuffing that can be adjusted especially to suit your needs and firmness preferences. That makes this product both pliable and firm. Remember to hold onto any removed hulls so that you can add them later if your body's needs change. The cover comes with a handle making it super easy to tote around and to travel with. It is made from cotton and is safe to wash in the washing machine. However, it's important to wash gently on cold and to never dry as this might result in the cover shrinking and no longer being able to fit over your cushion.
Cost and Value
The Peace Yoga Zafu rings up in the middle of our price range and we love its value because it comes in two different sizing options and because it offers a bit more height than other pillows on the market.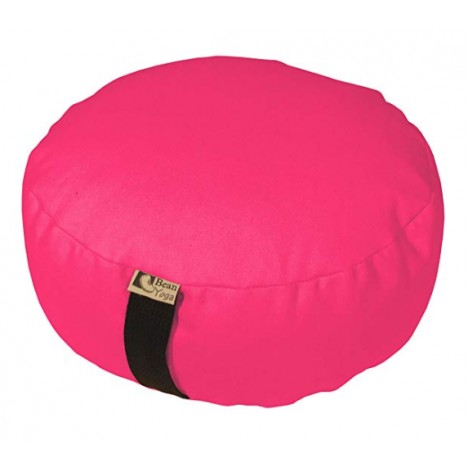 Bean Products has been bringing the best in meditation and yoga gear for over 30 years. Needless to say, they know what they're doing. With multiple shapes and extra large sizes, they deliver just the right bolster and yoga companion, no matter what you're looking for.
Extra-Large Sizing for Even Better Fits
The Bean Products cushions come in 3 shapes: the zafu standard round, the extra-large oval, and the extra-large crescent. The zafu standard round measures 14 inches in diameter and is 6 inches high, the extra-large oval measures 14 inches by 18 inches and is 6 inches high, and the extra-large crescent measures 14 inches by 18 inches at 6 inches high. They come in over 44 incredible colors so there is definitely a match for everyone.
Different Fabric Options
We love that Bean Products offers options when it comes to the fabric of the cover. You can get your cushion with 10-ounce organic cotton, 16-ounce hemp that's eco-friendly, or 10-ounce cotton duck. Each product is stuffed with buckwheat hulls that are grown in the United States. You can remove and add hulls based on your needs and preferences. Each product is handmade in Chicago and comes with a handle for portability. To wash, easily remove the cover and put in the washing machine on the gentle cycle. For best results, air dry flat.
Cost and Value
The Bean Products Zafu rings up in the middle of our price range and we love its value because their products are loaded with options so you can select just the product that's right for you.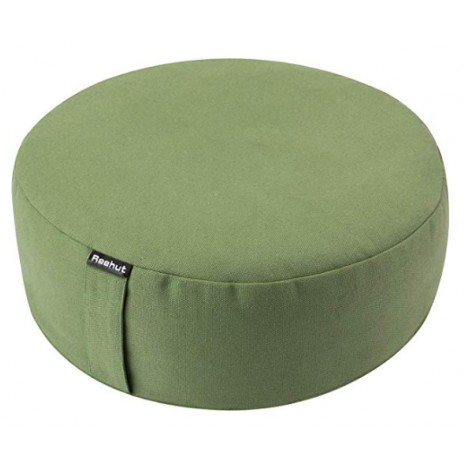 The REEHUT Zafu will boost your practice by helping you achieve better posture and deeper focus when you're meditating or practicing yoga. Sizing variety make getting the right fit for you easy.
3 Diameters to Choose From
The REEHUT Zafu is a perfect round that comes in 3 available sizes. Choose between the 12, 13, or 16-inch diameter pillows that measure 4.5 inches in height. This product comes in 4 earth-toned colors to bring a grounding and calming effect to your meditation and yoga practice.
Breathable Hemp Cotton Cover
The REEHUT Zafu is made using buckwheat hulls rendering it durable and resistant to distortions and shape-shifting. Hulls are encased inside of their own zipper so it is easy to access them and add and remove them based on your needs. The cover is made from a blend of hemp and cotton so it is super durable and super soft at the same time and it is also machine washable. With a super strong zipper, you can be sure to enjoy this product for years to come without worrying about leaking hulls on the ground during use. A handle on the cover makes this product easy to tote with you to class.
Cost and Value
The REEHUT Zafu rings up at the bottom of our price range and we love its value because it offers sizing options and a tote handle with hemp and cotton cover (features that more expensive cushions offer) at a lesser price.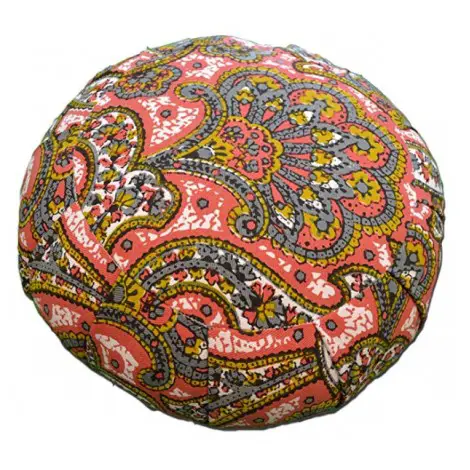 The YogaAccessories Zafu is slightly different than others on our list so far in that it is filled with cotton, not buckwheat husks. However, it is still durable and comforting during meditation and yoga practices and may be just the right product for those who were sensitive to the bulk and hardness of the previous cushions.
Beautiful Aesthetic
Okay. We just have to say we are so in love with these designs. They are fresh and current as well as serene and calming. With 20 unique designs and patterns ranging from neutral tones to mystic images, you are bound to find a product that strikes your fancy. These are shaped like your standard zafu and are 15 inches in diameter and 6 inches high. We love this height in cotton as it provides needed support while still giving the softness that many users are looking for.
Made With Plush Cotton
Unlike other products on our list so far, this zafu is stuffed with 100% cotton. Cotton is durable like buckwheat husks but it is softer and can provide more comfort to those without a lot of padding in their nether regions. You can choose to purchase this product covered in silk or in 100% cotton twill. Either way, you will be getting a luxuriously soft and durable product that you can be washed by removing the cover and washing the cover separately. And just like with the buckwheat hulls, you can remove cotton to arrive at your desired density. It also comes with a handle for ease of transport.
Cost and Value
The YogaAccessories Zafu rings up in the middle of our price range and we like its value because it comes with an array of beautiful designs and because it's made with cotton making it a softer alternative for those with sensitive bottoms.

6

. Waterglider International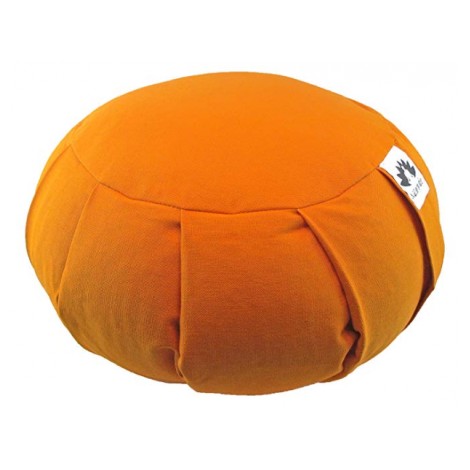 Waterglider International is a company with a heart of gold. We love featuring their products because they focus on employing 100% refugee workers in the United States and on using materials that were ethically grown and processed so that you can get a product that was designed from start to finish to be happy and free from suffering--and shouldn't that be the start to your meditation and yoga practice?
Crescent and Standard Zafu Shape with Pleats
The Waterglider International comes in both crescent and standard zafu shapes. The standard zafu that we feature measures 14 inches in diameter and 6 inches high, so we love the height on this product. Plus it comes in 6 deeply toned colors that will have you feeling grounded and way into your meditation and yoga practice.
Handmade By 100% Refugee Labor Force
We love that Waterglider Internation is committed to producing ethically derived products from start to finish. Not only do they employ 100% refugee labor force, but they also ensure that all of their buckwheat husks and cotton are grown in the USA and are up to the standards held by the USA and her consumers. They stuff their cushions to the brink to allow you more flexibility in adjusting your cushion to your desired firmness and density. You can machine wash the organic cotton covers any time they need to be freshened up.
Cost and Value
The Waterglider International rings up in the middle of our price range and we love its value because it is made consciously and ethically without breaking the bank or cutting corners.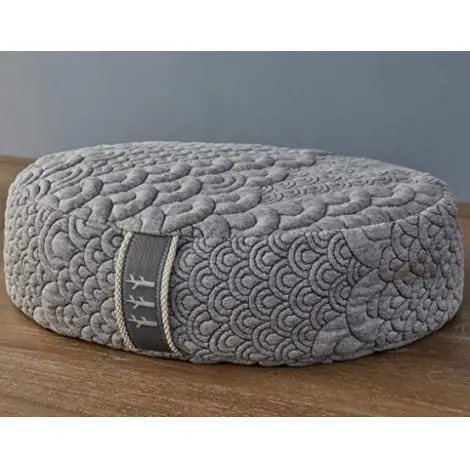 The Brentwood Home Pillow was designed by an actual yoga instructor so you know you're getting a product that is functional in practice and made with you in mind.
Peaceful Waves to Encourage Meditation
While Brentwood Home doesn't offer up the wide selection of other brands on our list, they have pretty much made the one-stop perfect pillow for your needs. It measures 18 inches long, 13 inches wide, and 6 inches high. We love this height and these dimensions because they are well suited for most body types and provide the shape and structure to give your yoga practice exactly what it needs. With a beautifully designed gray cover that is stitched to mimic waves and scales, you will feel at one with the earth and ready to dive deep into your practice.
Unbelievably Soft Stretch-Knit Cover
This is the first product on our list to feature a stretch-knit cover. It is super soft and machine washable and can even be thrown in the dryer (low heat please!). The GOTS inner cotton liner holds in all of the buckwheat filler so you won't have to worry about unstuffing and restuffing your pillow when you wash the cover. This also means that adjusting the density and thickness of your Brentwood is easy to do. And of course, it comes equipt with an easy-carry handle.
Cost and Value
The Brentwood Home Pillow rings up at the very top of our price range but it is truly a designer pillow. It's worth its weight because it's super soft and the perfect size for almost any body.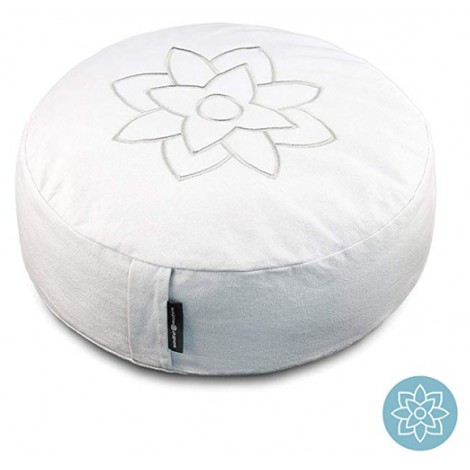 The Mindful & Modern zen Zafu will make you feel like you're meditating and practicing inside of a Buddhist Zen Garden with lotus blossoms all around you.
Beautiful Lotus Design
Mindful & Modern designed a product that is both functional and beautiful. Its white cover with lotus embroidery will fit any room's aesthetic and will call your name to sit on it. And since it has a convenient handle, you can take this baby with you anywhere you go, anytime to create a space to calm your mind and soothe your body.
Easy-to-Wash Cotton Cover
The cover of the Mindful & Modern Zafu is made from high-quality cotton that is easy to remove and that is machine washable. Please wash with other like colors and do not dry with heat as this can result in shrinking. The stuffing of this product is made from 100% organic buckwheat hulls which provide a sturdy seat with support while still offering comfort. You are free to adjust the fill by removing and adding fill as you see fit to support your seat and posture. Don't throw away fill that you have removed as you might find yourself wanting to add more fill later.
Cost and Value
The Mindful & Modern Zafu rings up at the top of our price range and we like its value because it comes with a 90-day trial period and a 1-year warranty. If you aren't satisfied with your purchase for any reason or you experience any issues with your purchase, Mindful & Modern will work with you until you are satisfied.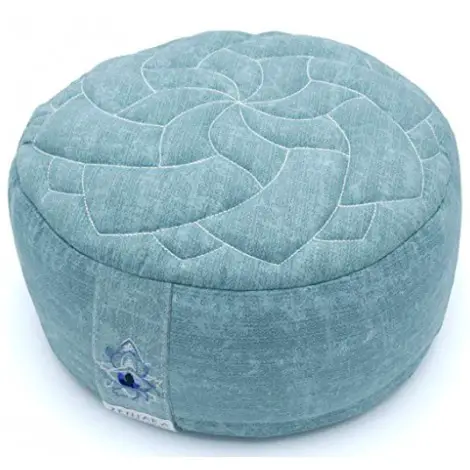 The Zenjara Zafu is made with comfort and beauty in mind. Its quilted design gives a little extra padding down there and you will absolutely love the color options and look of this zafu.
Mandala of Quilted Cotton Knit
The Zenjara comes in a standard round that measures 15 inches around in diameter and 5 inches high. You can choose between three colors: blush pink, cloud gray, and seafoam green. Each appears to have sort of a heathered sweatshirt wash. And they are all finished with a mandala knit reminiscent of a quilt that will keep your eyes in love and your bottom nice and comfortable. Plus, the Zenjara comes with a handy little drawstring cotton bag with their trademark logo so you can carry your bolster around everywhere with you with complete ease.
Made Using Sustainable Materials
All of Zenjara's products are made using sustainable materials because they believe that the products you use for your meditation should be as mindful as your practice itself. They do not use a single bit of plastic when packaging and making their pillows. All items come overstuffed with buckwheat fill that can be adjusted to fit your needs and your preferences. And because the buckwheat is stored in its own casing, it is easy to remove the outer cotton cover and throw her in the washing machine any time she starts to develop odors or become stained.
Cost and Value
The Zenjara Zafu rings up at the top of our price range and we like its value because it is made from sustainable materials, it comes with a bonus bag, and it is extra soft on your bottom.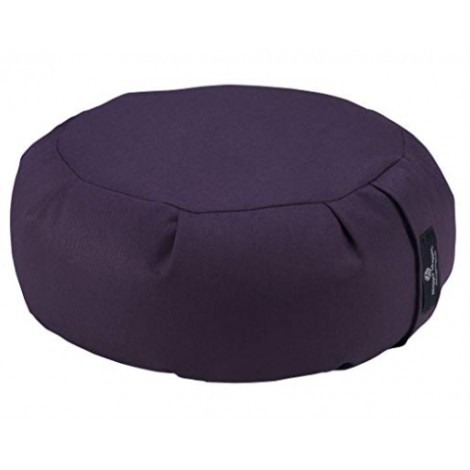 This Hugger Mugger Zafu gives just the height and support under the pelvis that you need for alignment and comfort during your yoga and meditation practices.
Standard Round with Blended Handle
The Hugger Mugger Zafu comes in the standard round of a zafu and measures 15 inches in diameter and 5 inches tall. The easy-to-carry handle covers the zipper and blends in with the rest of the fabric as part of the seamless design.
Durable Cover and Zipper for Long Life
The cover of this Hugger Mugger is made from durable material meant to stand up to heavy use. The heavy-duty zipper is also designed to keep all of the buckwheat fill (and it is stuffed to the brim with fill) inside. It will mold to your body the more you use it and it will begin to memorize your positions. As we mentioned, it is stuffed full of filling so you may find yourself needing to remove some fill to get the shape and density that is right for you. Remember to hold onto any buckwheat that you remove so that you can add more stuffing later if desired. It is worth noting that there is no inner casing to hold the buckwheat, so if you want to wash the case, you must remove all of the buckwheat and then re-stuff the case after it is dry.
Cost and Value
The Hugger Mugger Zafu rings up at the top of our price range and we like its value because it is made from durable materials that are built to last.

Subscribe to our Newsletter