Best Yoga Books Reviewed & Rated for Quality
In a Hurry? Editors choice: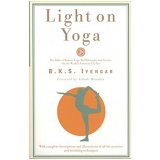 Test Winner: Light on Yoga: The Bible of Modern Yoga

It has been scientifically proven time and time again that yoga is one of the best exercises out there. The
uniquely gentle and holistic approach
to health and fitness has been proven to greatly help with an array of health issues while being therapeutic at the same time. Despite yoga's increasing popularity, some people still struggle to have access to in-depth knowledge about the intricacies behind this delicate exercise. Everyone from world-famous yogis to medical specialists has taken to the written word to share more knowledge to enthusiasts and beginners alike about the health benefits of yoga to the hidden secrets of meditation. This has become a must-have tool for any wanna-be yogi who might be too intimidated or busy to join an actual yoga class.
Standout Picks
Criteria Used for Evaluation
Accuracy
One of the most exciting and frustrating aspects of the field of yoga is perhaps the fact that there is so much information on it available. Thanks to its increasing popularity in the West in recent years, it's hard not to encounter someone who considers themselves an expert.
However, when you're a beginner especially, it is vital to get knowledge that is accurate. If you do not have a lot of experience in yogic practice it is easy to fall for misleading information. In this vital first stage of your journey, however, incorrect information could be highly damaging to your body and progress.
This is a major reason why investing in an accurate yoga guide is so beneficial. For the most part, yoga guides are more accurate than most quick results that you find on Google. In addition, yogic guides and literature also truly take pains to show you illustrations and photographs of the correct alignment and give you handy tips to master every asana.
The best way to determine the accuracy of a chosen book is to look at its author. When it comes to yoga, you would ideally want an author who is a certified instructor at the very least. However, you should also consider authors in terms of their experience. Some influential figures, such as B.K.S Iyengar has dedicated over 70 years of his life to yogic practice.
Doctors and medical specialists also frequently write on the subject, usually in conjunction with yoga instructors. These books are also well worth looking into since they'll be able to impart knowledge on a scientific level.
Advanced Features
When we speak about yoga books, it may seem strange to use advanced features as a prime piece of criteria. However, considering the vast market of yogic guides out there, many of them offer features that truly set them apart. With some smart shopping and thinking about your specific needs, you can definitely find a guide that is best suited to your needs.
At its base, any piece of yogic literature should serve as a piece of enlightening information about this exercise. This usually comes in one of two forms: physical and spiritual.
Physical guides are entirely dedicated to simply showing you the mechanics of each pose.
They usually come with pictures or illustrations to show correct alignment and posture. Some even include variations of the pose, tips to master it, and preparatory poses for beginners.
In comparison, spiritual guides are much more concerned with the philosophies behind this ancient practice. These kinds of guides are usually written by highly influential and experienced figures in the world of yogic practice that offer meaningful information about all spiritual aspects related to yoga, such as meditation, mindfulness, breathing, the Chakras, Pranayama, etc.
However, you also get guides that serve as a hybrid between the two. These guides serve to give you the best of both world and some offer advanced features that are not offered by many other guides. For example, some guides may use a purely scientific approach, while other guides are written to be used in conjunction with the writer's YouTube channel.
Your ideal guide is one that is appropriate for your level as well as your needs. Dig a little deeper and find out what a specific guide offers that others don't before buying.
Ease of Use
Several people frequently turn to instructional guides instead of traditional yoga classes for several reasons. Some may not have access to a yoga studio in their area, others may have not have had the time to attend classes, and others simply are too intimidated to join a class.
This is why yoga guides are an excellent way for beginners and experts alike to get into the exercise and to continuously deepen their knowledge and passion for it. However, since you'll be solely relying on this guide, it should be written in a way that is easy for you to understand. Above all, any instructional guide should always to be easy enough to understand and follow.
Before buying a book, it may be helpful to flick through it first to look at the tone in which it is written. Is the tone helpful, friendly, and motivational? Above all, you should check whether you can actually understand what the author is talking about. Also, take time to look at the included pictures. Does each picture adequately explain each pose? Does it give you tips and modifications?
Another thing to consider is the physical ease of use. When you're doing yoga according to your guide, the last thing you want is your book slamming shut right in the middle of a complicated pose. The most ideal physical copies are either hardbacks or spiral bound, since they are more resistant to general wear and tear, and are easy to use during practice.
Use
Your chosen guide will only be effective if you opt for one that suits your level of experience, needs, and personal preference. This is why it's a good idea to sit down before purchasing a guide to truly ask yourself some serious questions. Think about your level of expertise: Are you an absolute beginner or do you know enough to distinguish between the downward dog and the cobra?
Your level of expertise will play a huge determining factor in your eventual choice since most books are written with certain readers in mind.
The absolute beginner may have no need for spiritual guidance yet. Generally speaking, these readers will only be interested in the basic poses and how to do them well. The ideal book for these kinds of users will be extremely simple that feature less poses and focuses more on getting the poses right.
Intermediate users, on the other hand, may start feeling a need for spiritual guidance such as meditation or breathing techniques. Their ideal guides will usually be a hybrid copy that incorporates both spiritual guidance while broadening their knowledge and skills in the various different asanas.
Expert users and teachers, however, will likely only purchase specific literature when a need arise. In this instance, the literature will likely be highly specialized and comprehensive. This could either be in the form of a guide solely dedicated to reflections on the practice or breathing. Or it could simply be a book with a comprehensive catalog of asanas.
Versatility
The very best books are those that never feel aged or dated and can truly stand the test of time. This is no different when it comes to yoga-related literature. The ideal guide should be something that gives you balanced information backed by some kind of evidence.
In addition, any guide should ideally grow with you. While you may want to purchase simplistic guides as a beginner, the poses featured and the information given should be useful enough for you to still apply to your routine even when you've surpassed the beginner stage. Likewise, the expert or instructor should look out for books whose knowledge they can still impart to their beginner students.
To find a book that offers optimum versatility in its use, your starting point should be to consider its approach. As a general rule of thumb, science or medical-based approaches are less likely to become dated than that of a spiritual approach.
The second thing to look at is the writer. Writers with more years of experience are less likely to subscribe to fad routines or strange beliefs. They generally provide more balanced information in this regard.
Lastly, a good thing to look at is the kind of poses featured. You should ensure that all the basic asanas are covered and that there are enough seated, standing, lying poses that collectively work on all your major muscle groups.
10 Best Yoga Books
1

. Light on Yoga: The Bible of Modern Yoga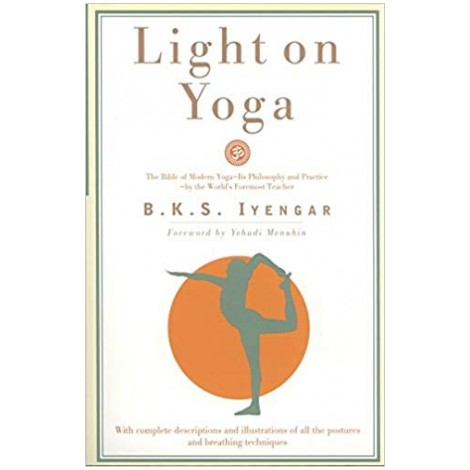 B.K.S Iyengar is widely considered one of the most prominent yoga teachers of all time and even has his very own school of yoga, Iyengar. This makes it inevitable perhaps that Iyengar would want to pass on his immense knowledge using the written word. Light on Yoga, is one of Iyengar's most popular books and is considered a must-read for any and every yoga enthusiast. In this book, Iyengar gently takes you through a variety of asanas and teach you correct alignment, along with deeply insightful insightful knowledge about both body and soul.
Incorporates Pranayama
In addition to the regular poses and asanas, Iyengar includes several techniques to practice and incorporate the art of Pranayama into your everyday life. By practising Pranayama it believed that the yogi will become more connected with their inner and outer bodies.
Inspirational
At the heart of Light on Yoga is Iyengar's sheer passion for the ancient art. There is something undeniably deeply inspirational about the man who dedicated 75 years of his life to the practice and studying of this field. If you're a beginner, this will immediately inspire you, however, it can also help experts to get out of a rut.
Cost and Value
Light on Yoga is very modestly priced considering the fact that it's considered a classic in the field. Most yogis considered this required reading to truly understand the mind-body balance that stands central to yoga. While there is not a Kindle version available, there are several second hand copies available online in addition to new copies.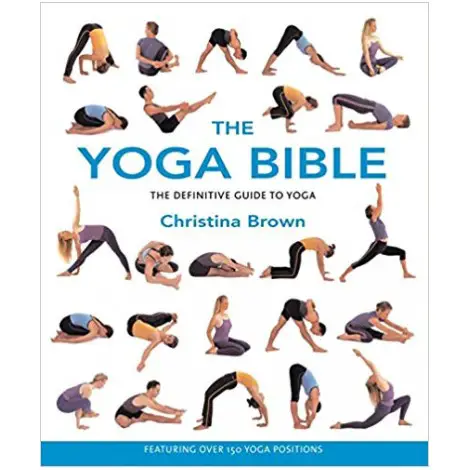 Apart from being an incredible way to deepen your knowledge and love for yoga, The Yoga Bible is perhaps one of the most appropriately titled books on our list. Yogis all over the world consider this their own personal Bible since it gives a compact overview of over 170 poses from various types of yoga. This book strives to be easily understandable and to make anyone enthusiastic over this ancient exercise.
Comprehensive
The Yoga Bible manages to be comprehensive and compact at the same time. It features over 170 most popular poses from various branches of yoga. Each pose includes a picture and handy tips on perfecting your pose. The book also contains information about other aspects of yoga, such as meditation, and spiritual well-being.
Personalized Yoga
Instead of simply showing you poses, The Yoga Bible is dedicated to empowering the reader with enough balanced information to find those poses that suit their personal needs best. It encourages the reader to experiment and to focus on finding a sequence of poses that suits their lifestyle instead of just blindly following poses.
Cost and Value
The Yoga Bible is available as both a paperback as well as a Kindle copy. The paperback is somewhat more expensive but it includes full-color and detailed pictures about each yoga pose, a spiral spine, and is kept together by a tough cover. Considering the comprehensive nature of this book, it is practically a steal.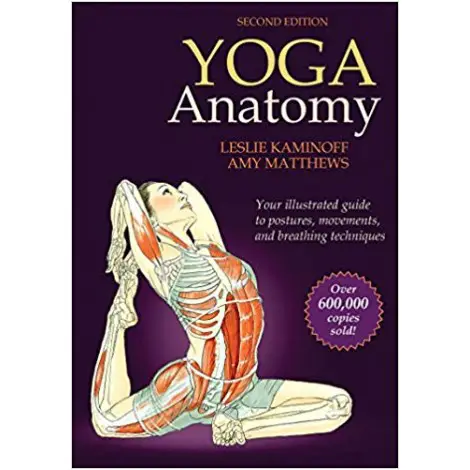 Written by two world-renowned experts in the field of yoga, Yoga Anatomy brings a unique biology-based twist to the literature available on yoga. Yoga Anatomy featured full color, anatomically correct illustrations on every single pose or asana. The illustrations, together with the information helps you see how each muscle responds to different poses. This is one of the best-selling books on yoga worldwide and this updated second edition is a must-have in every yogi's library.
Based on Science
While this exercise has been scientifically proven to be hugely beneficial, a lot of people have trouble getting into it because of yoga's tendency to focus on the spiritual. Yoga Anatomy differs from the average guide in that it absolutely focuses on the effect of yoga on the body that is purely based on scientific research.
Authoritative Authors
Both authors are world leading experts in their fields. Leslie Kaminoff is a yoga specialist with over 32 years of experience. He teaches yoga and has been featured in well-respected publications such as The New York Times. Amy Matthews has been movement educator since 1994 with a special focus on yoga and its many benefits to body and soul.
Cost and Value
There are three different copies of Yoga Anatomy available to suit any kind of pocket. The Second Edition is available as a Kindle copy, regular paperback, and spiral bound edition. All three editions are still remarkably modestly priced considering the book's beautiful illustrations and easy to understand knowledge.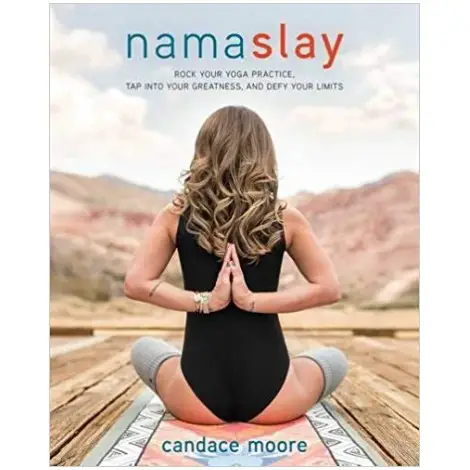 Like the title suggests, Namaslay offers a uniquely modern and fresh perspective on this ancient exercise. Author Candace Moore is a yoga teacher, blogger, and YouTuber who is dedicated to a healthy and body-positive approach to the exercise. Namaslay is more approachable than most other guides since it gives a no-nonsense low down and illustration for over 100 poses. This is a light-hearted no-fuss approach to the exercise and is especially ideal for beginners.
YouTube Guidance
What sets Namaslay apart from the average book is Moore's active presence on various social media platforms. Namaslay can easily be used in conjunction with her many YouTube videos for more in-depth guidance and motivation. This is great for beginners who are still unsure of themselves.
30-Day Programs
This book includes several 30-day programs for you to realize all your yogi goals. Namaslay has easy to follow 30-day programs for everything from meditation, breathing exercises, and, of course, yoga. This is a highly motivational way for anyone to break their exercise rut.
Cost and Value
Namaslay is available as either a paperback or Kindle copy. While the Kindle copy is definitely more cost-effective, the paperback edition is still moderately priced enough to suit any pocket. Considering the included 30-programs and easily-understandable guidance, Namaslay packs a punch in value.

5

. Yoga Sequencing: Designing Transformative Yoga Classes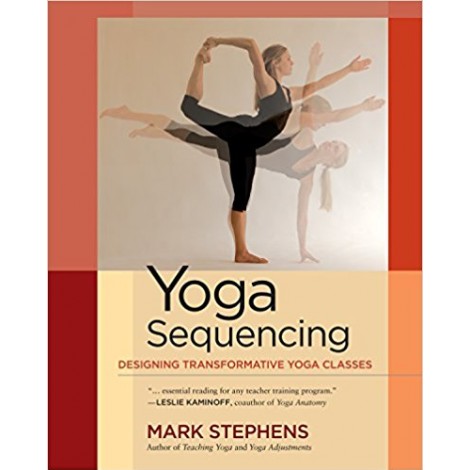 Author Mark Stephens has been practicing yoga for over 20 years and has been teaching it full-time since 1996. After having trained over 1000 yoga instructors, it comes as no surprise that Yoga Sequencing is more aimed at experts and instructors. It is a must-read for any instructor since it primarily deals with optimizing the flow of your sequence. In addition to important information, the book also contains 67 model sequences.
Comprehensive
Yoga Sequencing contains over 2000 highly instructional photos and illustrations of 150 different asanas. In addition, it offers balanced information based on both science and philosophy about the many advantages of the exercise.
Focus on Sequence
Flow and sequencing are perhaps one of the most discussed topics in the field, and that is exactly one of the primary concerns in Yoga Sequencing. It helps you to get a more optimal flow and even offers 67 different model sequences tailored to different groups of people such as students, kids, seniors, etc.
Cost and Value
Despite its in-depth and comprehensive information, Yoga Sequencing is remarkably cost-effective compared to other similar guides. It is available in both a Kindle and a paperback version with different prices for each respective version.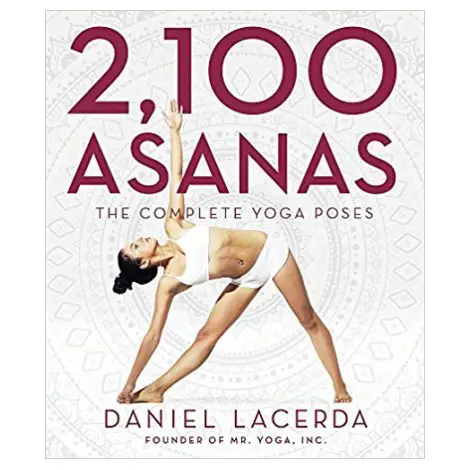 Written by one of the most famous yoga instructors, Daniel Lacerda, 2100 Asanas is above all else a meticulous catalog of 2100 different yoga poses. The beautifully designed book carefully catalogs the most major poses from various branches of yoga. It is an indispensable tool for any serious yogi and the sheer amount of poses available can greatly help you spice up your regular sequence.
Comprehensive
2100 Asanas is a highly ambitious book and achieves what no other guide has ever done before. It catalogs literally thousands of asanas from various branches of yoga all over the world to bring the reader one of the most complete guides to yoga that has ever existed. It is an unprecedented book and succeeds in its ambitious goals.
Detailed
Every single pose featured in the book is demonstrated by a beautiful photograph of an expert yogi performing the pose. This allows you to clearly see the ideal alignment. In addition, each pose includes its English and Sanskrit name, the chakras that are influenced during the pose, the correct Drishti point, and modifications.
Cost and Value
2100 Asanas is only available as a Hardback or a Kindle version. This is unsurprising considering the sheer thickness of the physical volume. The hardcover is somewhat more expensive than the Kindle version, however, this is a beautifully designed book that every yogi should have in their home.

7

. The Key Muscles of Yoga: Scientific Keys, Volume I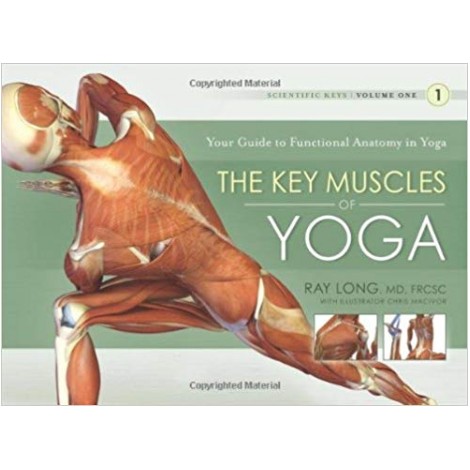 The first volume in this riveting series takes a purely scientific approach to better understanding the impact and benefits of hatha yoga. By using full-color, anatomically correct 3-D illustrations of the human body Long looks at how muscles and other body parts such as ligaments and tendons are used throughout hatha yogic practice. This is a great way to gain a deeper fact-based understanding of your daily asanas.
Focus on Hatha Yoga
This is perhaps one of the most popular branches of yogic practice worldwide which makes it unsurprising that Long would choose to use this as the focus of the series. For practitioners, students, and teachers of this specific branch, The Key Muscles of Yoga is an indispensable part of your library.
Anatomically Correct Illustrations
Illustration artist Chris Macivor creates a beautifully anatomically correct illustration of each discussed asana. By carefully color coding various parts of the body, the reader can gain an in-depth understanding of the kinds of body parts used and affected by every single pose.
Cost and Value
The Key Muscles of Yoga is available as both a paperback and Kindle copy. The Kindle copy is somewhat cheaper, however, both copies offer incredible value for money. The printed version delivers beautifully illustrated drawings that are well worth adding to your yogic library.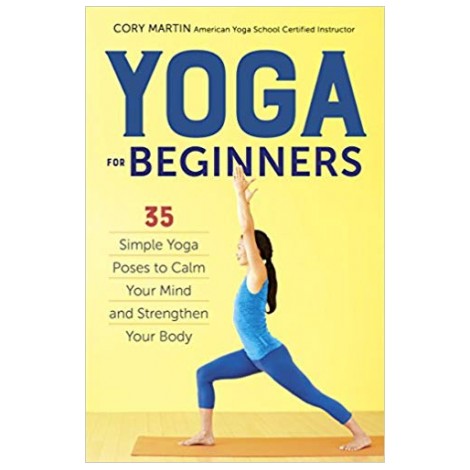 Author Cory Martin makes it incredibly easy for anyone and everyone to discover their inner yogi with Yoga for Beginners. This book offers an easy-to-follow step-by-step guide to master the 35 most popular poses. Each of the selected 35 asanas has beautifully colored pictures to accurately demonstrate each pose. This is an essential guide for a beginner and a lovely refresher for the intermediate practitioner.
Simple
There is a wealth of knowledge out there about yoga and its many benefits and philosophy that could often be highly intimidating for the average beginner. Yoga for Beginners adopts a very and accessible tone. Moreover, it limits itself to introducing only the 35 most essential poses to keep it simple.
Extra Tips
In addition to the 35 poses, Yoga for Beginners also offers extra tips and information about several other areas related to the field. Martin includes helpful information about meditation and nutrition to make sure that every beginner gets the most out their exercise in this stage.
Cost and Value
This book is available in both a Kindle and paperback version. While the paperback version is somewhat more expensive than its Kindle counterpart, both versions are very competitively priced compared to other similar guides.

9

. Perfectly Imperfect: The Art and Soul of Yoga Practice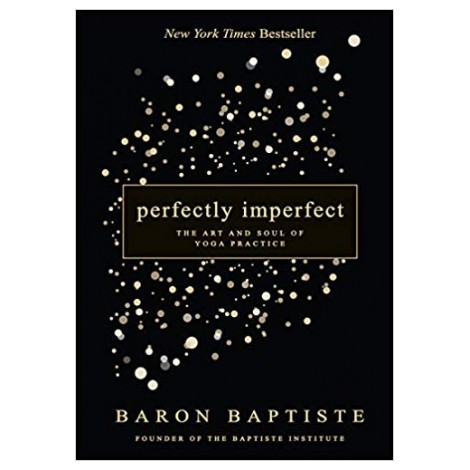 Perfectly Imperfect is the latest book to be penned by the seminal yogi, Baron Baptiste. Ever since releasing, Perfectly Imperfect has received critical acclamation from the New York Times, Wall Street Journal, and many other publications. While Perfectly Imperfect does not quite teach you the mechanics of yoga, it goes deeper into the spiritual side. This is a definite must-read for anyone who is looking to deepen their understanding of the exercise, and the philosophy behind it.
Inspirational
Perfectly Imperfect is less concerned with how to actually practice yoga, and much more concerned with the why. The book is divided into 13 chapters with each chapter dedicated to discussing and exploring the deepest questions that most yogis find themselves answering at some point. It serves as a deeply thoughtful meditation on the ancient exercise and will be inspirational for beginners and experts alike.
Authoritative Author
Baron Baptiste is one of the most influential figures that brought yoga to western mainstream awareness. He has dedicated the majority of his life to practicing and teaching yoga all over the world and has carefully cultivated his own branch of yoga called the Baptiste methodology. This wealth of experience and passion alone makes Baptiste a must-read.
Cost and Value
Perfectly Imperfect is widely available in an array of different versions. The hardback and paperback versions are somewhat more expensive than the Kindle version, but not exorbitantly so. In addition, there is also an audiobook available that is even more cost-effective.

10

. Meditations From the Mat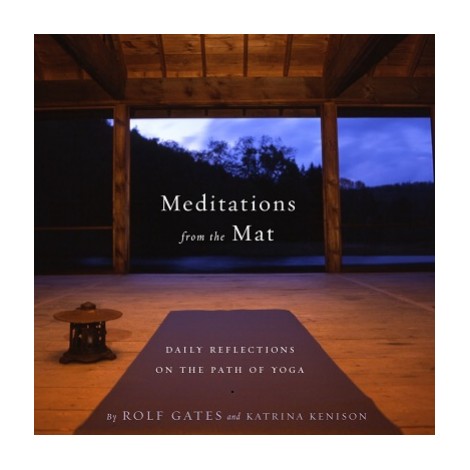 Meditations From the Mat is essentially a year-long journey into the heart and soul of yoga, as a form of exercise but also as a deeper way of life. Written by yogi guru, Rolf Gates, Meditations From the Mat offer 365 small daily pieces that each deal with a question or topic that stands central to yoga. This is a great way for intermediate or advanced yogis to keep their passion alive and learn to incorporate the philosophies behind yoga into their daily lives.
Focused on Mindfulness
Unlike the majority of other guides out there, Meditations From the Mat focuses on the connection between body and soul that is considered essential to get the most out of yoga. Each day's reflection is dedicated to deepening your awareness and helping you become more mindful.
Easy Reading
Meditations From the Mat comes in 365 individual daily reflections. Each reflection is a quick read and offers you plenty of food for thought to incorporate into your yogic practice and everyday life. This daily read is an ideal way to spend the next year on a voyage of self-discovery and realization.
Cost and Value
There are various copies and versions of this book available at different price ranges. You can easily purchase Meditations From the Mat either in Audiobook form, paperback, Kindle or as an audio CD. Regardless of your preferred version, all copies are very affordable and well worth the investment.

Subscribe to our Newsletter