Best Yoga Socks Reviewed & Rated for Comfort
In a Hurry? Editors choice: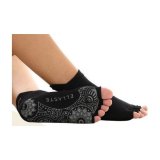 Test Winner: Ellaste Open Toe

What are yoga socks? More importantly, why do people wear yoga socks? There are a lot of reasons why people wear these
socks
while performing yoga, actually! Ask yourself: Why do I wear regular socks? Chances are the first thing that comes to mind is that you want to keep your feet warm. Secondly, you want to keep your feet protected. Well, yoga socks can work in the same way, albeit there is often a lot less fabric!
Standout Picks
Criteria Used for Evaluation
Bottom Line
If you've made it to this point in the article, you've now read pretty extensively about yoga socks. You know that any sock designed for use in yoga or any other barefoot sport offers a number of benefits. One of these benefits is the ability to not slip. You'll be able to master - and hold - poses much quicker if you can focus on your balance and holding in your core while performing movements instead of focusing on keeping your feet in place. They remove that obstacle and make your life just a little bit easier. They also help protect from whatever everyone else is dragging on their feet. Yoga socks give you the safer layer of protection from fungus and other germs by allowing you to keep socks on while performing exercises that are typically performed barefoot. They add warmth and protection from a cold, hard floor and absorb sweat keeping your feet dry and comfortable. Yoga socks also give you the ability to travel without having to bring your mat - a big perk when your space is limited.
Use
Do you want your yoga socks to be multipurpose or do you intend to use them simply for yoga? This is an important consideration because it is a great way to narrow the field relatively quickly.
There are a number of socks that are built specifically for yoga. Those are often the ones with intricate grip designs and open toes for best practicing yoga with. While they will also work wonderfully for other workouts such as Barre, Pilates, or Kickboxing, they may not be something you'd want to wear under shoes, around the town or all day for that matter. They are typically a little more expensive per pair and may be something you want to take a little more care of and not get too much wear and tear on.
Features
An important question to ask yourself when looking for yoga socks is do you want them to have individual toes or not? A lot of people can't stand having things between their toes and for them it's a no-brainer. There is plenty of good, dare I say great, options that don't include individual toes and you will find several here on this list. They come in both cute designed form as well as a more straightforward functional sock. Lots of great options for the standard sock wearer.
What if you do want to let your toes free though? There are lots of cute, stylish socks that offer either open or closed to on this list too. Let's go into some of the benefits of letting your toes free here if you're intrigued by the idea but don't quite understand the hype just yet.
Much of Yoga is focused on being grounded, feeling, and loving every part of your body. There is likely not a yoga class in existence where you are not told at least once to spread your toes out as far as you can. There's is a lot to say about the ability to move your toes around. It's a lot easier to spread your toes out and will make you feel more natural doing so when you have the ability to move each individual toe. Having toe socks will likely give you a sense of a more typical, barefoot, yoga practice.
10 Best Yoga Socks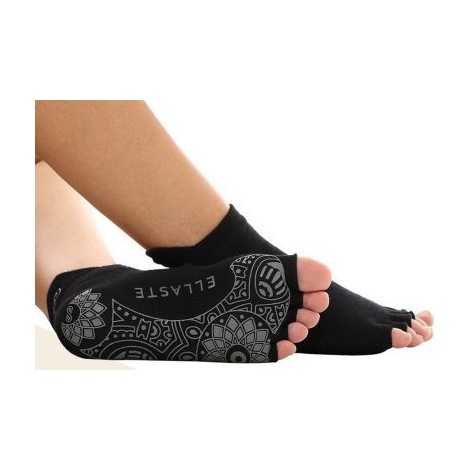 Designed specifically with the busy Yogi in mind, these yoga socks will keep you focused on finding your zen, not keeping your footing. They have a unique grip design that keeps them stuck to the ground and you stable. They are made of breathable bamboo and will keep your feet fresh and smell free.
The bottoms of most yoga socks are covered with dots of some sort to provide the anti-skid. While this can be very effective, it also often times ends up putting lots of tiny pressure points on your foot. These socks have a unique, flatter, ergonomic design that contours to the natural shape of anti-slip. All the anti-slip or skid protection with none of the discomfort on the bottom of your feet.
These yoga socks are designed to fit your foot snug and comfortably. They come in a variety of sizes so you can get one that is best sized for your foot as opposed to a one size fits all deal. They are made of bamboo which is naturally antibacterial and allows your feet to stay fresh and stench free even during the sweatiest of workouts.
For socks that are sold for the pair, these are still relatively expensive. They run right about mid-range compared to others on this list but do come in individual pairs. You are absolutely getting your money's worth though. They are cheaper than other yoga specific socks but provide everything you would want from a quality yoga sock. Your money is well spent here.

2

. Laviesimple Toe Non Slip Skid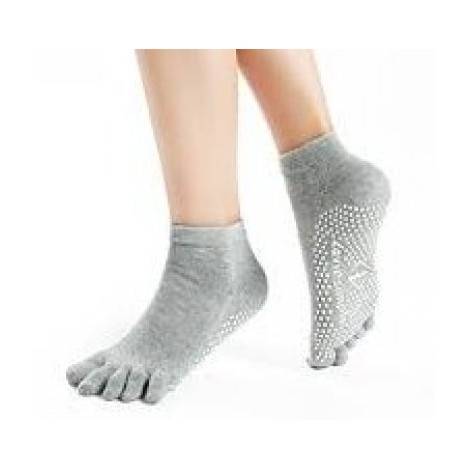 If you like to have full movement on your toes but don't want them to be exposed at all, these are the socks for you. They provide full coverage but have individual toes so that you can get the full tactile experience of using all your toes - and all the benefits that provide such as better circulation, less constriction, and greater comfort. They are also very non-slip and comfortable to wear.
These cotton yoga socks are specifically designed to enhance your yoga practice. Because they are cotton, they are very effective at absorbing moisture which will ensure that you don't slip in your own sweat, because let's face it - a good workout usually means some sort of sweat and that is when you want to ensure no slipping the most.
A unique feature of these socks is that they offer full coverage. They go up the ankle and all the way down through each individual toe. This ensures little higher coverage and ensures better protection from potential foot fungus. They'll also keep you warmer when it's cold if that is something you are concerned about.
These socks come at a great price. They are in a 4 pack and offer a lot of little details like individual toes, full coverage non-slip, and are thick and comfortable. That's a lot of bang for not a lot of money. You will feel like your money was well spent here.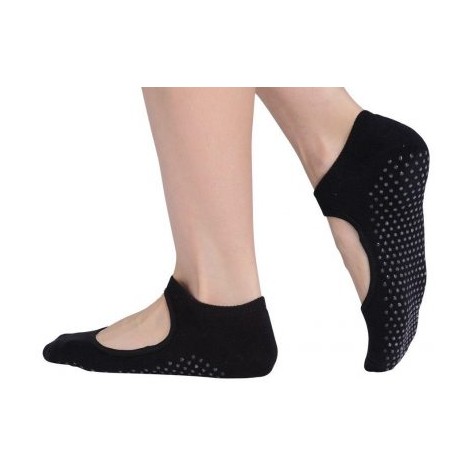 These Libruone yoga socks will keep your feet comfortable, cute, and prevent them from slipping all over the floor during your practice. They cover your toes but offer an open foot design, similar to a Mary Jane shoe, with an adorable strap to help keep them in place and make them a little more stylish. They fit well and have just the right amount of stretch. In addition, they also have a ribbed arch for a little extra support.
The non-slip dots on the bottom of the socks span the whole bottom. They are designed in such a way to keep your feet secured and in place whether you are standing flat-footed or attempting to do a yoga pose that requires the side of your foot.
These yoga socks are made with 95% natural cotton and 5% spandex. The natural cotton absorbs sweat but still has a soft, comfortable feel that will have your feet cozy and dry all the whole time you have these socks on.
These socks come in a three pack and at a small price. You'll be getting 3 quality socks at the cost of some single socks. They look and feel like they should be more expensive, but really cost little more than a standard, everyday use sock.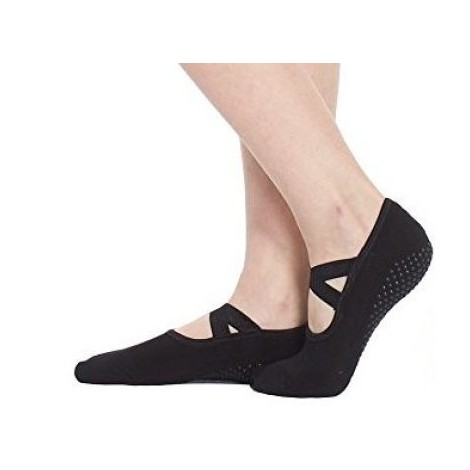 These high-quality socks combine fashion with function. The socks themselves are built to be sweat-wicking, keep your feet dry, and last all the way through a workout without a problem. The grips are distributed evenly all across the bottom, ensuring no slipping no matter the angle of your foot. They also have adorable ballet straps on top so that you look cute while you're at it.
These yoga socks combine premium combed cotton with a super soft terry cloth interior. This allows them to feel cozy on your foot while absorbing any moisture and helping your foot to feel dry and comfortable all throughout your workout. In addition, the yarns are antibacterial which prevents them from stinking and killing your groove.
Unlike others on this list, the non-slip or skid grips are distributed evenly throughout the bottom of the sock. This allows for a sure grip no matter what angle your foot is at and also allows these socks to be safely worn by anyone at risk of a fall, not just for those looking to be sturdy while working out.
These yoga socks are among the less expensive socks on this list. They come in either singletons or a three pack. Obviously, the three pack is more, but almost give you a free pair compared to buying them individually. You will feel like you got a good deal at the price you will be paying for these socks.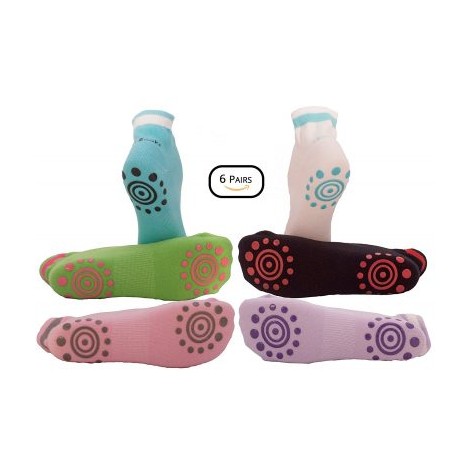 These yoga socks have grip designs on both the heel and the toe. They are color coordinated the match or contrast the color of the sock and add a fun design element in addition to making them non slip or skid. Your feet will be warm, clean, sturdy, and cute while practicing yoga in these socks.
One of the favorite elements of this sock is its added arch support. The material is knitted in a way that it is tighter around your arch and gives your foot a little hug - which equates to arch support that you will love and rave about.
These yoga socks can be used for much more than yoga. Because they are non slip, they also work great for other workouts that require bare feet (kickboxing, barre, etc), hospital stays, or simply doubling as an indoor slipper on your cold slippery floors.
These yoga socks provide a great bang for their buck. They come in a six pack and that entire six-pack costs almost as little as some of the more expensive singleton socks listed here. They are good socks that you'll get a lot of wear out of and you won't have to spend a ton of money.

6

. Toesox Bellarina Half Toe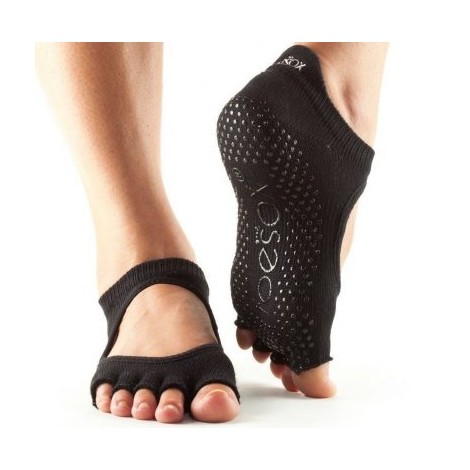 This sock combines all the best attributes of other socks on the list. It has open toes for a full ability to feel what you're doing. It is tightly fitted so you don't have to worry about bunching. The bottom is fully lined with non-slip grips that will give you sure footing every time. Plus, the obvious benefits of added hygiene. Your yoga sock dreams come true here.
A feature somewhat unique to these socks is that they have an arch band. What that does is add a gentle pressure to help lift and give another layer of added arch support - something your feet will be thanking you for after an hour or two of yoga.
A lot of yoga practice is all about the toes and feeling and encouraging movement and life in all aspects of your body - that very much includes your toes. Why not give them the air and space they were designed to have? There's no better way to get in touch with every element of your body by treating it the way it was meant to be treated and for your toes, that means letting them spread out and get all the circulation they need - not scrunching them up in tight shoes or socks. These yoga socks will let them breathe!
The cost of these socks varies based on color, but despite that variation, they are one of the more expensive socks on the list. They are also one of the fanciest ones on the list so that is only logical. There is a lot of complicated design work that goes into making these and that reflects in the price. Overall, they are a very good sock and very much worth the added price you will pay for them.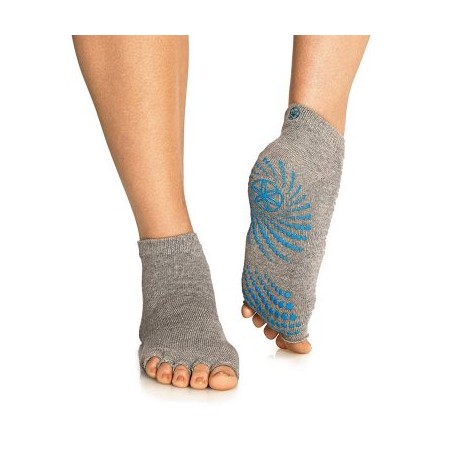 You can be confident in any yoga specific purchase made through Gaiam. They are yoga experts and have been making all things yoga for a very long time. These socks fit right into that reputation. They are well built specifically for your yoga needs. You'll protect your feet, reduce your exposure to infection, and comfortably do yoga wherever you want to in these socks.
The open toe design featured on these yoga socks allows you to get all the tactile feeling you need from your toes to adequately perform yoga while reaping all the benefits of wearing a sock at the same time. Your toes are free to move around, but your feet won't be slipping or walking on cold, hard, potentially dirty ground.
These socks have targeted traction zones that will keep your feet in place no matter what pose you're in. Both the heel and ball of your foot will be gripping as much as you need them to in these yoga socks.
These socks are all you can ask for at the price you are paying. Honestly, you'll likely be pleasantly surprised at how inexpensive they actually are. They only come in individual pairs, which makes the cost look lower than most others here. In reality, they aren't that much cheaper and if they came in 2 or 4 packs would be similar to others like that on this list. Considering the fact that you're buying a sock from a Yoga company built specifically for Yoga, you'd expect to pay more than you do for these. Winning.

8

. Goodwyn Goods Non-Skid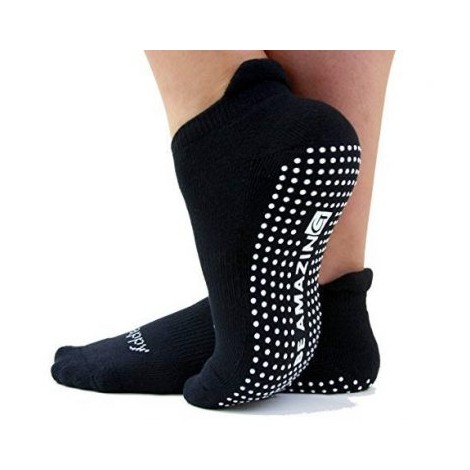 These yoga socks are cushy and comfortable with a tab on the back for easy putting on and removing. They have a high thread knit which gives for a thicker towel like feel. They will keep you secure and prevent you from slipping whether you are practicing yoga or pilates, or trying to safely recover from childbirth or surgery by helping to prevent falls.
There are silicon dots all along the bottom of these socks - from toe to heel. They are engineered to stay on despite being washed again and again and will remain non-slip throughout their lifetime. They make these socks perfectly acceptable for day to day use.
Of all the socks on this list, these ones are perhaps built to be the most comfortable. They have a high thread knit which makes them cushy and thick, ensuring comfort wherever you choose to wear them. Your feet will appreciate this while practicing yoga on the hard, potentially cold floor.
These socks do come in a 3 pack which helps with their overall cost and value. That being said, the three pack is a little more expensive than others on this list. However; they have more material and are built to be cushier. More material means a higher cost to make, which ultimately means a higher cost to the consumer. So, all things considered, these are absolutely worth what they cost.

9

. Great Soles Ballet Grip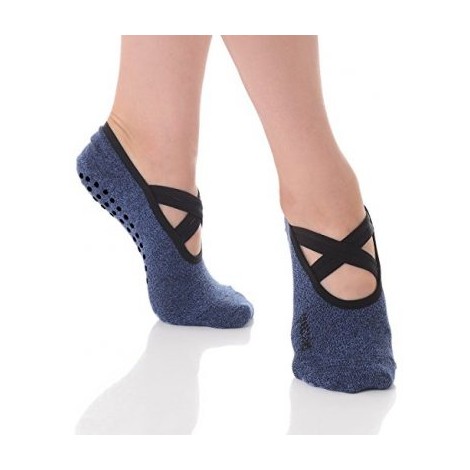 These socks not only offer great non-slip functionality for athleisure activities such as yoga, pilates, barre, or even walking around the house on your hardwood or tile floors but they also offer a cute, fun, element of fashion. They are designed after ballet shoes and look the part. They will keep you comfortable and stable in many situations.
These yoga socks have tread all up and down the bottom of the sock. That allows for great grip no matter what pose you're striking. Tree pose, warrior II, and anything in between - all of them can be done in these socks.
Not only do these socks get an A+ in the non-slip department, they also have a never-slip strip on the inside of the heel that keeps them in place on your foot ensuring they don't fall off. There are not many things more irritating than losing your sock mid walk or pose or workout, whatever it may be. It won't be a problem with these socks.
These socks cost about the same as other socks on this list. The difference being that these socks only come with one pair as opposed to 4 or 6. There are a lot of elements in these socks that make them worth the few extra dollars though and if you're looking to be as fashionable as you are functional you won't mind shelling it out at all.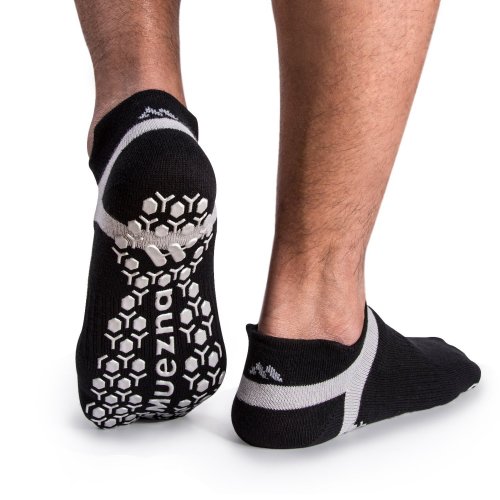 These are some of the best-rated yoga socks around. They are functional, and will satisfy not only your yoga sock needs, but will also satisfy any non-slip needs you may have including home, hospital, or any other sort of exercises like pilates or barre. They hold true to their word with anti-slip grips on both the toe and the heel.
Walking around barefoot on a floor that hundreds of others also walk around barefoot can leave you open to all sorts of infection. Normal socks are not built with the breathability to really exercise in and can also allow an infection to fester when worn.
The anti-skid grips on the bottom of these socks make any pose easier since you don't have to worry about sliding or falling out of it. The materials of the socks also absorb any sweat that would otherwise make your feet slide, too.
These yoga socks come at a great value. You're really getting a steal considering the non-slip or skid properties and the functionality offered here.

Subscribe to our Newsletter