Best Whiteboard Calendars Reviewed & Rated for Quality
last updated:
Apr 08, 2019
Buying a whiteboard calendar is one of the quickest and easiest ways to bring a bit of organization to your life. They are perfect for having a reusable way to keep all of your weekly or monthly tasks in one place. The fact that it uses dry erase markers helps to make sure that you can easily change anything if it moves around in your schedule. Finally, another great reason is that it can be put on your fridge, or any other prominent place so that you can have an easily viewable place to remind yourself of all the things you need to do. This guide is a helpful way to find an option that suits your needs and lifestyle. There are many ways that they can differ from each, so let's look at the ten best on the market today.
In a Hurry? The test winner after 13 hrs of research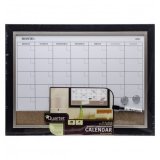 Quartet Combination Magnetic
Why is it better?
Comes with a cork board
One month of space
Comes with all the extras
Easy to hang up
In a
Hurry? Editors choice: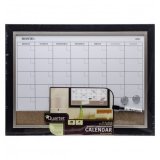 Test Winner: Quartet Combination Magnetic

13
Researched Sources
659
Reviews Considered
13
Hours Researching
10
Products Evaluated
Capacity
Features
Durability
Fit
Value
By Default
10 Best Whiteboard Calendars
1

. Quartet Combination Magnetic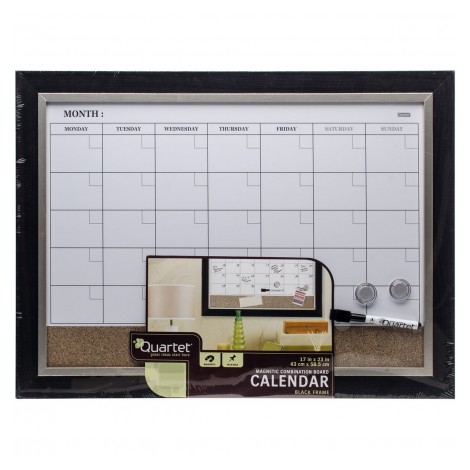 Comes with a cork board
One month of space
Comes with all the extras
Easy to hang up
Not very durable packaging
The Quartet is a great whiteboard for those who want to get as much use out of as little space as possible. There are lots of options here for getting organized.
Combination Board
The Quartet gives you lots of options for how you want to organize your notes and appointments. By also coming with a strip of corkboard on the bottom, the Quartet gives you one place to organize all of your things. It is a perfect place to pin schedules and important notices. Maybe some of those bills that fall behind the fridge from time to time could go up in a more easily accessible place?
Other Features
The Quartet has everything tat you need to keep yourself organized. It comes with a full month of dates. It is plainly presented and has spaces to put all the important information that you need to keep track of the date and month. It is also very easy to keep organized because it comes with all the important goodies like a dry erase marker, some tools for hanging it up, and a set of magnets.
Cost and Value
This is a great all around whiteboard that will do wonders for helping you stay on task, and to keep yourself reminded of important things that are coming up. Even better, it doesn't cost very much at all. It is easy to set up and comes with everything that you might need. This is the perfect, basic whiteboard that you can use to keep up with the demands of the day.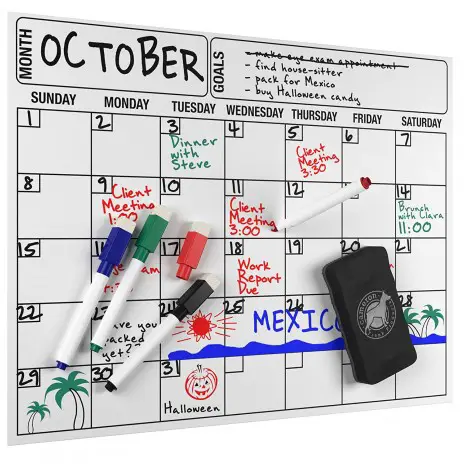 Great price
Highly visible
Simple set up
Lots of room
Markers that come with aren't the bestHome N' Stars Weekly Dry Erase Board
The Cameron Frank board is perfect for anyone who wants to put their event calendar right on the front of the fridge.
Magnetic Calendar
Putting your calendar on the fridge is the best place to put it. It is somewhere that everyone has to go eventually, so you will never feel like you are surprised by something you wrote down for the end of the month. It is also great because it is incredibly easy to set up this whiteboard, as all you need to do is slap it on the front of the fridge.
Other Features
The Cameron Frank is a great choice for lots of other reasons too. The best thing about this calendar is its simplicity. It can easily be put up on the fridge, and then all you need to do is wipe it down once a month. It gives you lots of space so you can easily get all your different events in there. It has room for the month, and all the dates of the month, too.
Cost and Value
The Cameron Frank whiteboard is great for any busy family that has lots of activities on the go. It gives you lots of room to put all of your activities and events down, and it lets you put your calendar in the most visible place. It is easy to use it for all kinds of things that you need to jot down. On top of that, it doesn't cost very much at all.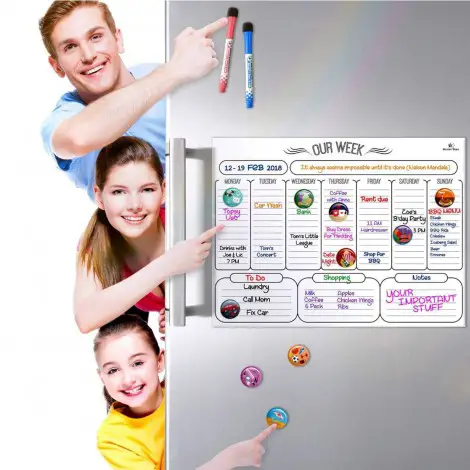 Easy to organize
Can choose your subcategories
Easy to set up
In an easy to see place
Markers that come with it cause stains
This is another whiteboard calendar that you can put up on the fridge, but this is for people who live their life by the week, rather than by the month.
Weekly Whiteboard
This whiteboard comes with a week of space, rather than a month. This has a few advantages over a monthly calendar. It gives you lots of extra space so that you can make sure that you have enough room for all the activities that you need to keep track of. This makes this a better choice for those people who have lots of things to keep track of day to day.
Other Features
This choice is great for lots of other reasons, too. It has lots of extra space for more specific kinds of tasks. It also gives you the option to label these areas as you see fit. This makes this whiteboard very adjustable in the information that you can choose to show with it. There is also a place to put the specific dates of that week, which is good for keeping you up to date on when you are.
Cost and Value
This is a very simple whiteboard that will make your life much simpler and more organized. it doesn't have anything in the way of complicated installation, or bulky design. You can just put it on the fridge and immediately feel your life become more organized. It comes at a very reasonable price, and it is sure to be incredibly handy almost immediately.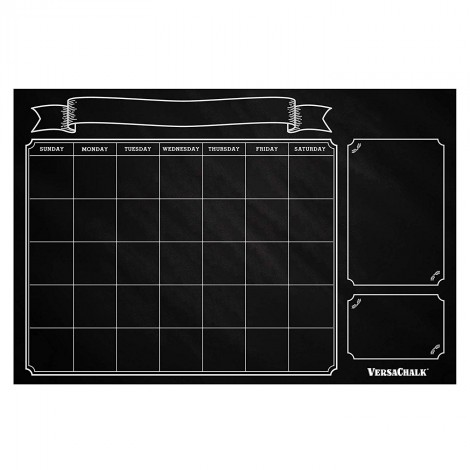 Stylish look
Long lasting markings
Lots of room for writing
Month of scheduling
Gets messier than dry erase boards
If you are looking for something a little different and with a different sense of style, think about trying out a chalkboard calendar.
Chalkboard Calendar
This one is cheating a little on the theme, but a chalkboard calendar is a good alternative if you want something different. It is a large calendar that gives you a whole month of scheduling to work with. A chalkboard is great because it gives you some unique options when it comes to style and safety. A chalkboard has a habit of popping out a little more than a whiteboard.
Other Features
If you want to buy yourself a chalkboard calendar, then the VersaChalk is the right choice for you. It comes on high quality vinyl which does a good job of keeping itself stuck for a very long time. The chalk is easily rubbed off without any streaky markings showing up, and the lines that make up the month on the calendar will also last for years and years.
Cost and Value
The VersaChalk calendar does costs a little more than the other options on this list, but not as much as you would think. It does a good job of giving you a good place to schedule all your tasks, and the creative design of the board will make you excited to come up with new things to put on your new calendar.


Comes with an extra board
Markers are magnetic
Great amount of value
Easy to set up
Markers can stain if left on too long
The Mommy Marvel gives you two whiteboards for the price of one. A monthly calendar for keeping your activities in order, and a grocery list for keeping everyone fed.
Calendar Set
The Mommy Marvel brings even more organization to your home. It comes with both a calendar and a grocery list. Both will help you keep on top of the chaos of the week. The monthly calendar comes with room for an entire month, and a small area for extra notes that you think of later. The grocery list is organized into all the different kinds of food that you might need so you can stay organized when you are picking everything up from the grocery store.
Other Features
The Mommy Marvel has lots of other great things going for it. It comes with a set of pens that will make it easy to differentiate between all the scheduling that you need to do. The markers all come with magnetic caps that will make it easy for you to find them. They won't be able to disappear while they are sitting in plain sight.
Cost and Value
The Mommy Marvel pulls off quite the marvel by making these two different dry erase boards still come in at a lower price than many other options on this list. The two boards, and the full set of markers, all come in at a very reasonable price. If you want a dry erase board that you can easily attach to your fridge, and lots of extras to make your life easy, then this is a good choice for you.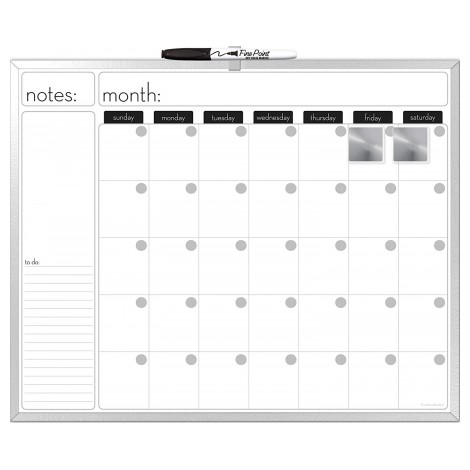 Good size
Very affordable
Durable edge
Magnetic design
Hanging brackets are not very durable
The Board Dudes calendar is a cleanly designed calendar that makes it very easy for you to organize everything going on in your day.
Aluminum Framed Calendar
This calendar is all about keeping it simple and portable. This calendar is meant to be hung up in a part of your house where you need to keep yourself organized. It can be hung up in a kitchen, or in a home office, and it gives you a clean interface to jot down all your appointments and events. The frame is great for adding to the clean look of the calendar.
Other Features
There are some other features that make the Board Dudes calendar a good option. It is magnetic, which means that it is easy to hang things on this whiteboard, like your bills or notes. It also comes with a few magnets and markers that can be hung on the whiteboard, too. This is a monthly calendar, but it also has a space for putting your notes.
Cost and Value
The Board Dudes calendar is a very good deal if you are looking for a whiteboard. It gives you lots of space to put all your notes on the board, but it is also great for taking up a small amount of space in your home. This is the perfect choice for anyone who wants a whiteboard just for their own personal tasks for the month.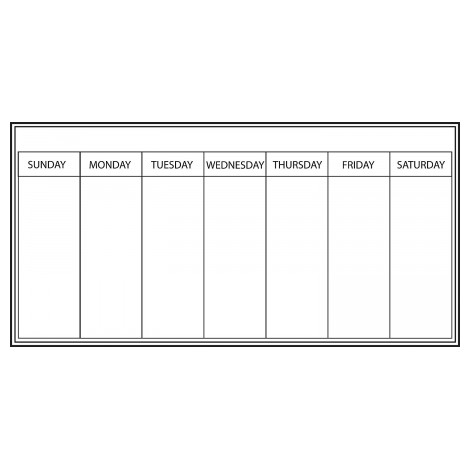 Very cheap
Easy to stick on the wall
Easy to move around
Perfectly sized
Has an odor in the beginning
This is about as simple as it gets if you are looking for a weekly calendar. It has a peel and stick design that makes it about as simple as can be.
Peel Weekly Calendar
The calendar from Wall Pops keeps it very simple. It is a decal, so all you need to do is slap it onto the wall. It is perfect for any kind of workplace or home office. Just leave it up beside your computer, and then get to work. Although it sticks on the wall, it is also still very easy to reposition it, which makes it easy to readjust if you move work sites.
Other Features
The Wall Pops calendar has a clever design that makes your life easier. It easily sticks to surfaces, but doesn't leave any residue when you remove it again. It is also great because it has a reasonable size for getting all the notes that you might need. It is twenty-six inches by thirteen inches, which is perfect for fitting just about anywhere.
Cost and Value
This calendar is as bare bones as it gets. The biggest advantage of it is that it is easy to stick anywhere. It doesn't rely on magnets, but it also doesn't need a complicated mounting system. This is a perfect choice for anybody who wants a simple week planner for just about anything. It is versatile, perfectly sized, and a great price.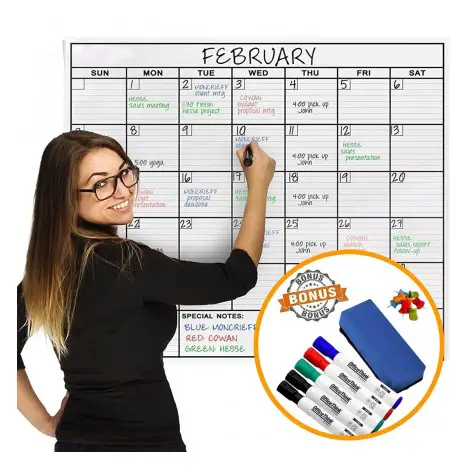 Extra large calendar
Simple interface
Comes with great extras
Just enough extra space
The OfficeThink is a different kind of beast. It gives you tons of space so that you can meticulously organize every day of the week so everyone can see it.
Jumbo Calendar
A large calendar is great for anybody who has organization as a core tenet of their life. It could be a busy office that needs all the day's tasks in one place, or it could just be someone who has found themselves getting way too busy. This calendar is three feet one way and two feet going the other, which gives you tons of space for each day of the month.
Other Features
Tons of really great side pieces come with the OfficeThink. It has a set of markers that are very thick and come with tons of ink. This means you won't have to buy replacements for a long time. The other great add on is the eraser. The eraser is designed for long-lasting durability. This makes the OfficeThink a complete package that comes with everything.
Cost and Value
The OfficeThink is a great calendar for those who have space and want to be able to get a lot of organization in on one board. It comes with great tools so that you can get the most out of your board. It has a simple design that comes with a small space for some extra notes, but besides that, this is a good choice for a simple, but big, calendar.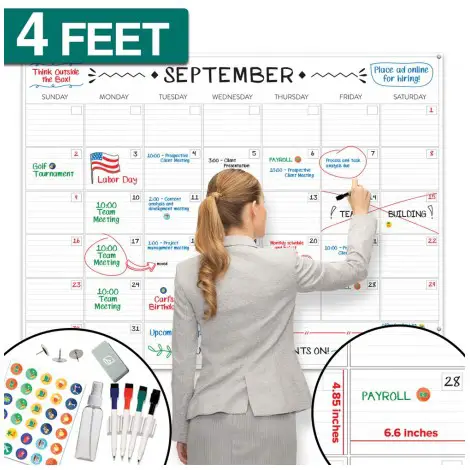 Largest calendar on the market
Good price for size
Designed for durability
Lots of extra pieces
Too large for lots of situations
This is an even bigger choice of calendar that is perfect for keeping everyone at work on task and focused on the same goals.
Extra Extra Large
The last calendar was a three-foot by two foot calendar, while this one is a four-foot by three foot calendar. This wall calendar is genuinely huge, which makes it the perfect choice for a place where you want everyone to be able to see it. It has large spots for all the spaces so that you can get lots of different tasks written down for each day, too.
Other Features
This calendar is great because it makes it very easy to make sure that you know what is going on at all times. It is designed to run for an entire month, which is perfect for people who like to think very far into the future. It is also designed with durability in mind, and it does a great job of avoiding any stains, no matter how long the markers stay on the board.
Cost and Value
One of the craziest things about the LushLeaf is that it doesn't cost very much, either. It is one of the more expensive options on this list, but it will still do a good job of making it easy on your wallet. This option is perfect for anyone who needs lots of room on their calendar, and needs to be able to look very far into the future, too.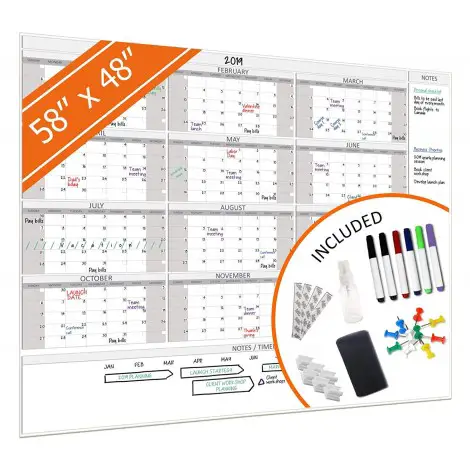 All year calendar
Comes with lots of pieces
Gives you tons of room
Easy to stick on
If you have the space for it and like to plan ahead, the HEA is a great way to keep your entire year in your sights.
All Year Calendar
Coming in at a whopping 56" x 36", the HEA calendar has twelve months of space on its board. That makes it incredibly easy for you to keep your entire year in perspective. If you have something like a wedding coming up in a few months, then it won't be surprising when it comes up if you use the HEA calendar. This is great for looking into the future.
Other Features
The HEA is great because it comes with all the things that you need to keep working at your dry erase board long into the future. It comes with tons of markers so that you can color code and never run out of ink. It also comes with adhesive tape that is attached to pen holders so you don't need to put the pens up on the board.
Cost and Value
The HEA is the most expensive option on this list, but it is obvious as to the reasons why. Not everyone needs to plan an entire year in advance, but it can be a great addition for some. There are definite advantages to being able to see your vacation coming up months in advance. If you have the room, the HEA will never let you be disorganized again.
Criteria Used for Evaluation

Capacity
If you need a whiteboard calendar, then you probably will need a lot of space to do all your organizing. It is important that a whiteboard calendar gives you enough space to put all your events for the day on the board. The other important thing is that you need to be able to write all your things on the board in a legible manner. The thickness of a dry erase marker means that you need a little extra room to be able to put all the different events that you need to keep track of on the board. Many of the calendars are lined so that you can keep your writing from turning into a scrawl, but this has the added negative of making it more difficult to space out your own writing. This category is a rating of how easy it is to get all the writing that you need onto the whiteboard.

Features
One of the great things about these whiteboard calendars is that they come with lots of extra pieces so that you can immediately get to work on bringing a bit of organization to your life. This is important, because it will be hard to put that you need to buy dry erase markers onto your whiteboard without dry erase markers to write the errand. The tools that come with the whiteboards range from dry erase markers, to magnets, to holders for all your things. This category is a rating for all the extra pieces that come with your whiteboard. Sometimes, the tools are not very good. A classic is the magnets might not be strong enough to hold anything up, or the markers might not have enough ink to leave a lasting impression. The companies that give you the good stuff should be commended.

Durability
After every month or week on that whiteboard, there is going to be another month or week. That means that you need your whiteboard to last all the way through the years. The best whiteboards should last you for years on end. It is important that the material of the whiteboard will last for a long time. The material can be worn down so that the markers won't be able to mark it. The biggest issue to look out for is that the markers might start leaving streaks after a while. This is often called streaking, or ghosting. This is a combination of the quality of the marker and the quality of the whiteboard. The markers might stain the whiteboard, but the quality of the whiteboard determines the ability to remove it with some elbow grease. This category is a rating of how long your whiteboard should last you for.

Fit
The best organizers make it very easy for you to fit them just about anywhere. This means that you should be able to have a low-profile whiteboard that makes it easy for you to put it where it needs to be to keep yourself organized. This is the biggest advantage of the magnetic whiteboards on this list. They are usually very thin, so they don't take up too much space in your life. Having a thicker whiteboard can be useful too, though, because it makes it so that your whiteboard is more prominent and durable in your life. If you want to make a schedule that the whole family can follow, then a thin whiteboard that fits on the fridge is probably best. On the other hand, a whiteboard that you can put on the wall in your home office might want a bit more of a solid frame to it. This category is an indication of how easy it is for the whiteboard to fit in its setting of choice.

Value
The prices for the many whiteboards on this list are quite impressive in that it makes it very easy to choose the one that you want, rather than the one that fits your budget. Only a few of the whiteboards on this list cost more than the others by enough that you should rethink your choice. The reasons that these ones cost more are usually a matter of size, and thickness. The more professional whiteboards that come with thick frames usually cost a little bit more than the choices on this list that are rolled up magnets. The thick boards are good for portability and transport, because they work as their own backing surface if you take them off the wall. The larger calendars are perfect for the added visibility they give. It is helpful if someone can read the tasks on the calendar from the back of the room.
Expert Interviews & Opinions
Most Important Criteria
(According to our experts opinion)
Experts Opinion
Editors Opinion
Users Opinion
By Default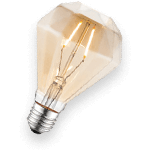 Think About Time Frame
There are two big distinctions between the calendars on this list. One group of them give you an entire month to plan, while the others give you a week for your planning. The best bet is to look at how far you plan ahead. Not everyone can plan out a month in advance.
Sooner Rather Than Later
There is always the threat of ghosting when someone uses a whiteboard. The easiest way to make it easier on yourself when it comes to cleaning is to wipe off the dry erase marker as soon as you can. The staining is most often caused by the marker spending too long on the board, so wipe it off a little early.
Other Factors to Consider

Size
Many of the calendars on this list are very similar in their quality. A lot of what you should buy depends on the calendar that is the right fit for you. One of the biggest factors that you should be looking into is the size of the calendar. The calendars on this list range from one foot long to five feet long, which gives you a lot of wiggle room for what you might be looking for. Think about the kinds of things that you want to be tracking, and how many people that you are going to be tracking too. This makes it much easier to determine what you should be looking for. Another important thing to think about is how much space you have to put your whiteboard up. Most fridges don't have enough space to put a six-foot-long calendar on them. The size of your whiteboard is the most important thing to look out for.

Ease of Use
There are two types of calendars on this list when it comes to the set up of the calendar. There are very simple options that use magnets so that you can just plop them on any surface that you would like almost immediately. There are other calendars that come with mounting brackets so you can put it somewhere on a more permanent basis. There are advantages to both that you should think of. A magnetic calendar is obviously less useful if you plan on putting up the calendar anywhere that doesn't have a magnetic surface. They are mostly designed for fridges and freezers. The calendars that come with mounting brackets are good for anyone who is looking for a whiteboard for their home office, and they look a little more professional, to boot.

Style
The biggest consideration that you are going to have to make when you buy yourself a calendar is finding the one that fits your sense of style. The biggest distinction between these calendars is the amount of time that they let you plan for. There are calendars for the week, calendars for the month, and then there is one calendar for the year. A calendar that plans for an entire year can be a great feeling because it makes it much easier for you to look forward to the things in your future. The monthly calendars are great for remembering appointments that you have made, and can be useful for giving you a longer timeline for what the rest of your month is going to look like. If you live a little more by the seat of your pants, or just have a lot going on every day, then the weekly calendar will be a great fit for you.
Frequently Asked Questions
q:

What are some good tips for organization?

a:

There are some simple tips that will make it easier to keep your life organized, especially in terms of using a whiteboard. The most important thing to remember is to write down all your appointments as soon as they come up. Don't try to remember at the end of the day what you need to write down. This lessens the chance that you will misremember a time or place. Another useful tip is to try color coding some of your notes. It works for making sure that you can see what kinds of activities you need to do at a glance. You could even use the colors to mark levels of importance.
q:

Are dry erase markers toxic?

a:

Dry erase markers can sometimes contain toxic chemicals, which are bad for your children. Because in many cases the markers and dry erase board will be in plain sight, try to remember to keep the markers in an easy to reach place. The most useful thing to think about is to look for dry erase markers that have the chemical "2-Butanone," which can be harmful to eyes, ears, and throats. There are non-toxic dry erase markers on the market, so try and look for those if you are unsure how your children will act around loose markers.
q:

How do I remove marker stains?

a:

When the dry erase markers that you are using look like they have decided to stay on the board, it can be very easy to figure out how to get it off. Despite their name, all it usually takes is a little wetness and some elbow grease. If water doesn't work, then it is time to bring out the big guns. Try using vinegar mixed with water to clean the ghosting off the whiteboard. As a last-ditch effort, try using rubbing alcohol.
Subscribe to our Newsletter