Best Tool Boxes Reviewed & Rated for Quality
last updated:
Mar 05, 2019
Having the ability to take your valuable tools everywhere with you tends to be overlooked by many. A good toolbox can make it easier for you to pack up and organize your most useful or used tools so you aren't bound to one place. However, everyone has different needs, so choosing the one which would work best for you might not be as easy as it sounds. Some brands like to give their customers plenty of portability and storage capacity, so get ready to see a variety of differently sized products; from stackable boxes to individual toolboxes, we've reviewed a bit of each type!
In a Hurry? The test winner after 4 hrs of research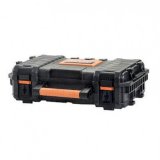 RIDGID 22-Inch Pro
Why is it better?
Portable
Constructed with durable materials
Heavy-duty quality
Waterproof
Decent size
In a
Hurry? Editors choice: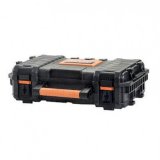 Test Winner: RIDGID 22-Inch Pro

14
Researched Sources
4686
Total Readers
12
Reviews Considered
4
Hours Researching
12
Products Evaluated
Portability
Durability
Ease of Use
Materials
Weight
By Default
10 Best Tool Boxes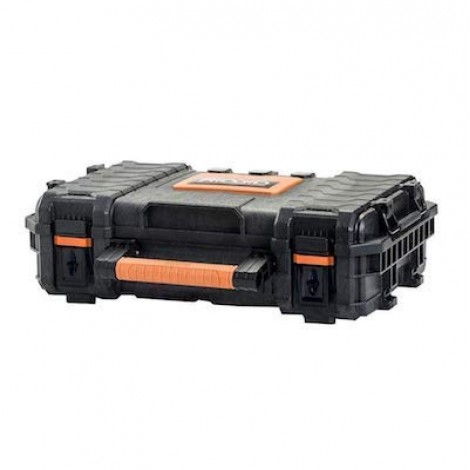 Portable
Constructed with durable materials
Heavy-duty quality
Waterproof
Decent size
Some report that the pictures and the descriptions are misleading
Some users commented that the lid was a bit too thick and cut into additional storage space.
Having a large toolbox doesn't mean that it needs to be hard to move or heavy. In actuality, toolboxes nowadays are more durable and larger than ever before. The RIGID 22-Inch Pro Toolbox is the ideal size for storing tools or having them with you on the go. The size makes it perfect to store small hand tools and maybe even a few larger power tools.
Durability
One of the most important features of a toolbox is durability as the reason why you get a toolbox is to keep your tools safe. If the box is unable to provide you with the necessary protection then it's practically useless. This model has a high-impact resin exterior that ensures durability and longevity.
Keeps Your Tools Safe
This toolbox features an integrated seal that keeps the dust and water out of the box. It also has a metal handle with a lock so that when the tools are not in use, they can be safely tucked away in the box.
Cost and Value
This set is on the lesser end of the price scale. In terms of the products on this list, this would be in fourth place (priced low to high). With this box being compatible with Rigid's customizable line of organizers and carts, you can build a completely customized storage solution just for you.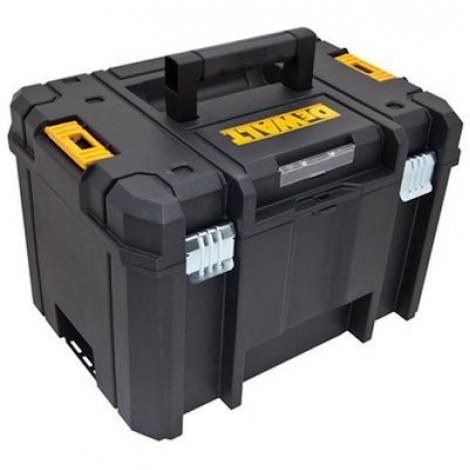 Heavy-duty
It has long handles for ease in holding
Durable material
Great for storing different items
The drawers fit nicely together
Some report that it is not that well designed or made
Some reports of it breaking easily
If you need a toolbox that just has the maximum amount of storage possible, then the DeWalt TSTAK VI Deep Box is the perfect option for you. Unlike traditional toolboxes, deep boxes expand the width and depth of the interior storage compartment to the absolute maximum. DeWalt's Deep Box is larger than traditional boxes, but it still manages to remain storable and portable.
Carrying Capacity
The deep box by DeWalt is made out of hard plastic that's strong enough to be able to carry around 44 pounds of weight, which means that you are able to fit more in it.
Custom Storage
Aside from its size, the box also allows you to customize your storage to your liking. The interior features a primary storage compartment and a top tray for smaller parts.
Cost and Value
In terms of the products on this list, the DeWalt TSTAK VI Deep Box is just higher than mid-range at sixth place (price low to high). This box can also be expanded to stack multiple boxes on top of each other to create your own storage system.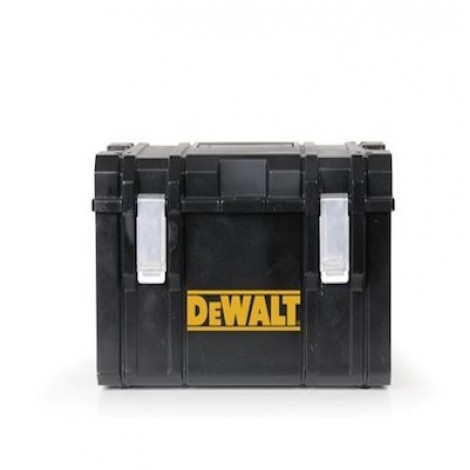 Contains a removable tray
It has padlock eyes for locking the case
Well-built
Reasonable size
It can fit a lot of things
Plastic pieces on the case break off easily
The handles break off easily
If you're looking to have a giant case, or you simply don't have that many tools, this DeWalt Tough System Case will have you covered. It's similar to the traditional toolbox styles which gave you one single, open compartment to store your tools in. However, it offers your tools more protection than the older styles had. If your toolbox sees a fair bit of wear and tear from travel, this case will be able to handle all of that.
Durable Construction
The toolbox is made of durable, 4mm thick foam wall. There is a water seal that's sandwiched in between the box and the lid to ensure that there is no moisture in the box. It also features metal latches that have been coated to ensure that they are resistant to rust.
Compatibility
DeWalt's Tough Case is compatible with the DeWalt System's metal trolley and with other ToughSystem modules. This means that you can easily mix and match storage boxes to create a custom storage system.
Cost and Value
In terms of the products on this list, the DeWalt Tough System case is placed seventh (low to high). The sturdiness and durability factor of this toolbox makes it worth every penny. In addition to that, it's compatibility with other DeWalt ToughSystem pieces allows you to customize your storage solution.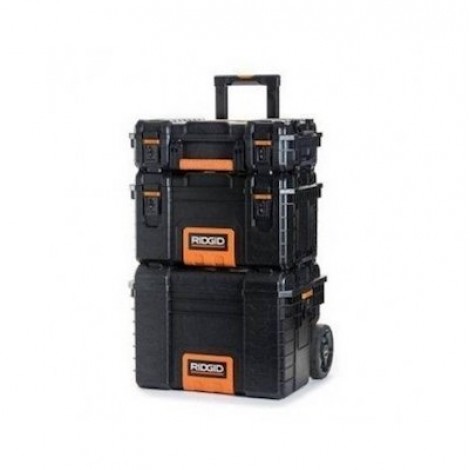 Sturdy construction
Well designed
Reasonable size, which makes it more portable
Very spacious
Waterproof and water resistant
Some parts were reported to be missing
Pricey
Stacking up containers can maximize your storage and portability, which is what the Professional Tool Storage Cart and Organizer Stack by RIGID does. Though many wouldn't agree that stackable toolboxes can be portable, but they do allow you to be mobile while providing unparalleled organization and storage. The storage stack comes with three seperate boxes, each of them being lockable and stackable with one another.
High-Quality Make
The three boxes are made of the same high-impact, durable resin along with heavy-duty metal latches. They also feature an integrated water seal which keeps the dust and moisture out.
Balanced
Each box's profile measures at 22.2 in. by 12.2 in; the only difference between them is the height, which goes from 18.3 in. (bottom box) to 6.5 in. (top box). Thus, balancing out the trolley, as the weight is then balanced more towards the bottom than the top.
Cost and Value
In terms of the products on this list, the RIGID Professional Tool Storage Cart and Organizer Stack is the highest priced item. However, it also has multiple boxes and a trolley, which balances out the price-to-value ratio.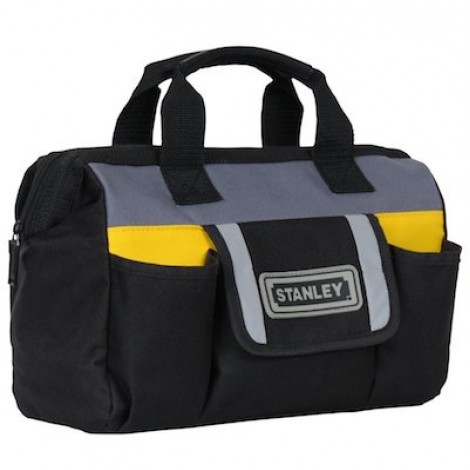 Durable bag
Constructed with good quality materials
Easy to carry
Versatile use
Some people report faulty zippers
Some report that the product is different when delivered
If you're just an occasional DIYer or home repairer - or if you're a contractor with regular offsite projects - having a smaller toolbox just makes it that little bit easier to carry your tools around with you. Instead of having to lug around a large toolbox, you can just easily pack your tools in a smaller bag, like the Stanley 12-Inch Soft Sided Tool Bag. This tool bag lets you reach for your tools and head off. It's also very easy to store away when it's not in use.
Padded Interior
Though it might seem like a soft bag would leave your tools exposed, this Stanley Tool Bag has enough padding on its interior to prevent any damage from occurring to your tools. This means that you will not have to worry about minor impacts or scratches.
Pockets
Aside from the soft interior and rubber foam bottom which keeps everything protected, this bag also features outer pockets for accessories and small tools, allowing you to have that extra bit of storage.
Cost and Value
In terms of the products on this list, the Stanley 12-Inch Tool Bag is the second cheapest option for you to buy. Though the price may be lower than other products, that doesn't take away from the quality that it offers.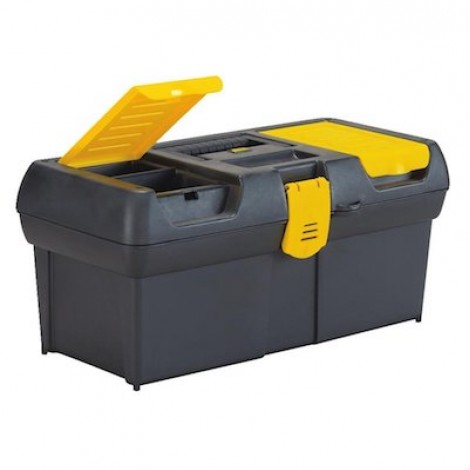 Sturdy construction
It can store a lot of things
Reasonable price
Lightweight body
Good quality
Less storage on the removable shelf
The latch doesn't stay shut because it is quite flimsy
Many tend to stay away from toolboxes on budget prices simply as they generally lack the organizational feature that most higher end options have. A single compartment means that it's harder for you to stay organized. However, the Stanley Series 2000 16-Inch toolbox allows you to have compartments even on a smaller design so that you can have your tools within easy reach at all times.
Tray
Just under the lid, inside of the toolbox, you'll find a tote tray that's perfect for storing smaller items so that they don't get lost in the main, large compartment. The built-in padlock is great for small locks along with the wide, soft rubber-coated handle for easy transportation.
Storage Compartments
On the lid, you'll find two yellow flaps. Under those flaps is even more storage space, which means that you can have additional small parts accessible to you without having to continually reopen the entire box. It also makes it very easy for you to keep your smaller accessories organized without them mixing up with the bigger tools.
Cost and Value
In terms of the products on this list, the Stanley Series 2000 16-Inch Toolbox is the third cheapest item. With the number of smaller compartments along with the larger, main compartment, you'll have plenty of space to store your tools in.
7

. Waterloo Portable Series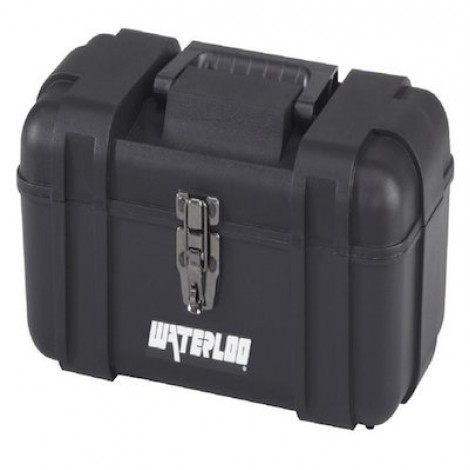 It fits everything perfectly inside it
Lightweight body
Sturdy construction
Easy to carry around
Durable quality
The removable tray doesn't fit properly inside
The latch doesn't stay closed
While metal toolboxes are retro-looking and strong, they can be quite iffy on the overall build quality and weight. For a better option to the traditional metal toolbox options, the Waterloo Portable Series offers the same, or even higher, level of protection for a lower price. These also don't have a single piece of metal in the design, aside from the hinges and latch.
Rust & Dent Proof
As the body of this toolbox is made from a single molded piece of polypropylene, it ensures that it will remain rust- and dent-proof, unlike the traditional metal boxes which were prone to dents and rust. The box has all the longevity and strength of a stainless steel box with only a fraction of its weight.
Storage Galore
Inside of this toolbox, you'll find 13 in. x 8 in. x 3 in. of usable space. It also features two trays that rest above the main compartment for storing smaller pieces, such as bolts, nuts, and adapters. The box features comfort-grip handles that make it easy for you to carry with one hand.
Cost and Value
In terms of the products on this list, the Waterloo Portable Series Toolbox is the cheapest option. The narrow and small design of the box allows it to be stacked on top of other boxes when it's not being used, further adding to the convenience.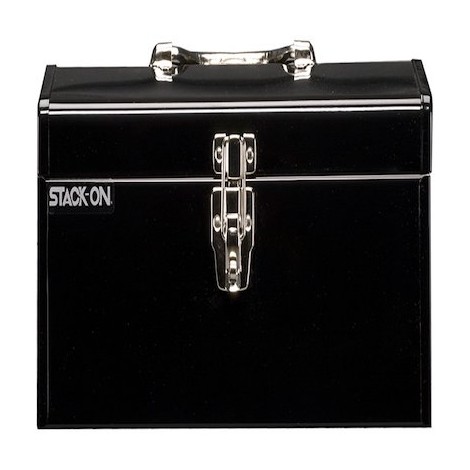 Good size
Easily movable
Sturdy construction
Reasonable price
High-quality plastic tray included
Some reports of the latch not being aligned
It's not waterproof
Going back to the traditional route, the Stack-On 16-Inch Multi-Purpose Steel Toolbox is made out of steel rather than the typical, modern hard plastic. Though hard plastic is now able to offer the same level of protection, there is just something eye-catching about a metal exterior toolbox. When constructed properly, it can even be highly rust- and impact-resistant.
Heavy-Duty
The Stack-On 16-Inch Steel Toolbox weighs 4.8 pounds, which means that it's heavy-duty enough to protect your tools. It features nickel plated, steel draw bolts to allow you to store heavier loads in it. Though it might not be the biggest of boxes at 16" x 7" x 7.5", it can still hold a variety of tools.
Lift Out Tray
As an additional storage, there is also a lift out tray that makes it easier for you to keep the more commonly used items on top and the bigger pieces on the bottom. The rugged all steel end cap construction provides the box with even greater strength.
Cost and Value
In terms of the products on this list, this product is right in the middle in regards to its price. It is not too expensive nor is it very cheap. For the amount and quality that you get, the price point is set accurately.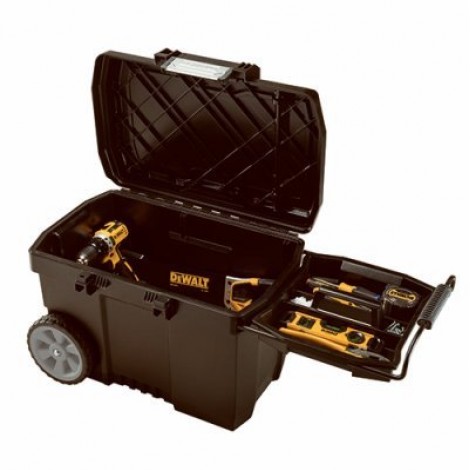 Sturdy construction
Ideal size
Easy to move around
Removable shelf
Well-made design
Not ideal for long travels
Some report that it isn't meant for traveling
If you're looking for a toolbox that has plenty of space, then the DeWalt 15-Gallon Contractor Storage Chest is the perfect option for you. It features a sturdy and well-built design that offers you plenty of storage space and portability to be right next to you wherever you go. With simple steering capabilities and easy transportability, maneuvering this box is simple and quick. It even has further trays for added organization.
Easy to Transport
DeWalt's 15-Gallon Storage Chest features two large wheels which make it simpler and easier for you to transport it from job to job. These seven-inch wheels ensure easy steering and maneuvering. The metal, telescopic handle that comes out can act as a handle and a holder for the tray. The 3-position tray allows easy organization outside and inside of the extended handle.
Water-Resistance
The storage chest is IPX3 water resistant to ensure that the tools remain protected from all types of water damage. There is even a one-touch latch that allows you to easily and quickly open the chest.
Cost and Value
In terms of the products on this list, the DeWalt 15-Gallon Contractor Storage Chest is number eight (price: low to high). The deep storage allows you to easily store a number of tools and still keep them within easy reach at all times.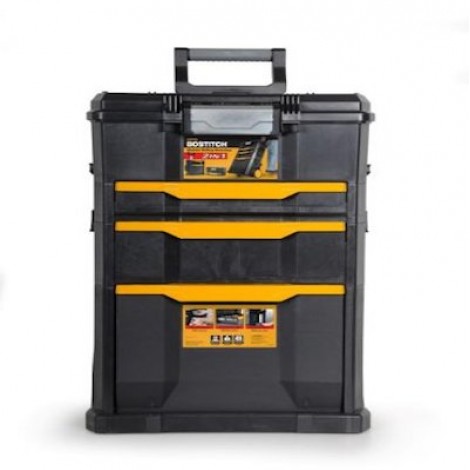 Easily movable toolbox
Has many compartments for different tools
Sturdy construction
Perfectly sized drawers, that can fit many things
Detachable for easy storage
The bottom drawer won't lock into the correct place
The top handle breaks off easily
Sometimes it can be a big challenge to figure out how to balance a portable toolbox. In addition, small toolboxes are great for mobility purposes, but not for providing you with enough room to organize and store your tool properly. In those cases, it can be really helpful to have a larger toolbox with mobility. For a happy medium, the Bostitch Rolling toolbox is a top choice for its easy maneuverability with its 7-inch rubber wheels and providing lots of space with the various compartments.
Separate Spaces for Tools
With toolboxes like the Bostitch model, you have the ability to organize and store your tools however you wish as you have plenty of room to do so. It has separate spaces for all your tools so that everything stays within easy reach. The drawers can be separated into two parts, with the toolbox with drawer with a ball bearing slide and a bottom bin with drawer.
Storage Capacity
You have the ability to carry around seventy pounds worth of tools in this toolbox. The design features two 7-inch rubber wheels along with a convenient handle that makes it easier to support the weight and to move around. It has a 70 lb. (10 gallons) capacity.
Cost and Value
In terms of the products on this list, this Bostitch model is the second highest priced item. It is one of the biggest items, though, which makes sense. It's a stable box, even if you place it on uneven surfaces like grass or dirt.
Criteria Used for Evaluation

Features
Below are some of the most common features and design choices in the current toolbox selection in the market.
These are generally smaller-sized boxes that are less complicated in terms of design. They also often come with a removable tray right under the box's lid. This feature allows you to store smaller hardware bits, parts, and components. They also ensure easy access while you work. If you're looking for a smaller toolbox, then aim for ones that have this feature.
The majority of these portable toolboxes are hand carry. They feature a fold-down handle on top to ensure easy transportation. These fit into the same category as the boxes with tote trays.
These are generally larger chests that have multiple drawers. These types of toolboxes are great for organizing different types of pieces into one box. You shouldn't get too caught up with the number of drawers a chest has. Instead, remember that tools get heavier the more you stack them on top of each other. Ensure the sturdiness and quality of the drawers through the weight ratings.
This design of toolbox is featured in many of the larger toolboxes as a replacement to the drawer design. They typically offer more depth than the chests with drawers. They may also vary in depth, height, and the number of compartments - which is useful when storing tools of different sizes. These chests are also often found with wheels for enhanced mobility.
Stackable compartments or boxes are some of the largest storage solutions that you can get with toolboxes. They can consist of multiple separate boxes that are stacked on top of each other. They are often on a portable trolley/rack mechanism with wheels. If you have a lot of tools that you're looking to carry around with you, then this is the ideal option for you.

Materials
There are four main materials that are used in toolboxes, including metal, plastic, wood, and canvas.
Aluminum and steel are the traditional (and popular) option for toolboxes. The apparent reason behind that being that metal boxes are known for their durability and their ruggedness. With proper care, these toolboxes can last you several lifetimes. They are also able to withstand the wear and tear of use through the years. However, these are also prone to being really heavy, which means that they work best as stationary cabinets and chests.
The modern option to metal, durable hard plastic offers you portability that metal just can't. You'll often find plastic toolboxes filled with tools still weighing less than a steel box that is empty. Though these might have an inferior durability than metal, plastic is more versatile and easy to manufacture. They are also often the more affordable option and can come in a variety of designs, including cantilevered and stackable designs.
Before factory manufacturing and modern plastics, wood was the original choice for toolboxes. However, nowadays, it is a very leftfield choice. Hardwood is the most commonly used type of wood and usually belong to enthusiasts rather than carpenters or professionals.
Though these cannot be literally defined as a toolbox, they do fall under the umbrella. These are made of durable canvas material, which also sometimes feature extra pouches for holding tools vertically. These will not be able to accommodate larger tools, such as a heavy hammer or saw, but they do well with lighter tools.

Weight
Storage should be your number one consideration. If you're a homeowner who likes/needs to make repairs or DIY improvement projects every so often, then you can get away with simply having a small plastic toolbox. However, if you are a mechanic or hobbyist carpenter, then you will definitely need a heavier and larger toolbox to store all of your tools. Most of the larger-sized toolboxes are aimed for professionals and DIY experts who have an extensive collection of hardware and tools.
Always make it a point to make a tool inventory to know how much space you'll be needing. If you're planning to buy more tools, don't forget to factor those in as well. The specifications of the toolboxes should give you an idea of the storage capacity.

Portability
After storage, you'll be wanting to ask yourself, "What am I expecting with the toolbox?" Larger toolboxes have the ability to carry more pieces, but they can get heavy really fast. They are ideal for mostly stationary locations in your workshop or garage. If you're looking for a stationary box, then make sure to measure the space where you plan to put the box to ensure that it will fit. This will avoid you buying a toolbox that isn't appropriate for the allocated space.
If you know you'll be moving around a lot with your tools, then you should aim to look for toolboxes that are geared towards being optimized for travel. Smaller toolboxes are likely to have sturdier handles that make it easy to pick them up and carry them around.
If you have a large tool selection, but you also know that you'll be moving around, then try to look for larger toolboxes that have caster wheels for easy mobility. You'll find that most pro-level toolboxes have them. You should also remember to check the weight rating on the wheels on the chosen toolboxes.

Use
Many just view toolboxes as an optional extra piece of equipment that's only really necessary for handymen. This, in fact, is incorrect. You don't need to be a professional contractor, DIY enthusiast, or a handyman to have a toolbox. If you even have a small set of tools, you need a toolbox. Regardless of the size of your current toolset, it's important to have a box to safely and conveniently store them away.
Expert Interviews & Opinions
Most Important Criteria
(According to our experts opinion)
Experts Opinion
Editors Opinion
Users Opinion
By Default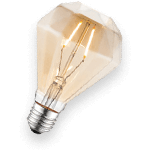 Durability
You're probably going to spend a fair amount of money on a high-quality toolbox, so it would be a shame to see it become damaged or destroyed by the elements or just through everyday wear.
It's important to make sure that you're paying attention to the material your toolbox is made out of and where you're going to store it. You don't want to store a toolbox outside, exposing it to the elements, if you live in an area that receives a lot of precipitation for example. Rust will wear your toolbox (and some of the tools inside of it) quickly.
What's In Your Box?
Are you the kind of person who does work around the home on the rare occasion? Or do you find yourself pulling out your tools frequently to build objects for your home? Do you work in the mechanics industry? Or are you an electrician? It's important to take your profession (or lack thereof) into account when deciding what kind of toolbox you'll need. You don't need to spring for a huge box that can carry hundreds of tools if you only have a hammer and a drill in your arsenal.
Other Factors to Consider

Size
Unless you won't ever be getting any more tools or ever be carrying them around, there's no reason for you not to get a toolbox. We would recommend a toolbox that's a little bit bigger than you think you need. This is simply to prepare for any eventuality.

Capacity
The amount of tools that you normally carry around determines the storage capacity that you need. If you usually carry a large amount, then you might want to try a rolling toolbox instead of a portable one.

Durability
Finding what suits you is key here. Different materials will have different durability depending on how you plan to use them. So, keep the type of use in mind and figure it out from there.
The larger the plastic box, the more you'll likely notice some flaws. If you carry tons of heavy-duty tools, then you might wish to go for a steel toolbox. Small to medium toolboxes are likely to be made of the highest qualities of materials, simply because they require less material.

Capacity
As a toolbox isn't only for transportation purposes, you'll want as many cubbies, trays, drawers, and compartments as possible. This allows you to be more organized with your tools for ease in use.

Weather Resistance
If you often find yourself working outdoors, make sure that the toolbox that you pick is able to handle the outdoor weather. If it isn't, your toolbox and your tools might just get ruined. Make sure to check the description of the products along with the customer reviews to ensure that your choice is, in fact, water-resistant or waterproof.

Advanced Features
Security is important, especially if you have a large array of tools. If you're worried about safety and security, then you might want to go for a metal box as a locked metal box will be harder to get into than a plastic one.
Frequently Asked Questions
q:

Why do I need a toolbox?

a:

When you don't have a designated spot for your tools, where do you end up placing them? The answer is usually either around the house or around the garage. So, why not keep it all in one place where they will stay organized and are less likely to tarnish. Without a toolbox, you're leaving the tools exposed to the elements, which means that they'll degrade faster.

Having a toolbox also provides you with one single location where you know you'll find your tools. They also often have locks which allow you to securely stow them away. With quicker access, you spend less time trying to find them and more time on your DIY's and repairs. It also reduces the chance that your tools will be damaged.
q:

How do I know which material to go for?

a:

Toolboxes do come in a variety of different materials. However, the majority of them are either plastic or metal, with metal losing the market steadily. The advantages of metal toolboxes are pretty apparent. They are able to withstand most wear and tear, but they do get heavy fast. Plastic, on the other hand, does have a lot to offer. It's lighter, it won't rust, it's more affordable, and it's available in different colors and styles.

The final choice just ends up with how you're going to use your toolbox. If you don't mind being a little careful, then plastic is a great option. If you work on a rigorous job site, then a metal one might be better suited for you.
q:

How should I choose which toolbox is the best option for me?

a:

The first thing to consider when purchasing should be how you plan on using the toolbox, which simply means, will you be using it as a DIY amateur or are you a professional contractor? After that, there are four other categories that you can look at, including the quality, brand, price, and customer reviews. These are the categories that we looked at while assembling this list.

In terms of quality, you should look at:
How the box holds up under duress?
Is it comfortable to carry around?
Does it feel like it might be fragile?
Do the latches pop open or hold fast?

In terms of brand, generally, when people find a brand that they like and trust, they tend to stick to them. This can be both good and bad, as it promotes long-term success for companies that are producing good quality products, but it can prevent the new, breakthrough products from having a chance at the spotlight.

There are exceptions to every rule when looking at a specific product. Thus, it isn't necessarily true that only the high price-point products will perform the best. In fact, you'll often find that some of the best products are the ones that are simple and cheap, but they get the job done.

Lastly, you need to look at reviews. However, you shouldn't give too much weight to all the customer reviews as you can never know who is actually writing them and whether they are being honest. So, for the purposes of our reviews, we did sift through the customer reviews of the products, but we inevitably came to our own conclusions.
Subscribe to our Newsletter