Best Floating Bookshelves Reviewed & Rated for Quality
In a
Hurry? Editors choice: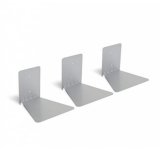 Test Winner: Umbra Conceal

If you are a fan of reading books, you can tell how easy it is to have a pile-up of them. Having a slack of books is good. However, there is a creative way in which you can have them neatly arranged on your walls and showing them off. With just some few bucks, you can turn your house walls into bookshelves that also doubles as decorative pieces. Floating
bookshelves
are a classic and elegant solution for arranging your collection of books stylishly and inconspicuously. They are gaining popularity going by the increasing numbers of happy customers giving positive reviews. For this guide, we have put together an array of the best floating bookshelves available on the market that exclusively achieve a stylish appeal that
you will be glad to showcase
.
Standout Picks
Criteria Used for Evaluation
Capacity
Regardless of the size of your home, how you utilize the floor space can make or break the appearance. With lots of books taking more space, freeing up your room needs shifting your focus from traditional cabinets to wall spaces. Floating bookshelves are the best solution to freeing up floor space and are effective in keeping books and other items organized on the walls thus changing the appeal of the wall. They do not in way interfere with your home decor, selecting perfect colors of books and other items thus complementing the contrast of your home to create a beautiful design.
A perfect floating bookshelf should be sturdy and stable to withstand the weight of the books. It may be a risk especially where there are small kids; they may end up getting hurt from toppling books or objects. Most often, when you receive your bookshelf package, you will find the hardware needed to install it onto the wall like screws, adhesive tapes, and anchor. The anchor should be strong and fit firmly.
Versatility
Mounting a floating bookshelf to a room helps promote simplicity, order, and beauty regardless of whether your style is classic or contemporary. Unlike cabinets that have doors, the floating bookshelves are open, creating visual interest. It is essential to have visually attractive shelves that decorate your walls, match with your decor and uplift the appearance of your home. They are ideal for holding books and other collectibles items. Perhaps, you love cooking, and there is this particular cookbook or herbs or spices you would like to showcase. You can look out for a transparent floating shelf to accentuate the look. Or maybe you have a collection of kids' books, toys or mini characters; you can use the shelves to encourage your child to read more. This is more like motivating your child to enjoy reading and also as a way of decorating their room.
These products can also be of use in the living room for keeping your favorite DVDs, CDs, and photo albums. You can also use them in the bathroom to organize the toiletry and in your bedroom to store your collection of ornaments and novels. In the office, they can be used to organize antiques, arrange journals and other stationery. You can also gift them to family and friends during birthdays, Christmas and other occasions. Whatever your specific preference, think artistically on the perfect floating bookshelf that will work for you and beautify accordingly.
Value
The price of any product on the market is dependent on its quality. There is no need of buying a high priced item only to be disappointed by its quality. The perfect shelf is one that is strong and durable and that which will hold your books without them falling all over. In addition, it should also beautify your walls in a more simple elegant way. That in mind, it is essential to look for shelves that fit the price. There are high premium shelves that will cost you an arm and a leg, however, there are also reasonably affordable ones that are strong and high quality. Therefore, depending on your budget limitations, there is always something out there for everyone.
Style
Floating bookshelves are super space savers and will help you to get stuff off the floor. They function incredibly by displaying visually pleasing items, and there is no reason for not having them in your home. In the rooms, they act as a good alternative to countertop space where you are likely to find books all over. You can stylishly organize your books, kids' books, and other items in the bedrooms; this will greatly save the floor space while highlighting your sense of style. In the bathroom, you can display flower vases, scented candles and soaps to give the bathroom a spa-like appeal.
Size
Floating bookshelves are a brilliant idea of hanging books on the wall. They come in different shapes and sizes and transform the appearance of your room. While trying to free space on the floor, it would be ridiculous fitting the walls with large and bulky floating bookshelves. It not only adds more clutter up there but also makes the appearance of your room somehow confusing. The smaller, the better and the more organized and stylish your wall will appear.
10 Best Floating Bookshelves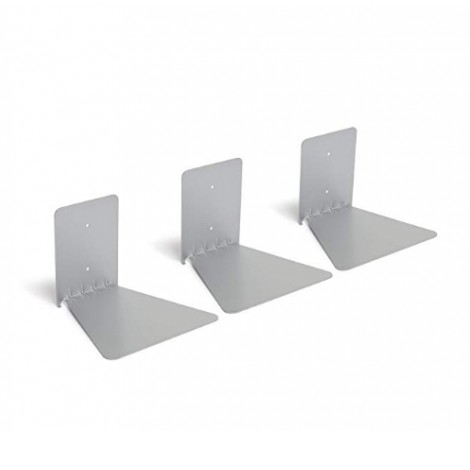 Are you thinking of putting your books and other small items together by mounting them on the wall? Try out the award-winning Umbra Conceal. This product has an excellent and elegant design. It is made of steel construction and is powder coated to prevent rusting. It will alter the beauty of your home and style of how you arrange your favorite books and movie or series sets. By aligning them on your walls, they will hide behind the books such that you might think they are freely floating. There is no need for drilling holes to attach on the wall since it already has holes to fit in the screws thus allowing them to dangle on the wall.
Unlike the traditional free-standing bookshelves, attaching this shelf on the wall is the best way to save space. They allow you to make use of available space and are the best picks for small places and obstinate walls. They are easy to mount, and all you need is the hardware that comes with the bookshelf to have it fixed.
Sleek design
It may seem like an odd idea, but the Umbra conceal floating bookshelves are just what you need for your books. You can stagger them on your walls and are very thin to be noticed, almost invisible. Your walls will have a clean neater look upon installation. If you have large books that are light, they will still fit perfectly. You made need to purchase more than one piece to give your wall a perfect finishing. They allow you to stay organized in a classy way by decorating your walls while saving on space. They have concealed brackets thus creating a seamless appeal that enhances the appearance of your room.
Sturdiness
You don't have to worry about your books falling off due to weight. The umbra conceals floating bookshelves are made of durable metal and are easier to mount on the wall. They stay firmly on the wall and hold your books pretty perfectly. They are attractive on your walls without overwhelming them with an array of shelves. The package includes some screws and anchor to assist in installing the shelves. No need to call in a professional, you can easily do it yourself. The installation is quite easy and will take less time.
Cost and value
Unlike other premium bookshelves, the Umbra conceal floating bookshelves are fantastic for the price. You will be happy with your purchase as you will have a quality product at a fair price and have a magical experience in your home. I would highly recommend it since the quality of the construction is quite high and the painting is correctly done; thus the cost is justifiable and will give you a 100% money back guarantee.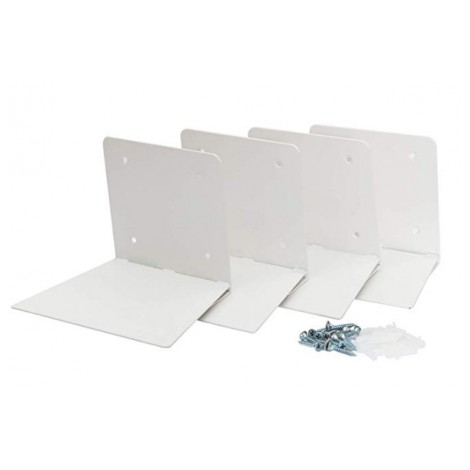 Discover the invisible Storage Maniac that is strong and sturdy. This magnificent piece of equipment is made of steel with shelves that can hold up to 15lbs of books. I choose it because when mounted on the wall, it is entirely invisible behind books and makes your wall neat and orderly. It is easier to install and is an elegant decoration that makes your bools appear to be floating in the air and also makes your wall look beautiful.
Multifunction
Despite the same, the storage maniac floating bookshelves is ingenious, and you can use it to hold other items such DVDs and photo albums thus making your room neat. You can use them to store cookbooks in your kitchen or novels in the bedroom teddy bears in your kid's bedrooms or even DVDs in your living room walls; you can also install some in your bathroom for floating soaps as well. They are versatile and have an array of functions and will look awesome on your walls.
Strong
Some people are usually apprehensive about floating bookshelves and may imagine they are unstable to hold a lot of books. However, with the Storage Maniac, you can never go wrong. We would highly recommend them since they are strong and sturdily made from solid steel construction that is also durable. The anchors provide extra stability even in situations where the wall is dry. They are fantastic and come with all the hardware materials needed to hang them on the wall. Due to their sturdy nature, they will hold stacks of books and are a perfect way of storing books in small places. They can change the entire appearance of your room, and the lovely shelves are also ideal for holding lamps and candles.
Cost and value
The Storage Maniac is just what you need for your room. They are basic in their functionality and quite affordable and will make your favorite books appear as though they are floating in the air.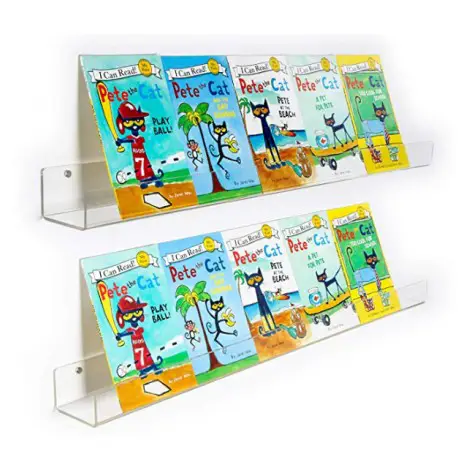 As a parent, it is essential to support your kids as they develop a culture for reading by paving the way for them. Unlike the classic bookshelves where kids used to pull out all the books when trying to find their pick the Niubee Kids Floating Bookshelves are ideal storage for kids' books stylishly. They are durably made of high-quality acrylic and are a good display for your kids' book in an invisible bookshelf such that they appear as though they are floating in midair.
Versatility
It is multifunctional with a sleek design to quickly display and organize your kids' books in a neat way. They are perfect for use in offices, the kitchen or the bathroom; they are ideal for showcasing other items such as photos, spices, artwork and cosmetics in a remarkable way. If you are a mommy, you can gift your children with this fantastic bookshelf to solve the problem of having books scattered all over and misplacing them. Since they are clear and faces outwards, your kids will see the book covers clearly, and thus it becomes easier for them to access and pick a book by themselves thus making reading a fun activity.
Sturdiness and safe to use
The Niubee Kids Floating Bookshelf is sturdy with thicker shelves thus can hold tons of books. The front is slightly elevated to prevent books toppling over your kid's head while they pick and return. The edge is rounded to safeguard the toddlers from bruises and scratches when they pick books.
Cost and value
Get yourself a Niubee and promote your kids' reading at an affordable price. They are superior quality and worth every penny. They will complete the appearance of walls and are a must-have for solving storage problems around the house thus giving you value for your money.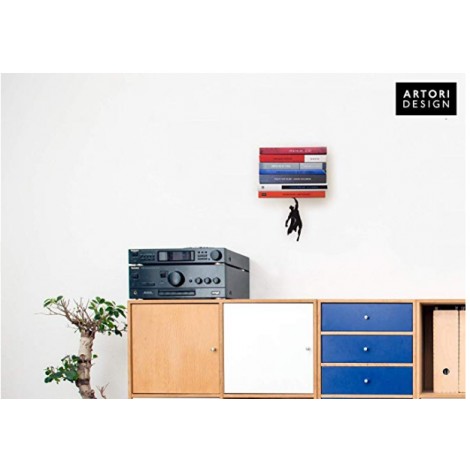 If you are a big fan of superhero and comic books, then the Artori Superhero is an excellent idea to start with. You will fall in love with this product's unique design and find that it is just what you need to store your books in a neat and organized way. The Artori Superhero Floating Bookshelf dangles in the air with the superhero character seeming to protect the books from falling. It is a perfect idea for Geeks, the Nerds, and the Superhero fans and will give your walls a unique look. You can gift it to your friends and family, and it is an excellent way to make the hero Superman lift books. This magnificent bookshelf will display your comic books in style and elegance.
Display of Brilliance
The Artori is a simple idea that is perfectly designed and crafted with utmost brilliance. You can gift it to friends or family who are Superman fans, and it will add coolness to their superhero's games room. If you are a lover of reading comic books then gift yourself the Artori Superhero and showcase them.
Can hold lots of books
The construction is high quality, sturdy and can hold tons of books. It is heavy metal construction, and the magnetic anchors help secure it to the wall firmly. It fits your personality and is an awesome way to decorate your room. It is also multifunction, and you can use it to store other items like your favorite cookbooks, spices, DVDs, photo albums, and cosmetics among others.
Cost and value
The Artori Superhero might cost you more. However we give it five stars since it is a good concept executed with talent, and it is sturdy and durable, therefore worth the price. Get one today and transform the appearance of your home.

5

. Wallniture Philly Nursery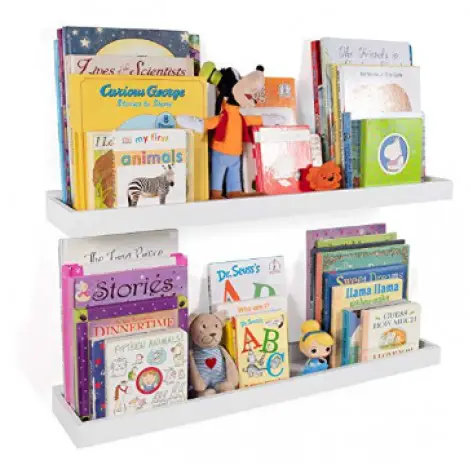 Here is a perfect way to decorate your kid's room like a pro and make them happy by selecting the Wallniture Philly Nursery shelves. They serve as an ideal way of encouraging them to read.
Versatility
These have multi-functions and can be used in other rooms other than the kid's rooms to store other things. You can use it in the kitchen to organize your cookbooks, pantry, and spices or in the bathroom to organize your toiletry. Better still, you can use them to display photo albums and other collectibles without damaging your walls. You can also use them in the office to organize stationery, books and other times.
Beautifies your wall
By mounting the Wallniture Philly, your walls will undergo a complete transformation in terms of style and beauty. You can arrange plush books with striking colors, luxurious porcelains and stylish toys to create a refined wall decoration. You will spend little time installing them, thus ensures your walls look stylish and elegant with some magical appeal.
Cost and value
Get stuff off the floor and utilize your walls efficiently at a reasonable price by installing Wallniture Philly Nursery Floating Bookshelf. Organize your walls, reduce clutter, create more floor space and beautify your kid's room, without breaking the bank. They fit the price and are a 100% money back guarantee.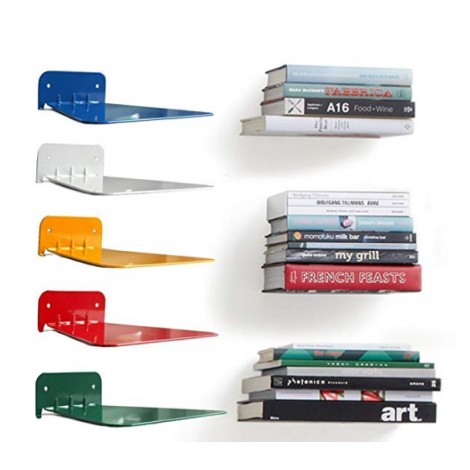 Are you short of floor space to store your books and other items? The chic2lick is a good package that can support books up to 17lbs. They are easy to install and makes your books look like they are floating on the floor. They are a perfect way to decorate your walls and change the appearance of your home.
Versatility
The chic2lick is ideal since it can be useful in many ways other than storing books. It will help in saving space and reducing clumsiness off your floor. You can also use it in the kitchen to organize your spices, cookbooks, and other items. In the bathroom, you can use them to organize your toiletry and in your kid's bedroom to organize toys and collectibles. The trays are well designed to help decorate your living room with ease. You can display your DVDs and other figurines to highlight simplify and beauty.
Strong and durable
The chic2lick shelves are made from a sturdy construction and are capable of holding slacks of books without the risk of them falling. We chose them due to their sturdy nature and the fact that the anchors provide added stability regardless of the type of wall. They mount perfectly well on dry walls too and transform the appearance of your walls.
Cost and value
Their price is a bargain and is a better alternative to highly priced shelves. They are durable and thus will give your value for money. Get some today and organize your books and other items awesomely.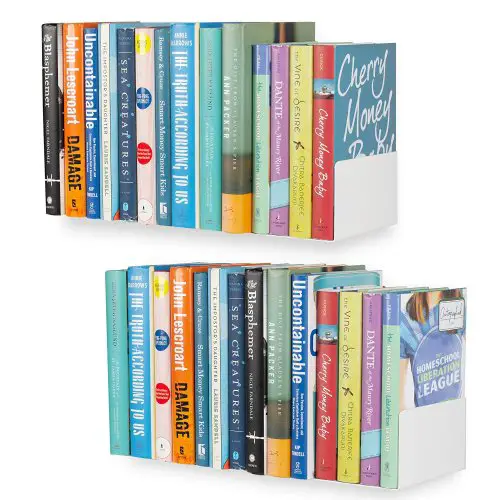 Do your children love 'Frog and Toad' books and other mini characters? Well, surprise them with the Wallniture U Shape shelf if so. It has a beautiful display, and the shelves are ideal for organizing your books, photos collectibles, DVDs, CDs, flowers, candles, and home decoration items.
Multifunction
The Wallniture is unique due to its functionality and has some unique bookends unlike other shelves ideal for organizing kid's books. It protects your kids' books and prevents them from falling on the sides. The package includes hardware like screws and studs for easy installation. The process is quite simple and will not take much of your time.
Decorates your walls
You can accentuate your walls with favorite colorful books, toys and other collectibles with these stylish floating shelves. They are easy to mount, strong and durable. The anchors and screws are part of the package, and it is just pure breeze fixing them on your walls. They save on floor space with a design that helps reduce clutter in your room. You can also add your kid's best mini characters to please your kids.
Cost and Value
The Wallniture is reasonably priced and a good deal. It will last long and is worth the money.



The Sooyee may just be what you need for your kid's bedroom. They are ideal for improving your kids' reading and the see-through design can create a fantastic organizer for your child's books. You can read them their napping stories and improve their reading by showcasing their favorite books on display.
Versatility
The three packs shelves are ideal for displaying your kids' books in an organized way. The clear design helps your kids see through and reach out for their stuff with ease. You can display your kid's favorite collections of toys, photos, mini characters, bobbleheads, Shopkins and other mini-figures that will amuse your child. They are a perfect gift for your child during birthdays and other holidays such as Christmas. Other than that, it can hold other items in your home and save on office space. For instance, you can use them in your office to organize stationery, in the kitchen for your cookbook and spices and in the bathroom to organize toiletry and other items.
Sturdy and easy to mount
The Sooyee Floating Bookshelf is pre-assembled and thus will not take much of your time during installation. The package comes with the hardware for installation; you can spread them out to display some style on your walls. They are strong and sturdily made of high-quality material that is capable of holding tons of books.
Cost and value
These are unbelievably low priced and yet of high quality. They are what you need in your home to keep your walls decorated and neat for the price.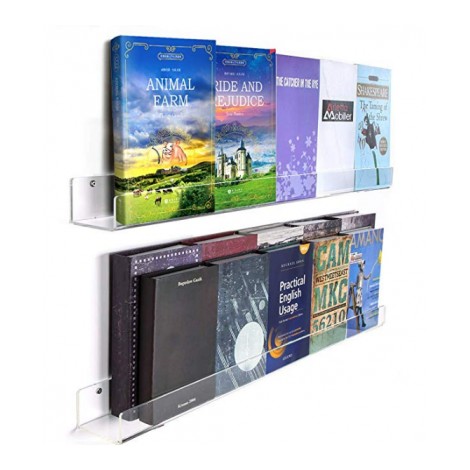 The Winkine shelves are durable and sturdy and thicker than ordinary acrylic options. They have a raised front with rounded corners. This makes it easier for kids to reach out for books and returns them without the risk of them falling over their tiny heads. They are stylish, and a perfect gift for moms and kids and helps to keep the kids' books well organized without misplacing them.
Many Uses
The Winkine Floating Bookshelves are versatile and can be used to hold other items in your home and office. For instance, you can use them in the living room to organize your DVDs, CDs, and photos albums, or in the kitchen for your cookbooks and spices or the bathroom for a collection of toiletry. You can also use them in your bedroom to store some motivational books and your alarm clock.
Sturdiness
These bookshelves are sturdy and made from solid constriction and will hold stacks of books. No need to worry about your books falling off, these shelves will serve you well and decorate your room too.
Cost and value
The Winkine are well packaged, good quality and will look good in your kid's bedroom yet they are reasonably priced. You will love them and are ideal for displaying small picture albums and are good for the price. You will not regret ordering for them.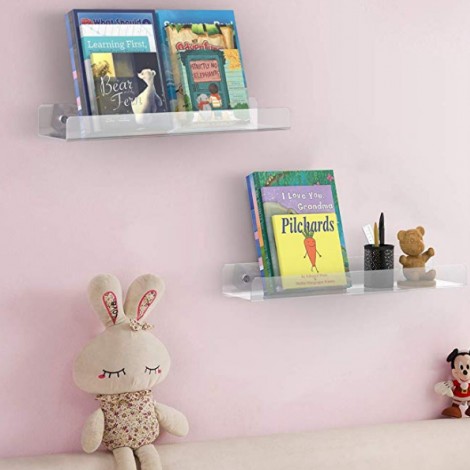 The T Athink are ideal for saving on storage space to store books and organize other items in the house. They are easy to mount on the wall due to the adhesive pad thus does not require any drilling. Your walls are protected from structural damage as a result of drilling.
Sturdiness
They are heavy duty and made of 5mm acrylic which is strong than wood and thick thus won't crack and will hold lots of books. The storage space is large enough to organize books, photo frames, and other objects.
Decorate your walls
The Athink is a beautiful addition to your wall and will keep your items organized awesomely. You can beautify the wall by storing, children books with striking colors, lovely collectibles, toys and mini characters to highlight the appearance of your room.
Cost and value
If you are looking for fairly priced shelves that will get the job done and give you value for money, then you can choose the T Athink Floating Bookshelves. They are durable, strong and elegant for the price.

Subscribe to our Newsletter