Best Camo Sunglasses Reviewed & Rated
last updated:
Jan 28, 2019
You get to enjoy bright, clean colors and be protected from harmful rays. You will be able to more accurately assess your surroundings and may start to see what you've been missing. Not to mention they just plain make you look cool. This list also includes specialized glasses for the fisherman. Plus, every pair on this list is good-looking enough to wear around town too. We list glasses that employ new technologically advanced materials. Take a look at our list, and which ones are our most highly recommended.
In a Hurry? The test winner after 16 hrs of research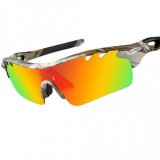 Akaso Chameleon Polarized
Why is it better?
Superior eye protection with the polarized gray lens.
Tough materials that can handle whatever you can throw at them.
Unbeatable value meets high ratings.
Customization to suit any conditions.
Comfort and style makes them perfect for everyday use.
In a
Hurry? Editors choice: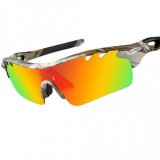 Test Winner: Akaso Chameleon Polarized

21
Researched Sources
42
Reviews Considered
16
Hours Researching
31
Products Evaluated
UV Protection
Materials
Effectiveness
By Default
15 Best Camo Sunglasses
1

. Akaso Chameleon Polarized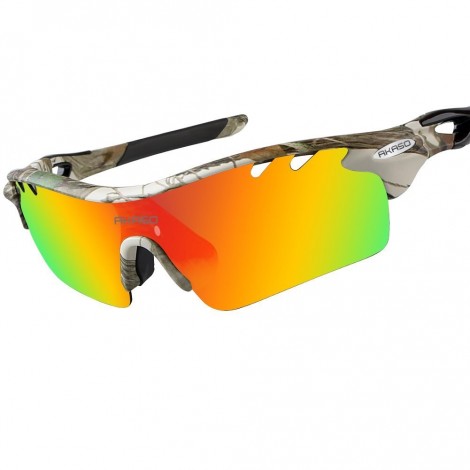 Superior eye protection with the polarized gray lens.
Tough materials that can handle whatever you can throw at them.
Unbeatable value meets high ratings.
Customization to suit any conditions.
Comfort and style makes them perfect for everyday use.
Only one of the lenses provided is polarized. Consider the other four bonuses.
Environmentally friendly plastic titanium frames. Comes with five interchangeable frames, one of which is polarized. The other frames included are anti-fog, night vision, mirrored, and blue. Use the gray polarized lens during outdoor activities. Then, change to another lens when the conditions change. Lifetime breakage warranty on lenses and frames included.
Being able to adapt to all kinds of conditions when you only have to use one pair of frames is super convenient. This is the reason these frames make number one on our list. Who doesn't love efficiency? These are basically the swiss army knife of sunglasses.
These frames are made of TR-90 plastic titanium. Designed by the Swiss, this material, a memory material, meaning it goes back to its original shape after being bent or crushed. This is great news for those of us who may forget our sunglasses in our back pocket from time to time. They're even made of food-grade material and they won't release any chemical residues.
Unbeatable value! These are five-in-one frames that are tough enough to take on any sport that you are. If you don't believe us, give them a try. The company offers a thirty day hassle free return window if it turns out we are wrong. (But we are not wrong.)
2

. Kimberly Clark Jackson V30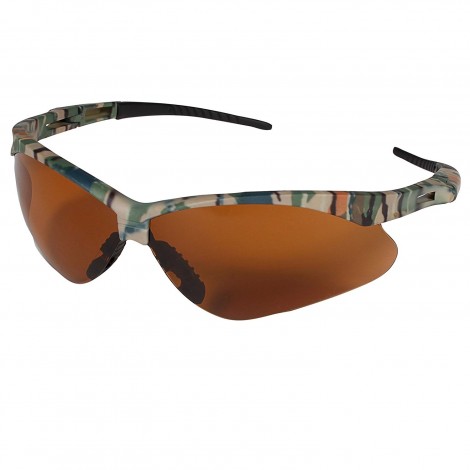 The definition of a good value
Safety rated - extra protection never hurts
Good looking, fits most face shapes.
Nylon construction in a universal size
May not suit your exact needs- you may need a more specialized lense.
Complete with an anti-fog coating, these lenses even come with their own free neck cord. These are a more affordable pair that still packs quite a lot of value. 99.9% UV protection ensures your safety. These are sporty and durable but look good enough to wear around town.
These lenses pack in everything you can ask for simple sports sunglasses that deliver. UV protection often makes or breaks a purchase when it comes to sunglasses. These offer some serious UV blockage. These won't fog up either, meaning you can more accurately assess your surroundings.
These glasses are inexpensive enough that when you inevitably leave them somewhere, you won't be upset. You can always order another pair, and because these are great glasses you'll likely order the same pair again.
Amazing value. These offer the features you would expect out of a much more expensive pair of glasses. They make a great gift for a buddy when the holidays come around, so if you're clueless about presents pay attention. Grab a pair for yourself and a pair to keep in your car too. Great for travel too, since losing them won't hurt your wallet.
3

. Costa Del Mar Blackfin Polarized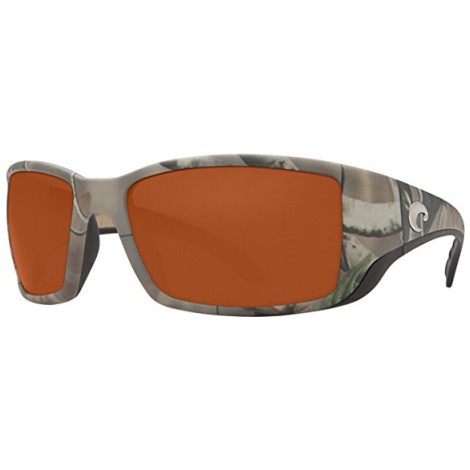 Tons of color options that offer different lenses for different activities
Quality materials help keep these from slipping or sliding
Temperature resistant material make these perfect for winter sports
A bit more expensive than the others on this list.
If you have the budget, these won't let you down.
Here we are getting into the higher end glasses available. These are available in a whopping thirty-six color combinations. The lining of these are injected with a material called Hydrolite, meaning they won't slip down. The frame is a bio-based nylon and is temperature resistant. If you are a fan of winter sports, this one might be for you.
The link provided will include a graphic to help you pick which lens to use for your favorite sport. This helps if you have specific needs, and can up your game instantly. If you're looking for a bit of brand recognition, then this isn't a bad option either as many people can recognize the iconic shape, no matter what color option you choose.
This brand offers you lenses that handle early morning until dusk with ease. That means you have a wide range of activities these lenses can suit. Consult the guide to find your perfect match.
Value here depends on what matters to you. If you're more stylish or flashy these may be a good choice. If all you are interested in is the bare necessities these may be a bit too much for you.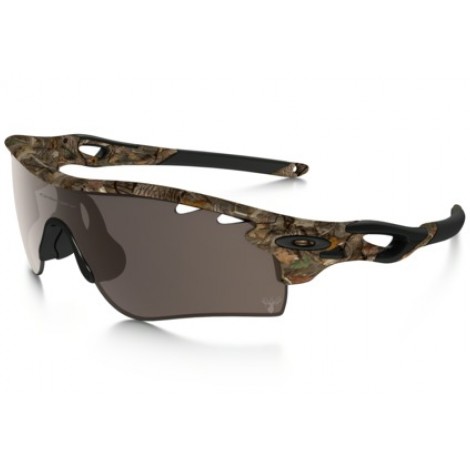 High-quality materials and technology
Stunning optics that improve contrast
Wonderful color options to suit all kinds of style.
High quality, high value, and highly rated.
These are so popular that people have started to create knockoffs. Make sure you are buying from a reputable seller, and you should always check the return policy.
These glasses are designed for world-class athletes. They're a bit more serious and it even shows by just taking a look at the design. Their high definition polarized lenses filter out glare without distorting your vision. If you're looking for stunning optics in a lightweight frame that won't slip out of place, consider this pair. 11 different colors available. The company even throws in a case for you to keep them in.
Prizma lens technology enhances color contrast for a visually stunning effect. Combine that with the HD polarization and you're good to go. Think crisp, clean, and clear. They perform well even in the brightest conditions. Not to mention the lenses are glass instead of a lower quality plastic.
If you prefer your gear to have all the best features, these are a solid option. Since these are designed for the serious athlete they include some of the best features and quality materials. From the moment you get these on, you'll love these lenses.
Worth every penny. This pair feels like a treat to wear. It takes you beyond simplicity and into luxury. This brand is famous and respected for very good reason, and it's because they deliver on value.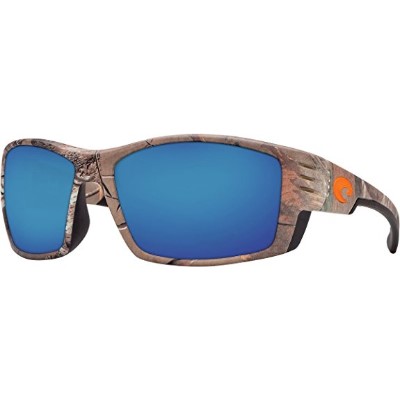 Blocks 99.9 percent of glare.
Hand built and backed for life.
Speciality lenses made to be out on deep water.
No slip grip that works so well that you don't ever have to think about it.
The camo pattern only comes with one lens option.
These are specifically designed with the fisherman in mind. The lenses block blue and yellow light which helps provide clarity when out on the water. If you're a serious angler, these are serious glasses that will help you when the sun hits the waves. They're polarized of course, and they reduce glare without distorting your vision.
We are here to help you find gear for whatever sport you love. Having sunglasses that are specifically designed for your purposes beats having any old pair, any day. Not to mention, they may be a great gift to pick out for anyone who spends a good amount of time on the water.
If you haven't heard of Hydrolite, don't worry. This material helps the glasses stay in place while you're in action. You won't have to spend all day pushing up on the bridge to put them back in their place. Isn't it so much easier when things just work the way that they should?
These are a more serious purchase, and the quality of the product reflects the price point. Again, these glasses are more of a luxury pair. They're a real treat to wear and are guaranteed to make you look at least a little cooler than you already do.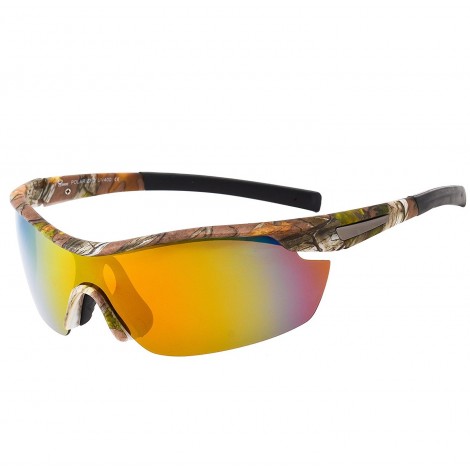 Offers excellent camouflage.
Versatile enough to be the only pair you need.
Affordable, but does not compromise on value.
UV protection that protects your eyes from damage.
Polycarbonate instead of glass. This helps keep the pair at a lower price point, so it's up to you if glass is necessary.
These are a pair that works well in many conditions. They're best to use as a kick around pair, and they're tough enough to take on more than one sport. The lenses offer stellar UV protection, are shatter and scratch resistant, and are made of polycarbonate. The color options are limited but very attractive. They even come with a microfiber pouch for storage.
You're gonna love this pair, and they know it. That's why Hornz offers a three pack so that you can share them with anyone you'd like. Great little gifts for all the outdoorsmen in your life. You might even want three pairs for yourself so that there is always one within your reach.
If your goal is to blend in with the brush, this pair might be your best option. The camouflage pattern on the frames is one of the more detailed options out there. There are two color choices available so you can pick the one that best matches the intended environment.
Awesome value. These deliver on quality, but they're more of a straightforward pair. These are not specialized but instead, offer features to help them adapt to many different activities. Due to their broad range, they are on the more affordable side.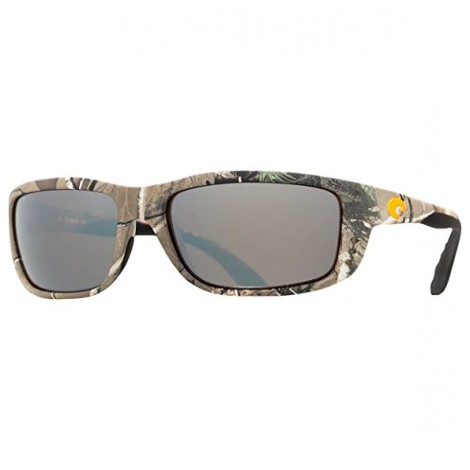 Choose your preferred lens material.
Works great for sailing, fishing, surfing and water skiing.
Stylish, modern design.Complimentary case and lens cloth.
See brighter, more beautiful colors.
Another specialty lense may be required for non-water activities.
Like most Costa Del Mar glasses, these are hand built and backed for life. They are a good looking pair that offers both glass and polycarbonate lenses. The choice is up to you. These are named after the Zane Grey reef and are designed to work best on the water. As you might have noticed, this brand is one of the best to go with for water sports.
These filter out yellow light. The result is crisp lines and deep contrast. This feature is protected by the scratch-resistant coating that covers the lenses.
These frames are super strong. They're made out of an injection molded polycarbonate. It's a lower density material and weighs less than you may expect it to.
For specialty lenses, these are great quality for less. Costa Del Mar lenses are an investment. They last a long time and do everything you could want them to. They might cost you more initially but they won't need replacing any time soon.
8

. Costa Del Mar Rockport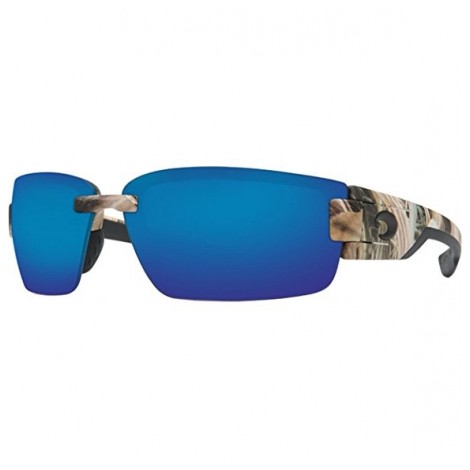 Specialty lens optimized for use on the water
Bold, standout design.
Different colors to choose from to suit your style.
Includes protective storage case.
Stunning colors. Great contrast.
Highly specialized. You may have to get another pair for broader features.
We promise this is the last Costa Del Mar pair on this list. They're on here so many times because they're a wonderful quality. This pair has a more unique design than some of the others listed here. They're going to draw in some attention. Like the other Costa Del Mar glasses, these are hand built and backed for life. They're also another specialty lens optimized for life on the water.
These are a bit of a bold look. They're designed to make an impact whether you're looking at them or looking through them.
If yours do happen to break, you can get a replacement pair free of charge. You're going to love that feature because you won't want to wear any other glasses again.
Offers high-end features at a decent price. You're always going to pay a bit more for specialty lenses, but that's because they offer you more than regular lenses do. It's up to you if you prefer simplicity over luxury.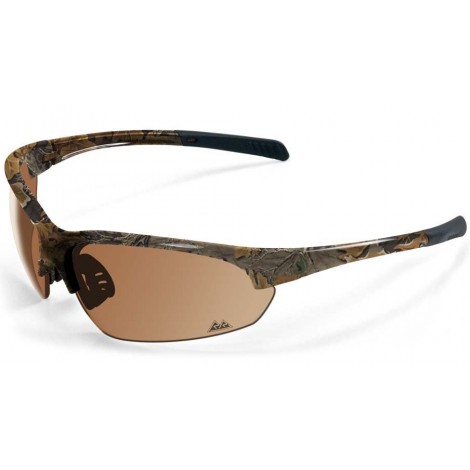 Great all-around pair for multiple sports.
Choose your own features.
Four different camo prints.
Blend in and stay hidden.
Not as flashy as some of the other pairs we mention.
These include an authorized-dealer warranty for frames. Offers HD and polarized options. There are four different camouflage patterns available. You might not need the warranty though because these TR90 frames are built to be sturdy.
Offers four distinct camouflage designs. These will help you blend into the brush and are especially useful for hunting. Don't let your eyes get you spotted.
You can choose the pattern, lens type, polarization, and if they're HD or not. Make your glasses work for you exactly the way you want them to.
Excellent value. These cost less than you would expect them to, considering the great features they offer. You get quality that doesn't break the bank. These are more of a simple pair, they're a great option if you just don't need any specialization.
10

. MOTLEAN Polarized Sunglasses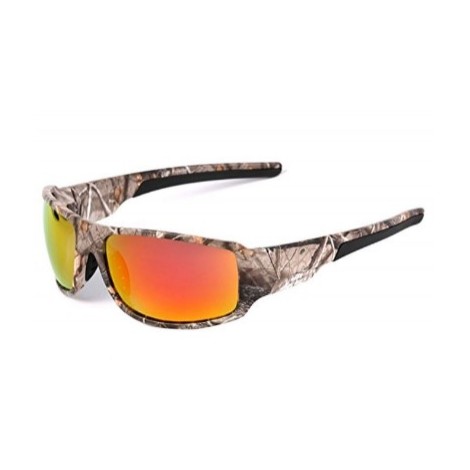 Flexible rubberized frame
Shatterproof Polycarbonate
Lifetime warranty
Polarized
100% UVA / UVB block rating
May encounter defective items
Sometimes, an affordable pair of sunglasses that deliver full eye protection is what's required. A pair that are easily replaceable, yet, sturdy enough to last a long time. MOTLEAN provides just that with these polarized, amber-lensed sunglasses. They can be used from light to more demanding activities due to their flexible nature.
The camouflaged flexible frame ensures that they will not break under most conditions. They will not snap when bent and can absorb the shock of a fall very well. A rubberized coating on the frame with a non-slip rubber coating on the arms will keep them from falling off.
When you have a lot of glare from reflected light, polarized lenses help cut that down. This allows you to see streets, fish under the surface, and many other conditions better. They block 100% of UV rays and are shatterproof polycarbonate.
These pair of sunglasses include critical features of sunglasses while keeping the cost as low as it gets. But they go above and beyond with a lifetime Breakage Warranty, hard case, and 30-Day money back guarantee.
11

. Wiley X Black Ops WX Valor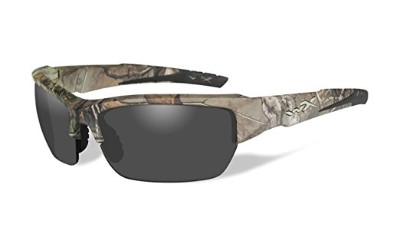 Safety rated to protect your eyes.
UVA and UVB protection.
Good price point.
Good visual clarity.
Only available in one color.
Just because it's the last on our list, doesn't mean it shouldn't be the first on yours. This is a protective pair of glasses that meet OSHA standards. They offer UVA and UVB protection and they won't distort your vision. They've got an excellent coating that helps protect the lens from scratches.
These are a great pair of glasses that meet safety standards. They're shatterproof. They're one of only two safety rated pairs included on this list. They're a great pair even without the safety rating- but it is a great bonus.  
With all the talk about UVA protection, people often forget about UVB. These glasses will protect your eyes in more ways than one. Pick up a pair that protects against UVB, especially if you spend a good amount of time outdoors.
Super safe glasses that cost less than most specialty lenses. These are tough glasses that offer protection for your eyesight and your eyes. If you ever do any sort of construction work these would be an effective tool to add to your toolbox.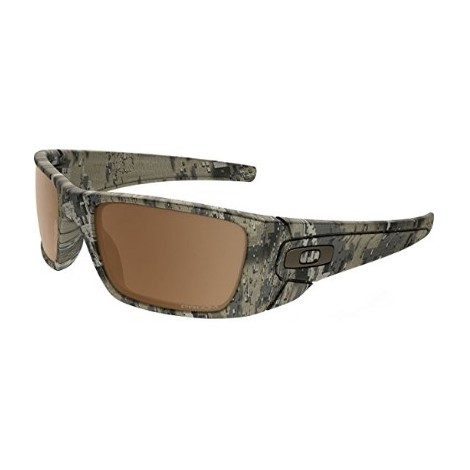 HDO technology lenses
PRIZM tungsten coating
O-matter frame material
100% UVA / UVB / UVC / harmful blue light / and Polarized
Three-point precise fit for secure hold
1 year instead of a lifetime warranty
There are some fakes on the market to look out for
The Oakley brand is well recognized in the sunglasses department and for good reason. High-end quality to match a high-end price, those that are looking for the best protection with elegant design should consider their products. The Fuel Cell is no exception, providing a sleek look with a highly functional design.
The HDO lenses allow for a clearer view with much less distortion. They block harmful blue light, UVA, UVB, and UVC rays at a %100 rating. The Plutonite lens measures at 60 mm.
The tungsten tint provides vivid contrast in colors while polarization cutting down on harsh reflections. Light transmission is set at 14%, making these excellent for a bright, sunny day.
These top-notch pair of sunglasses comes with a price that may deter some. But those looking to invest in their eye protection know that saving the fragile eyesight is worth it. It does not hurt that they look stylish, backed by Oakley's warranty, and will last a long time.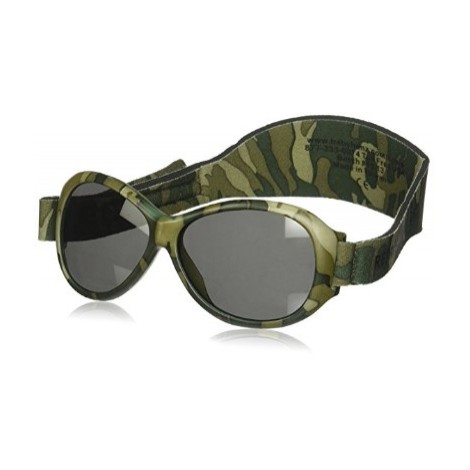 100% UVA and UVB block rating
Adjustable neoprene elastic band
Polycarbonate lenses
1 year full-replacement guarantee
Carrying bag doubles as a lens cleaner
May not fit all face shapes comfortably
Since sunglasses are primarily meant to block UV rays and help you see in bright light, it makes sense that everyone of every age should be protected. Introducing the Baby Banz sunglasses where babies and toddlers can be protected as well. The no-nonsense approach means Banz instilled the same great quality and features of adult sunglasses with the camouflage pattern to match yours.
The adjustable strap on these sunglasses allow it to fit children up to 2 years of age. As the child grows, they can keep their favorite sunglasses since the moisture-wicking strap will make sure they do not lose them so easily.
The shatter-resistant lenses block 100% UVA and UVB rays as well as an ophthalmic level clarity to preserve the eyesight. The category 3 lens blocks glare and bright light.
Highly affordable and high quality are the best things you could ask for in a product. A 1-year warranty backs up the sturdy design, giving you piece of mind no matter what happens. Toxic-free materials and child-safe parts, BanZ put children's safety first.
14

. Wiley X Kryptek Highlander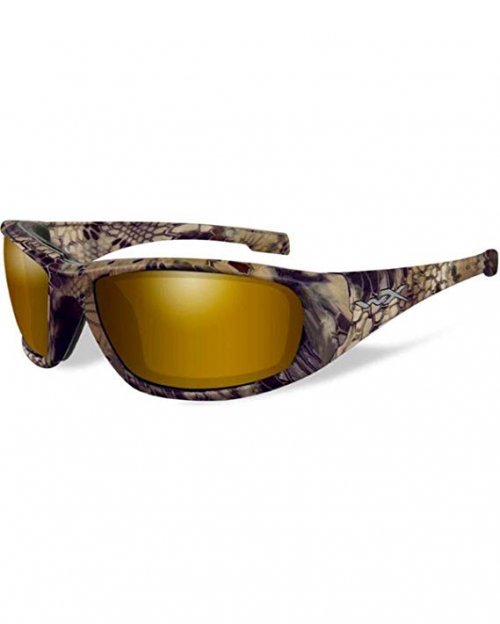 ANSI Z87.1-2003 OSHA safety rating
Large, stylish frames with bronze lenses
100% UVA and UVB block
20% Light transmission for bright conditions
Lack of styles and lens options
While most sunglasses can be worn by anyone, Wiley X decided to show some love to the functional divas out there. The large, stylish frames lends to a unique look and provides sturdy protection for the eyes. Dark shaded lenses ensure that you will not be blinded while walking the red carpet with all the camera flashes at the beach.
The large lenses provide more coverage against the harmful rays. They are also rated to withstand impact and can be used to the same level as safety glasses.
The shatterproof polycarbonate lenses come in a bronze tint that reduces glare and increases contrast in most situations. A 20% light transmission rating makes them ideal for bright conditions.
Sometimes style comes with a price tag. And sometimes quality and functional does too. This time both are included in one making it a good value for everything that you get. Protection and style is an excellent combination.
15

. EYEGUARD Kids Sunglasses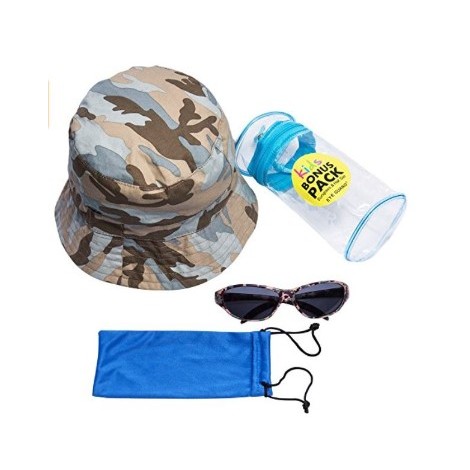 ANSI Z80.3 OSHA Safety Rating
100% UVA and UVB Block Rating
Lens width 55 mm with 14mm nose bridge width
Comes with 54 cm circumference cotton camo sun hat
Does not come with a strap to hold them in place
Read Reviews & Check Price
As we said before, everyone should have eye protection when out in the sun. These pair caters to the age range between toddler and teen. They sport the basic necessities to protect their eyes from the harmful sun rays and comes in the camouflage pattern. A matching camo hat makes these an easy choice to get the kids outside.
Another pair with the OSHA safety rating makes the list and what better feature than on a children's sunglasses. We all know how rowdy children can get, so having a high impact resistant lens makes all the difference.
The sturdy, plastic lenses provide a UV400 standard rating, meaning it blocks both UVA and UVB rays from the sun. They measure at 55m and are non-polarized.
For all that you get in this bundle deal, it is surprising that the sunglasses would maintain good quality at such a low price. Included are a cotton camouflage sun hat, a sunglasses pouch, and a zippered bag to carry it all.
Criteria Used for Evaluation

UV Protection
The most commonly overlooked aspect of the outdoors is the fact that the ultra-violet (UV) rays that the sun produces are extremely harmful with exposure. There are many studies revolving around the harmful effects of the sun's rays. They state that the face and neck are two to four times more exposed to collecting those rays than the rest of your body. Since your eyes are included in that, it is essential to protect them as you would your body with sunscreen. Any sunglasses worth having will have a %99.9 – %100 UVA and UVB block quality. This ensures that your eyes are not easily exposed to the UV rays and avoiding terrible effects such as cataracts, corneal damage, and cancer.
A higher price tag does not mean you are guaranteed to get a %100 UV block rating. Make sure to confirm if the sunglasses include that feature as it is the most important. It is usually labeled by a sticker or packaging by the manufacturer. The same is doubly important for children. If a situation calls for sunblock, then it must include a pair of UV blocking sunglasses. Even if riding in a car facing the sun. With as stylish as a pair can make you look, it is easy to forget the primary reason for sunglasses and that is protection.

Materials
The materials used to make the frames of sunglasses usually vary between zylonite, polycarbonate, and stainless steel. Higher end metals such as titanium are available in select frames. Often, you will see zylonite frames, a plastic material that is cost effective and allows for adjustments with heat (such as a heat gun). Poly-carbonate frames are impact resistant, making them a favorite of sports wearers or as safety glasses. If metal is used, they are usually either thin frames or a composite of plastic and metal to keep everything light. Other materials such as nylon, acetate, and castor-based polymer can be found, each with their strengths and weaknesses.
Manufacturers look to strike a balance between durability and lightweight design. The material of the frame will dictate how comfortable they are, especially for extended or high activity wear. A variety of factors such as sweat, oils, and the elements you would be commonly exposed to (such as rain) would be things to consider when choosing the material.
Effectiveness
All the parts of a pair of sunglasses are important for durability and comfort, but the lenses that you see through are a critical element not to be taken lightly. They are, however, made to be as light as possible. Like frame materials, different lens materials are made with a variety of purposes and budgets in mind. Common sunglasses material include glass, polyurethane, polycarbonate, and acrylic.
Glass is commonly the most expensive but provides the best clarity for your vision. It is also highly scratch resistant, though, heavier than other materials.
Polyurethane, like glass, has great clarity and scratch resistance. It is also lightweight and geared for impact resistance but is also expensive.
Polycarbonate is the cheaper alternative that offers impact resistance and a lightweight design but is not as scratch resistant.
Acrylic is the cheapest method for lens crafting and should generally be avoided for regular use. It is not nearly as durable, scratch resistant, or clear as the other materials. Wearing these for extended periods can hurt your eyes like wear prescription glasses that do not match your own prescription.
The most important thing to keep in mind is that whatever the choice, the lens must block UVA and UVB rays to truly protect your eyes. A quality lens will not distort the light entering your eyes which is good for reducing eye strain and keeping them healthy. One way to check for distortion is to hold up the pair to a fluorescent light or a tile floor (looking at the straight lines) and moving them up and down to see if there is distortion. For those with prescription glasses, some sunglasses feature the ability to get prescription lenses. This is crucial for maintaining your vision quality and to keep them from getting worse. Scratch resistance is also important as a lens that is scratched is just as bad on the eyes as lenses with distortion.
The shade and tint are also something to consider. Generally, for blocking out bright daylight, a %10-%30 light transmission is ideal. For indoor or less bright conditions, you want %40 or more. The colored tints are used to block out certain wavelengths of color. For example, the brown tint is effective for reducing blue light found in foggy or hazy conditions allowing for better contrast and depth perception. Use a search engine to find a color chart for the various colors used for your intended activities.
Expert Interviews & Opinions
Most Important Criteria
(According to our experts opinion)
Experts Opinion
Editors Opinion
Users Opinion
By Default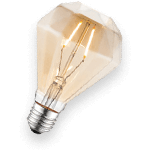 Are they really necessary?
You might be wondering also if camo sunglasses are even necessary for hunting—or if they're simply luxuries that no one needs, that don't make a difference. Well, the answer is that they aren't necessary. They aren't vital. They don't make a significant difference. But they do help and they do look cool. Remember, the point of camo is to fool your prey that you aren't there; that you're not a threat. Animals fear movement. If they see you move, they're liable to run out of range. Another thing is, animals who are accustomed to hunters stalking their environment learn to fear the human shadow. This means that if they see a shadow of a human head and body on the ground, chances are that they will run out of range. Third, colors matter when it comes to hunting. Did you know, for example, that the lighter the skin of a human being, the more the animals are wary of it? Darker people have, one can say, an advantage in this aspect. That's why you should always be careful not to wear any sort of light-colored fabric—really, you should be trying to wear fabric that is comprised of colors that match your surroundings—or anything that gives off a glare. That means no reflectors or anything of the sort.
Get recognition
Another great reason to buy camo sunglasses is to get recognition. That's right: recognition. What does this mean, you might be wondering. Have you ever wanted to be known as a hunter? I don't mean around your friends and family and your social circle. I mean walking down the street. Wouldn't it be great if people could just look at you and think, well that's a hunter? And others who enjoy your passion as much as you do can flock to you—or not if they're not friendly. Camo sunglasses can help you start that conversation with a stranger who may one day become your friend. Or your hunting buddy.
Other Factors to Consider

Fit
With all the different shapes of heads and faces, there is no one way to judge a fit except for your own personal testing. However, we can tell you qualities to look for. A comfortable pair of sunglasses should be snug on your nose. It should not slide down easily or at all, and it should not pinch or rub your nose. Some sunglasses come with a textured material on the bridge to help with his. The weight of the sunglasses also plays a part in keeping them up on your face without excess pressure on your nose and ears. Stick to lightweight designs, especially for extended wear. They should also be snug on your temples, but not providing too much pressure.
There is a sweet spot you want to find, but luckily most sunglasses are adjustable to a certain degree, so you should be able to find it with a little experimenting. The lenses should also not touch your eyelashes but be more aligned with the brow for a tight fit against the face. This allows better coverage against the UV rays and debris. A wrap-around style of sunglasses gives you extended coverage to keep light from coming in from the sides.

Features
One wouldn't think a pair of sunglasses as having a wide variety of features. Looking closely at what is available, you can start to see that there are many options for specific uses. For example, there are different coatings to help protect the lenses. Some of these are hydrophobic for water repelling, anti-scratch, and anti-fog. All of these keep your vision clear, so the sunglasses can do what they were designed to do. Mirrored, or flash, coatings are used to reduce glare.
Another great feature is polarization. It helps cut down on glare from water, streets, or anything else that produces bright reflected light. Sometimes it can clash with the tinting of a car window or electronic screens. Between polarization or a mirrored coating, choosing one of these features to cut down glare is worth the consideration, especially for outdoor activities. Polarized does not mean it provides UV protection, so make sure that it blocks UV above all else.
Photochromatic lenses change their shade intensity depending on your environment. They get darker while you are outside in the sun while getting lighter if you transition to a darker area, to some degree. Gradient lenses are an alternative as they are permanently shaded for a portion of the lens. Configurations include a gradient from the top so that it is lighter on the bottom, allowing you to see objects clearly below a certain level while blocking the light above. This also means you see glare clearly, so a double gradient would be another option where it is shaded on top and bottom but clear in the middle. This setup is not ideal for driving as visibility of the road and dashboard is limited.
Frequently Asked Questions
q:

Do they come with prescription lenses?

a:

Generally, sunglasses do not but many have the option to replace the lenses with prescription ones. There are also "fit over" pairs that fit over your regular prescription glasses.
q:

Can sunglasses be used as safety glasses?

a:

Most sunglasses are not OSHA approved for safety use. There are some that are ANSI Z87.1-2015 certified so be sure to look for the stamp of approval on these.
q:

Is there anything that helps with fogging?

a:

Besides looking for lenses with anti-fog coating, consider getting an anti-fog spray. There are some "lifehack" homemade methods if you are in a pinch.
q:

What size should I get?

a:

To get the best fit, try on glasses at a store to get your general size (small, medium, large, etc.). Sunglasses are measured by Frame width, Bridge width, Lens height, and Arm length. Lenses are measured in millimeters (mm). If you find the perfect fit, try to write down these measurements for your sunglasses shopping.
q:

How do you store them when not in use?

a:

If your sunglasses did not come with a hard case, consider getting one. They will keep them from getting crushed in a bag, car, or anywhere you plan to store them.
q:

How do I adjust my sunglasses to fit better?

a:

There are several areas that you could adjust such as the bridge, arms, and hinges. A quick search with your favorite search engine will bring up some detailed tutorials for easy adjusting. They are very informative of all the factors that make a comfortable fit. Alternatively, you could take them to a glasses store and have them adjust it for you for a very low price or even free.
q:

How do I fix loose arms on my sunglasses?

a:

Use a glasses screwdriver kit to tighten the screws at the hinges if the arms are loose.
Subscribe to our Newsletter