Best Desktop Organizers Reviewed & Rated for Quality
In a Hurry? Editors choice: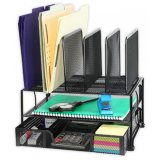 Test Winner: SimpleHouseware Mesh

Raise your hand (and be honest) if shopping for school and office supplies gives you all the feels. ME! I can still remember being in elementary school and going
back to school shopping
for my notebooks and folders and art supplies, making sure to pick each item carefully. I would come home and organize my new supplies and know that I was going to be ready to soak up all the knowledge.
As an adult, I still feel the same way. Having a well-organized workspace with all of the materials I need at my fingertips fills me with focused confidence that I need to get life done.
It is clinically proven that productivity increases when one works in a streamlined, organized working space. Thus, we've compiled a list of the best desktop organizers so that you can get your best work done.
Standout Picks
Criteria Used for Evaluation
Features
The most important criteria we used when considering which desktop organizers would make our list were each one's features. Obviously, not every buyer's needs are the same, so we wanted to make sure to provide as much detail about what exactly each organizer can store so that you can make the best purchase possible.
Some common features include storage for files, books, notebooks, folders, and paper; storage for small office supplies like paper clips, tacks, binder clips, small sticky notes, loose change, and staples; storage for standard sticky notes; storage for writing instruments like pens, pencils, highlighters, and paintbrushes; and finally storage for electronic devices from handheld tablets and phones to desktop computers.
Most of the desktop organizers on our list include a mix of these features, so it's easier to make your selection. Plus, many of the items we provided come with companion pieces that match up in style if you can't find exactly what you need in a single product.
Materials
The second most important criteria we considered was the material each desktop organizer was made out of. This goes hand and hand with features when considering what product you will buy for your storage needs.
Items made from mesh metal and acrylic are going to be best for smaller objects that don't weigh a ton. Light folders and papers, plus any small office supplies like pens and paper clips should be no problem for these desktop organizers.
However, if you're looking for a more heavy-duty option, you're going to want to go for something that is made from wood (faux or real), steel, or bamboo. We've given multiple options made from these materials and provided details so you can be sure that the product you choose will stand up to its use.
Stability
We also considered stability in addition to the materials each desktop organizer is made out of.
Not all mesh metal is created equal, and not all wood is created equal. So we made sure to pour over hundreds of reviews to get the skinny on all of our products listed. For sure, wood inspired and bamboo products were much more stable than their mesh metal and acrylic counterparts. They were able to hold heavier items and stood up to more constant use. This made them ideal for classrooms and home offices alike.
Additionally, we looked for products with anti-slip bottoms so they wouldn't be likely to move or scratch up your desk.
Style
Of course, we considered stye when compiling our list. While some of our products are definitely more functional than fashionable, we feature a lot of truly beautiful desktop organizers that bring design to functionality.
Value
We're always looking to showcase products that give our readers the best value possible. For that reason, we love items that come with lifetime warranties and satisfaction guarantees. About half of the desktop organizers on our list meet this qualification.
But more than that, we're looking for products that give you more than what you're paying for, and products that won't break down when you need them the most. Thus, a tiny desk caddy that can hold more than a larger, more expensive caddy makes the list even though it's small and inexpensive, and so on.
10 Best Desktop Organizers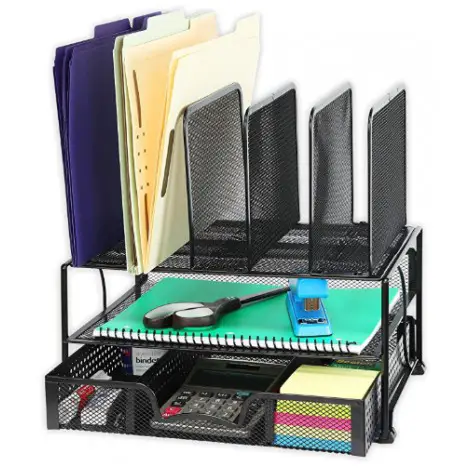 Simple Houseware is a leader in, well, simple houseware. They feature tons of super well-reviewed products in this category and others as well, but this Mesh Desk Organizer ranks number 1 for good reason. It's sturdy, versatile, and big enough to hold everything you need to get the job done.
Sliding Drawer, Double Tray and 5 Upright Sections
From top to bottom, this product has everything you need. The top features 5 upright compartments great for storing letters or files. They are even capable of holding legal-sized files, though they will stick out a bit. On the bottom are 2 letter trays, one empty and one with a removable drawer, depending on your needs. The removable drawer has 3 separate compartments great for storing smaller office and school supplies, and functions excellently both as a drawer and also as a separate desk piece. The drawer has no tracks, so it won't get stuck and is easy to move out and in.
Comes in Slee, Mesh Metal
This desktop organizer comes in 2 colors, black and silver. The sleek mesh metal design eliminates the bulkiness of other desktop organizers and ensures that it will fit in almost any space (measuring 13 x 13 x 9)--not to mention, it's just a cool, modern design. Customers who bought this product used it successfully for their classrooms, study desks, offices, salons, and waiting rooms.
Cost and Value
The cost of desktop organizers can range pretty dramatically, especially depending on the materials that each organizer is made out of. This organizer rings up at a price which is comparable to most of the other organizers on our list. It is super easy to put together and doesn't require any extra tools. The base is sturdy and versatile, but the top compartments may need a little extra support if holding heavy files or books.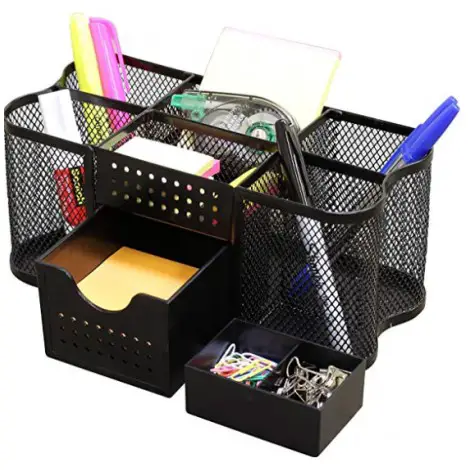 Technically, this desktop organizer is more positively reviewed than our first place organizer with a whopping 5-star rating and over 3,000 reviews on Amazon, but because it is meant for only small office supplies (no space to store books, papers, or files), it's coming in at number 2.
8 Storage Compartments for All Your Writing Supplies
The DecoBros Desk Supplies Organizer Caddy boasts 8 different compartments perfect for storing all of your writing essentials. 4 stand-up compartments allow you to separate your pens, pencils, highlighters, and even markers. The two smaller, shallow compartments in the middle are great for housing smaller office supplies like strip post its, white out, glue, paper clips and more. Plus, one of the smaller compartments comes with a removable divider providing even more storage. Finally, the drawer on the bottom is custom designed to fit your average sized sticky note, so none of your genius jots will slip away.
Super Compact Design
This desktop organizer is guaranteed to declutter your desk without taking up much space, measuring 9.25 x 4.5 x 4 inches. Even though it's small, it's mighty, and can even hold a stapler and scissors. It also features a mesh metal design and is available in both black and silver. With no-slip, rubber bumpers on the bottom, it will hold all of your working needs and stay in place.
Cost and Value
This organizer caddy is a great value. It's compact, yet big enough for all of your storage needs. Plus, it's durable and versatile. All of this at only a handful of dollars, and it's a value that's hard to beat.



This super-durable, super-clear STORi Craft and Desktop Organizer is great for any classroom, office, or craft room and features a variety of different sized compartments to fulfill all of your organizational needs.
5 Compartments for Desktop and Crafty Storage
The STORi Craft and Desktop Organizer features 5 different sized storage compartments designed with both the office and the craft room in mind. The largest compartment is ideal for storing both light file folders and papers, and also for storing heavy sketchbooks. The smaller storage spaces in the front can be used for smaller notebooks, handheld electronic devices, staplers, and paints. Plus, the two pen holders can be used for pens, pencils, and paintbrushes alike.
Super Sturdy Design
Reviews report loving this product for its exceptionally sturdy design. From the glowing praise of teachers who say it can hold up to years of heavy use in the classroom, to dedicated artists using it to store their everyday supplies, this organizer won't break down and contribute to clutter any time soon. Additionally, its clear design makes it suitable for all settings and won't interfere with the aesthetic of the room.
Cost and Value
Ringing up at an average price and being reviewed as one of the most durable, non-wood items on our list, this product is packed with value. Customers were so happy with this product that many went on to purchase companion organizers by STORi. It won't break on you, and it won't break the bank.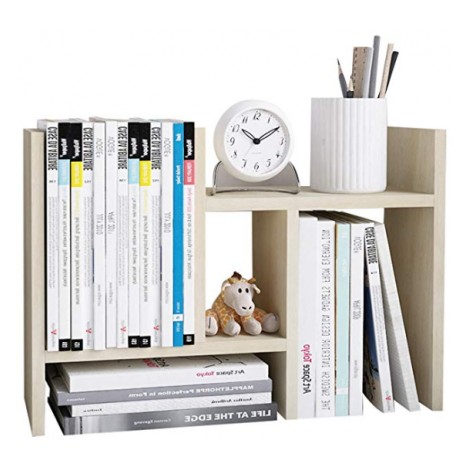 We absolutely love this Jerry and Maggie Desktop Organizer. It's the first wooden organizer to make our list and it's design and versatility makes it a great storage addition to any room.
Incredibly Versatile Making it Ideal for a Variety of Uses
The lightweight Jerry & Maggie Wood Shelf Desktop Organizer comes in two adjustable parts, making it super easy to move and fit to your needs--even if those needs are changing! With 5 separate storage compartments, this organizer can hold heavy books, folders, desktop items, and even small household plants.
Natural Wood Design
If you have design in mind when selecting an organizer, this product will be perfect for you. It comes in 4 amazing colors: white wood tone, natural wood tone, pink, and jet black. Because it is made from genuine wood, this organizer is super sturdy and can support the weight of multiple heavy books, unlike other organizers on our list. And despite being super sturdy, it's not super bulky, measuring in at 12 x 14 x 6 inches.
Cost and Value
One might expect this wooden organizer to be substantially more expensive than the metal and acrylic items on our list so far, but prepare to be amazed! With easy adjustability, versatility, and durability, this product is a definite best buy for value.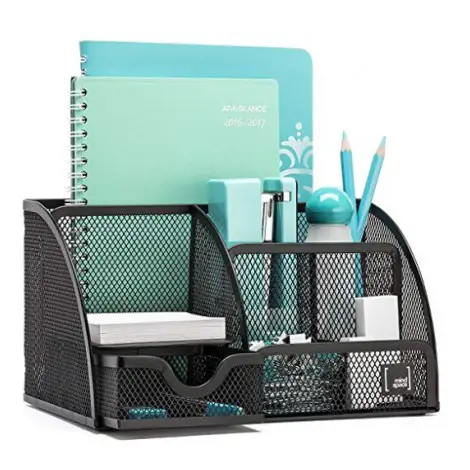 Reviewed as the "Lightweight Heavyweight," the Mindspace Office Desk Organizer is a sturdy little guy built to hold and organize all of your desktop items. It's durability, low cost, and lifetime warranty made sure it made the cut.
6 Compartments + Drawer
It's clear that a lot of thought went in to developing this desktop organizer--there's a specially-sized compartment for almost anything you'd find on your average working desk. The larger compartment in the back is great for folders or notebooks, while the smaller compartments in the front are ideal for pen and pencil holders, and for storing paper clips and other small office supplies. Plus, there's a spot for your average-sized sticky notes and a removable drawer for even more storage. The drawer has no tracks so it's not hard to pull in and out and won't get stuck.
From the Mesh Collection
This slim mesh design comes in both black and silver, making it perfect for a variety of different office desk decors. The curved edges give it a layer of sophistication and allow it to sit seamlessly next to other items on your desk. There are also anti-slip rubber bumpers on the bottom of the organizer to ensure that your desk won't get scratched up underneath. And on top of it all, it comes totally assembled so you won't have to worry about missing parts or extra tools.
Cost and Value
This organizer rings up at a price just below average and comes with a lifetime warranty, so we give it a huge plus in the value department. Make sure you remember to register your product so that the lifetime warranty can be used.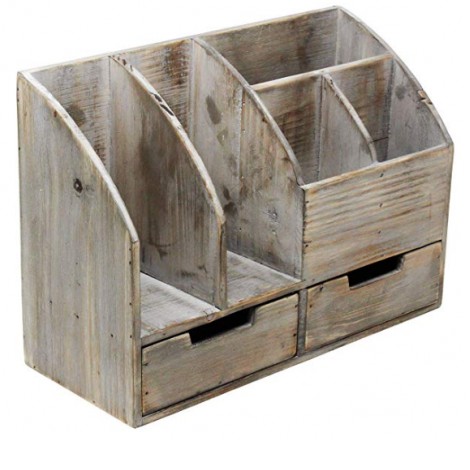 The Vintage Rustic Wooden Desk Organizer is one of the most aesthetically pleasing on our list. With its oversized design, it is great for use in the office, at school, and even in the kitchen.
Oversized design for Desktop, Tabletop, or Counter
This Vintage Wooden Desk Organizer comes with 8 different sized compartments to fit a variety of your home storage needs. It's one of the biggest organizers on our list, but its beautiful, rustic design keeps it from looking like clunky storage. Users report being able to store an amazing amount of stuff in this guy. It's even large enough to store legal envelopes and documents. Some used it as a cooking utensil organizer, and spice organizer in the kitchen--so you know it has to have a lot of space. Specifically, the dimensions are as follows: 14.3 x 6 x 9.8 inches.
Distressed, Torched Wood
The versatility this desktop organizer provides in storage area is only topped by its beautiful design. Coming in a few different varieties of distressed wood style, you are bound to find a style that suits your aesthetic and storage needs. Plus, it is super durable and sturdy--it can hold up to even your toughest storage needs.
Cost and Value
We love that this product comes with a no questions asked money back guarantee--not that you'll be likely to use it since it's such an amazing product.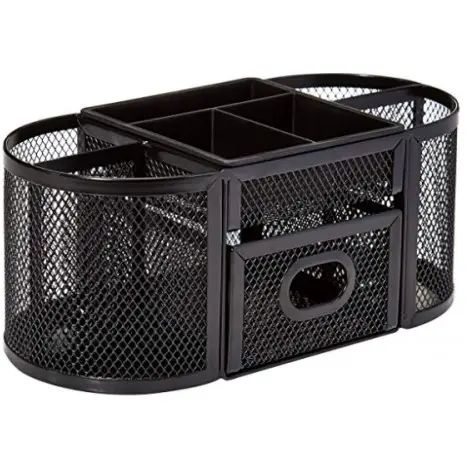 Here's another little guy that makes our list. He won't hold your binders, notebooks, or folders, but he will store all of those hard-to-keep-organized small office supplies at a price that's hard to beat.
9 Storage Compartments in a Tiny Package
With 4 tall side compartments, there is plenty of room for you to store and separate your pencils, pens, highlighters, and scissors. The top compartment (which is removable), is great for storing paper clips, binder clips, small sticky notes, or loose change. Plus, there's an easy-to-open drawer perfect for storing your average sized sticky notes. Measuring at 4.5 x 9.34 x 4, that's a lot of storage in a tiny package! Double plus? It comes fully assembled.
Great Companion Piece
This little guy is a great companion piece for other larger desktop organizers meant for storing notebooks or folders. Because this desktop caddy is an Amazon brand, you'll be able to find other products that pair perfectly with it, and you'll know it's reliable.
Cost and Value
Amazon's customer service is excellent, so you can feel good about buying a product from them. This little caddy stores a bunch for its size and rings up at a price below average in comparison to other products on our list. This is a great first piece to buy if you're on a budget, and because it can pair with other larger desktop organizers, you can add more later.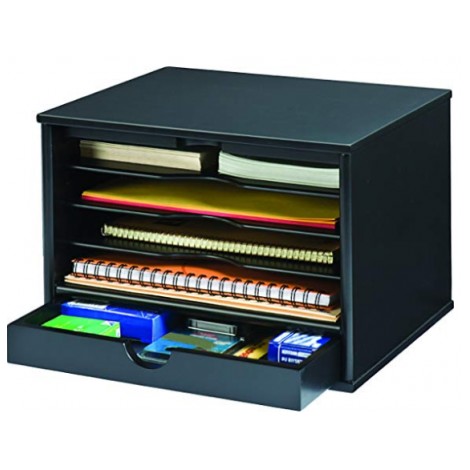 This Victor Faux Wooden beauty will class up any desk and has tons of concealed storage. With multiple colors to choose from, this desktop organizer is great for any style office.
4-Shelf Storage
The Victor Wood Desktop Organizer has a whopping 4 shelf storage spaces that lay flat. As they lay flat, you won't find yourself fighting with flimsy upright dividers. Thus, this organizer is great for heavier items like notebooks and full folders. Another cool feature of this organizer is that it has a board you can pull down in front of the shelves to conceal them. This is a nice feature if you need to cover up sensitive documents, or if you just want a super clean look. There's also a slide-out drawer for your smaller office supplies, though there aren't dividers in this drawer, so keep that in mind.
Beautiful Colors to Choose From
This desktop organizer comes in 5 sweet colors: Classic Silver, Heritage Wood, Midnight Black, Mocha Brown, and Pure White. That means there's a color for pretty much any office space. Plus, its faux wooden design means that it's super durable and can stand holding heavier items. Measuring in at 14 x 10.75 x 9.75, you'll be able to declutter your desk without taking up a bunch of space.
Cost and Value
This is one of the more expensive items on our list. That being said, it is one of the more durable items as well. It's made of heavier material and can hold more than your average metal or acrylic desktop organizer. Plus, it has several companion items that will allow you to build an organized office space that you can really get work done in.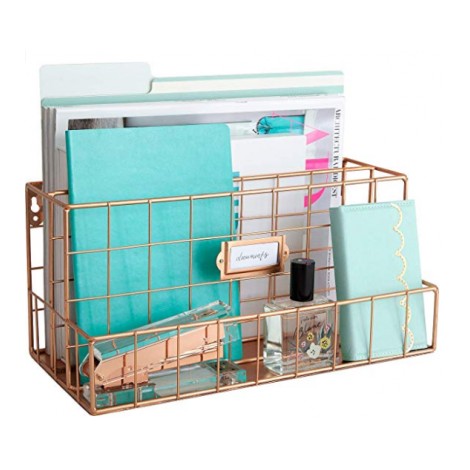 Blu Monaco is a trendy, beautiful brand and produces items that are not only gorgeous but also super functional. So if you like what you see here, check out more of their stuff, because they have items for every room.
2 Tier Mail Basket
This desktop organizer features 3 separate compartments. The back two compartments are perfect for holding heavy books, folders, and files. Reviewers reported using this product as a classroom mailbox, a personal bill file, and a makeup organizer. The front compartment is a bit smaller and thus meant to store smaller office supplies. This item is petite and won't crowd your desk. What's more, it can be mounted on the wall as an even greater space saving option.
Beautiful Rose Gold Design
The rose gold color of this desk organizer is totally trending right now, and for good reason. It's lovely to look at! The thick square check design is hip and cool. Made from steel, it's super durable and won't bend when you load it up.
Cost and Value
This steel organizer rings up at a price comparable to most of the other items on our list, so it's super sturdy and it won't break the bank.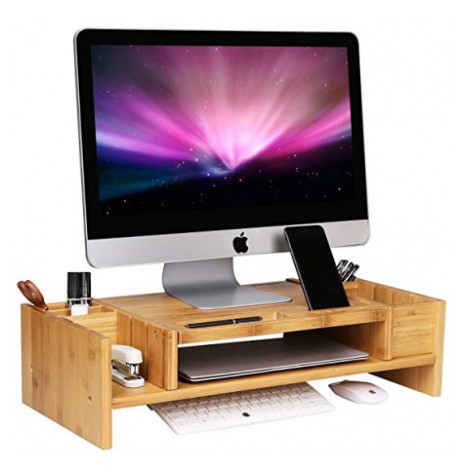 The last in our list is certainly not the least...it's just a bit more specialized. The SONGMICS Bamboo Desktop Organizer is stunning and ideal for home offices or any place where your desktop computer is causing serious crowdage issues.
2-Tier Adjustable Storage
This Bamboo Desktop Organizer gives the user so many different options so it can fulfill almost anyone's office needs. The space at the bottom of the unit is great for storing you. The middle compartment is ideal for laptops, books, notebooks, and even files. The top of the unit will hold your laptop or desktop, bringing it to a more user-friendly eye level so you won't have to strain nearly as much. You'll also find 2 slots there to store your at-hand writing utensils and cellular devices. Finally, the side compartments come with 6 adjustable slot options and 6 separating boards so you can literally move them at will depending on your needs.
Made from Environmentally Friendly Bamboo
Not only is bamboo environmentally conscious, but it's also gorgeous and sturdy! The design is modern, simple, and soothing to look at. It has a smooth finish and doesn't come with the same sort of stinky wood smell that other items in the category carry. Plus, it can hold up to 80 pounds.
Cost and Value
This baby is the most eco-conscious buy on our list--and it won't cost you much more than average. But you're not only helping to reduce your carbon footprint with this purchase, but you're also buying unmatched design.

Subscribe to our Newsletter