Best Waterproof Running Jackets Reviewed & Rated for Quality
In a Hurry? Editors choice: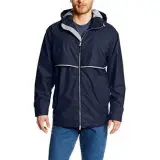 Test Winner: Charles River Apparel New Englander

Rainy weather is an inevitable part of life, but that doesn't mean it has to
interfere with your daily runs
! Many runners shy away from waterproof jackets, expecting them to be bulky and likely to interfere with their exercise. In fact, most modern jackets provide the exact opposite experience and offer effective waterproof protection against the elements while still being lightweight and breathable. A good quality waterproof jacket can ensure that you stay warm and safe from harsh rain and other debris, and some products even offer light-reflective technology so that you'll always be visible to drivers even in poor conditions.
Standout Picks
Criteria Used for Evaluation
Breathability
Unless you're superhuman, chances are that you'll probably start sweating while you're out running. It's exactly this sweating that often deters runners from buying and wearing any sort of protective gear. They usually think that the heavier fabrics or long sleeves may make them sweat more.
While sweating is a good sign that your workout is effective, it can be a major annoyance if your workout gear is not accommodating this extra moisture. In fact, if your running clothes can not dry quickly or wick away this extra moisture, it could cause your skin to become irritated thanks to the friction between your skin and clothes.
This is why a breathable product can make or break your stride, especially during cold and rainy seasons.
There are certain features or characteristics that you can look for to ensure that your intended product will offer you breathability as well as air flow circulation. Firstly, you should consider the fabric. When it comes to any sort of exercise apparel, the two most popular and breathable options are Nylon and Polyester. These synthetic fibers work wonders in both quickly drying up any excess moisture and leading it away from your body.
A few other features that will help you determine a garment 's breathability is the lining of the jacket itself and vents. Jackets lined with soft mesh fabric will likely offer you a much more lightweight and breathable option. In addition, any additional vents located in strategic spots such as under the arms, or your back will allow you the option to increase the airflow circulation in this way for a more overall breathable running experience.
Comfort
Since running is already such a draining activity, the last thing you want is a piece of running equipment that interferes with your performance in any way. Your running clothes should never restrict you but enhance your performance. This is true even for heavy waterproof garments.
Determining the comfort of a specific garment when you're buying it online can be a tricky business. In this instance, you can't simply try it on and decide for yourself. However, with a few smart considerations, you'll be able to determine a product's comfort without being at the mercy of reviews.
Obviously, the criteria for running apparel comfort will be vastly different than for any other garment. Ideally, your running apparel should be lightweight, offer adequate protection, breathable, flexible, have a good fit, and offer you plenty range of movement.
While this may seem like a tall order, this ideal garment is not impossible to find. Once again, you should look towards garments made from synthetic fibers to find the most comfortable garment.
Fibers such as nylon and polyester offer more a much more lightweight experience and the garment is flexible enough to give you plenty of mobility. Many major sports gear manufacturers such as Nike, Adidas, or Under Armour are also continuously experiment with new fabric innovation which have collectively become known as performance fabric. These innovations are well worth looking into since they can offer you a more comfortable running experience.
Fit
When we talk about fit, we don't simply refer to your actual clothing size, but the way in which a garment sits on you. While you get thousands of different fits and styles depending on the garment, in terms of workout apparel, there are generally three options: slim fit, regular fit, or relaxed fit.
While the jury is still out on the debate of loose-fitting vs tight-fitting exercise apparel, there are some key factors that you should consider.
A jacket that is too small or slim-fitting has the potential to limit your movement. If you do choose a product with a slim fit, read the sizing guide carefully to make sure that the garment will fit you properly.
Garments that are too loose-fitting are also not ideal. Any piece of exercise apparel that has a fit that is overly loose or baggy has the potential to get in the way of your performance. It can get caught on external objects and possible cause injury in this way.
At the end of the day, you should be guided by your own personal preference. Some runners prefer immensely slim-fitting clothes as they find it more comfortable, while others may prefer relaxed fits. The key in terms of fit is to make sure that it actually does fit your frame properly.
Most major manufacturers offer sizing charts that give you the dimensions of every garment in all its different sizes. For the best fit, you should measure yourself and compare it to the sizing chart to find your best fit. You can also read reviews from other buyers to try and determine whether the selected product has a size that runs small or large to help you select the best size.
Visibility
Studies have confirmed that almost the majority of runners all over the world prefer to go for their daily run in the late afternoon or evening. This makes sense from a practical perspective since the vast majority of adults likely have jobs and other responsibilities throughout the day. Moreover, its a more optimum time to run since the sun is setting and it gets cooler around 4-6p.m. depending on the season and your location.
This means that the majority of runners do the bulk of their training in poor visibility conditions. Moreover, since waterproof gear is generally used in rainy conditions, it is safe to assume that the visibility should a be a top concern for any runner looking for waterproof protective gear.
Reflective material is a relatively new innovation in the world of textiles, and are generally used for safety purposes. They are used for a wide variety of protective clothing, such as those used by construction workers and firefighters. However, most sport apparel manufacturers also quickly saw a huge need for this reflective material to be used in their products to ensure the athlete's visibility on the road even in poor conditions.
The reflective material is usually incorporated by using it as a trim or as part of the logo. In this way, it still ensures your visibility to other runners and motorists, without distracting their attention.
Water Resistance
Of course, the water resistance in any waterproof gear is going to be the main consideration point before you select your ideal product. However, there is a huge variety in waterproof and water-resistant gear and by understanding the subtle differences between the two can help you make a better decision about what jacket will be the best for your needs.
Water-resistant gear essentially means that your jacket will repel water up to a certain point. It is generally best suited to only infrequent mild rains. However, they can be somewhat more lightweight and are ideal for any runner who is not confronted with rain on a regular basis.
Waterproof gear, however, means that the surface of your clothing is entirely impervious to any water. It effectively allows water to simply bead on the surface and slide off. In this way, you stay entirely dry and this is obviously the ideal option for runners who live in very rainy areas. Waterproof gear generally contains heavier fabrics or added polyurethane coatings and this could affect its overall breathability.
10 Best Waterproof Running Jackets
1

. The North Face Venture 2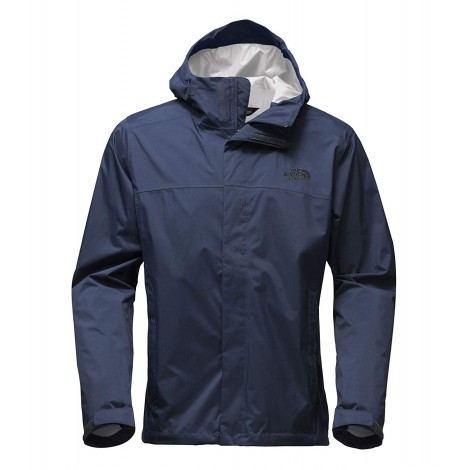 The North Face is a favorite brand among sports and outdoors enthusiasts thanks to their durable and high-quality products, and the Venture 2 definitely lives up to this standard.
The Venture 2 is a general use weatherproof jacket that provides that utmost protection against the elements. The product itself is seam-sealed shell jacket that is unlined and packable with added pit-zip vents for added breathability.
Each unit is fully treated with a polyurethane coating to provide the wearer with comprehensive and long-lasting protection against icy winds and rain. The coat itself offers a relaxed fit that is ideal for runners, as well as a hood for added protection against the elements.
The jacket is close by a zip and added velcro stormflap for ultra secure closing. Each pocket is zip-lined to keep your valuables safe from harm. The Venture 2 was definitely designed to withstand the test of time and is a great investment for any runner who needs to brave harsh elements on a regular basis.

2

. Under Armour Storm No Breaks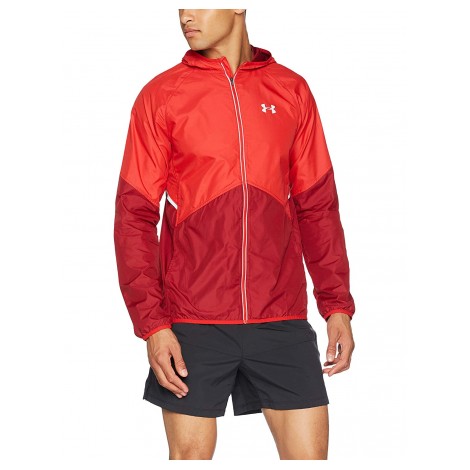 Under Armour's Storm No Breaks model offers a unique tiered system that offers various level of protection depending on your own needs and circumstances.
The tiered system is numbered from 1 - 3, with 1 offering mild protection and 3 offering comprehensive protection even in severe storms. This handy tiered system allows the wearer to choose a product that is tailor-made for their own specific environment.
However, no matter which tier you pick, you will still enjoy a highly breathable and lightweight product that can be used for any outdoor activity. The material itself easily repels water, while still being soft and flexible enough to give you ample mobility.
The inside is lined for soft mesh for added breathability while there are vents located on the back-side for added airflow circulation. This product also has plenty of other features for the runner such as an inner pocket for valuables, hood, and plenty of reflective trim. The Storm No Breaks is available in seven different colors and has a slim fit.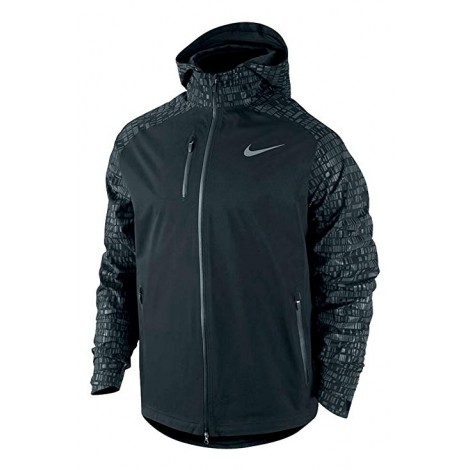 As a brand and manufacturer, Nike hardly needs an introduction. Since opening their doors in 1964, they've been committed to creating products that help athletes to do their best and this has led them to become a firm favorite around sportsmen and women all over the world.
The HyperShield is nothing if not a testament to this high standard of design. The jackets itself has been made using Nike's very own patented material for optimum breathability, durability, and protection against the elements.
The entire jacket has been carefully seam-sealed to prevent any drop of water from getting through and includes a waterproof zip. You can expect high-quality extras such as plenty of reflective trim details, a high neck, hood, and vents beneath the armpits for added breathability.
This product is available in a sleek black color for both men and women and offers a relaxed fit for extra comfort on your run. This is a product that was built to last and will likely appeal to any runners on any level.

4

. Charles River Apparel New Englander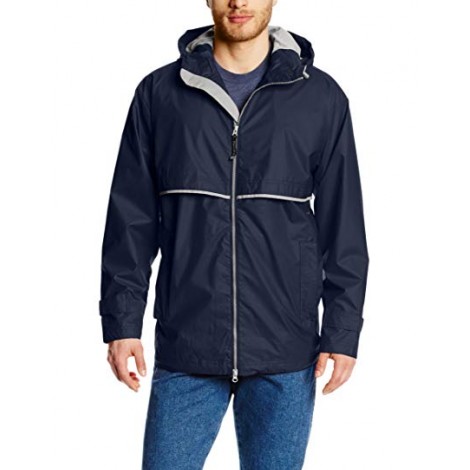 This all-star piece of outerwear has become a favorite among runners and outdoors enthusiasts alike thanks to its multi-functional approach.
Constructed from finely woven polyurethane, the New Englander gives you optimal protection against the heavy wind and rain. The woven fabric also ensures for added durability and will ensure that it lasts for years.
Despite this impressive protective layer, the New Englander is still lightweight and breathable enough to be used comfortably by any runner. The inside is lined with mesh fabric to ensure air circulation and breathability, while the sleeves are detachable for ultimate versatility.
Each jacket has a hood with drawstring, 2-way zipper, and a reflective trim to ensure your visibility on the road. When it comes to design, the New Englander truly stands out as it has a simple design and is available in a variety of colors that makes it suitable to be used on almost any occasion.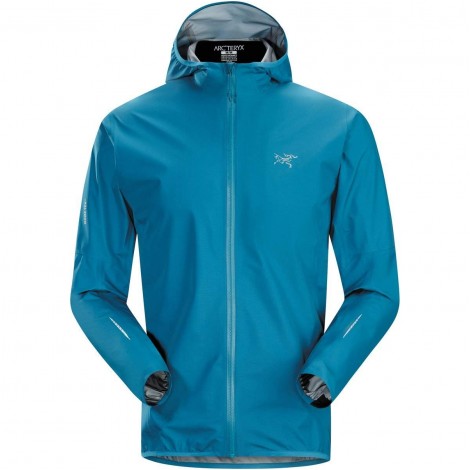 By combining minimalist design with comprehensive protection against the elements, so that can you perform your best no matter what the weather.
The Norvan has been made using high-quality GORE-TEX material that is widely known for its effective protection against heavy rains and wind. In addition to its immense protective capabilities, the GORE-TEX is significantly lighter and more breathable than many of its other protective fabric competitors. It effortlessly moves with you and has a soft and very flexible feel to ensure your comfort.
As for the jacket itself, it is available in up to 4 different colors and features a uniquely minimalist and streamlined design. Added reflective trim on the back of the Norvan ensures that you stay visible even in poor light conditions. The jacket also boasts inner pockets for keeping your valuables secure, as well as a hood for added protection.
The Norvan is a heavy-duty multi-tasker and can be used for various activities beyond running, including cycling, hiking, or any other outdoor activity.

6

. Adidas Supernova Storm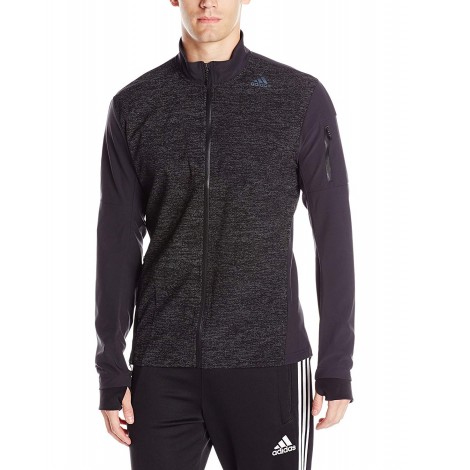 Adidas has been a long respected brand among athletes for decades, which makes it unsurprising that the Supernova Storm is a top recommendation for protective gear. Don't let the thin and unobtrusive design fool you, the Supernova Storm is a powerhouse when it comes to protecting you against the elements.
This jacket is made out of Adidas' very own patented fabric, Climalite. The fabric operates firstly by giving the wearer some much-needed breathability and sweeps the sweat away from the skin as you run. More importantly, the fabric functions as a powerful barrier between harsh winds and drizzle.
Moreover, this model features a protective zip pocket located in the inner arm to keep your phone and other valuables safe. In addition, it features a zip that reaches all the way towards the neck as well as reflective trimmings for optimal visibility.
The Supernova Storm is available for both men and women in a variety of colors and their sizes give you a snug fit for your own running comfort.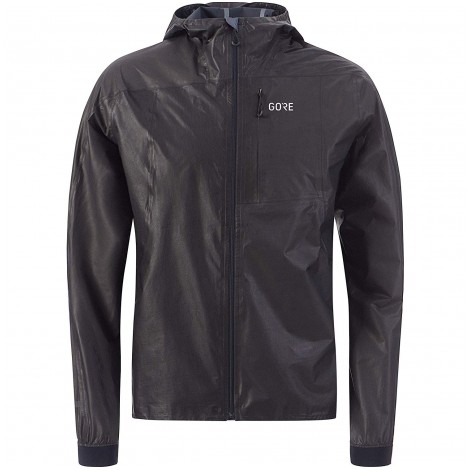 Don't be fooled by the simplistic design of the R7 Shakedry, this is a product that was built to give serious protection to any sports enthusiast.
The R7 Shakedry combines Gore-Tex technology with a new innovation, Shakedry fabric, to give you one of the most comprehensive protective outerwear garments currently available. This revolutionary technology provides an effective barrier to even harsh wind and rain, while still being lightweight and breathable enough to help you manage your own personal moisture.
The fabric itself is highly durable while still being flexible enough to ensure your own mobility. In addition, this is a highly versatile product that can be used in any kind of weather for any kind of activity.
This product offers a slim fit and is available in three different colors. It features a hood, zip pockets, stow-away pocket, and plenty of reflective trim to ensure your visibility in poor weather conditions.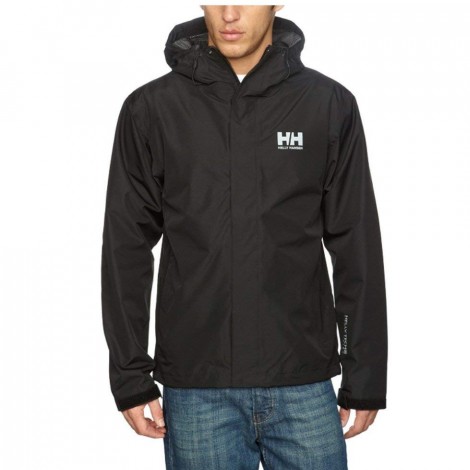 The Seven J offers any kind of runner a reliable and practical way of protecting themselves in harsh weather conditions.
Made from their own unique fabric technology, HellyTech, the Seven J is a shell-type jacket that is waterproof, durable, and breathable. The outer layer effectively repels any water that comes into contact, while the jacket itself remains lightweight and breathable. The entire product is effectively seam sealed and features a quick-drying lining.
The Seven J is lined with very soft and breathable mesh fabric to keep you dry. You can also expect premium added features such as a protective hood, warm collar, reflective trim, a storm flap, YKK zipper, and adjustable cuffs.
One definite stand-out feature of the Seven J is the fact that it's so highly customizable. This product is available in dozens of different colors and features adjustable cuffs and hem cinch cord for the ultimate personalized running experience.

9

. Arsuxeo Winter Warm Up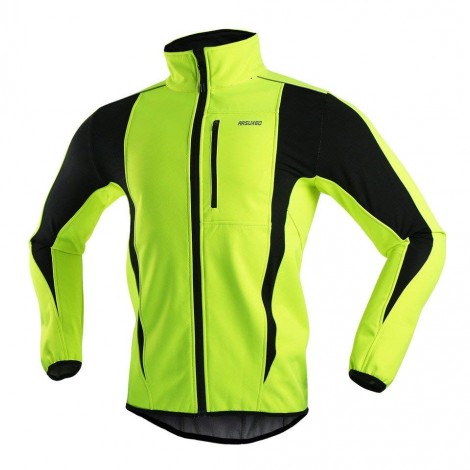 Cold and rainy weather will never be an issue for you again with this winter essential from Arsuxeo. This jacket features a design that looks more like a pullover to give you complete comfort and ease while running.
The inside of the Winter Warm Up is lined with incredibly soft fleece, that is non-abrasive towards your skin during running. The outside, on the outer hand has been treated to ward off icy winds and rain. Moreover, the outside contains 4-way stretch fabric to ensure comfort and fabric breathability while you run.
This product is available in up to 4 eye-catching colors including black, neon green, red, and orange that will ensure your visibility on the road to motorists. In addition, each coat is equipped with reflective trim to keep you safe in poor visibility conditions.
Each product is also equipped with a zipper front and back pocket to make sure that all your valuables stay safe. This is the perfect option for runners who need a lightweight protective layer against the elements.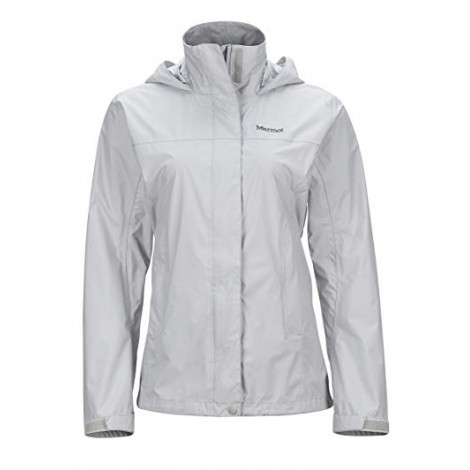 The Marmot PreCip is a great versatile option that was designed to stand the test of time. This waterproof outerwear is reliable, lightweight, and suitable to be used for a variety of outdoor activities, including running.
The PreCip is made of 100% nylon with an additional polyurethane coating. Adding polyurethane effectively creates a barrier around the fabric pores to keep it from becoming saturated with water. This ensures that the jacket effectively repels all water, keeping you warm and dry.
Despite this comprehensive protection, the PreCip is still surprisingly breathable. The unique fabric allows vapor molecules to escape from inside to out, and the PreCip has zippered vents beneath the arms for added air circulation during your run.
Each jacket is fully seam sealed for complete protection and has added extras such as a roll-away hood, adjustable cuffs, and enhanced sleeves for added range of movement. These products are available in a wide variety of colors and offer a straight fit with dropped shoulders.

Subscribe to our Newsletter