Best Fishing Sunglasses Reviewed for Protection & Glare Reflection
In a Hurry? Editors choice: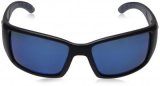 Test Winner: Costa Del Mar Blackfin

Even when we don't catch anything we love fishing. We fish to be
out on the water
, we fish to be with our friends and family, we fish to see the waves and water. And then some days we fish because we're hungry and we don't want to buy that suspect slice of mystery fish that looks fresh but that you suspect may have been sitting in that bed of crushed ice for days. Whatever your motivations, fishing is something that everyone should do at least one, and something that some of us have to do whenever possible. There are only two bad things about fishing: seasickness if that's your problem and the glare that pops off those waves and sears your retina like a microwave. We can't fix the first but we have fishing sunglasses guaranteed to solve the second problem.
Standout Picks
Criteria Used for Evaluation
Protection
Several eye diseases and issues can arise from overexposure to the harmful, ultraviolet light, that comes from the sun. It is highly recommended that if you are planning to be in the sun for long periods of time, you should use some sort of eyewear or protection against the dangerous rays.
Most experts recommend that you use a set of sunglasses that protects against 100% UVA/UVB, most commonly named or marked UV400. The reason these glasses are marked with UV400 is that they are identifying the protection of the wavelengths at 400 m. This protection is highly essential to living by as this will prevent the disease and cancer from penetrating the ocular areas.
Effectiveness
The sun on the water is a very distracting mishap that will lead to errors while fishing. With the blinding reflection of the water, you cannot see anything. Most fishing sunglasses that are designed for sporting are in place to prevent these glares and offset the brightness.
With the brightness and the long hours in the sun during sporting events, you also pose the risk of damages. While fishing derbies last all day long, the sun doesn't get any less as the day goes on. Most sunglasses carry a solid UVA/UVB protection that will protect, but not entirely prevents ocular diseases caused by the sun. With the protection that you get from the sunglasses, you are taking a healthy step in the right direction.
Use
While fishing sunglasses are incredibly popular for a multitude of things, even hiding identities, they are mostly known for their use in the sporting world. There are many reasons that sunglasses are used for sporting and many that they are not, but for those sports that require a pair of sunglasses, it is a well-needed reason.
When you are out, enjoying a beautiful day on the water, chances are it is sunny. Being able to see what you are doing while you are fishing is incredibly important as you need to see what you are reeling in. If you are bringing in a trophy prize, you want absolutely no distractions.
Features
There are several different lenses available for those that are looking at getting a new pair of sunglasses for fishing. Depending on what you are looking for, you will have several lenses from which to choose. While the majority of the lenses on the market today are polarized, they all serve different purposes and offer various features. Here are some of the lens options available:
Neutral Colors
If you are looking for a lens that is neutral and will offer you natural looks and feels to the world, then a green or gray lens is the lens for you.
Increased Contrast
Looking for bold, popping colors? A brown lens will give you increased contrast and a brighter look to things in the great outdoors.
Highlight Contrast
Turquoise lenses are great for giving you a brighter color contrast to the world. They are well known for this but do not distort color like the brown lenses may.
Snow Haze
People who enjoy winter will usually use a lens that is yellow. Although a yellow lens creates an unwanted light or glare, they are ideal for looking at things in the snow, but usually, cause distortion.
Top 10 Picks
1

. Costa Del Mar Blackfin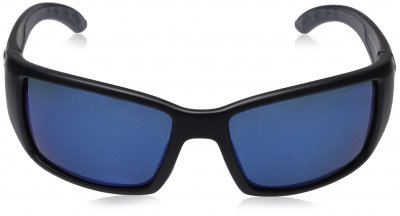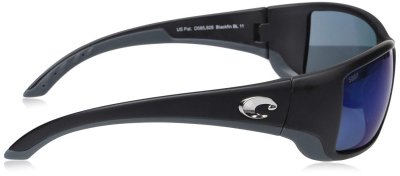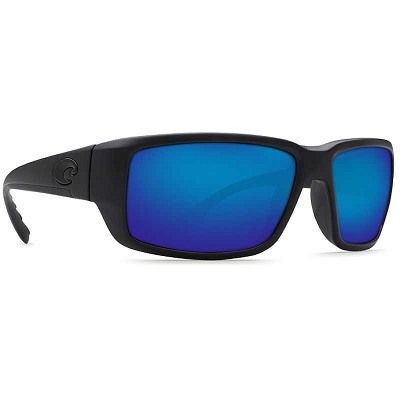 Costa's Blackfin fishing sunglasses are a trusted tool that brings clarity and comfort to a day of fishing. Whether fly casting for bonefish, spinning salmon in a river's current, or wrestling deep-sea marlin, the 100 percent polarized and flexible sunglasses are a worthy addition to a tackle box.
Visibility
Costa Del sunglasses are specifically designed to give high levels to anglers. 580p lenses reduce glare penetration and show underwater movements and shapes clearly. The view is impressive and clear. High-tech lenses offer superior quality. They are scratch proof. The lenses are lighter and thinner than polarized glass. They place 99.9 percent of the glare. Cutting out reflections reduces strains and headaches.
Construction
Hydrolite is placed across the bridge and at the temples. The trimming on the frames reduces slippage because the soft edge adheres to the face, the top of the ears, and the bridge of the nose. The Hydrolite co-injected lining is a feature that the manufacturer feels is worthy of recognition. The lining promotes confidence that the glasses won't drop. The soft rubber helps glasses stay put even in wet and sweaty conditions. Blackfin sunglasses are available in three color combinations - matte gray/green, matte gray/silver, and matte gray/gray.
Cost and Value
The angler fishing sunglasses are designed to perform. This high-end Blackfin model is developed to take rugged conditions and stay in place while fishing. The glasses are stylish all-purpose that are comfortable and provide clarity. The glasses are perfect for outdoor use on the water. They are geared for medium to large faces. The glasses provide an extremely close fit. The wraparound design offers complete eye protection from harmful sun rays.

2

. MERRY'S Polarized Aluminum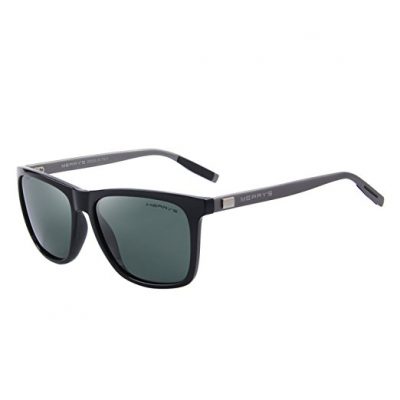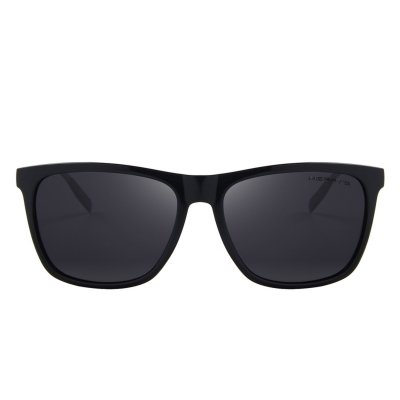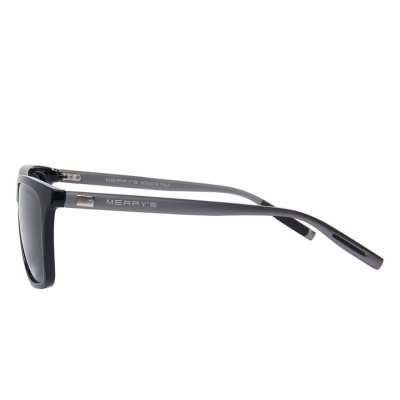 If you're looking for a great pair of sunglasses that fit the face and keep the sun off of your eyes, you have found them. Fishing has never been easier with this product as the lenses prevent the reflection and keep your eyes relaxed, giving you one less thing to worry about! Versatile for many occasions, these have a great style and shape!
Polarized Lens
Spending the day on the water, the sun can get in the way. The constant reflection off of the water will soon cause irritations and distractions. With these great polarized lenses, you will not have to worry about the annoyance of the sun, only the greatness of the great outdoors.
30 Day Money Back
When you are looking around for a new pair of sunglasses, this set should top the list as they have the greatness of a money-back guarantee! If you have no love for this product, or they break within the first 30 days, no worries! They are covered.
Cost and Value
For a polarized pair of sunglasses, this set runs at a great, affordable price. Wear these glasses anywhere, especially fishing, without having to worry about glares or the annoyance of the sun. Satisfaction is key, with this product!

3

. RIVBOS Polarized Sports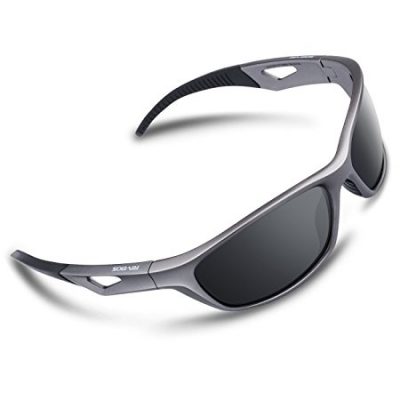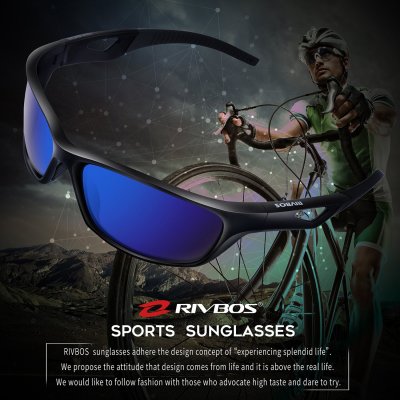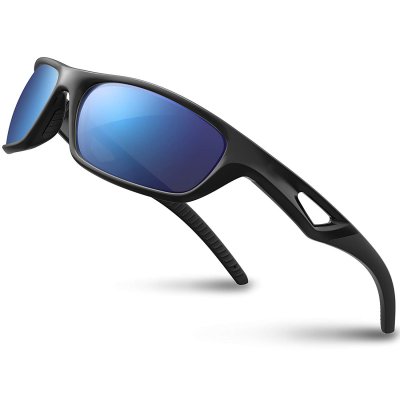 Ready to jump into a comfortable pair of sunglasses? Who isn't? If comfort is key then you have found the right pair of glasses. Added rubber pieces on the back will protect behind your ears and prevent the painful pressure that some glasses can cause. Polarized and UVB protection, these sunglasses will keep you safe and secure, the entire time you are out on the water, fishing!
Mirror Coating Lens
Built tough, these lenses are designed to restore natural beauty while outside, protect you from the harmful rays of the sun, and to also maintain reflections. When you are staring at the water for hours, the reflection can get old. Now, you can look past that!
Lifetime Breakage Warranty
When you run into a lifetime breakage warranty, you know that the company that designed this pair of glasses is confident in the build. Built rugged, this product is designed to go through plenty, always being backed by a breakage warranty.
Cost and Value
For a great, low price, these sunglasses have it all and will fit your needs. Being that they are built tough and made to protect, the price is definitely worth it. Enjoy a nice day on the beach or a ride on the boat because these sunglasses got you covered.

4

. Luenx Polarized Aviator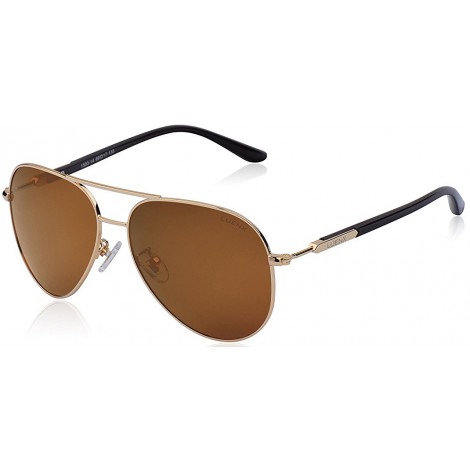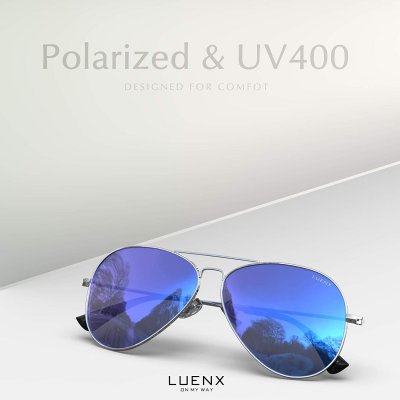 Remember Maverick? Need I say more? Okay, maybe a bit more. Aviators are just plain cool. I have a pair, and every time I wear them, "Highway to the Danger Zone" starts playing in my head, and I cannot be stopped. Now imagine taking that feeling and reshaping into a pair of aviators that are meant for fishing or running or any activity really, and you've got yourself some legendary shades.
I like stuff
Don't you? Good. You are getting stuff with these glasses. First off, you'll find the standard cleaning cloth, which is great. On top of that, there's a soft case and a zip-up case, and nifty gift packaging if you like giving gifts. That's class.
Achoo?
It might seem pretty trivial, but some metals can cause irritation to some people. So, when you find a company that decided to be proactive and eliminates the chance of that happening by coating the frame, you have a product worth buying.
Cost and value
Glasses designed to look, function, and feel like a high-end pair, without ever having to worry if you happen to drop or scratch them since they certainly aren't priced high end.

5

. Paerde Sports Style Polarized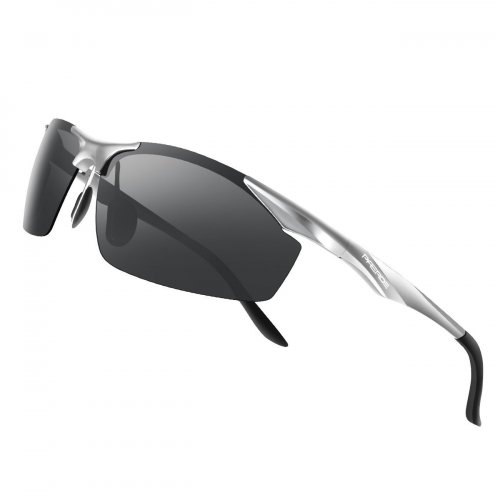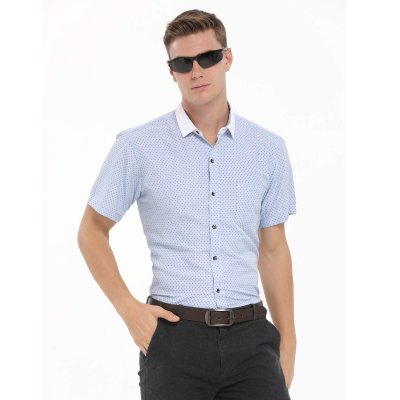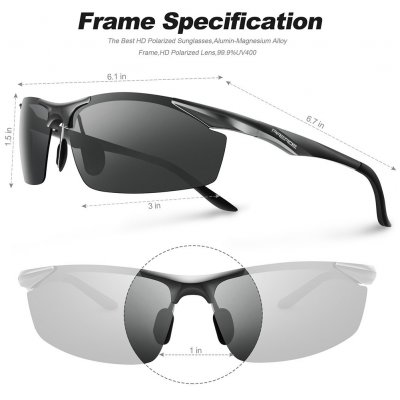 What's the price of looking good while being practical these days? If you're talking sunglasses, surprisingly not much. Designed with an aluminum-magnesium alloy, they stay together, protect your eyes from the damages of the sun, and look darn sharp, all at a great price. You can't go wrong, really.
Presents!
A great gift!
Not quite, unless you're getting these as a gift for Christmas. On any other day, these come packed with everything you need to keep them looking good for a long time.
So, fresh and so clean.
You did it again
You went for a bike ride and dropped your glasses in the mud. No damage but they are filthy! How do you get them looking new? Run them underwater and give them a wipe. Simple, right?
Cost and value
Face it, sunglasses are disposable. They're not meant to be, necessarily, but it happens. You leave them on a table at a restaurant, you stumble and fall on them after a crazy night of...well, they don't last. At least with these ones, they're priced like disposable glasses for when the inevitable does happen.

6

. Torege Polarized Sports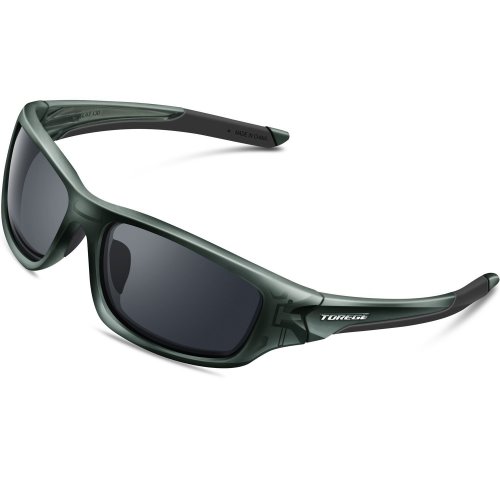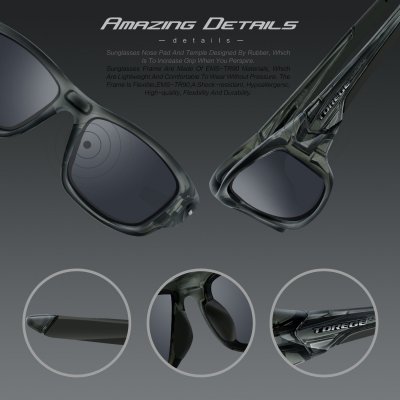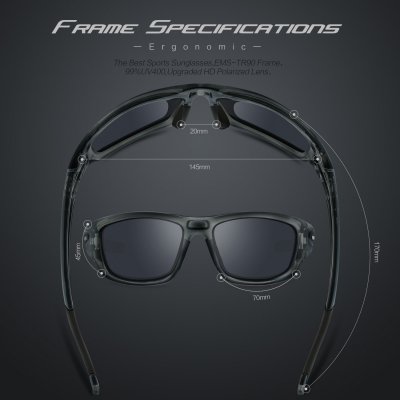 Torege's Polarized Sports Sunglasses with right in line with the rest of the glasses here in terms of performance and function. They do, however, also come with the added perk of being able to choose your lens. On top of all that good stuff, the designers put together a strong, long-lasting product that is bound to make every consumer happy.
Which will I choose today?
Most of the sunglasses reviewed here come with at least some selection of frame colors. These are no exception. What's different though, is that they give you a choice of lenses. These aren't just to look pretty, mind you. Each one handles a different need. That they look good is just a bonus.
Don't drop me! Okay, drop me.
Sounds crazy, I know. You pay good money to have these, and I'm telling you to drop them, possibly damaging them? Yes. Heck, drop them twice. Notice something? They're not even grazed.
Cost and value
Good price, great versatility for every manner of activity, they look good, they're just good any way you look at them. But what about value, is that good? Don't worry, this time I'll choose a more fitting adjective: outstanding.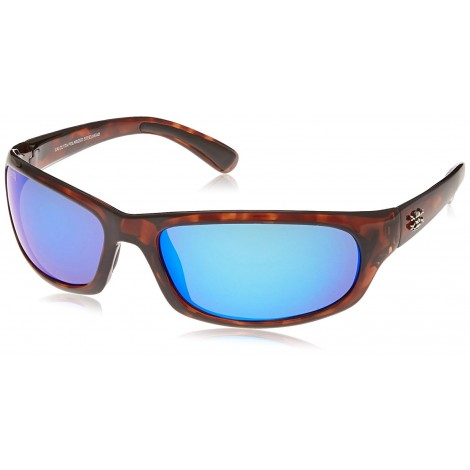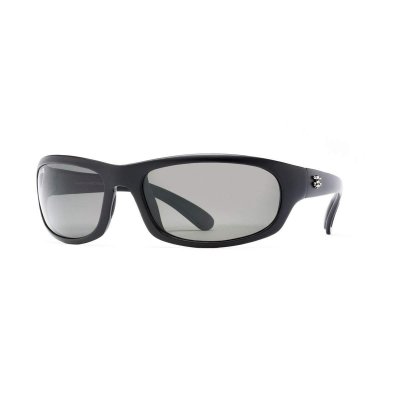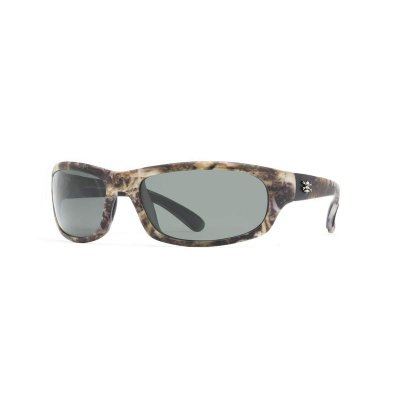 As far as I can tell, Calcutta is a city in a desert in India. I hear it gets very hot and sunny there. What better setting for an incredible pair of sunglasses to originate from? I actually don't think the designers were thinking about geography when they built this pair. So, it comes as a welcome coincidence that these babies would be the go-to product when traversing said famous desert city.
Goes anywhere you go.
Give your head a shake. Are they still there on your head? Yes, they are. I've already said how tough these are, but what good is that if they fall off your head every time you turn your head?
Nice materials
Built with a tough polycarbonate frame and prepared to be sat on, dropped, thrown, or anything else you can manage to inflict on them. The material is so tough, you'd swear these were much more expensive, but nope, the only thing high end here is the quality.
Cost and Value
A dime a dozen. Well almost. These sunglasses are pretty cheap, so on the rare occasion that you do manage to break them, your wallet won't even notice that you went and bought a new pair.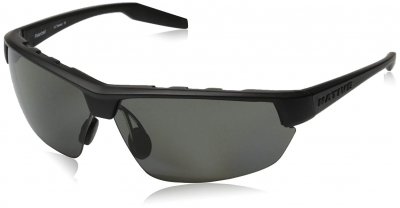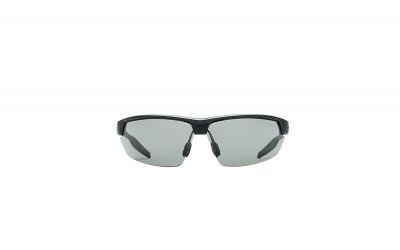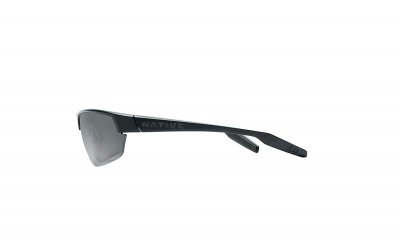 This pair of wraparound sunglasses is sure to keep the tough reflected rays of the sun off your eyes. They have tough, grippy but flexible frames made of castor resin. They're polarized to deal with the glare and they have some nice cushiony nose pads that will keep them nice and comfortable on your face so that all you have to think about is landing the big one. And the frames are nice and big to keep that sun at bay.
Polarized
These glasses aren't just going to keep the sun off your face they're going to cut that glare that is bouncing off the waves that can be a whole lot worse than just the lenses. It also cuts through the blue sea haze that rises off the water so you can get a really clear view of your surroundings without squinting. After a while, you won't be able to live without these shades.
Tough frames
The frames of these glasses have a lot going for them. They're tough but flexible and they'll grip your face easily and solidly without being uncomfortable. The frames are molded with a tough but flexible plastic that will ensure that they stay in place and don't slide down your nose as they age. We also like the nose pads that will keep them in place.
Cost and Value
These shades come in at a pretty hefty price tag, but they do come with a guaranteed free return if for some reason they don't work for you. We don't think that will be a problem here, with this polarized grippy pair of frames but it's good to know that you have the option.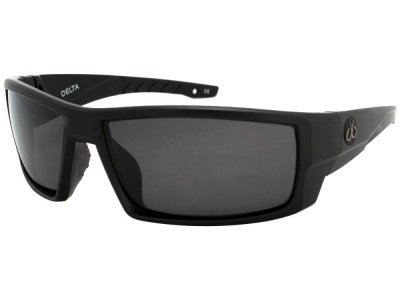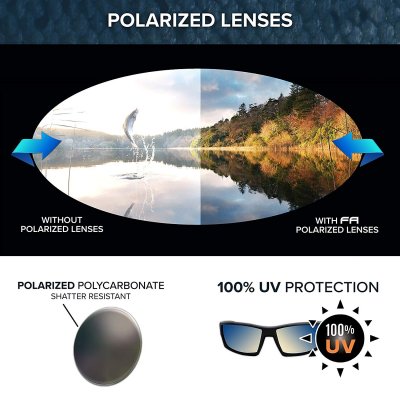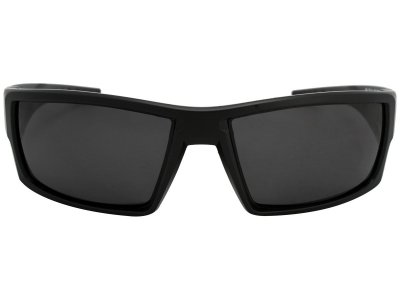 We'd love these shades just for their name but the fact is that this a great pair of fishing glasses that are going to keep your eyes protected on even the toughest brightest summer days. These are big frames and the lenses are polarized and glare-proof so they pretty much guarantee a clear view no matter how strong the glare is off the water. We also like that the frames and the lenses are scratch proof and shatterproof because things can get rough out on the water.
Strong Lenses
These lenses are coated to be scratch-proof and they're built from a polycarbonate material that will resist shattering. Part of their being so safe is the fact that they're polarized and resist glare so you'll get a good view off the water no matter how bright things get.
Optically Correct
This is a bit of an unusual feature in that no matter how hard you try, light coming through lenses is going to get distorted just a bit which is why some glasses make you feel a bit weird after wearing them for a long time. But these lenses are made with adjustable thickness to minimize any distortion and give you a 100% accurate view.
Cost and Value
We love the price of these glasses. One of the cheapest on our list these Filthy Anglers are guaranteed to do the trick and keep you seeing clearly on the water all day long.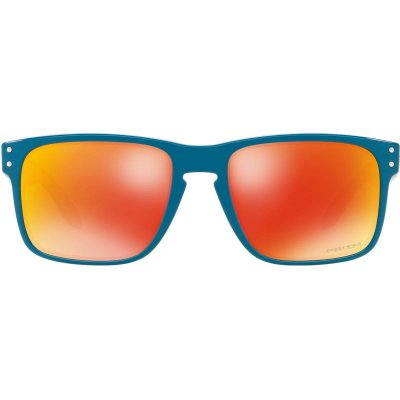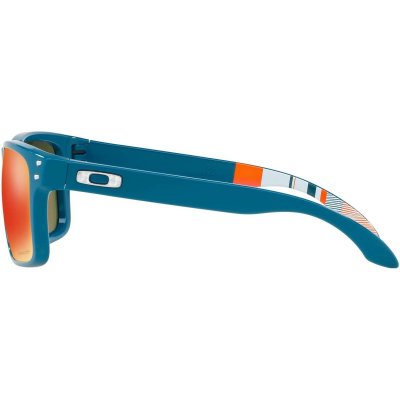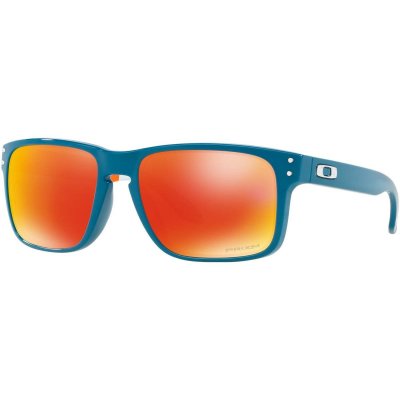 Good Old Oakley, the choice of surfers and fishermen on the West Coast for years. They get their name because of their quality over time and this pair of glasses is one of their best. These glasses are built to withstand all kinds of UVA light and they're also built to be smash proof but comfortable.
High Quality Optics
These glasses will filter out almost all kinds of UV light but they'll also keep out damaging blue light glare that can obscure your vision. They're also built to be optically correct and give you a 100 percent correction vision of what you're seeing.
Tough Frame
Snowboarder Shaun White worked with Oakley to make these frames able to stand up to a snowboard wipeout so you can be sure they'll stand up to anything that you're going to run into on a fishing boat.
Cost and Value
A pretty pricey pair of frames but you're paying for the Oakley name and in this case, that's a good thing. This is a great pair of glasses and if you want to keep your eyes safe on the water it's definitely worth the money.

Subscribe to our Newsletter