Best Home Weather Stations Reviewed & Rated for Quality
There are many people who depend on the conditions outside to earn their wages. Whether you are a farmer, construction worker, or hunting guide knowing the forecast for the day can help you tremendously. You can certainly watch the news or listen to the radio to see what is in store for you for the day. But many will find that this method isn't always the most accurate. For some, living in an area more remote means they are getting the forecast for a place that can be miles from them. Making it harder to decide how to plan the day. Another way to be sure you are getting an accurate account of the weather is to purchase a weather station for your home.
Featured Recommendations

AcuRite Wireless

Our rating
All in One Option
Price:

See Here



Netatmo Weather

Our rating
Cellphone Compatible
Price:

See Here



Davis Instruments

Our rating
The Range
Price:

See Here


Another great reason to have a means of forecasting that you can rely on is for those who live in a weather active area. By this, we mean those areas prone to larger storms such as tornadoes or hurricanes. Knowing ahead of time that a particularly bad patch of storms is coming can sometimes save lives. Especially those who live in lesser populated areas. This makes them harder to warn as they can't be reached in time.
As you can see that there are definitely benefits to knowing what is in store for the day. But once you start the shopping process you will see that there are many things for you to consider. For those with little experience with this type of equipment, the decision-making process can be frazzling. There are so many technical features that go into making one of these that it is hard to know which features you will need. The best place to start is with your reason for seeking this type of gadget. That will narrow the features that you will need.
You can also turn to a buying guide such as this to help you decipher the information you have been given. Here we have done a chunk of the research for you. Coming up with a list of the potentially best options on the market. Once you delve into this list you will see that we have highlighted some of the products beneficial features. Each of the products will also have what others found to be useful and what they didn't like. We find it helpful to know what others have experienced before testing it out for yourself.
10 Best Home Weather Stations
1. AcuRite Wireless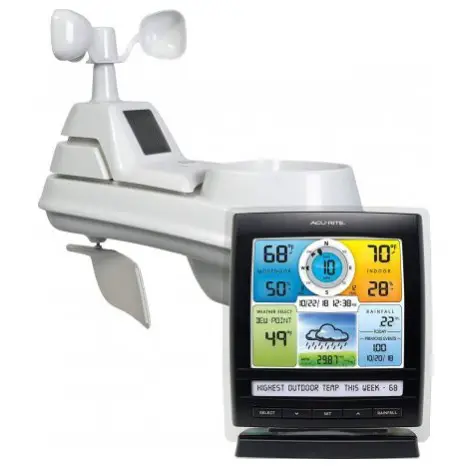 The first piece of equipment on the list is one that has a ton to offer. Allowing you to monitor the conditions both inside and
out
. The sensor system makes for a quick and easy setup.
Expand to see more
All in One Option
With this choice comes one sensor that will pick up five different measurements for you. Being that there is only one sensor setting up is a breeze. This one promises some of the most up to date weather information.

The Display
The screen of the display is easy to read and has great graphic details. Across the bottom, you will notice an up to date weather tick. You can set that ticker to alert you to several different things. You can even adjust the brightness of the screen to your liking or set it to auto.

Cost and Value
The cost for this has several factors that can make it vary. You have three options to choose from all at different prices. The single display version will cost the least. For those who want to connect to the internet, that option will cost the most. Whichever option you choose you can be sure that you will be receiving accurate information.
The sensor is an all in one option.
You have several options for screens when purchasing.
Has a ticker that can be customized.
The screen can be adjusted for visibility.
Customers have been advising that if possible keep the sensor out of direct sunlight.
Some have had issues with the backlight of the unit display.
2. Netatmo Weather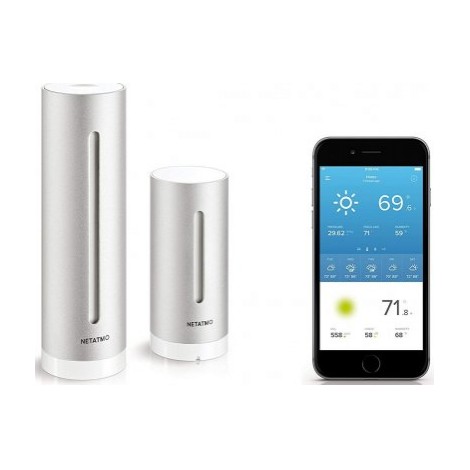 Here is an option for all of the techies out there. This one can link to your phone for on the go
readings
. Place sensors both inside and out so you can keep a watchful eye on your whole area.
Expand to see more
Cell Phone Compatible
With the purchase of this system comes the ability to add an app to your smartphone. This app allows you to keep a close eye on the conditions at home. You can get alerts sent to your phone letting you know when something inside appears to be off.

Tracking
Some are extremely fascinated by the weather. So much so that they like to keep track of the past weather experiences. With this system, you can create graphs and charts to help you record past weather happenings. Allowing you to go back to the past to see what interesting patterns you can unearth.

Cost and Value
This one may seem like it cost more than some of the others. The benefit of having the knowledge of what is going on at home even when you're not there is priceless. You can even track the weather-related events with graphs and charts.

This comes with an app to link your phone in.
You can track past weather with the program.
Has sensors for both inside and outside.
This is an easy installation selection.
Some users have questioned the accuracy of the sensors.
There are complaints that the manufacturer's server is down a lot.
3. Davis Instruments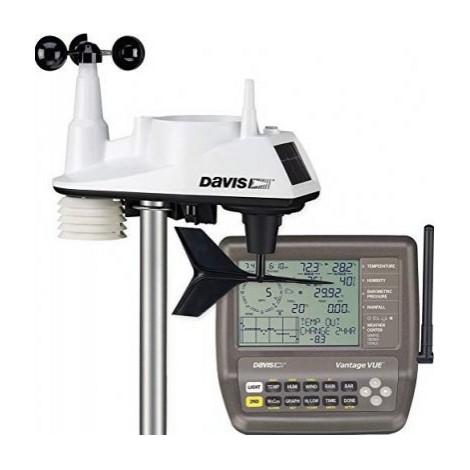 This one offers a great maximum range for communication one of the furthest of all the products on the list. The display is easy to read while displaying a ton of information for you.
Expand to see more
The Range
The distance that the sensor can be placed from the display is often found to be limited. With this option, you get plenty of room to move the sensor. This one can be placed for up to a thousand feet away.

Display Features
Aside from the light on the screen for better visibility, this display has many features to offer. The keys have their own light so that you can see them in the dark. You will notice that there is also plenty of weather information displayed across the screen at once.

Cost and Value
The distance that the sensor can be placed from the display unit it a valuable aspect all its own. The quality information you receive will make every penny spent worth it.
The sensor can be placed at a good distance from the display.
The display has a backlight so you can see it.
Offers amazing updating speed for more accurate readings.
The buttons on the display glow in the dark.
There are some complaints that the certain instruments do not seem accurate.
4. Ambient Weather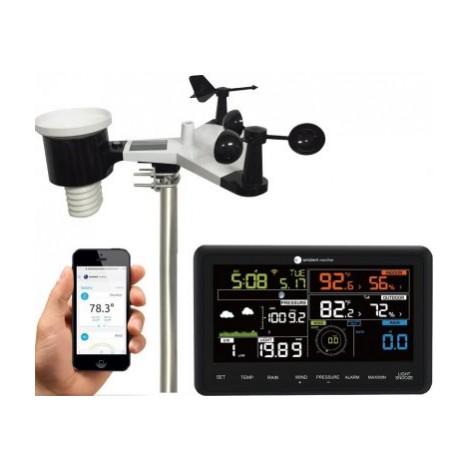 This model keeps you up to date with the weather if you're home or away. With one sensor to measure everything setting this one up will be quick and easy. Here is one that you can count on even when the power is out.
Expand to see more
Easy to Install
Since there is only one sensor to place, setting this up will be a breeze. Simply find a place where the signal is strong to mount your hardware. Follow the easy step to set up the rest and you will be up and running in no time.

Battery Power
One of the biggest downfalls can be the source of power. When plugged into the wall you run the risk of losing your warnings during a big storm. When the power fails so will the equipment. This one comes with a backup plan, also powered by batteries.

Cost and Value
As far as cost is concerned this one is relatively low compared to some. You get the ability to link this to your phone so you know what is going on even when you are not home. The battery backup will ensure the equipment won't go out when the power does.
There is only one instrument to install.
The display is easy to read and has battery backup.
This option comes with an app to monitor from your phone.
This has some added measurements than some others.
Some users have reported having issues with tech support.
5. LaCrosse Technology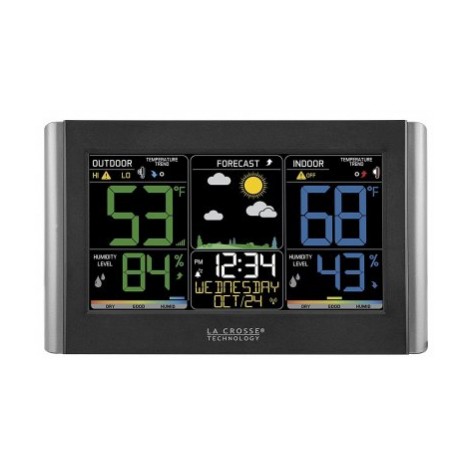 With this model, you can track the weather outside or keep track of what goes on inside of your home. The sensor is small so placing inside the home is possible as well. Powered by a battery you have the freedom to place the sensor in more places.
Expand to see more
Inside or Outside
Some like to monitor the conditions outside keeping them in the loop when it comes to the weather. But what if you want to know the conditions on the inside? Most models will have sensors that are much too big for that. Until this one arrives, perfect for tracking the conditions inside of your home.

Battery Power
The entire model is powered by batteries. Making the placement that much easier. You won't need to worry about making sure an outlet is nearby. Changing out the batteries when the time comes will also be a breeze.

Cost and Value
Here is an equipment choice that is both dependable and affordable at the same time. When using this indoors you don't need to spend a fortune to get what you need. You have the freedom to place this just about anywhere as there is no need to plug it in.
This runs on batteries so it is easier to place.
The equipment can be used both inside and outside of the home.
The display is colored and easy to read.
The clock is a self-setting no fuss option.
Some have stated that the outside temperature isn't always accurate.
The display only remains lit if the unit is plugged in.
6. VLIKE Wireless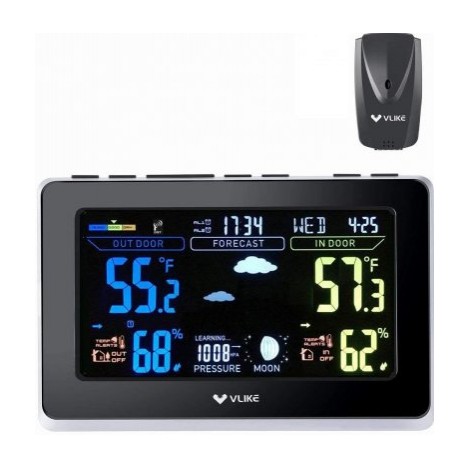 Here is a selection that is relatively small in size but still packs a punch with its functions. The display can be power by two different sources and fastened to the wall. Looking for something that will sit on your desk? This option can do that as well.

Expand to see more
The Display
Powered by batteries or the outlet on the wall, with this selection you have the choice to use whichever you like. You can mount the display to the wall or place it on a table or desk. As a bonus, on the side, you will find a port that can be used to charge your mobile device.

Cost and Value
For the amount of money you will spend, this selection is great for those testing the waters with this type of equipment. The display offers different ways in which to set up. As an added bonus, when the display is plugged in, you can use the port on the side to charge your phone.
The display can be powered by outlet or batteries.
This has a USB port on the side for charging phones.
It can be mounted to the wall or placed on a desk.
Good for both indoor and outdoor use.
There are customers that have questioned this products accuracy.
7. ORIA Weather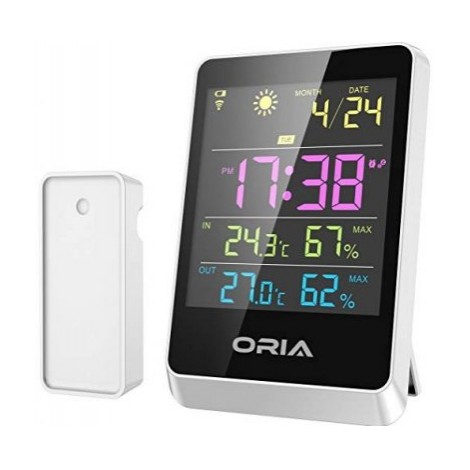 Another great selection for using within your home. This model comes in two different sizes and shapes. You can also choose to place the sensor right outside your door to check the conditions on the outside as well.
Expand to see more
Model Choices
With this selection, you can choose to have a smaller version. Taking up less space when the display is mounted or on the table. Choose the larger square shape version for a better amount of visibility.

The Features
You will notice that this equipment doesn't just let you know what the temperature is both inside and outside. You can use this as your alarm, either for waking up or to notify you when it is time to do something. You can also check the forecast for up to twelve hours ahead.

Cost and Value
The added features make this valuable to your everyday life. Use the alarm to alert you when something needs to be done. You can check the forecast for the day in order to plan events for the afternoon.
This comes in two different shapes and sizes.
Has an alarm on the display that you can set.
Allows you to monitor the weather twelve hours in advance.
Can be used for inside and outside.
Some customers have had issues pairing the sensor with the display.
There are complaints that the sensors range is too short.
8. Mesudiva Wireless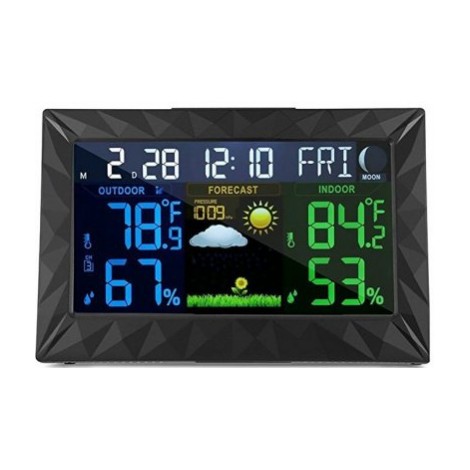 This one is an excellent option for both your home or office. With weather forecasting abilities you will know what the day has in store before leaving work for the afternoon.
Expand to see more
Home or Office
Since this option is smaller in size it works well in your home or at the office. You can power the system by outlet or battery making this a very portable option.

Forecast
At the home or office knowing what the weather has in store can be useful. Before leaving for the day you will have the ability to plan slightly better. This gives you the opportunity to be prepared for the day's activities.

Cost and Value
This could be the next valuable addition to your home or office. Allowing you to look at the forecast ahead or simply keep track of the conditions inside as well.

The display can be plugged in or run off batteries.
Good for use at home or in the office.
Gives conditions for both inside and outside.
A sensor that is a wireless option.
Some users have stated that the sensor and the display don't connect very well.
9. HOCOSY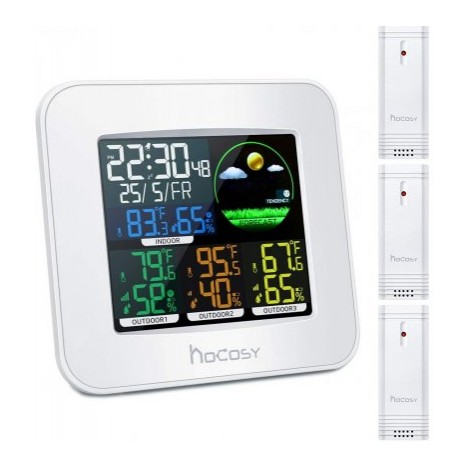 A piece of equipment such as this will allow you to measure three different areas of your property. You can even see these readings all at once on the display.
Expand to see more
Three Sensors
Here is an option that has three sensors you can set throughout the yard. Giving you a better read about the conditions outside of your home. On the display, you will see each of these sensors' readings. Plus you will still see the readings from inside of the home as well.

Mounting
This display can be used in two different ways. You can choose to mount the display to the wall. Keeping it off the table and out of the way. Place it on the desk or table so that it is always close by.

Cost and Value
The added sensors to this allow you to monitor several areas of your property at once. You get this without the extra cost to your wallet either. Making this one a great gift idea for that hard to buy person.
You can monitor several areas of your property.
The display can be mounted or set on a table.
Can be powered by outlet or batteries.
This one is a great gift idea.
There are reports of receiving the product in damaged condition.
10. Brifit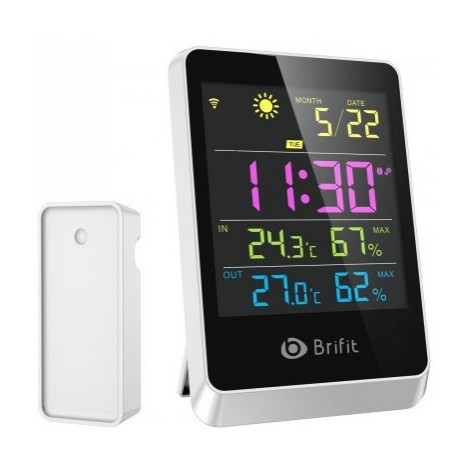 Last on the list brings us to a selection that the display will color code for you. This wireless option can be used both inside or outside of your home.
Expand to see more
Color Coded
Once you get used to the display this one has different colors for the different readings. You will know exactly which color to set your eyes to when looking for a certain reading.

Wireless
Since the sensor is of the wireless variety, you can place it almost anywhere within the acceptable range. As there is no need to worry about how long the wires are that can sometimes restrict placement.

Cost and Value
This can be a valuable investment to your home at an affordable price or the average consumer. The color-coded monitor makes deciphering this equipment so simple a toddler can do it.
This can be used both indoors and outdoors.
The display has color coding.
The sensor is wireless for a wider placement position.
This one has forecasting capabilities.
Some have made comments that the display screen has a glare when in direct light.
That will bring us to the section of the guide where you can see the information we used to create our list of possible bests. Some may find that the technical side of this type of equipment to be confusing. We have tried to clear the fog by adding the information you need to walk you through choosing the best possible fit for you. The final section will provide you with some common questions paired with their answers. We have found that including these can sometimes clear the air before you make your decision.
Criteria Used in Choosing the Best Home Weather Stations
The Connection
How your system needs to be hooked up is one of the more important factors. As the years have gone by, the cost for the wireless version has fallen dramatically. Making this the more popular selection, however, there are still those who are more old-fashioned sticking with the wired version. Wireless is great for those that will need to place some of their sensors further away. It reduces the amount of wire you see and is not as limiting when it comes to location.
Signal Distance
This refers to the distance the signal can be transmitted when using the wireless variety. The distance labeled by the manufacturer is normally an estimate. Afterall they are not in your area to know what terrain obstacles might block the transmission. The signal is then transferred to the main unit or display screen, where the results can be views.
For those looking to do a little more with the results, like tracking them, there are options that will work for you. There are models that will hook to your computer. From there you can create different graphs or charts to monitor things like rainfall. In this day and age, there is an app for everything. The same rings true for these. Some manufacturers have created apps for your smartphones. Allowing you to monitor the weather while you are away from home as well. Pet owners especially like this option, on warm days they can see the temp inside their homes from anywhere. When the conditions inside of the house are not right some apps will allow you to adjust them remotely.
The Display
You will find a wide variety of options for looks and functionality when it comes to the display. Displays can be made to look great. Focusing more on the cosmetic aspects than the functioning aspect. Each person will have their own preferences when it comes to the display. Those who choose the cosmetically pleasing versions like them more as they can be seen from across the room. On the other side of the spectrum, there are those made to be more functional. Offering real-time feeds across the screen and spending more on the instruments rather than the looks. Most of the time the displays will be run using an outlet in your home. The better models will also offer a battery backup power supply as it allows the use during power outages as well.
The Instruments
You will see that there are many sensors and instruments available for use with this type of equipment. As far as the ones people use at home there is just a few that work best. Unless you are a meteorologist doing your job from home, the fancier tools are not necessary. Here is what we found others to be using at home:
A thermometer which for many this is obvious, it is used to measure the temperature.
To measure the outside pressure people will use a Barometer.
Many include gages for measuring the rain as well. Farmers find these handy for determining patterns of irrigation.
To deduce which way the wind is coming from and just how fast an Anemometer is used.
A sensor set for humidity can measure the amount of humidity found outside.
Now that we know what is being used we found it to be beneficial to let you in on the arrangement phase. There are those models that will boast an all-in-one type of sensor. Many find these easier to place as there aren't so many pieces to find room for. Others prefer the units that offer all the instruments needed for each element. Their reasoning for this is that some gages are sensitive when it comes to readings. Different gages will need specific conditions depending on what they are being used for.
Power
We have discussed this option for the display but the instruments will also need a power source to do their jobs. They can be powered one of three ways solar, battery, or wall power. Some like to be able to plug things in but this means an outlet will need to be close enough. Batteries can offer both convenience and hassle all in the same instance. Convenient because you can place them without restriction of cords. The hassle is that batteries will need to be replaced depending on where the instrument is placed this can be a struggle. The last option is solar power, using the suns energy stored in cells until it is gone. Once that energy source has been depleted the battery backup will kick in.
Accurate
Depending on the reason that you have chosen this equipment you might need pinpoint accuracy. First responders will count on these for current conditions during an emergency. For most home users, the models available are surprisingly quite accurate. Most home models sold will provide you with a range for their accuracy. Meaning they might be off slightly but will be upfront with their variations.
Updating
This is also a feature whose importance will vary from user to user. Some want up to the minute changes while others are not as picky. A more expensive model might update transmissions every couple of seconds while less expensive versions might take thirty seconds or more. It is believed that the faster the system allows updating, the better the information can be stored. In turn, the faster updating will also give a better forecast in the future.
Cost
The more you are willing to spend the more accuracy you will have. The more expensive models have better instruments and faster updating times. When your job or someone's life depends on the accuracy, it is better to spend more. Most who use these at home are not concerned with the speed of the instruments but are with the accuracy. Finding one that is moderately priced should not be hard at all.
Possible Benefits
When getting your home or yard prepared for the upcoming season you will have an accurate read of the forecast in your area. This is also great for those looking to do some siding or replacing windows.
You can be more prepared for storms. With equipment like this installed at your home, there are warnings that will go off when severe weather is approaching.
Some models will also provide you with gages for the inside of your home. Allowing you control over the climate inside of your house as well. You can make adjustments to prevent such things as mold or mildew. With the advances in technology, some apps will allow you to make changes from your phone.
When planning your garden or seeding the lawn you can check the precipitation levels to decide how much and when to water.
Some will use the future forecasting feature to plan outdoor parties or family vacations. Choosing to go when the system shows better weather coming.
FAQ
Frequently Asked Questions
Q: How much will a weather station cost?
A: You can easily rack yourself up a bill to as much as a thousand dollars or more. Although that is not necessary, there are plenty of options out there that will be suitable for what you need. Depending on what you are looking to do some will cost as little as about sixty dollars. For that price, you will get just the basics. When you want one that does slightly more your looking at a range of a hundred or so dollars.
Q: Will this equipment be accurate?
A: The level of accuracy you get from the equipment will depend on a couple of factors. First, the placement comes to mind, certain instruments and sensor need different placement. You need for them to be unobstructed to obtain a proper reading. Next, the number of times the equipment will communicate with the main unit. Some models are designed to be speedy while others will lag a bit in this area. The all-in-one sensors are said to be less accurate as gages need to take readings from different placements. When you are willing to spend a little more you will get a better quality instrument which will improve the chances of accuracy as well.
Q: What source of power is best for the instruments?
A: The answer to this is a matter of opinion. Some trust those that they can plug into the wall but that means there will need to be outlets nearby. During a power outage, your equipment will be temporarily down. Batteries seem like the perfect idea for working the instruments even during heavy storms. Only going out when the battery needs to be changed. Depending on where you choose to mount your instruments changing the battery can be easy or hard. A very popular power source is the solar version. The suns energy gets stored throughout the day, converting that energy into power for the system. When that power supply dwindles the battery backup will kick in power the system through the night.
Q: How far apart will the display and the outside unit be able to be?
A: This will depend on many factors. It is best in this type of situation to follow the directions set forth by the manufacturer for installing. It is recommended by most not to place the display near other electronics as they can cause interference with the signal. Most of the time the range you are provided is an estimate as there is no way for the manufacturer to know what type of obstructions you will come across. Try not to place the sensor near trees or between buildings, these will block signal as well. The materials used to construct your home will also play a factor. Look for one that offers you the range you need to move the outer unit around a bit if needed.
Q: What type of instruments do I need to start out with?
A: Unless you are a meteorologist in the making, you surely won't need all those fancy gadgets. Most who purchase this equipment for their homes will go with the simple basics. Thermometer for temperature, Barometer for outside pressure, and a gage to collect the rainfall in the area. Two more to consider will be the Anemometer for recording the wind and a sensor that can read the humidity in the air. Those few instruments will cover the basics for what most homeowners will need.
Q: What are some reasons to have one of these?
A: There are many potential benefits to owning this type of equipment. One great reason is for those who live in areas considered to be active weather areas. This equipment can notify you in advance of potentially dangerous storm fronts coming your way. You never know a warning in time could possibly save your life one day. Farmers like to use these for forecasting weather to know when to plant or water fields. Others will find this comes in handy when looking to start projects outside you don't want to be removing windows then get caught in the rain in the middle of the job. As you can see there are a various number of reasons people consider this equipment handy.
Sources