Best Waterproof Matches Reviewed & Rated for Quality
In a Hurry? Editors choice: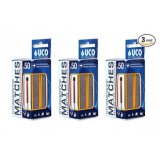 Test Winner: UCO 3 Twin-Packs

In the woods, you need to be protected by building a fire whenever the need arises. Depending on the weather, it can be a difficult task, as the conditions may not always be in your favor. For a good waterproof match, knowing the details about the top brands available on the market is a start.
Depending on the location where you will be using them, there are many brands to choose from. The most dependable one that will offer top performance in extremely harsh conditions are not the ones you will be needing on a
normal hiking
day.
That is why we reviewed our top brands and their waterproof features for you. Are you ready to add one more item to your gear or are you ready to complete your fire starting kit? Let's go over what features waterproof matches have and why you should opt for one!
Standout Picks
Criteria Used for Evaluation
Weather Resistance
Matches are designed with different features. This is an important criterion to consider before purchasing them. They are made to function under any weather conditions. Some are built to be storm proof as they can work effectively in the rain, snow, and cold seasons. This feature in them is to ensure that you can start campfires and for keeping warm during these times.
Also, there are those made in a way that is windproof. The match stick will still offer you the spark or light-up as required regardless of the strong winds. For a camper or an adventurer, we these particular brands will also come in handy. When setting out, check the weather pattern. It will guide you on the kind of brand to carry for such conditions.
Portability
Since matches can be very fragile, you would want to look for brands that are well-packed. Though they are waterproof, they still require being stored in a water-resistant canister. This applies especially when you are adventuring outdoors. The different weather conditions will make it hard for you to ignite them. If they are stored in a humid place or happen to be rained on, it will take longer for them to create a spark.
Therefore, we advise that they be stored in an airtight cylinder. This ensures that the stick heads remain dry regardless of the conditions presented. Some are housed in boxes which require you to be careful where you store them. They should not be affected by water or any liquid. Yes, the brand is water resistant; however, the striker is not. To be safe, it is advisable to bring more than one striker.
They should be the right dimensions to fit in the pocket where you can reach them quickly when the need arises. This will guarantee you effectiveness and efficiency of the matches. Therefore, packaging will have to be considered when making a selection.
Comfort
Comfort is equally as important when searching for the ideal pack. There are longer and shorter match stick sizes available. When choosing a size, it is vital to consider the length of the stick. This will dictate if you will have longer burnouts or not. The shorter length sticks will not stay lit for long and can become annoying.
For example; during the cold weather, the fingers are likely to become numb. The chances of you feeling your fingers being burnt are very minimal. We suggest using extra-long sticks to be safe. They will not only protect your limbs, they will give you a longer burn during camping.
Ease of Use
Most matches that are waterproof are harder to strike due to the special coating. Before purchasing the brand, ensure that you are aware of the strength it will take to ignite it. The striker will usually wear out due to the friction. For this cause, it is advisable to carry extra strikers with you.
Some brands sell strike-anywhere matches. You can use them on any surface and they will still ignite. We always recommend carrying an extra striker since these types are not water-resistant. You can start a fire to cook on or warm yourself easily with these matches. In the market, pick out a brand that will not give you a headache in trying to find out how they work. Pick one that is easier to use. This assures a successful outdoor experience.
Value
There are different brands in the market that you can choose from. They come at different prices as well. You will need to assess all the various models before deciding on which to buy. We suggest that you analyze multiple products first. The designs available will depend on your desires and preferences. Though, there are different suppliers out there who deals with various models, some of them are of low quality while others are of higher quality.
Find a supplier whom you can trust. This can be done by asking people their views on a particular dealer. You can also check out our complete review. With our recommendations, we are sure you will find the perfect seller to buy from. The cost implications are considered in this case. You would not want to buy an overpriced, ineffective product.
Some sellers take advantage of the supply and demand - then skyrocket the prices. The dealer you choose has to offer the product at a competitive price. Buy a brand that is pocket-friendly, yet effective to ensure you do not strain your finances.
10 Best Waterproof Matches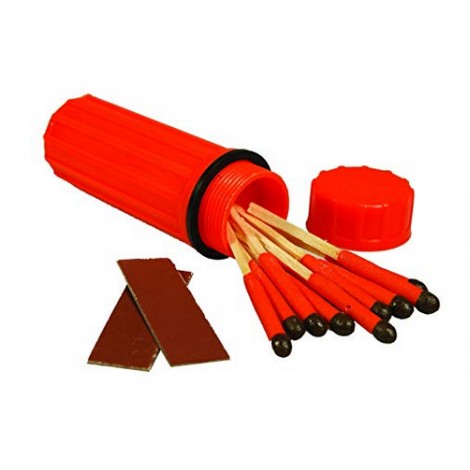 UST Stormproof Matches are easy to light and use and comes with a convenient waterproof case. The matchbox has an integrated striker and O-ring seal ensuring that the matches will stay dry and safe. This product comes with ten matches that are also waterproof and extra long for safety. The product is approximately 3x1x1 inches and weighs 2.2 ounces making it lightweight and easy to carry. These are reliable and great for any hiking or survival kit.
Weatherproof Case
The bright-orange weatherproof case with an O-ring not only keeps the matches safe and dry, but the color also makes them easy to spot in even the most adverse weather conditions. This lightweight and easy to carry case are small enough to carry in your pocket or backpack, making it easily accessible when you need it.
Windproof Matches
Designed not only be wet, but these matches can also be lit in the highest of winds, making them reliable in any type of situation you find yourself in. With a burn time of 15 seconds, they are easy to light and will produce the flame you need even in the rain and high winds.
Cost and Value
Affordably priced for ten matches and a weatherproof case, this is one of the better values we have seen. The bright orange weatherproof case is a nice and effective way to carry the matches and is easy to see, and light in weight you.
You could probably find other brands that provide a more cost-effective product that provides more than ten matches, but will they relight once they are submerged in water? Probably not. And additionally, they are longer in size to protect your fingertips from becoming burned.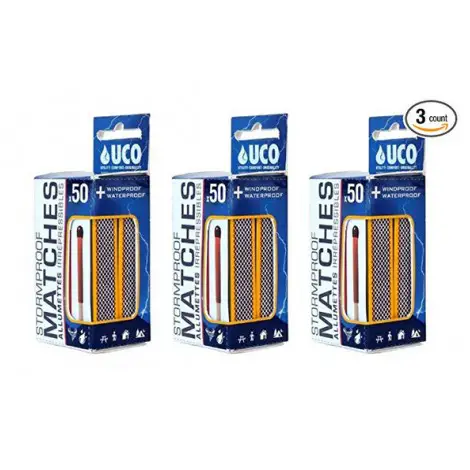 The UCO matches come in a pack of 3 which totals 150 matches. These waterproof matches can burn for 15 seconds, and each match is 2 13/16" long. Each pack contains 50 weatherproof matches that are excellent for lighting campfires, barbecues, stoves, lanterns, or any other camping gear that requires lighting.
Multi-pack
Coming in 3 packs of 50 matches each, you will receive 150 total matches. You can choose to give some packs away or keep them all for yourself. Either way, the multi-pack ensures you will have more than enough matches required for your next outing.
Weatherproof
Designed to withstand even the harshest of conditions, you can rest assured these matches will light when you need them.
Not only are they easy to light, but they are also extra long to help keep you from burning your fingers while using them. The 15 second burn time allows you to light anything you need - even in the rain and winds.
Cost and Value
Affordably priced, the UCO packs are an excellent deal that allows you to have three packs to give to others or store in different locations. These easy-to- light and long burning matches are a great value and are ideal for any camping or survival kits you have. They are readily available and the seller ships quickly.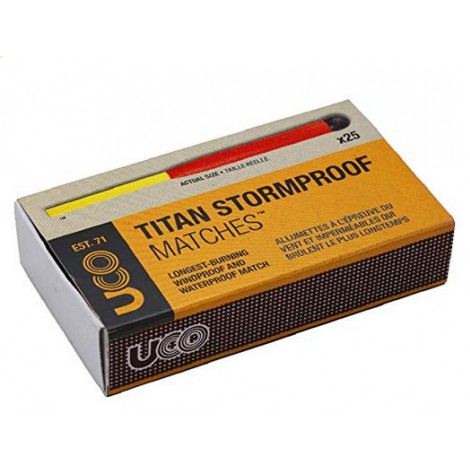 The UCO Titan pack come in one size that includes 25 matches and extra strikers, with the ability to light even after becoming wet. Each match measures 4.125 inches, which are almost double the size of most brands and will burn for up to 25 seconds.
Extra Long Match
The Titan match measures just over 4 inches in length, allowing added safety when burning to ensure that your fingers are not burnt. The extra long length also allows for an added burning time of up to 25 seconds to help light a fire in adverse weather conditions.
Windproof
They were designed to not only light when wet, but they will also light while underwater and in extreme winds. This ability to light even under harsh conditions makes them a must for anyone who likes to camp, hike, or hunt, adding an extra layer of safety in knowing you can start a fire anytime you need one.
Cost and Value
Priced competitively, the UCO matches are a great value and can be added to any camping, hiking, survival, emergency kit, or just kept at home in case of emergency.
The extended length makes them safer, and the ability to burn in adverse weather conditions makes them worth the money spent.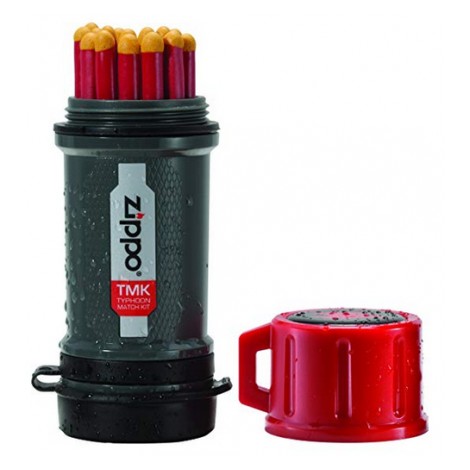 This product is an excellent addition to any pack. Whether it is for recreational use or emergencies, its heavy-duty construction ensures that your matches will be safe and ready to use when you need them. Included is a weather resistant ABS plastic case that will not only protect the matches, it will also float in water, The pack contains 15 typhoon matches, additional strike pads, and a molded lanyard hole that can be used to secure the case to anything you want. All this from a name you can trust.
Extended Burn Time
The Zippo Typhoon Matches are manufactured with an extra long length of 4 inches for safety and also will burn up to 30 seconds. The intense hot flame allows for easy lighting and can burn under even the harshest of weather conditions.
Quick Lighting
You can count on the Zippo pack to light quickly and burn hot, allowing you to light what you need quickly and effectively.
The case comes with a weather resistant cap that protects the strike pad so it will not be compromised. It will be ready when you need it. This item is readily available for purchase and ships quickly.
Cost and Value
Priced inexpensively, this product is manufactured by a name brand company, and is an excellent value. With extra long, quick lighting matches, and additional strike pads, you can be rest assured that you can light a flame when you need it. Zippo has been in business since 1932 and has a reputation you can trust.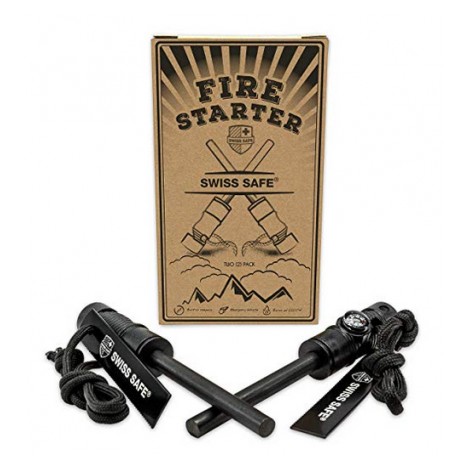 This all-weather fire starter is available in 5 different colors and makes a great addition to any camping or survival kit. Not only will it start fires in the harshest of conditions, but this multi-tool also comes with a built-in compass, whistle, steel scraper, a 450-pound paracord and a rod, making it a great and effective tool for many situations. Weighing less than 2 ounces and only 5 inches long, this easy to carry multi-tool is there just when you need it.
Multi-Tool Design
This 5-in-1 starter not only will start a fire in any weather conditions, but it also comes with a compass, whistle, scraper, paracord, and a rod to help you in an emergency.
The scraper will help to scrap small pieces of wood to help start a fire, while the compass can help you locate your position. If the need arises, you can use the whistle to alert others that you need help.
All-Weather Starter
Designed to withstand even the harshest of conditions, you can be rest assured this product will start a fire anytime in any weather, including the rain and snow. Not only will it light under adverse weather conditions, it will burn at 5,500 degrees Fahrenheit and lasts for approximately 16,000 strikes.
Cost and Value
Priced at an affordable rate, this fire-starter multi-tool is an excellent value and gives you the tools you need to start a fire when you need it the most. Also included are a compass and whistle.
If you happen to lose your way, you can locate your position and alert others that you need help. The company also provides a 'no questions asked', 100% money back guarantee. If you try the product and are not satisfied, you can return it and get your money back.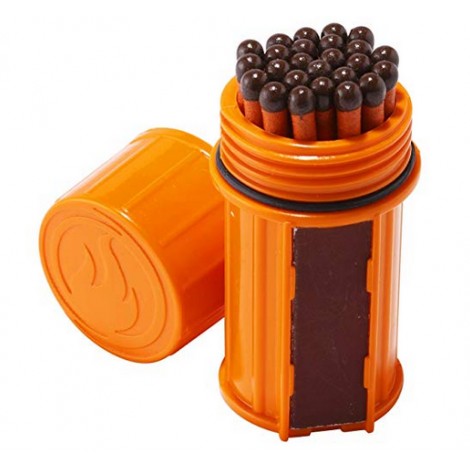 This product is an excellent addition to any camping gear or survival kit and comes with 25 matches conveniently stored in a waterproof container. Measuring 2.75 inches and weighing 1.7 oz., it can be easily stored in a backpack or kit and retrieved when needed. You can purchase the product in 3 different colors. And while it comes with 25 matches, the case can hold up to 40.
Stormproof Case
Made from durable ABS plastic, the case will keep your matches safe and dry in any conditions. With an O-ring seal to ensure the case keeps out the elements, it was also designed to float so you do not have to worry about losing it if you are canoeing or boating in any body of water. The case was also designed with a no-slip grip, making it easy to use in wet conditions.
Stormproof Matches
Designed to withstand even the harshest of conditions, you can rest assured these matches will light when you need them. With the ability to burn up to 15 seconds in high winds, rain, extreme temperatures, and even while submerged in water, these matches will never let you down and will work when you need them the most.
Cost and Value
The UCO weatherproof kit is a great value and can be added to any camping, hiking, survival, or emergency kit. You can keep it at home in case of an emergency.
The longer length of the matches helps to keep fingers from getting burned, and the tough plastic case equipped with an o-ring keeps your matches safe under all conditions.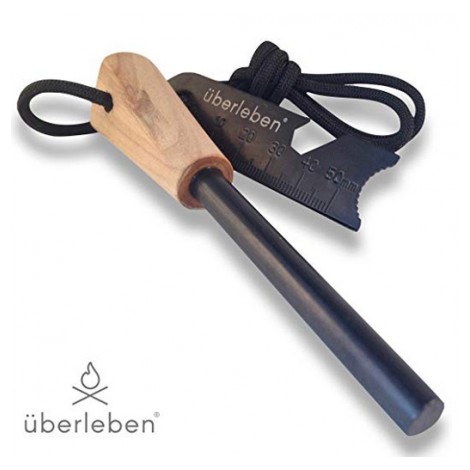 Looking for an easy to carry firestarter that has multitool capacity? Then look no further than the überleben Zünden Fire Starter. Weighing in at around 3 ounces it, can be easily worn around the neck as it is connected to a 550 paracord lanyard. This product comes in three sizes: traditional 5/16" (8mm), Pro 3/8" (10mm), and Fatty 1/2" (12.5mm). Traditional allows 12,000+ strikes, the Pro provides 15,000+ strikes, and the Fatty provides 20,000+ strikes. This firestarter can provide a shower of sparks in any weather at any altitude, making it great for campers, hikers, survivalists, or a great addition to any survival kit.
Handcrafted
With a beautifully den handcrafted wooden handle that was intentionally left natural, it allows the user to finish it any way they choose or use it in its natural state. The choice is yours!
The handcrafted wood handle was designed to be ergonomic and functions just as well as it looks.
Easy to Carry
Designed to be carried around the neck and attached to a paracord lanyard, this firestarter is right where you need it, when you need it! With its handcrafted wood handle, it looks great! Its light weight makes it easy to carry around and have on hand whenever it is needed.
Cost and Value
This fire starter is an excellent value because it has multiple uses; including a straight-edge striker spine, concave serrated tinder scraper, map scale, micro ruler, hex wrench, and a bottle opener. With the convenience of being attached to a paracord lanyard that is easily worn around the neck, this product is an excellent value.
Also, the company offers a hassle-free guarantee. So if you are not happy with the product, you can let them know and they will issue a resolution.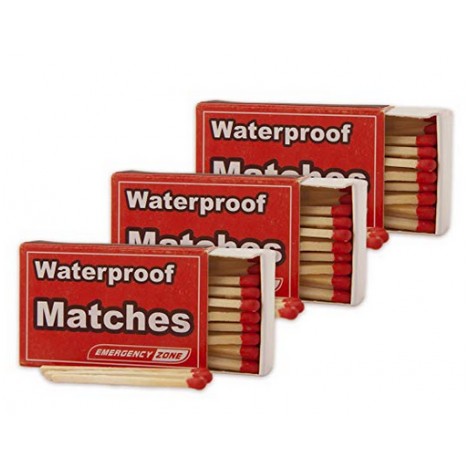 The Emergency Zone comes in different size packs including 3, 5, 10, 50, and 100 per pack - proving that you can opt for as many matches as you require. They come with an extended head that is specifically designed to burn hotter and longer to ensure that the user can get whatever they need lit - regardless of the weather.
Wind/Waterproof
They are designed to be both wind and water resistant, making them an ideal item to have on hand for emergencies. The package is compact and is available in multiple sizes, ensuring you can purchase the size that is right for you.
They can be used either for a routine camping trip or in a state of emergency. Either way, you can be assured that no matter how windy or how much rain is falling, these will light and provide you the flame you need.
Multiple Sizes
One great feature of this product is its availability in different sizes. Many brands come in one size, and you either end up purchasing too many or too little. With the ability to purchase packs ranging in sizes 3 to 100, you know that you are purchasing the amount that is best for your needs.
Cost and Value
Ranging in pricing, this is an excellent value because you can purchase the right amount of packs you need. For an affordable price, you can purchase three packs to have on hand.
If you are planning a large camping trip or need to fill multiple survival kits, you can purchase 100 packs quite affordably. The choice is yours, but the value is excellent. The seller ships quick once an order is placed.



The Survive permanent match makes a great addition to any camping kit, survival kit, or just to have on hand in the case of an emergency. This pack of 5 permanent matches is better than carrying around ordinary brands. Their durable and lightweight design allow you to attach them to a keychain, backpack, or safely store them at home to take out when needed. You can choose to keep all 5 or give them to friends or family as a gift. This product has a sleek and compact design and measures 2.4 x 0.75 x 0.63 inches and weighs 0.5 oz. Made by a small local company that is committed to providing the best products and service to their customers, you can rest assured you are purchasing a quality product.
Stormproof
This compact but durable permanent match can be used in all types of weather; including rain and high winds, making it perfect for any camping or survival kit. While perfect for everyday use, such as lighting cigars or cigarettes, this permanent match works in the toughest conditions to make sure you are never without light.
The last thing you want is to be stuck amid a storm and your match won't light. With the Survive permanent match, you will never be left out in the cold.
Durable Construction
This product was designed specifically to meet the needs of anyone in any situation. The housing container is made using stainless steel and black ABS plastic ensuring that it will not break even under the roughest of conditions.
With the ability to refill and reuse, this permanent match can be used over 15,000 times, providing you with endless, endless strikes.
Cost and Value
Being affordable, this product is of great value. Instead of receiving just one waterproof match, you are purchasing a set of 5.
Each set comes with a permanent match, a spare wick, as well as a refillable case, ensuring you will always have a way to light what you need.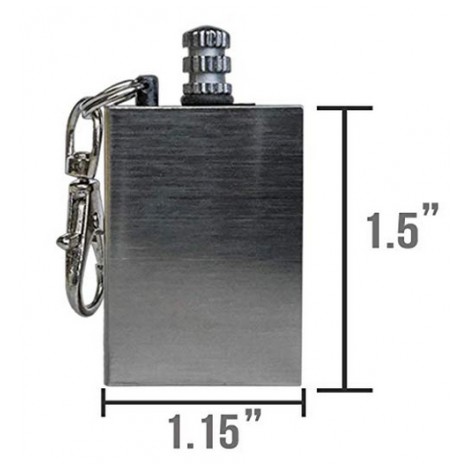 In the market for a waterproof match that can easily be carried with you wherever you go? Look no further than the OPG3 permanent match. The waterproof casing measures 1.15 x 1.5 x .45 inches and can be easily attached to a keychain or backpack. Fill the container with lighter fluid for easy lighting. The easy-to-carry case makes it ideal for camping, lighting cigars and cigarettes, and emergencies.
Durable Construction
The compact container is constructed from stainless steel and black ABS plastic. With its durable construction and easy to carry size make it a perfect item to carry with you at all times, making it available everyday uses; including lighting fires or cigarettes to emergencies.
It is lightweight and waterproof, along with the ability to connect to keychains or lanyards - making it easy to carry and have on hand at any time.
Easy to Light
The starter is constructed from plastic and steel, making it easy to light. Can be used indoors or out, making it perfect for lighting fireplaces, lanterns, propane stoves, cigars, cigarettes, fire pits, grills, etc.
To light, strike the flat end of steel striker at an angle to the flint rod on the container. It is important to keep the container steady, and the flame will last for approximately 5 seconds.
Cost and Value
While this product is surprisingly affordable from the other products reviewed, it has a lot of good features making it worth the purchase price. With the weatherproof case that can withstand the extreme heat and cold as well as the ability to last for 15,000 strikes, it is the only product you will need for all your lighting needs.
With its convenient ring for attaching to keychains, backpacks, or whatever you choose, this great product can be with you anytime you need it. It is readily available for purchasing and ships quickly.

Subscribe to our Newsletter