Best Waterproof Matches Reviewed & Rated for Quality
last updated:
May 19, 2019
In the woods, you need to be protected by building a fire whenever the need arises. Depending on the weather, it can be a difficult task, as the conditions may not always be in your favor. For a good waterproof match, knowing the details about the top brands available on the market is a start.
Depending on the location where you will be using them, there are many brands to choose from. The most dependable one that will offer top performance in extremely harsh conditions are not the ones you will be needing on a normal hiking day.
That is why we reviewed our top brands and their waterproof features for you. Are you ready to add one more item to your gear or are you ready to complete your fire starting kit? Let's go over what features waterproof matches have and why you should opt for one!
This is the best product on our list that is currently in stock: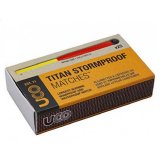 UCO Titan
Why is it better?
25-sec. burn time
4.125 inches
Windproof
Waterproof
Great for camping
In a
Hurry? Editors choice: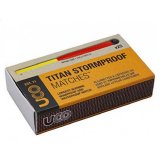 Test Winner: UCO Titan

30
Researched Sources
1600
Reviews Considered
8
Hours Researching
10
Products Evaluated
Weather Resistance
Portability
Comfort
Ease of Use
Value
By Default
10 Best Waterproof Matches
Criteria Used for Evaluation

Weather Resistance
Matches are designed with different features. This is an important criterion to consider before purchasing them. They are made to function under any weather conditions. Some are built to be storm proof as they can work effectively in the rain, snow, and cold seasons. This feature in them is to ensure that you can start campfires and for keeping warm during these times.
Also, there are those made in a way that is windproof. The match stick will still offer you the spark or light-up as required regardless of the strong winds. For a camper or an adventurer, we these particular brands will also come in handy. When setting out, check the weather pattern. It will guide you on the kind of brand to carry for such conditions.

Portability
Since matches can be very fragile, you would want to look for brands that are well-packed. Though they are waterproof, they still require being stored in a water-resistant canister. This applies especially when you are adventuring outdoors. The different weather conditions will make it hard for you to ignite them. If they are stored in a humid place or happen to be rained on, it will take longer for them to create a spark.
Therefore, we advise that they be stored in an airtight cylinder. This ensures that the stick heads remain dry regardless of the conditions presented. Some are housed in boxes which require you to be careful where you store them. They should not be affected by water or any liquid. Yes, the brand is water resistant; however, the striker is not. To be safe, it is advisable to bring more than one striker.
They should be the right dimensions to fit in the pocket where you can reach them quickly when the need arises. This will guarantee you effectiveness and efficiency of the matches. Therefore, packaging will have to be considered when making a selection.

Comfort
Comfort is equally as important when searching for the ideal pack. There are longer and shorter match stick sizes available. When choosing a size, it is vital to consider the length of the stick. This will dictate if you will have longer burnouts or not. The shorter length sticks will not stay lit for long and can become annoying.
For example; during the cold weather, the fingers are likely to become numb. The chances of you feeling your fingers being burnt are very minimal. We suggest using extra-long sticks to be safe. They will not only protect your limbs, they will give you a longer burn during camping.

Ease of Use
Most matches that are waterproof are harder to strike due to the special coating. Before purchasing the brand, ensure that you are aware of the strength it will take to ignite it. The striker will usually wear out due to the friction. For this cause, it is advisable to carry extra strikers with you.
Some brands sell strike-anywhere matches. You can use them on any surface and they will still ignite. We always recommend carrying an extra striker since these types are not water-resistant. You can start a fire to cook on or warm yourself easily with these matches. In the market, pick out a brand that will not give you a headache in trying to find out how they work. Pick one that is easier to use. This assures a successful outdoor experience.

Value
There are different brands in the market that you can choose from. They come at different prices as well. You will need to assess all the various models before deciding on which to buy. We suggest that you analyze multiple products first. The designs available will depend on your desires and preferences. Though, there are different suppliers out there who deals with various models, some of them are of low quality while others are of higher quality.
Find a supplier whom you can trust. This can be done by asking people their views on a particular dealer. You can also check out our complete review. With our recommendations, we are sure you will find the perfect seller to buy from. The cost implications are considered in this case. You would not want to buy an overpriced, ineffective product.
Some sellers take advantage of the supply and demand - then skyrocket the prices. The dealer you choose has to offer the product at a competitive price. Buy a brand that is pocket-friendly, yet effective to ensure you do not strain your finances.
Expert Interviews & Opinions
Most Important Criteria
(According to our experts opinion)
Experts Opinion
Editors Opinion
Users Opinion
By Default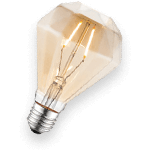 DIY
You may decide to make your match. This can be done using wax that is readily available in the house to create them. This will prove to be cost effective for you.
Storage
The product has to be stored in a cool, dry place even if they are water resistant. They should be kept away from children who might be tempted to play with them.
Effectiveness
The model you decide to purchase has to be of high quality and functional. Check the added features the brand comes with to ensure effective performance.
Safety
When using, make sure the fumes from the combustion are not inhaled. The chemicals used in them are harmful to your health when ignited.
Keep receipts
This is an important document you will need in order to return the item. Once you find that the brand is not functioning, you can use the receipt to return it to the seller.
Size
The size of the product is vital. For camping, it should be able to fit in your pocket easily. It will guarantee safekeeping and will not be misplaced easily.
Other Factors to Consider

Safety Hazards
Safety is a crucial aspect to contemplate on when searching for the ideal brand. Some of the products on the shelves are made using harmful materials. They include lead and phthalates. These are very dangerous to your health. White phosphorus is a hazardous material, but the recommended one is red phosphorus.
It is advisable that when purchasing a brand, check on what materials and chemicals are used. We suggest whenever you go to light the match stick, do it at a distance not to inhale the fumes. The product should be stored away from the reach of children. Taking this caution assures safety both in the house and out in the field. It is better to be safe that sorry.

Durability
Purchasing an item is not the end. Maintaining its sustainability is key. The product you select has to be long-lasting. You would not want to buy a model that serves you a short time. Some items on the market are substandard. When the brand is inferior, it will cost you more than just the initial price. You will always be in and out searching for a brand that will not break or stop igniting flames.
To save you from this torment, look at the material used to make the item. Is the wood used strong or fragile? A perfect match stick should have the right length so that it that will not break when you strike it on a surface. Match sticks have to be arranged properly in the container or box to ensure they do not rub against each other. This will prevent them from wearing out before being used.
The effectiveness of the product will guarantee you value for money. It is also essential to have a brand that will not leave you hanging due to its defectiveness.

Color
The brand is designed in many shades that you can select from. You may decide to match the color with that of your tent or utensils. The color can also be matched with the environment - meaning it can have a jungle print if you are camping in the forest.
When making a selection, you can choose colors that will be luminous in the dark. It will guarantee you easy spotting in the night to avoid searching for it in the cabin or tent. For a camper, the shade has to be easily identified so that it does not blend with their gear. Therefore, we recommend using a brand that has a bright tone that is easy to find.

Features
The features can differ. This is in terms of the burning time, length, and capacity of each match. These attributes have a vital role to play and will affect the cost of the product. They are designed in several lengths from which you can choose from. Another trait is the burning time. Some matches will burn for five, while others burn for ten seconds. Capacity will also determine how long they can be used. They are packaged in different units that contain a certain number of match sticks and a striking surface.
Brands that come in containers have either two or more strikers that you can use. This will ensure you have a positive camping experience that will not fail due to the product being in water. Some of the strikers are not water proof. So it is essential to carry extra ones. We suggest that you analyze the features that help to enhance performance.

Water Resistance
These are not developed like ordinary matches. They contain a waterproof coating that is embedded on the match stick head. It will be hard to see it with the naked eye. You may be duped into thinking that it is the original brand, but only to find it is a fake.
We recommend testing the item before leaving the store or house. Take the match stick and place it in water to find out if it is indeed water resistant. This will assure you whether the product is original or not. This saves you from the worry of going with an item that will render you helpless.
Frequently Asked Questions
q:

What are safety matches?

a:

These are matches that will not affect your health. A unique surface is used to strike the match stick. There are elements that are found in other brands that may cause cancer. Safety matches have been tested and proven to be fit for use.
q:

How do you keep them dry?

a:

You can keep them dry by either waxing them or painting the match heads with nail polish. This will act as a waterproof coat making them stay dry. And you can dry them afterward to remove the coating from the wax or nail polish.
q:

Are strike-anywhere matches illegal?

a:

These brands do not make them illegal and you can use them. However, they are forbidden to have in an airplane. This might have you face serious lawsuits if caught with them.
q:

Do sandpaper light matches?

a:

Sandpaper can light 'strike-anywhere' match brands. They require little friction to ignite them and will start burning. Sandpaper offers perfect friction due to its rough surface. Strike-anywhere match brands require little energy to spark into a flame. Ordinary matches do not light up easy on this surface since the material at the match head is not as hard as that of 'anywhere' match brands.
q:

How does 'strike-anywhere' brands work?

a:

They do not have a particular formula to function. These matches contain phosphorus that will ignite into a flame once there is friction initiated.
q:

How do strike-on matchboxes work?

a:

The red phosphorus on the match head stroked on a surface converts into white phosphorus. This then ignites the carbon present in the stick head, causing it to burst into flames. The combustion does not produce harmful fumes since the materials used are standard and safe.
Subscribe to our Newsletter