Best Fire Starters Reviewed & Rated
last updated:
Sep 13, 2019
Fire, it is the primal element, ask Prometheus. Okay don't, because that's mythology, but the point is that he got in a lot of trouble for giving humans the power of fire because one time long ago it was only available to the Gods. We digress but the fact is that when you talk about the foundational things that make humans, human, fire is right up there with clean water and the wheel. And if you don't believe me, try to go without it for more than a few hours. The whole industrial revolution is based on fire. So, if you love the outdoors you should bring it with you. And because the weather is what it is, there are times when matches just aren't going to get the job done. So, you need a fire starter, and here are some of our favorites.
In a Hurry? The test winner after 12 hrs of research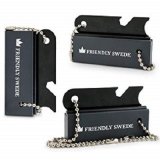 The Friendly Swede
Why is it better?
Comes as a bundle of three
Mag bar provides tinder
Produces extremely hot sparks
Comes with a chain for portability
In a
Hurry? Editors choice: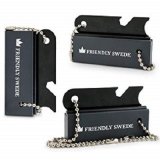 Test Winner: The Friendly Swede

14
Researched Sources
11250
Reviews Considered
12
Hours Researching
15
Products Evaluated
Ease of Use
Value
Style
Size
Features
By Default
BEST FIRE STARTERS REVIEWED & RATED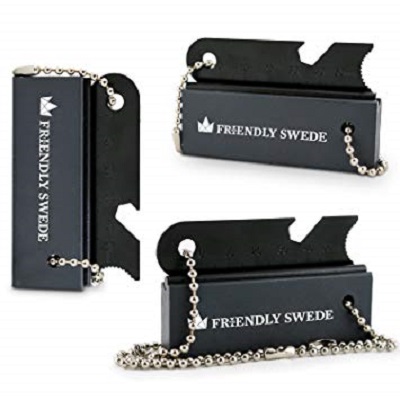 Comes as a bundle of three
Mag bar provides tinder
Produces extremely hot sparks
Comes with a chain for portability
Not very comfortable for left-handed people to use
This magnesium-based option easily tops our list by providing a reliable tool that will work in the harshest weather conditions. The flint rod is an amazing striker that provides you with thousands of sparks and can double as a bottle opener.
Built-in Tinder
When you need a fire started right away, spending time looking for something to use as tinder can be detrimental. This product includes a mag bar that can be shaved and used to get the flame going right away.
Comes With Three
There are several reasons this item is number one on our list. It can be used in any condition, it has built-in tinder, and it comes at a great price. It also comes as a bundle of three which can be shared with friends and family or kept as a backup.
Cost and Value
Although this is not the cheapest item on the list, it may be the best bargain. You get three firesteel blocks that work in any condition and is backed by a lifetime warranty.
2

. Gerber Bear Grylls Fire Starter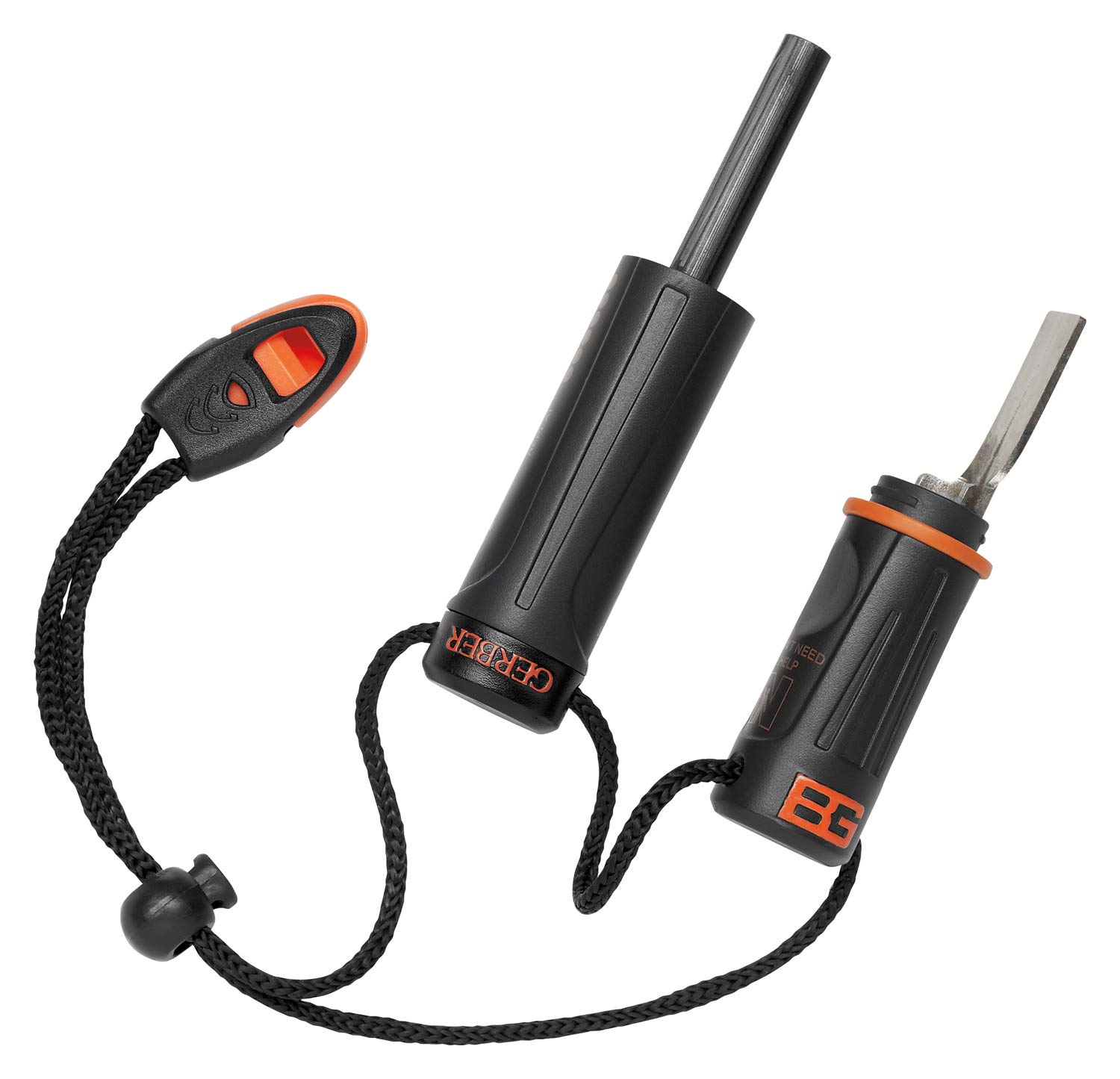 Lanyard
Ferrocerium Rod and Edged Striker
Emergency Whistle
Inexpensive
Sparks Intermittently
Waterproof Housing Comes Loose
We all know Bear Grylls, he's the survival instructor who likes to put himself in dangerous situations (even though there are cameras two feet away), and then get out of them using his awesome survival skills. We like this one because it's waterproof and comes with an emergency whistle, plus, it works.
Ferrocerium Rod
Back in our boy scout days, we had a simple flint and a sharp edge and it was pretty easy to get a fire going. But Ferrocerium is the way to go these days. Ferrocerium sparks are incredibly hot and come off the rod at over 5-thousand degrees Fahrenheit. You can count on this alloy to easily start the fire you need to stay warm or to signal rescuers.
Emergency Whistle
Never underestimate the power of a whistle. They are shrill, they are loud and they don't need batteries, just a bit of breath. And when you put some effort into it you've got some sound that's capable of reaching 120 decibels, the same as a loud rock concert. So the inclusion of this is just a nice add on.
Cost and Value
A great price for this little fire starter that can. And it comes in waterproof packaging a lanyard to keep it on your neck an emergency whistle to sound for help and some included information on SOS and what to do if you need land or sea rescue. A great little device to keep handy, and you can trust it will work when you need it.


Features a magnesium bar
The striker has a serrated edge
Compact size
Comes with a mini compass
Some reviewers found it too small
One of the classics and still one of the best, this model really brings usefulness to an entirely different level. Even if you don't find use it for making a fire there is still gobs of potential in the other features.
Can Start Fires In Wet Weather
A lot of heat comes off this thing with sparks up to 5,5000F able to ignite fires in at any altitude. This is the all-weather fire starting champ that everyone loves to bring along.
Features and Specifications
This model features a 5 inch, 20,000 strikes, ferrocerium rod that will last longer than you may ever need. It also has a built-in 6 function multi-tool scraper that makes this a must for anyone who spends a lot of time outdoors.
Cost and Value
Consider this another one of the low costing units with tremendous value. There will be a lot of life in this product even years after using it. And in many cases, this will be the only one you'll ever need to buy.


3mm shock cord lanyard is included
High-quality rod will last for years without wearing out
Multi-tools seem like an afterthought
Easily one of best on the list, it is regarded as a classic by millions worldwide. Backed by the Swedish Department of Defense, this genius fire starter has been used in countless situations where failure was not an option.
Approved By The International Survival Instructors Association
This is an approval that shouldn't be taken lightly, and it means that this product is solid from the ground up. Consumers that want the best of the best can rest assured that their money is going towards a high-end. The best is always going to come from a proven Special Forces group. They know better than anyone what it takes to survive in adverse conditions where the fire is needed.
Features and Specifications
This product will give you sparks up to 2,980 degrees in any weather, which is great when you are trying to start a fire after rain. It's also good for 12,000 strikes if used properly.
Cost and Value
There is nothing extraordinary about the low price of this product, and it is average in that regard. But when it comes to value, then you can count on it being the best available one you can get.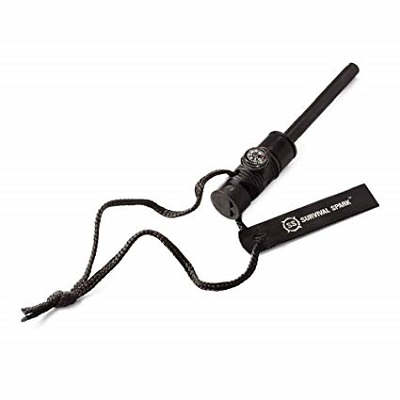 Large rod and scraper for more efficient strikes
Comes with a built-in compass, whistle, and lanyard
The built-in whistle is weak
A long-lasting unit will always catch the eye of a customer that wants something efficient. Buyers that are tired of less reliable options should consider this a really good deal.
Long Lasting
With an unstoppable lifespan of 15,000 strikes, this may turn out to be the only thing you ever need. It completely dwarfs the competition in terms of usage, while still having some of the biggest sparks available for its size.
Features and Specifications
This magnesium model includes a rod that measures 5.5 inches and a large scraper, which makes it easy to use and ideal for anyone looking for their first fire starter.
Cost and Value
With a lot of these having a low strike count, this is an unstoppable product at a low price. You simply can't beat 15,000 strikes. There is a lifetime of use in this one product, with several hikers rating it high for that purpose.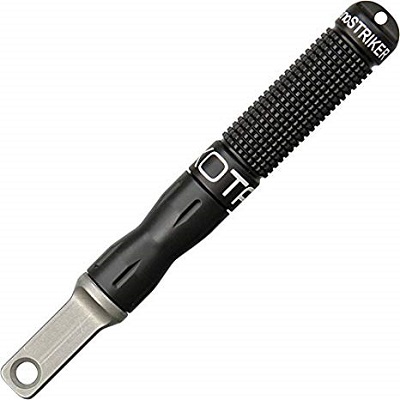 Comes in black, blaze orange, olive drab and gunmetal
The striker is made of tungsten carbide
Takes some getting used to for beginners
Another favorite on the list is the Exotac nanoSTRIKER XL, a product that many consider it to be the future of the industry. Removable parts not only saves the user money but keeps the brand loyalty strong.
Replaceable Ferrocerium Rod
Being able to take off and replace the rod when it has reached the end of its life is a big deal. The bigger deal is that this rod is not low quality, and has some of the best materials on the list.
Features and Specifications
This is a collapsible self-contained waterproof unit with a ¼ Ferrocerium rod that lasts for 3,000 strikes. There are plenty of colors to choose from, and the materials are just the right quality to keep you coming back for more.
Cost and Value
Exotac kept their product at a low cost, yet it is still one of the more expensive on the list. With the ability to replace the rod, the potential value of this buy is limitless.
7

. Aurora Fire Starter 440C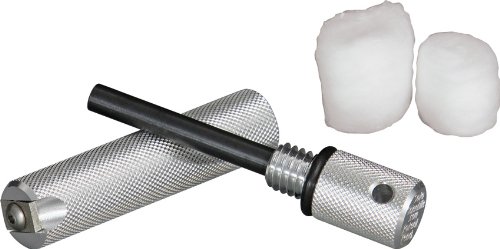 Small
Ferrocerium Rod
Comes with Tinder
Durable
This small self-contained unit comes in an easy to grip steel shell that doubles as a striker and it comes with a bit of tinder included. It fits onto your key chain and the ferrocerium rod ensures that the sparks that fly off this are going to be hot enough to have you in front of a roaring blaze soon enough.
Small and Durable
The entire thing can fit in the palm of your hand but this is proof that good things come in small packages. The size does mean that it takes a bit of time to master but just knowing that this is with you at all times is going to provide a bit of confidence when you're out in sketchy weather.
Easy to Strike
It may not look easy but with the included striker you should be making sparks easily and in no time.
Cost and Value
A nice affordable choice that's easy to use and easy to keep handy. Since it's small enough fit on your key chain you can keep it with you all the time and not worry about packing it.
8

. Ultimate Survival Technologies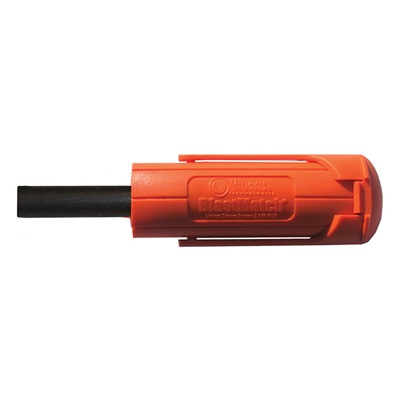 One-handed operation
Can be used in all weather conditions
The plastic casing is weak
These don't always have to be complicated, and this list has been a good example of some of the better ones in the industry. BlastMatch is as simple as they come, and may very well be the best in the industry.
More Than Enough Strikes
One of the downsides to getting one that has an automated mechanism is that the striking number is usually low, probably in the hundreds. BlastMatch gets past that with no trouble, allowing for thousands of strikes.
Features and Specifications
This produces sparks that are three times hotter than a match, allowing you to start a flame with less than favorable materials. It also features spring-loaded rotating flint bar for quick and easy access.
Cost and Value
Low in cost and providing a lot of strikes, buyers should load up on these for personal use and for gifts. One-handed strikers don't get much more valuable than a BlastMatch.
9

. SE FS374 2-In-1 Fire Starter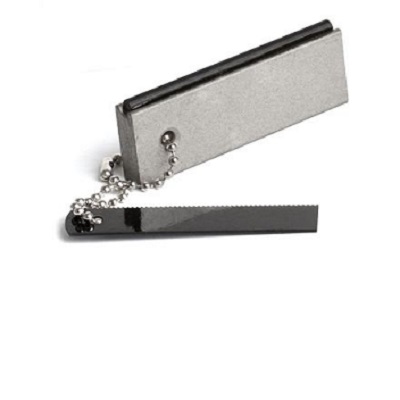 Features a magnesium bar
The striker has a serrated edge
Some reviewers found it too small
This two in one unit includes a striker and flint rod that is connected to a magnesium bar that can be shaved and used as tinder. It is compact and weatherproof, and best of all it is one of the lowest cost items on the list.
Serrated Metal Striker
The serrated metal striker has two jobs, and it does both exceptionally well. It can be used to make a spark when rubbed against the flint rod and to scrape off shavings to create tinder.
Easy Portability
This is a great item for the casual outdoorsman who isn't looking to spend a lot of money but still wants to be prepared for the worse. It is very compact at a size of 3" x 3/8" x 1" and includes a detachable chain link so you could have it with at all times.
Cost and Value
It is probably the cheapest item on the list but has no problem getting the job done. It has a minimal design and is easy to use and it also comes with a mini compass to help you navigate your way through the wilderness.
10

. Lightning Strike Standard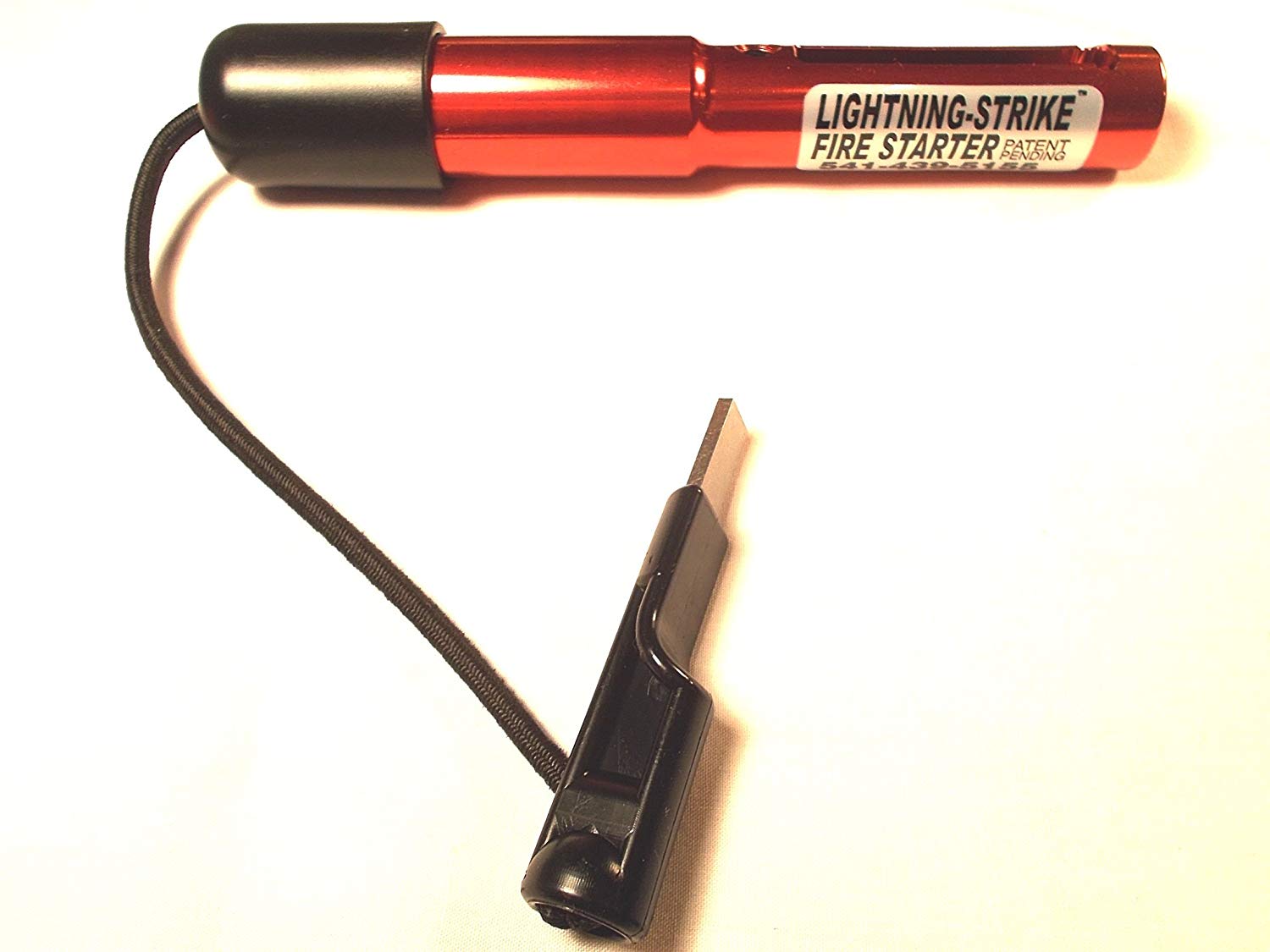 Tinder Included
Spark Barrel focuses sparks
Stores easily
Self-Contained
This is an ingenious little beast that's has a few great features that got it easily on our list. First, the ferrocerium rod is encased inside the tool in such a way that when you make sparks they come flying out of the tool in a very focused way onto whatever tinder you're trying to start.
Tinder included
Honestly, most of the mass of this starter is made up of a hollow tube that has tinder encased in a waterproof package. Simply pull on the included tab and pull out the amount of tinder you need and you'll be in front of a fire in no time.
Focused Barrel Design
The ferrocerium rod is encased inside the starter and when you scrape the starter against the rod the sparks are sent shooting down the barrel like a bullet from a gun. It's a great way to put more spark on the tinder.
Cost and Value
This is a pretty expensive tool but for the money, you can count on this starter in a pinch. It's a well-designed professional tool and it will start a fire.
Criteria Used for Evaluation

Ease of Use
The easier it is for you to use, the quicker you will be able to get your fire going when you need a fire. For some people, this can be a matter of saving time and convenience. After all, the faster you get your fire lit, the sooner you can move on to other tasks such as cooking dinner or setting up camp.
On the other hand, this can also be a matter of life and death because you may need to get a fire going quickly to warm someone up from hypothermia. When you are picking out a fire starter, you will want to think about how easy it is to start a fire with a particular one. Even after you have purchased yours, you will want to practice with it in order to make sure that you know how to use it when you need it.

Style
Most will fall into one of four different categories. The categories are ferrocerium rods, ferrocerium rod with magnesium block, steel and flint, and friction-based. You will notice that each kind is made differently and will, therefore, work differently from the other kinds. The type will become an important factor in your choice, so you will want to consider each of the different kinds prior to picking one.
The ferrocerium rod type, also called fire steel, is a fire starter that is made primarily from an alloy of iron, cerium, and magnesium. You use this kind by gathering kindling and then scraping it against some sort of hard surface such as a hunting knife.
There are also ones that are made with ferrocerium rods and also have a block of magnesium. Magnesium is useful when you have to light a fire in damp and wet conditions. To use this category, you first scrap shavings of magnesium from the block and gather them into a pile that is around the size of a quarter. Then you scrape the ferrocerium rod to create sparks and aim the sparks at the magnesium. The sparks will ignite the pile of magnesium shavings which will generate heat and ignite your tinder.
You will also see some that are made from natural steel and flint. This category was commonly used before ferrocerium was invented and it is a proven solution to start a fire. Like the ferrocerium rod versions, you use a flint and steel by rubbing the steel against the flint to create sparks.
Finally, there are friction-based units. Most people are familiar with the bow drill and when combined with a fire starting solution, you can start a fire using friction. Using friction to start a fire is difficult in any situation and it should only be considered as a last resort solution.

Value
You will want to consider the overall lifetime when you are picking out one. The ability to light a fire can quickly turn into a matter of survival in an emergency situation so you need to know that you can count on yours when you need it.
A long-lasting unit is more likely to be dependable so you will want to look for ones that last for a long time. All of them will last longer when you use them less and protect them from corrosion. However, if you plan on starting a fire on a regular basis, then you should look for one that resists corrosion and can be used on a frequent basis.

Size
The size and weight will determine how much room it takes in your gear. A smaller one will take up less room in your pack which will allow you to carry additional gear, and a larger one will naturally consume more room and will weigh more. There are situations where this is more critical than in other situations.
Most do not weigh much and they do not take a lot of room. You will typically see ones that weigh less than three ounces which mostly depends on the size of the rod.
On the other hand, you may not even have a reason to care about size and weight. For example, if you are camping near your vehicle and can leave most of your gear in your vehicle, then there is no good reason to favor a small fire starter just because of size and weight.

Features
It is common to see models that are combined with additional features so that they are set apart from their competitor's products. There is nothing wrong with having features and you may find that these are more useful when it has a few extra features that are sold with it.
However, it is important for you to keep in mind that the primary purpose is to start fires. If it does not start any fires, then no amount of features will make it have any value. However, once you have established that yours does start fires, then you may want to look for a few extra features that might make it more useful or last longer.
Expert Interviews & Opinions
Most Important Criteria
(According to our experts opinion)
Experts Opinion
Editors Opinion
Users Opinion
By Default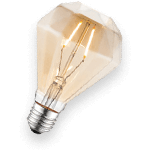 Get The Most Out Of Yours!
You don't need to worry much about cleaning, but maintenance starts with use. Beginners will often take huge strikes when smaller ones are necessary. This aggressive striking lowers the lifespan of the fire starter, so practice short and concise strokes. It will turn a one-year product into a multi-year one.
Who Makes The Best?
It's not so much branding when it comes to these, and is more about the people who tested it beforehand. The best in the industry come from Special Forces or other approved organizations that specialize in emergency situations and survival. They should have the ability to be used in adverse conditions and with minimal effort.
How To Choose The Right One!
So how do you know which type is best for you? That would depend on your need. Do you spend a lot of time outdoors or do you only go camping once a year? What will the weather be like? How much money do you want to spend? Depending on the answer to these questions, our list will provide you with all the information you need to make the best choice!
Frequently Asked Questions
q:

Are The Strike Amounts Guaranteed?

a:

It depends heavily on how consistent a striker the user is. Taking huge strikes won't get you the 12,000 strikes a product promises. With the way the rods are built, it is more likely that you will get more strikes than what is listed if you use it correctly.
q:

What Makes Good Alternative Tinder?

a:

Beyond the usual options, cotton balls with Vaseline, crushed leaves, sawdust or even dryer lint. The key is to always look for anything dry, fine and aerated.
q:

Are Replaceable Rods Cheaply Made?

a:

Replaceable rods seem too good to be true for some people, but rest assured they are not cheaply made. Top tier products like the ones on these list use rods that are the same quality as their non-replaceable competitors.
q:

How do I use a magnesium one?

a:

A magnesium unit is used by shaving magnesium into a small pile of shavings that is about the size of a quarter or larger. Once you have a pile of shavings, you will use a striking rod to create sparks and direct the sparks at the magnesium. The sparks will light the magnesium and hopefully, your kindling which will in turn light your fire. Magnesium burns hot so can be used on wet kindling or windy weather.
q:

Why not use a regular lighter?

a:

Many people do use regular lighters but there are few things that you should consider when using a regular lighter. A regular lighter needs a source of fuel and will not light any fires if it is out of lighter fluid. They can also break and stop working if the tank for the fluid breaks or the mechanical parts stops working and the lighter no longer produces a spark. For these reasons, you should at least carry a backup.
q:

Do I need to carry tinder with me?

a:

It is recommended, but not totally necessary, for you to carry tinder with you when you are packing your gear. Fire starts work best when they have a dry source of tinder and most of the time you can find dry tinder in the wild. However, if it happens to rain or you are in the wet season, then it can be harder to find it so having a tinderbox will help ensure that you have Tinder.
q:

What is Fire Steel?

a:

Fire Steel is an industry term for ferrocerium rods. These rods are made from a combination of magnesium, iron, cerium, and other materials. The sparks from fire steel burn hot and can reach temperatures that are as high as 5000F. This makes fire steel an ideal choice since the hot sparks are more likely to start fires on tinder that is damp or moist which makes it easier to start a fire.
q:

Will a fire starter work when it is wet?

a:

Yes, they are designed to work when they are wet which is why they serve as good backup tools. Since most involve some sort of rod that is struck to create sparks, there is nothing that will prevent it from working when it is wet. However, you should be mindful of corrosion, which can cause them to not work as well when it is struck to due changes in the chemical composition of the fire starter.
Subscribe to our Newsletter