Best Fire Starters Reviewed and Rated
Fire starters are meant to provide a way for anyone to start a fire when they don't have the usual tools. There is a sense of bravado that comes with using these tools, which can easily be replaced with a normal cigarette lighter. But when the fuel runs out, which product do you think would be the most reliable?
Our Top 3 Picks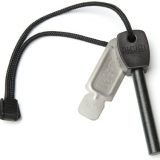 Light My Fire Original

Our rating
Good for 12,000 strikes
Price:

See Here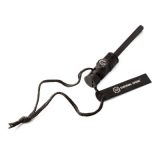 Survival Spark Fire Starter

Our rating
Rod measures 5.5 inches
Price:

See Here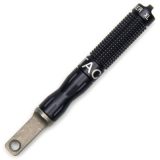 Exotac Fire Starter

Our rating
Tungsten carbide
Price:

See Here


Best Brands
It's not so much branding when it comes to fire starters, and is more about the people who tested it beforehand. The best fire starters in the industry come from Special Forces or other approved organizations that specialize in emergency situations and survival. Fire starters should have the ability to be used in adverse conditions and with minimal effort.
Maintenance and Cleaning Tips
You don't need to worry much about cleaning a fire starter, but maintenance starts with use. Beginners will often take huge strikes when smaller ones are necessary. This aggressive striking lowers the lifespan of the fire starter, so practice short and concise strokes. It will turn a one year product into a multi-year one.
10 Best Fire Starters
1. Light My Fire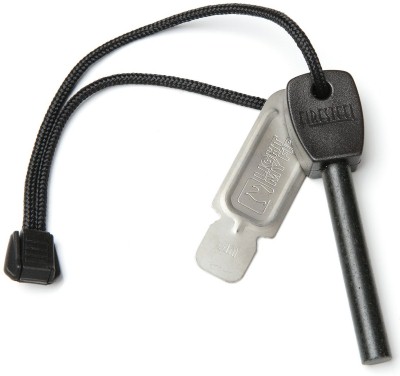 Number 1 on our best fire starters list is regarded as a classic by millions worldwide. Backed by the Swedish Department of Defense, this genius fire starter has been used in countless situations where failure was not an option.


Expand to see more
Approved By The International Survival Instructors Association

This is an approval that shouldn't be taken lightly, and it means that this product is solid from the ground up. Consumers that want the best of the best can rest assured that their money is going towards a high end fire starter.

Features and Specifications

Sparks up to 2,980 degrees in any weather
Good for 12,000 strikes

Price/Value

There is nothing extraordinary about the low price of this product, and it is average in that regard. But when it comes to value, then you can count on it being the best available fire starter you can get.

Decision Time

The best fire starter on the list was always going to come from a proven Special Forces group. They know better than anyone what it takes to survive in adverse conditions where fire is needed.
Comes in either black or red
Easiest striker/rod combo to use
Striker is smaller than industry average
2. Survival Spark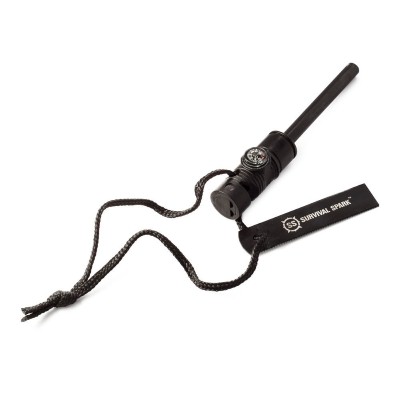 A long lasting fire starter will always catch the eye of a customer that wants something efficient. Buyers that are tired of less reliable options should consider this a really good deal.


Expand to see more
Long Lasting

With an unstoppable lifespan of 15,000 strikes, this may turn out to be the only fire starter you ever need. It completely dwarfs the competition in terms of usage, while still having some of the biggest sparks available for its size.

Features and Specifications

Magnesium fire starter with large scraper
Rod measures 5.5 inches

Price/Value

With a lot of fire starters having a low strike count, this is an unstoppable product at a low price. You simply can't beat 15,000 strikes with one fire starter.

Decision Time

Getting stuck with only one fire starter for life wouldn't be so bad if this was your choice. There is a lifetime of use in this one product, with several hikers rating it high for that purpose.
Large rod and scraper for more efficient strikes
Comes with a built in compass, whistle and lanyard
3. Exotac nanoSTRIKER XL
Third on the list is the Exotac nanoSTRIKER XL, a product that many consider to be the future of the industry. Removable parts not only saves the user money, but keeps the brand loyalty strong.


Expand to see more
Replaceable Ferrocerium Rod

Being able to take off and replace the rod when it has reached the end of its life is a big deal. The bigger deal is that this rod is not low quality, and has some of the best materials on the list.

Features and Specifications

¼ Ferrocerium rod lasts for 3,000 strikes
Collapsible self-contained waterproof fire starter

Price/Value

Exotac kept their product at a low cost, yet it is still one of the more expensive fire starters on the list. With the ability to replace the rod, the potential value of this buy is limitless.

Decision Time

A replaceable rod is only one of the many great things about this compact fire starter. There are plenty of colors to choose from, and the materials are just the right quality to keep you coming back for more.
Comes in black, blaze orange, olive drab and gunmetal
Striker is made of tungsten carbide
Takes some getting used to for beginners
4. Genuine Issue
This G.I. Aviation issued fire starter has been in use for years from America's finest. Made with only the highest quality of materials, you'll find out in due time why it is considered a top five product.


Expand to see more
Highest Quality Possible For A Fire Starter

Out of all the products on the list, this genuine issue fire starter stands out as having the highest quality possible. It can take the most the most punishment without breaking due to wear and tear.

Features and Specifications

Magnesium shaving edge
Can be used in adverse weather conditions

Price/Value

With the amount of life you get from this one product, the value doesn't go down. It is low cost, and requires very little effort to get a fire started.

Decision Time

There is something special about the style and look of this product. Buyers will find that putting this on their keychain is a much more attractive option than carrying around a separate fire starter.
Starts a fire on the first attempt
Barebones, compact and proven fire starter materials
Doesn't come with a striker
5. Ultimate Survival Technologies

Fire starters don't always have to be complicated, and this list has been a good example of some of the better ones in the industry. BlastMatch is as simple as they come, and may very well be the best in the industry.


Expand to see more
More Than Enough Strikes

One of the downsides to getting a fire starter that has an automated mechanism is that the strike number is usually low, probably in the hundreds. BlastMatch gets past that with no trouble, allowing for thousands of strikes.

Features and Specifications

Sparks are three times hotter than a match
Spring loaded rotating flint bar

Price/Value

Low in cost and providing a lot of strikes, buyers should load up on these for personal use and for gifts. One handed strikers don't get much more valuable than a BlastMatch.

Decision Time

When BlastMatch first came out, it was in a league of its own. Now with more competition, it still stands as a big time innovator in the fire starter industry and is definitely worth a buy.
One handed operation
Can be used in all weather conditions
6. Outdoor & Sporting Goods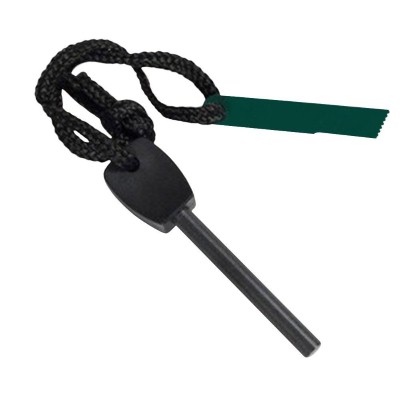 Sometimes the longer the flint the better the spark, which is why this fire starter comes in different sizes. Even at the smallest size it puts out a really good spark, so customers will end up getting a good deal either way.


Expand to see more
Sizes and Colors

Available colors are black, army green and red. When it comes to sizes, this fire starter comes in small or large. There is a little bit of something for everyone and that is why it is so highly regarded.

Features and Specifications

Magnesium flint with iron scraper
Weighs only 25g

Price/Value

Buyers that are looking at the 5 piece set will get the best value and price per piece. It is low cost overall, but buying the bulk set definitely helps to keep costs down.

Decision Time

This little known brand is a great purchase depending on which set you go with. Customers have been handing in good reviews about their effectiveness, and the price is just right.
Big sparks with little effort
Best version comes with 5 pieces
7. UST Sparkie

Sparkie seems to be the appropriate name for this particular fire starter from UST. The company made this product strong and useful for all types of outdoor and indoor fire situations.


Expand to see more
One Handed Operation

Being able to use a modern fire starter with one hand is great for the customer. It also takes the complexity out of other fire starters with rods that may be a little troublesome for some users.

Features and Specifications

Generates 3x the heat of matches
Weighs less than an ounce

Price/Value

For the low price of a couple of matches, this fire starter could be the best purchase you've made in years. This USA made product is an incredible value that is only limited by its low usage count.

Decision Time

Simplicity is a great thing when it doesn't compromise the quality of the product. UST went all in with the Sparkie and came out with one of the best on the list.
The easiest fire starter on the list to use
Flint based bar produces powerful sparks in seconds
Only good for 100 strikes
8. Gerber Bear Grylls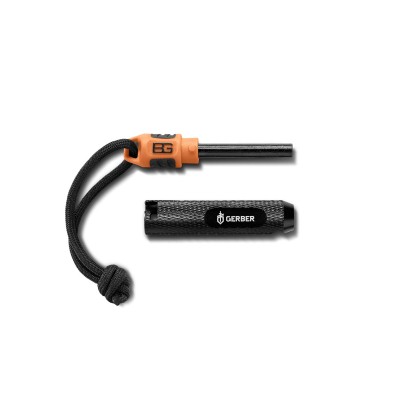 The name Gerber is familiar to anyone inside and outside of the industry. They are a trusted brand that always delivers quality products to both the residential and professional user.


Expand to see more
Made For People Who Travel A Lot

A lot of thought went into the design of this compact Firestarter, right down to its two piece design and paracord lanyard. You can place it anywhere without fear of it coming apart at the worst time possible.

Features and Specifications

Cover is made out of anodized aluminum
Weighs 8 ounces

Price/Value

The price seems just right for what Gerber is offering. And the value is immense for any fans of Bear Grylls, since his show is one of the main inspirations for this fire starter.

Decision Time

There is a lifetime warranty attached to this product, so there are no worries about it wearing out too quickly. Buyers will get as much use out of it as they want, even if it is used mainly as a backup.
Fire sparks are high quality and easy to produce
Textured rubber grip keeps your hands steady
Rod is too small to use on a regular basis
9. Überleben Kräftig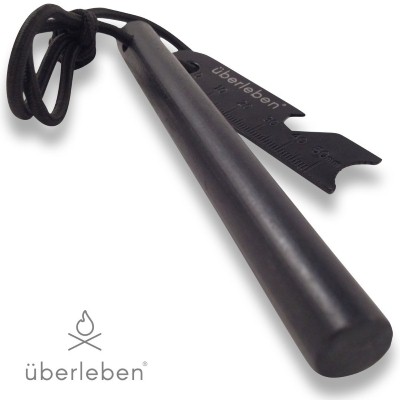 One of the classics and still one of the best, this model really brings usefulness to an entirely different level. Even if you don't find a use for the fire starter portion there is still gobs of potential in the other features.


Expand to see more
Can Start Fires In Wet Weather

A lot of heat comes off this thing with sparks up to 5,5000F able to ignite fires in at any altitude. This is the all-weather fire starting champ that everyone loves to bring along.

Features and Specifications

5 inch 20,000 strike ferrocerium rod
6 function multi-tool scraper

Price/Value

Consider this another one of the low costing fire starters with tremendous value. Buyers will have no time adapting to all of the functions it offers out of the box.

Decision Time

With a monster 20,000 strikes before you have to consider purchasing a new one, there will be a lot of life in this products even years after using it. And in many cases, this will be the only fire starter you'll ever need to buy.
3mm shock cord lanyard is included
High quality rod will last for years without wearing out
Multi-tools seem like an afterthought
10. Newsfana EDC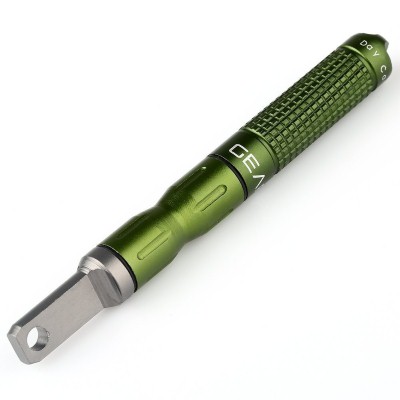 Starting a fire just got a whole lot easier thanks to this portable piece of equipment. Newsfana took the most complicated part of starting a fire and made it no different than striking a match.


Expand to see more
Three Distinct Colors

Available in green, black and orange, colors matter a lot when pairing with the rest of your gear. The offered colors are different enough to make a difference to a wide range of buyers.

Features and Specifications

Waterproof magnesium flint stone
Compact and light

Price/Value

You really can't get a lower priced fire starter that isn't just cheap and flimsy. As a quality item, buyers will be pleased with their purchase.

Decision Time

This item pays for itself within the first few uses, so consider it an indispensable tool in your camping arsenal. At such a low price everyone should have at least one on hand for emergency situations or other times of need.
Uncomplicated way to start a fire
Casing is durable enough to protect enclosed stone
How To Make The Best Decision When Choosing A Fire Starter
Finding out whether you want two hand or one hand operation is going to make the purchase choice pretty easy. Some users can't be bothered to use a striker, and there are even situations where an injury would make it difficult for two handed operation. There are plenty of one handed fire starters on the list, so make sure to purchase the one you feel most comfortable with-100% of the time.
FAQs
Are The Strike Amounts Guaranteed?
It depends heavily on how consistent a striker the user is. Taking huge strikes won't get you the 12,000 strikes a product promises. With the way the rods are built, it is more likely that you will get more strikes than what is listed if you use it correctly.
What Makes Good Alternative Tinder?
Beyond the usual options, cotton balls with Vaseline, crushed leaves, sawdust or even dryer lint. The key is to always look for anything dry, fine and aerated.
Are Replaceable Rods Cheaply Made?
Replaceable rods seem too good to be true for some people, but rest assured they are not cheaply made. Top tier products like the ones on this list use rods that are the same quality as their non-replaceable competitors.