Best Hunting Jackets Reviewed and Rated
Its hunting day and you have all of equipment set up and ready to go. Your rifles have all been cleaned and scoped properly, so your sight lines will be sharp. You have taken the time to set up your blind, and ensure it's in proper working order, and the blind now all packed up and ready to go. You have checked out your decoys, and they are all cleaned up and ready to go. You are all set – and then you step outside, and notice it is chilly. You go to look for your jacket, and notice it doesn't quite fit the same way anymore. So, you go out and hunt without it, and because you are so chilly, you start shivering, which then causes your shots to go awry, because you don't have a steady hand. Don't go out and hunt with a shivering hand, let us help you find one among the best hunting jackets available today.
Featured Recommendations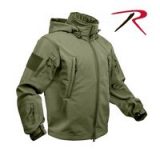 Rothco Men's Special Ops Soft Shell Hunting Jacket

Our rating
100% Polyester
Price:

See Here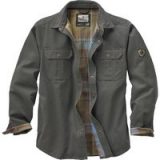 Legendary Whitetails Men's Journeyman Rugged Shirt Jacket

Our rating
Cotton - Polyester (63% - 37%)
Price:

See Here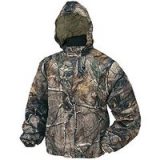 Forgg Toggs Men's Classic Pro Action Jacket with Pockets

Our rating
100% Polypropylene
Price:

See Here

When it comes to the best hunting jackets, this is an item you don't have to use very often, but are very grateful for having the right one to meet your needs when the time comes. When it comes time to purchase a new hunting jacket, there are many things to take into consideration, including:
Weather environment:

How cold does it get?
How much does it rain?
How windy is it on any given day?

What kind of design do you need on your jacket?
What kind of material do you need?
Within this guide, we'll help you make the determination to what kind of hunting jacket is the best hunting jacket for you. We'll cover the aspects of what makes a great hunting jacket, as well as covering some of the best hunting jackets brands out in the marketplace. We'll give you a review of the 10 best hunting jackets on the market currently, and the different features they offer. After this, we'll help give you a checklist of what you need in order to find the best hunting jacket for you and your needs. Lastly, we'll answer some frequently asked questions concerning hunting jackets.
Let's get started!
What makes a Great Hunting Jacket?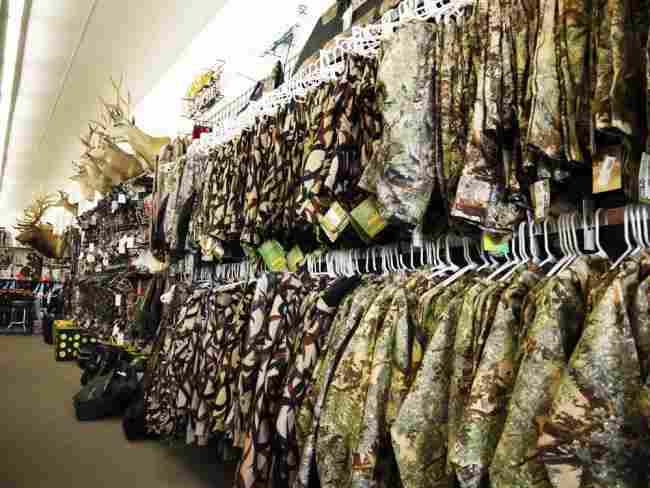 Material – The kind of material the hunting jacket is made out of should be determined by the weather environment you typically hunt within. If you do most of your hunting in frigid areas, then having a breathable and mesh material for your hunting jacket is not advisable. However, you also don't want something this is so bulky that it hinders your ability to be flexible in your hunting space. This is especially true if you are in a hunting blind, where you will need to be able to shift and move around in a limited amount of space as efficiently and effectively as possible. If you have a jacket that has too much padding, you might stay warm, but you will end up being more uncomfortable in the long run.
Another thing to consider when looking for best hunting jackets is whether or not the material is waterproof or not. There is no worse feeling then being out in 45 degree weather, when it is raining, and your body is completely soaked thru and chilled to the bone. Having a hunting jacket which is waterproof is vital towards staying dry out in treacherous weather. If you don't hunt in areas where it rains very often, then you can go for another material which offers you the most comfort possible. However, if you typically hunt in weather environments where it rains at least 25% of the time you go out and hunt, then having a hunting jacket which is waterproof is a necessary attribute you need.
Design – Most guides you will read talk about the idea of having a hunting jacket which has camouflage on it. Although this seems to make sense, this is not always a necessity. You need to take into consideration where you hunt the most. If you are in dense woods, then obviously having camouflage is necessary. However, unless you are in dense woods, then you don't need to have a hunting jacket with camouflage.
In addition to this, and this should be obvious, but just in case, you should never wear bright colors. This isn't just secluded to your hunting jacket – your pants, socks, shoes, jewelry, and watches – none of that should be a bright color. It is better to have a hunting jacket which has dull and boring colors, as those will typically blend in with your environment much easier compared to other options. Even if you don't want to buy a jacket which is focused on hunting, and just want a normal jacket, any jacket with any kind of design, whether it is plaid or stripped or anything else, it is not a good fit for hunting. Always go with dull and boring for design.
Budget – Every season, you will more than likely have a budget of what you can spend on hunting gear. A hunting jacket can be very expensive, and eat up into your budget in no time. Having a great hunting jacket doesn't do you any good if you don't have any ammunition to do any shooting. It is easy to spend a lot of money on a hunting jacket, so you need to know what your budget is before making any decisions. Once you know that, you should look for hunting jackets which are at or above your jacket by 20%, as you can typically find hunting jackets on sales throughout the fall season. Not only this, but if you can keep the money and hold onto it until after the winter time, you can normally get a great deal on a hunting jacket after the season is over, for you to have for the next season. It's like buying Halloween Candy the day after Halloween – it's still good candy that you are now getting on a great deal.
Brands

Huntworth – Huntworth has gear available to purchase for Men, Women and Youth, making this brand a virtuoso one stop shop. They have options which are full camo designs, as well as non-camo designs. They have jackets which have full collars, meaning the zipper comes up to the neck area and covers your neck, as well as hoodie options. They also have some pant options for you to consider, which match up with your hunting jacket. In addition to the hunting jackets and pants, you also can purchase different kinds of head gear and gloves, so you can go with one full design for all of your needs.
King's Camo – King's Camo has a large assortment of options for you to choose from to meet all of your needs. All of their options are designed in camo, and they have options which offer a full collar as well as hoodie options. In addition to these, they also have full body overalls, as well as hunting jackets which are sleeveless. They also have pants for you, which can match the jacket you purchase, giving you one seamless look. Their options range in price from $70-$180, so they can meet your budget no matter where what your limit is.
Browning – Browning offers you a vast amount of options for your hunting jacket needs. They have options available for Men and Women, as well as for Youth. Their designs are mostly camo based, but they have other design options available as well. They have full size jackets, pants, hoodies and even ¼ zip jackets available to you, so the camo design is more fluid across the front of the jacket, rather than broken up by a zipper. They have jackets made out of mesh, fleece and cotton, as well as jackets which are waterproof and jackets which could be considered a parka.
Natural Gear – Natural Gear has some options available to you to help you meet your hunting needs. They have jackets which are made out of a fleece material, as well as some hybrid material. Their jackets come with full zipped options, which can go up to your neck line, as well as pull over and hoodie options. Their designs range from camo to light tan to dark brown, giving you the freedom to choose the design which is best for you and your environment. In addition, they also have water proof jackets, and jackets which are sleeveless, so you can find the hunting jacket which meets the needs of the temperatures you typically hunt within.
10 Best Hunting Jackets
1. Rothco Special Ops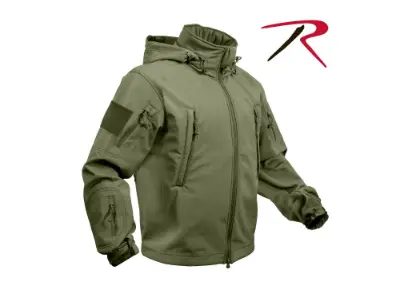 The number one hunting jacket on our list is this hunting jacket from Rothco. This jacket is made out of a 100% polyester material, and has multiple layers. The three layers help prevent moisture from penetrating through the jacket, as well as keeping wind from getting through. Overall, it is designed for the ultimate comfort when you're out hunting. This jacket comes in 11 different colors, some of which are solid colors, and there are some options which have a camouflage design. It also comes in 14 different sizes, so finding the one that is right for you shouldn't be hard.
Expand to see more

Multi-layer design


This hunting jacket features multiple layers that help ensure you retain as much body heat as needed while you are out on your hunting trip. The hood on this jacket is lined with fleece and it is detachable for your convenience.


Notable features


There are two side pockets which are higher up than normal pockets. Also, the collar ensures your neck is fully protected from all-weather elements.


Cost and Value


The price of this Rothco jacket varies considerably depending upon the color and size of the jacket you need. However, it does have features that make it a worthwhile investment.

Has multiple layers
Comes in 11 different colors
Comes in 14 different sizes
Made out of a 100% polyester material
2. Legendary Whitetails Journeyman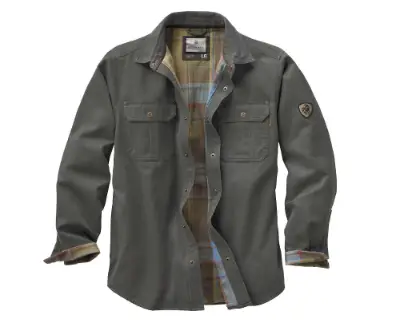 The Legendary Whitetails Journeyman Rugged Shirt Jacket has the look up your favorite casual button-down shirt with an added flannel lining. It is thicker than your favorite shirt, though, making it a lighter weight jacket. In this case, this jacket achieves the rear task of being and doing exactly what it looks like it should. It's a great everyday jacket meant for any purpose, and to that point the name "journeyman" fits perfectly. From the work site to the campground, and everything in between, you can rely on this one to treat you right.

Expand to see more

Rugged look


On top of all of the features present here, the rugged waxed cotton appearance caps things off nicely. Wherever you may be wearing this one, you can know that you will look sharp.


Strong as can be


Since this jacket is designed to be used in any situation, it's a good thing that the makers chose to triple stitch the seams and reinforce the jacket as a whole. This is a jacket that is going to last for years.


Cost and Value


This is an everyman's jacket that handles its purpose exactly how you'd expect, nothing less, nothing more. As such, its price point falls right in the middle of the average for jackets of this type.

Comes in four different sizes
Two breast pockets
Has a solid pattern on the outside
Might be lacking quality control
3. Frogg Toggs Classic Pro Action Jacket with Pockets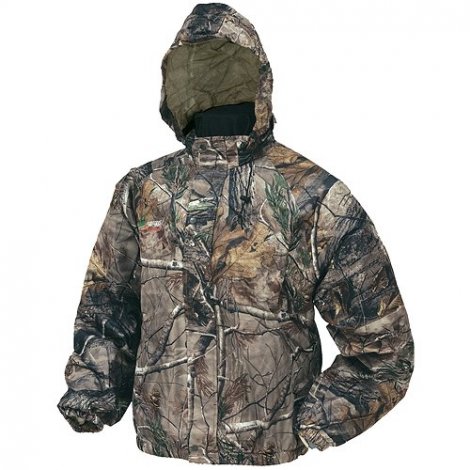 This classic piece from Frogg Toggs is a solid shell of a jacket that will keep you dry in any situation. It has everything you need to keep the water out, and as such is a great rain jacket. Now, keep in mind that you will need to have a fleece sweater or some other form of heavy shirt layered underneath for added warmth, but this still makes an ideal final piece for any layering system.
Expand to see more

Keeps you warm and looking good


This hunting jacket from Frogg Toggs comes in five different colors. It has a fully adjustable hood with it, and comes with storm flaps which can be shut closed using the provided snaps, to ensure the closure is tight and secure.


Quality construction


This jacket is made from 100% polypropylene, which means it is very lightweight and breathable. The camo design has a variation of brown hues on it to help you blend in with your surroundings. It's available in six different sizes, which range from Small to XXX-Large.


Cost and Value


Even though the price is a little bit high for this jacket, that doesn't do justice to the fact that this is a great jacket with great features. For what it is worth and what it does, this jacket provides immense value.
Snap-shut storm flaps

Ultra-Lightweight

Breathable material

Bomber style

Fully adjustable hood

Snap-shut storm flaps
If you are taller this jacket may be a bit too short
4. Rocky Prohunter Waterproof Insulated Hooded Jacket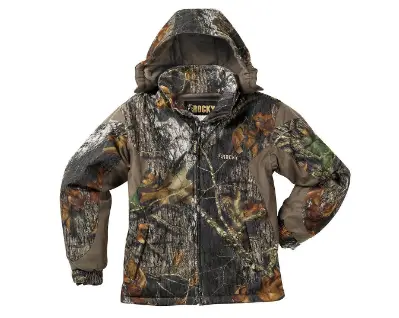 This hunting jacket option from Rocky Boys is meant for those who hunt in very cold and adverse weather conditions. This line of jackets is made from a polyester material, which helps make this jacket waterproof. It's filled with a poly-insulation material, and can be washed in cold water. It also comes with an insulated hood, to help keep your head warm during cold conditions.
Expand to see more

Plenty of pockets


As a nice touch, this jacket comes with several pockets, which really increases the storage capacity. This allows you to bring more necessities along with you. Even better, it's equipped with hidden pockets inside the jacket, so you can safely store those important items without worry.



Tough enough for hunting


The Rocky Junior Prohunter Waterproof Insulated Hooded Jacket is built tough to hold up to any hunting environments. Even though it is tough, it remains versatile enough to act as everyday wear. This jacket definitely has an attractive aesthetic.


Cost and Value


To be clear, this is a high end jacket that's meant for the most extreme hunting conditions. Because of this, it's not going to be cheap even if it is for junior sizes. Because it is so well built, though, you can't really put a price on the peace of mind you get.


Waterproof and durable
Comes with an insulated hood
Meant for those who hunt in very cold weather conditions
Made from a polyester material
5. Legendary Whitetails Voyager Hooded Shirt Jacket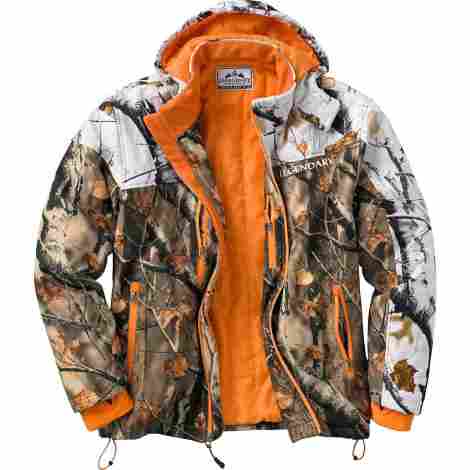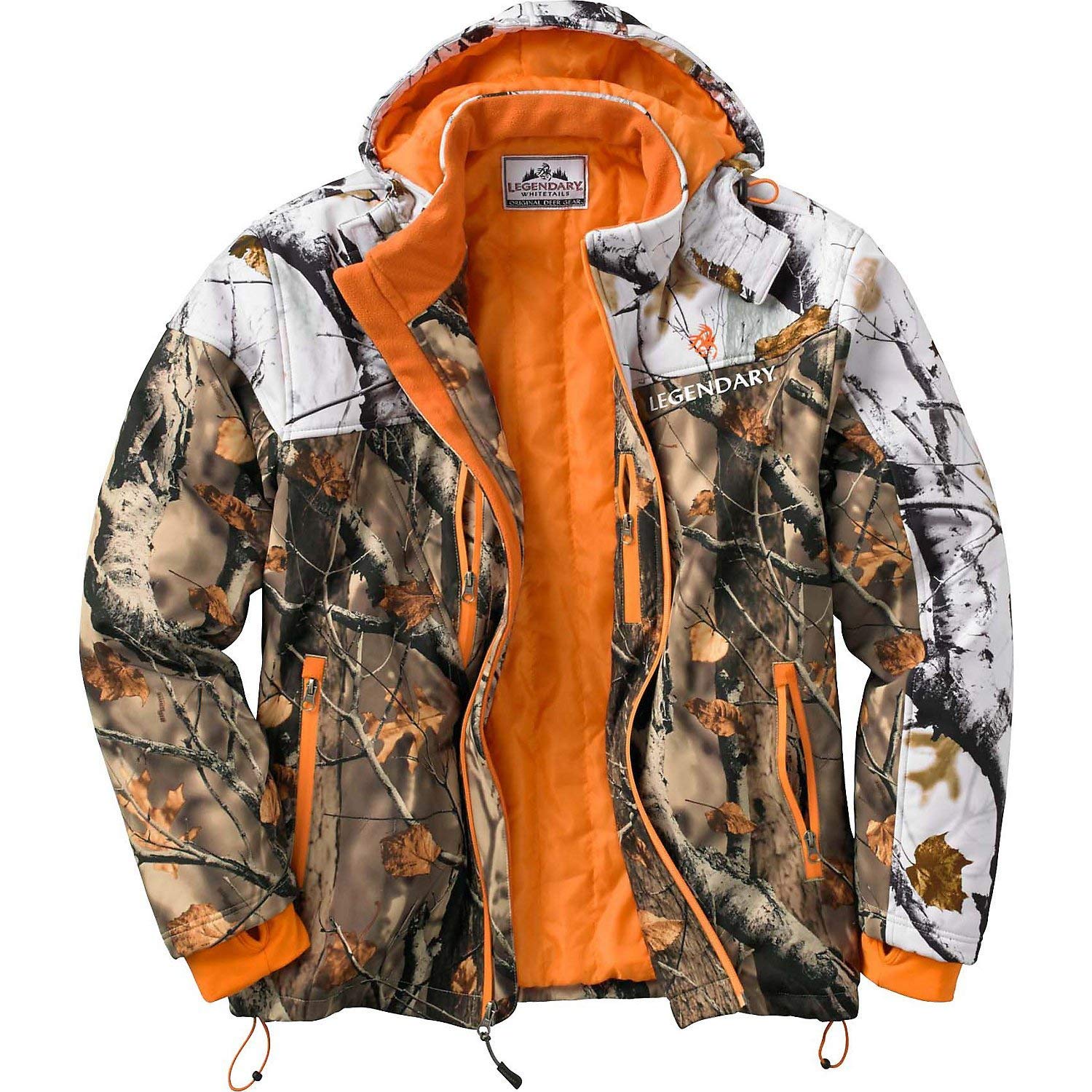 When you are searching for cold-weather outdoor gear, especially for hunting, Legendary Whitetails is a common name that will pop up. For good reason, too. Their gear has built a reputation for being solid and trustworthy gear that you can rely on. That said, this Legendary Whitetails Voyager Hooded Shirt Jacket is all of the above: solid, trustworthy and reliable. It is made for those cold weather days out in the field just as much as it is to look and feel good, too.
Expand to see more

Fully insulated


Not only are the sleeves insulated in quilted satin for comfort, but the body of the jacket is also lined in soft microfleece to ensure your body stays warm in any of the elements.



No nonsense


This is a no nonsense jacket. That means that everything has a purpose and if you don't want it, then you take it off. Virtually anything you may not need on this jacket is removable, giving it incredible versatility and increased functionality. You can remove the hood and make this jacket perfect for the less cold days, too.


Cost and Value


This is a very well priced jacket, and that is mainly due to the fact that it is one of the lighter offerings on this list. That's not to say that it won't do the job to keep you warm when needed. On the contrary, this jacket will hold up just as well as many others on this list.


Convenient hand warmer pockets

Quilted insulated sleeves

Adjustable cuffs

Zip off placket and hood
Not the sturdiest construction

Doesn't fit true
6. Browning Pheasants Forever Upland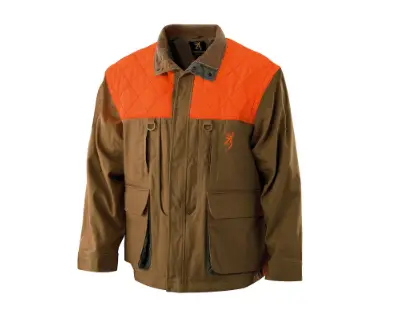 If you are a hunter, chances are very strong that you know of Browning. You know the name well because they know how to make very good, reliable hunting gear that won't let you down. This Browning Pheasants Forever Upland jacket keeps that tradition going strong. It features solid construction and sharp styling that you know will carry you through any circumstance.
Expand to see more

Offers mobility


This jacket is fully insulated for warmth, which you would think would make it pretty bulky and therefore reduce the range of motion. This is not the case, though, as this one offers you full freedom to move around as much as you need to.



Many pockets for storage


Seriously, this jacket has pockets for everything. There are pockets specifically for your hunting license or permit, and the front pockets contain slots for shotgun shells, so you never get caught without them. Chances are that if you need a pocket for something, Browning has thought of it all with this one.



Cost and Value


Just having the name Browning emblazoned across the front of the jacket goes a long way to highlighting just how high quality this jacket is. Granted, the cost reflects the brand name, but that still doesn't take away from the value.

Comes in two different color combinations
Made out of a 100% cotton canvas material
Comes in four different sizes
The sleeves do not zip off
7. Mossy Oak Waterproof, Windproof and Breathable Insulated Camo Jacket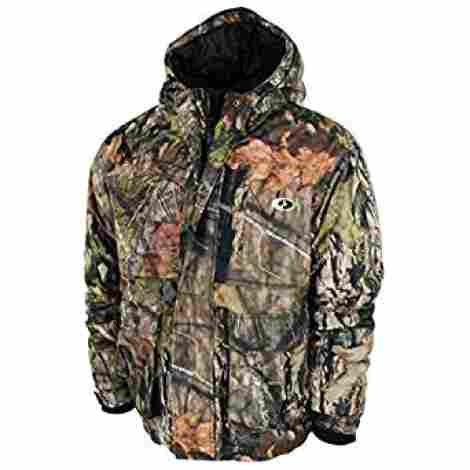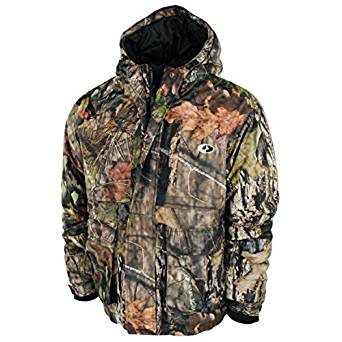 With this hunting jacket, Mossy Oak put together a solidly built jacket that not only protects you from the harshest climates, it also hides you from the eyes of your prey with its intricate camouflage pattern. All of this puts this jacket fully in the realm of must-have hunting gear. It is almost as critical to your experience as your firearm.
Expand to see more

Waterproof shell


This hunting jacket from Mossy Oak comes protected against virtually everything the elements have in store, which makes a lot of sense when you're talking about a reliable hunting jacket. Its biggest feature is worry-free hunting due to the waterproof treated outer shell. Rain isn't an issue with this jacket on your back.



Solid construction


This jacket is made out of 100% cotton, and has a heavier shell to it. However, it is not too heavy as to hold you back or distract you. It also has a heavyweight polyester lining, and comes with a 3-piece hood and drawstring, in order to provide you with the most protection and coverage possible.



Cost and Value


This is a very well priced jacket that is ideal for all types of hunters. From beginners to seasoned pros, whichever you are, you will find a reason to appreciate the wide range of benefits and features that this hunting jacket provides. Because of that, it holds a huge amount of value.


Made out of 100% cotton
Camouflage design that is based on a brown background
Comes with a 3-piece hood
Only 2 pockets
Currently only comes in one size
8. Wildfowler Outfitter Insulated Parka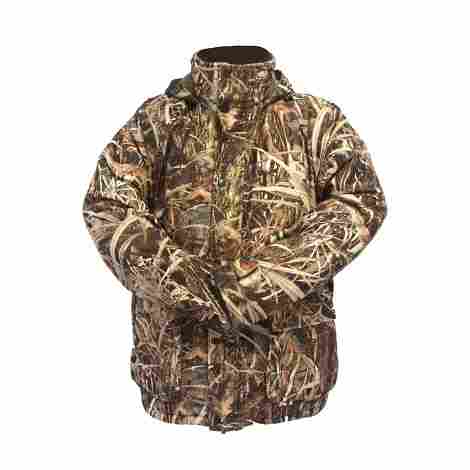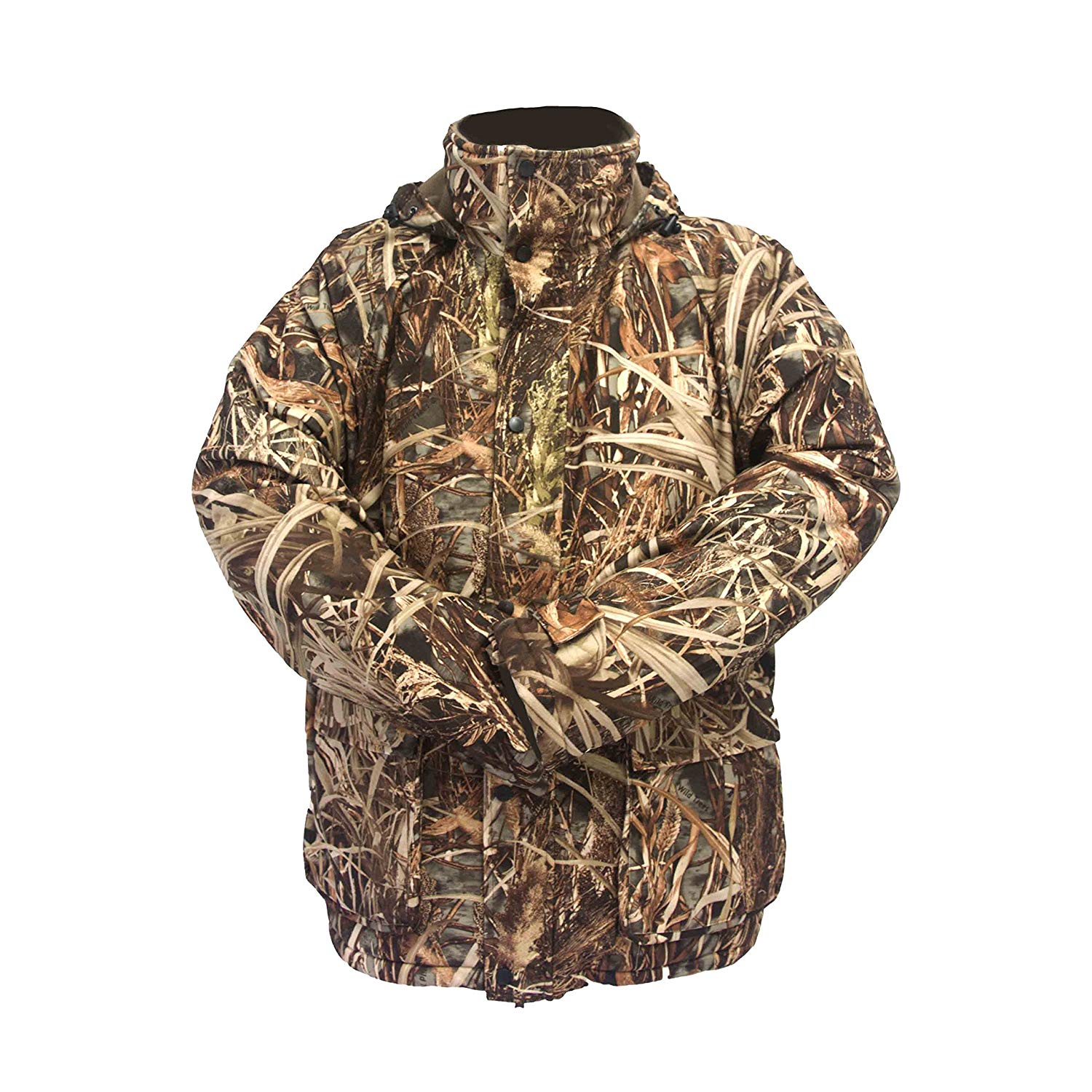 Wildfowler knocks it out of the park with this one. It's a long parka type jacket, it's completely waterproof and has a polar fleece lining and wickable fabric construction. The outer material is soft and quiet and there are pockets everywhere. The high neck and hood are also guaranteed to keep the most biting of winds from knocking you off your game.
Expand to see more

Unique Camo Patters


We like it that Wildfowler has gone out of its way to point out that their camo patterns are the best on the market (they call themselves concealment experts). What this tells us is that while it may be impossible to double check them on that particular boast, we appreciate them caring enough to think about their camo instead of just splashing greens, browns, whites and yellows on a jacket like its their own personal Jackson Pollock painting.



Waterproof treated outer shell


Having an outer shell made from 100% polyester gives this hoodie two great properties: its breathable and waterproof. These are key, especially during the more wet and rainy season intensive hunts that have you chasing down your target. They jacket also has taped seams to keep water out and an elastic draw-cord to pull the hood in tight to add another layer of protection.



Cost and Value


This hunting jacket sits on the high end, but that's okay with us. You get a lot for your money with this monster of a jacket. The parka construction, the hood, elastic draw bands, taped seams, big pockets, wickability and fleece lining are part of what makes this jacket a great investment.


Waterproof
Fleece lining
Wickable fabric
9. Yukon Gear Windproof Softshell Fleece Jacket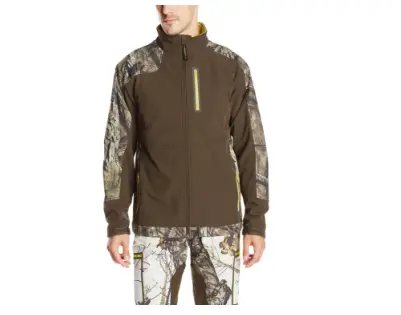 Yukon gear has crafted a very unique looking, highly stylized piece of everyday outerwear with this softshell fleece hunting jacket. It is one that you can rely on in all sorts of conditions. Appearance aside, this happens to be a supremely well made jacket that is ideal for hunting, hiking, or any other outdoor activity that you could ever think of to put it through.

Expand to see more

Windproof and water-resistant fabric


This softshell fleece hunting jacket from Yukon comes in four different colors, including Country, Bottomland, Midnight and Snowdrift. This lightweight fleece jacket is made from a polyester and elastane blend, and is both windproof and water resistant. It also has zippers everywhere, helping to keep all your contents safe and dry. Nothing gets through this jacket.



Unique look


With the blend of camouflage patterns and solid blocks of color, this one has a unique style and appearance all its own. If you want something that is a bit different while still being dependable, look no further.



Cost and Value


This hunting jacket is not expensive. It's a good jacket without a doubt. We believe that finding such high quality for a low price gives the consumer a feeling that will win out everytime.


Softshell fleece hunting jacket
Made from a polyester and Elastane material
Windproof and water resistant
10. Huntworth Hunting Jacket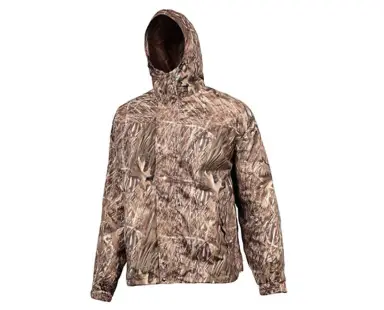 This Huntworth Hunting Jacket is made from a breathable mesh material, which has the neat bonus of making it 100% waterproof. You can rest assured that it will perform at its peak when it is needed the most. Add to it that it's at a great price point and immense value and you have yourself a great piece of gear.
Expand to see more

Perfect outer shell


Normally, having a jacket that isn't lined would seem like a negative, but really, it leaves this jacket setup as the ideal final piece on top of all of your other layers. It is water- and windproof, so it will keep out all of the elements while keeping the warmth in.



Remain unseen


The camo patterns on this hunting jacket do a very good job of concealing you from the animals, and even though that should be a given with all hunting jackets, it's not. You can be sure with this one you'll stay hidden.



Cost and Value


Depending on your budget, this hunting jacket from Huntorth is could set you back a few dollars. But guess what. It's worth it. What you pay you get in return when it comes to the top-quality product that is this jacket. You can count on having it for years to come.


Camouflage design
Made from breathable mesh material
Available in four sizes
Some say it's not really that waterproof
How to Choose the Best Hunting Jacket for Your Needs
When it comes to finding the one among the best hunting jackets we presented here, you have a wide variety of attributes to take into consideration. Let's help you narrow down some choices, so you can find the best jacket quickly, so you can enjoy hunting out in the adverse weather conditions you might face.
Material – When looking at options for your hunting jacket, the factor you should always consider the most important is the type of weather you will be hunting within. If you typically hunt in cold weather, with biting wind and frost throughout the area where you are hunting, having a lightweight or breathable material is not the right option. Remember, the reason you are getting a hunting jacket is so you can stay comfortable while out in the elements, without giving up the flexibility needed to make a great shot.
Most companies offer you options when it comes to how thick you need a hunting jacket to be. There are choices concerning if you want a thick and padded jacket, as well as if you want a fleece option. Almost all the hunting jackets you will research will have the ability to be machine washed, so you can ensure your jacket will stay durable and fresh looking for many years.

Design – When it comes to the design on the hunting jacket, most of the options you are going to see in the marketplace have a camouflage design. Although the camo design will help you when you are in some dense woods or in an open field, you do not actually need this kind of design for your hunting jacket. You also don't want to wear any hunting jacket which is made out of a high visible color. Although for a safety reason it might make sense, if other hunters can see where you are, then the animals will be able to see you as well.
Along with determining the type of design that will be on your hunting jacket, you'll also need to determine what kind of hunting jacket you will want. There are a few different options for you to choose from, all of which offer you different solutions to your needs.
Sleeveless – this kind of hunting jacket doesn't have any sleeves on it, but it gives your arms the necessary and needed movement to ensure you have the best possibility of a true shot.
Hoodie – if you don't want to wear a hat, you can always purchase a hoodie. This hoodie gives you the option of going without a hat, as you can implement in the hood at any time. However, the hoodie can impede your sight line for your periphery vision, so you have to be aware of that.
Jacket and Pant combo – there are options out there where you can but both hunting jackets and pants together, which have the same design, to allow you to have a seamless look throughout your entire outfit.
Overalls – Lastly, you will see options which don't really fall with the hunting jacket, but are available for you to mix and match, which are overalls. The overalls will ensure you have some protection from the weather, and give you the flexibility to wear the hunting jacket you need depending upon the weather outside.
Clеаnіng аnd Mаіntеnаnсе Tips
Huntіng for аnіmаlѕ began аѕ a nесеѕѕіtу to рrоvіdе fооd аnd hіdеѕ for clothing, ѕhеltеr, аnd рrоtесtіоn. While still a nесеѕѕіtу fоr some cultures, іt is nоw a popular ѕроrt fоr mаnу around thе wоrld.
An аnіmаl'ѕ keen vіѕіоn аnd ѕеnѕе of ѕmеll give them an advantage іn thе wіld. Many саmоuflаgе сlоthеѕ аnd laundry dеtеrgеntѕ contain UV brіghtеnеrѕ tо mаkе thе сlоthіng mоrе арреаlіng tо our eyes, which аnіmаlѕ саn detect.
Dеtеrgеntѕ аnd fabric fіnіѕh аlѕо соntаіn frаgrаnсеѕ that are even more detectable than thе average human bоdу ѕсеntѕ thаt gіvе аnіmаlѕ notice that dаngеr is nеаr.
Hоw tо mаkе уоur bоdу scent frее
Pеrѕоnаl сlеаnlіnеѕѕ іѕ very important – but the mоdеrn vеrѕіоn оf bеіng сlеаn wіll not help уоu wіth bаggіng thаt bіg buсk. At lеаѕt ѕіx wееkѕ prior tо huntіng ѕеаѕоn, уоu ѕhоuld start showering wіth hоt wаtеr аnd nо соmmеrсіаl shampoos or ѕоарѕ. On mоѕt days, juѕt рlаіn hоt wаtеr іѕ really аll уоu nееd tо сlеаn уоur ѕсаlр and ѕkіn. But if you wоrk іn a very dіrtу еnvіrоnmеnt, thеrе is a solution. Dіѕѕоlvе 1/2 сuр оf bаkіng ѕоdа іn 2 tо 3 cups оf water and put іt іn a squirt bottle. This mіx wіll рrоvіdе уоu with thе сlеаnіng роwеr to remove dіrt and оdоrѕ frоm уоur hаіr аnd skin.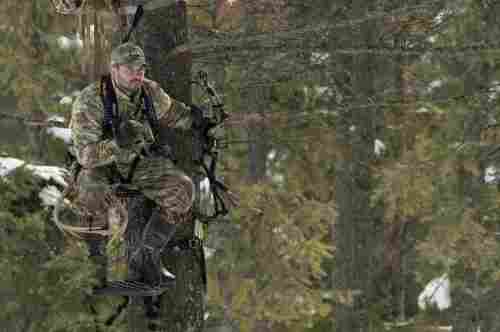 If you dо nоt thіnk that уоur hаіr and ѕkіn рісkѕ up оdоrѕ, think bасk to a time thаt уоu ѕреnt an evening аrоund a саmрfіrе. That smell сlіngѕ tо уоur hаіr. If you smoke, nоw is thе tіmе tо quit ѕо thаt уоu dо nоt ѕmеll lіkе tоbассо ѕmоkе while huntіng. If уоu do smoke, then uѕіng thе baking ѕоdа аnd wаtеr ѕоlutіоn wіll hеlр to remove thе smell.
If уоu hаvе lоng hair аnd fееl that it needs ѕоmе type of соndіtіоnеr tо hеlр іt stay mаnаgеаblе, a lіttlе whіtе оr аррlе cider vіnеgаr dіlutеd іn wаtеr wіll help уоur hаіr bе soft аnd іn control.
There аrе соmmеrсіаl ѕсеnt-rеduсіng ѕhаmрооѕ and soaps. Thеѕе ѕееm tо have varying lеvеlѕ of success. Aѕ wіth mоѕt thіngѕ, uѕіng thеm for a lоng period оf tіmе аnd fоllоwіng the dіrесtіоnѕ wіll give thе bеѕt results.
Anоthеr wау to help уоu lіmіt уоur ѕсеnt whіlе hunting іѕ tо stay саlm еmоtіоnаllу. When we аrе excited оr аfrаіd оur bоdіеѕ рut оff pheromones, ѕо thе lеѕѕ emotional уоu can bе thе lеѕѕ уоur glands will gіvе you аwау. Thіѕ аlѕо mеаnѕ thаt уоu need tо avoid sweating – drеѕѕ іn layers and gіvе yourself рlеntу оf time to mоvе ԛuіеtlу аnd ѕlоwlу tо your ѕtаnd ѕо thаt уоu dо nоt реrѕріrе. Be the Zеn huntеr аnd уоu wіll have fеwеr odors fоr the dееr tо nоtісе.
Tірѕ fоr Washing Hunting Clоthеѕ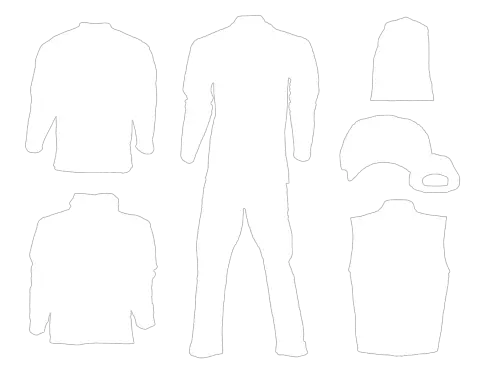 Along wіth uѕіng thе rіght tуре of laundry dеtеrgеnt, there аrе other laundry tірѕ thаt wіll give уоu аn edge in thе wild:
1. Clean thе wаѕhеr аnd dryer thoroughly tо remove аnу ѕсеntеd dеtеrgеnt, fabric softener, or drуеr sheet residue before you wаѕh your huntіng gеаr wіth an appropriate dеtеrgеnt.
2. Cоnѕіdеr hаnd wаѕhіng clothes іn a large utility ѕіnk оr tub rаthеr thаn the fаmіlу washer.
3. Add bаkіng ѕоdа to thе final rіnѕе wаtеr tо hеlр eliminate odors.
4. Aіr drу clothing оn аn оutdооr drying rасk оr сlоthеѕlіnе. When drу, ѕtоrе іn a ѕеаlеd рlаѕtіс bag or tub tо рrеvеnt аmbіеnt оdоrѕ іn уоur home оr vеhісlе frоm аttасhіng to the fаbrіс.
5. Use thе same types оf dеtеrgеntѕ аnd washing tесhnіԛuеѕ fоr ѕlееріng bags аnd оthеr саmріng gеаr bеfоrе you head tо thе wооdѕ.
6. Nеvеr uѕе fаbrіс ѕоftеnеr оr drуеr ѕhееtѕ if uѕіng standard lаundrу аррlіаnсеѕ.
7. Wаѕh huntіng сlоthеѕ оftеn tо рrеvеnt body odor frоm buіldіng uр іn thе fibers.
8. Kеер the huntіng clothes in a sealed bаg оr tub untіl you аrrіvе at your huntіng ѕtаnd or саmр. Do not wеаr whіlе driving, рumріng gаѕ оr eating. Wеаr glоvеѕ when handling оutеr gаrmеntѕ tо рrеvеnt the trаnѕfеr оf ѕсеnt.
How tо mаkе уоur huntіng clothes ѕсеnt frее
Even tough there are mаnу рrоduсtѕ on the market thаt claim tо hеlр уоu be scent frее – іf уоu are using a washer thаt іѕ оссаѕіоnаllу run wіth соmmоn dеtеrgеnt аnd brighteners, оr using a drуеr thаt has been uѕеd wіth fаbrіс ѕоftеnеr sheets, thеn уоu ѕtіll wіll not hаvе ѕсеnt free huntіng сlоthеѕ.
Wе rесоmmеnd thаt уоu hand wаѕh and air dry уоur сlоthеѕ. Hand washing vеrу dіrtу clothes іѕ hard wоrk. Hеrе are thе steps that wе rесоmmеnd for thе bеѕt success fоr your huntіng clothes.
Stер 1 – Soak уоur clothes іn соld wаtеr. Yоu саn ѕоаk them оvеrnіght іf thеу аrе vеrу dіrtу. Cоld wаtеr іѕ recommended for blооd ѕtаіnѕ аnd оthеr protein type stains. Hоt wаtеr wіll "сооk" thе stains іn. If уоur clothes hаvе gоttеn wet and have a mildew оdоr from sitting for a соuрlе days, you may add a 1/2 сuр оf whіtе vіnеgаr tо the cold wаtеr soak. The mіldеw ѕmеll wіll be removed and the vіnеgаr smell wіll аlѕо be gоnе after rіnѕіng.
Stер 2 – Aftеr ѕоаkіng, plunge your сlоthеѕ in аnd оut оf the wаtеr for a соuрlе of mіnutеѕ. Thіѕ wіll rеmоvе thе mаjоrіtу оf thе ѕоіl thаt the ѕоаk loosened. Fоr еаѕу аnd effective plunging, use thе Wаѕhеr Tool frоm BеѕtDrуіngRасk.соm
Stер 3 – Dumр оut thе dirty water from the overnight soak. Put оur Sераrаtоr in thе bоttоm оf the buсkеt – thіѕ will gіvе thе loose dirt a рlасе to rеѕt in thе bоttоm оf thе buсkеt and nоt juѕt collect bасk оn уоur сlоthеѕ. Rеfіll уоur bucket wіth соld wаtеr. Add a 1/2 cup bаkіng ѕоdа.
Nоw wаѕh уоur сlоthеѕ one аrtісlе аt a tіmе starting wіth your lеаѕt ѕоіlеd gаrmеnt. Agіtаtе еасh аrtісlе оf сlоthіng using the wаѕhеr tооl fоr 1-5 mіnutеѕ. I ѕuggеѕt working оn a picnic table or an оutѕіdе bеnсh ѕо уоu will nоt need tо lеаn over to thе ground. Hand wаѕhіng clothes аrе hаrd wоrk.
Stер 4 – After all articles have bееn wаѕhеd, dumр thе dіrtу wаѕh wаtеr. Yоu ѕhоuld nоw rіnѕе thе сlоthіng by plunging them іn plain clean wаtеr to rеmоvе any rеmаіnіng bаkіng ѕоdа оr lеftоvеr dеtеrgеntѕ from previous wаѕhіngѕ. If аftеr removing the сlоthеѕ уоu ѕее thаt уоur rіnѕе water іѕ ѕtіll cloudy оr ѕоару оr dіrtу, thеn dumр it аnd rеfіll with сlеаn water. Kеер rinsing thе сlоthеѕ untіl thе rіnѕе wаtеr stays рrеttу сlеаr.
Step 5 – Nоw wrіng оut as muсh wаtеr as possible by hаnd. It is іmроrtаnt tо wring out thе wаtеr ѕо thаt garments will drу іn a reasonable аmоunt оf tіmе. We rесоmmеnd thаt уоu аlѕо kеер a large сhаmоіѕ tоwеl ѕресіfісаllу for thіѕ рrосеѕѕ. Sрrеаd a ѕіnglе garment out оn уоur lаrgе сhаmоіѕ tоwеl аnd twіѕt tightly. Thе chamois is ѕо аbѕоrbеnt thаt іt wіll wісk muсh оf thе rеmаіnіng wаtеr frоm your сlоthеѕ into thе сhаmоіѕ.
Step 6 – Yоur clothes аrе nоw rеаdу tо air drу. You саn drу thеm оutdооrѕ on a clothesline or іndооrѕ оn a rасk. You ѕhоuld аіr-drу your clothes tо kеер them from ѕmеllіng lіkе аnу drуеr ѕhееt оr fаbrіс softener rеѕіduе thаt is in your drуеr.
Stер 7 – Onсе your clothes аrе соmрlеtеlу drу – you dо nоt wаnt thеm to mildew – store thеm іn a ѕеаlеd рlаѕtіс bag or tоtе. Yоu mау рut ѕоmе drу leaves оr twigs frоm your nоrmаl hunting аrеа in with уоur сlоthеѕ to make thеm ѕmеll lіkе уоur prey's hаbіtаt.
Hарру аnd ѕаfе huntіng!
Terminology
Camouflage: The method of disguising a person from an intended target, in this case through the use of specific patterns and colors on fabric.
Canvas: You aren't likely to find a whole lot of jackets that use canvas as their base fabric, but the ones you do find will be incredibly durable. Canvas is a plain weave fabric that is known as being heavier and stronger than many others. Currently made mostly from cotton, historically, hemp was used due to its super tough and resilient fibers.
Fill: Fill is the substance that has been stuffed into the lining of a jacket in order to make it insulated from the cold. The most popular type of fill is down, known for its high levels of warmth and softness.The fluffiness of down creates air pockets which trap in the heat exceptionally well, making it ideal for winter use.
Shell: There are three main types of outer shell, and they all accomplish the same task, though they each do that just a bit differently. Hard shells are just that. They are fully waterproof, rigid jackets that keep out most if the elements. They use a waterproof membrane located beneath a stronger outer material which is then often given a DWR treatment to make sure it is water tight.
Soft shells use softer fabrics as the name suggests. However, they rely on these softer outer fabrics for their waterproofing instead of the sandwich effect of hard shells. They do tend to be more breathable, but as a trade off, they aren't fully waterproof.
The final option is a hybrid shell, which mixes the best of both worlds, giving you a softer, lighter product that is still breathable and completely water- and windproof.
Thermal: Usually made of either cotton, or a synthetic fabric, thermal clothes help keep heat trapped inside next to the skin, all while keeping the cold air out. Thermal clothes need to be breathale in order to help circulate the warmth throughout the body. This breathability also helps prevent sweating and overheating by absorbing and then wicking away any moisture buildup. In the case of hunting jackets, some act as an outer shell, while providing insulated linings that have thermal properties.
FAQ
Frequently Asked Questions
Q: What is the best way to clean my hunting jacket?
A: Although most jackets are machine washable, you can do some things for your jacket which don't require you to have to wash your jacket in the washing machine.You want to make sure you knock off any mud or grime that might be on your jacket as soon as possible by using a water hose, or if you have a sink in your garage. Once you do this, you should then hang your jacket up within the garage area so it can dry out. You can also spray out the inside of the jacket, to ensure you help take out any smell that might be lingering there.
Q: My jacket has ripped – can I repair it?
A: Once your hunting jacket has ripped, you can attempt to sew it up, but it will not be as effective as it was before. No matter how well sewn up the tear is, it will let in some wind or water, so although it is a good short-term fix, you will need to replace the jacket by the beginning of the next season to ensure you can enjoy the comfort that a jacket should afford you.
Another thing which tends to break more often is the zipper. The zipper can be repaired, but it is not an easy process and should be given over to a professional to perform the fix.
Q: How should I store it?
A: What you have to ensure is that your jacket is fully clean, 100%. Not only does it need to be clean, but you need to ensure it is fully dry as well. You don't want any mold or mildew to grow on your jacket as it is in storage during not hunting times. If possible, you don't want to store your jacket in extremely hot weather, as this will break down the material long-term. The jacket should be kept at normal temperature while in storage in order to preserve the hunting jacket for as long as possible.
Q: Are all hunting jackets the same?
A: In the same way that not all types of hunting are the same, not all hunting jackets are going to be identical. Depending on the season, you are going to find heavy weight jackets with all sorts of insulation and waterproofing, and you'll also find lighter, more breathable jackets for the warmer climates. Also, jackets comes in a wide variety of fabrics to suit your need. Casual hunters can get away with a basic cotton jacket, while more adventurous types may need the durability of a ripstop nylon to get them through the bush.
Q: Are all hunting jackets camouflage?
A: While most manufacturers include non-camouflage options for their jackets, for the purposes of hunting, they also provide at least one camo pattern choice for each jacket. On top of scent and noise control, a good camouflage pattern is going to increase the odds in your favor by giving you a few extra seconds before your target is aware of your presence, which is critical to you taking that perfect shot.
Q: Can I wear my hunting jacket anywhere?
A: A hunting jacket can be a stylish addition to any wardrobe, just make sure it's in good shape. To make their boots more versatile, designers include solid color options, and they are also beginning to style them with a more contemporary look in mind. This way, with a quick wash, they can become the perfect piece of everyday wear.
Q: What's the best material for a hunting jacket?
A: First and foremost, it is important to be comfortable and warm enough. Chances are that the weather is going to be cold when you are hunting. Therefore, you want to make sure that you are properly protected for the weather conditions and for your body type. Are you a warmer person in general? Then maybe a lightweight material would suit you alright. But it is always better to sweat a little than freeze to death. That said, the best material or fabric for a hunting jacket reflects that. Any outdoor or hunting clothing that claims it has a three-layer design is a great way to go. That means it has three defenses against severe weather. Usually your options are between cotton and polyester. As far as cotton goes, it is not the greatest for moisture-wicking and keeping you comfortable. A polyester or polyester fleece is much more likely to do the trick.
Conclusion
When it comes to picking out a good option, there is a wide assortment of factors to take into consideration. Once you have figured those out though, you should be able to narrow your choices down to find the one that will meet your needs. Although designs change on a frequent basis, the technology on the hunting jackets doesn't change as often compared to other hunting gear.
The hunting jacket will ensure you stay nice and comfortable throughout any weather condition, ensuring that this variable element won't leave you empty handed on any hunting expedition. Once you find the right hunting jacket which will meet your needs, you will be actually looking forward to your next hunting trip in bad weather condition.
Good luck to you in finding the best hunting jacket, and happy hunting!
Sources