Best Hunting Jackets Reviewed and Rated
In a Hurry? Editors choice: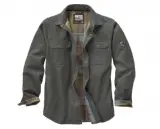 Test Winner: Legendary Whitetails Journeyman

Its hunting day and you have all of the equipment set up and ready to go. Your
rifles have been cleaned
and scoped properly, so your sightlines will be sharp. You have taken the time to set up your blind, and ensure it's in proper working order, and the blind now all packed up and ready to go. You have checked out your
decoys
, and they are all cleaned up and ready to go.  You are all set – and then you step outside, and notice it is chilly. You go to look for your hunting jacket and notice it doesn't quite fit the same way anymore.  You need a new one and are now forced to make a quick decision. Our list of the best will help you choose the right one quickly.
Standout Picks
Criteria Used for Evaluation
Materials
The kind of material you choose should be determined by the weather environment you typically hunt within. If you do most of your hunting in frigid areas, then having a breathable and mesh material is not advisable.
However, you also don't want something that is so bulky that it hinders your ability to be flexible in your hunting space. This is especially true if you are in a hunting blind, where you will need to be able to shift and move around in a limited amount of space as efficiently and effectively as possible. If you have a jacket that has too much padding, you might stay warm, but you will end up being more uncomfortable in the long run.
Another thing to consider is whether or not the material is waterproof. There is no worse feeling than being out in 45-degree weather when it is raining, and your body is completely soaked thru and chilled to the bone. Having a jacket which is waterproof is vital towards staying dry out in treacherous weather. If you don't hunt in areas where it rains very often, then you can go for another material which offers you the most comfort possible.
Style
Most guides you will read talk about the idea of having a hunting jacket which has camouflage on it. Although this seems to make sense, this is not always a necessity. You need to take into consideration where you hunt the most. If you are in dense woods, then obviously having camouflage is necessary.  However, unless you are in dense woods, then you don't need to have camouflage.
In fact, it is best to check the laws and regulations in your area before settling on a jacket. In some places, it is mandatory to have a specific percent of your body covered by a bright color. In most cases that color will be blaze orange.
Value
Every season, you will more than likely have a budget of what you can spend on hunting gear. A jacket can be very expensive, and eat up into your budget in no time. Having a one doesn't do you any good if you don't have any ammunition to do any shooting.
It is easy to spend a lot of money, so you need to know what your budget is before making any decisions. Once you know that, you should look for ones which are at or above your jacket by 20%, as you can typically find them on sales throughout the fall season.
Not only this but if you can keep the money and hold onto it until after the wintertime, you can normally get a great deal after the season is over, for you to have for the next season. It's like buying Halloween Candy the day after Halloween – it's still good candy that you are now getting on a great deal.
Brand
There are many different brands out there that have developed lines of hunting gear. Some are more popular than others, which means that they will carry a higher price tag than a lesser-known brand. Don't be fooled by the different marketing techniques out there. A good quality jacket that cost $50 dollars can be just as good as one that will cost you $200.
There are some hunters that simply prefer one brand over another, and that is due to their personal opinion. You have to choose a jacket that offers you comfort and functionality no matter what name is on it.
Top 10 Hunting Jackets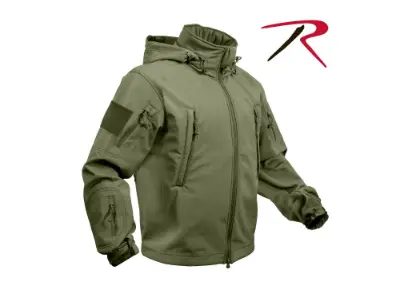 The number one hunting jacket on our list is from Rothco. This jacket is made out of a 100% polyester material and has multiple layers. The three layers help prevent moisture from penetrating through the jacket, as well as keeping the wind from getting through. Overall, it is designed for the ultimate comfort when you're out hunting. This jacket comes in 11 different colors, some of which are solid colors, and there are some options which have a camouflage design. It also comes in 14 different sizes, so finding the one that is right for you shouldn't be hard.
Multi-layer design
This one features multiple layers that help ensure you retain as much body heat as needed while you are out on your hunting trip. The hood on this jacket is lined with fleece and it is detachable for your convenience.
Notable features
There are two side pockets which are higher up than normal pockets. Also, the collar ensures your neck is fully protected from all-weather elements.
Cost and Value
The price of this Rothco jacket varies considerably depending upon the color and size of the jacket you need. However, it does have features that make it a worthwhile investment.

2

. Legendary Whitetails Journeyman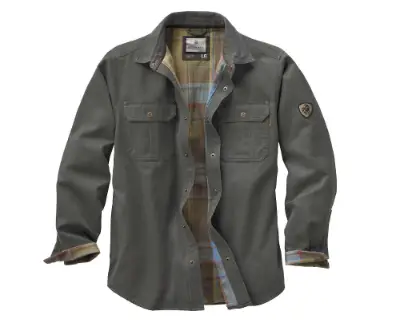 The Legendary Whitetails Journeyman has the look of your favorite casual button-down shirt with an added flannel lining. It is thicker than your favorite shirt, though, making it a lighter weight jacket. In this case, this jacket achieves the rear task of being and doing exactly what it looks like it should. It's a great everyday jacket meant for any purpose, and to that point, the name "journeyman" fits perfectly. From the worksite to the campground, and everything in between, you can rely on this one to treat you right.
Rugged look
On top of all of the features present here, the rugged waxed cotton appearance caps things off nicely. Wherever you may be wearing this one, you can know that you will look sharp.
Strong as can be
Since this jacket is designed to be used in any situation, it's a good thing that the makers chose to triple-stitch the seams and reinforce the jacket as a whole. This is a jacket that is going to last for years.
Cost and Value
This is an everyman's jacket that handles its purpose exactly how you'd expect, nothing less, nothing more. As such, its price point falls right in the middle of the average for jackets of this type.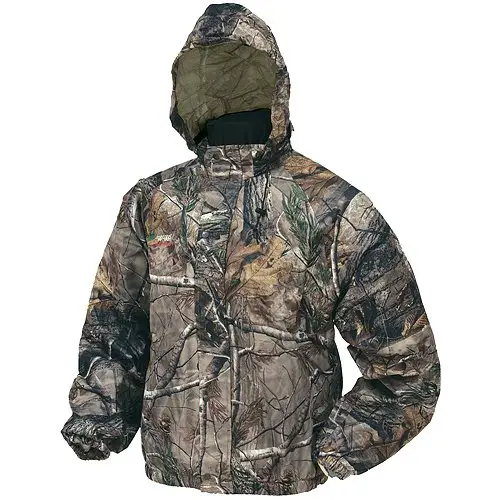 This classic piece from Frogg Toggs is a solid shell of a jacket that will keep you dry in any situation. It has everything you need to keep the water out, and as such is a great rain jacket. Now, keep in mind that you will need to have a fleece sweater or some other form of a heavy shirt layered underneath for added warmth, but this still makes an ideal final piece for any layering system.
Keeps you warm and looking good
This one from Frogg Toggs comes in five different colors. It has a fully adjustable hood with it and comes with storm flaps which can be shut closed using the provided snaps, to ensure the closure is tight and secure.
Quality construction
This jacket is made from 100% polypropylene, which means it is very lightweight and breathable. The camo design has a variety of brown hues on it to help you blend in with your surroundings. It's available in six different sizes, which range from Small to XXX-Large.
Cost and Value
Even though the price is a little bit high for this jacket, that doesn't do justice to the fact that this is a great jacket with great features. For what it is worth and what it does, this jacket provides immense value.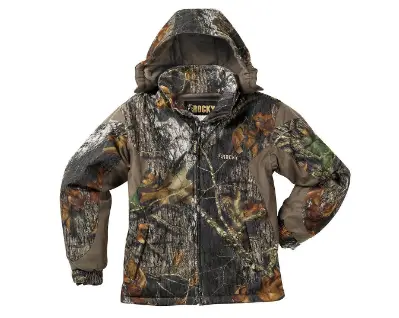 This option from Rocky Boys is meant for those who hunt in very cold and adverse weather conditions. This line of jackets is made from a polyester material, which helps make this jacket waterproof. It's filled with a poly-insulation material and can be washed in cold water. It also comes with an insulated hood, to help keep your head warm during cold conditions.
Plenty of pockets
As a nice touch, this jacket comes with several pockets, which really increases the storage capacity. This allows you to bring more necessities along with you. Even better, it's equipped with hidden pockets inside the jacket, so you can safely store those important items without worry.
Tough enough for hunting
The Rocky Junior Prohunter is built tough to hold up to any hunting environments. Even though it is tough, it remains versatile enough to act as everyday wear. This jacket definitely has an attractive aesthetic.
Cost and Value
To be clear, this is a high-end jacket that's meant for the most extreme hunting conditions. Because of this, it's not going to be cheap even if it is for junior sizes. Because it is so well built, though, you can't really put a price on the peace of mind you get.

5

. SITKA Men's Jetstream Jacket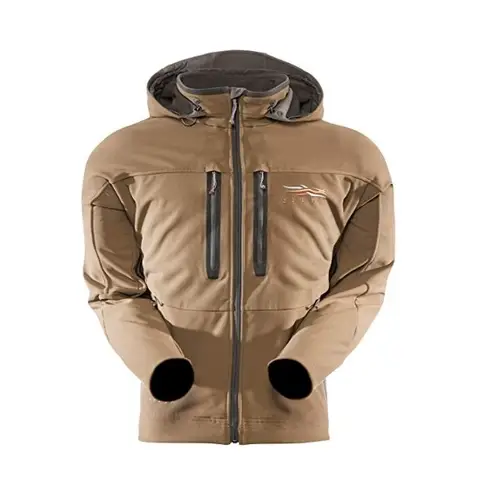 When it comes to finding a jacket that will not only keep you warm in the coldest weather but allow you to move around effortlessly while hunting, you want to have something like the SITKA Men's Jetstream Jacket. Built to last this jacket by SITKA gets the job done. Not only is it long-lasting and created 100% out of polyester but it's versatile enough to be worn daily. Say goodbye to heavy jackets you can only wear on hunting trips and try one of these.
Waterproof
One of the biggest qualities this has is its waterproof exterior. As previously stated, this jacket is constructed completely out of polyester; however, it also features integrated technology called the SITKA Waterfowl Systems. A system designed to help you remain dry and comfortable during any weather, through the art of layering. Furthermore, the layering not only helps keep you dry but it acts as an insulation barrier that supports you even in the wettest conditions. In other words, it keeps you warm even if you are drenched in cold, murky water.
Polygiene technology
Any hunter will tell you, keeping your odor at a minimum is key. Animals can not only smell 100 times more than humans, but it removes the idea of being incognito while hunting. This comes with Polygiene technology. New technology designed to safely and permanently neutralize odor by using natural antimicrobial silver salt already built-in. Which means even if you sweat (which you will during a long hunting spree), your scent will not escape the jacket at all.
Cost and Value
For the cost and value of this item, you want to keep in mind all the features you are receiving and how much of a quality you are getting. With that being said, this is a high-priced item. However, when you put into perspective that you are getting a jacket you can use every day and feel light and airy even in the coldest temperature, the price doesn't seem too high. It's a long-lasting item that will get the job done.

6

. Browning Pheasants Forever Upland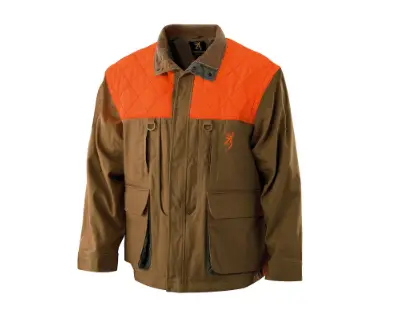 If you are a hunter, chances are very strong that you know of Browning. You know the name well because they know how to make very good, reliable hunting gear that won't let you down. This Browning Pheasants Forever Upland jacket keeps that tradition going strong. It features solid construction and sharp styling that you know will carry you through any circumstance.
Offers mobility
This jacket is fully insulated for warmth, which you would think would make it pretty bulky and therefore reduce the range of motion. This is not the case, though, as this one offers you full freedom to move around as much as you need to.
Many pockets for storage
Seriously, this jacket has pockets for everything. There are pockets specifically for your hunting license or permit, and the front pockets contain slots for shotgun shells, so you never get caught without them. Chances are that if you need a pocket for something, Browning has thought of it all with this one.
Cost and Value
Just having the name Browning emblazoned across the front of the jacket goes a long way to highlight just how high quality this jacket is. Granted, the cost reflects the brand name, but that still doesn't take away from the value.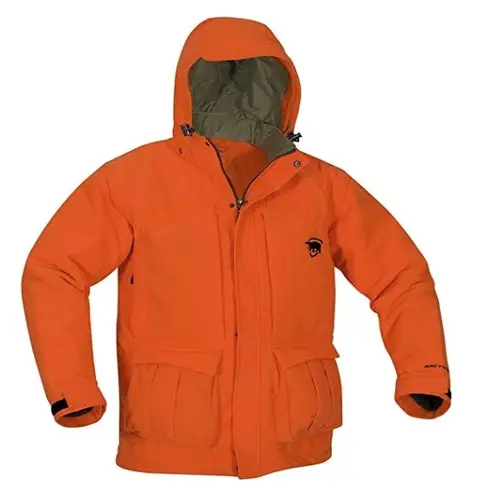 Designed to keep you warm in the coldest weather conditions, the ArcticShield Classic Elite Parka is prepared to help you get the most out of every camping trip. When seeking out a jacket finding one with built-in warmth is quite a necessity. It allows you to withstand any weather condition while still keeping you comfortable. It's all about getting the most out of your purchase. Furthermore, having something that works in-between seasons is always a good idea as well.
Adjustable Draw Cord
Due to being constructed specifically to keep you warm during the colder season, the ArcticShield Classic Elite Parka comes with adjustable drawcords. These cords are placed around the hoodie for easy access and so you can pull at them when you get cold. Having this placement allows you to further insulate the jacket keeping the warmth in as much as possible. Additionally, the jacket has wrist cuffs to further keep the cold and wind out.
Waterproof and Windproof
Constructed 100% out of other fibers, this jacket's exterior shell is completely waterproof and windproof while still being lightweight and breathable. One of the biggest issues in having a waterproof and windproof jack is how heavy they tend to be especially if they get wet. This one avoids all that by having a lighter weight material. It's all about feeling comfortable while doing an abundance of activities. Feeling comfortable is key when you plan on running, walking or even crawling.
Cost and Value
When it comes to the cost it is priced exceptionally well. Though it is not one of the cheapest on the market it does come with exceptional features that not all jackets created for hunting provide. Furthermore, you are getting top-notch insulation for the price, it's a win-win for all.

8

. Wildfowler Outfitter Insulated Parka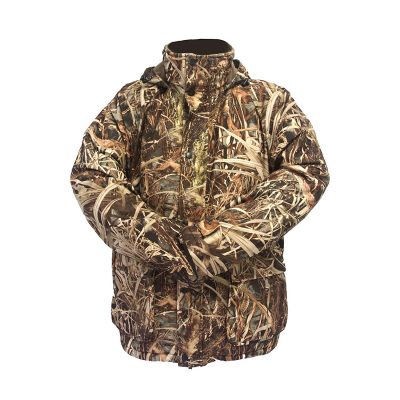 Wildfowler knocks it out of the park with this one. It's a long parka type jacket, it's completely waterproof and has a polar fleece lining and wickable fabric construction. The outer material is soft and quiet and there are pockets everywhere. The high neck and hood are also guaranteed to keep the most biting of winds from knocking you off your game.
Unique Camo Patterns
We like it that Wildfowler has gone out of its way to point out that their camo patterns are the best on the market (they call themselves concealment experts). What this tells us is that while it may be impossible to double-check them on that particular boast, we appreciate them caring enough to think about their camo instead of just splashing greens, browns, whites, and yellows on a jacket like it's their own personal Jackson Pollock painting.
Waterproof treated outer shell
Having an outer shell made from 100% polyester gives this hoodie two great properties: it's breathable and waterproof. These are key, especially during the more wet and rainy season intensive hunts that have you chasing down your target. The jacket also has taped seams to keep water out and an elastic draw-cord to pull the hood in tight to add another layer of protection.
Cost and Value
This sits on the high end, but that's okay with us. You get a lot for your money with this monster of a jacket. The parka construction, the hood, elastic draw bands, taped seams, big pockets, and fleece lining are part of what makes this jacket a great investment.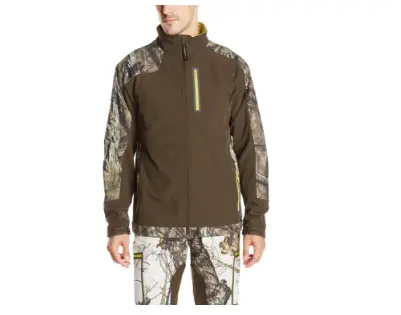 Yukon gear has crafted a very unique looking, highly stylized piece of everyday outerwear. It is one that you can rely on in all sorts of conditions. Appearance aside, this happens to be a supremely well-made jacket that is ideal for hunting, hiking, or any other outdoor activity that you could ever think of to put it through.
Windproof and water-resistant fabric
This softshell fleece from Yukon comes in four different colors, including Country, Bottomland, Midnight and Snowdrift. This lightweight fleece jacket is made from a polyester and elastane blend and is both windproof and water-resistant. It also has zippers everywhere, helping to keep all your contents safe and dry. Nothing gets through this jacket.
Unique look
With the blend of camouflage patterns and solid blocks of color, this one has a unique style and appearance all its own. If you want something that is a bit different while still being dependable, look no further.
Cost and Value
This one is not expensive. It's a good jacket without a doubt. We believe that finding such high quality for a low price gives the consumer a feeling that will win out every time.

10

. Huntworth Hunting Jacket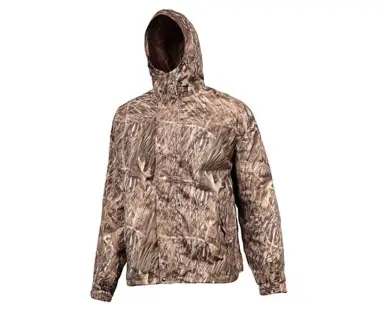 The Huntworth is made from a breathable mesh material, which has the neat bonus of making it 100% waterproof. You can rest assured that it will perform at its peak when it is needed the most. Add to it that it's at a great price point and immense value and you have yourself a great piece of gear.
Perfect outer shell
Normally, having a jacket that isn't lined would seem like a negative, but really, it leaves this jacket set up as the ideal final piece on top of all of your other layers. It is water- and windproof, so it will keep out all of the elements while keeping the warmth in.
Remain unseen
The camo patterns on this does a very good job of concealing you from the animals, and even though that should be a given with all hunting gear, it's not. You can be sure with this one you'll stay hidden.
Cost and Value
Depending on your budget, this option from Huntorth is could set you back a few dollars. But guess what. It's worth it. What you pay you get in return when it comes to the top-quality product that is this jacket. You can count on having it for years to come.

Subscribe to our Newsletter