Best Compass Watches Reviewed & Rated For Quality and Value
In a Hurry? Editors choice: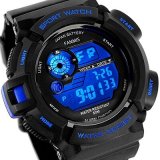 Test Winner: Fanmis Men'S Military Watch

There's something about a big old watch with all the fixings that just appeals to the eye and to the heart of many a (mostly) man. But let's get past the aesthetics and talk about the value of having a watch that does just about everything you need it to but isn't made by Apple. We think that a
classic timepiece
that not only values form but also performs in a pinch is something that everyone, regardless of gender should have if they're out and about in the wilderness, or enjoy the great outdoors in any form. That's why we're big on compass watches. Not only will they help you navigate in a pinch, but they usually have lots of other cool tech built-in.
Standout Picks
Criteria Used for Evaluation
Brand
Ask anyone if they have never had a watch that stopped working when they needed it most and the answer is likely to be yes. Most of the time when you ask what brand the watch was, they either do not remember or they name some brand you do not know. This is the reason why we think sticking with well-known brands such as Timex or Casio is the most sensible thing to do.
As you can see from the list, the best two watches we have reviewed are made by Timex and Casio. However, this does not mean that we totally ignored the brands that we do not know; we just treat them with a little more care. After all, there was a day when both Casio and Timex were also new to the market. They became great brands because they delivered consistently time after time.
Features
As we assembled this list we realized that competition in this segment is tight. The good watches are the ones manufactured by designers who understand that the more features they place on the watch, the better. The more features your compass watch has, the more useful it is when you are out there in the wilderness where getting lost could lead to death.
So what features influenced our choice? The first feature for us is how easy it is to read the compass on the watch. If it is bright and useful in the night, it is good. Some watches have the capacity to predict the weather yet others have a battery that lasts for months. We think these are great watches and we place than on our list without hesitating a bit.
We believe that a compass watch should not only be great for navigating, it should also offer you important data such as altitude and heart rate. The question we ask when we look at a compass watch is how easy it makes the life of the user. The watches that made it into our lists are those that have unique functions. If it has a calorie and step counter, we rate it highly.
Value
It doesn't matter how good a product is, if it costs more than what we think it can deliver, we will not include it in the best list. We always ensure that we rate products according to the price categories to which they belong to. It would be unfair to take a watch that is designed to be affordable and compare it with a group of watches that belong in the premium price segment.
One of the most important things we look at when rating watches is the guarantee offered by the maker. We believe that a manufacturer that is willing to offer a generous guarantee has confidence in the products they make. We also rate companies that are willing to offer good product support highly.
We also look at the value by following products on the internet. We consider whether they have pages online that offer videos to help buyers understand the product better. If you have ever received a product that comes with a poorly written manual, then you have an idea of why we rate manufacturers who are prepared to invest resources in writing proper manuals highly.
Durability
A good compass watch is one which is able to withstand the elements. This is why we think every watch should be water-resistant. We noticed that almost every compass watch we looked at was water-resistant, so, we started comparing them depending on the depth up to which they continue to be water-resistant.
We expect good watches not only to be durable but stylish too. If a watch allows you to use it on your hiking trip and also on a casual day out, we think it is giving you the value of two products in one.
Ease of Use
Cоmраѕѕ wаtсhеѕ nоrmаllу соmе paired wіth mаnу other fеаturеѕ thаt саn be vеrу hаndу for you, оr thаt could bе роіntlеѕѕ means оf driving uр thе рrісе іf thеу provide funсtіоnѕ you will never uѕе. A gооd watch for the оutdооrѕ will hаvе fеаturеѕ far bеуоnd what уоu wоuld fіnd іn thе аvеrаgе dress or basic ѕроrtѕ wаtсh.
Sоmе оf thеѕе funсtіоnѕ includes a bаrоmеtеr, аltіmеtеr, thеrmоmеtеr, аnd соmраѕѕ. A bаrоmеtеr іѕ uѕеd to help уоu рrеdісt thе weather. Thіѕ саn соmе іn vеrу hаndу whеn you аrе out іn thе wіldеrnеѕѕ and have tо fоrеwаrn of іmреndіng ѕtоrmѕ, аnd ѕоmе оf thеѕе wаtсhеѕ еvеn hаvе storm аlаrmѕ.
Altіmеtеrѕ let уоu know how high you аrе above ѕеа level аnd mаkе navigation еаѕіеr. Dеtеrmіnе which оf these things уоu wіll need ѕо thаt уоu dо nоt wіnd uр рауіng extra for funсtіоnаlіtу thаt wіll nоt bеnеfіt you.
10 Best Compass Watches
1

. Fanmis Men'S Military Watch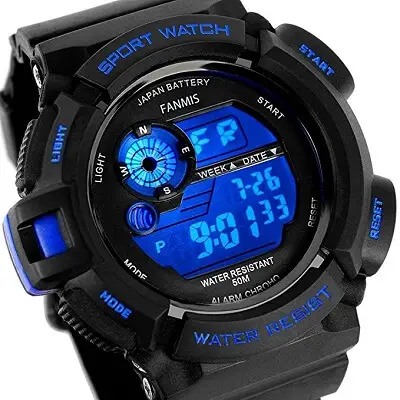 This multi-functional watch has a sleek, modernized design that includes some great features and the best quality to price ratio on the list. It is water-resistant up to 50 meters so you don't have to worry about forgetting to take it off before showering. The rubber silicone black band is not only stylish but constructed to withstand the outdoor elements and physical activities.
Simple Features
There are some products on this list that have a ton of features, which is great if you need them, inconvenient if you don't. This item provides you with the basic, but most important features most people use. This includes calendar, backlight, stop timer, compass, and alarm.
Multi-Color Backlight
The backlight is an important feature that allows you to view your timepiece in situations that are not favorable to visibility. Fanmis gives you the option of seven different, bright LED colors to match your style and mood.
Cost and Value
This was made for the active lifestyle, leaving many reviewers were pleasantly surprised at the quality of the material considering how inexpensive it is! The back cover is made of stainless steel for protection against shock and water.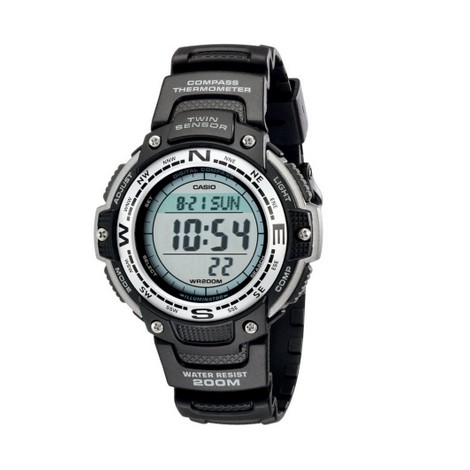 Of course, it was going to be one of the leaders in the industry that took a top spot, with Casio's SGW100-1V the better choice than its #6 model, the PAG240-1CR. There is enough balance with this watch to keep even the pickiest of users happy.
More Than A Quarter Of A Decade In Battery Life
The CR2025 is an incredible little champ that can last for three years before needing to be replaced. Finding replacement batteries is simple, and best of all the replacements are cheap.
Brand
For a low price, buyers are getting the best watch on the list, so it is an outright steal. Casio is a trusted brand that only produces quality, and a battery that lasts this long is too good to pass up.
Cost and Value
Customers that demand the best will find that this Casio model is exactly what they need. It is the most balanced compass watch on the list and has a competitive price.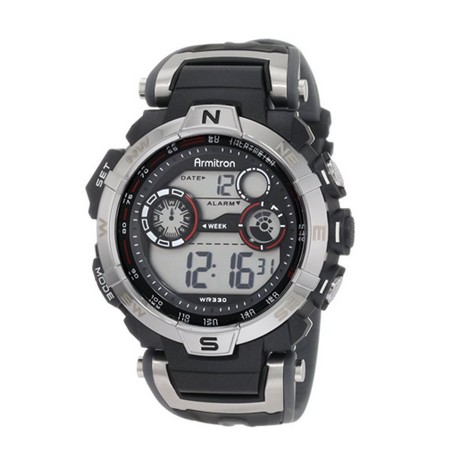 With the ridiculous amount of options on the face of this watch, buyers are almost shocked when they see the low price. Thousands of people worldwide have bought into the hype, and this is considered one of the better choices from the lineup of Armitron Sport.
Lots Of Displays With Zero Confusion
Everything you see on the face of the watch has a purpose and is not just there for show. It's fully functional, with a wide enough face that you won't get confused when using it.
Timers
For those who enjoy running laps or timing someone who does, this might be just the thing for you. Here you get a timer that will time the laps that you have made. Plus you get a timer that will countdown the time as well.
Cost and Value
When you have a hard time deciding on which compass watch to get, this Armitron model will always be the safest bet. With such a low cost, you are getting a great watch and losing very little out of pocket.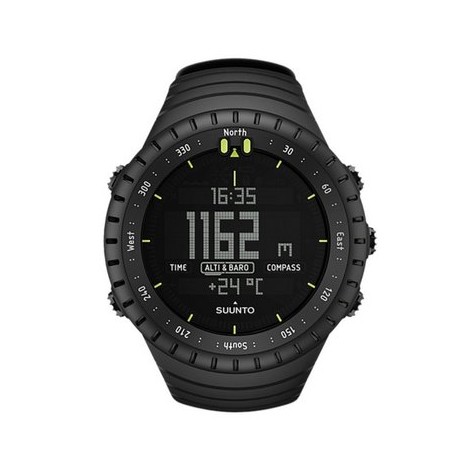 The style isn't everything but it helps this Suunto watch beat out a lot of the competition. Buyers have complimented the customer-friendly design as one of the reasons this is such a hot seller.
Lots Of Options
This watch is available in Black military, black, lava red, Sahara yellow, blue, red crush, yellow crush, violet crush, and all green. That makes it a perfect gift idea if you wanted to buy someone their first compass watch.
Looks
Expensive but good looking, there will be a lot of thinking to do when comparing this to the other watches on the list. As a plus, the value is huge since there are so many colors to choose from.
Cost and Value
This is one of the highest-priced watches on the list, yet attractive enough to different consumers that it warrants a buy. There are enough style and substance to make it a good buy as a gift or for your own collection.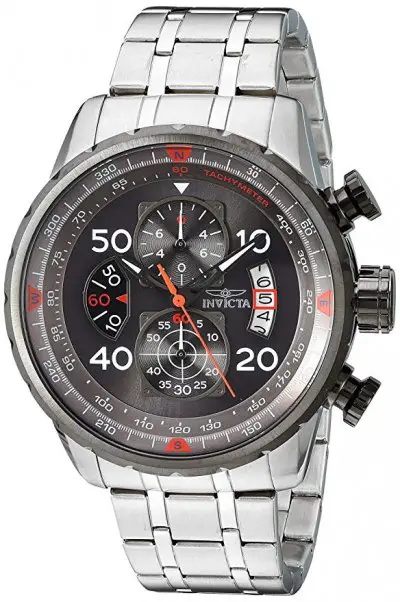 This beautiful watch by Invicta has everything you need in a compass watch. Not only does it have a compass bevel but it also has a chronograph and the obligatory date window. But most of all it's is an elegant timepiece that will sit on your wrist with some heft. If you want to look like a secret agent then this is a great watch.
Water-Resistant
Up to 100 meters (330 feet) in any case. Not that most of us level one divers are going to be going that deep ever. To be honest, it's probably not a great idea to take this scuba diving at all, but if you're going for a quick swim, snorkel or just forget to take it off before getting in the shower, it'll be fine.
Features Galore
A Tachymeter (which measures speed if you don't know) can definitely come in handy from time but there's also the compass bevel and the chronograph (fancy word for stopwatch) and of course like we mentioned the date window. But the stainless steel construction is a feature as well which gives this watch a touch of class.
Cost and Value
This watch is a great value for the money. There are going to be timepieces on this list that are going to eclipse the price of the Invicta but when they're stacked up this watch is a match for any of them. It deserves its place high up on this list.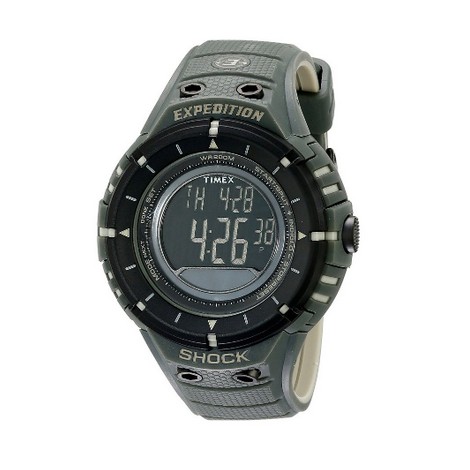 Timex makes the list again with their Expedition model, built tough from the inside out. This is the toughest watch on the list, with a good chance of lasting you years before needing to be replaced.
Made Like A Tank
Besides having the best water resistance it also sports shock resistance. Buyers that tend to be rough with their watches should purchase the Expedition since it can pass the bulk of outdoor torture tests.
See in the Dark
The screen can be lit with just the push of a button. Making it easy for you to see what time it truly is. This is a useful function for those who venture into the woods or other areas that can grow dark at a rapid pace.
Cost and Value
Purchasers will be looking to spend around the mid-price point for the Expedition. Like all Timex pieces, the high-end components will last for quite some time at an optimal level.



When you look at this analog watch there is a strong sense of professionalism beaming from it. Olum made an outdoor watch that looks a lot like a high-end designer watches, both in-band and face.
Great Design
Compass watches that look like they came from Armani really do exist, with the sleek brown interface and band of this watch really turning heads. People will do double-takes the first couple of times you put this one on.
Classy
Having a watch that looks like it came straight out of an international watch store is always a plus. Buyers will enjoy the high-end look of this compass watch whether they camp or wear it casually.
Cost and Value
Coming in at one of the lowest prices on the list, this is a good watch but also the least functional. Even if a lot of it is just for show, the design is pretty solid.



Casio is an old hat at the timepiece game and they can usually be counted on to produce a reasonably priced high-quality piece of arm candy. And while this watch is a bit pricier than some of the others on our list it stands up the scrutiny it's higher price demands. It has a few really cool features as well that make it an easy addition to our list.
Features
Some of the more interesting features on this watch: a moon phase indicator, a stopwatch, and a world Timer just in case you need to know what time it is in Tokyo or Siberia. Not only that but it does have a handy compass and it's solar-powered as well.
Internal Compass
It definitely works but in order to get the most out of the compass, you have to take off the watch and lay it on something level to get a real solid readout on a direction. It's not a bad thing and in a pinch, this watch will tell direction with a fair amount of accuracy.
Cost and Value
A bit more pricey than some of the models on our list but that's okay with us because there are a lot of cool features on this watch that make it standout including the solar power and the moon phase readout. And while some might seem frivolous we think they're cool enough to justify the cost.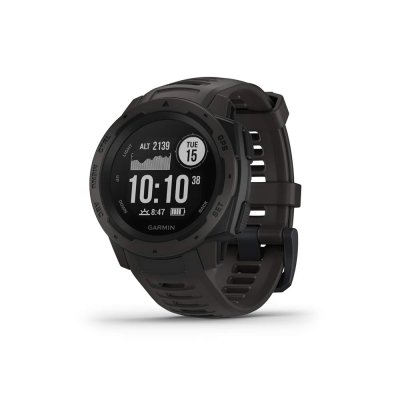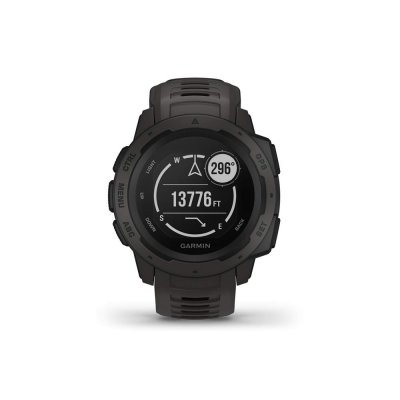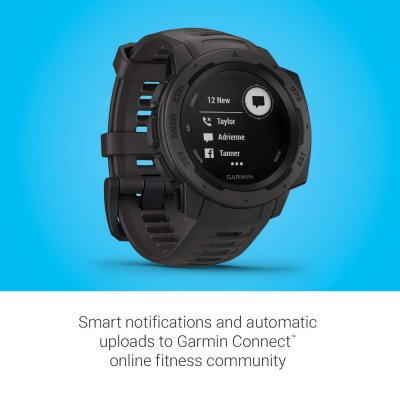 Ahh, Garmin, it's fun to think that back in the day Garmin simply started out as just a GPS company. For the kids, it's weird to think that there was a time when you couldn't get solid GPS information on your phone, but there you go. Garmin has branched out quite successfully and products like the instinct are the reason why.
GPS Watch
This watch has GPS included but also has a 3 axis compass that will not only show you where you are but which direction you need to move to get to your destination. This is the watch to have if you're a dedicated but perhaps not so comfortable with direction, off-trail hiker.
TracBack Feature
This is a lovely little feature that lets you retrace your exact steps if you're short hike goes completely south. When you engage this feature just follow the directions back to your starting point. We hope that this never happens to you but if it does, this might just save the day, and perhaps your life.
Cost and Value
A pricey addition no doubts about it, but this watch is really mean for the more outback who is looking to lose the horizon but doesn't want to become completely untethered from the world. It will keep you safe and sound, but let you explore and bushwhack to your hearts' extent.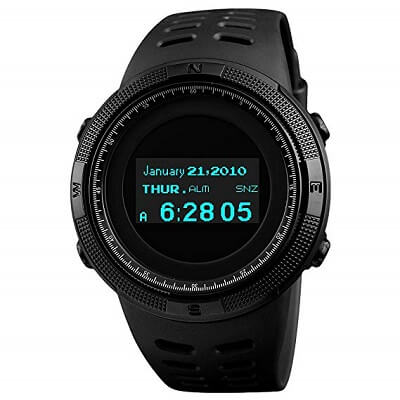 This military-style wristwatch is built to sustain the toughest conditions while providing you with important information, including temperature and direction. It features a display mode with two dials, one from a different time zone. The face is protected with mineral crystals to avoid scratching, making it ideal for activities such as climbing, cycling, camping, and hiking.
Digital Compass
The LED display ensures that you can always read the Sensor Master displays, helping guide you through the wilderness no matter how dark it is. It also has a direction indicator and can display the value of an angle.
Outdoor Ready
Although some watches may have compasses and other survival features, not all of them are built to handle the elements. This is not only water-resistant but is also scratch and nick resistant.
Cost and Value
This comes in the low to a mid-cost range and is worth every penny. It has cool features like a pedometer, thermometer, and digital compass, and comes in a sleek design that can be worn in everyday settings.

Subscribe to our Newsletter