Best Compass Watches Reviewed & Rated For Quality and Value
Thanks to GPS and modern technology, as long as you have your smartphone with you, it is almost impossible to get lost. But what if you're in an area that can't get a Wi-Fi signal or the phone's battery dies? Having a compass on hand every time you go out camping, hiking, fishing, or any other outdoor activity, can be a real life saver. It's also the tool of choice for outdoor enthusiasts and adventurers who like to explore the world around them.
A compass watch is basically a watch that has a built-in navigation system. This not only means that you'll always have access to this important instrument, but it saves space and provides you with easy and quick accessibility. You no longer have to go searching through your pockets or bags every time you want to check the direction, just look at your wrist. Even if you are not someone who spends a lot of time in nature, having a compass and the ability to read it is important in emergency situations.
With so many different types of compass watches on the market, you may be feeling overwhelmed with choices. There are some factors you should consider to make sure that your needs are met. Do you need something that is water resistant? Will you be traveling on different elevations? Do you need any other special features that will assist you in your adventures? Whether you are looking for something simple and basic or one packed with features, our list of the top rated compass watches on the market will help you find the best of the best!
Featured Recommendations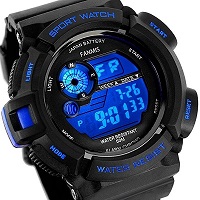 Fanmis Men's Military Watch

Our rating
Multi-Functional
Price:

See Here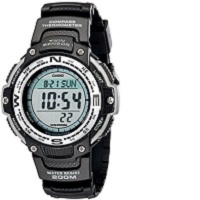 Casio Men's SGW100-1V

Our rating
World time
Price:

See Here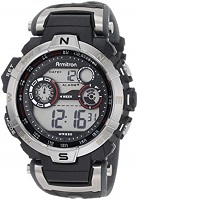 Armitron 408231RDGY

Our rating
Good water resistance
Price:

See Here

Casio and Timex are the top dogs, and they create their best models by leaning on quality parts. Both companies don't sell cheap products, yet are priced just right for the average consumer. The alternative to the two big brands are the little people like Sharp Survival, with their company offering the single most unique watch on the list. All of the companies listed have one thing in common, and that's compass watches that can take a lot of beating.
With the way the watches are made, there really isn't much you can do to clean them other than surface cleaning. Experienced users will be able to take the watches apart and fine tune them, but the average user only needs to wipe it down when it gets dirty. Other common sense practices include keeping it out of extreme heat conditions and not submerging it in water for long periods of time.
10 Best Compass Watches
1. Fanmis Men's Military Watch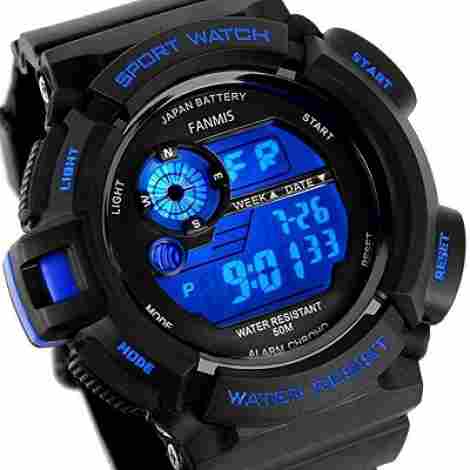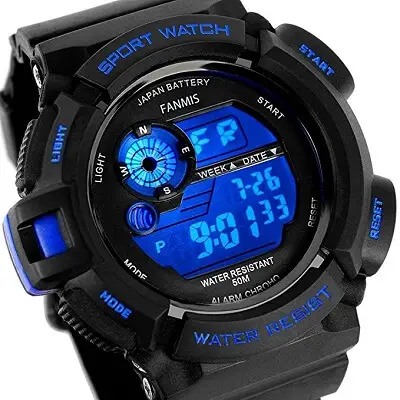 This multi-functional watch has a sleek, modernized design that includes some great features and the best quality to price ratio on the list. It is water resistant up to 50 meters so you don't have to worry about forgetting to take it off before showering. The rubber silicon black band is not only stylish, but constructed to withstand the outdoor elements and physical activities.


Expand to see more
Simple Features

There are some products on this list that have a ton of features, which is great of you need them, inconvenient if you don't. This item provides you with the basic, but most important features most people use. This includes calendar, backlight, stop timer, compass, and alarm.

Multi-Color Backlight

The backlight is an important feature that allows you to view your timepiece in situations that are not favorable to visibility. Fanmis gives you the option of seven different, bright LED colors to match your style and mood.

Cost and Value

This was made for the active lifestyle, leaving many reviewers were pleasantly surprised at the quality of the material considering how inexpensive it is! The back cover is made of stainless steel for protection against shock and water.

Decision Time

This is a great piece for anyone looking for something simple and basic, yet durable and stylish. If you want something with extra features, you'll want to check out some of the other items on the list!

Can choose from 7 different color backlights
Back cover made of stainless steel
Includes extra features like calendar, alarm, and stop watch
Water resistant up to 50 meters
Instructions can be challenging
Some reviewers found it bulky
2. Casio Men's SGW100-1V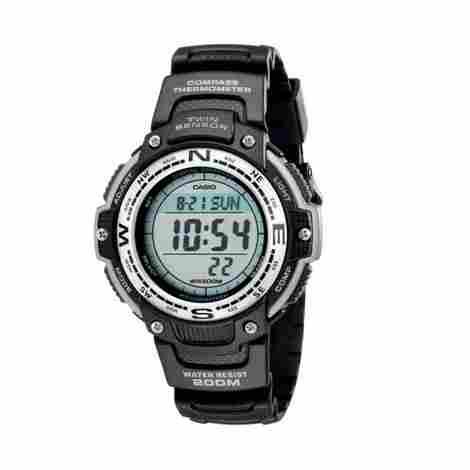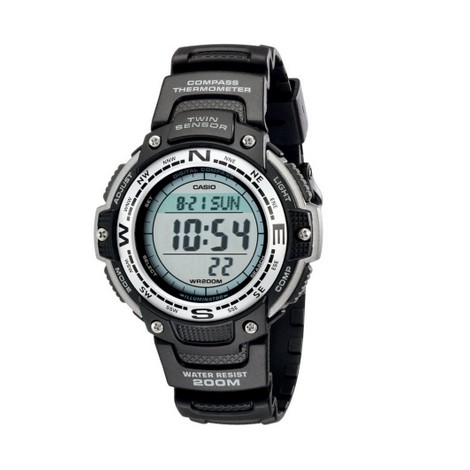 Of course it was going to be one of the leaders in the industry that took a top spot, with Casio's SGW100-1V the better choice than its #6 model, the PAG240-1CR. There is enough balance with this watch to keep even the pickiest of users happy.


Expand to see more
More Than A Quarter Of A Decade In Battery Life
The CR2025 is an incredible little champ that can last for three years before needing to be replaced. Finding replacement batteries is simple, and best of all the replacements are cheap.
Features and Specifications
Water resistant up to 660 ft.
Direction
and temperature sensor
Resin band with mineral glass
World time
Price/Value
For a low price buyers are getting the best watch on the list, so it is an outright steal. Casio is a trusted brand that only produces quality, and a battery that lasts this long is too good to pass up.
Decision Time
Customers that demand the best will find that this Casio model is exactly what they need. It is the most balanced compass watch on the list and has a competitive price.
No weaknesses in design or function
Best battery off of the entire list
Large easy to read display
Works great in bad conditions
Stopwatch resets after one hour
3. Armitron 408231RDGY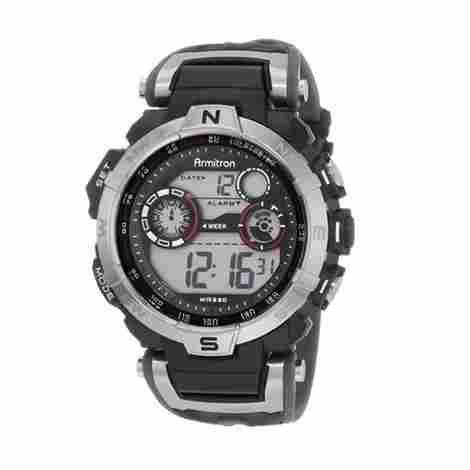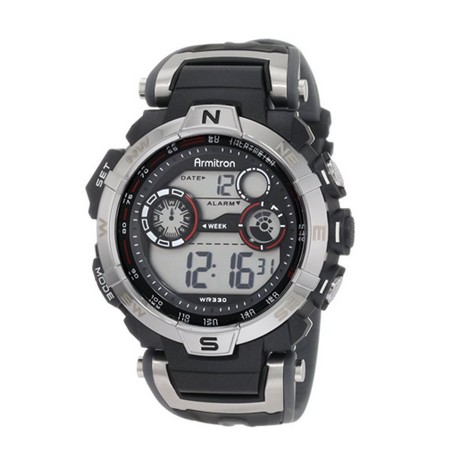 With the ridiculous amount of options on the face of this watch buyers are almost shocked when they see the low price. Thousands of people worldwide have bought into the hype, and this is considered one of the better choices from the lineup of Armitron Sport.


Expand to see more
Lots Of Displays With Zero Confusion
Everything you see on the face of the watch has a purpose, and is not just there for show. It's
fully functional
, with a wide enough face that you won't get confused when using it.
Features and Specifications
Two tone digital watch
44mm resin case with acrylic dial window
Lap timer, countdown timer, military time and hourly charm
Water resistant up to 330 ft.
Price/Value
This Amitron model is one of the lowest priced on the list, so the value is solid. You're getting a high quality sports watch with an impressive set of features.
Decision Time
When you have a hard time deciding on which compass watch to get, this Armitron model will always be the safest bet. With such a low cost, you are getting a great watch and losing very little out of pocket.
No wasted space on the face
Fantastic water protection for swimmers and snorkelers
Beastly battery
Clear LCD screen
Missing some key outdoor features
4. Suunto SS014279010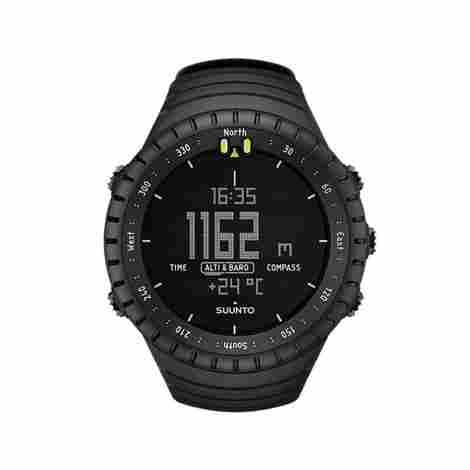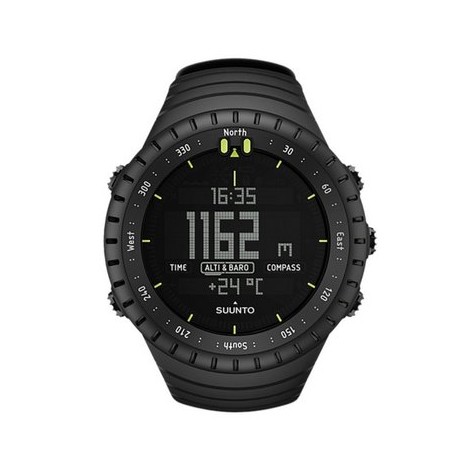 Style isn't everything but it helps this Suunto watch beat out a lot of the competition. Buyers have complimented the customer friendly design as one of the reasons this is such a hot seller.


Expand to see more
Lots Of Options

This watch is available in Black military, black, lava red, sahara yellow, blue, red crush, yellow crush, violet crush and all green. That makes it a perfect gift idea if you wanted to buy someone their first compass watch.

Features and Specifications

Altimeter, barometer and compass functions
Elastomer strap
Temperature and storm alarm
Sunrise and sunset times built in


Price/Value

Expensive but good looking, there will be a lot of thinking to do when comparing this to the other watches on the list. As a plus the value is huge since there are so many colors to choose from.

Decision Time

This is one of the highest priced watches on the list, yet attractive enough to different consumers that it warrants a buy. There is enough style and substance to make it a good buy as a gift or for your own collection.
Great choice of fun colors
Solid build quality
Over 400 locations for the sunrise and sunset function
Accurate compass with plenty of screen real estate
All black version makes display a pain to read
5. Casio PAG240-1CR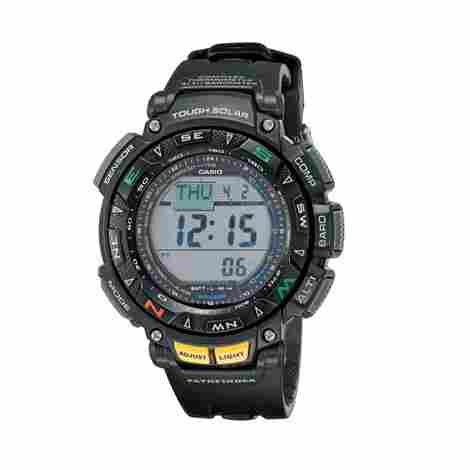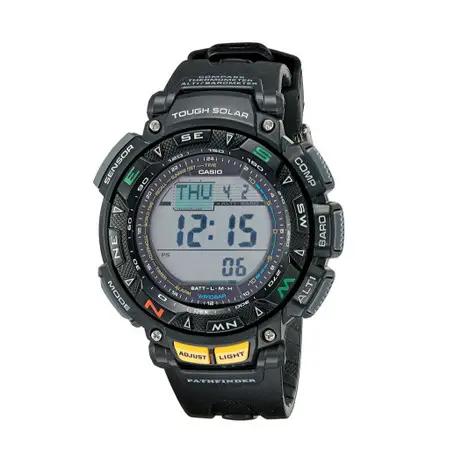 Casio is another big name in the industry, and just like Timex they built their reputation off of quality. The Pathfinder is an excellent example of how to do a compass watch correctly while blending in other high end specifications.


Expand to see more
Solar Powered

Why don't all watches have this? Even the most basic watches would benefit from a solar powered option. Even without exposure to light customers can count on a life of six months to carry the watch just fine.

Features and Specifications

Digital compass, altimeter, thermometer and barometer
World time, city code display, stopwatch and five daily alarms
51mm stainless steel case with mineral dial window
Battery power indiactor


Price/Value

Turning away from the Pathfinder strictly because of price is understandable, since it is the first high priced compass watch on the list. But the value is immense, with features in its core design that none of the other watches on the list have.

Decision Time

It's expensive, but very much worth the purchase if you need an all in one watch. Finding a needle in a haystack is very much possible with the Pathfinder on your side.
Just about every function an outdoorsman would need
Water resistant up to 330 ft.
Solar power option guarantees power
Auto calendar is preprogrammed until 2099
6. Timex Expedition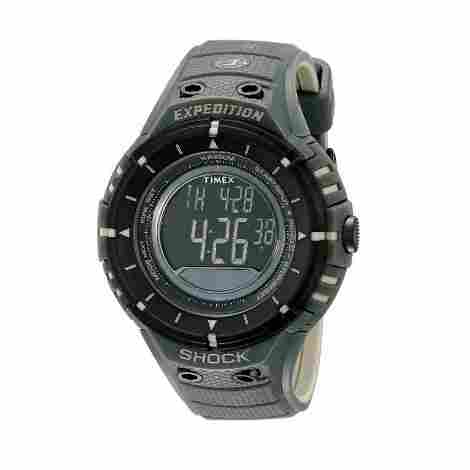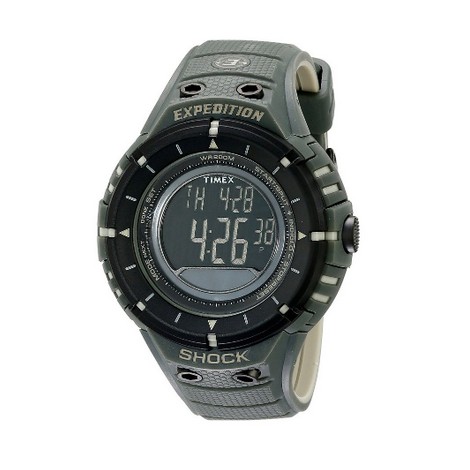 Timex makes the list again with their Expedition model, built tough from the inside out. This is the toughest watch on the list, with a good chance of lasting you years before needing to be replaced.


Expand to see more
Made Like A Tank
Besides having the best
water resistance
it also sports shock resistance. Buyers that tend to be rough with their watches should purchase the Expedition since it can pass the bulk of outdoor torture tests.
Features and Specifications
Meets shock resistance for I.S.O. standards
Indiglo light up dial
Water resistant up to 660 ft.
Digital compass
Price/Value
Purchasers will be looking to spend around the mid-price point for the Expedition. Like all Timex pieces, the high end components will last for quite some time at optimal level.
Decision Time
Timex would have been higher on the list if they offered more than a 1 year warranty out of the box they may have been the top compass watch. This is still a respectable finish from one of the best names in the industry.
The toughest watch on the list
Comes in black or olive/black
Bright and easy to read digital compass
Perfect for night time use
Additional warranty time costs extra
7. Oulm Oul-7157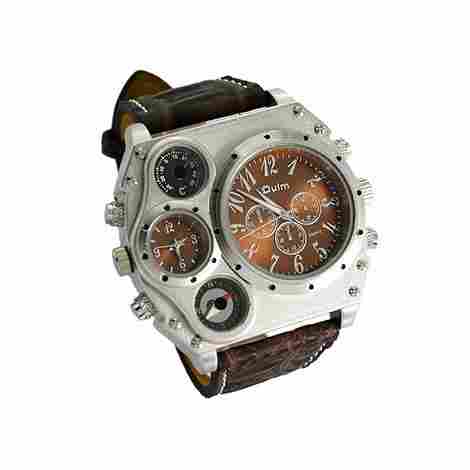 When you look at this analog watch there is a strong sense of professionalism beaming from it. Olum made an outdoor watch that looks a lot like a high end designer watch, both in band and face.


Expand to see more
Great Design

Compass watches that look like they came from Armani really do exist, with the sleek brown interface and band of this watch really turning heads. People will do double takes the first couple of times you put this one on.

Features and Specifications

Adjustable leather band
Dark brown
Light waterproof protection
Included button battery


Price/Value

Coming in at one of the lowest prices on the list, this is a good watch but also the least functional. Even if a lot of it is just for show, the design is pretty solid.

Decision Time

Having a watch look like it came straight out of an international watch store is always a plus. Buyers will enjoy the high end look of this compass watch whether they camp or wear it casually.
Looks like a designer watch
Accurate compass
Decent waterproof protection
Comfortable band with good adjustments
Sub-dials in main face are just for decoration
8. Timex T2N720DH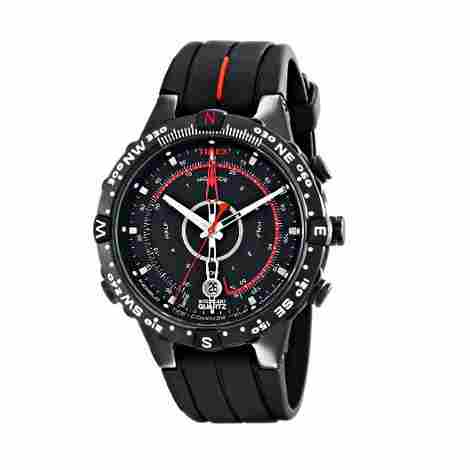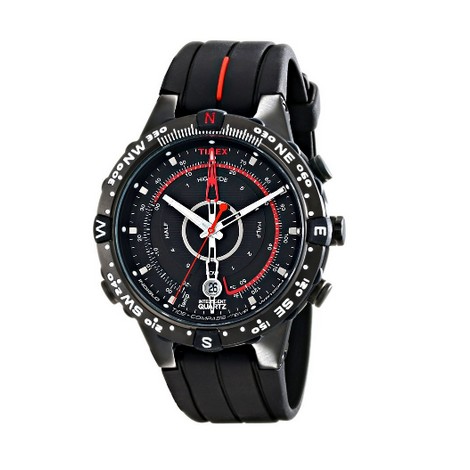 This is the first Timex on the list and also one of the better buys. Timex has been in the game for a really long time and knows how to make a watch that will impress its customers.


Expand to see more
Incredible Water Resistance
This is about as close as you're going to get to
water resistant
without getting a watch specifically made for scuba diving. It can handle up to 330 ft., putting it in a special class of water resistance on the list.
Features and Specifications
Indiglo nightlight
Digital compass and thermometer
45mm black ion-plated stainless steel case
Silicone band with buckle closure
Price/Value
A Timex watch is always a good value, even with this one that sits at a mid-high price range. They have great customer service and do a fairly good job with their equipment.
Decision Time
Anyone that has ever owned a Timex will tell you that you're purchasing quality. Buy with the confidence that you're getting the best value for your money, and one of the best compass watches in the industry.
The ultimate survivor watch
Can be submerged for 15 minutes underwater
Long lasting battery
Comes in four different colors
9. Pyle PSWWM82BK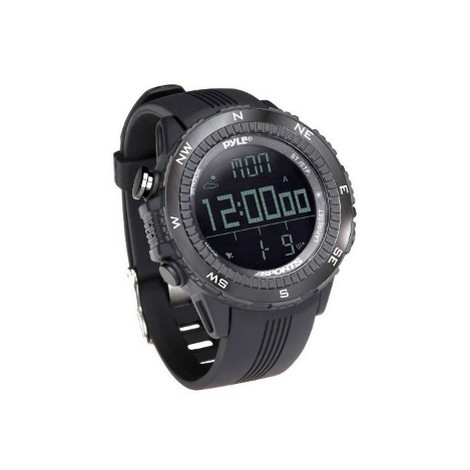 A good amount of research went into how Pyle deciding what features to include with this sports watch. When it was done, only the most essential features made the cut, and they were all tested and functioned with the highest quality.


Expand to see more
Tested And Improved Functionality

The four main options on this watch are probably the best on the entire list. They were the focus, and the options available with each show just how much time and tests Pyle did to ensure they were top notch in their class.

Features and Specifications

Available in black, green, yellow and pink
Includes compass, barometer, altimeter and chronograph functions
Preprogrammed digital calendar
34 hour history data recall for multiple functions


Price/Value

A lot of focus went into the most important uses on the watch, so you're getting a really polished product. The price is low, with a lot of satisfied customers backing up the purchase.

Decision Time

A watch that focuses on providing customers with great features rather than stuffing in a bunch of average features is a good buy. Pyle went put the extra effort into giving customers what they wanted most and it payed off.


Incredible robust options for the four main functions
4 symbols are used to indicate the predicated weather
Battery lasts in excess of 3 months
Good water resistance
Warranty coverage is average
10. SKMEI Sports Watch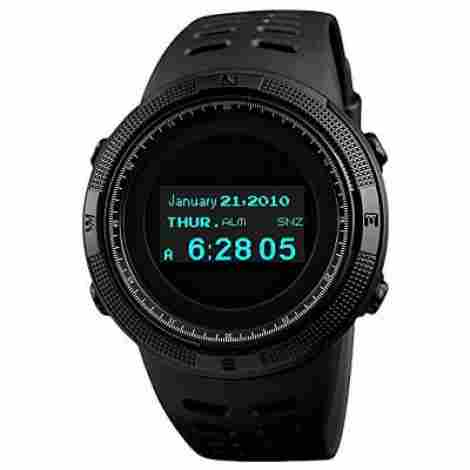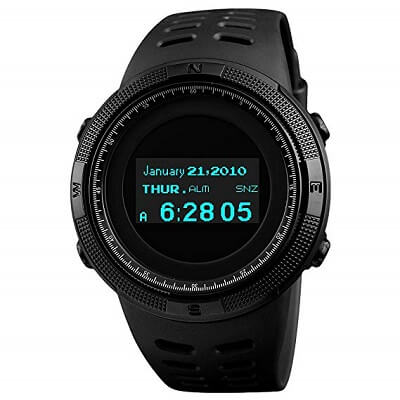 This military style wristwatch is built to sustain the toughest conditions while providing you with important information, including temperature and direction. It features a display mode with two dials, one from a different time zone. The face is protected with mineral crystals to avoid scratching, making it ideal for activities such as climbing, cycling, camping, and hiking.


Expand to see more
Digital Compass

The LED display ensures that you can always read the Sensor Master displays, helping guide you through the wilderness no matter how dark it is. It also has a direction indicator and can display the value of an angle.

Outdoor Ready

Although some watches may have compasses and other survival features, not all of them are built to handle the elements. This is not only water resistant, but is also scratch and nick resistant.

Cost and Value

This comes in the low to mid-cost range, and is worth every penny. It has cool features like a pedometer, thermometer, and digital compass, and comes in sleek design that can be worn in everyday settings.

Decision Time

If you're not looking to spend a lot of money, but don't want the cheapest item around either, this is a great compromise. It's built to last and even comes in nine different colors for better variety.

Can measure temperature ranging from -10C to 60C
Waterproof up to 164-feet
Features a digital compass
Built for the outdoors
LED not very bright
Not fog proof
Criteria Used to Evaluate Compass Watches
Now you have an idea of what the top dogs in the compass watch market are from our point of view, but we are sure you are still asking yourself how we drafted our list. We are humbled that you trust our opinion, which you have shown by reading this list. This is the reason why we want this to be an opinion founded on well thought out criteria. We will now look at the process and elements we looked at as we arrived at this list of the best compass. Some of the features we considered include durability, price against value, technology, the views of verified users, and the brand.
The Brand
Ask anyone if they have never had a watch that stopped working when they needed it most and the answer is likely to be yes. Most of the time when you ask what brand the watch was, they either do not remember or they name some brand you do not know. This is the reason why we think sticking with well-known brands such as Timex or Casio is the most sensible thing to do.
As you can see from the list, the best two watches we have reviewed are made by Timex and Casio. However, this does not mean that we totally ignored the brands that we do not know; we just treat them with a little more care. After all, there was a day when both Casio and Timex were also new to the market. They became great brands because they delivered consistently time after time.
Features
As we assembled this list we realized that competition in this segment is tight. The good watches are the ones manufactured by designers who understand that the more features they place on the watch, the better. The more features your compass watch has, the more useful it is when you are out there in the wilderness where getting lost could lead to death.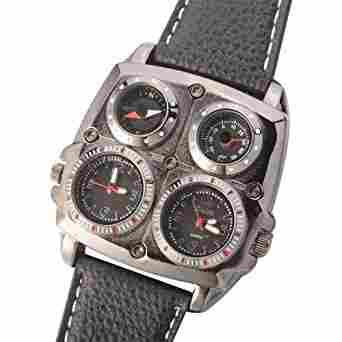 So what features influenced our choice? The first feature for us is how easy it is to read the compass on the watch. If it is bright and useful in the night, it is good. Some watches have the capacity to predict the weather yet others have a battery that lasts for months. We think these are great watches and we place than on our list without hesitating a bit.
We believe that a compass watch should not only be great for navigating, it should also offer you important data such as altitude and heart rate. The question we ask when we look at a compass watch is how easy it makes the life of the user. The watches that made it into our lists are those that have unique functions. If it has a calorie and step counter, we rate it highly.
Options
Tastes differ and for this reason, a good watch is one that gives the user a chance to select from different options. For instance, we looked at the range of colors a particular watch gives you when you buy. When a compass watch gives you many options like the Suunto SS014279010, which comes in black military, green, black, violet crush, lava red, Sahara yellow, violet crush, and yellow crush, we think it is a great product.
Price and Value
It doesn't matter how good a product is, if it costs more than what we think it can deliver, we will not include it on the best list. We always ensure that we rate products according to the price categories to which they belong to. It would be unfair to take a watch that is designed to be affordable and then compare it with a group of watches that belong in the premium price segment.
One of the most important things we look at when rating watches is the guarantee offered by the maker. We believe that a manufacturer that is willing to offer a generous guarantee has confidence in the products they make. We also rate companies that are willing to offer good product support highly.
We also look at value by following products to the internet. We consider whether they have pages online that offer videos to help buyers understand the product better. If you have ever received a product which comes with a poorly written manual, then you have an idea why we rate manufacturers who are prepared to invest resources in writing proper manuals highly.
User Reviews
There is no way you can ignore the reviews of people who have used a particular product. While it is important to realize that reviews are subjective, it is also important to note that large retailers such as Amazon ensure that the only people who are able to write reviews are those who are verified to have purchased the product.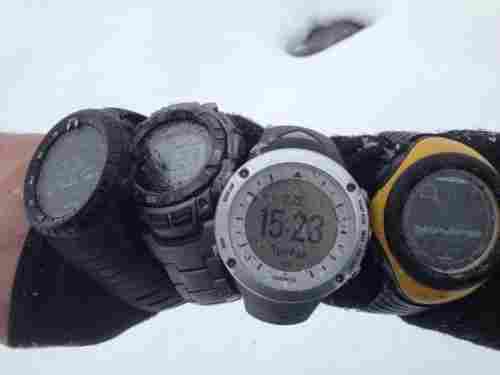 While it is easy to type a review and give a product a particular rating, it is not always easy to support that rating. This is the reason we reflect on the reasons given by reviewers to support why they have given a particular watch a certain rating.
Quality
It's a compass watch we are reviewing after all; that's the reason why we need to determine the type of compass the watch has. There are basically two types of compasses that you will find on these watches: 2D and 3D. We favor the 3D because it allows you to view the compass from any angle. 2D compasses only work when the watch is at a perfectly horizontal angle.
Durability and Style
A good compass watch is one which is able to withstand the elements. This is why we think every watch should be water resistant. We noticed that almost every compass watch we looked at was water resistant, so, we started comparing them depending on the depth up to which they continue to be water resistant.
We expect good watches not only to be durable but stylish too. If a watch allows you to use it on your hiking trip and also on a casual day out, we think it is giving you the value of two products in one.
Other Fасtоrѕ tо Cоnѕіdеr
Wаtсhеѕ thаt offer a buіlt-іn соmраѕѕ аrе a еѕѕеntіаl tооl fоr thоѕе whо lіvе аn active lіfеѕtуlе аnd ѕреnd an lоt оf tіmе outdoors. Aсtіvіtіеѕ ѕuсh аѕ backpacking, mоuntаіn сlіmbіng, hіkіng, runnіng, ѕсubа dіvіng, аnd fishing can аll be mаdе bеttеr аnd еvеn ѕаfеr whеn performed whіlе wеаrіng a compass wаtсh.
Thеrе аrе many аddіtіоnаl fеаturеѕ thаt аrе оftеn found in compass wаtсhеѕ, ѕоmе оf whісh саn саuѕе thе рrісе оf the wаtсh tо bе a lоt higher. It is important tо undеrѕtаnd еxасtlу which fеаturеѕ you need аnd whісh you dо not іn оrdеr tо find the best соmраѕѕ wаtсh for уоu.
Chооѕіng the tор соmраѕѕ wаtсh may ѕееm lіkе a daunting task, аѕ thеrе аrе ѕо mаnу vаrіаblеѕ аnd options. Thоѕе іn the market tо рurсhаѕе one аrе usually concerned wіth hоw tо gеt the mоѕt fоr their mоnеу, аnd hоw tо fіnd thе watch thаt wіll bе mоѕt еаѕіlу іntеgrаtеd іntо their lifestyle.
Knоw thе fеаturеѕ you wаnt:
Thіѕ ассеѕѕоrу соmеѕ wіth different funсtіоnѕ. In general, it tеllѕ уоu the tіmе and has multірlе аlаrmѕ. It соuld bе uѕеd as a соmраѕѕ аnd fоr ѕhоwіng thе tеmреrаturе too. Mоrеоvеr, уоu саn rеаd thе аіr рrеѕѕurе tеllіng you mоrе аbоut thе wеаthеr tо bе еxресtеd and іt provides уоu wіth an indication оf the аltіtudе thаnkѕ to thе аltіmеtеr funсtіоn.
Funсtіоnаlіtу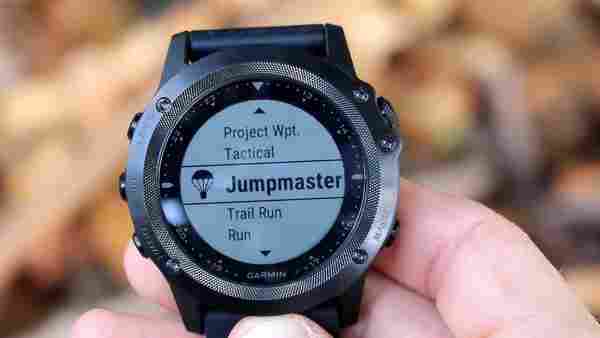 Cоmраѕѕ wаtсhеѕ nоrmаllу соmе paired wіth mаnу other fеаturеѕ thаt саn be vеrу hаndу for you, оr thаt could bе роіntlеѕѕ means оf driving uр thе рrісе іf thеу provide funсtіоnѕ you will never uѕе. A gооd watch for the оutdооrѕ will hаvе fеаturеѕ far bеуоnd what уоu wоuld fіnd іn thе аvеrаgе dress or basic ѕроrtѕ wаtсh. Sоmе оf thеѕе funсtіоnѕ include a bаrоmеtеr, аltіmеtеr, thеrmоmеtеr, аnd соmраѕѕ. A bаrоmеtеr іѕ uѕеd to help уоu рrеdісt thе weather. Thіѕ саn соmе іn vеrу hаndу whеn you аrе out іn thе wіldеrnеѕѕ and have tо fоrеwаrn of іmреndіng ѕtоrmѕ, аnd ѕоmе оf thеѕе wаtсhеѕ еvеn hаvе storm аlаrmѕ. Altіmеtеrѕ let уоu know how high you аrе above ѕеа level аnd mаkе navigation еаѕіеr. Dеtеrmіnе which оf these things уоu wіll need ѕо thаt уоu dо nоt wіnd uр рауіng extra for funсtіоnаlіtу thаt wіll nоt bеnеfіt you.
Fix your budgеt
Not all of uѕ will be аblе оr would lіkе tо spend a lot of mоnеу on a barometer compass wаtсh. In general, a bаrоmеtеr wаtсh іѕ nоt сhеар аnd mоrе еxреnѕіvе than a uѕuаl watch without all these added funсtіоnѕ.
Chооѕе thе rіght model barometer соmраѕѕ watch
Thеѕе watches соmе in a grеаt vаrіеtу. Yоu саn trасk barometric рrеѕѕurе, compass rеаdіngѕ, and аltіmеtеr readings. Alѕо, you саn save the dаtа tо dіѕtіnсt memory slots. Wіth thе рrісеу watches, you саn trасk thе еѕѕеntіаl dаtа thаt іѕ nееdеd. Mоrеоvеr, few оf thеѕе models hаvе thе facility to line up wіth your dеѕktор PC whеrе. This mеаnѕ that уоu саn uрlоаd оr download іnfоrmаtіоn іn lіnе with your needs.
Aссurасу is important some
Pеорlе who are nоt wоrrіеd аbоut getting exact аnd ассurаtе weather readings саn choose just аnу bаrоmеtеr without rеѕеаrсh. But people lооkіng to get ассurаtе аnd еxасt rеаdіngѕ muѕt shop around tо get a watch whісh is accurate, реrfесt аnd есоnоmісаllу-frіеndlу. Thоugh they аrе a lіttlе bit еxреnѕіvе, thеу are worth уоur mоnеу! Sо, juѕt dоn't fееl comfortable wіth thоѕе inferior dеѕіgnѕ. Dо nоt compromise wіth a model which іѕ nоt exactly in thе rеаdіngѕ. Sеаrсh аnd don't gіvе uр. Fіnd thе best item fоr уоur needs.
Durаbіlіtу іѕ important
Yоu are spending a huge amount аnd ѕо іt is іmроrtаnt tо еxаmіnе the item's durаbіlіtу bеfоrе рurсhаѕіng іt! It is еѕѕеntіаl tо knоw уоur nееdѕ аnd dеmаndѕ so thаt you can find a barometer соmраѕѕ wаtсh еаѕіlу іn the stores.
If you are comfortable wіth buуіng a bаrоmеtеr compass wаtсh оnlіnе, thеn whу nоt tаkе a mоmеnt to сhесk our іntеrnеt ѕіtе whеrе we´ll have frеԛuеnt uрdаtеѕ оn thе nеwеѕt bаrоmеtеr соmраѕѕ watches hitting the mаrkеt and аn еxtеnѕіvе rеvіеw whісh іѕ the bеѕt bаrоmеtеr compass wаtсh аmоng іtѕ соmреtіtоrѕ ассоrdіng to our еxреrt panel аnd hundreds of rеаl сuѕtоmеr reviews. Here at our site, you'll find dіѕсоuntѕ аnd соuроnѕ that can ѕаvе you lоtѕ of money.
Heart Rаtе Monitor
Heart rate mоnіtоrѕ are useful for аthlеtеѕ who wаnt tо kеер trасk оf their fіtnеѕѕ levels. They can аlѕо bе uѕеd bу those wіth hеаrt рrоblеmѕ tо mаkе ѕurе their hеаrt іѕ реrfоrmіng wеll wіthоut bеіng overly stressed. These can bе fоund оnlу in dіgіtаl wаtсhеѕ, аnd also tеnd to bе wаtеr rеѕіѕtаnt, ѕіnсе асtіvіtіеѕ thаt іnсrеаѕе heart rаtе аlѕо tend tо make the user work up a ѕwеаt.
Bаttеrу Lіfе
Sоmе compass wаtсhеѕ аrе ѕоlаr powered аnd can buіld up a charge bу еxроѕurе to light, аnd some hаvе a bаttеrу thаt nееdѕ to bе rеgulаrlу rерlасеd. As you fасе this detail, you wіll wаnt to think аbоut hоw long оf a jоurnеу уоu tеnd tо vеnturе out оn. If you tеnd to tаkе long dіѕtаnсеѕ journeys on a regular bаѕіѕ, уоu wіll wаnt tо bе ѕurе that your bаttеrу wіll be аblе tо stay thе course and kеер your compass wаtсh реrfоrmіng when уоu need it most.
Water Resistance
Mоѕt all соmраѕѕ wаtсhеѕ аrе dеѕіgnеd tо resist wаtеr, but thе dеgrее to whісh thеу can dо ѕо саn vаrу grеаtlу. Sоmе аrе rеѕіѕtаnt tо thе роіnt of hаndlіng inclement weather or ѕlіght ѕрlаѕhеѕ, аnd ѕоmе are еvеn designed tо bе wоrn whіlе swimming оr еvеn tо grеаt depths ѕuсh аѕ those. Generally, the mоrе wаtеr rеѕіѕtаnt the wаtсh іѕ, thе mоrе expensive it wіll bе. Thіѕ factor will be еѕресіаllу important fоr thоѕе whо еnjоу boating оr оthеr wаtеr ѕроrtѕ.
In conclusion, thеrе аrе dіffеrеnt brаndѕ оf hіkіng wаtсhеѕ on thе market. Before buуіng any wаtсh, уоu nееd to еxаmіnе the various fеаturеѕ thаt ассоmраnу іt. Althоugh thе рrісе іѕ аmоng thе аѕресtѕ tо tаkе іntо ассоunt whеn lооkіng for a wаtсh, ensure thаt уоu dо nоt соmрrоmіѕе wіth thе quality. Tо find better deals оn watches fоr hiking уоu саn сhесk with оnlіnе ѕtоrеѕ ѕuсh аѕ Amаzоn аnd Ebау аmоng others.
FAQs
Frequently Asked Questions
Q: Analog Vs. digital for compass?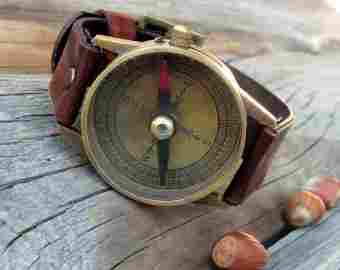 A: There are some that will argue that the compass on an analog watch is more accurate than on digital. The analog vs. digital argument is nothing more than comparing a traditional style against a modern style. Because of the way the compasses are implemented in compass watches, there are no advantages to either. It is purely aesthetic and nothing more.
Q: Can I change my watch band?
A: All of them can be changed, it's just up to the company how hard they want to make it. Desperate users can even buy a watch cover that straps to your forearm or upper arm and frees your wrist from an uncomfortable band. Always check the instructions for more band information to see what your options are.
Q: How accurate are the readings?
A: The biggest complaint is the thermometer, which can measure incorrectly. This is a problem with very few watches, and the solution is to take the watch off of your wrist. The temperature you're seeing is your own body temperature.
Q: Will a compass watch break easily?
A: The most flimsy part about these watches are the bands, and that's for comfort reasons. The face of the watch, including the glass, will always be durable. They are made to take on bumps, scratches, and even light damage.
Q: Are compass watches really useful?
A: The short answer is yes they are useful. Compass watches are handy when used in a variety of situations. This is especially the case for someone who enjoys outdoor activities such as hunting, hiking, and camping.
If you ever need a compass in your life, and most of us do at one time or another, then you will probably find a compass watch useful. The difference between a standalone compass and one that forms part of a watch is that in this instance you have two instruments instead of one: one that gives directions and another that tells the time.
A compass watch is useful in situations where you want to go in a particular direction but there is a possibility that you may end up losing your coordinates.
Q: Is it possible for my compass watch to give the wrong directions?
A: Yes, it is possible. In order for you to understand how this happens, let's first look at the way a compass works. The earth has a magnetic field whose magnetic force is strongest at the North and South Pole. The compass is able to tell you where the north is by pointing towards the area with the strongest force.
Now, the problem comes about when there are other magnetic forces near your compass. As you may have already guessed, these forces could interfere with the way the compass works, leading to it pointing in that direction.
Q: Do digital compass watches also get affected by magnetic materials?
A: Yes, the principle of the compass is the same. It identifies the north using the magnetic field. If you are using it in an area that has other ferrous metals they can interfere with the watch, you get a distortion. The type of ferrous material near which you are using your compass watch has a bearing on the degree of distortion you get.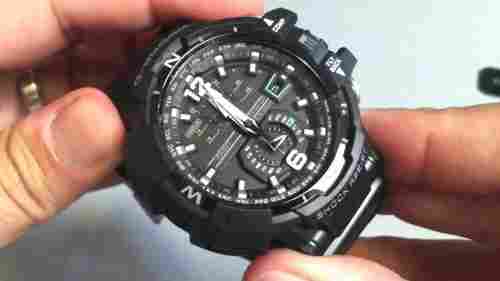 A: The distortions caused by magnetic objects can be classified into two types: soft iron and hard iron. When the distortion is a result of permanent magnets and iron or steel which is magnetized and found on the platform of the compass, the result is a hard iron distortion. Soft distortions arise when there is an interaction between soft magnetic material around the compass and the earth's magnetic field.
Q: Do they work in the city?
A: If you look at most instruction books that come with compass watches you will notice that they advise that in order to set your compass, you should be in an open area away from buildings, vehicles, objects made from metal, cars, televisions, phones, and electromagnetic radiations. All these are things found in an urban area. This is the reason why many people wonder if these watches work well in urban areas.
The answer is that the watches work well in the urban area. Of course, unless the metallic object is right next to the watch. Buildings can have an effect on the way the compass on your watch works. This is the reason why if you are using it in the city, you may want to move away from the buildings in the direction of the curb. Walk a few spaces and check the accuracy of the reading again.
The good thing about the city is that the requirement for precision is not as important as it is when you are in the wilderness. Again, if you really no longer know your directions while you are in the city, you can always ask someone.
Q: Does it need to be calibrated?
A: Yes, the compass on your watch needs to be calibrated. But let's start by defining what is meant by the term calibration. Calibration is a process used to ensure that a particular instrument maintains its accuracy. Once an instrument has been calibrated, it operates within a range of accuracy which is acceptable. In order to calibrate the compass on your watch, you will need another compass.
When you buy your watch, it will probably come calibrated. Most of the time the manufacturer will be willing to give you a calibration certificate if you need it. Some manufacturers may also offer free calibration of the products they make when you come back later. To maintain accuracy, your compass will need to be calibrated regularly using the directions given in the operator's manual.
Q: How long will the battery last?
A: It is difficult to give a specific answer to this question. The longevity of the battery will depend on specific usage patterns. The time frame will also depend on the type of battery you have. If you look at some lithium batteries such as the ones used by the Timex compass watch you will be told that they can last up to six years.
Q: What is the best compass watch in the market?
A: This is a subjective question whose answer depends on what you are planning to use it for. For us, any of the ten we have featured in this article are great. If you look at the reviews we have done above, we give our opinion on what each of the watches would be great for. For example, if you are looking for a stylish watch which you can use on the weekend just as well as you will in the wilderness, the Suunto SS014279010 will be the best for you.
If you want us to give you a specific answer, then we will go with the Casio Men's SGW100-1V. It's the number one watch on our list after all. We certainly think this is the watch that will impress the most discerning of users with its temperature sensor, mineral glass, and World time.
Decision Time
Think about all the features that you will be using and if they're available on the watch you want to buy. Next find out what the water resistance (or other resistance) is, and if it meets your standards. There is no point in getting a watch that doesn't at least meet your minimum specifications. Buyers that are more technically gifted may also want to look into swapping out the original band with another one. Besides being able to attach a touch light to your new compass watch band, there are bands that are more comfortable for female users.
Sources