Best Compass Watches Reviewed
Smartphones can do just about everything but make you dinner, so there is a segment of the population that has defaulted to using them for outdoor tasks. Even with the best hardware, a high end smartphone can't match the convenience or battery life of an everyday compass watch. And with every watch on this list made to deal with adverse conditions, having your survivability strapped firmly to your wrist makes much more sense.
Best Brands
Casio and Timex are the top dogs, and they create their best by leaning on quality parts. Both companies don't sell cheap products, yet are priced just right for the average consumer. The alternative to the two big brands are the little people like Sharp Survival, with their company offering the single most unique watch on the list. All of the companies listed have one thing in common, and that's compass watches that can take a lot of punishment.
Maintenance and Cleaning Tips
With the way the watches are made, there really isn't much you can do to clean them other than surface cleaning. Experienced users will be able to take the watches apart and fine tune them, but the average user only needs to wipe it down when it gets dirty. Other common sense practices include keeping it out of extreme heat conditions and not submerging it in water for long periods of time.
Our Top 3 Picks
10 Best Compass Watches
1. Casio Men's SGW100-1V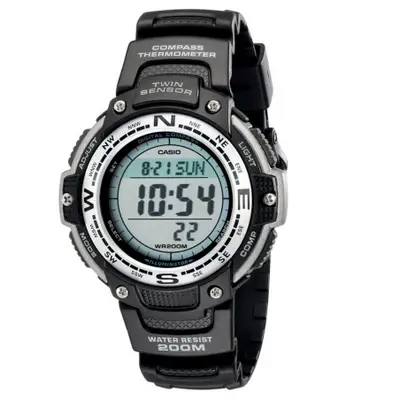 Of course it was going to be one of the leaders in the industry that took the top spot, with Casio's SGW100-1V the better choice than its #6 model, the PAG240-1CR. There is enough balance with this watch to keep even the pickiest of users happy.


Expand to see more
More Than A Quarter Of A Decade In Battery Life
The CR2025 is an incredible little champ that can last for three years before needing to be replaced. Finding replacement batteries is simple, and best of all the replacements are cheap.
Features and Specifications
Water resistant up to 660 ft.
Direction
and temperature sensor
Resin band with mineral glass
World time
Price/Value
For a low price buyers are getting the best watch on the list, so it is an outright steal. Casio is a trusted brand that only produces quality, and a battery that lasts this long is too good to pass up.
Decision Time
Customers that demand the best will find that this Casio model is exactly what they need. It is the most balanced compass watch on the list and has a competitive price.
No weaknesses in design or function
Best battery off of the entire list
Large easy to read display
Works great in bad conditions
Stopwatch resets after one hour
2. Timex Expedition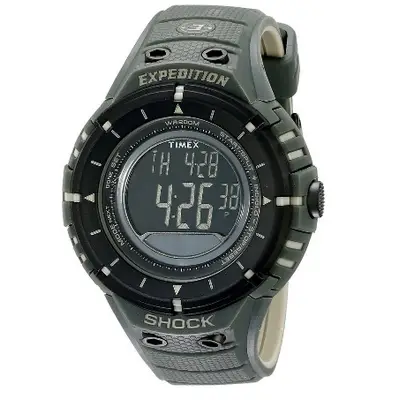 Timex makes the list again with their Expedition model, built tough from the inside out. This is the toughest watch on the list, with a good chance of lasting you years before needing to be replaced.


Expand to see more
Made Like A Tank
Besides having the best
water resistance
it also sports shock resistance. Buyers that tend to be rough with their watches should purchase the Expedition since it can pass the bulk of outdoor torture tests.
Features and Specifications
Meets shock resistance for I.S.O. standards
Indiglo light up dial
Water resistant up to 660 ft.
Digital compass
Price/Value
Purchasers will be looking to spend around the mid-price point for the Expedition. Like all Timex pieces, the high end components will last for quite some time at optimal level.
Decision Time
Timex almost stole the #1 spot, and if they offered more than a 1 year warranty out of the box they may have been the top compass watch. This is still a respectable finish from one of the best names in the industry.
The toughest watch on the list
Comes in black or olive/black
Bright and easy to read digital compass
Perfect for night time use
Additional warranty time costs extra
3. Pyle PSWWM82BK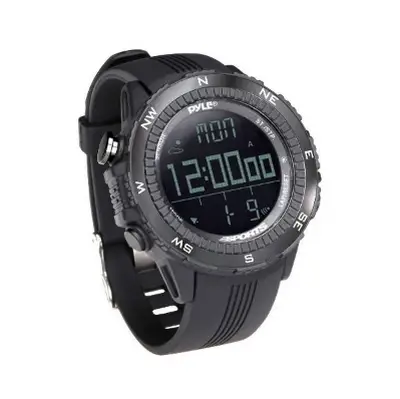 A good amount of research went into how Pyle deciding what features to include with this sports watch. When it was done, only the most essential features made the cut, and they were all tested and functioned with the highest quality.


Expand to see more
Tested And Improved Functionality

The four main options on this watch are probably the best on the entire list. They were the focus, and the options available with each show just how much time and tests Pyle did to ensure they were top notch in their class.

Features and Specifications

Available in black, green, yellow and pink
Includes compass, barometer, altimeter and chronograph functions
Preprogrammed digital calendar
34 hour history data recall for multiple functions


Price/Value

A lot of focus went into the most important uses on the watch, so you're getting a really polished product. The price is low, with a lot of satisfied customers backing up the purchase.

Decision Time

A watch that focuses on providing customers with great features rather than stuffing in a bunch of average features is a good buy. Pyle went put the extra effort into giving customers what they wanted most and it payed off.


Incredible robust options for the four main functions
4 symbols are used to indicate the predicated weather
Battery lasts in excess of 3 months
Good water resistance
Warranty coverage is average
4. Armitron 408231RDGY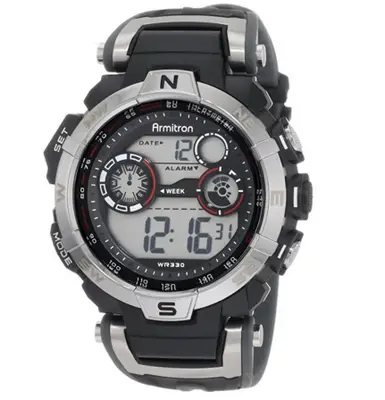 With the ridiculous amount of options on the face of this watch buyers are almost shocked when they see the low price. Thousands of people worldwide have bought into the hype, and this is considered one of the better choices from the lineup of Armitron Sport.


Expand to see more
Lots Of Displays With Zero Confusion
Everything you see on the face of the watch has a purpose, and is not just there for show. It's
fully functional
, with a wide enough face that you won't get confused when using it.
Features and Specifications
Two tone digital watch
44mm resin case with acrylic dial window
Lap timer, countdown timer, military time and hourly charm
Water resistant up to 330 ft.
Price/Value
This Amitron model is one of the lowest priced on the list, so the value is solid. You're getting a high quality sports watch with an impressive set of features.
Decision Time
When you have a hard time deciding on which compass watch to get, this Armitron model will always be the safest bet. With such a low cost, you are getting a great watch and losing very little out of pocket.
No wasted space on the face
Fantastic water protection for swimmers and snorkelers
Beastly battery
Clear LCD screen
Missing some key outdoor features
5. Suunto SS014279010
Style isn't everything but it helps this Suunto watch beat out a lot of the competition. Buyers have complimented the customer friendly design as one of the reasons this is such a hot seller.


Expand to see more
Lots Of Options

This watch is available in Black military, black, lava red, sahara yellow, blue, red crush, yellow crush, violet crush and all green. That makes it a perfect gift idea if you wanted to buy someone their first compass watch.

Features and Specifications

Altimeter, barometer and compass functions
Elastomer strap
Temperature and storm alarm
Sunrise and sunset times built in


Price/Value

Expensive but good looking, there will be a lot of thinking to do when comparing this to the other watches on the list. As a plus the value is huge since there are so many colors to choose from.

Decision Time

This is one of the highest priced watches on the list, yet attractive enough to different consumers that it warrants a buy. There is enough style and substance to make it a good buy as a gift or for your own collection.
Great choice of fun colors
Solid build quality
Over 400 locations for the sunrise and sunset function
Accurate compass with plenty of screen real estate
All black version makes display a pain to read
6. Casio PAG240-1CR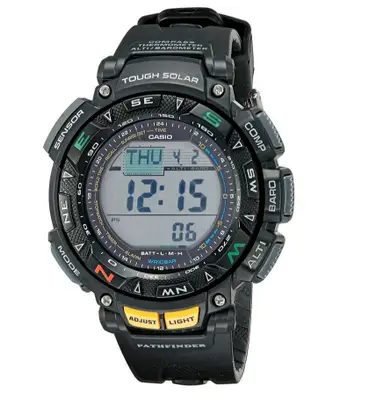 Casio is another big name in the industry, and just like Timex they built their reputation off of quality. The Pathfinder is an excellent example of how to do a compass watch correctly while blending in other high end specifications.


Expand to see more
Solar Powered

Why don't all watches have this? Even the most basic watches would benefit from a solar powered option. Even without exposure to light customers can count on a life of six months to carry the watch just fine.

Features and Specifications

Digital compass, altimeter, thermometer and barometer
World time, city code display, stopwatch and five daily alarms
51mm stainless steel case with mineral dial window
Battery power indiactor


Price/Value

Turning away from the Pathfinder strictly because of price is understandable, since it is the first high priced compass watch on the list. But the value is immense, with features in its core design that none of the other watches on the list have.

Decision Time

It's expensive, but very much worth the purchase if you need an all in one watch. Finding a needle in a haystack is very much possible with the Pathfinder on your side.
Just about every function an outdoorsman would need
Water resistant up to 330 ft.
Solar power option guarantees power
Auto calendar is preprogrammed until 2099
7. Timex T2N720DH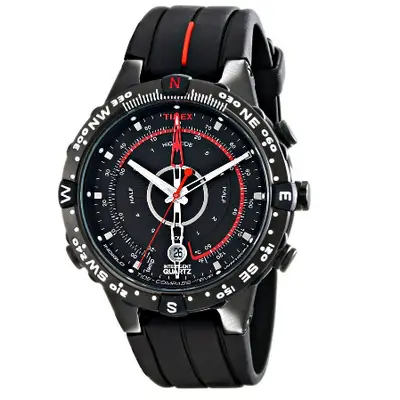 This is the first Timex on the list and also one of the better buys. Timex has been in the game for a really long time and knows how to make a watch that will impress its customers.


Expand to see more
Incredible Water Resistance
This is about as close as you're going to get to
water resistant
without getting a watch specifically made for scuba diving. It can handle up to 330 ft., putting it in a special class of water resistance on the list.
Features and Specifications
Indiglo nightlight
Digital compass and thermometer
45mm black ion-plated stainless steel case
Silicone band with buckle closure
Price/Value
A Timex watch is always a good value, even with this one that sits at a mid-high price range. They have great customer service and do a fairly good job with their equipment.
Decision Time
Anyone that has ever owned a Timex will tell you that you're purchasing quality. Buy with the confidence that you're getting the best value for your money, and one of the best compass watches in the industry.
The ultimate survivor watch
Can be submerged for 15 minutes underwater
Long lasting battery
Comes in four different colors
8. La Crosse Technology XG-55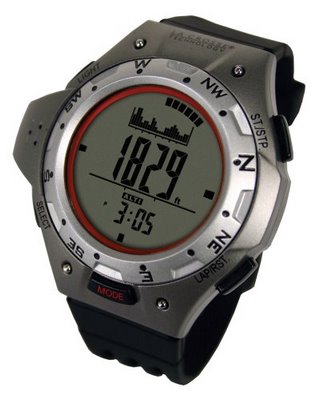 This is the first digital watch on the list, and it does a good job of showing off all of its function. This is a great look at what the modern compass watch has turned into when it includes bells and whistles.


Expand to see more
Solid Construction

Although the build isn't exactly industry changing, they fit a very solid case around the watch. The face is sunk but wide enough to where you can see multiple things at once. If the watch happens to drop, the face will be safe from impact.

Features and Specifications

Digital altimeter, baramoter and compass
Chronograph mode
Dual time display
Water resistant up to 30 ft.


Price/Value

Buyers will not spend more than a low amount for this model, which has convinced a lot of people to give it a try. With all of the functions in one, this is a wonderful value for the first time compass watch buyer.

Decision Time

Make sure to spend some time going through the instructional DVD and you'll uncover a lot of really cool things about this watch. It packs a lot into a small package, with a nice durable frame to take care of your investment.
Comes with an instructional DVD
Lots of functions
Can take a good beating and keep ticking
Fantastic water protection
9. Oulm Oul-7157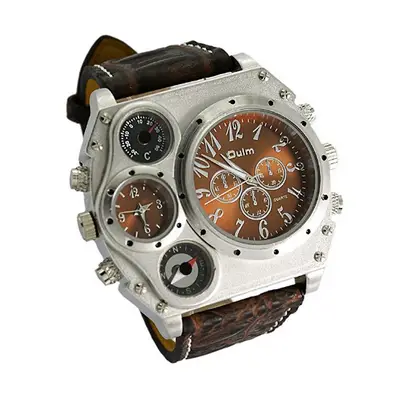 When you look at this analog watch there is a strong sense of professionalism beaming from it. Olum made an outdoor watch that looks a lot like a high end designer watch, both in band and face.


Expand to see more
Great Design

Compass watches that look like they came from Armani really do exist, with the sleek brown interface and band of this watch really turning heads. People will do double takes the first couple of times you put this one on.

Features and Specifications

Adjustable leather band
Dark brown
Light waterproof protection
Included button battery


Price/Value

Coming in at one of the lowest prices on the list, this is a good watch but also the least functional. Even if a lot of it is just for show, the design is pretty solid.

Decision Time

Having a watch look like it came straight out of an international watch store is always a plus. Buyers will enjoy the high end look of this compass watch whether they camp or wear it casually.
Looks like a designer watch
Accurate compass
Decent waterproof protection
Comfortable band with good adjustments
Sub-dials in main face are just for decoration
10. Sharp Survival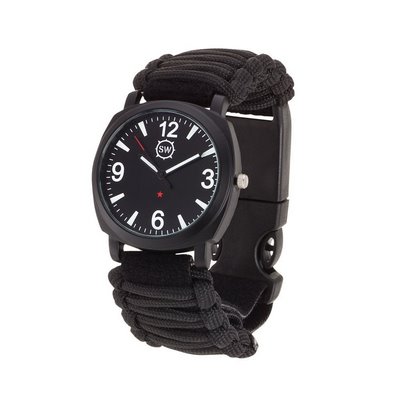 Sharp Survival added just about everything they could into this watch to turn it into a
multipurpose masterpiece
. It lives up to its name and provides a lot more features than just telling the time.
Expand to see more
Paracord Wrist Band

At first it looks like a pretty cool wristband until you figure out that it is functional. The 550lb nylon paracord stretches out to 12ft. so you can use it for various outdoor tasks.

Features and Specifications

Magnesium flint rod fire starter and scraper
Compass and whistle
5 ATM water resistant
Luminous display face


Price/Value

Considering you are getting 6+ devices in one, the low cost of this compass watch is really exciting. You can count on it to last as long as any other accessory in your arsenal.

Decision Time

It's surprising that this isn't considered one of the best watches to come along in years! That just goes to show how great the market is when a watch of this caliber is considered #10.
The ultimate survivor watch
Can be submerged for 15 minutes underwater
Long lasting battery
Comes in four different colors
How To Make The Best Decision When Choosing A Compass Watch
Think about all the features that you will be using and if they're available on the watch you want to buy. Next find out what the water resistance (or other resistance) is, and if it meets your standards. There is no point in getting a watch that doesn't at least meet your minimum specifications. Buyers that are more technically gifted may also want to look into swapping out the original band with another one. Besides being able to attach a touch light to your new compass watch band, there are bands that are more comfortable for female users.
FAQs
Analog Vs. Digital For Compass?
There are some that will argue that the compass on an analog watch is more accurate than on digital. The analog vs. digital argument is nothing more than comparing a traditional style against a modern style. Because of the way the compasses are implemented in compass watches, there are no advantages to either. It is purely aesthetic and nothing more.
Can I Change My Watch Band?
All of them can be changed, it's just up to the company how hard they want to make it. Desperate users can even buy a watch cover that straps to your forearm or upper arm and frees your wrist from an uncomfortable band. Always check the instructions for more band information to see what your options are.
How Accurate Are The Readings?
The biggest complaint is the thermometer, which can measures incorrectly. This is a problem with very few watches, and the solution is to take the watch off of your wrist. The temperature you're seeing is your own body temperature.
Will A Compass Watch Break Easily?
The most flimsy part about these watches are the bands, and that's for comfort reasons. The face of the watch, including the glass, will always be durable. They are made to take on bumps, scratches and even light damage.