Best Under Armour Jackets Reviewed & Rated for Quality
last updated
Jun 13, 2019
As far as sportswear companies go, Under Armour is more or less a baby. The brand was founded in 1996, making it only 23 years young at the time of publication. With offerings from sports bras to athletic shoes to outerwear and everything in between, athletes can rest assured that they will find what they need for their athletic endeavors from this well-respected brand. Today we're going to take a look at what offerings the company has in terms of the best Under Armour Jackets. Let's get to it!
In a Hurry? The test winner after 10 hrs of research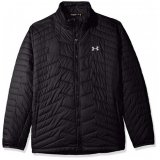 ColdGear Reactor
Why is it better?
Wicks away sweat
Compression for circulation
Resists suns rays
Great for cold days
In a
Hurry? Editors choice: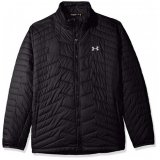 Test Winner: ColdGear Reactor

17
Researched Sources
397
Reviews Considered
10
Hours Researching
12
Products Evaluated
Insulation
Weather Resistance
Overall Fit
Comfort
Durability
By Default
10 Best Under Armour Jackets
Wicks away sweat
Compression for circulation
Resists suns rays
Great for cold days
This men's jacket is designed to fit you tightly and snugly so that it fits well for any athletic activity that you have planned that day.
Read more
Great Fit
The Reactor Jacket is great for any cold weather activity that you have planned for that day. It will keep you warm up to around negative fifteen degrees Celsius, but without adding on all of that extra bulk that comes from wearing other Winter jackets. This jacket is designed so you can move around in it without feeling weighed down, or encumbered by the folds of a more traditional jacket.
Other Features
This jacket is designed to keep you as comfortable as possible when you are doing intense activity on a cold day. The inside of the jacket is actually made to fit the wearer skin tight for increased blood flow, but also for improved protection from uncomfortable rubbing. The material is also designed to wick away your sweat so you don't have to worry about taking off the jacket when you get too warm.
Cost and Value
The Reactor is a great choice for anybody who is used to working out in the cold. Maybe you still go on runs on those chilly mornings, or maybe you want something that won't slow you down when you are out and about on a Winter day. The Reactor will keep you warm without you overheating. This is a great jacket for any occasion.
2

. Storm ColdGear Infrared



Looser fit
Very lightweight
Great protection against wind
Very warm
The Turing Jacket is a bit of a roomier fit if you are looking for a jacket. The Turing is another great jacket if you need something warm and lightweight.
Read more
Lightweight and Effective
One of the best things about the Turing jacket is that it is so effective at dealing with the elements, despite how warm it is to wear. This is a great jacket to take out on a Winter day because you won't feel bogged down in all of those layers. This jacket uses its insulated pockets of material to great effect when keeping you warm. It is as light as a feather so that you don't have to feel trapped inside of your jacket when you go out.
Looser Fit
Compared to the Reactor, the Turing is designed to fit a little looser on your body. This makes it a good choice for those who are slightly broader or larger because it is more likely for you to fit this jacket well. The looser fit also makes it a good choice for those who don't enjoy that compressed feeling that would come from wearing the Reactor.
Cost and Value
The Turing is a great jacket for anyone who needs something portable for those cold and windy days. These jackets do a great job of keeping you warm without weighing you down. This is a great choice for anyone who wants a looser fitting jacket. Between this and the Reactor, it is simply a matter of preference.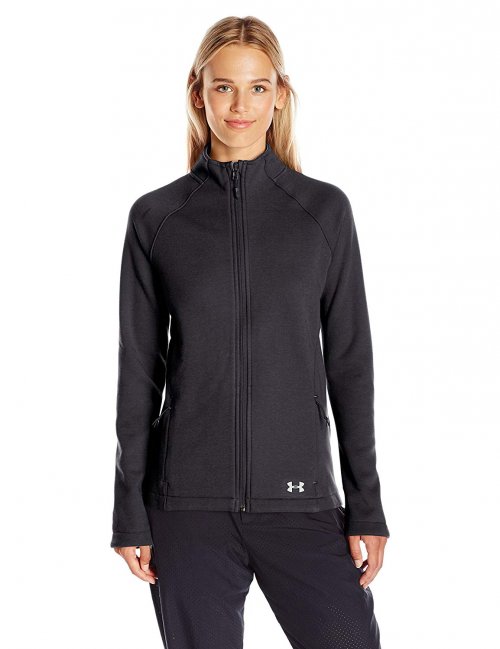 Comfortable fleece
Great fit
Good for the wind
Perfect fit at the openings
The Granite is a tight-fitting polyester jacket from Under Armour that will make you feel safe and secure from the elements when you are out and about.
Read more
Great Fit
The Granite strikes a great balance between a tight fit on your body and a loose enough fit to feel comfortable in. Once zipped in, you'll be well-protected from the elements. This is a great jacket for battling against a windy day while on your daily walk or run. This fit will let you wear a few thin layers underneath if you wish to.
Great Feel
The inside of this jacket is made of a very high-quality fleece. It feels incredibly comfortable even when going out on a run. It won't uncomfortably against you, nor will it make you feel too hot. It also does a great job of keeping out the wind from all of the openings. The fleece is also very good at keeping you from getting any abrasions when going out on a long run.
Cost and Value
It may seem expensive when simply looking at the size of it, but this jacket is made of the highest quality materials. The fit is in the perfect midpoint between a tight fit and loose enough so that you can feel comfortable in it. This jacket is a great choice for when you have to go out for a chilly walk or run.
4

. ColdGear Infrared Softershell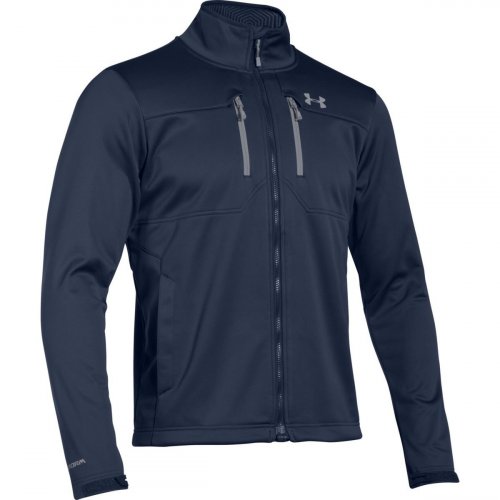 Water-repellent
Great fit at neck and waist
Still breathable
Easy to use zipper
Not designed for extremely cold weather
The Softershell is a water-repellent coat that gives a great fit and high range of motion. This is another great jacket from Under Armour.
Read more
Great Fit
The Softershell is designed to fit tightly against the body, but without stopping you from being able to move. The Softershell will hold snug enough to stop you from feeling bulky, but won't make you feel suffocated either. The zipper is also designed to give you the tightest fit possible, as it makes a tight and snug closure around your neck so that the elements won't get inside the jacket.
Other Features
This jacket is designed to be water-repellent, but without stopping itself from being breathable. This jacket has been treated with a finish that will slow down the progress of any rain you might encounter. It also has an improved zipper that uses magnets for a more effective closure.
Cost and Value
The Softershell is a great choice if you live somewhere rainy. It does a good job of keeping you warm in more temperate climates. Going for a run in this coat feels great and won't allow you to overheat. Despite being waterproof, it is also designed to remain breathable so that it stays a good choice for anyone who still wants to be active in inclement weather.
5

. ColdGear Infrared Ampli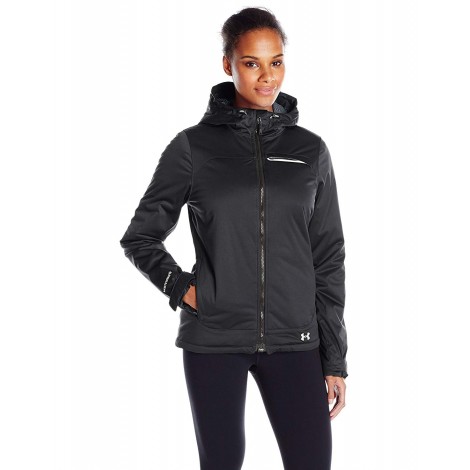 Designed for long runs
Waterproof finish
Breathable design
Adjustable wrists and neck
A bit pricier than other jackets
The Ampli is a running jacket designed to keep you protected from the wind and rain, while also using your own body heat to keep you warm.
Read more
Weather Fighter
This jacket has been designed in ways that make it incredibly effective against the elements. You can't let bad weather keep you inside so buy this jacket to keep yourself ready to be out there. It is completely waterproof, which allows you to go out in any kind of weather. It also has a solid fitting hood that will help keep the rest of you dry as well.
Warm and Cozy
This jacket has been designed to keep your body heat inside the jacket so you can stay warm without being weighed down by heavy material. It also breaths well so you don't have to worry about getting overheated. There are tight fits at the neck and wrists that you can loosen up if you begin to feel overheated.
Cost and Value
This jacket does a great job of keeping you warm when you go out running. It will keep the wind and rain at bay. It is designed to be able to handle the wear and tear of a solid five kilometer run. If you live somewhere where the weather is often not on your side, then this jacket will make sure that you ready for it.
6

. ColdGear Infrared Fractle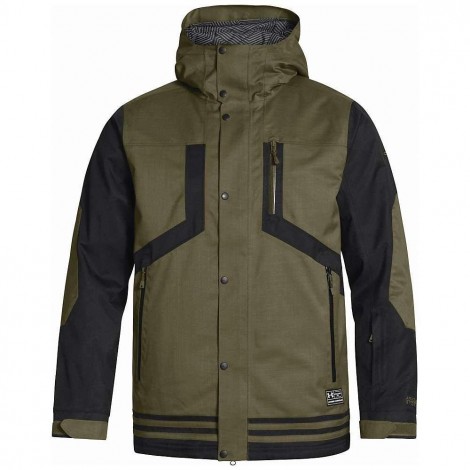 Lots of thoughtful features
Airtight fit
Completely waterproof
Lightweight, yet still warm
Not for Arctic temperatures
The Fractle jacket is a perfect jacket designed to be taken out on the slopes. It has been give all the design features that you need for a long day of skiing or snowboarding.
Read more
Nice and Warm
The Infrared interior on this jacket turns it into a reflective furnace that effectively traps body heat so that you stay warm. This is how the jacket feels so light, but remains so effective. It is also filled with Under Armour proprietary insulation that does a great job of keeping you warm no matter how the day is.
Great Ski Jacket
There are many elements to this jacket that makes it a great choice for the slopes. It has an extra large hood that has enough room to fit a large helmet. It also has specific pockets for things like your goggles and you ski pass. It is also completely waterproof so you don;t have to worry about the results of any of your inevitable tumbles into the snow.
Cost and Value
This is a reasonably priced ski jacket that will do a great job of keeping you warm on the slopes without also getting in your way. This jacket has thought of everything when it comes to making sure your ski trip is a simple and easy one. The waterproofing on this jacket is also very effective so you don't have to worry about this jacket giving up over the course of a day.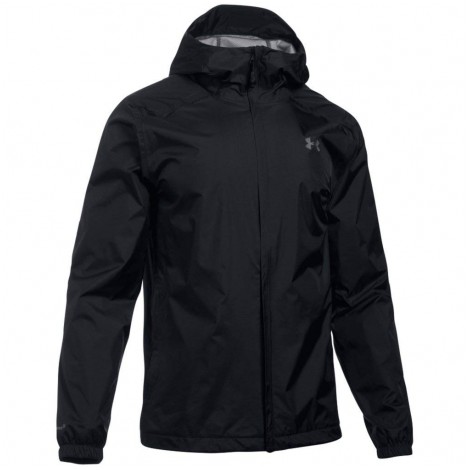 Odor fighting design
Stain resistant
Great style
Effective protection against wind and water
The Bora is a stylish nylon jacket that is comfortable, stylish, and effective at holding off the elements.
Read more
Keeps You Warm
The nylon of the Bora does a good job of holding off any kind of bad weather you can think of. It is designed to survive the rain and wind that might come at you during your daily run. The interior is made of a textured fabric that is both comfortable and insulating.
Other Features
This jacket does a good of keeping you warm, but it does an even better job of thinking of all the other problems that may come up while you are running. The material of this jacket has been specifically designed to be able to be cleaned. Any stains from dirt or other materials will quickly come out with only a little bit of elbow grease. This jacket is also designed with odor fighting material that repels the growth of bacteria.
Cost and Value
The Bora is a very high quality windbreak that will do a great job for any of your daily physical activity. It also has a very stylish look that is all one color and leaves a very striking impression. The effectiveness of its protection and the usefulness of its other features make this a great choice.
8

. ColdGear Infrared Alpinlite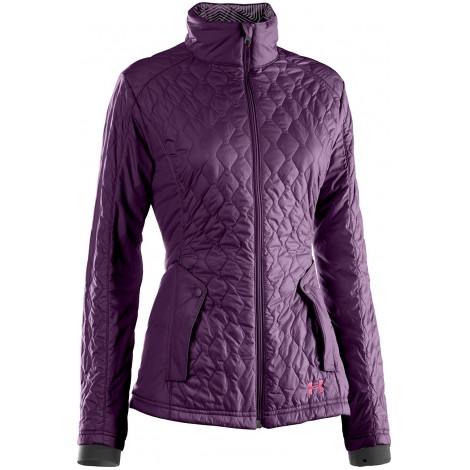 Great pockets
Very warm
Wind-resistant
Strategic insulation
The Alpinlite is a great jacket for colder sorts of weather. This jacket has been designed with lots of insulation beside a good fit for a great and easy-going fit.
Read more
Insulated and Warm
The Alpinlite does a great job of keeping you warm in those colder Winter temperatures. This jacket has been precisely fitted with specific spots of insulation to keep you extra warm. There is one hundred grams of Under Armour's proprietary insulation in the front and sixty grams of the stuff on the sides. The shell of this jacket is made of polyester so that it does a good job against the wind and cold from the outside as well.
Other Features
There are some other clever design quirks that propel this jacket into must-buy territory. The pockets have been designed so that they very securely fit your hands. This means that the elements won't get into your pockets and make your hands cold. The other great feature of this jacket is that it has a hole designed to put your headphones through so you don't have to sacrifice the secure fit, and your warmth, to stay warm.
Cost and Value
This jacket does a great job of keeping you warm, while also thinking of all the great extra features that will keep you from having the most comfortable outside time possible. This jacket will keep you extremely warm on those cold Winter days, and will have you looking good while you do it.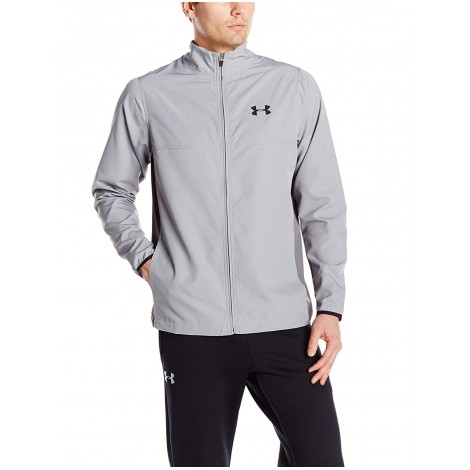 Lightweight design
Breathable mesh
Breathable pockets
Great price
The Vital is a great jacket to take out running in the Spring when you just need a little extra boost to make sure that you do not get too cold.
Read more
Warm in Spring
This jacket is perfect for that little extra bit of protection you might need on a surprisingly cold morning or evening. The shell and lining is made of polyester that does a good job of keeping you just the right amount of warm. The fit is not completely fitted either so that a little air gets in to keep you aired out.
Other Features
This jacket has been designed with a mesh lining and outer so that it prioritizes breathability. This means that this jacket does a great job of keeping you warm, without making you too sweaty. The pockets are even made of mesh to keep that perfect level of warming consistent throughout the jacket. The fabric is also designed to be extra durable so you don't have to worry about the thin material not being able to handle any snags or falls.
Cost and Value
This is a great jacket to keep on hand in case of a surprisingly chilly day. It is also great as a middle layer in a larger ensemble. This jacket also costs the exact right amount to be used as a back up. It is very lightweight and breathable, which makes it a great jacket that you won't get in the way, no matter what you are doing with it.
10

. ColdGear Infrared Skysweeper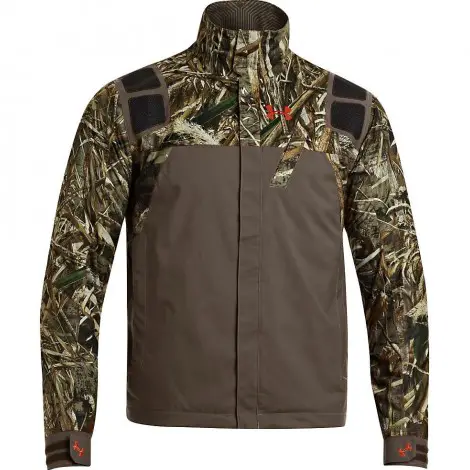 Padding for rifle butts
Magnetic sealed pockets
Windproof
Waterproof
Camouflage is only on the shoulders
This jacket is specifically designed for hunting and is proof that Under Armour can succeed in any type of outerwear it attempts to make.
Read more
Safe and Warm
This jacket is designed to keep you warm when you are out in the bush and spending a lot of time without moving. It is made with Under Armour's signature wind and waterproof design that effectively keeps out the elements. For warmth, this jacket is lined with a very effective and comfortable layer of fleece.
Other Features
It is specifically designed for hunting, and has some thoughtful features designed into it to prove it. It has a camouflage patterned design on the shoulders so that you have a great level of concealment when you are lying down. It also has shoulder pads designed into it that will comfortably handle a rifle butt resting against it. Finally, it has magnetic seals on the pockets so that you won't lose anything while you are rustling through the bushes.
Cost and Value
This jacket is a great price when compared to other hunting jackets on the market. It will keep you warm while you are sitting in the bush, and it has been given a good set of thoughtful design features to make your hunting trip as easy of a hunting trip as possible.
Criteria Used for Evaluation


Insulation
For the most part, Under Armour has designed their jackets to be worn in milder Winter conditions. They are best used for a chilly day, rather than a cold one. They do take advantage of using a good deal of insulation in the more Winter-styled coats. The insulation rating is more representative of how useful these jackets are for the conditions they are designed for. They will all do a great job of keeping you warm when you are out and about. These jackets have been designed to keep you warm while you are active, but without you feeling too hot. This is one of the bigger problems with more serious Winter jackets. A lot of the time, you will end up feeling too hot inside of them without any way to regulate your own heat. Under Armour jackets do a great job of keeping a balanced feel inside of their jackets, and allow your own body to regulate your temperature.


Weather Resistance
When going out for a run, or any other outdoor activity, one of the most important things to look for in a jacket is its ability to fight off those unexpected elements. You will probably be able to keep yourself warm if you are outside and being active, which is the main thing that Under Armour designs its gear for, but it is hard to ward off the wind and rain. Almost all of the Under Armour jackets on this list are designed to put up a proper and effective shield against the elements. Their jackets are designed to both be water and wind proof. This makes it a breeze to run headlong into the bad weather. The higher the rating in this category, the better a choice it is to use this jacket for the bad weather. The Under Armour jackets use strong materials that don't let anything on the outside in.


Overall Fit
A large part of Under Armour's reputation has to do with their signature fit. If you plan on buying an Under Armour jacket, then you should know that it will fit at least a little bit tight. The fits of Under Armour's products do a great job of keeping you locked into your clothing, and they have a great aesthetic. Under Armour offers three different fit categories for their clothing that range from compression clothing to a looser fit. The compression clothing is actually built into a few of the jackets, and will help with your blood flow. You could probably fit a thin shirt underneath it, but not much else. Compression clothing will help you avoid uncomfortable rubbing that comes from a long run, as well as help the blood flow to your limbs. The other two sizes, fitted and loose, are more common among the jackets here. It is completely a personal choice for which one you would like, but it is helpful to check the fit for your clothing of choice on the store page itself before you buy anything.


Comfort
The ultra-tight fit and great materials mean that these jackets are very comfortable when being worn. This is true of all of the jackets on this list. Under Armour has always done a good job keeping people comfortable while they are exercising. This is important for a few reasons. Once someone gets hot and bothered while they are working out, all of that uncomfortable rubbing and itchy materials will begin to be much more noticeable. Due to this, Under Armour has made all of the jackets in their line designed to keep you comfortable, even through the longest of workouts. The warming material on the inside is always made of some kind of fleece or other extremely smooth material. If there isn't any fleece, then these jackets will be lightweight enough that you won't notice the jacket at all.


Durability
These jackets are made of the highest quality material so you don't have to worry about if they will keep up with you while you are working out or exercising. The materials for the windbreakers is usually designed out of nylon, which is very durable to slips and falls. Even the more lightweight material, such as the mesh with the Vital Warm-Up Jacket, is still designed to repel any rips or tears that may come from tree branches or weights. The design quality of these jackets is also very consistent. Many companies will eventually send out something with a factory defect, but with Under Armour, this is very rarely the case.
Expert Interviews & Opinions
Most Important Criteria
(According to our experts opinion)
Experts Opinion
Editors Opinion
Users Opinion
By Default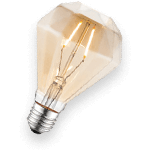 Keeping It Clean
Under Armour's clothing is made of high quality material that might be sensitive to more rigorous cleaning. On the other hand, what you will be doing in your new Under Armour jacket means that you will probably be messing it up at least a little. Under Armour jackets are almost all machine washable. It is just important to pay attention to what is going into the washer with them, and what settings you choose when cleaning them. They should be washed and dried at a lower setting. This means cold water and tumble dried at a low heat. Don't use bleach or any other fancy cleaning products either. These jackets should be totally fine with just some detergent. Most importantly, make sure to read the tag before you clean these jackets just to make sure that they will be fine with the method that you have chosen for them.
Weight Matters
Another great thing about these jackets is that they do such a good job at such a low weight. Under Armour jackets are designed to keep the brunt of your exercise on your own shoulders, and not on the bulkiness of your coat. Many of the jackets on this list will keep you very warm, but they also weigh as little as an undershirt. The design that allows your own body heat to do much of the warming of your body, also allows for less insulation and bulk that you would find in many other jackets. Many people who have used these jackets have claimed that an Under Armour jacket is the lightest jacket that they have ever owned. The best thing is that weight doesn;t sacrifice much, if any, of the effectiveness of the jacket to get that done.
Other Factors to Consider


Style
Under Armour jackets have a very distinctive style to them that is a large reason for why they have become so popular. They are usually made to be as simple as possible, with only some stripes or a logo adorning them. This makes those design choices stand out even more. On the other hand, many people link Under Armour with their black and white look. This is their most signature style, but many of the jackets on this list can be bought in a variety of colors. Many of them are surprisingly colorful when you think about what Under Armour usually looks like. Although their style is so simple, it is also unmistakable, whether you choose to get them in a bright color, or not.


Breathability
Under Armour has very cleverly designed jackets that both defend you against the weather, while also making sure that you do not overheat. This is done because of the signature material that they use. These jackets use your own body heat to do the bulk of the work in keeping you warm, and this means that the jacket works more in tandem with your body. When your body realizes that it is getting too hot, it will slow itself down. These jackets also do a great job of keeping you aired out through other methods, such as adjustable cuffs and necks. This makes the amount of air that you let into the jacket up to you so you can adjust your experience as your workout rolls on and the environment changes.
Frequently Asked Questions
q:

What is the best use for an Under Armour jacket?

a:

Under Armour jackets are designed, for the most part, for those who live an active lifestyle. This means that they are designed a little lighter and a little thinner than many other jackets of the same classification as them. These jackets are for those who like to go for daily runs, or for those who are quite active in whatever hobby that they have decided to pursue with their new jacket. The material is lightweight so that they won't get in your way while you are working out, and they are usually fitted tighter to the body so that the excess material won't get in your way while you are working out. If you are someone who spends some kind of period outside every day, then this jacket is definitely the right choice for you.
q:

How will I know if my jacket will fit?

a:

Under Armour is great because they have though off all of the issues that face people who buy their clothing online. Much too often it turns out that that small wasn't actually a small. Luckily, Under Armour has sizing guides right on their website. Their clothing usually fits tighter than other clothing so this is a necessary guide to look out. There will be a sizing guide on each of these jackets pages. Another great advantage to Under Armour's approach, is that they size their clothing to specific measurements. It would help you immensely if you could find a way to get the measurements of your torso. This means that you can choose the perfect jacket for yourself.

It might be helpful to also check the reviews on these store pages, because sometime it seems that some of the jackets from Under Armour are built a little small or large. This might also help you make your choice. Another reason for these claims might be that Under Armour's clothing falls into one of three categories of fit. If you are looking for Under Armour's signature fit, then make sure to get some of their compression of fitted clothing. This will fit much more differently than their loose fit clothing.
q:

How do Under Armour's jackets stay so warm?

a:

It is surprising how warm a jacket from Under Armour turns out to be. These jackets will keep you more than warm enough on your morning or evening jog, or for any other activity you need to take on when going outside. They keep you very warm while also being as lightweight as some cheap windbreaker that doesn't offer any protection at all. On top of that, they allow for a full range of motion to better help you work out. This is achieved by Under Armour by their very clever Infrared design. Infrared uses the reflection of your own body heat to keep you warm while you are working out. You can tell if your jacket has the Infrared design based on the design that you find on the inside of the coat. Infrared allows your own body to do all the work of regulating your own body heat, which means that you will be as warm as you need to be. This allows Under Armour jackets to be effective in a very large range of temperatures and climates. This is also the reason that you don't have to worry about bulky or heavy clothing getting in the way of your workout.
q:

How are Under Armour jackets designed for exercising?

a:

Under Armour jackets achieve their effective level of use during exercise due to a few things. They can remain breathable without sacrificing weather proofing. This is due to the materials that they use to make their jackets. They also have some other great features that make them better suited for exercising than other jackets on the market.

The best features of these jackets is that they have the ability to keep you sweat and odor free. These jackets are made of materials that will lower the amount of bad smelling bacteria that grows from sweat lingering on fabric. By using anti-microbial materials, these jackets will smell fresh for much longer. They are also designed to wick sweat away from the body so that you can feel nice and cool, instead of overheated and uncomfortable, after a long run.