Best Under Armour Jackets Reviewed & Rated for Quality
In a
Hurry? Editors choice: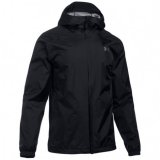 Test Winner: Storm Bora

As far as sportswear companies go, Under Armour is more or less a baby. The brand was founded in 1996, making it only 23 years young at the time of publication. With offerings from
sports bras
to athletic shoes to outerwear and everything in between, athletes can rest assured that they will find what they need for their athletic endeavors from this well-respected brand. Today we're going to take a look at what offerings the company has in terms of the best Under Armour Jackets. Let's get to it!
Standout Picks
Criteria Used for Evaluation
Insulation
For the most part, Under Armour has designed their jackets to be worn in milder Winter conditions. They are best used for a chilly day, rather than a cold one. They do take advantage of using a good deal of insulation in the more Winter-styled coats. The insulation rating is more representative of how useful these jackets are for the conditions they are designed for. They will all do a great job of keeping you warm when you are out and about. These jackets have been designed to keep you warm while you are active, but without you feeling too hot. This is one of the bigger problems with more serious Winter jackets. A lot of the time, you will end up feeling too hot inside of them without any way to regulate your own heat. Under Armour jackets do a great job of keeping a balanced feel inside of their jackets, and allow your own body to regulate your temperature.
Weather Resistance
When going out for a run, or any other outdoor activity, one of the most important things to look for in a jacket is its ability to fight off those unexpected elements. You will probably be able to keep yourself warm if you are outside and being active, which is the main thing that Under Armour designs its gear for, but it is hard to ward off the wind and rain. Almost all of the Under Armour jackets on this list are designed to put up a proper and effective shield against the elements. Their jackets are designed to both be water and wind proof. This makes it a breeze to run headlong into the bad weather. The higher the rating in this category, the better a choice it is to use this jacket for the bad weather. The Under Armour jackets use strong materials that don't let anything on the outside in.
Overall Fit
A large part of Under Armour's reputation has to do with their signature fit. If you plan on buying an Under Armour jacket, then you should know that it will fit at least a little bit tight. The fits of Under Armour's products do a great job of keeping you locked into your clothing, and they have a great aesthetic. Under Armour offers three different fit categories for their clothing that range from compression clothing to a looser fit. The compression clothing is actually built into a few of the jackets, and will help with your blood flow. You could probably fit a thin shirt underneath it, but not much else. Compression clothing will help you avoid uncomfortable rubbing that comes from a long run, as well as help the blood flow to your limbs. The other two sizes, fitted and loose, are more common among the jackets here. It is completely a personal choice for which one you would like, but it is helpful to check the fit for your clothing of choice on the store page itself before you buy anything.
Comfort
The ultra-tight fit and great materials mean that these jackets are very comfortable when being worn. This is true of all of the jackets on this list. Under Armour has always done a good job keeping people comfortable while they are exercising. This is important for a few reasons. Once someone gets hot and bothered while they are working out, all of that uncomfortable rubbing and itchy materials will begin to be much more noticeable. Due to this, Under Armour has made all of the jackets in their line designed to keep you comfortable, even through the longest of workouts. The warming material on the inside is always made of some kind of fleece or other extremely smooth material. If there isn't any fleece, then these jackets will be lightweight enough that you won't notice the jacket at all.
Durability
These jackets are made of the highest quality material so you don't have to worry about if they will keep up with you while you are working out or exercising. The materials for the windbreakers is usually designed out of nylon, which is very durable to slips and falls. Even the more lightweight material, such as the mesh with the Vital Warm-Up Jacket, is still designed to repel any rips or tears that may come from tree branches or weights. The design quality of these jackets is also very consistent. Many companies will eventually send out something with a factory defect, but with Under Armour, this is very rarely the case.
10 Best Under Armour Jackets
Subscribe to our Newsletter