Best Winter Hiking Boots Reviewed & Rated for Quality
In a Hurry? Editors choice: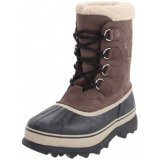 Test Winner: SOREL Caribou

Winter hiking boots give you an extra layer of protection against the elements that stop going outside from feeling like a terrible punishment. They have a few features that set them apart from the more run-of-the-mill options. They put an extra emphasis on being waterproofed for all of that wet snow and are given thick layers of insulation to keep your feet warm.

Once they get cold, that's when you know the trip is starting to go downhill in terms of enjoyment. Listed here are ten of the best options for use in winter. There's something here for any climate, price range, and level of intensity. Have a look around and find one that you like.
Standout Picks
Criteria Used for Evaluation
Insulation
This is the biggest difference you'll find between a regular set of hiking boots and a set of Winter hiking boots. It's important to find a set of Winter hiking boots with the right amount of insulation for what you are looking for. Insulation is most often made up of thinsulate material, which is a fabric that is thin, but does a great job of retaining heat. The higher ranked boots on this list have a greater amount of heat retaining capability than their counterparts. There are some things to be aware of when buying insulated boots. First, many boots will include how much thinsulate they contain. The thinsulate will usually be layered inside the chamber where the foot rests. The most common amounts of thinsulate you'll find are two hundred and four hundred grams. They both do a different job of keeping your feet warm, but keep in mind how cold it is where you are. Another factor to look into when shopping for Winter hiking boots is to see to what temperature the boots are rated. This is much more varied than the amount of thinsulate there is. It can range from thirty-two degrees Fahrenheit to negative forty degrees fahrenheit. This is a good number to listen to as a general rule, but often, Winter hiking boots don't quite match up to the temperature they state as far as insulation goes. Finally, try to remember that how warm your feet are will often depend on how much movement you engage in while outside. If you need boots for a situation where you will not be moving around too much, it might be in your best interest to get a higher rated set of boots.
Water Resistance
The water-resistance of your new Winter boots will be the other biggest difference between regular and Winter hiking boots. Of course, many normal hiking boots are water-resistant as well, but your Winter hiking boots will be dealing with a much larger workload than those hiking boots. There are many ways to waterproof a boot, and the boots on this list are a good example of that. The higher ranked a boot on this list, the better its waterproofing is. The best waterproofing will be done by rubber materials, which is sometimes considered the only truly waterproof material. When shopping around, try to remember that there is a difference between water-resistant and waterproof. Water-resistant boots will give in to the wetness eventually. Besides rubber, the other most common way to waterproof a boot is to use polyurethane treatment on whatever material it is you would like to waterproof. The problem with this is that polyurethane will wear down with use. The good thing is that this is easily corrected if you get yourself some waterproofing treatment from an outdoors store. This means that you can reapply your waterproofing and keep your boots doing a good job.
Ground Feel
When out hiking, it is a good idea to make sure that your boots are doing a good job holding onto the ground. With a set of Winter hiking boots, it is even more important to make sure that you have a set of boots with a good grip. Going out in nature in Winter is a different animal than in the Summer. There are many new problems to deal with, like water, snow, and ice. The ground will be slippery more often than it isn't. Make sure that the grip on your new boots is good on wet and dry surfaces. Having a company that uses good quality rubber for the outsole is also a good idea, as rubber is great for sticking on wet surfaces.
Support
Walking around on that slippery ground means that it is even more important to find a pair of hiking boots that will hold your ankle and upper leg firmly in place. You will almost definitely end up slipping around or traversing uneven ground. The ground will also be more unpredictable. Walking on uneven ground will mean that your ankle will be rotating a lot and often. Winter hiking boots can be bought in two major fashions. The two major shaft lengths when measuring from the heel are six inches and ten inches. The one you should choose is up to your preference, but both shafts will do a good job of keeping you safe. The best boots will use metal to better retain the shape of the upper. This makes thew upper even more effective at supporting your leg.
Durability
Finding yourself a durable set of Winter hiking boots is a good idea for two reasons. The most important one is that if your boots become damaged when you are out hiking, it can lead to dire consequences for the hiker. This is especially true with a pair of Winter boots. If the cold starts getting in, or the support on your ankle collapses, there won't be much you can do when it comes to getting out of the woods. Look for companies selling boots that use good quality materials like real leather, and high-quality rubber. The other reason to find a durable boot is so you can get a good value on your purchase. Many people who buy a good set of Winter hiking boots will have made the only purchase they'll have to make for the next few years. It's good to try to buy the best set you can find. The higher ranked a boot is on this list, the more likely it is to last you through the years.
10 Best Winter Hiking Boots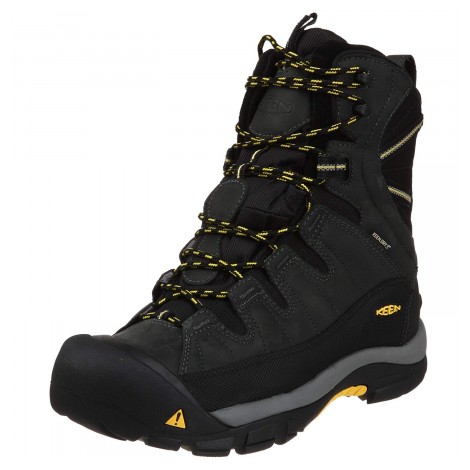 The KEEN Summit County is a solid, wide, winter boot that will keep you warm and dry in any temperature warmer than the Arctic. This is the best set for someone whose second home is out in the woods.
Waterproof
Many pairs will claim that they are waterproof, but buying a set of KEEN Summit County's will guarantee that that is the case. KEEN uses their own proprietary material called KEEN.DRY that will keep your feet perfectly dry, while remaining breathable enough to keep your feet from getting too sweaty and uncomfortable.
Extra Insulation
The insulation in the KEEN Summit County is effective and thick. These boots are about as warm and comfortable as you can find without dipping into the market for sub-arctic temperature boots. There is an extra layer of insulation set up at the toe of the boot to keep your most vulnerable parts, the toes, from getting cold.
Cost and Value
On top of being the best in all of the ways that matter the most, the KEEN Summit County comes at a very reasonable price. This boot will last you a very long time, and has an adaptive rubber sole that will react to the temperature of the ground to give the best grip so that you can take it anywhere and still get the best experience out of this boot. Highly recommended for anyone who spends a good deal of time in the snow.

2

. Columbia Bugaboot III Omni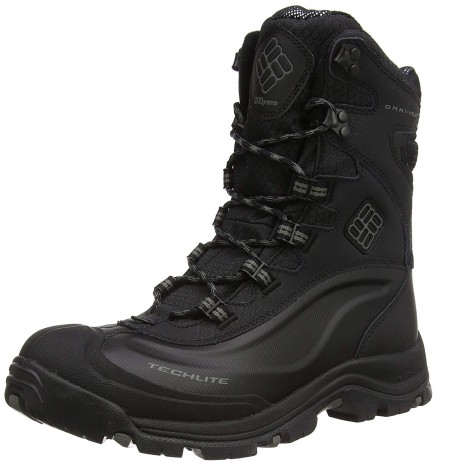 The Columbia Bugaboot III Omni is decked out in heavy-duty materials to keep your feet very warm and very safe. Columbia as a company have reliably been making gear for the cold weather, and the Bugaboot is no exception.
Waterproofed and Insulated
The Bugaboot III is full of impressive and effective technology to keep your feet warm and dry. The waterproofing is done through a seamless design that doesn't leave any cracks for water to get into the boot. To keep your feet warm, the Bugaboot III uses a reflective, insulated material that will keep you warm up until negative twenty-five degrees Fahrenheit.
Solid Construction
The Bugaboot III also sports a construction that emphasizes a comfortable and secure step. It is made of Columbia's Techlite that remains comfortable, lightweight, while also keeping your foot secure. On top of that, the boot's outsole is constructed out of a strong rubber that is imprinted with Columbia's OmniGrip technology. This will keep you firmly planted on the earth no matter what setting you are in.
Cost and Value
This is another pair of boots that are much cheaper than all of their great features would indicate. This is designed for maximum warmth in some of the coldest temperatures. Get this one if you live somewhere that has a very cold winter, and need something to walk around in.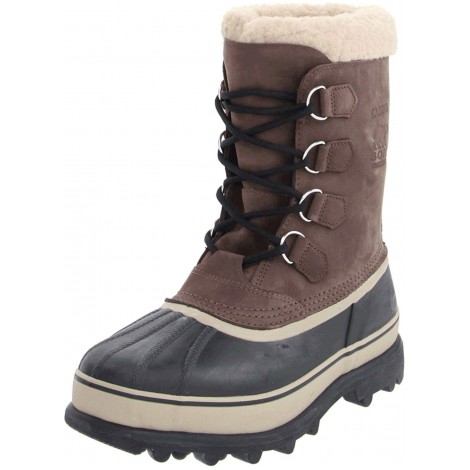 The SOREL Caribou is a good set to get for when you live somewhere that can run very cold. This is a good set of strong, supportive boots that will keep you supported all the way up your lower leg.
Unique Look
The Caribous are a great looking pair. They have a look that reminds you of long walks out into the Arctic. The upper's outside is made up of faux fur that looks as stylish as the real thing. The top of the boot is made up of faux fur that looks similar enough to the real thing to keep its style intact. The top section of the upper is lined with a very soft and very warm fur that will help contain the heat of your feet inside the boot.
Strong Construction
The Caribou is also well-built when it comes to bringing you support, warmth, and insulation. There is a strong support system that runs all the way up the boot due to the metal that is constructed into the shaft sop that this boot will never lose its shape. The warmth is brought on by a layer of felt that does a great job keeping your feet warm and insulated. The bottom section of the boot's upper and also its outsole is built of rubber, which will never let moisture at your foot.
Cost and Value
This is another well-priced boot for the level of quality present in its construction. What improves its value is the fact that you can remove the liner of the boot. This makes it a great choice for taking out in the Winter and in the Spring. The style of this boot also makes it a great choice to take around town.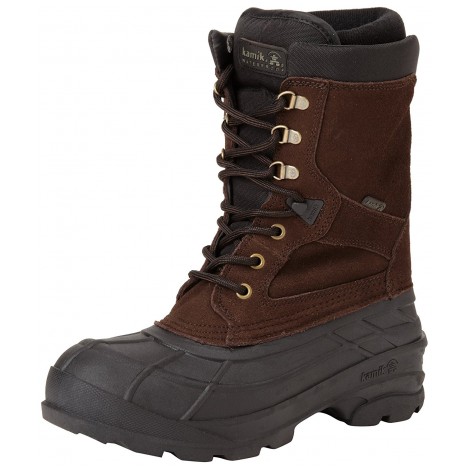 The Kamik Nationplus is a good place to start if you are in the market for a budget winter boot that won't disappoint you in terms of its construction.
Great Insulation
The insulation of the Kamik is rated for negative forty degrees Fahrenheit. This boot was designed with the coldest temperatures in mind. The insulation is achieved through the use of a solid lining of Thinsulate insulation. Thinsulate is a classic when it comes to keeping your feet warm, and there's a very good reason for that.
The Rest is Good Too
The upper of the Kamik is built out of leather and rubber, the most classic materials you can find in a dependable boot. The lacing system is built out of durable metal rings that make it easy to lace, but they also won't rust like many other metal materials found in boots.
Cost and Value
This is a great choice if you are looking for a pair of Winter boots, even if you don't need to buy yourself a cheap pair of them. They look great, and much more expensive than they look. They are warm, dry, and will support your feet very well. You won't have any doubts when wearing a pair of Kamiks.

5

. Vasque Snowurban Ultradry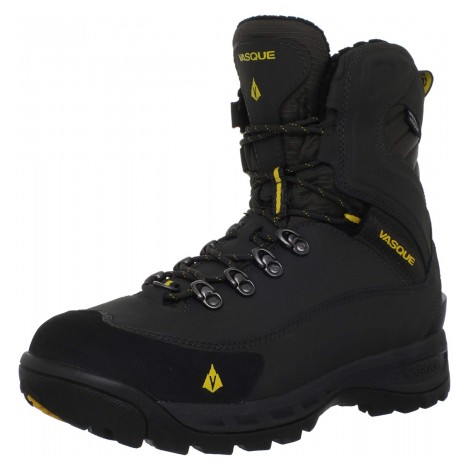 Vasque's Snowurban Ultradry is packing with technology to keep your feet warm and dry in any situations. The other features it carries along with itself also do a good job keeping you safe out in the cold.
Warm and Dry
Vasque's boot uses a polyurethane coated leather to create multiple layers of protection against the wet outdoors. Leather, when treated properly, is one of the best materials for warmth and dryness. The layer of polyurethane does a great job of reinforcing that leather. The Snowurban is housing four hundred grams of insulation to your feet protected from any kind of cold you can find.
Reliable Construction
The Vasque is made with a rubber outsole that reaches up onto the toe cap, and also the heel. This gives you some extra support. This boot also fits really well on the ankle for the kind of support that you won't have to worry about giving out on you. The lacing system uses a d-ring system that makes it very easy to lace them.
Cost and Value
These boots come at a good price for what you get out of them. They are really good for cold environments, because of the larger amount of Thinsulate used inside of them. They ride up a good amount on your leg for a strong base of support for your foot as well.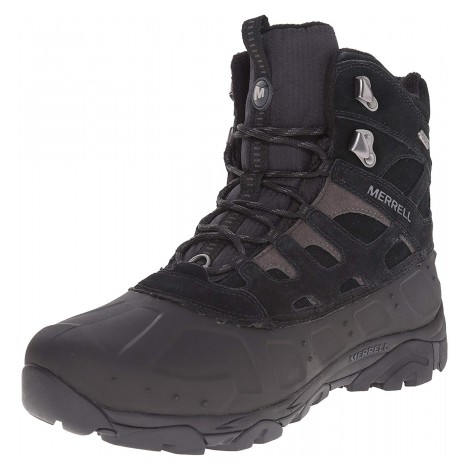 The Merrell Moab Polar is a lower profiled option that is sturdily constructed for outdoor use in any condition. It has a good price to boot.
Warm and Dry
This set of boots uses Merrell M-SELECT technology to keep your feet dry from top to bottom the rubber of the outsole helps keep you dry down low, and then the treated fabric of the upper puts up a good fight against wetness that reaches that high. The warmth in these boots comes from the shell that lines the interior for some extra layering against the elements.
Well-made Midsole and Outsole
The grip of the Merrell boot is designed for getting through slippery and icy terrain for any snowy hiking you may have planned. The EVA midsole is molded to have the best profile for your feet's comfort. The construction of the lower part of this boot does a great job keeping your feet comfortable, but also well-supported.
Cost and Value
These boots are a little bit cheaper than the other ones on this list. These ones have been designed to maximize comfort over the course of a long walk or hike. This is a good choice for people who plan on really trekking out into nature over the cold Winter months.

7

. Salomon X Ultra Winter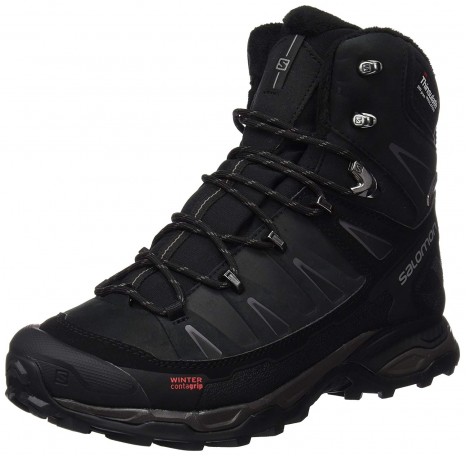 The Salomon X Ultra Winter is a mid-high boot with a strong construction. The Salomon is made of good waterproof materials and will remain reliable on long hikes.
Waterproof and Insulated
The Salomon remains waterproof because of the great set of materials that make up its construction. The upper of this boot is made of nubuck leather that does well under wet conditions. The outsole is made of impermeable rubber. Parts of the boot made of fabric use a climashield technology that help keep it waterproof. The insulation is accomplished by a layering of two hundred grams of Thinsulate packed into the boot.
Construction
The rest of the Salomon does a good job of keeping up to the standards set by its insulation and waterproofing. The tongue is gusseted to make for a batter fit against the foot. It sport a toe cap and a overlapping heel that carries the strong rubber to other important spots on the boot. There is also the midsole, which is made up of an Ortholite material that is comfortable and lightweight.
Cost and Value
The Salomon is a well costructed boot that comes at a very good price for its value. The gusseted tongue means the seal is not as good as other boots on this list, but this is still a really good choice if you are looking for a boot for hiking in the cold.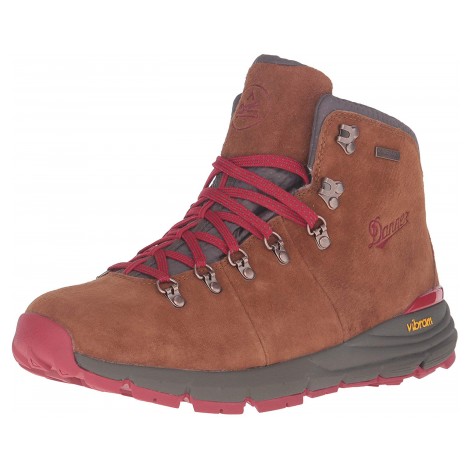 The Danner Mountain 600 is a sturdy set of hiking boots that can be bought in a form that comes with a few extra layers of thinsulate so that it can also handle the cold.
Waterproofed and Insulated
The Danner does a good job of keeping water out because of its suede upper and impermeable vibram rubber outsole. The suede has been treated with polyurethane so that it becomes even more waterproof. The Danner Mountain would be a little too cold for Winter, but it also has the option to be packed full of insulated thinsulate. This gives it the great look and feel of a day hiker, but also equipped with handling the cold Winters.
Built to Last
The Danner Mountain 600 is made of very high quality materials that give you a great ride on your hikes. The suede upper looks good, but it is also built to withstand the damages of the trail. The sole is built of Vibram rubber, which is often considered some of the best rubber that can be found on the market. It has been designed to keep a solid grip on any kind of terrain.
Cost and Value
A set of Danner Mountain 600s will cost little more than other pairs of hiking boots on this list, but it makes up for it with the high quality construction on display. These boots are great for the Winter, but maybe not too cold. This is a good set of boots to buy if you want something you can wear out on the trails and back home on the snowy streets. Make sure to get the version of this pair with thinsulate technology.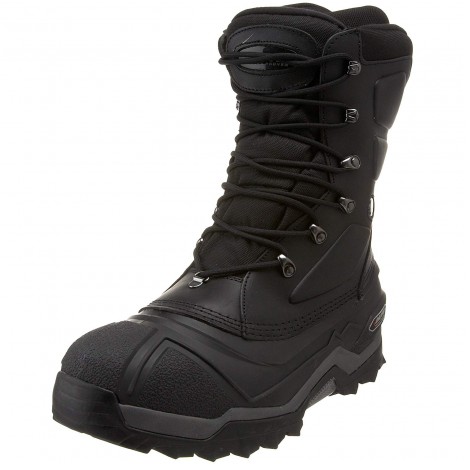 The Baffin Evolution is high fitting set of Winter hikers that are designed to mold to your leg for maximum support and comfort.
Waterproofing and Insulating
The Baffin Evolution is designed to be about as warm as you're going to need in cold wintry conditions. The insulation is packed very thick so that your feet can stay warm even if you are not moving. The waterproofing is accomplished by the leather and rubber construction of the boot. The shell of the boot has been molded with an extra compound called Arcticflex. This does a good job of keeping you warm and dry.
Construction is Key
The rubber outsole of the Baffin Evolution is designed for long hikes out in the cold. The boot has been designed top to bottom to give you a supportive fit that won't slack off, even after a long trek. The upper fits very tight for such a high riding boot. This helps keep you warm, and stops your ankles from rolling.
Cost and Value
these boots cost around the same as the other winter boots on this list. This is a good choice of boot to get if you work outdoors in a situation that is often cold. Having a boot that will keep your feet warm, even without the added warmth created by movement, will help you out over the course of a long, cold day.

10

. Northface Chilkat III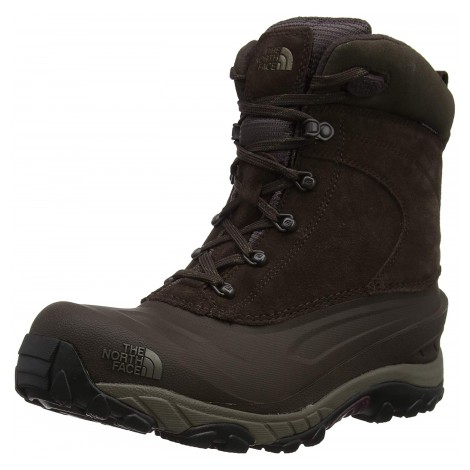 The Northface Chilkat III is from the renowned Northface. Their pedigree of high quality products for the outdoors continues with the Chilkat III.
Waterproofing and Insulation
The Chilkat II has effective waterproofing and insulation. The waterproofing is accomplished because of the custom synthetic material that makes up the Chilkat IIIs. The outsole is especially impervious to moisture. The insulation on these boots is very thick and effective.
Construction
These boots are made up of a high quality synthetic material that comes from Northface, It is designed a little softer in its construction over other pairs of boots made for Winter so it is good for people who have healthy support in their ankles.
Cost and Value
These boots are somewhat cheaper than the other boots on this list, especially the ones from such established brands. The Chilkat is a simply designed shoe that uses good, custom materials to get the job done. This is a good choice as a day hiker for the Winter months.

Subscribe to our Newsletter