Best Gun Laser Sights Reviewed and Tested
Before we look at the best sights we could find in the market, allow us to share some of the myths we were introduced in regard to gun laser sights. There's the argument that when you use a laser you will never shoot anything since all your targets will see you before you see them. Well, as many users of guns already know, a bullet moves very fast, so there'll be very little time for your target to react even if the laser gives way your positions.Another argument often heard is that using a laser sight means that you never get a chance to practice your shooting technique. We ask then whether riding a bicycle takes away the opportunity to practice your walking technique.
There are many other arguments that the lobby against the use of laser sights will advance but as you can see, most of them are actually hilarious. We've created this buying guide as a resource for anyone who uses a gun and wants to take advantage of the latest technology in the market. We've assembled 10 of the best products we could find.
For each of the products featured, we'll introduce the specific features. We will also look at the pros and cons of the product. If you have any questions relating to laser sights, make sure that you read the frequently asked questing's section of this guide.
Our Top 3 Picks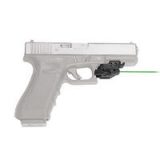 Crimson Trace CMR-206

Our rating
universal
Price:

See Here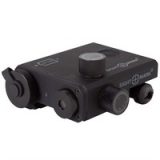 Sightmark LoPro Laser

Our rating
innovative design
Price:

See Here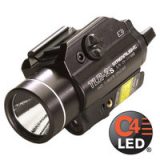 Streamlight 69230 TLR-2s

Our rating
lightweight
Price:

See Here

10 Best Gun Laser Sights
1. Crimson Trace CMR-206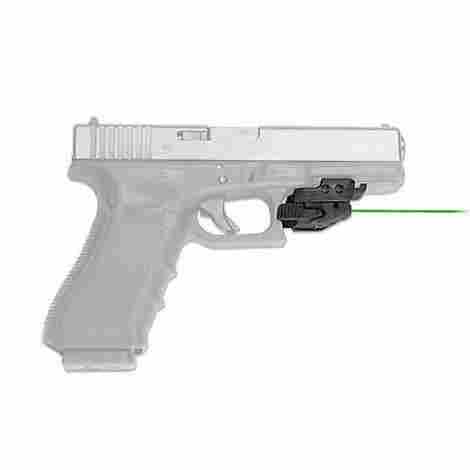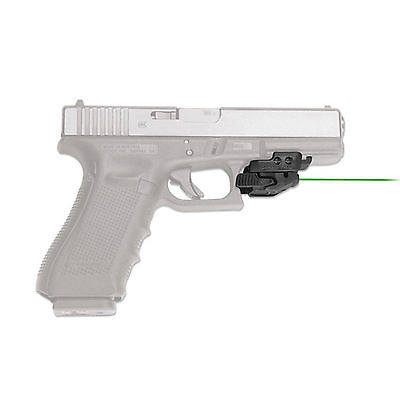 Going through the laser sights currently dominating the market showed us that the competition is tight. Arriving at the best product in this range was not easy but the Crimson Trace CMR-206 proved to have all the features that a gun user looks for in a laser sight such as the power, ability to fit in pistols, shotguns, and rifles equipped with rails. If the firearm is contemporary with Weaver style or M1913, then this is the laser sight you need for it.
Expand to see more
Universal Fit

One of the reasons why the Crimson Trace CMR-206 makes it into the number one post of our list has to do with the fact that it will match any accessory rail, as long as it has a rail measuring around 2 inches. When you add the fact that the laser sight is low profile, then you get the idea why this instrument will be a cherished addition to your railed gun.

Three Modes of Operation

This laser sight is equipped with three modes of operation: Strobe, Momentary, and Constant-On. What this means is that the user is able to set the mode according to their requirements and preferences.

Features

Green laser sight
Designed to be universal so that it could fit into different firearms
The green laser delivered is the brightest permissible by law
Instantly activate or deactivate the laser using control tabs that can be manipulated with either hand
Single lithium battery allows for 2 hours of run time and is equipped with an auto shutoff that kicks in after 5 minutes of no use
Specifications

Product Dimensions: 6 X 9 X 12 inches

Power: 1 X 1/3 Lithium Battery
Modes of Operation: 3 (Strobe, Momentary, Constant-On)
Weight: 0.8 ounces
Attachment: Rail
Laser Output: 5mW Green Laser

Cost and Value

For what it can do, this product is priced well. At this price and the value it delivers, we will not be surprised if you end up deciding to buy more than one of these units.

Time to Decide

If you own several modern firearms that accommodate the laser sight using a rail, this instrument will be the best for our situation. We are also impressed by the fact that the laser light comes with a three year warranty, indicating the confidence that the manufacturers have in the product.
Mounts on virtually any modern firearm with a rail
Comes with a three-year warranty subject to registration
Installs easily and comes with an installation manual
Priced well
The laser needs to be manually activated if it has been lying idle for more than 5 minutes
2. Sightmark LoPro Laser Designator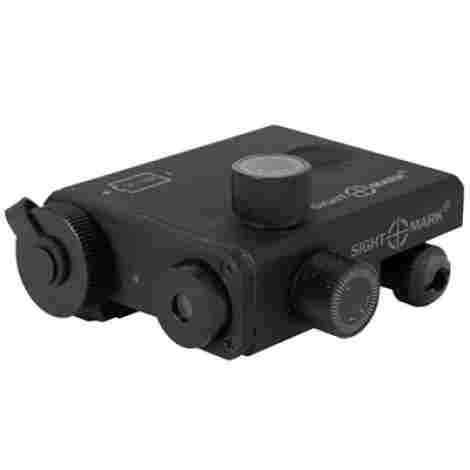 Two phrases used by the manufacturer of the Sightmark LoPro Laser Designator, low-profile design and innovative, give you an idea of the type of instrument we are talking about. The words dark Earth are also added in front of the name to indicate that the optical instrument is designed to conceal well by blending with the Earth. Remaining hidden is something that every shooter wants to be guaranteed of.
Expand to see more
Mounts In Front

The advantage of a laser sight which mounts in front of the rifle scope is that it does not block your view when you are shooting. When this is coupled with a low profile design, you know that you can shoot with maximum efficiency. To ensure supreme proficiency, the Sightmark LoPro can also be attached to the side of the rail.

Withstands the Elements

The designers of the Sightmark LoPro understood what they were talking about when they included the term Earth in describing the product. Hence they made the laser sight weatherproof, resistant to corrosion and shockproof. This was then finished off with a matte black finish. This is the reason why this instrument is known for not only being durable but also reliable. On one battery the device delivers almost 30 hours of usage.

Features

Designed to be low profile
Mounts on Weaver/Picatinny
Mounts in front and also on the side of the riflescope
Designed to remain concealed when in use
Specifications

Product dimensions: 3 x 3 x 1.5 inches
Weight: 9.6 ounces
Power: 1 CR123 battery
Laser output: 5mW green laser
Color: Dark Earth

Cost and Value

This is certainly the laser sight for someone who wants to mix value with affordability. As long as you always remember how much you paid for it, you will be impressed with it. The problem comes about when you start to expect a lot more for a product of this price.

Verdict

If you are in the market for an affordable laser designator that will do the job, we can recommend this one for you. We love the fact that it is designed to conceal very well so that you are less noticeable when out on your hunting trip. Even though we can't recommend this product with confidence when it comes to military operations, we can certainly do so for someone who wants to use it for hunting.
Even though this is not designed for military operations, its price makes it a great product for home defense
Thumb screws allow you to adjust the laser sight with ease
Very clear on short distances
3. Streamlight 69230 TLR-2s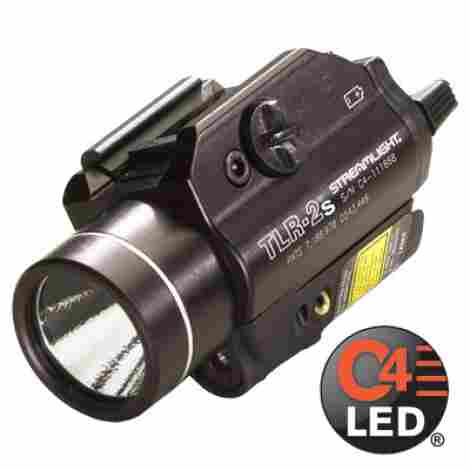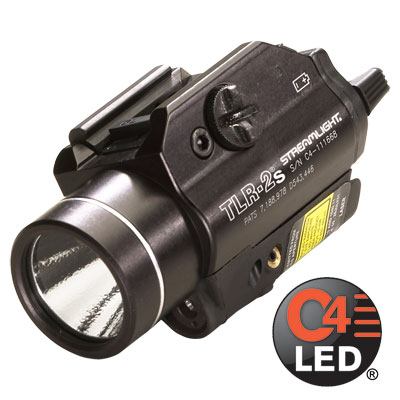 Among the terms used by the manufacturer of the Streamlight 69230 TLR-2s to describe this instrument, the two that give you an idea of the kind of product we are talking about are compact and lightweight. When you look at the leading features of this product such as the power LED that will withstand shock, and the capacity to run for 2.5 hours continuously when set in dual mode, you will understand why we have included this unit in the top ten list.
Expand to see more
Durable

The Streamlight 69230 TLR-2s is housed inside a case manufactured from aircraft grade aluminum. The body is finished off with an anodized black finish. To add to the strength of the optical instrument, the manufacturers equipped it with a polycarbonate lens that does not break easily, and a coating that is scratch resistant so the instrument looks newer for longer. The O-rings are also sealed in a way that water does not penetrate.

Easy Controls

The controls or the Streamlight 69230 TLR-2s are made convenient by the ambidextrous paddle which is coupled with a 3-way toggle switch. If you want the instrument in momentary mode, rock the paddle anticlockwise, and in the opposite direction for it to illuminate constantly.

Features

Made to fit securely into different types of firearms
Equipped to securely mount on guns that have Glock- style rails and MIL-STD-1913 rails
Designed to work for a total of 50,000 hours in its lifetime

Specifications

Product Dimensions: 3.3 x 1.5 x 1.8 inches
Weight: 7.2 pounds
Power Source: Battery
Warranty: Lifetime Warranty Supported by Streamline

Cost and Value

The Streamlight 69230 TLR-2s is not the cheapest laser sight in the market but it is not the most expensive either. When we look at the modern technological features in this optical instrument and its durability, we're convinced that it is great value for money.

Verdict

The Streamlight 69230 TLR-2s is packed with the type of features that make it difficult for anyone to ignore the optical instrument. It can be recommended for someone who is looking for an optical instrument they will use for a long time to come. Even though this is a great instrument for use with guns, if you are looking for something to use with raffles, we will recommend that you look elsewhere for now.
Comes with batteries
Good for guns
Light is very bright
Laser works great whether during the day or night
4. Vokul Tactical 3-9x40mm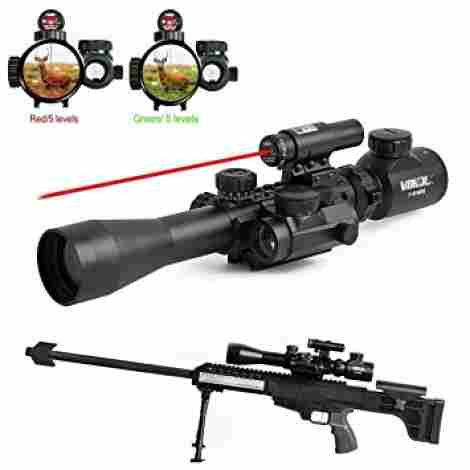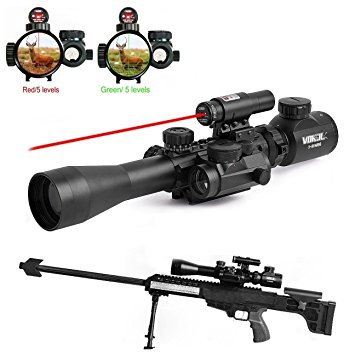 When you see the leading features of the Vokul Tactical 3-9x40mm such as great optical clarity and a magnification ranging between 3 and 9 times you will be excused for thinking it is in the higher price range. Well, let us start by telling you that it is actually one of the most affordable in the market. This is a tactical scope which is designed for different shooting situations.

Expand to see more
Affordable

We always advise that care should be exercised when buying laser sights that have such low prices as the Vokul Tactical 3-9x40mm. However, when you take this laser sight to the shooting range, you will think that it's a steal. This product will not only match your budget, it will also be a great match for your gun too. When someone saw the price of this product and what it can do, they retorted that anyone who sees this optical instrument and doesn't buy it is actually crazy.

Features

Detachable Red Dot sight and laser
Illuminates in both red and green
Adjustable brightness intensities
Durable: Waterproof, shockproof and fog proof
Great for fast moving targets

Specifications

Magnification: 3-9 times
Power: 5mW
Weight: 117g
Objective diameter: 40mm
Eye relief: 2.75" ~ 3.5"

Cost and Value

The Vokul Tactical 3-9x40mm is well priced. It provides great value to the extent that someone once said that if you see this product and do not buy it, something may be wrong with you. We do not know about this particular statement but we think the features it delivers make it a great buy.

Verdict

When we saw this laser sight and its price for the first time, we dismissed it as one of those that will leave you with a bitter taste in the mouth; we waere wrong. The laser is quite bright and will be easy to spot no matter how bright it is in the shooting range. It is also a durable product.
Affordable
Easy to spot in bright daylight
Illuminates both red and green
Durable
The piece you get is not branded as shown on the picture
5. Viridian C5L Universal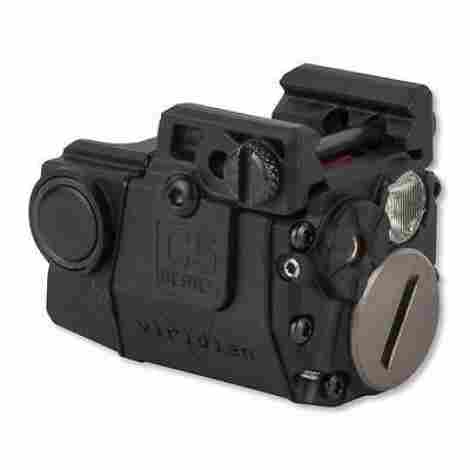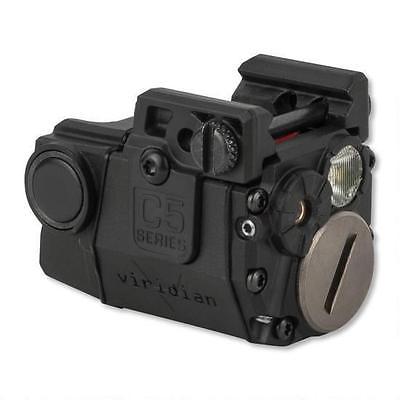 If you own a pistol or rifle with a rail, the Viridian C5L Universal could easily be what you are looking for. This compact tactical green laser sight is famous for making the target visible whether it is day or night and allowing you to be accurate every time. The manufacturers of the CL5 have powered it to the highest strength permitted by law. This is the reason why it is able to reach a point of visibility of roughly 2 miles during the night and about 100 yards in daylight.
Expand to see more
Powerful Light

C5L light is so powerful that it can be deployed as a flashlight which allows you to see the surroundings. When you are under attack, you can deploy the C5L lumen strobe light and the attacker will be disoriented.

Instant-on Activation

When using the C5L you will never need to fumble in the dark to get your laser sight on as it comes on when you draw. You will just need to preset the optical instrument to this mode. The manufacturer of this instrument claims that this is not only the fastest but the simplest activation ECR you will find.

Features

Designed to be visible in both day and night
Equipped with radiance technology for using a flashlight
Designed to be on when you draw
Various light modes: constant light, green light, laser, and light

Specifications

Product dimensions: 3 x 1.2 x 1.8 inches
Weight: 7.2 ounces
Beam Intensity: 5mW
Range: Daylight, up to 100 yards, night, 2 miles
Source of power: 1 X 3-volt lithium battery (included)
Battery life: Approximately 4 hours

Cost and Value

The Viridian C5L Universal is relatively expensive. When it works, it works well with a green laser that is very bright and highly visible even when the day is very bright. However, there have been some reports about the laser failing to turn on. Mostly these issues arise because the battery is not held securely in its holder.

Verdict

We can certainly recommend the C5L for someone who has a little more money to spend on a great product. We think that the issues with reliability have to do with a few units. Again, you will need to ensure that the battery is properly held in the holder.
Instant-on mode
Wider beam provides more coverage
Can be used as a flood light
Very bright green laser
Compact
Laser sometimes fails to activate
6. Viridian X5L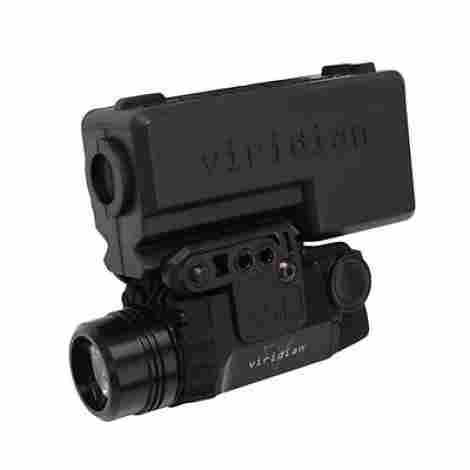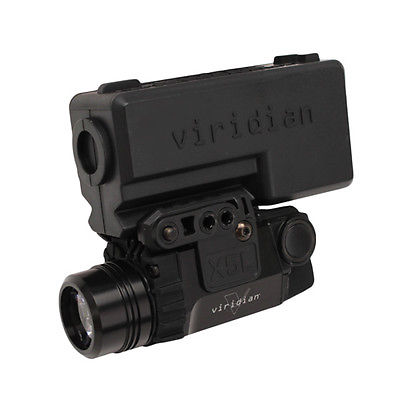 Anyone who still doubts the Viridian is the market leader when it comes to laser sights probably has not yet seen the Viridian X5L. This is an instrument designed for any rifle or pistol that has a rail. It is designed for a shooter who does not only require accurate but also tactical targeting. The reason why the tactical laser sight can fit into any instrument is that it deploys a universal rail mount.

Expand to see more
Increased Visibility

The designers and manufacturers of the X5L understand that any shooter requires the best visibility whether they are shooting indoors or outdoors, during the day or night. This is the reason why they have used green. The technicians at Viridian know that green is the color that is most visible to the human eye. Apart from this, it allows the shooter to view their target quicker even if it is a long distance away: 100 yards during the day and up to 2 miles in darkness.

Instant-on Technology

The instant-on technology ensures that the instrument activates automatically. The X5L can also be used as a flashlight when you want to survey the surroundings.

Features

Activates as soon as it is drawn
Green laser
Can be used as a flood light
Equipped with a universal mounting system

Specifications

Wavelength: 532nm
Beam Intensity: 5mW
Product Specifications: 3 x 1.2 x 1.8 inches
Weight: 8.8 ounces
Battery life: Around 6 hours when in constant laser
Mounting system: universal rail

Cost and Value

The Viridian X5L is a great laser that has been let down by a few design flaws of which one is the battery cap design. It does not look like the spring is able to hold the battery securely enough to keep it in place after a few rounds. This makes the product look too expensive for what it can do.

Verdict

Like other products we have seen from Viridian, the X5L is a solid product. With that being said, we think that it needs some more work, especially with regards to the design of the battery cap. If you are able to fix the spring, by getting yourself a better one, this is a laser sight that you may like. However, if you think this will be too much work, you may want to look elsewhere.
Easy activation
Universal mounting system
7. Ade Advanced Optics Class 3R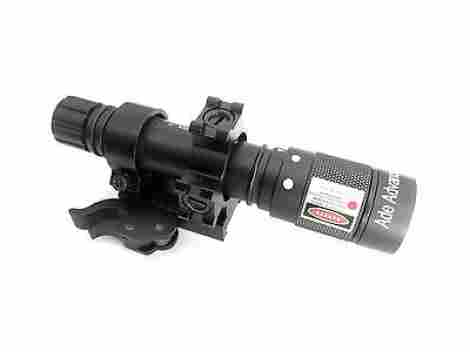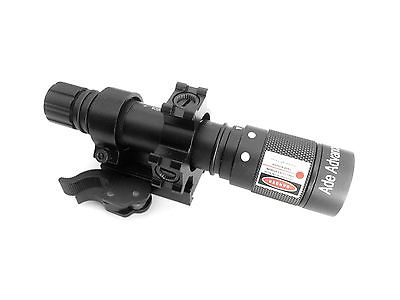 We do not usually call products cheap but when we saw the price of the Ade Advanced Optics Class 3R we were tempted to use the term. If you are looking for a laser sight and you do not have a flexible budget, this is the instrument you should be going for. As long as you understand that there are certain limitations with what a product at this price range can offer, you will have a great relationship with the Class R.
Expand to see more
Well Build and Easy To Adjust

For a unit which comes at its price, we certainly think that it is well built. Adjustments can also be easily done from the front. Remember to ensure that the gun is not loaded as you turn it towards yourself to do the adjustments. It activates the light easily with a side button. The green light it produces may not be the most intense in the market but it certainly is fine, especially indoors.

Features

Designed to fit into all railed weapons
Constructed to be durable; from light aluminum
Equipped with a quick release system
Can be fully adjusted for elevation and windage

Specifications

Product Weight: 6.4 ounces
Source of Power: 1 Lithium battery (included)
Beam Intensity: 5mW
Mounting: Rail

Cost and Value

If there is anything that the Ade Advanced Optics Class 3R should be sold on, it is the price. For a product which costs this little, we certainly believe that you are getting value for your money.

Verdict

If you are working within a tight budget, we can recommend this unit as one of the best in the price range. Of course, you will always need to remember how much you paid for you to be totally satisfied. Expecting more could easily leave you disappointed.
Extremely affordable
Battery comes included
Produces strong green light
Struggles with holding zero
8. Vokul Shockproof 532nm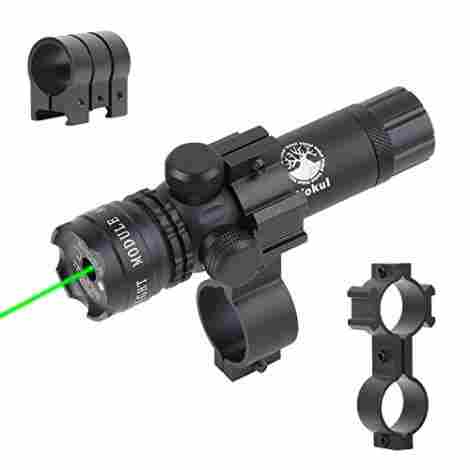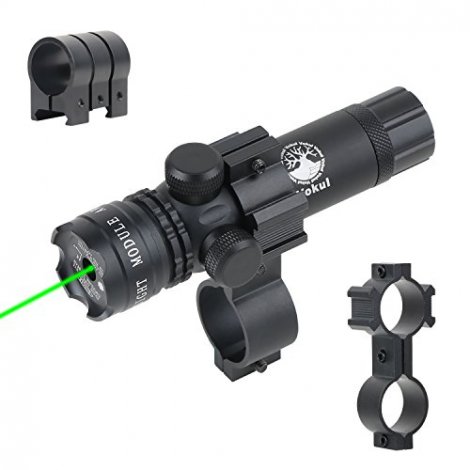 The Vokul Shockproof 532nm is proof that if you look around hard enough, you can get a good laser sight at a very low price. It is understandable if you are looking at this price and wondering if you are buying a good product. Let's start by putting those concerns to rest. We looked at the laser sight and were impressed by the build quality. It is manufactured from aviation grade aluminum alloy. It will be some time before you see any scratches on this product.

Expand to see more
Two Mounts

The Vokul Shockproof 532nm comes equipped with two methods for mounting onto the firearm. It can be mounted using the short gun barrel clamp or the Picatinny-Weaver rail mount. On the barrel clamp mount, you can fit a 12 gauge shotgun.

Features

Equipped with a removable on/off button switch
Elevation and Windage adjustable
Comes with adjustment tools
Designed to emit a green light of high intensity

Specifications

Wavelength: 532nm
Distance: 500 meters at night, 30 to 100 meters in daylight
Beam Intensity: 5mW
Weight: 410g
Product Dimensions: 130 X 165 X 32
Source of power: 1 X 3V CR123A Lithium Battery (included)

Cost and Value

One of the reasons why we included this laser sight in the best ten currently in the market was mainly because of the price. There are a few problems here and there but overall this is a good unit for the money you pay.

Verdict

If you ask us whether you should buy the Vokul Shockproof 532nm or not, our answer will be that you should. As we always say, when you evaluate the product, ensure that you remember the price for which you got it. If you keep doing that, you will appreciate how good it is within that price class.
Extremely affordable
Two mounting systems
Comes with battery
9. LaserMax Guide Rod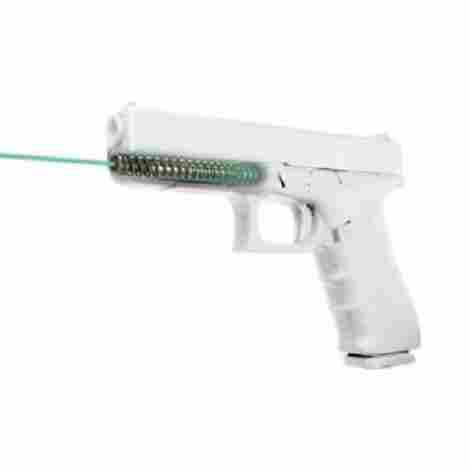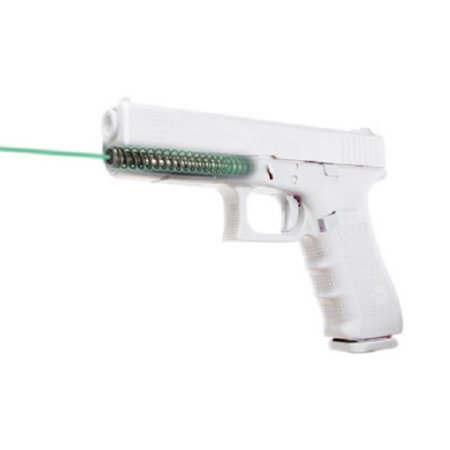 If you are the owner of the Glock 17, 22, 31, and 37, the LaserMax Guide Rod has been manufactured with you in mind. Like all good modern laser sights, this instrument has been designed to install hassle-free. There will be no need for you to take that time-wasting trip to the gunsmith or to have any sophisticated tools to install. It is manufactured to last; the body is manufactured from aircraft grade aluminum.

Expand to see more

Leading Customer Support

We think that one of the ways through which you can tell how good a product is, is to look at the customer support. The people at LaserMax keep getting this right. For instance, they have made several videos available on YouTube for you to look at if you run into any problems with the installation. If you ever require customer support, you will be met with a commendable courteous service.

Features

Faster identification and great visibility, thanks to the pulses
On/off switch can be operated with either hand
POI/POA accuracy is enhanced by the proximity to the bore



Cost and Value


Chances are that you won't regret making this purchase. It will help with your shooting tremendously, especially if you find yourself in lower light situations. It is worth the investment.
Pulses for super visibility and faster ID
Internal design doesn't restrict grip
ON/OF switch is positioned for right/left-handed users
Proximity to the bore provides maximum POA/POI accuracy
Less than 5mW power output
Great alignment for mass shots
Takes some time to get used to
Installing laser might prove difficult/unsuccessful
10. Sightmark Universal Bore Sight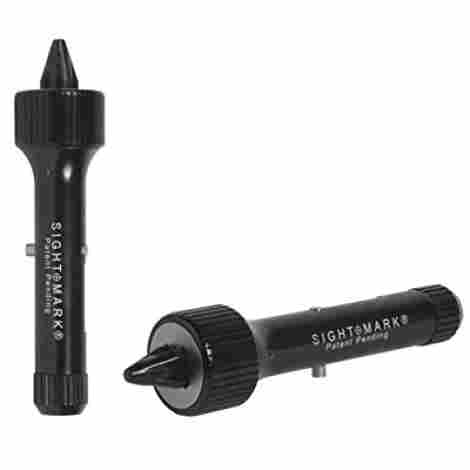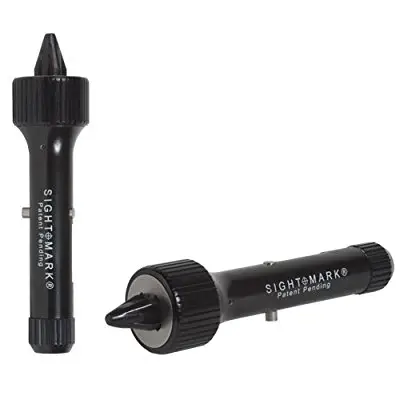 To accurately take aim at your target does not require you to put up with the inconvenience. This is a fact that the people at Sightmark seem to have considered as they were designing the Sightmark Universal Bore Sight. They made it operate in a simple manner. All you need is to place the bore sight's arbor into the barrel of the weapon and the base attaches itself using a magnet. Once this is in place the bore with be centered automatically.
Expand to see more
For All Guns and Occasions

Whether your duties involve law enforcement, hunting or competitive shooting, the Sightmark Universal Bore Sight is what you are looking for. It is designed to ensure that the process of sighting is not one you approach with trepidation. It is also designed to fit into almost any modern firearm you can think of.

Features

Designed to work on all pistols and rifles
Fast sighting and zeroing system
Mounts easily with a magnet

Specifications

Beam intensity: 5mW
Product dimensions: 9 x 5.6 x 1.5 inches
Weight: 4.8 ounces
Power source: Two non-standard batteries (included)

Cost and Value

The Sightmark Universal Bore Sight price matches the value you get. It is in the lower price range but within that range, it is one of the best. As long as you are not comparing it to products which do not belong to the same class, I think the instrument is worth the money you spend on it.

Verdict

Even though this happens to be our last laser sight in our top ten list, we still think that it is a good product. We can recommend this product with confidence as we think that it is well built. You will also like the fact that the product is durable.
Affordable
Bright laser
Very accurate
Poor design for the battery holder
Power button can be accidentally hit
Criteria of Evaluation

If we just listed a group of ten products and called them the best laser sights in the market without telling you what criteria we used, we would just be involved in a subjective process that is unfounded. When we decided on the products we listed here, we looked at a number of elements, including the price, the main features of each product, durability, the range of firearms it can take, ease of installation and what accessories come with the laser sight.
Installing the Laser Sight
If we had any feeling that the installation process would cause grief to the shooter, that particular product lost some marks and found itself going towards the bottom of the list and sometimes out. The installation process should never be difficult or expensive. The products that made it to the top of our list are those that make an effort to make the installation process easier, either through delivering a well-written manual or provides a link to videos online.
Included Accessories
Value is not only found in the specific product itself, it should also include the accessories which it comes with. For instance, I hate having to run around looking for a battery when I buy a new laser sight. So, I prefer those that come with the battery included. If the sight included any adjustments with regards to windage and elevation, I would also expect the product to arrive with the adjustment tools.
Features and Specifications
As you can see from the reviews above, the different laser sights have varying features and specifications. As a shooter, one of the most important features you need to consider is the range of the distance your target needs to be in order for you to use the laser sight effectively. The longer the distance, the better I think is the instrument. I also looked at the intensity of the beam. Most good manufacturers ensure that this intensity is as high as the law will permit.
Value and Price

Even though I believe that price should not be the only element that should be considered when evaluating products, I think it is one of the most important. If I looked at the price and thought that it offered more features than others in the same price range, it went higher up the list.
Durability
Good manufacturers are doing everything in their power to ensure that the product they put in the market will serve the buyer for the longest period. In assessing the products that made it into this list, we looked at the material from which they are made. Apart from the materials used to make the body of the product, it is important to ensure that the knobs, switches and battery holders function properly. Even though a product was great such as the Viridian X5L, if it had problems like a poor design of the battery holder, it went down the list.
FAQ
Frequently Asked Questions

Q: Why are green lasers more expensive than the red lasers?
A: Generally, green is considered a more powerful color with better visibility, especially when you are shooting in conditions of bright light. Research also shows that green is the color that the human eye sees easily. In low light or darkness, both red and green will work just as effectively.
Q: Which color should I buy, red or green?
A: You get advantages from both. If you are looking for a more affordable laser, you will go with red. However, this will sacrifice power. The other advantage with red laser lights is that there are more of them in the market than green ones, so you are most likely to find the right one for your gun without too much hustle. If money is not a problem, go for the green one, it will offer you more power especially in bright light.
Q: Why do most lasers have wavelengths of around 552nm?
A: This has been designed to correspond with the range that the human eye peaks at. The human eye peaks at a range of around 555nm. This is the reason why most of the laser sights have around 555nm as the top scale.
Q: What does the warranty grant me?
A: The warranty is the promise made by a manufacturer that if you find any defects that result from the materials used for making your laser or the workmanship, it will be repaired free of charge or replaced. Look at the conditions of the manufacturer, some products will require that the purchase is registered with them for the warranty to be claimable. Also, keep the dates when you bought the laser on record so that you know when the warrant is no longer standing.
Q: How often will I need to change the battery?
A: This depends on how often you use the laser sight. When the battery starts getting too low, it will warn you. You will also start to see the intensity of the beam start to weaken. If you start noticing the beam getting bright when you have just activated it and them fading over time, you should start looking for a new battery. It could actually be a good idea to keep a spare battery close just in case you need it.
Q: Can I use the laser sight in the rain?
A: Good laser sights are waterproof. This means that you can safely use them in the rain. Even though submerging the instrument in the water is not recommended, doing so should not cause any problems.
Q: Will using a laser sight interfere with my shooting skill?
A: Using a laser sight is an easier way of ensuring that you hit your target more accurately. Proposing that using this instrument interferes with your ability is more like saying that when you type on your computer you are interfering with your ability to write well using your hand. Anything is possible, but it is not always a likely situation. It is more so believed that using a laser sight can make you a better shooter. That said, like with anything, the less you practice the less you advance. So, if you completely give up checking in with your shooting skills and fundamentals and only rely on the laser sight, then yes, there is a possibility that you may decrease your natural shooting skills. A way to prevent this is to simple continue practicing shooting with and without the laser sight.
Q: Does a laser sight give away my position?
A: This is a hot topic in many forums. A laser light is not a flood light, so it is not as if when you deploy it, the whole place suddenly becomes bright. Also, once it is aimed at the target, there is very little time for the target to dodge a bullet, considering the speed the bullet moves at. You are still better off risking giving away your position than shooting inaccurately and still giving away your position after having missed the target.
Q: Are both green and red lasers visible in daylight?
A: The best lighting conditions for a laser sight to be clearly seen is indoors and in environments with low light. These types of environments allow the pulsing laser to aim and point far beyond the average shooting distances. Daylight is not great for these lasers and most commercially-available laser sights powdered within the limits dictated by federal law will not appear in broad daylight beyond a very limited range.
Q: Do I need a sight laser?
A: You certainly do not need one, especially if you are a sharpshooter with impeccable aim. However, if you are finding yourself in low-light situations or would like to boost your aim accuracy, then you will want to invest in a sight laser.
They can help assist you in accuracy and aim. They give you visibility of your target from a far distant. Either way, if you choose to use one, it is important to become proficient with it. It will only benefit you. However, it is crucial to maintain muscle memory for stressful situations where you need your muscle memory to kick in. So, still practice without one, too.
Q: What are the benefits of a sight laser?
A: One benefit of a sight laser is that they help in low-light conditions. If you are struggling to align your aim and shot, the laser offers an instant target acquisition and accuracy. Most danger occurs in dim light or darkness, so this is a major advantage in that case. Overall, they simplify the aiming process for you, giving you a major advantage.
They also allow you to shoot from multiple positions. Since the laser helps your accuracy aiming, you can essentially be in any position that you feel you need to be and still get a solid shot off. Being able to shoot from the best position as well as the most awkward position are both super important. You don't want to compromise. Lasers help keep you in the fight.
Lasers help keep you target-focused with your aim. All you have to do is see your threat or game, align the laser dot and shoot. They offer greater situational awareness.
Last but not least, today's laser sights are lighter weight, more durable and reliable than ever.
Q: What are some setbacks of using a sight laser?
A: Laser sights are made to help your aim and accuracy. However, if you begin to rely on them 100% of the time, there is a possibility that you could lose some of your fundamental skills in shooting. A laser could make you lazy if you allow it, meaning that in stressful situations, your muscle memory might not be able to take over anymore. But, hopefully this is not the case.
Lasers can also feel a little bulky added to your handgun, especially when it comes to concealed carry. You will probably need to invest in a new holster to fit it all.
It's important to become proficient with the laser if you choose to have one. And, make sure to brush up on your shooting fundamentals once in a while to stay sharp.
Sources: