Best Fleece Jackets Reviewed & Rated for Quality
In a Hurry? Editors choice: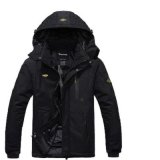 Test Winner: Columbia Benton Springs

Fleece jackets are an ideal garment for whenever the
weather is cool but not cold
. Why? Because even though they offer warmth, they tend to be lighter in weight. So, if you are going to be
adventuring in subzero weather
, definitely invest in a proper jacket. But in the meantime, fleece jackets are ideal layering pieces for cooler and some cold weather situations. If this sounds like what you are looking for, keep reading! There are many reasons people choose fleece jackets and below you will find a list of ten of the best fleece jackets available today. They have many of the features and qualities that any consumer would expect from such
jackets
!
Standout Picks
Criteria Used for Evaluation
Materials
There are plenty of people who find fleece jackets to be incredibly comfortable. This is because the fleece material is generally super soft to the touch while also insulating. Most fleece jackets have a relaxed fit which makes it easy to move in them without feeling bulky. Most of the times these jackets are fully loaded with pockets that can be zipped shut to secure your personal items such as keys and phones.
You should start by understanding that not all fleece jackets are the same. As a matter of fact, there are several forms of fleece that each have their own specific applications. Let's being with the Microfleece. Microfleece is extremely thin and lightweight. It can be used as both as an interior layer or an exterior layer. This makes Microfleece a highly ideal material for when you need to dress in layers. Picture a day where it starts out really cold in the morning, but by the afternoon it is much warmer. Microfleece is highly ideal for such a day because you wear it as a base layer in the morning and later on as an exterior layer.
Athletes also tend to enjoy wearing microfleece. Since microfleece is thin, it is also breathable. Breathability is a key feature because it will make the jacket naturally moisture wicking. Moisture wicking is crucial for athletes since they tend to sweat and need a way to regulate their body temperature. It is for this reason that you see many runners and joggers wearing microfleece. Also, since microfleece is thin, it doesn't add much weight which is another benefit for athletes.
Going up the scale is mid-weight fleece. Mid-weight fleece is one of the most common forms of fleece that is sold on the market because it is extremely versatile. Many mid-weight fleece jackets are worn as either an outer layer or they can be worn as an inner layer for heavier duty winter coats. When worn as an outer layer, mid-weight fleece still provides you with enough room for layers such as thermal shirts. This is why mid-weight fleece is so popular in the spring and the fall seasons. It is really easy to dress in layers while wearing mid-weight fleece.
When you are trying to stay warm in the winter, you can wear mid-weight fleece as a base layer to a winter jacket. This kind of fleece provides you with additional insulation so that you trap more body heat and stay warm in the cold weather. You will still feel comfortable because the fleece is soft, which is great since most winter jackets are not soft themselves. The fleece still breaths extremely well so that you won't end up feeling hot or sweaty while wearing a fleece jacket underneath a winter coat. Should you start to feel warm while wearing a winter coat, you can easily just wear the fleece on its own or just wear the winter jacket on its own.
The final form of fleece that most people are familiar with is textured fleece. This is a fleece that provides you with a specific pattern such as waffle fleece. You may also see fully fleece on the market as well. Both forms of fleece fall under the category of textured fleece. The textured fleece is ideal for cold conditions. Many people will choose to wear textured fleece on winter days or even early spring or late fall days. It does an excellent job of trapping your body heat which is why it's so great for the cold weather.
Now that you are familiar with the forms of fleece commonly sold on the market, you should use this knowledge to help you make an informed decision about what sort of fleece to purchase. Start with your primary activities while you are outdoors. If you plan on going skiing or snowboarding, you may wish to pick out a textured fleece or at least a mid-weight fleece. This is because you are likely going to appreciate being able to move around easily while still taking advantage of the moisture-wicking properties fleece has to offer. Chances are that people who spend time in the snow may wish to dress in layers so it's something to consider when purchasing a winter fleece.
Effectiveness
The main purpose of the fleece jacket is to help us stay warm. If the jacket isn't warm, then it really isn't doing its job. Naturally, different kinds of fleece affect well the jacket will perform under certain conditions. For example, microfleece has the least amount of insulation as opposed to textured fleece. You will need to take that criterion into account when judging the performance of a fleece jacket. Nevertheless, under normal conditions for the type of fleece used in the jacket, the jacket should feel warm while you are wearing it.
The thickness of the jacket will affect how warm you will feel while wearing it. If you plan to wear the fleece jacket as an exterior layer on its own, then you should consider purchasing a thick fleece jacket. Thicker fleece has more ability to create air pockets which prevents your body heat from escaping. This is what creates a thermal barrier around your body so that you continue to feel warm while wearing the jacket. Such jackets should also have elastic arm cuffs and a tight waistband so that the jacket seals around the openings.
You may even see dual-layered fleece jackets. These jackets have multiple layers of fleece or another material which makes them thicker and better able to insulate your body. It is common to see fleece jackets that have a sherpa interior lining so that you feel extra warm while wearing such a jacket. These jackets are an excellent choice for an exterior jacket because they are warm on their own and they make it easy to layer.
Thinner fleece jackets are great for layering but are less ideal for wearing an exterior layer. The thin fleece makes it easy to feel warm because it makes an excellent base layer. The fleece material does an excellent job of trapping air while still breathing, but the thin fabric makes it easy for you to wear an exterior layer over the top of the fleece jacket for additional protection and warmth. If you need to remove a layer, the fleece layer is a good choice since it can be easily removed and folded up for later. This is a big part of the reason why many people will choose to wear fleece as a base layer for their winter jackets.
The best way to make a determination about your fleece jacket to plan upfront how you intend to use it. If you plan on using the jacket as an exterior jacket then you should look for features that suggest the jacket is designed as an exterior jacket. You should try and look for thick and heavy fleece, dual layers, hoods, and elastic arm cuffs. Such features are an excellent indicator of the intended use of the jacket. Jackets that are meant to be worn as base layers tend to have thin fleece or microfleece material. More of the time, these jackets will not have tall collars or hoods so that it is easier to wear them underneath other clothing.
Fleece is an excellent choice of material for jackets because it is known for its ability to keep people warm. If the fleece jacket is unable to keep you warm, then it may not be the proper fleece jackets for your needs or it could be a sign that the jacket is of low quality. You should always make sure that you purchase the proper jacket for your needs first. You do not want to purchase a thick jacket as a base layer since it will hinder your ability to move and will make you sweat. Likewise, a thin fleece jacket may cause you to feel cold if worn as an external layer.
Durability
Jackets that do not last long aren't really worth their money. When purchasing a fleece jacket, you should consider the overall quality of the jacket itself. You should make sure that the jacket fits properly and the sleeves and the coat are the proper lengths. You should also make sure that the jacket has high-quality sticking around the seams and around the zipper. It's also important that you check the zipper and make sure it works properly. Finally, you need to make sure that the fleece itself doesn't start to "pill" after it has been washed a few times.
Low-quality fleeces can develop small balls that are pill shaped after it has been washed. This condition is really bad because it means that the fleece will no longer be able to keep you warm nor will it feel very comfortable. Pilling is a condition that is associated with low-quality fleece. You should always make sure that the fleece has been treated so that it doesn't start to pill. Online reviews can also be helpful since many customers tend to post if they have experienced their fleece pilling out on them.
The construction of the jacket itself is also important. Many low-quality fleece jackets have a number of common issues. For example, a jacket that has zippers will often have plastic zippers rather than metal zippers. Plastic zippers break easily and they jam. The result is either having a jacket that you can no longer zip or have to have the zipper replaced. You should try and find jackets that have metal zippers. It's also important that you check the stitching around the zipper. If the stitching is inferior, the zipper will detach from the jacket which is difficult to fix.
The stitching should also be inspected in other areas besides the zipper. You should always check the stitching on the sleeves and the shoulders. The last thing you would want is for a sleeve to detach from the jacket. A more common issue is when threads start to come loose on the jacket. Not only does this make the jacket look old, but you will find yourself having to cut loose threads from the jacket. Loose threads can get caught and result in stitching coming undone or worse, tearing the jacket so that it's beyond repair.
Abrasion is another common problem to look for when picking out a fleece jacket. High-quality fleece jackets will normally have extra material around trouble areas such as the elbows and the shoulders while low-quality jackets will see these areas wear out easily. You should always be on the lookout for issues such as the elbows wearing out in the jacket prematurely because it's a sign that the jacket is of low quality. The best fleece jackets will even advertise that the elbows are durable.
Durability is an extremely important part of picking out a fleece jacket. It matters because we want our jackets to last for a long time and continue to look great while they do. The fleece itself should be treated so that it doesn't start to pill. The rest of the jacket's construction should reflect a high quality. The zipper should be made out of metal and it should be stitched to the jacket in a durable fashion. All of the elastic on the cuffs should feel tight. You should make sure that all seams and stitches are of high quality and do not end up showing loose threads. If you take your time in this area, you will end up with a high-quality jacket that will last you for a long time.
Weather Resistance
Since fleece is commonly worn as an outdoor jacket, you should consider the type of climate you plan to be spending your time in. Sometimes fleece is wind resistant while other fleece resists water. Both of these aspects should be important considerations when picking out the proper fleece jacket. It is also important to consider the outdoor temperature and the amount of sunshine you will be exposed to while spending time outdoors.
People who live in rainy or snowy weather may want to consider looking at water resistant fleece jackets. The fleece on its own will not keep you dry. As a matter of fact, it will do the very opposite since fleece breaths so well and is therefore permeable to water. If you plan on wearing your fleece jacket in conditions where it is raining or about to snow, then you will need to look for features in the jacket that will help you stay dry.
Many outdoor fleece jackets are available that have some sort of a waterproof lining. The lining can serve as a moisture barrier between you and the fleece jacket. The downside of such lining is that it impacts the jacket's ability to breath. Breathability is one of the main benefits of wearing fleece, but a water protectant membrane will hinder the breathability of the fleece jacket.
When it is isn't raining, windy, or snowing, the temperature should be the main factor when considering which kind of fleece jacket to purchase. Many fleece jackets work as ideal spring or fall jackets. This is because fleece does an excellent job of trapping your body heat so that you feel warm. Many people who are active choose fleece because the material is designed to remove your body moisture quickly.
Style
Many of the fleece jackets today address different uses and needs. For example, some fleece jackets are meant to brave rough weather. They are resistant to both the wind and the rain. These jackets are an excellent choice for outdoor activities such as fishing, hiking, or skiing.
Some fleece jackets are just meant for casual use. They are lightweight, look great, and they don't cost a lot of money. These are the sort of jackets that can be worn outside on cool but not cold days. Other people may wear them indoors to avoid turning the heat up in the house and save on the utility bill. Finally, these jackets can be used as an under jacket when dressing in layers.
There are also fleece jackets that are stylish and are meant to look more formal. These jackets are ideal to wear over your business clothes when working in an office setting or on a casual Friday. They are meant to look great with dress slacks or even with fancier clothing.
While all of these jackets are tailored to specific needs, they all share common traits. For example, many fleece jackets have internal and external pockets. These pockets are useful for holding small items securely so that they don't get lost. You will also notice that all of these jackets are designed to keep you feeling warm and comfortable while wearing the jacket. Last, of all, they are meant to look and feel great regardless of what you are doing or what you are wearing with them.
BEST FLEECE JACKETS REVIEWED & RATED FOR QUALITY


Anyone who works in the line of duty and is looking for a high performant fleece jacket should consider this fleece jacket by 5.11. This jacket has lots of pockets which allows you to quickly access gear such as handguns, flashlights, or mace. The jacket also includes microphone clips which makes it ideal for when you need to record your actions. This high-quality jacket is also highly durable.
Back-Up Belt System
One of the most important features offered by this jacket is its backup belt system. The jack is full of hidden pockets around the chest area that allows you to hold and secure all kinds of gear including handguns.
Abrasion Resistant
People who are active should consider this jacket for its durability. The collar, elbows, and the shoulders all have extra material that resists abrasion. The result is a jacket that lasts much longer under heavy duty workloads and conditions.
Cost and Value
You should plan on paying a high price for this jacket since it is a premium jacket. It gets its value by offering lots of features that are specifically geared towards law enforcement and military needs.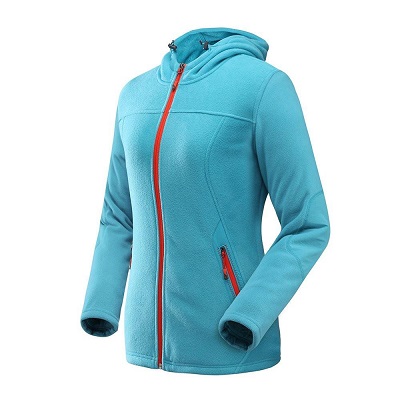 This is a fleece jacket that is fully water repellent and will keep you dry in the rain. This is really ideal for rainy seasons such as early spring or late fall when you can get rained on in an instant. The jacket also keeps you warm with its fleece lining which is soft to the touch and feels good on your skin.
Water Repellent
This fleece jacket is fully water repellent and will keep you dry in the rain. It makes a great choice in any situations where you are likely to be exposed to rainwater. It's exterior also repels stains and mud.
Warm Plush Lining
The jacket has a fleece lining that is thick and warm. It will trap your body heat and keep you feeling comfortable in cool or even cold weather. This makes it a great choice for an all seasons jacket.
Cost and Value
This jacket has an average cost and is fully loaded with features. It is fully water repellent and may be used as a rain jacket. It also stays looking new for a long time since it repels stains and dirt.

3

. Columbia Benton Springs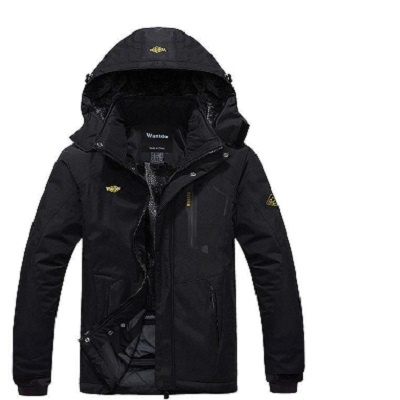 If you plan on hitting the ski slopes or spending time in the rain or snow, then you may want to consider this fleece jacket by Wantdo. It is completely water repellent so it will keep you dry from rain or melting snow. The liner of the jacket is complete fleece with cotton padding so you can expect to continue to feel warm as well.
Waterproof
The jacket is fully water repellent and will keep you dry even when it is sprayed directly. This makes it a great choice as a raincoat or as a ski coat since you don't need to worry about getting wet.
Windproof
The jacket is also fully windproof. The sleeves have adjustable cuffs so that you can create a tight seal around your arms. The interior liner has a drawstring around the waist so that you protected from the wind down below.
Cost and Value
This jacket has a high price but it justifies its price tag by being fully loaded with features. The jacket is fully wind and waterproof, which makes it an excellent choice when you are outside in wet or snowy conditions.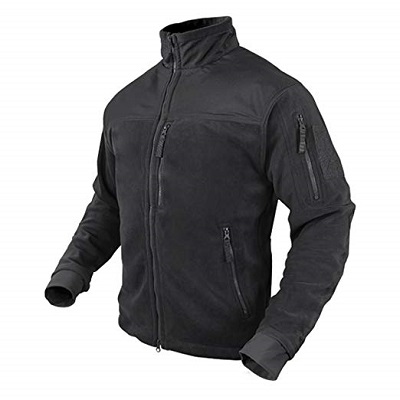 This is a great fleece jacket if you are looking for something on the higher end. It's incredibly stylish and yet it comes packed with excellent features also. For example, there are zipped pockets located on the sleeves, chest and side pockets. It has a raised collar to keep your neck warm. The sleeves have thumb holes and the waist even has a drawstring so that you can get a sealed fit.
Lots of Pockets
This jacket has a lot of pockets. The sleeves have pockets on them near the shoulders. There is a vertical pocket on the chest. Finally, you will see two side pockets. Every one of these pockets can be closed with a zipper.
Thumbholes
The sleeves have two really important features. The cuffs of the sleeves have a rib-band fit that fits tightly around your wrist, but they also have thumbholes so that you can put your thumb through them and get a really snug fit.
Cost and Value
This fleece jacket has an above average price but offers features that make it worth spending a little extra. For example, this jacket is fully loaded with pockets that zip shut and securely hold your personal items.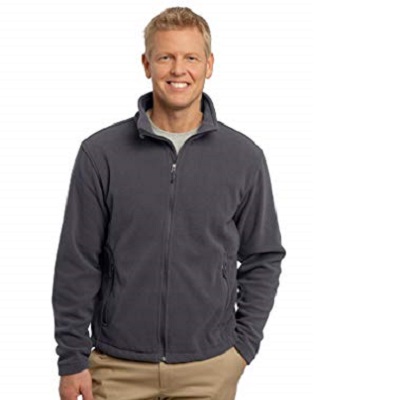 If you are looking for a jacket that is long lasting and resists shrinking, you may want to consider this fleece jacket from Port Authority. It is made out of 100 percent polyester so it is highly resistant to shrinking. This helps to make sure that the jacket continues to fit well even after many times through the wash. It also has other nice features such as zippered pockets.
Soft Chin Guard
This jacket has a collar that is tall enough to protect your chin. This can be extremely useful in windy or cold weather because you do not need to wear a scarf to keep your neck and chin warm.
Mid-weight
The jacket has a medium weight to it which allows it to be used in a number of different ways. On cool days, you can simply wear this jacket on its own. However, it's light enough to be worn as an under jacket also.
Cost and Value
This jacket has an average price. It gets its value from the fact that it is a long-lasting jacket for the price. The material of the jacket resists shrinking and stretching which helps the jacket continue to fit well.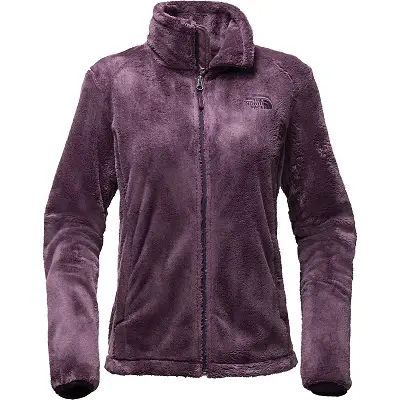 This is a classic fleece jacket that is really well suited for cool temperatures. Many people find this jacket to be easy to move in due to its relaxed fit and lightweight. The fleece is soft and almost has a silk-like feel to it. This jacket also features an over-sized collar so that you can keep your neck warm without having to put on a scarf.
Soft Fleece
This jacket is made from super soft fleece that is both warm and comfortable to wear. The fleece traps your body heat inside of the jacket and helps you feel warm in the cool air.
Over-sized Collar
The jacket has an over-sized collar that can be used in place of a scarf. This is really useful when a breeze picks up out of nowhere and you need to keep your neck warm. The collar folds down when it isn't needed.
Cost and Value
This jacket has an above average price but it justifies its price tag well. The value comes from the fact that it is made out of a high-quality fleece that is lightweight, warm, and extra soft which makes this a great jacket.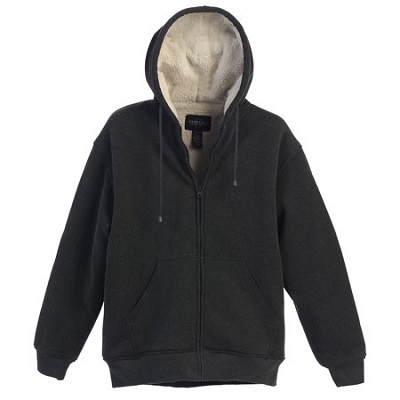 This Sherpa lined fleece jacket is an excellent choice when temperatures are really cool but not quite cold. It features a Sherpa lining on the interior that keeps you extra warm but also feels really soft. The fleece jacket itself is made from a 100 percent polyester material so the jacket will also help you stay warm as well. There is an attached hood with drawstrings for your head as well.
Sherpa Lined
The interior lining of the jacket is Sherpa lined. The Sherpa lining provides excellent comfort. Not only does it help you stay extra warm, but it feels really soft and makes this jacket feel cozy.
Split Kangaroo Pockets
The front of the jacket features split kangaroo pockets. These pockets are extra large and are great for when your hands get cold. You can easily fit your hands into these pockets even while wearing gloves or mittens.
Cost and Value
This jacket has a slightly above average price. It gets its value from the fact that it is made out of heavy duty fleece exterior while having a Sherpa lining that adds to the warmth you'll feel.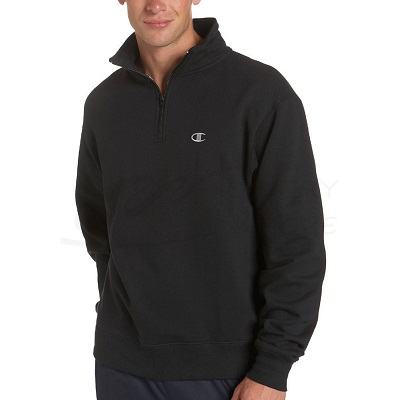 You may want to consider this fleece jacket from Champion if you are looking for a fleece jacket that has an athletic look to it. This hoodie style jacket has a hood with drawstrings that you can use to keep your head and ears warm. It is made out of a heavyweight fleece (9.3 ounces) which will keep you warm in cooler temperatures.
Brushed Lining
The lining of the jacket is brushed so that the jacket can feel soft and help you stay warm. This feature makes this a great jacket for both fall and spring temperatures.
Hood
The jacket also comes with an attached hood that has drawstrings. You can easily flip the hood over your head if it gets extra cold or windy and then uses the strings to tie it in place.
Cost and Value
This jacket has an average price. It gets its value from the fact that is made out of a heavyweight fleece. This makes it an ideal jacket for cooler weather. The lining is also brushed for extra warmth.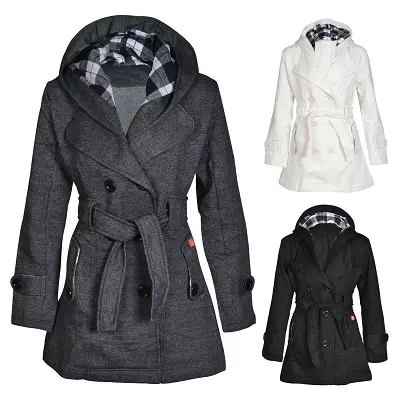 If you are looking for a fleece jacket that has style, then you will want to check out this jacket. This jacket is the perfect coat to wear with more formal clothing. It has two front pockets, has a detachable hood, and a belt. You can purchase this jacket in twenty-two different colors so you should have no issues with matching it to a particular outfit.
Detachabble Hood
The jacket comes with a detachable hood. This is a nice feature since you can easily attach the hood if it gets cold or windy, but then take it off when it isn't needed anymore.
Belt
The jacket has a belt around the waist. It is a very attractive addition to the coat but also serves the purpose of helping the coat fit nicely around your waist and provide an hour-glass figure.
Cost and Value
This jacket has an average price. It gets its value from its stylish looks which makes it a great jacket for semi-formal or casual occasions. It also has nice details such as a belt and button flaps.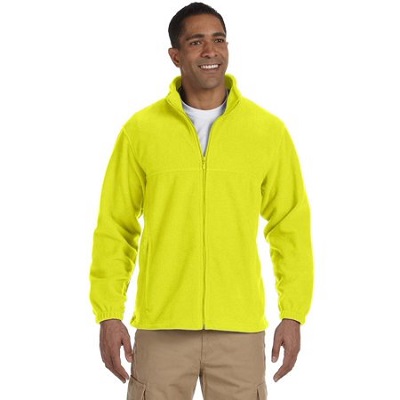 This is a good choice for a fleece jacket if you are looking for something basic and do not wish to spend a lot of money. It is made from 100 percent polyester that is spun soft so that it feels nice and comfortable. The arm cuffs feature an elastic band that keeps your sleeves from rolling up on your arms. You will also notice that the zippers match the jacket's color also.
Elastic Arm Cuffs
This jacket has an elastic band around its arm cuffs. The elastic forms a tight grip around your wrists and keeps the arms from rolling up or sliding around on your arms.
Zip Pockets
There are two pockets located on the front of the jacket. You can close them with the zippers which makes them an ideal spot for you to keep small items in this jacket without having to worry about them falling out.
Cost and Value
You can expect to pay below the average price for this fleece jacket. It gets its value from features such as zippered front pockets and elastic arm cuffs but does so at a lower price when compared to other jackets.

Subscribe to our Newsletter