Best Triathlon Suits Reviewed For A First-Place Finish
In a
Hurry? Editors choice: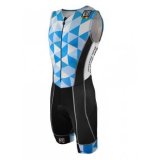 Test Winner: De Soto Sport Forza

The Gear Hunt is a popular spot for a wide range of people. We have such a large variety of topics available for consumption, with an even bigger range of products reviewed. Today we're giving a shout out to the Athletes out there who faithfully follow our website for the information they need. We go the extra mile to bring you the best information we can to give you the edge on your competition. The hope is that this will help you go the extra mile next time you hit the road. Whether it's
scaling mountains
, or skiing down the slopes, we have you covered. We uncovered the best of the best when it comes to the gear you need to get that first-place medal you've always dreamed of.
Standout Picks
Criteria Used for Evaluation
Effectiveness
There is nothing more important than knowing that your suit is going to stand up to every test that comes your way. Everybody knows how tough a Triathlon is, so why invest in apparel that you can't trust in? That is, of course, where we come in. We're here to lay down the buying law of running, swimming, and cycling apparel. You want the trifecta of perfection that'll help you cruise all the way to the finish line with ease. We have that perfect storm simmered down into a list of basic ingredients. If you didn't find what you were looking for above, then keep reading. The following is our personal recipe for success, formulated just for our faithful followers!
We're going to break it down into the three legs of the competition. This will help you determine which parts of a suit are best for which parts of the sport. It'll also help you better digest each part of the criteria used!
Swimming
Who doesn't love a nice, cool dip in the river on a hot day? Alright, so when you're swimming for the sport it's a little bit different, we get it. But you still want to have a good time! After all, we don't do these things because we don't enjoy them. Even while you're pounding through the waves and rushing to get a headstart, you want a suit that's going to make you feel like a million bucks.
Buoyancy: It's no secret that you need to be able to move effortlessly through the water. Part of this is the suit allowing you to remain buoyant. This allows you to stay closer to the surface of the water and gives you an extra push forward. We wanted to make sure the garments we listed were up to par for keeping your head up above the water.
Waterproofing: This may seem like a weird piece of criteria, but stay with us! Essentially, waterproofing is a great idea to keep you moving forward seamlessly. A hydrophobic coating on your athletic apparel will keep you streamlined and swimming with ease.
Sealing: Nobody wants to deal with being soaked the entire time they're racing. Getting in the water is crucial, but getting back out of it is, obviously, even more so. We wanted to make sure that each suit was equipped to keep out excess moisture. This means staying skin tight and preferably having bands at the end of each extremity to keep water from getting in.
Cycling
There are few things better than whipping down winding mountain roads with the sun on your face and the wind in your hair. It's about as close to flying as you can get without lifting wing and taking off. This is absolutely a huge draw to this sport and is the favorite of many athletes who participate. Cycling requires you to take different aspects into consideration, however, to find your perfect tri suit. Read below to see what you need to know!
Maneuverability: When you're cycling across mountainous terrain you need to maintain uninhibited movement. Not having a full range of motion can mean disaster on the trail. We looked for sporting apparel that would have the same qualities we were looking for above, while still allowing you adequate movement on the go. Sure, it's great when you're wearing a skin-tight, waterproof suit that'll see you through the aquatic portion of your race. If you can't hop on a bike and get back to work, however, then there's no point!
Coverage: When you're in one position, hovered over hot steel, you need to know that you have adequate coverage. Essentially, the precious parts of your body that come into contact with that hot steel need to be protected. We all know what it feels like to accidentally press up against hot steel, and the stinging sensation you deal with for a while after. Make sure you invest in a product that won't hold you back, but will still keep you safe from the heat of both your competition and your equipment.
Running
Ah, yes. The ultimate test of personal endurance that has captured the hearts of people since the beginning of organized sports- and even before! Running is hugely popular since anybody can do it. You don't need anything special except for a pair of shorts, a pair of shoes, and an open road. And, ya know, it helps that they aren't joking about that runner's high. So, before you get your head in the game, get the right clothes on your back. This section will help you figure out which features are most important for you.
Chafing: Okay. We've all been there. It's uncomfortable, annoying, and sometimes straight-up dangerous. Chafing sounds like a non-issue, or a minor inconvenience. However, it can seriously slow you down when you're running. Sometimes you can't escape the chaff, no matter how hard you try. In those case using a non-chafing powder can work wonders! A good start is making sure the suit you choose already has some safeguards built-in.
Sunblocking: This may seem a little strange to some. However, some high-quality tri suits are built with reflective material. This doesn't just help with visibility! It's also great for reflecting away UV rays that can seriously ruin your day- and your skin. Everybody loves a good tan, but nobody likes a bad burn. You can only slather on so much sunblock in preparation, so make sure your tri suit will have your back- literally.
So, there you have it! Those are a few simple things to keep in mind when shopping around for the suit for you. Of course, you may still have a few questions, but not to worry! We've got some answers for you just below, so keep reading to find out what else you need to know.
10 Best Triathlon Suits
1

. Pearl iZUMi Elite Pursuit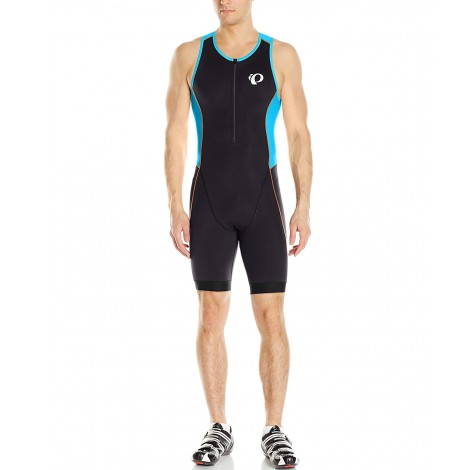 Man, now this is a name we can really get behind! We've featured Pearl iZUMi on The Gear Hunt several times before, and this certainly won't be their last debut! This amazing brand puts out a vast selection of products aimed at various markets. Their sporting goods both captivate and amaze us consistently, as do their incredibly affordable prices. So, naturally, we knew we would feature at least one of their designs on this guide. Pearl iZUMi really takes the cake with this entry-level garment that lets you get your foot in the door without throwing your wallet out the window. It's a stellar deal from a reliable brand we know and love. Hit that "expand" button to find out what we love most about this fine design!
Sunburn Be Gone
Are you one of those people that's just plain prone to being burnt to a crisp? Don't sweat it! Pearl iZUMi will keep your skin safe from the sun. They used a piece of reflective fabric to manufacture these tri suits. This material doubles as a self-cooling system that will also pull heat away from your body. Alone, these are two impressive qualities for any sporting garment to have. However, when you put them together, they combine to create a greatly sought-after design.
A Cheaper Alternative
There is no feeling worse than feeling the legs of your trisuit riding up. This can cause some serious discomfort while you're trying to get your move on! Pearl iZUMi included a silicone grip for each leg. This will keep your trisuit in position no matter what intense your event gets. Between running, swimming, and biking there are plenty of places in which your trisuit can start bunching upwards. Keep the material where it's supposed to be, and stay comfortable, by choosing Pearl iZUMi for your next trisuit.
Cost and Value
It come as no surprise that this is absolutely a fantastic option as far as price goes. After all, it won the "best value" award! This goes so much further than price, however. We're not in the business of picking out a cheap, poorly made garment and throwing it up on the list. Every single product has been thoroughly vetted for quality and comfort so that you have solid options. The Pearl iZUMi Elite Pursuit has rave reviews from happy customers that tout it's excellent features. If you're looking for a great deal, and an even greater trisuit, then click on the provided link and invest in success!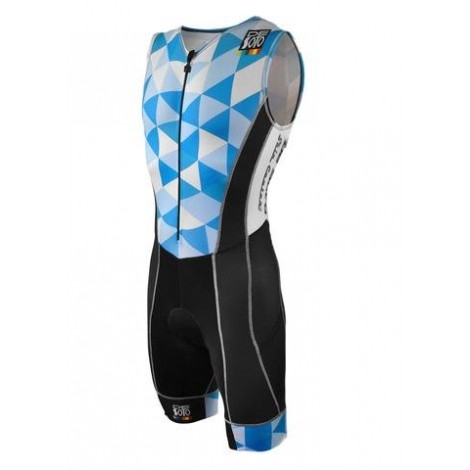 This is the best trisuit we found on the market. Seriously- this is an amazing product that we're pretty psyched to share with you. It adds a splash of style to any event, with crazy features that range from a self-cooling system, to antimicrobial fabric. The De Soto Sport Forza really just cannot be beat. Of course, that isn't the say that the rest of the products on our list aren't great. It's just that De Soto really stands apart from the crowd. This gorgeous, sleek option for your sporting needs will take you to the next level each and every competition. Don't take our word for it, however! Click that expand button below to see why, exactly, we're so crazy for De Soto!
Stay Cool Under Pressure
You run, you get hot. You swim, you (strangely enough) get hot. You bike… you get hot! We're sensing a trend here, and we're sure you are, too. Exercise has that unfortunate side-effect that can leave you covered in sweat and sometimes slimy to the touch. De Soto crafted this trisuit with a self-cooling fabric that'll stave off sweat even when you're going hard. You're already feeling the heat of your competition hot on your heels. Make sure your trisuit isn't adding to that.
A Stylish Option
Don't just show up- show out. There is nothing better than knowing that the spotlight is on you. Catch the eye of your competition before you even start the race. After all, you want them to remember you when they're watching you accept your medal at the finish line. De Soto went above and beyond in making a stylish piece of sporty apparel that'll quickly set you apart. The hot designs offered in this model range from loud to sleek. This ensures that no matter what your palate craves, you're able to state your appetite for fashionable but practical, apparel.
Cost and Value
Alright, so, this is the hard part. Unfortunately, we do have to admit that this is a rather expensive product. We've said it before, and we'll say it again: You get what you pay for. Unfortunately, this rings all too true with the De Soto Sport Forza trisuit. The multiple layers of "awesome" that this bodysuit brings to the table come at no small cost. If you're seriously into the sport and need a great trisuit then this is the best option for you. However, if you're just breaking into the scene then we have a few more products you'll want to see. We aren't into trying to sell you stuff you don't need at The Gear Hunt. We want you to get exactly what you need every time you purchase a product we review. We aren't going to mislead you about these things! So, seasoned athletes should keep a keen eye on this product. All others? Stay tuned for more!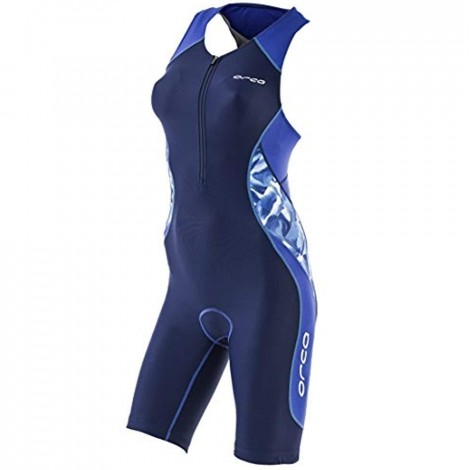 Do you like whales? We do. They're majestic, peaceful giants that roam the most mysterious part of our planet freely. Some people might use it as an insult, but we embrace the idea of following in the footsteps - er, finsteps? - of our watery friends. What better way to do so than rocking a design by Orca? You'll feel like a straight up killer (whale) in this hot design that's made to give you the extra push you need. Orca took great care in designing a product which gives their users a big boost in performance while maintaining the aesthetic they crave. So, let's list off our two favorite features and talk about how much value this baby packs in!
Water Repellent Coating
You probably know all too well the drag experienced by swimmers while moving through the water. This is caused by friction between yourself, your garments, and the water itself. Orca crafted their trisuit with a water repellent coating to lessen the drag you experience. This helps you move more freely, and lose some precious seconds off of your time. This is an innovative idea that has absolutely taken off. After all, with a name like Orca, how could they not corner the market on innovative swimwear?
Extra Storage
Tired of not being able to bring what you need with you? Us, too. Hitting the trail means a long, tiring trek through the wilderness. This sport requires you to shed as much weight as possible in order to get the leg up you need on your competition. That's the reason for all the lightweight materials that reduce as much drag as possible! However, it's impossible to go out there into the unknown completely unprepared. These pockets allow you to keep a protein bar on hand, or perhaps some earplugs for the swimming portion of the three-parts. Whatever you think you need, you can bring it along with Orca.
Cost and Value
While on the pricier side, you'll find that Orca is a fantastic addition to your tri-event arsenal. Between the add-ons they provide, such as the covered pockets, and the innovative materials used in it's making, this trisuit by Orca really makes it's mark. This is an amazing option for all! There's a reason it stole our second part on this list, and makes the top three best products out of all. Orca took the time needed to craft a thoughtful, thorough design which suits every need you have. Don't take our word for it, however! Channel your inner Orca, and kill the competition.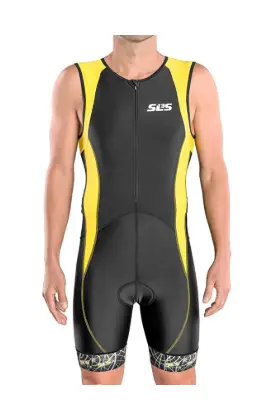 SL3 is fairly well known in this sport. They craft amazing tri-suits out of stretchy, flexible material to allow for maximum suppleness in their wearers. This is another great product in their lineup that has customers sighing with relief. It's nice to finally find the perfect product for you, after all! We love their sleek bodysuits coupled with common-sense add-ons. You'll find nothing short of flawless support for your entire body because of their innovative designs. More specifically, this design keeps your muscles from straining by reducing muscular vibrations. More on that below, however, so keep reading!
Perfectly Padded
Unless you truly have buns of steel, it is no secret that biking can be tough on your tush. Wouldn't it be nice if there was a way to stave off the searing sensation of stiff, tired muscles made tight by immobility. SL3 adds in the perfect amount of padding to keep you comfortable during your entire ride from start to finish. A burning bum is going to put a damper on the rest of your routine. So, be sure to skip the stress and make sure the suit you choose has the support, and padding, you need.
Made For Muscular Support
Sore muscles are a problem for every athlete… well, ever, actually. That's just a common sense side effect of pushing your body to its limits. The runner's high and adrenaline rush certainly make up for it, but it doesn't make it any less painful to deal with. SL3 is trying to help you in preventing injury before it happens, however. Muscle fatigue strikes often, and it often strikes at the worst possible times. The material is made to combat this by reducing vibrations through the bodysuit and providing your muscles extra support.
Cost and Value
SL3 offers this suit at a mid-range price that puts it pretty high up there in terms of value. The nearly-perfect rating given by reviewers shows how exemplary this garment truly is. Over all, we rate this FX model as an excellent value in both price point and features offered. There are no arm sleeves, however, so keep that in mind. This may seem an odd point to bring up, but when you're out running in the hot sun you want all the protection you can get. The lack of arm coverings can translate to some serious burning. Essentially, you're going to slather on sunscreen and then start praying. This is the only thing we can find about the design to pick apart, however, so we think SL3 is probably doing pretty alright, anyways.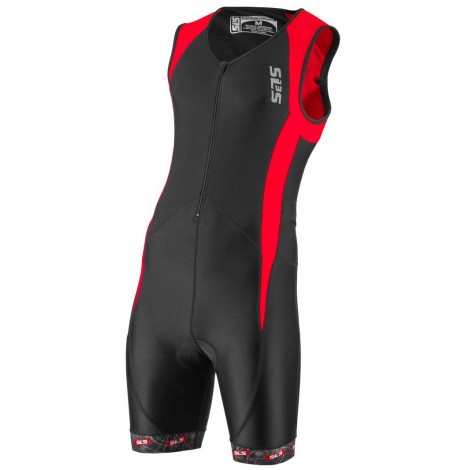 This is a unique design put out by a brand we are unfamiliar with, but quickly falling for. Xterra specializes in wetsuits, and because of this you can expect to see some great quality garments. It's never a bad idea to put your trust in a brand that specializes in the product you're looking to buy. After all, Xterra has so much more time to dedicate when it comes to innovating new, improved designs. This wetsuit is absolutely the product of this company's dedication and commitment to the sport they specialize in. The Xterra Volt will make you feel slicker than lightning, and just as fast.
The "No Risk" Option
It's good enough for us when we see a money-back guarantee slapped on a product. After all, there is no better way for a company to tell you how much they trust their own products. However, Xterra went the extra mile… and then they went another mile after that. Not only is there a 30-day, no-questions-asked, money-back guarantee, but they also offer a warranty. This is good for up to a year and it's one of the best in the entire industry, quite frankly. They also offer a size guarantee on top of this. With all of those safeguards lined up there's almost no reason to at least give Xterra a try.
Makes Buoyancy Easy
We've spoken about drag briefly, and we're going to bring it up again. And, y'know, probably again after that. The point is that drag is incredibly important to making sure you're successful in this sport. Reducing the overall friction between you and the water you're swimming in is the difference between first, second, or third place- or just not placing at all. The Xterra Volt provides the wearer with an excellent amount of buoyancy that will keep you moving forward smoothly. Their water-repellent material will also keep you dry even while you're slipping seamlessly through a body of water.
Cost and Value
Xterra both amazed and astounded us with this unique spin on a wetsuit. The streamlined design keeps you both dry and cool even in the hottest, wettest conditions. However, we do have to admit that the price point is rather high. This severely impacts the value. Not because a cheaper design is a better design regardless of quality, but because of the relationship between cost and value. If the price is high and the quality is high, we give it a really good value rating. If the price is low and the quality is high, we give it an excellent value rating. If the price is low, and the quality is low, we don't even include it on our list. But, the point here is that Xterra is a great value because of its price, instead of a great one.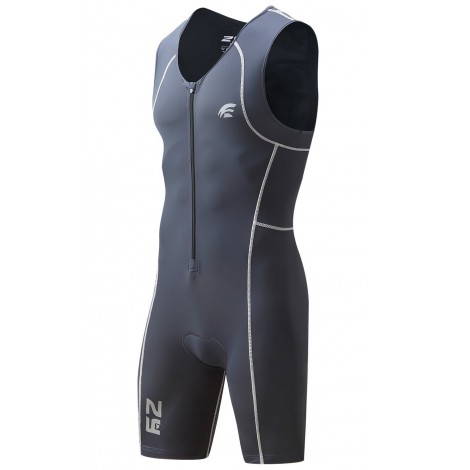 Tired of the same flavor day in, and day out? Well, you're in luck. Pure Protein packs in three tasty varieties that let you mix it up all week long. On top of this, they're known for having excellent micronutrients that supplement anything you might be missing as far as vitamins and minerals go. Even if you aren't even working out this can be a great snack to eat as a meal replacement for those working on weight loss, or even as a snack to tide you over until your next meal. It's relatively low calorie and offers you enough energy to keep moving and shaking all throughout the day. Company meeting? You're gonna crush it. Just make sure to load up with one of these bad boys to make it through the whole thing swinging.
A Beginner's Dream
Most reviewers do admit that this is a better fit for beginners. However, this isn't a bad thing at all! If you're thinking about doing your first race soon or only plan on doing a couple a year, then this may be the perfect fit for you. This design by Spotti is at a low enough price point to be comfortable for first-time buyers. You won't get the same sticker shock that other designs might offer. It also sports a comfortable design that mimics higher-end brands. While it isn't the real thing, it's pretty dang close.
Reduces Chafing
Meaty thighs are a byproduct of intense activities that build massive amounts of muscle. Nothing wrong with that, though! In fact, we think "thunder thighs" is the best compliment you can get. After all, it just makes us think of lightning-fast legs that bring the noise. If you're like the rest of us and have thick, healthy legs then this is the perfect product for you. They use a material that reduces chafing.so you can move more, and worry less. This is especially evident in the design of the arm area. They use an extra-wide mouth that allows you more mobility and reduces the amount of rubbing happening. So, enjoy pain-free thighs, and get on with your life.
Cost and Value
This wetsuit is an excellent option for beginner athletes. This can act as a cheaper alternative to higher-end, more expensive brands. If you can shell out a little more, we suggest that you do. However, that doesn't mean that there's anything wrong with this Spotti model. It's a fantastic fit, and absolutely offers what an athlete needs to get the job done. It just doesn't come with as many bells and whistles as the products further updo. It's a great start to your future in this sport, and you should absolutely treat it as such.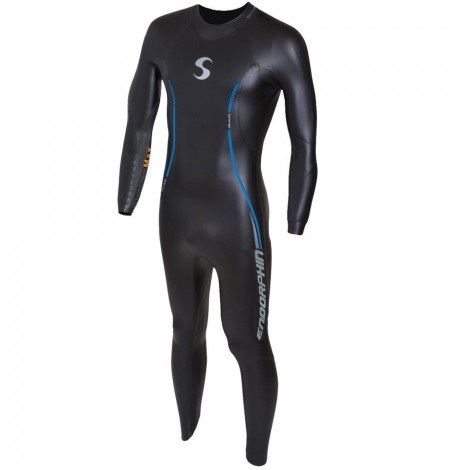 Synergy is defined as follows: "the interaction or cooperation of two or more organizations, substances, or other agents to produce a combined effect greater than the sum of their separate effects". As an athlete, you can probably relate to that idea pretty well. Think of yourself as one part of the whole, and your sporting equipment as the other. Combined, you are able to perform tasks you never even thought possible prior. As you can imagine, Synergy takes the inspiration behind their name and absolutely fills every product they make with it.
Unique Fit
While it may seem weird to have a full-body wetsuit, it actually makes a whole lotta sense. This reduces overall chafing all around, since it fits so closely to your skin and secures at the ankles and wrists. You can also look forward to the fact that this means it's exceptionally waterproof. Get in the water, but don't get soaked! Now, that's a detail we can really get behind. On top of this, the design offers ample protection against UV rays. People prone to sunburns will find optimal protection from the sun's harmful light.
Innovative Design
The sheer amount of technology that was piled into this design is amazing. Synergy stands out from the crowd by packing in as much as they possibly can as far as extra features go. They have a 5mm thick buoyancy panel, which is the thickest allowed by racing standards. The wetsuit also offers a full range of motion, with a 680 percent flexibility rating. Smoothskin is used on the inner portion of the wetsuit, which gives you a comfortable, snug fit that won't irritate your skin or bother you while you're racing.
Cost and Value
This right here is one of the most expensive wetsuits we've seen, quite frankly. It's no wonder why! There was obviously a LOT of care that went into its design. Synergy packs in some of the best features science and technology have to offer. The price point of this suit is absolutely to be expected because of the sheer craftsmanship that went into its production. So, the high-quality features provide a double-edged sword. On one hand, you totally understand why it costs so much because it's uh-may-zing. On the other hand, well, you're paying a ridiculous amount of money for that quality. In the end, we suggest only professionals or those who are planning on doing multiple events, invest in this model by Synergy.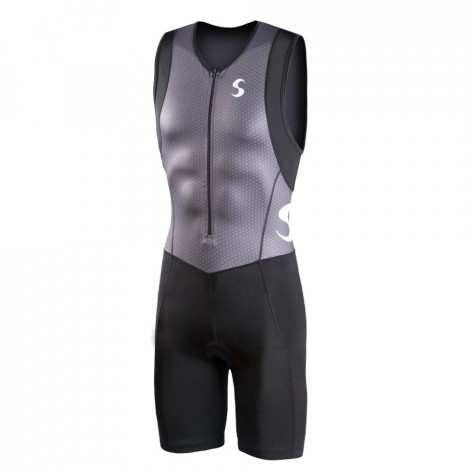 Oh, you HAD to know that we were going to include another Synergy product. This brand is not only amazing, but their products have multiple styles to cover athletes across the board. While the style we featured previously is great, we also wanted to offer a lower-coverage option. After all, everybody prefers different amounts of material! Synergy is just such an amazing designer, and they offer some of the best wetsuits around. While we try to avoid repeating brands too often, every now and again one pops up that just deserves the notoriety. After all, if they have our seal of approval, they must be doing something right!
Low Coverage Option
If you aren't a fan of being entirely covered then maybe this Synergy model is a better fit for you. While the first product we presented by Synergy on this list completely encapsulates the wearer, this one gives you a little more freedom of motion. The large arm holes give you ultimate freedom of motion, and far more airflow straight to your skin. The lack of extra material means that you don't have to worry about the breathability of the fabric as much. After all, there's nothing more breathable than naked skin in contact with open air!
That Special Something
We've said it once, and we'll say it again: Synergy just has that "something special" which as put us under their spell. Their scientific innovation absolutely puts them at the forefront of swimwear designs. Synergy takes great care in crafting the perfect product for optimal performance. Athletes are looking for the best fit possible which will boost their overall performance. Slip into this wetsuit by Synergy, and see what all the fuss is about. You absolutely will not regret the decision. After all, even if you do, they offer fantastic customer service to solve any problems that may pop up.
Cost and Value
So, are you worried about this part? Have you assumed that this suit would be wildly expensive and totally out of reach? Hah! Tricked you! Yes, the previous model was definitely at the upper range of reasonable price, bordering on unreasonable. However, you'll find that Synergy is offering a much more cost-effective product with this model. They want you to be able to get that kick to your performance without having to sacrifice your wallet in the process. It's still fairly pricey, but not nearly as much as other wetsuits of similar quality. We absolutely recommend this to athletes across the board!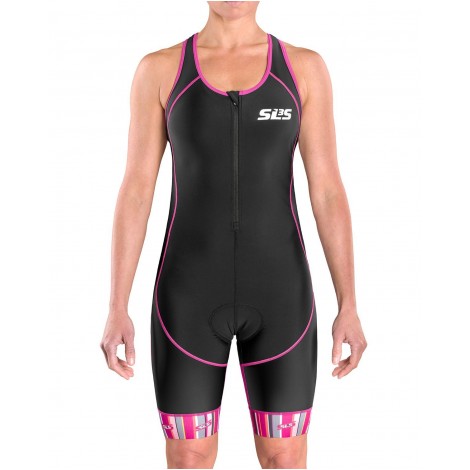 SL3 has a variety of well-designed products that are given generous amounts of excellent features. This lovely wetsuit, in particular, has captured our hearts, and our full attention! The gently feminine design allows you to show them what it's like to fight like a girl. There's no shame in staying in touch with that side of yourself... Even while you're running through the mud or swimming through the muck! There are so many great details in this wetsuit that we love, and we know that you're going to feel the same way. Keep reading to find out exactly what the best features are, and why we're going so crazy over them!
Feminine Details
We love SL3, and we love the delicate, feminine design they chose for it. You'll love the pop of color they added to the bottom-most portion of the shorts. A full range of hues, from pink to yellow, are displayed in a classy print that will make you feel like a super-star. The front of this model features pink piping that adds contrast to the black material. The back of the wetsuit, however, is where it gets interesting. It sports a white, pink, and black color blocking design which provides effortless style to the wearer. All of these details just add to the lovely feel of this feminine design!
German Design
We're all very aware of how high-quality German products are. We see multiple brands that show this manufacturing prowess across all manners of industries. From cars to medical supplies, to athletic designs, the people of Germany have absolutely cornered the market on quality merchandise. As it turns out, the SL3 models are all German designed! This is a true show of quality craftsmanship that you just can't get elsewhere. While buying American-made products is important, sometimes you have to outsource a little to get the best of the best.
Cost and Value
This frilly suit has an upper-end price point, most likely because of the high-quality German manufacturing and carefully crafted design. While it has many features that boost its overall value, we do flinch a little looking at the number on the tag. On top of this, not everybody is going to be a huge fan of the design. A lot of athletes prefer a less "intense" design that doesn't have nearly as much feminine detailing. It's a niche market, but if that's your thing, then this is also your thing. So, if you're a girly-girl looking to smoke the competition and show 'em how tough females really are, then slip into this wetsuit and rock what you got!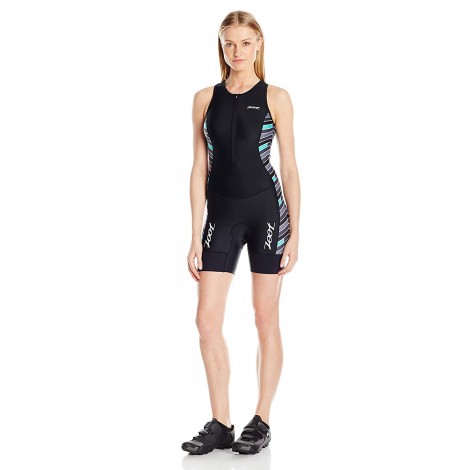 First of all, we love the name of this designer. It's a fun throwback to the big, loud fashion trend from the mid-forties. This style took hold of Los Angeles, and it's still spoken about today. Luckily, they do not attempt to recreate the original Zoot suit in their designs. We don't think it would work out very well if they did, quite frankly. Instead, Zoot created a slick wetsuit that keeps you cool while you're racing, and feels like a second skin while in use. What's not to love? Add in a unique design that sets you apart from the crowd, and you've got a winner on your hands!
Stripped Panels
Tired of rocking the same look all the time? We get it. Athletes are generally by nature fairly practical people. We like to keep things simple, and streamlined. After all, it pays in athletics to be as minimalistic as possible. However, it can get old wearing the same, old color day in and day out. That's why having a unique option in your closet is such a big positive! Zoot includes a gorgeous side panel that features an aesthetic Chevron design. The soft shades of teal and gray blend into the black fabric for a gorgeous pop of style.
Seamless Construction
Some wetsuits are made of multiple parts which can severely impact their ability to resist water permeation. Luckily, the manufacturer took this into consideration when they decided what stitching to use in the creation of the wetsuit. After all, a wetsuit is entirely useless if it can't stand up to, well, being wet! This wetsuit also featured Endura+ fabric, which is excellent as far as mobility is concerned and stretches in all directions for a fantastic fit for everybody. You also don't have to worry about chafing because of the soft material and perfect form-fitting design.
Cost and Value
While this product does rank at the very bottom, it's still an amazing value for what it is. It is on the expensive side, but it isn't out of range for most folks. The gender-specific design definitely takes a few points off the top, since it pretty much alienates half of the community. However, for women, this is a great option that'll allow supreme comfort. The lack of the built-in bra means you can wear whichever support feels best for you. The lovely design and excellent craftsmanship combine to put this ahead of the competition. Remember: even a product at the bottom of our list is better than 90% of the rest of the market.

Subscribe to our Newsletter