Best Life Vests Reviewed & Rated for Safety
In a Hurry? Editors choice: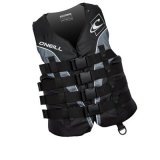 Test Winner: O'Neill Wetsuits Superlite

We can all agree that there is no better feeling than enjoying the beautiful, warm weather as you bask in the sun. Especially if you are able to be out on the water. But, when it comes to spending this most fulfilling experience in the middle of the water, on a beautiful boat, it's critical to keep your safety at the forefront of your mind as well. Life vests are one piece of equipment that should be at the forefront of any boater's mind. Whether it's your first time or your thousandth time on the water, having a high-quality, safe, and tested life vests could make all of a difference should a crisis arise. Today, we are going to share with you our in-depth analysis of the very best life vests on the market today, all of which have been reviewed and rated based on safety, protection, and comfortability.
Standout Picks
Criteria Used for Evaluation
Effectiveness
Evidently, one of the most important characteristics of a life vest comes down to safety. Since the sole purpose of a life vest is to keep an individual afloat and safe, should something happen – it was important that each product was tested and approved for safety, whether an adult life vest, youth life vest, or a children's life vest. With that being said, as we began to scan the market – it was our intention to only share products that truly represented the safest life vests on the market. Each product on our list today was built with unique innovations and technology to ensure consumers, like yourself, that you can enjoy being on the water, without thinking about anything else. For research purposes, we carefully looked at each product and product description to see how the manufacturer approached safety. What unique features did they include to secure consumers? Did they get their product tested for approval? What are previous customers saying about the safety features?
Materials
When it comes to evaluating and researching any product – it's critical to observe the materials that a manufacturer used to make it. It's that we can begin to draw conclusions as to whether a product is worth the pennies or not. During our research, after we looked at the many different safety features of each life vest, we moved onto the materials. We observed how the manufacturer shared the materials they used and if they offered consumers any assurance for their material choice. This may be either a warranty or even a money-back guarantee. After we figured out what the material was made of, we scanned through a few pictures of the product to verify the quality of the material and then double checked with previous customers. Since the product material is a consideration of all consumers, most customers will share their experience and thoughts on the grade of materials.
Durability
When you are in the market to purchase any product – you want to make sure you get a product that lasts. Wouldn't you be upset to purchase a brand new life vest just to find out it rips the moment you strap the first buckle on? Anyone would! This is why, as we began to create the list of the best life vests, we wanted to ensure that each product was high-quality and could last a lifetime. Now, to figure this out, we needed to do a few different things. For one, we needed to look into the material design and how the manufacturer was ensuring customers their product would last. Typically, this is done through double-layer stitching or stronger construction materials. From there, we took the time to verify the company's description of their product with their images. Lastly, we cross-referenced our insights with what previous customers were saying. In doing this, we were able to draw some very strong conclusions.
Comfort
Now, life vests are meant to keep you afloat when in the water. So, as we evaluated each life vest, not only did we look at the different materials and safety features, we needed to carefully look at the comfortability features. Reason being, again, you don't want to purchase a life vest that is uncomfortable in-and-out of the water. Typically, manufacturers will boast about their comfortability features, which typically involves some degree of added foam padding or breathable/ventilated backing.
Value
In our opinion, one of the most important features that all consumers need to take into consideration is something known as the cost-to-value ratio. For those that do not know, the cost to value ratio is the absolute best and the proven way to ensure that you are receiving your money's worth for a purchase. Now, this does not require any fancy math – don't worry. All you need to do is compare the pricing of a product with its competition. You should be able to tell whether a product is priced higher or lower than its competitors. From there, it's critical to look at the pure value of the product, aside from its cost, at first. This may entail reading the product description or even checking in with previous customers. Once you have a great understanding of the value, you can begin to draw conclusions regarding its price tag, in comparison to the rest of the competition. Evidently, products that are priced higher than the competition that lacks similar value are not worth the costs.
10 Best Life Vests Reviewed & Rated for Safety
1

. O'Neill Wetsuits Superlite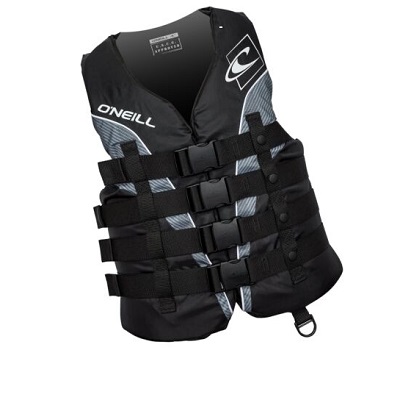 When it comes to innovative technology that also looks really cool, it does not get any better than this. This innovative manufacturer understands the importance of safety alongside functionality. The O'Neill Wetsuit Men's Superlite USCG Vest is the perfect life jacket for extreme water sports lovers. The supreme build quality and functionality are designed for safety, protection, and extreme water sports. Whether a day on the jet ski or out on the pontoon boat with friends, this life jacket saves lives.
Lightweight
When out and about on a boat, wearing a life jacket is essential. For that matter, anytime you or a friend is out on the water, it is essential to wear this form of protection. However, wearing a traditional life jacket design can get extremely heavy and exhausting after a while. Not only that but uncomfortable if you are trying to enjoy the environment. Therefore, this lightweight design is made of Polyethylene Foam which is soft, comfortable, and easy to wear all day long.
Relaxed Fit
There are numerous vests out there that feel bulky and uncomfortable. This is not one of them. With the relaxed fit design, created by this premier outdoor brand, this manufacturer created a relaxed fit vest that is suitable for all body types, which can be difficult to find at times. It is lightweight, comfortable, and feels as if you are wearing a regular fitting vest that can practically save your life in the case of emergencies.
Cost and Value
The value of this life jacket is only matched by the amount of flexibility and design options available. Most importantly it is built from quality materials, it is USCG approved, and it is seriously tested in extreme situations to ensure optimum safety. The cost of this product ranges from medium to price to the higher end scale depending on color choice and sizes. With this in mind, we can say that the quality build is worth it for anyone wanting a quality flotation device.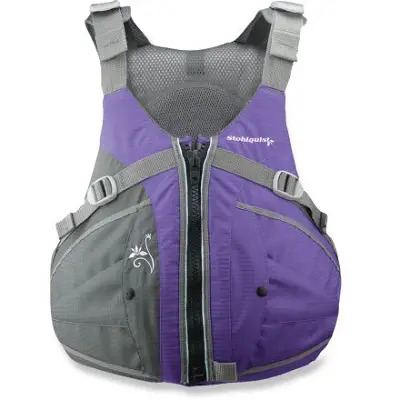 When on any watercraft, it is crucial to ensure the safety of all passengers and yourself. With this in mind, there are specialized brands that focus their attention on aiding in saving lives and supplying the most trustworthy life-saving products. This particular life jacket, the Stohlquist Women's Life Jacket is known as one of the best and most premiere life jackets available today. With a blend of innovative technology and great build quality, this is worth keeping if you find yourself on the water often.
Comfortable
Now, when it comes to life jackets most people think of those uncomfortable bright orange jackets that are really weird to put on, look odd, and feel uncomfortable. However, this manufacturer understands that when accomplishing any water sport that the last thing a person desires is to be uncomfortable. With this particular life jacket, an individual can focus all of their attention on the activity ahead while fully trusting the product. It includes a sculpted foam frame for comfort and a high back flotation system to ensure back support.
Breathable
Another aspect of a life jacket that makes most people incredibly uncomfortable is the amount of perspiration that can happen. A life jacket is known for being really hot and not having any breathability if it's the standard build. The premiere build of this life jacket includes an ultralight and breathable material with open mesh shoulders and sides that allow an individual to not feel bulky or hot.
Cost and Value
Cost per value is always determined by an individual. With this in mind, the product is built from quality materials and includes many wearable benefits. The value for such an item is on the high-end scale, and the price reflects this. This should not be looked at as a deterrent considering this brand is a trusted company offering one-of-a-kind solutions to people that can appreciate expert craftsmanship.

3

. Full Throttle Dual-Sized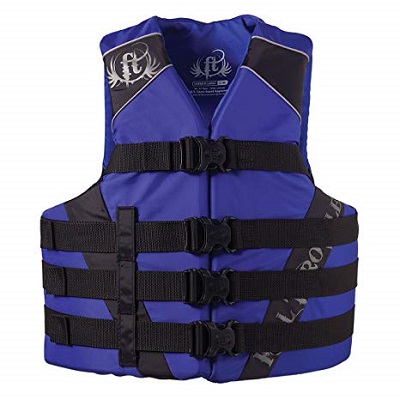 We have covered stylish vests, simple vests, women's vest, and a wide range of vests suited for all situations. How about, we talk about a sports vest that is best for extreme sports and water sports lovers. The Full Throttle Adult Dual-Sized Nylon Sports Vest is a finely-crafted sports vest for the thrill-seeker in anyone that loves the water. This vest will not only keep you safe, but it also looks stylish and can withstand the test of time, water, and hard-core sports.
USCG Approved
For a vest such as this one to make it as one of the top premier water sports vests in the industry, it must get approved by the higher-ups. Who are the higher-ups? Well, there is a strict test that all life vests must go through. Not only that, but they must withstand almost everything and be able to keep a person safely afloat for hours on end in the case of emergencies. All of this is approved by the United States Coast Guard, and we are excited to share with you one of those approved vests. This approval rating alone means this product is made of the finest design qualities of a life vest.
Lightweight
There are numerous factors that are extremely important for a life vest to become approved or considered a sports vest. Some of these factors include design quality, materials used, safety measures, ease of use, and most importantly, weight. The weight of a life vest for extreme water sports must be lightweight. No jet skier wants to go on a jet ski wearing a 10-pound life jacket. This one securely passed that test by providing a lightweight designed without losing structural integrity.
Cost and Value
When concluding the worth of a product we take into consideration how valuable it is. The reason being that cost is subjective to a person. However, the value for the cost is determined by factors such as durability, quality materials, and how easy it is to use. Therefore, we can say that this product although is not considered 'expensive', it offers plenty of value for the price as an extreme water sports vest.

4

. O'Brien Traditional Neo Life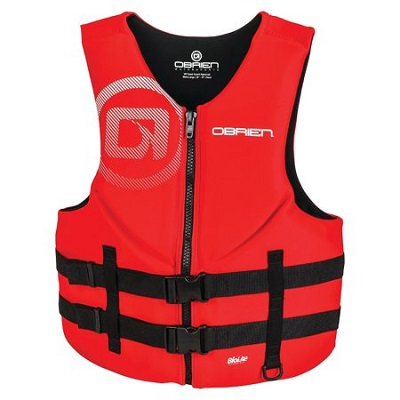 When out on the water there is nothing better than the sun, a cold drink, and lots of fun. However, all this needs to be done with one focus in mind, safety. Safety allows for an individual to focus completely on the task at hand. The last thing a person wants to focus on is whether the material of their life jacket is safe or if it can withstand the water temperature/pressure. Therefore, brands such as O'Brien are focused on ensuring that all water-sport lovers receive the peace of mind they need to enjoy a full day. Let's talk about the Traditional Neo Life Men's Vest.
Traditional Design
As we have mentioned in this article, traditional design can sometimes be bulky and odd to wear. This brand has mastered the traditional design with this new type of life vest. It includes a two-buckle safety design and zip closure ability without removing movement or restricting comfort. This design has been often preferred by many people despite the new designs out there because it is safe, secure, and trustworthy.
4 Color Options
What makes a brand such as this is their versatility. They already provide excellent customer service and quality products that withstand the test of time. So, how can they get even better? Well, with providing four different color choices, everyone in the family can wear their favorite life jacket matching a color they like.
Cost and Value
When evaluating cost per value for such an item it is important to look at the brand's history. This particular manufacturer of life jackets has been known for years for providing great active gear for water sports such as this. Therefore, it makes sense that their product would match the brand they have built, quality and innovative technology focused on safety and fun. The cost is considered on the higher end. However, for a trusted brand such as this, it is worth it.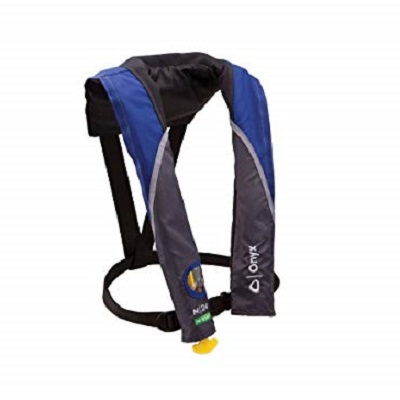 When out on the water, protection and security are of primary importance. It does not matter if you are a seasoned boater, or a novice in the field of motorsports or recreational motoring, it is vital to ensure the security of yourself and all individuals on board. This is done with emergency kits and of course, life jackets for all individuals. However, in an industry that is heavily run by active gear companies, there is one brand that recreated the original life jacket and made it into a piece of creative ingenuity. This lifejacket, known as the Onyx Automatic/Manual Life Jacket comes from the visionaries at Absolute Outdoor and reduces the bulk of life jackets while enhancing the safety, let's see how!
Automatic/Manual
Have you ever heard of an automatic/manual design life jacket? A traditional lifejacket is made of Nylon and is designed in a way that can keep an individual afloat when on the water. This particular manufacturer created a life jacket with a T-cord, a string that when pulled will inflate the jacket with air, this is known as the manual function. The automatic function inflates automatically when the jacket makes contact with water. This design is both genius and innovative.
No Bulk
Although the safety of a life jacket is unprecedented and extremely important, many people tend to get annoyed with how bulky it can be, especially when they are trying to enjoy the scenery, take pictures, and enjoy their boating experience. This manufacturer has removed the bulkiness from the design by offering a slim life jacket that saves lives thorough inflatable means, making it a perfect choice for young kids and adults who are looking for a lightweight life jacket.
Cost and Value
When evaluating cost per value for such a vital and important item, there is no cost for saving lives. However, measuring the value of this product in regards to design and ingenuity alone makes it a worthwhile product to have. This life jacket alone is worth on the high end of the spectrum. However, it is due to the design, the lightweight nature, and the automatic inflatable technology used to create this great life jacket. Highly recommended by numerous sources.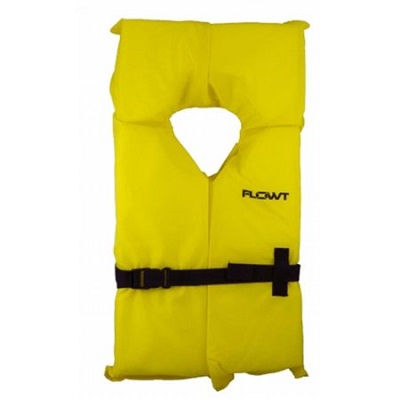 If you are a boating enthusiast looking for a simple but United States Coast Guard Approved life jacket, we are excited to share this simple life jacket with you. As we have mentioned, life jackets must go through rigorous testing before receiving approval, and this one received approval under basic recreation vessel standards. The FLOWT AK-1 Life Jacket is the perfect life jacket for a day out on the boat or jet ski.
Design
The design of this life jacket was created with an intention in mind, to provide minimum buoyancy. This alone makes it one of the best designs for simple watercraft days. However, the design meets all the criteria needed for a day out on the water. Made from A-grade materials, and includes a body strap for safety, any individual will be comfortable in this well-built life jacket.
Color Choices
What makes a product even more fun to buy is when you get to pick your desired color choice. This particular life jacket offers three color options to choose from, orange, yellow, and camo. The orange and the yellow are meant as high visibility colors to ensure safety when out on the water. However, the camo is an aesthetically pleasing design. For everyone in the family, the colors are eye-catching and pleasing.
Cost and Value
Speaking of cost and value, it is simple to see why a life-saving device may cost a bit more on the scale. Considering the quality materials of this life vest, the purpose that it is intended for, and the approval rating from the United States Coast Guard, this life vest is considered a medium-cost life jacket compared to others on the list.

7

. Stearns Classic Series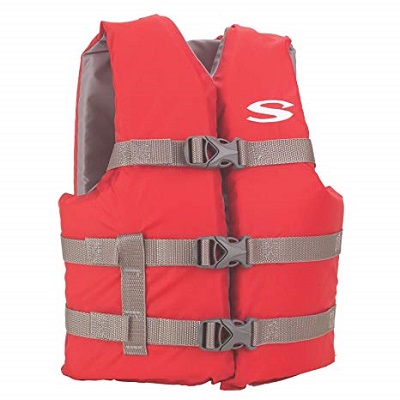 From time to time we are eager to share with you really exciting outdoor products. Overall, there is a wide selection of outdoor products that are essential when out and about in nature, hiking, running, etc. With that said, we want to start this list with one of the most important outdoor products out there, a life vest. The Stearns Adult Classic Series Vest is dedicated to keeping you safe when out on a boat. The quality materials and overall classic feel of this life vest make it a must-have when out on the boat. Perfect for all sizes, let's talk about why this product is worth the consideration of anyone that has a motorboat.
Build Quality
The quality of this life vest is known to be one of the best in the industry. At times, there comes a brand that tries to reinvent the wheel. However, this is the classic wheel. This life vest is made of Nylon for easy breathability but maximum protection when out on the water. Other than that, it is coast guard approved which means it was highly tested and ran through a series of events before it hit the shelves.
Three Buckle Design
When out on the boat, this active gear brand wants to ensure that protection is the main result. Therefore, they have designed the three-buckle boating vest, a three-buckle design that ensures maximum protection and security. Whether this is used for the adults or the kids of the family, this particular vest will save lives no matter any occasion.
Cost and Value
The cost per value for this product cannot be measured. However, finding a quality vest at a reasonable price is made easy with this manufacturer. The build quality, the easy design, the breathability, and the functions of this vest make it an easy contender for anyone looking for safety gear for their boat. With that said, this product is fairly priced at the medium scale for a vest.

8

. Hardcore High Visibility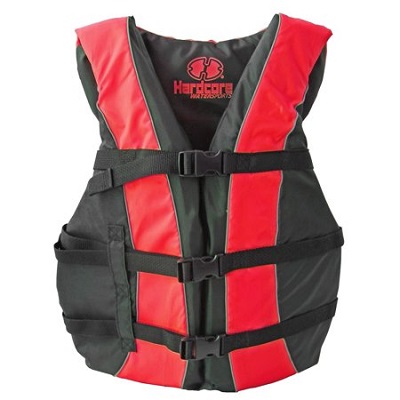 There is nothing like being out on the water. With summer coming we can see why so many of you are focused on wanting to get out on the water and experience the beauty of the day. However, before you get ready to plop on that boat or sit on the jet ski, you must be wearing a life jacket. If you are considering a great life jacket from a strutted company that supplies a lot of value, we want to share the Hardcore Water Sports High Visibility Life Jacket, a traditional and quality-center life jacket for all water sports lovers.
Color Design
In the case of emergencies, it is vital for coast guards or other people out on the water to be able to see you and/or the group of people you are with. Therefore, this particular life jacket has the name for a reason, they are considered high visibility jackets with neon-like colors that shine brightly during daylight. The colors include green, orange, purple, red and white. These colors are aimed to help find an individual in the case they fall off their jet ski or other emergencies.
Construction
The construction of a safety product such as a life vest must be made from the most tare resistant, durable, and strong materials. This particular life jacket is made from polyester construction which is breathable, allows for maximum comfort, it's easy to clean, and helps the flotation process.
Cost and Value
When talking cost per value, no one can put a price on saving a life. Therefore, brands such as this that are focused on easy to use safety products such as a life vest make it easy for people to stay safe when they love sports such as water sports. Therefore, the cost per value is determined by how an individual sees the product. We consider this product a lightweight and well-built life jacket that resembles a traditional life jacket design, built from a trusted company. However, it is the high visibility colors that make it worth every penny. On the cost scale, this is considered a medium cost.

9

. Rrtizan Portable Inflatable Canvas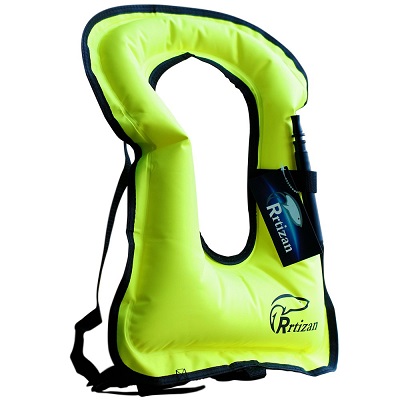 Being out on the water, under the beach umbrella, or on a boat can be an extremely fun experience. However, if you have little ones running around then you understand how vital it is to bring proper safety equipment and gear. For the families that have little ones and are wanting a simple solution to a life jacket without spending a lot, this life jacket, the Rrtizan Unisex Adult Portable Inflatable Canvas Life Jacket will bring simplistic safety to you and your children one breath at a time.
Inflatable
By 'one breath at a time', we meant because it is inflatable. This life vest is not like a typical life jacket, it serves more as a security measure when out at the beach or snorkeling. It aids in staying afloat and the simple access mouthpiece makes the process a lot simpler. In fact, an individual can access the mouthpiece of the life vest even when out on the water. If you are snorkeling you can easily release the air to get closer to the beauty below, or if you are floating you can simply add more air to help you stay up.
Perfect Fit
This particular vest includes easy to lock body straps that allow an individual to adjust them wherever, whenever. The body straps are located at mid-section and between the legs. This means no riding up, no discomfort and no potential of the vest slipping or sliding off.
Cost and Value
As we talk value to cost, there is a preconceived notion that the more expensive it is, the more value it brings. However, a simple design such as this life vest brings plenty of security. Some families are only looking for simple solutions to their life vests and this one brings just that. With plenty of color choices available, you can bring happiness to anyone in the family by giving them this as a gift. It is the gift of safety that will bring smiles on everyone's faces, including you while you watch your kids play from the edges of a hammock.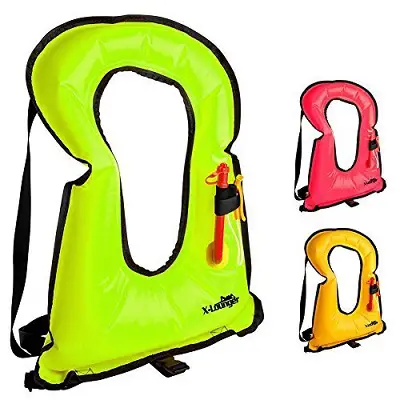 Switching gears on this list, this is a simple design life vest offering plenty of flexibility and ingenuity. The X-Lounger Inflatable Life Jacket is a lounge-like life jacket meant for the relaxing water sports in our life. This inflatable life jacket can help any individual feel safe and secure while swimming, out on the water, or even at the at-home pool. Most importantly, is a children's alternative to the traditional life jacket.
Inflatable Design
The easy to inflate design makes it very simple to inflate and get in the water. In fact, it has been tested that an individual can inflate it in about 15 seconds time. Now, this is very beneficial, and so is the quick deflate option. All that a person has to do is insert the cap into the air valve and the air will begin to be released.
Material
A product like this must be made from an extremely strong and durable material. This is exactly what this inflatable life jacket is made from. This life jacket is made from a high-quality tear-resistant material that ensures optimum security and fun while out on the water. The reason being, it brings security, extends the longevity of the product, and protects against possible scratches and abrasions. Never worry about your inflatable jacket popping on you again!
Cost and Value
When considering the cost per value for an item such as this inflatable life jacket it is vital and extremely important to consider what the item is used for. If this is considered for a fun day at the pool, beach, or a lagoon swimming day life jacket, that is fine. However, for more serious days out on the water or for extreme water sports, this may not be the best option. Considering the relatively low price, this life jacket is perfect for anyone wanting to ensure a bit of security.

Subscribe to our Newsletter