Best Sparring Gloves Reviewed & Rated for Quality
In a Hurry? Editors choice: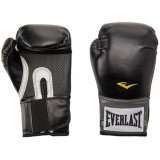 Test Winner: Everlast Pro

If you're one to practice the preparation, dedication, and meditation that is one or many of the large list of currently taught martial arts or
combat training
disciplines, then you need to keep up outside of competition. To overuse the term that your sensei should be drilling home, practice is the only path to near perfection. But in order to practice, you need some equipment (in most cases), and you shouldn't be using ceremonial items, or tournament gear while sparring outside of competition or testing. That's where an entirely different umbrella of combat and
martial arts gear
comes into play. Here, we will go over hand-based combat martial arts sparring gloves for a varied collection of disciplines. There are gloves here that will not work across multiple martial arts, and it is important to consider exactly what type of sparring equipment you might need.
Standout Picks
Criteria Used for Evaluation
Overall Fit
There is an insanely dizzying amount of variety within the sparring gear market, and the community of people using them is as diverse as any other in the world. But regardless of the crazy range between disciplines or practices, there are some pretty standard constants that can act as your guidelines for quality while you shop, and these same things kept our list free of horrors or scares.
The biggest thing to zoom your peepers on when you're shopping for sparring gloves -- things that will both protect your hands, but also help you punch, grapple, or throw -- is the build of the materials, and the stitching keeping it all together. Things like leather grades, and intensity of stitching work should be a top your list.
Other aspects for comfort or durability fall into place next which include things like washability and added structural protection that is built into gloves to keep you safe and help avoid injury.
Any and all martial art or sparring manufacturers are keen to keep you protected, sparring, and injury-free, but as is most industry, the more you pay the better quality everything will be within and around those gloves.
Style
If you take into consideration that most martial arts aren't similar enough to share the same practice or sparring equipment, and then remove that from the equation altogether, you can understand why every search, and our list above consists of so many different variations on the sparring glove.
And we're not even including the other side of the math, like the person you're sparring with, equipped with punching mats and block gloves for striking.
There are a ton of different pieces to the sparring puzzle, but as far as gloves go, it's important to consider the make, the shapes, and even the flashy goodness of a glove before purchasing it. Many of these things come in the form of breathable palm materials, the make or faux-ness of the leather -- it is apparently extremely important to a lot of people that their sparring gloves be vegan -- and the expansive aesthetic options usually available.  
That last bit is extremely important. And many people might not think the same. You see, most sparring arenas are set in a semi-public space -- usually a gym, or dojo within the neighborhood you live in or a nearby one. Which means that multiple other people will be sharing that space with you, and in case you hadn't noticed, sparring equipment isn't cheap, and it would be horrible if someone were to mistake your gloves for theirs. Finding something flashy, something colorful, something that isn't just a plain black glove and some straps might help save your investment from the apologetic hands of the briefly mistaken.
Value
There isn't a market on the … market  (dang, that was hard to swallow) that steps aside from the benefits of having a median price amongst its averages of quality.
Pools of variety soak the market for decent sparring gloves, and with that comes a general window of prices. Luckily, however, the pool isn't crazy deep. There are, though, some clear indications of unsavory things in the make and manufacturing of products.
Out in the real world, and here on our list, there are numerous examples of especially grand make and manufacturing for fair prices that can not only help you in the safe practice of your chosen martial art, but make you look good, and not break the bank in order to do so.
In that world, there are popular names. Companies and brands that have been in front of, on the chest of, or ringside on the biggest martial arts (mixed or otherwise) stages worldwide for the past few decades. Reputable names like  Everlast, or Title, you're going to pay a premium price, for a premium product, but you can (as well as we were able to) trust the quality of the gloves with exuberant popular brand names.
The truth is, you should spend what you can, and aim for the fences. Especially if you're putting the health of your hands on the line.
10 Best Sparring Gloves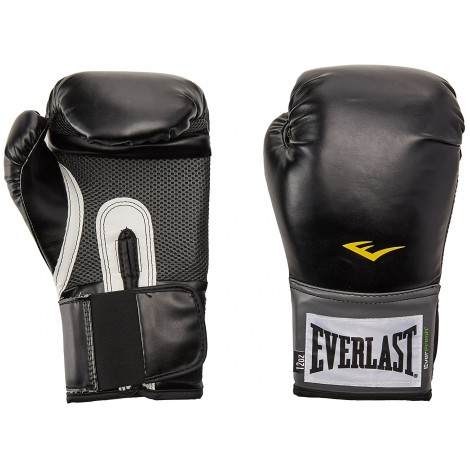 This classic set of training gloves is starting off our list with a bang. You might not be seeing stars when you look at these gloves, but your partner certainly will be… After you bop them so well with your Everlast pro training gloves! These gloves will aid anyone in their dreams of becoming a fully-fledged fighter. Plus, with all their built-in safety precautions, you know you're going to be set up for success.
Safe, Even For Beginners
Even the most beginning of beginners will be able to rock 'em and sock 'em with these gloves. Everlast is a company that truly knows their gloves, as well as their students. When you're building gloves for beginners, you know that you'll need to support them as they're learning to fight on their own. Everlast builds their gloves with wrist support and "ThumbLok", which keeps thumbs in place while sparring.
Ventilation
People get sweaty, especially when there's a lot of physical activity happening. This is especially true when it comes to fighting, which is also the situation where a lot of sweat is especially bad. Too much sweat and you're going to end up slipping and sliding all over the place no matter how good at gripping inside the gloves you are. By providing mesh ventilation panels Everlast has given you some breezy freedom. This is especially great for those sweaty, intense fighting moments.
Cost and Value
Amazon has currently listed them between $20 and $120 depending on which styles you purchase. Everlast is good for sales, which means you're likely going to be able to watch the prices to get them at a bit of a discount. This is great not only for you but for anyone else who might want to join you in the sparring ring. The regular price of these gloves makes them accessible for people who are seriously practicing fighting, making them a safe and durable option for long-term practice. However, it might be a little more than you're wanting to put out for passing interest.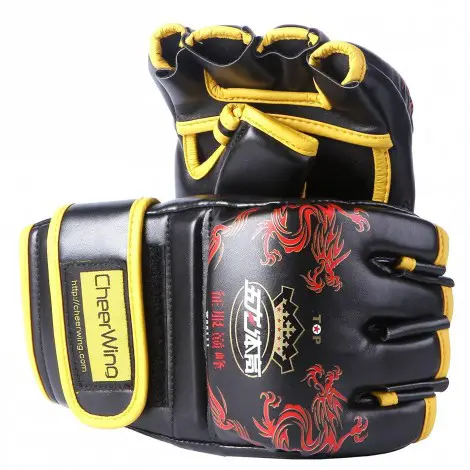 Are you a mixed martial artist with a love of flashy designs? These are the gloves for you. Half finger boxing gloves might seem like a silly product, but they're very much essential to daily practices. More appropriate for fighting practices like Sanda rather than bag training, these half finger gloves will give you protection, form, and a cool look while you're sparring with your hand-to-hand combat friends. Plus, you won't lose any grip capabilities!
Great Grip
Cheerwing has a product here which is very effective for fighting. The gloves themselves are beautiful and provide a solid, slightly curved support for your hands when punching and fighting. The real benefit to these gloves over other ones, however, is the fact that you don't lose any grip strength. You can practice your punches and immediately pick up a set of weights, or drop to the floor and do a burnout round of push-ups. The half gloves will really change your strength-building routine in the long run.
Snug
Something to keep in mind when purchasing sparring gloves is the fact that you want to purchase them so they fit snugly around your hand. While you might want to size up so you can fit a wrap underneath them (and still have them be snug), generally you want a glove that isn't going to cause you to slip or falter in your form. With reports of these gloves fitting snugly, we think that that's actually a big selling point.
Cost and Value
At this quality, you won't find a cheaper set of gloves. The sparring results you get might not be your hardest ever (considering the fact that two of your knuckles are exposed), but you will love the protection it gives you during basic sparring and kickboxing training. The versatility of these gloves is huge, making it possible to get a full workout in without disrupting your flow. For a cheap glove, these are pretty great.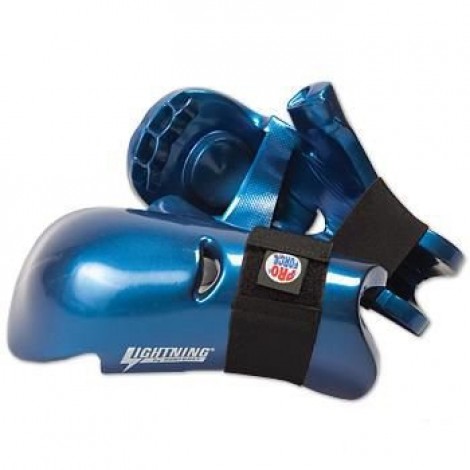 It's in the name, isn't it? These gloves truly put the "pro" in ProForce, as they're absolutely going to make you feel like a pro. The look of them is so cool, but the functionality is even better. You don't need to worry about hitting too hard or pulling back from full-force when you're using these gloves; they're already giving you the support you need just by looking at them.
The colors
Just look at these gloves! It's like a Muay Thai fighting alien crash landed in the 80s and used popular color swatches of the time to craft the perfect sparring gloves. Shiny and bright, these are definitely the happiest things you'll ever put on your hands. The colors will match with any and all of your workout gear, and we love the way they catch the light when we're punching. Perk up any sparring session with these beautiful colors.
Double padding
We want our hands to be protected no matter how hard we're going. The only way to improve is to work your hardest, which can often mean damage to your hands or knuckles. Proper equipment keeps that from happening, which includes padding that's appropriate for your needs. Double padding is strong, sturdy, and keeps you from having any unhappy accidents.
Cost and Value
Compared to the other gloves on our list, these ones fall a little above the average range (even for the cheaper sizes and styles). Because most of these gloves are listed at a range of prices, it can be hard to determine which ones are really worth it or not. We believe, however, judging from the way the gloves look, feel, and function, that they are worth the slightly higher price. Plus, can we talk about that color again? You'll blind your opponent before even making an impact. Totally worth it.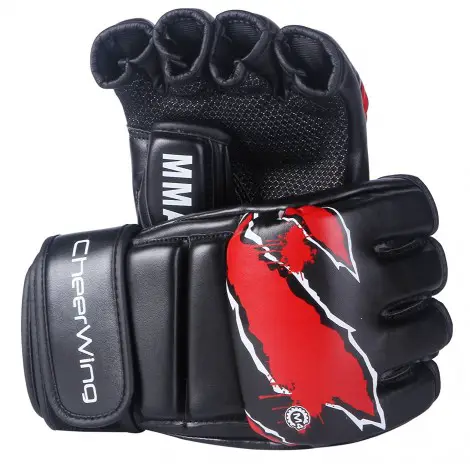 This is another set of gloves coming to us from Cheerwing. This brand really knows their gloves, as these provide both comfort, increased fighting ability, and awesome style. You'll never want to go back to fighting bare-handed after trying these babies on for size! The materials are durable, and the wrist strap makes for a personalized fit. You won't be disappointed. In fact, you might even be able to hear them cheering you on.
Wrist-strap adjustability
Sometimes you're adjusting someone else's glove, and sometimes you're adjusting your own. Boxing and sparring gloves require a tight wrist because that's what keeps your form strong. And with a strong form comes a strong body. There's so much we can do when our gloves don't fit right, which is why it's important that they do. By having adjustable wrist straps you're going to be able to find that perfect fit.
Great materials
Not only does this glove have great technical capacities with protective measures and solid wrist straps, but they also have amazing material qualities. The foam is durable, thick, and soft, which makes your hands feel like they're punching feather pillows rather than faces. The outer material is thick, ensuring you don't get any unfortunate tears halfway through practice. It's even curved, giving you a better punching form and a stronger fist shape.
Cost and Value
When 79% of user reviews give these gloves a full 5-star rating with no ifs, ands, or buts, we think that that's probably a sign they're doing something right. It just so happens that the something that's right is basically everything. These gloves are durable, protective, and look really cool. You couldn't want more in a sparring glove, making these an excellent set of gloves for their cost.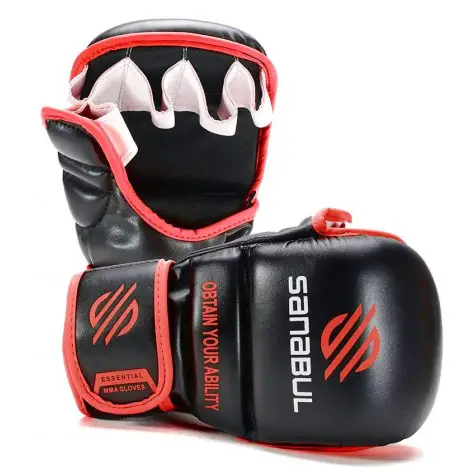 These sparring gloves are the cream of the crop, even if they're not exactly the same style as what we've seen so far. As someone training in mixed martial arts, we're guessing you probably want versatility within your equipment. Being able to easily and quickly transition from one training to another requires grip, comfort, and flexibility. You get all of that and more with these hybrid sparring gloves.
Totally changeable
You don't have to take these gloves off in order to have some good grip. Sanabul knows that you need to be able to change on a dime in the world of mixed martial arts, which is why they created these gloves. The padding on these gives the illusion of it being a full-blown boxing glove, while the half finger grip possibilities make it great for grabbing items and weights. This versatility means you can change quickly and easily, without any worries about poor form.
Motivating slogan
It's silly, but it's true. Sometimes the motivating slogans really are the best part of workout gear. On all the gloves the phrase "obtain your ability" is printed. While some people report being confused about the meaning of this phrase, we love it. Everyone needs mid-workout motivation, even if it wasn't properly proofread or Grammarly checked.
Cost and Value
It looks like a trend with these sparring gloves is that their price changes depending on the size you need. Whether you're wanting to pick up a small pair for your up-and-coming sparring partner or you yourself want to take up the mantle, you're still not going to be paying too much for these beautiful gloves. With a great construction and the utmost versatility, these gloves will certainly give you more than what you pay for.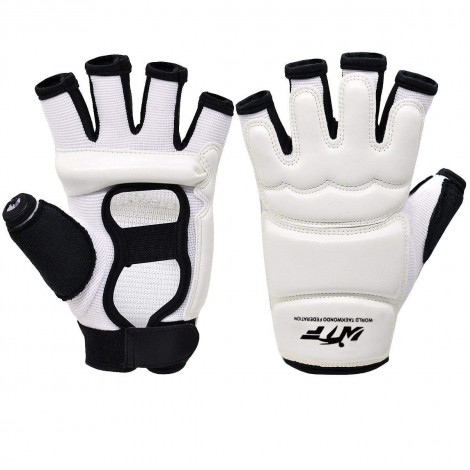 Looking for gloves that will give you an extra edge in your next kickboxing or Muay Thai session? We know that you want to beat the instructors at their own game and look cool while you're doing it. These are the gloves for you if you're looking for a type of gloves that the whole family can wear. Nothing says "family night" like matching Muay Thai gloves!
Built-In Sweat Mop
It sounds silly but it's totally true. The terry cloth on the thumb might be a little confusing at first, but once you realize that it's a super-absorbent sweat-wiper, you'll find that you won't know how you trained without it. These gloves include the terry cloth thumb for the specific reason of wiping away your forehead sweat. For some of us that could be the difference between winning the match and winding up pinned.
Machine Washable
Workout gear gets sweaty. Anyone with sweat glands knows that. Those of us who happen to work out a lot (or get nervous all the time) knows that the palms can be incredibly sweaty body parts. The joy of these gloves is that after all the sweating for the week has finished, you can throw them into the laundry hamper and wash them as you would leggings or sweat socks. Talk about an easy, breezy product!
Cost and Value
Most reviewers say that they don't expect these gloves to last more than a year or two. That might not necessarily be a comment on the quality of the gloves, though, as most Muay Thai artists tend to go harder than the average person's workout calls for. For an approximately $15 average investment, we think that they're totally worth it… Even if they do end up lasting only the year. There's nothing wrong with cheap and cheerful, especially when the product is this good.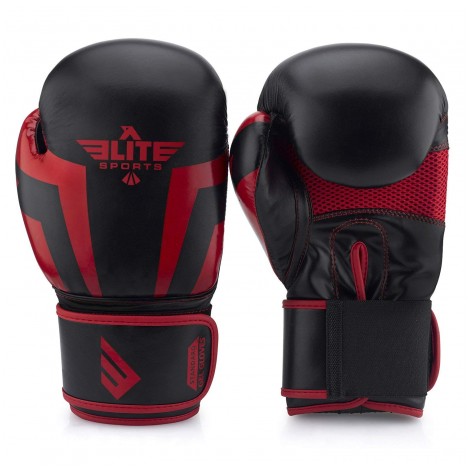 Become an elite gym member anywhere you go with these Elite training gloves. Whether you're devoting your life to kickboxing, boxing, Muay Thai, or general sparring doesn't matter; what matters is the quality and integrity of the equipment you're using. Elite ensures you're never unprotected in fights and keeps you motivated to work until that very last punch.
Gel Inside
These gloves boast many, many great things, but one in particular that we love is the internal gel. This gel will not only go back to its original form after repeated impacts, but it works in tandem with the foam to provide comfort and security for your knuckles and hands. The gel is almost like a shock absorber, protecting your hands from any mistreatment during a fight.
Lining
The gel isn't the only great thing that's inside of these gloves, though. Hidden deep in the depths of Elite's prize-fighter gloves is a lining. This lining is special because it's antimicrobial and anti-fungal. This means that even the sweatiest palms won't ruin the inside of these gloves. Many sparring gloves gain a strange smell after a few months of use. This comes from a combination of sweat, oils, and germs that grow inside the gloves. You don't need to worry about any of that thanks to Elite's antimicrobial and anti-fungal lining.
Cost and Value
A little more expensive than some of our other sparring glove choices, but totally worth it. If you're a serious fighter, we recommend you shell out the big-but-still-reasonable bucks to get your hands on a pair of these babies. They have many of the same attributes as the cheaper versions, but are much more well-made and have a higher quality of materials. If you're serious about this sport (and about your safety) we absolutely recommend Elite's training gloves.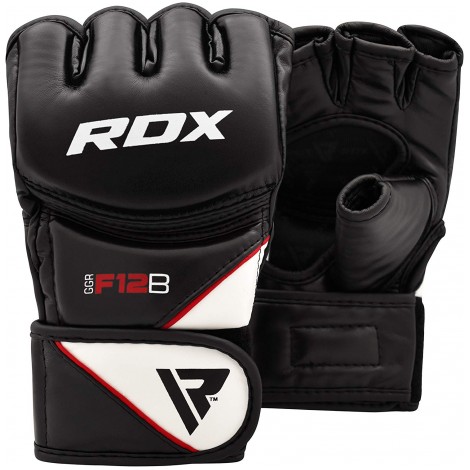 Looking for leather? You've come to the right place. These gloves will be a leather-lovers dream, forming perfectly to the shape of your hands and supporting you in your fight for better form. While we couldn't quite tell if these were actual leather (one of the descriptions calls them "Maya hide synthetic") they certainly look and feel like the real thing!
Unique closure
Tired of velcro getting caught on things and coming undone? You need a set of gloves that are going to stick. These gloves have a unique hook and loop system, which provides the tight closure you need to rest assured that your glove isn't going to come undone. Hook and loop is a secure closure system, but few sparring gloves are utilizing it. Get ahead of the curve with RDX!
Open Palm
Forget about all the fancy tech that some of these other gloves have. If you have sweaty hands, one of the best ways to aerate them is to just give them air. You don't need to worry about whether or not you're getting cooling lining or fancy gel; you just need to strap the gloves on and go. On top of giving you more breathing space, the open palm also lets you grip things a little better. Sounds like a win-win to us!
Cost and Value
The gloves are very well reviewed, but there are a few reports of the stitching coming undone with intense use. While we feel that that could be on the part of the user, for the above-average price, it shouldn't be an issue. Luckily the company has an awesome customer service policy, making it easy to get a replacement if the stitching does happen to come apart. All in all, we think these are a strong investment if you're a boxer or sparrer who doesn't go hard six times a week.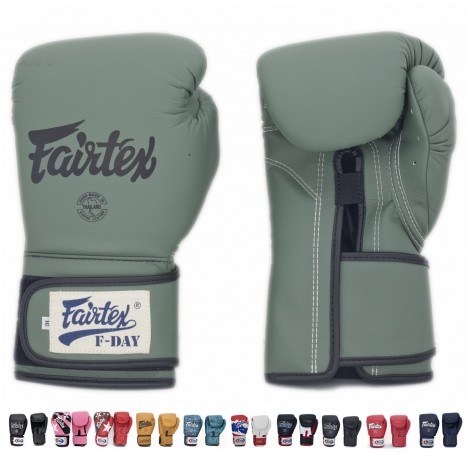 We're almost at the end of our list, which means it's time to squeeze in two more excellent sparring glove options. Whether you're a beginner or an advanced learner, there's a set of gloves that will work for you. That set of gloves might just be these ones, listed as Fairtex Microfibre boxing gloves. Appropriate for plenty of sports, you'll be getting protection and the promise of a winning match with these gloves.
Genuine Leather
While some sparring gloves are a little unclear about the realness of their leather (we're looking at you, RDX), Fairtex is totally open with their leather love. These gloves are genuine leather, which offers a couple benefits. First and foremost, genuine leather is going to last you for a very, very long time. Genuine leather is durable, as well as breathable. You're also going to find that the gloves form to your hands a little better with long-term use, unlike its synthetic friends.
Weight Distribution
Weight distribution is incredibly important. Poor or off-kilter weight distribution can throw off a kick or punch even more than a distracted brain. Improper weight distribution makes it harder to learn and maintain proper form. With the way these gloves are constructed, you're going to be getting a perfect balance (and a perfect toss) every time.
Cost and Value
These gloves are far and away the most expensive on our list, which isn't a bad thing. The description says that they're genuine leather, which is pretty much worth the price in our books. We love the look and feel of these gloves, and couldn't find any reports of faulty stitching. If you're wanting a glove to last a lifetime (or at least many, many years) you're getting a great value with this product.



The final set of gloves are these Sanabul ones. Another set of gloves using this gel selling point, we feel that they perfectly round out our list. We always need more sporty, hard-working gloves, especially for those that like to train harder than everyone else. Gym buffs and casual hobbyists agree: these gloves put up a great fight compared to any of the others on this list.
Excellent Form
You're not alone when you get into the ring or jump onto the sparring mats. No, we're not talking about your partner or coach. We're talking about your gloves. Your gloves are the first line of defense against bad form, which is why it's important that you get a pair to support you in your work. These gloves are built in such a way that every element helps to give you the proper hand position.
Longevity
This positive comes to us from reading updated reviews on the product's page. Do you know how easy it is for gloves to come apart? These things are literally getting beaten day in and day out. It takes a special kind of glove to stand up to all that, which is what these gloves are. Reviews have reported that even a year after hardcore use they're still holding up well. If that doesn't say success, we don't know what does.
Cost and Value
The durability of these gloves makes them an excellent value for the price. We can't believe that you're able to get gloves that are such good quality for a mere $20-$30. While that is on the higher end of our scale, we absolutely think they're worth the cost. Don't be afraid to commit to these; you won't be disappointed.

Subscribe to our Newsletter