Best Workout Gloves Reviewed & Rated for Quality
last updated:
Jul 01, 2019
Workout gloves have a number of different advantages for the avid exerciser: not only do they allow you to grip the equipment or weights more effectively, but they also give you wrist support, and distribute the resistance of the weight more evenly across your hand. As with any product on the market, though, some workout gloves are better than others, although in many cases, one type of glove isn't better than another, it's just better for a specific type of gym-goer. So to help you navigate all the different workout gloves and choose the best one for your needs, here's a look a the top ten workout gloves around.
In a Hurry? The test winner after 21 hrs of research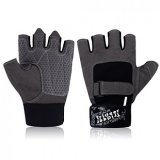 Trideer Weightlifting
Why is it better?
Made with durable microfibers
Highly protective of your hands and wrists
Comfortable to wear
Versatile across different disciplines
Easy to put on
In a
Hurry? Editors choice: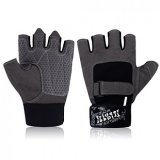 Test Winner: Trideer Weightlifting

3
Researched Sources
21
Hours Researching
10
Products Evaluated
Materials
Protection
Comfort
Overall Fit
By Default
Top 10 Picks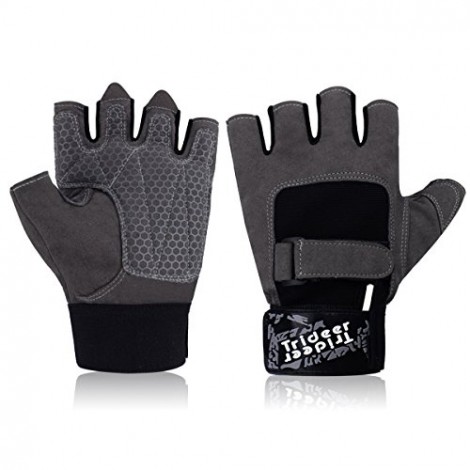 Made with durable microfibers
Highly protective of your hands and wrists
Comfortable to wear
Versatile across different disciplines
Easy to put on
Sometimes come too big
Issues with the velcro fitting tightly enough
The Trideer Weightlifting Gloves are some of the best all-around workout gloves that you can find. Far from just useful for lifting weights, these gloves will serve you well no matter what your workout routine is. Cycling, push-ups, pull-ups and, yes, lifting weights, if your workout involves your hands in any way, the Trideer Weightlifting Gloves will probably enhance your experience.
Silica Gel Palm
The palm of the Trideer Weightlifting Gloves is made up of a silica gel, which has multiple benefits. It allows you to grip on more firmly to whatever it is you need to hold, but it also provides extra cushioning to protect your palm and be more comfortable.
Thick Wrist Straps
The wrist straps on the Trideer Weightlifting Gloves is thick and sturdy, providing you with lots of support. Wrist injuries are nothing to mess with, and the Trideer Weightlifting Gloves can keep your wrists safe.
Cost and Value
The Trideer cost is pretty standard for workout gloves, although the range of prices within differing workout gloves is quite limited. As it is one of the best and most versatile pairs on the market, the price is definitely worth it.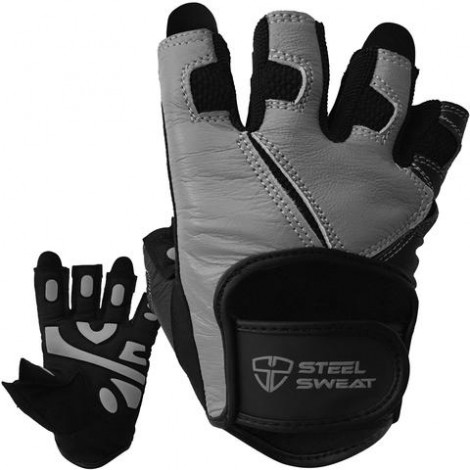 Breathable and moisture reducing
Can be washed in a machine
Easy to take off
Lots of padding
Adjustable for a great fit
Known to be tight in the thumb
"Grip spots" aren't that effective
Working out is an inherently sweaty process; that can't be avoided. Unfortunately, that means the more gear that you wear; the more sweat can accumulate. The Steel Sweat Rue Workout Gloves are designed with that in mind. The gloves deal with the moisture so that your hands aren't uncomfortable and slipping throughout your routine.
Moisture Management
The technology behind the Steel Sweat Rue Workout Gloves is quite exciting and creative. The specific fabric that they use is quite stretchy and allows for a lot of ventilation. At the same time, the material wicks the moisture away from your hands, keeping them dry inside the glove.
Easy On, Easy Off
Getting the first glove off is always awkward and challenging. The Steel Sweat Rue Workout Gloves come with a special tab behind three of the fingers that makes it much easier to take them off, even when your other glove is still on.
Cost and Value
Quite low in price, compared to other workout glove options, you're getting a lot for your money here. Gloves aren't too much usually, so they're a generally good investment, but the Steel Sweat Rue Workout Gloves are a particularly affordable option, and high quality to boot.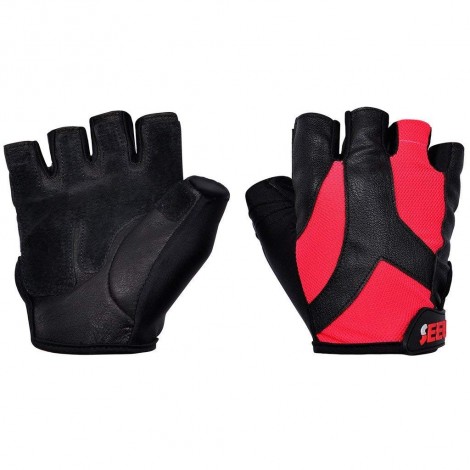 Highly affordable
Wrist strap provides extra protection
Gel particle provide lots of grip
Great for any size hand
Grips can wear out
Not a ton of padding
Simple, straightforward, and to the point, the SeeU Weightlifting Gloves are perfectly adequate. They don't really have much in the way of special features, but they are relatively durable, effective, and inexpensive. If you don't want to spend too much on your workout, but you do want to improve your performance, these might be the best for you.
Big Wrist Strap
The most noticeable aspect of the SeeU Weightlifting Gloves when you first look at it is the huge wrist strap that encroaches up to the bottom of the palm. This is designed to make the SeeU gloves very safe and protective of your wrist and hand.
Gel Particles
The little gel dots all along the hand, both palm, and fingers, provides extra grip for these gloves, without sacrificing breathability.
Cost and Value
Overall, the most inexpensive gloves that you're likely to find on the market. That doesn't mean low-quality, though; these gloves are relatively durable and should stand up against your workout routine for a while
4

. Fit Active Weight Lifting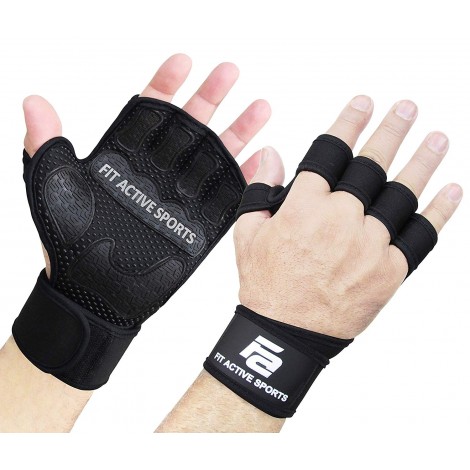 Made of durable microfibers
Open-backed design makes it the ultimate in breathability
Supportive and protective
Low-moisture material
Prevents developing calluses
Not a lot of padding
Not a lot of grip
Some of you might be looking for something with a little bit less bulk; something that can provide the benefit of a workout glove without actually covering your hand like a glove. Insert the Fit Active Weight Lifting Gloves. They really aren't gloves, if you look at them; more like very strong wrist wraps. Their lightweight form and versatility make them a choice of veterans and rookies alike.
Open Back
The first thing you notice about the Fit Active Weight Lifting Gloves is definitely the open-backed design. Because you don't really need to protect the back of your hand, Fit Active decided to remove that part, spanning from your wrist to around your fingers, covering the palm, and leaving everything else open, making for a lighter glove and a less constricted feeling
Extra Long Wrist Strap
The extra long wrist strap around the Fit Active Weight Lifting Gloves provides extra support in case you need it. It also makes the Fit Actives generally well adjustable.
Cost and Value
The Fit Active Weight Lifting Gloves are pretty standard in terms of price and deliver a great deal of value for that price. The durable design means you won't have to get another pair for years to come.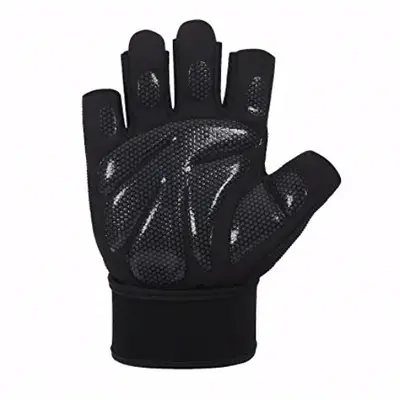 Non-slip silica gel palm
Multipurpose
Comfortable protection
Affordable
Palm patting is not as thick as you would need it to be
Featuring a half mitt design these Fenglei fitness gloves were designed to give you exceptional protection without compromising your movements. Additionally, the half mitt design works well for multiple different workouts because it has that classic breathable and flexible feature that allows working with numerous gym machines a breeze. You get the grip and stability you need with maximum movement, a win-win for everyone.
Anti-slip
In order to have a good fitness glove, you will need a strong anti-slip design. This glove was designed with a non-slip silica gel palm. Having this feature works well for two reasons; it gives you additional support and traction while providing an extra cushion. Furthermore, it is paired with a layer of thick foam padding over the palms to protect against excessive pressure and reduce the possibility of injury.
Comfortable and Durable
You want a glove that offers you protection against injuries yet is comfortable enough to be worn for hours at a time. Made out of lightweight microfiber paired with micro mesh cloth, this glove is breathable, durable, and helps avoid moisture entrapment between the palm of your hand and the glove. While working out for an extended amount of time you do not want sweat to get in the way of achieving your goals. Therefore, it's essential to have a pair of gloves that will help minimize the amount of sweat that is transferred to the machine you are working on.
Cost and Value
Even though they provide numerous amounts of essential features, these gloves are extremely affordable, so much so that you might want to have a second pair on hand just in case you forget these at some point. You are getting an excellent pair of gloves for an exceptional price.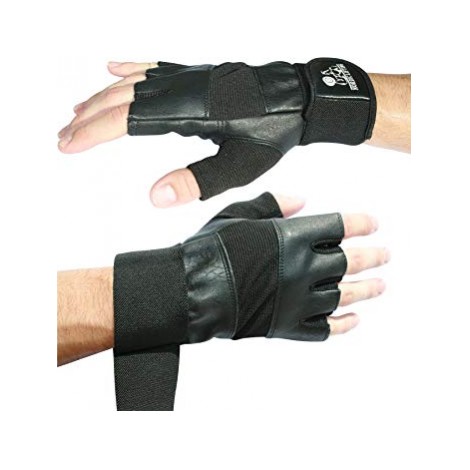 Flashy faux leather material
Breathable mesh on the back of the hand
Strategic placement of padding
Lightweight and flexible
Not great wrist support
Very little grip to speak of
The Nordic Lifting Gloves stand out as a flashy pair of workout gloves that don't only work well, they also look good while doing so. The Nordic Gloves are made mostly out of a faux leather designed to breathe well, along with tough fabrics along the seams.
Strategic Padding
One issue a lot of people end up having with many of the different workout gloves available to them is that they have too much padding, which makes them uncomfortable or nonoptimal for working out. The Nordic Lifting Gloves avoid this issue by only having padding where you absolutely need it.
Reinforced Stitching
Workout gloves take a lot of a beating while they're being used, so you want to make sure that they can last. Because the seams are the first to go on nearly all pieces of gear, the Nordic Lifting Gloves have reinforced stitching in those seams.
Cost and Value
Generally an inexpensive option for workout gloves, the Nordic Lifting Gloves are a great choice for anyone who wants to get serious about their workout without spending a ton.
7

. B Nooch Weight Lifting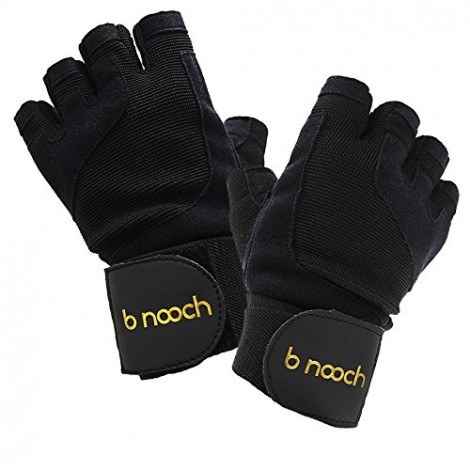 Durability enough to stick around for years
Tons of padding
High amounts of grip
Extremely comfortable
Quite bulky and heavy
Don't breathe as easily
The B Nooch Weight Lifting gloves are a pair of simple, straightforward black gloves, with little style to them whatsoever. Instead, the B Nooch Weight Lifting Gloves are all about efficiency and performance. A bit bulky and a bit thick, but perfect for someone who needs to get a lot out of their gloves.
Durability
Nearly every item on this list will have some mention of durability if you delve into the product page, but that's because you can't put a decent glove out if it's going to fall apart immediately. The B Nooch, however, is one of the most durable pairs around, making it a notable thing to mention here.
Extensive Grip and Padding
To prepare for the most intense workouts around, the B Nooch Weight Lifting Gloves provide a great deal of padding, along with a high level of grip to make sure your hands don't slip.
Cost and Value
The B Nooch Weight Lifting Gloves do run a little bit more expensive than average, but still well within reasonable limits. Definitely worth it for the more serious workout enthusiasts out there.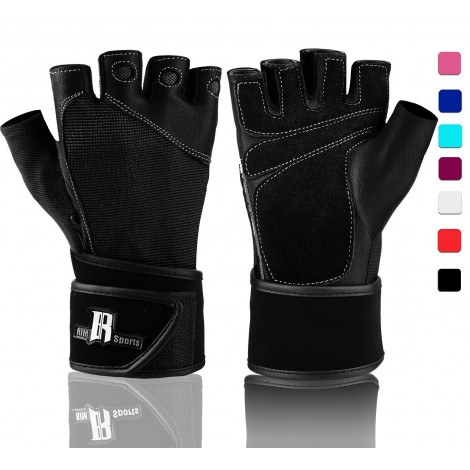 Stylish and available in a variety of colors
Good ventilation and lightweight design
Supportive of wrists
Comfortably designed
Very stable movement
Not ideal for free weights
Dyes can bleed onto hands
Generally a very popular choice for women, as well as those who are new to working out, the Rim Sports Premium Weight Lifting Gloves are lightweight, breathable, and comfortable. Made with spandex and leather, the Rim Sports Premiums have lots of padding and wrist support.
Tight and Comfortable Fit
The Rim Sports Premium Weight Lifting Gloves are a pretty tight fight, but with a lot of support and padding, that makes for a much more comfortable weight lifting experience.
Lightweight Materials
The materials that the Rim Sports Premium Gloves are made from make them ideal for anyone who doesn't like bulkier gloves, but still wants the padding and support that they would provide.
Cost and Value
On the low side of average pricing, the Rim Sports Premium Weight Lifting Gloves provide a lot of value, especially to the first time exerciser who is just getting into going to the gym.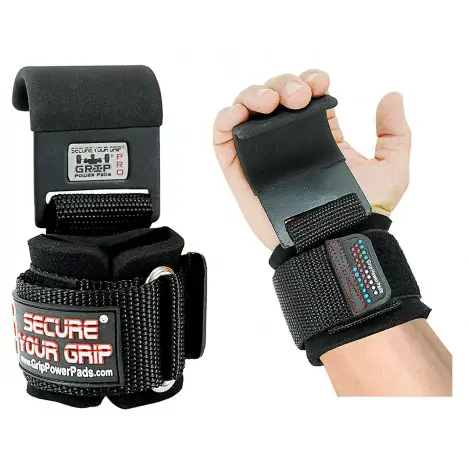 Varied palm for extreme grip
Lots of padding and support
Grip is contoured to the hand
Protects against calluses and blisters
Not very flexible
Can be uncomfortable
Sometimes, you just want the best grip possible, no matter what. You might think that you should look for a pair of gloves that has grip in the name. Well, you're right! The Grip Power Pads Gym Gloves are all about grip, though some of the other aspects might suffer as a result.
Grip!
What else, right? There is not a single glove that can give as much grip as the Grip Power Pads Gym Gloves can. This is because of a complex system of different surfaces on the palm and fingers, including rubberized pads.
Pull-off Tabs
This is another pair of gloves that understands how awkward taking gloves off can be and incorporates special tabs to make it easier.
Cost and Value
Premium grip comes at a premium cost. One of the most expensive items on this list, you likely won't be going after these if you are a newcomer to working out. If you're a veteran who has been having grip issues, however, then these are likely worth your while.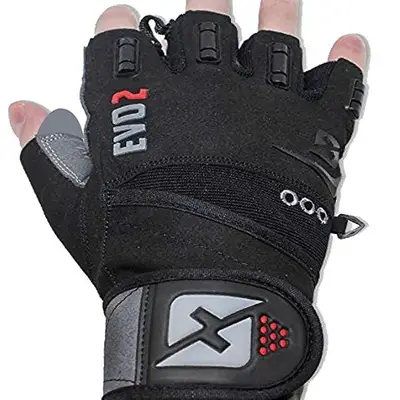 Custom sizing
Integrated wrist strap
Exceptional protection
Anti-slip
Reviewers noted the velcro would stick to most of their clothing
Designed to be used by professional gym goers and beginners, the Skott 2018 Evo 2 glove is the perfect addition to any workout gear. While others on our list were created to be versatile for multiple different fitness routines, this one was purposely created for those that weight lift on a constant basis. Weightlifting constantly can create calluses which is why you want a thicker, stiffer glove these gloves offer just that- thicker sturdier material that gets the job done.
Double Wrist Wrap
One of the areas that take a constant beating when lifting weights is your wrists. They're constantly being put pressure on; therefore, you want as much support on them as possible. These gloves offer a wider, thicker, double wrist wrap for comfort, stability, and better control.
Perfect Fit
While most gloves are "one size" fits all, these aren't. You will need to measure your hands in order to find the perfect fit. What this does is it allows you to find a customized glove that not only protects your hand but gives you the right amount of control while using heavy machinery.
Cost and Value
When it comes to the cost of these they are quite affordable, especially when you take into consideration how well-built they are. Additionally, you want to consider how custom to your hand once you select your proper sizing. Make sure to measure your hand before purchasing for the best outcome.
Criteria Used for Evaluation

Protection
Padding
When you're discussing the value of workout gloves, padding is perhaps the most important thing that they provide you with. Direct contact with the metal of free weights or even the rubber-covered bars of workout machines can cause damage over time, or even just soreness. One of the primary purposes of workout gloves in the first place is to reduce the impact of those weights by putting padding between you and them. How that padding works and how extensive it varies from one workout glove to the next. Some have extremely thick padding all through the palm, while others go lighter with the padding or only pad in specific areas. Ultimately, padding is material, and there's always going to be a trade-off; the more padding a glove has, the less flexibility and heavier it will be. Sometimes, that padding is worth it; sometimes, it might be a bit too much. For the most part, the materials that workout gloves use for padding have advanced a bit; no longer the foam of yesteryear, most workout gloves use either gel, silicone, or a combination of both to provide padding.

Support
Support
Most of the gloves on this list come with some sort of wrist support, although it varies extensively how much support this is. The wrist support is a band of material that wraps around the wrist and holds it in place while you're working out. How wide across that band of material is roughly correlated to how much support it provides. Some of the options on this list have extremely, almost comically wide wrist supports; they may seem excessive, but that size isn't wasted. Those really do have the most support and will keep your wrists most protected. Some gloves don't have the support or have the support that can be removed. These aren't necessarily worse than ones with wrist support; in fact, some people prefer not to have that cumbersome band at all. However, because of the chance of wrist injury during a workout, using a glove with solid support is generally recommended, especially for newcomers.

Materials
Material
The material that a particular workout glove is made out of can't help but impact how that glove performs. One of the most popular materials on the market now is neoprene, a form of synthetic material that is flexible, lightweight, and durable. Even so, very few gloves are made just of neoprene. Most gloves are a creative mixture of materials, whether they be spandex, microfiber, or even faux leather. One thing to keep in mind is that your skin isn't allergic to whatever material you end up going with. It is not unheard of for someone to have an allergic skin reaction to a particular material in his or her workout glove.

Breathability
Ventilation & Breathability
When you're working out, you are generating a lot of sweat, and that sweat needs to go somewhere. If a pair of gloves doesn't have proper ventilation, then that sweat will accumulate uncomfortably, and reduce your grip inside the glove. Therefore, most gloves are made with breathable fabrics. Some go even further, removing the fingers, or taking away much of what would define a "glove" in order to expose as much skin to the air as possible. Try to get a pair that has as good moisture management as you can, although sometimes, ventilation can be sacrificed for other areas of performance.

Fit
Closure & Fit
You've probably seen old boxing gloves, all tied up with string. Nowadays, most gloves are held together by velcro, a much more convenient way to do it. The closure spot on a pair of workout gloves needs to be effective, and able to hold the glove on tightly throughout an entire workout routine. Many of the closure options on these gloves actually work to be adjustable, making the glove fit a wider variety of hands. A few gloves here have notable closures, but overall, as long as the closure is effective, you don't need to think about it that much.

Overall Fit
Overall Fit & Sizing
As with many sports-related accessories, sizing with workout gloves isn't quite as simple as sizing with regular gloves. With a regular glove, a little bit off in the fingertips doesn't really affect you much, but that tiny bit can be killer when it's connected to a strenuous activity like weightlifting. A pair of gloves that is too tight can reduce your circulation, but a pair that is too loose will actively interfere with your workout routine. In order to get the right size, you need to keep a few things in mind. Generally, you want the gloves to fit snugly on your hand, so that you have room to move your fingers around a bit, but your palm isn't moving around in the center of the glove at all. Fingerless options are easier to get right than fingered options, as it reduces the number of variables to get the proper size. Even if you plan on ordering them online, it might be a good idea to head down to a sports goods store and try on a few pairs to get a feel for which size works best for you.
Expert Interviews & Opinions
Most Important Criteria
(According to our experts opinion)
Experts Opinion
Editors Opinion
Users Opinion
By Default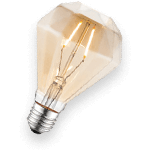 Make Sure They Fit
Focusing on style is not a bad thing to judge a piece of gear on, as long as that's not the only thing that you care about. Things like comfort, support and safety must always come first. However, if you're deciding between a few different options that are roughly equivalent, deciding on whether you like the look of one over the other is a great way to go. Chances are, you will be wearing them often, so you might as well love them in and out.
Frequently Asked Questions
q:

Where's the best place to buy workout gloves?

a:

The best place really depends on what kind of consumer you are. If you look online, you have a few distinct advantages. You can shop around for the best price, knowing that you aren't overpaying for the product at all. You can also look at all the different possible competitors, and choose the brand that you know you want most. Plus, if it's an advantage to you, you don't need to deal with salespeople. These factors would be enough to squarely make online shopping best if it weren't for trying the gloves on. By trying gloves on, you can find out exactly how they will feel on your hands, and this tactile experience is something that technology has yet to conquer. Where you should shop really depends on whether you think you'll want to try gloves on before buying them, or if you already have a decent idea of how they'll feel.
q:

Why should I use workout gloves?

a:

You can work out without them, right? It does seem like buying anything you don't precisely "need" seems a bit like buying snake oil. However, workout gloves provide a real, measurable benefit to anyone who exercises. The grip allows you to hold onto bars better and might translate that transfer of force to an additional few pounds that you can bench, but that's not really the reason why you need them unless you are a huge gym nut. The real reason is just that working out can easily injure you, and workout gloves protect your hands. Whether the injury is sudden, like a bar slipping and spraining your wrist, or something longer term like blisters, workout gloves will reduce the toll that working out has on your hands.
q:

How do I choose the perfect pair of workout gloves?

a:

There really is no one-sized answer to the question. Different gloves favor amateurs and pros, free weight lifters and machine users, even men and women. The best advice is just to read this article, keeping in mind what you want most out of a pair of gloves, and make a checklist. Every time a glove hits one of your items, make a check. Whichever pair or pairs have the most checks, go and try on to see which feels best.
q:

Do workout gloves prevent blisters and calluses?

a:

That is one of the listed benefits of workout gloves, but don't expect it to work perfectly. Maybe instead of preventing calluses, you should think of it as reducing calluses. If you're going to the gym hard, working out every day or most days in a week, and really pushing yourself, you're likely to develop a callus no matter what. It is pretty safe to say, however, that if you do get a callus with workout gloves on, the callus likely would have been worse without them; same for blisters.
q:

How do you maintain workout gloves?

a:

s with any piece of gear, you need to wash them regularly. Workout gloves accumulate a lot of sweat, even the ones that aim to minimize that sort of thing. If you don't wash them, then that sweat will get rank, smell terrible, and even potentially damage the gloves. A few of these workout gloves, especially the more fabric based ones, can be cleaned as easily as washing them in the washing machine and setting them out to dry. However, most workout gloves can't be washed in a machine, since the rapid rotation could damage or tear them apart. If you have a pair like this, then washing them is pretty straightforward. Simply wash them thoroughly with soap and water, then set them out to dry. You might be tempted to put them in the sun, but doing so might actually warp and damage them too. Instead, just put them somewhere that's dry but relatively cool when you need to dry them off. It's generally recommended to wash them about once every week, although you can do it more often if you feel the need to be particularly clean.
q:

Will workout gloves weaken my grip?

a:

Initially, yes, workout gloves will interfere with your natural grip. This is just because you won't be acclimated to them though. The material of the gloves between your hand and the weight or the machine bar has a non-negligible thickness, in a sense making the thing that you are gripping thicker. Because of this added thickness, you might feel like you're not getting a solid hold on the weight, or that you aren't able to grip around it as firmly. This is entirely natural and happens to pretty much everyone who starts using workout gloves after not having done so. Fortunately, it shouldn't take long for your hands to adjust to the gloves, returning your grip strength back to normal. At this point, you should actually have a better grip, because your hand's natural grip strength will be augmented by the extra grip in the palm of the gloves.
q:

How much should workout gloves cost?

a:

Fortunately, workout gloves are very reasonably priced, so it shouldn't break the bank for you to get a pair for your workout. Lower end workout gloves should be available at about $12 and up, whereas a premium pair will go for around $25. Some gloves are available for much more than that, going up to and over $50 for a pair, but largely you're just paying for a brand name there; a $50 pair won't be much better, if at all, than a $25 pair.
q:

How do I prevent calluses and blisters on my hands?

a:

Calluses and blisters are typically issues that weightlifters experience due to not having protection against the metal and their hands. To avoid these from happening you want to have a protective layer between your hands and the weight you are attempting to lift. Additionally, you want to purchase a good quality gym glove like the ones we have mentioned above. Not only are they high quality but they are comfortable and offer exceptional protection. If you already have a blister, consider taking a break from weightlifting until they have fully healed. Doing so will prevent them from getting them infected and/or losing grip while working out.
q:

Does a fitness glove weaken my grip?

a:

Fitness gloves can weaken your grip momentarily while you adjust to using them for the first two times. However, once you become comfortable with using your gloves, you will regain your strength. Furthermore, you will feel more in charge of using heavy machinery.
q:

How long do fitness gloves last?

a:

If you use them on a daily basis, your fitness gloves will last 4-6 months if they are made out of good quality. On the other hand, if you use them periodically, they will last up to a year or more.
Subscribe to our Newsletter