Top 10 Leather Gloves Reviewed & Rated
last updated:
Mar 05, 2021
This guide is written to help differentiate between 10 of the best leather gloves on the contemporary market, in order to give a balanced overview for the buyer. The different qualities and features need to be taken into consideration when purchasing, and some may outweigh others or compliment them. The ideal gloves need to be of top quality leather, whilst being versatile and practical to use; the 10 in this guide will hopefully give the task an easier angle and provide useful views for the requirements needed. The varieties of design, the overall quality of the leather and the functionality of the gloves are vast, and in order to make sure any purchase is suitable – this guide will highlight not only the pros but also the cons to help make sure the purchase is right for the job!
In a Hurry? The test winner after 13 hrs of research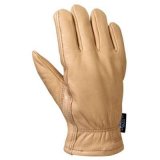 Carhartt Thinsulate
Why is it better?
Genuine leather
Easy care
Thinsulate lining
Logo on cuff
Excellent quality and value
In a
Hurry? Editors choice: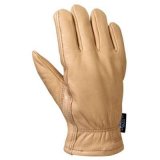 Test Winner: Carhartt Thinsulate

15
Researched Sources
10500
Reviews Considered
13
Hours Researching
15
Products Evaluated
Materials
Insulation
Fit
Durability
Versatility
By Default
10 Best Leather Gloves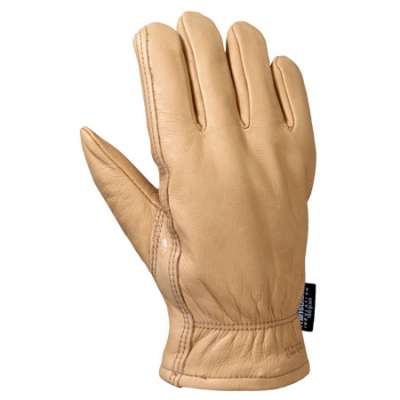 Genuine leather
Easy care
Thinsulate lining
Logo on cuff
Excellent quality and value
Sizes run small
Slightly stiff and bulky
The Carharrt Insulated gloves are a well known and classic branded design, they are made with 100% genuine leather and benefit from Thinsulate lining for comfortable warmth. The combined quality of materials and design mean these gloves are suitable for most outdoor winter activities.
Pebbled Leather
The unique pebbled design offers both style and comfort, this is complemented with a polyester Thinsulate lining for extra warmth. The design doesn't detract from the comfortable, cozy warmth they provide, and the style can compliment any winter outfit.
Easy Care
The gloves are suitable for hand washing which is both convenient and practical when maintaining them, enabling longer use and wear-ability. The practicality of the gloves means the everyday versatility combined with the ease of cleaning make these an ideal winter purchase.
Cost and Value
The gloves offer both a classic design and style, the look and functionality of them mean they are excellent value for money. The bonus of them being easy to care for will enable home cleaning which gives them an edge over competitors' designs.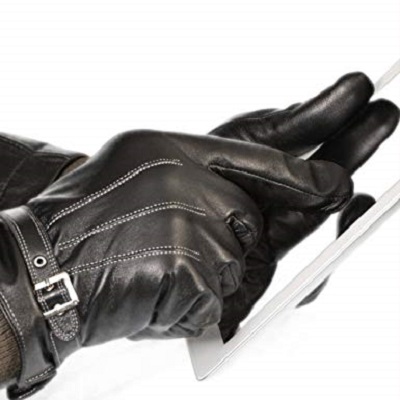 Touchscreen enabled
Stylish and functional
Elastic cuff
Soft, quality leather
Great value
Fragile stitching
Long fingers
The Vetelli Winter gloves are made with soft sheepskin leather and have a cozy 70% wool lining, giving them a comfortable feel. They are touchscreen enabled on all fingers/thumb for complete versatility when using any tech. This provides exceptional functionality and gives ease of use without getting freezing fingers.
Elastic Wrist
These gloves benefit from having an elasticated wrist to ensure warm air is kept trapped, and also prevents cold chills from reducing the interior temperature. This bonus feature also maintains a super snug fit, giving confidence and increased versatility.
Non Bulky
These Vertelli gloves are designed not to be bulky, this increases functionality and maintains free movement in non-restricting comfort. The non-bulky design makes these gloves useful for a great number of outdoor winter pursuits.
Cost and Value
The cost of these gloves is well balanced and the product has a number of good features that will ensure longevity and therefore - great value for money. The warmth they provide coupled with the elasticated wrist makes these gloves practical for a number of uses which improves value.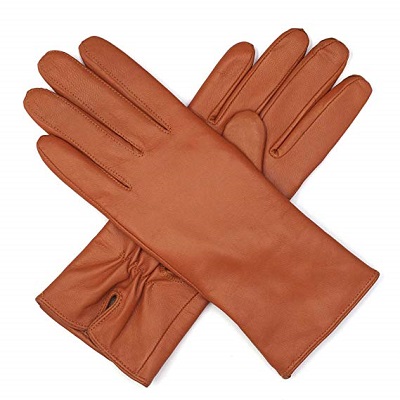 Genuine Elma gloves
Supple Italian Nappa leather
Non-slip palms
Touch screen enabled
Cashmere lining
Sizes run small
Fingers are long
These luxury leather gloves are produced using Italian Nappa Leather, this gives them a luxurious feel, and ensures they are supple enough to protect from cold and be useful enough to use for texting. In today's tech-savvy world, the bonus of not getting cold fingers whilst using any has to be an advantage over other types of glove.
Cashmere Lining
These Luxury Gloves have 100% cashmere lining which is super soft, comfortable and has a luxurious feel. They also have a wool lining mix for added warmth, this provides not only a warm, snug feel - but gives the gloves a superior feel.
Touch Control
The fingertips are versatile enough to use touch screens whilst being worn, this is especially useful for today's tech. And the ability to be able to use tech in the cold is also an added safety bonus for any situation that may arise.
Cost and Value
The cost and value of these gloves are equally as good as each other, and the luxurious feel of them gives them an added feature along with the touch screen enabled fingertips.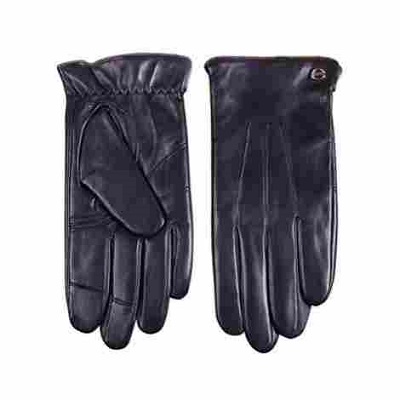 Nonbulky
Sheepskin leather
Comfortable fit
Functional
Soft and stylish
Color can bleed
Delicate stitching
The Reed gloves are produced with real sheepskin leather giving them a comfortable outer skin, coupled with an insulated internal layer - they are practical for both everyday wear and also for driving. The high quality of the leather means they are luxurious and tough for longevity.
Touch Screen Enabled
The Reed leather gloves are compatible for use with touch screens; meaning they are fully functional in the cold and prevent cold fingers. This adds convenience to the purchase and helps peace of mind in any unforeseen situation whilst out in the cold.
Non bulky lining
The super warm lining is thin enough not to be bulky; whilst maintaining warmth and keeping hands snug and comfortable. This is a must for practicality and means they are suitable for wear doing a variety of activities.
Cost and Value
These Reed leather gloves are excellent value for money, the Reed design is well established and the gloves will live up to expectations. The bonus features including the high-quality leather and the functionality of these gloves give them an edge over competitors.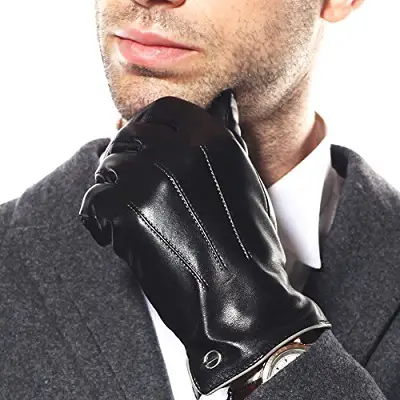 Quality materials
Stylish
Comfortable
Good choice of colors
Excellent value
Sizes run small
Not suitable for colder temperatures
These Elma gloves are a classic, stylish design and incorporate 100% pure Italian Cashmere lining. They are warm, comfortable and are versatile enough to enable touchscreen use when worn. The style and luxurious feel make these gloves an ideal addition to any outfit for winter activities.
Functional
The fingertips in these gloves enable the use of touchscreens when worn, and this is an invaluable bonus for them and ensures the ability to keep in touch whilst staying warm. In today's lifestyle, the added touch of luxury these gloves offer is priceless.
Quality
The quality leather and cashmere lining means these gloves are comfortable and practical. The stylish design is also available in a variety of colors, meaning there is a color for any occasion whilst staying smart and full of style.
Cost and Value
The style and high-quality materials used in the manufacture of these gloves means they are an excellent value, the luxury feel of the cashmere lining and the touchscreen-enabled fingertips give them added features too.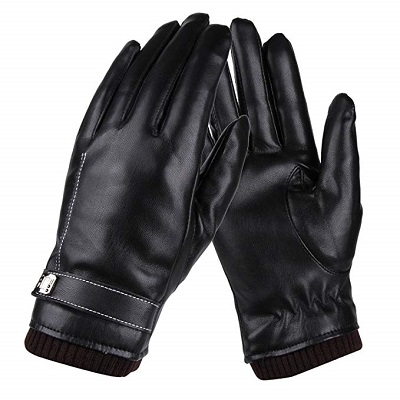 Good fit
Quality leather
Huge color choice
Stylish design
Excellent value
Sizes run small
Not for extreme cold
The Warmen Leather Gloves offer both functionality and practicality, the massive choice of colors and the stylish design give these gloves an edge. The warmth provided and the feel ensure utmost protection in colder temperatures, with an added touch luxury.
Stylish
These Warmen leather gloves are very stylish, practical and come in a wide range of colors. They have a soft lining to provide ultimate comfort whilst staying warm and snug, and the wide range of colors means there is a glove for any occasion.
Quality
The gloves are made of ultra-soft lambskin leather and are guaranteed to give a luxurious feeling. They are versatile and enable the use of touch screens without having to remove them - a must for those cold days out and keeping fingers warm.
Cost and Value
The luxurious feel and quality of the leather, with the added style incorporated, make these excellent value and ensure money well spent. The benefit of the color choice means there is a statement for anybody to make.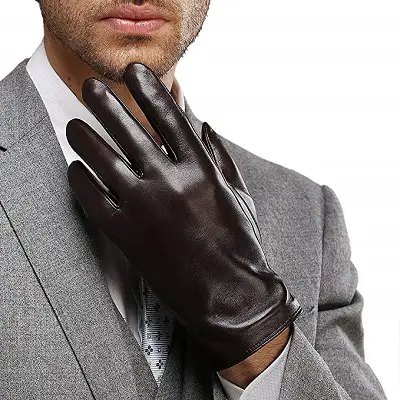 Artisan created
Quality materials
Hard wearing
Classic style
Cashmere lining
Bulky fingertips
Not for use in colder temperatures
Harrms Best Touchscreen gloves are manufactured with quality NAPPA genuine leather, they boast being handmade by professional artisans and are both stylish and practical. The quality leather makes them long-lasting and the unique creativity of the craft man-ship gives them ultimate style.
Nano Technology
The gloves are produced to enable practical touchscreen capabilities which means no more cold fingers when out and about, they are designed for precision touch. Nanotechnology which allows the use of tech gives them the added bonus of not having to remove them in the cold.
Tough
The stitching on these gloves is tough so they will be hard-wearing and stand up to continued use in the colder weather, the strong thread is durable and also flexible. The strong stitching is invaluable and ensures these gloves stand up to rigorous use.
Cost and Value
These gloves are excellent value, the quality materials and artisan crafting mean they are well worth the price. The special design and strength of the materials maintain their original look for longer and improves its' value.
8

. Anccion Genuine Leather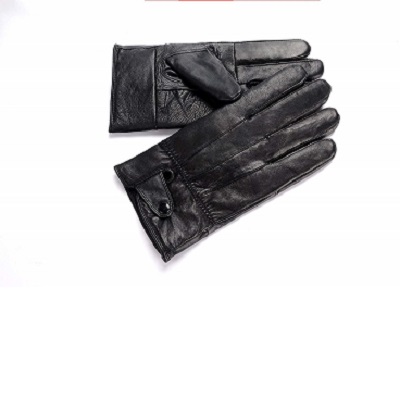 3M Thinsulate lining
Genuine sheepskin leather
Versatile
Comfortable
Strong and durable
These versatile Anccion gloves are produced with soft sheep leather and offer a stylish practical fit, they are useful for most driving and outdoor activities due to the proportionate sizes. The design allows for comfort and warmth for a wide range of uses, and they boast huge functionality.
Thinsulate
The Anccion gloves have 3M Thinsulate lining which provides exceptional warmth in colder temperatures, meaning they trap and keep the air warm for longer. Thinsulate is well renowned for it's warming properties and these gloves offer practical warmth for longer periods in the cold.
Versatile
The design of these gloves means they are totally practical for a number of activities, and the quality of the materials gives added comfort and warmth. The practicality of the design and fit boost the overall glove performance for many winter pursuits.
Cost and Value
The gloves equally provide exceptional value for money, the bonus of the multi-use capabilities give them a substantial edge over competitive brands. And this, coupled with the Thinsulate lining - means the value and cost are excellent.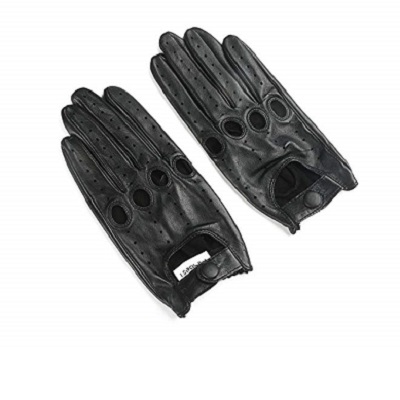 Italian Nappa leather
Warm wool lining
Snug fit
Classic design
Multi-functional
Sizes run small
Not suitable for colder temperatures
These beautifully designed traditional leather gloves are produced using Nappa and suede leather. They are both stylish and very practical having touchscreen-enabled fingers - a must for cold days out. The benefit of the ease of touchscreen use ensures quick response on any tech outdoors, which provides peace of mind in any situation.
Wool Lining
The gloves have a lovely soft wool lining, giving the confidence for wear on colder days; ensuring warmth and comfort for the winter months. The luxury feel and quality of the wool lining gives these gloves an extra boost for activities undertaken in the cold.
Snug
The suppleness of the gloves means they are versatile for everyday use and for driving, allowing a stylish complement for any occasion. The pure quality of the combined materials keeps hands super snug in the colder winter months.
Cost and Value
The gloves are high quality and are traditionally styled, the versatility and comfort offered means they are excellent value for money. The balance between the quality and performance of these gloves is level, and the extra features like the wool lining make them a great purchase.
10

. Fratelli Orsini Flaired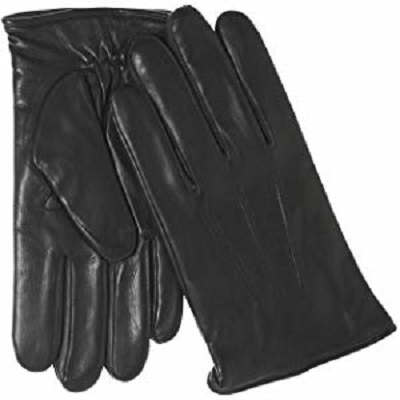 Hand selected leather
A wide range of colors
Soft and comfortable
Storage bag included
Exceptional value
The Fratelli leather gloves are stylishly designed with a flared cuff, are manufactured with lambskin and boast a 100% cashmere lining. They are suitably styled for formal and informal wear and come in a huge variety of colors. The luxury and quality of the materials used in the production of these gloves ensure super warmth and style.
Longer Length
The gloves are made to cover the wrist by around 1 - 2" for extra protection in the cold, and have a stylish cut which is versatile and flattering. This reduces the possibility of wind chill seeping through around the wrist, keeping warmth in for long periods outdoors.
Finest Italian Design
The everyday leather glove gives everybody the choice of being able to purchase the top quality, comfortable and functional accessory. Luxurious inside and out, these gloves boast maximum comfort and guarantee the design will serve to complement any winter outfit.
Cost and Value
The cost of these Fratelli gloves is at the higher end of the market, but this is fully justified in the quality, style, and design - giving great value for money. The longer length and flared cuff mean excellent warmth is provided - and better value.
Criteria Used for Evaluation

Materials
The type of leather that is used when making leather gloves can drastically affect both the feel and performance of your gloves. The most commonly used leather for gloves is cowhide, it is easy to maintain, has a texture and is very resistant to wear and abrasion. Another very commonly used hide is pigskin. Pigskin hide has a soft feel and is very supple, additionally, it will not harden when it is wet. Surprisingly deerskin hide is very soft and has very nice characteristics. The deerskin hide is more breathable than other leathers keeping your hands from overheating. A domestic leather option is a sheepskin, it is rated amongst the softest of leathers and is very dexterous while being manipulated. While not very common Buffalo hide makes amazing workmen's leather gloves. Due to its ruggedness and strength, it is extremely resistant to punctures and abrasion.
The type of hiding is important but equally as important is the location from which the animal skin is taken from. There are three main regions in which hide is removed to make leather. The first region is the side, side-split leather can provide the best quality leather and is often times the most expensive to produce. The shoulder is another section of a hide that is used in making leathers. Shoulder hide provides good quality but is more modest when it comes down to producing and pricing. The belly hide is the last section that is used for leather production. It is the cheapest to make and provides the least amount of quality.
Grain quality of leather can change how your leather gloves feel. Gloves that use full-grain leather have a very smooth surface and have little of any flaws, making this a very common choice for high-quality gloves. Full-grain leather is unblemished by sanding or buffing to remove natural marks. Rather than wearing adhesion, full-grain leather strengthens and forms a patina. These qualities make full-grain leather a good choice for workman's gloves. Another type of grain is known as top-grain, it is the most common of leather types. Top-grain leather is a high-quality leather that is sanded for a smooth plastic-like feel and is very flexible. Much like full-grain leather, top-grain forms a pinna making it much more corrosion resistant. Oddly enough while full-grain is considered the higher quality leather, top-grain has better stain resistance. The best leather gloves will use either top-grain or full-grain for the best results.

Insulation
Good leather gloves are only as comfortable as their linings. The materials used in the lining of leather gloves change with the purpose of each glove. Some very common materials are used as well as unique materials you may not have expected. One such material, wool, is commonly used due to its ability to retain heat and remain comfortable. Wool is naturally resilient which improves the fitting of the glove. Silk linings provide a luxurious feel and offer some practical features. Silk linings smoothness make this lining perfect for anyone that wears jewelry on their hands as it slides freely in and out of the glove with ease. A more common lining found in leather gloves is cashmere. Cashmere is generally knitted and extremely soft when against your hand. Cashmere is incredibly light making leather gloves lined with them seem like you're not wearing gloves at all. The gloves on this list were all selected with a quality liner in mind.
With some gloves you want a nice warm interior to keep your hands warm during the cold winter nights. With others, you want a lightweight breathing lining for comfort during the warmer summer days. Wool linings heat retention combined with its thickness make it a great choice for use during winter holidays. However, a silk lining would be the ideal choice for a midsummer glove. I've included an assortment of gloves to ensure that regardless of the season there is a glove on this list that has a high-quality lining that will provide comfort regardless of the season.
How the lining is added to the gloves can completely change the feeling of your leather glove. While some linings are added to the glove prior to the final molding, others are added after the final molding. Linings that were added prior to the final mold can have seemingly more room for your hand and helps with durability. Linings that were added after the final mold can seem to grip your hand but can become detached and may require more maintenance. Picking one can be difficult so in this list I included gloves that use both methods of lining attachment.

Fit
The size and shape of your hands can dictate what type of leather glove you choose, and people have a variety of different hand shapes. Having gloves that come in multiple different sizes was a key trait of the leather gloves I chose for this list. Figuring out your glove size is as simple as measuring the palm on your dominant hand and then finding the size that best fits your hand specifically. Additionally, the lining of gloves can feel like it absorbs your hand so if you prefer a looser feel it can help to try multiple sizes before making your choice.
The way a leather glove feels on your hands is probably one of the most vital aspects to establish when purchasing a quality pair of gloves. If they're too constricting they can quickly become uncomfortable making you choose between removing your gloves or being very uncomfortable until you don't need them anymore. If the gloves are too loose you could end up losing them from your hands entirely, rendering them useless. While trying to keep our best of the list I selected gloves that offered both a more covered feeling and an assortment of looser fitting gloves.

Durability
No one wants to buy the same product repeatedly due to them getting worn out over time. While no leather gloves will last an eternity it was critical to find gloves that would be able to last a relatively long time. Depending on the type of leather, tanning, and lining that was used leather gloves like any other gloves, will last either a single day or for a few years to come. Leather gloves that use the lower quality of leather and with hides from the belly section of the animal were listed lower on this list whereas the higher quality leather gloves were placed at the top. Signs of wearing including fraying threads on stitching, and cracking leather. If you notice these appearing on your leather gloves it may be time to consider purchasing a new set.
The tanning of leather is a crucial part of making high quality and durable glove that will withstand abrasion and anything you can throw at it. People have been tanning leathers since the stone age, around 8,000 BCE to be exact. In that time the tanning process has only improved and become more complex. There are 9 different steps and each has a process when tanning leather, each of which has its own unique purpose and oddly enough generates a different kind of waste. While choosing the best leather gloves it was important to find products that were capable of being consistently and reliably tanned with high quality and attention to care. There are two main types of tanning which are, vegetable tanned, and chrome tanned. The vegetable-tanned method can take much longer to produce but this process makes the leather more durable. The chrome or chromium method happens much more quickly but the leather is made thinner and more capable of being stretched.

Versatility
When first looking over leather gloves that offered a high caliber of leather and lining I quickly realized how many different situations in which you could need leather gloves. From driving gloves to working gloves the requirements for each varied and choosing a single best leather glove became a more difficult task than I originally estimated. I chose four different purposes for the leather gloves on this list and set out to try to find a few options the best suited each of these unique needs.
The first of my four purpose approach to choosing the best leather gloves is choosing the best leather glove for driving. Good leather gloves can severely increase your grip on the steering wheel of a car which helps to improve your handling of a vehicle. They can also prevent dirt that is on a steering wheel from ending up on your hands. While it doesn't happen very often sometimes your hands become wet, and if your hands are sweating or you just washed your hands this could cause you to lose your grasp on your steering wheel or clutch. If you were wearing leather gloves while driving they could ensure you have an unflinching grip on your car. A handful of leather gloves on this list would be ideal for a good set of driving gloves.
The next purpose and probably the most common reason for needing a leather glove is to keep your hands warm during cold weather. In cold weather, your body will naturally constrict and limit circulation to your extremities in order to keep the core of your body warm. A high-quality leather glove is a perfect solution to this natural response to cold weather. Gloves that feature a wool lining, and use thicker grained leather are the perfect remedy and I've made sure to include them in this buying guide.
Hard work can be extremely taxing on your palms and fingers. Failure to use a glove to protect your hands while working can result in the forming of calluses and other unsightly blemishes relating to rough abrasions while working. Leather gloves, unlike hands, can form patinas and pinnas with both increase the durability and longevity of a higher quality pair of leather gloves and remain as stylish as the day you purchased them. As my third of four general-purpose leather gloves, there are a few fine selections for any hard working individual that needs a glove that can withstand the work.
For my fourth purpose, I added a few good pairs of leather gloves that could be used in a formal or business setting. They can set a tone that not only are you prepared and well organized but you think even the most basic of necessities, like hand warmth. The standard dress glove is black and can be added to most business professional attire and usually has elegant features that bring out the quality of the leather. Some of the leather gloves I listed possess points that are stitching on the backside of a glove that is raised. Quirks are small points on the fingers that are used to make an adjustment to custom-made leather gloves. Subtly they add a higher quality characteristic that is noticeable. In order to encompass a two-tone coloring, leather gloves sometimes feature fourchettes which are panels on the sides of the gloves. While they aren't generally used as a professional glove they stand out and make a leather glove look more unique.
Expert Interviews & Opinions
Most Important Criteria
(According to our experts opinion)
Experts Opinion
Editors Opinion
Users Opinion
By Default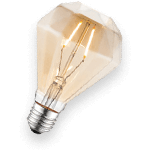 Taking Care Of Your Gloves
Like many other pieces of clothing in our wardrobes, leather gloves do require maintenance. Washing leather gloves can be a bit of a process so it's not recommended that you just throw them in the washing machine whenever they are dirty. Doing so can damage and fade the leather as well as breaking down any waterproof features the gloves may feature. With proper maintenance, you should only need to clean your leather gloves once or twice a year. Being that they can be more of a hassle to clean I tried to only include gloves that were easy to clean.
Protect Against Water Damage
Leather gloves are not immune to water damage, if exposed too often they will discolor and break down more rapidly. You're in luck however as leather gloves can be treated to be more water-resistant and extending their lifespan. While the wax is not included with gloves it is highly recommended that when buying leather gloves you also buy waterproofing wax for a better-valued purchase. A good pair of leather gloves can last as long as eight years.
Other Factors to Consider

Use
The suppleness of the rigidness of your glove can make or break the purpose of the gloves. If you need a glove for driving, for example, you would likely want one that is supple, provides a good touch sensitivity and is a little thinner. Whereas if you were doing hard labor you may prefer a more rigid and durable glove that would be resistant to sharp metal and wooden splinters. While it is difficult to gauge, you can usually decide based on the weight and thickness of the glove whether or not it will be good for your intended use. With this list, I chose both supply, and rigid gloves for a diversity of choice.

Features
In this day and age, more and more basic functions are being replaced with interactive touchscreen displays. While this innovation is nothing new, it is forcing other daily objects we use to adapt to be able to accommodate these interactive displays. Leather gloves have stepped up to the plate with phones being the most common item in someone's hands. Touchscreen displays work when something with an electrical current touches the screen. Many leather gloves have added conductive thread into the leather gloves to no impede the ability to use your phone while wearing your gloves. With how common touchscreen phones are I included many options that are touchscreen-friendly.
Frequently Asked Questions
q:

What lining offers the most warmth?

a:

The most basic and vital of all the aspects of a glove, the warmth it generates and maintains, is one of the most crucial aspects to determine. Selecting a single best insulation is a matter of opinion, however, there is a vast amount of liners that provide excellent heat production and retention. Wool is a natural fiber that is extremely warm and provides a comforting embrace. Often times silk will be used as a barrier to prevent any discomfort in your hand. Another type of lining, Thinsulate, is a synthetic liner that traps heat with extremely small fibers. Thinsulate is also water-resistant so it adds to the durability of any gloves that feature it.
q:

Is the lining itchy?

a:

Whenever you're exposed to the insulation of a glove it can generate a degree of discomfort. Most gloves are lined with material that can bother your nerves and in order to prevent this unpleasant experience, most gloves use a barrier fabric better the insulation and your hand. Silk and Polypropylene Thermolite polyester are some of the more commonly used barrier fabrics.
q:

How thick are the gloves?

a:

With this list, there were varying degrees of thickness. The thickness of the leather can change everything from the dexterity, durability, and feel of the glove. In order to ensure a diverse selection of thickness in gloves, I included an assortment that offers thicker and thinner leathers to help you with various situational needs.
q:

How tight are the wrists?

a:

We all derive comfort from a vastly different set of features. To conform to all these different needs I chose three different wrist styles for these ten leather gloves. Some of the gloves utilize a free movement style wrist stitching making removing or putting on the gloves easy. Others feature an elastic wrist style that gently grasps your wrist holding the gloves snuggly in place. The final wrist style I added was an adjustable strap design allowing you to choose how loose or tight the glove is on you.
q:

Do these gloves have color options?

a:

Leather gloves glove color changes based upon the materials used during tanning. This makes creating gloves of specific color a difficult or even impossible task if you want that same glove to be durable and possess the features that come with a higher quality glove. While some of the gloves on this list have other color options it isn't common to find a large variety of color in leather gloves.
q:

What is genuine leather?

a:

The genuine leather tag commonly found on leather materials and even stamped on some lower quality gloves only states that it is made with real leather and not a leather or plastic alternative to real leather. The tag does not speak to the quality of leather used to produce the product, making it difficult to assess the actual quality that a product features.
q:

How accurate is the sizing for these gloves?

a:

While finding the right sized glove can be difficult you are in luck! The way you address your glove size is standardized so you know exactly what glove sizes will fit you and which ones won't. To find your glove size you simply need to measure the length around your palm from front to back. Then you need to measure the length of your hand from your tallest finger to your wrist. Each length is associated with a size that is used to figure out which gloves fit you the best.
q:

Are these gloves insulated?

a:

With insulation being the key factor in determining the breathability and temperature of your hand while using a glove, it was integral to include both insulated and non-insulated gloves. The ones that were insulated had a fantastic ability to retain heat and repel moisture. The non-insulated gloves were selected for their tight fit and relaxing cool feel during warmer temperatures.
Subscribe to our Newsletter