Best MMA Shorts Reviewed & Rated for Quality
last updated:
Jul 26, 2019
Mixed Martial Arts is a sport for those who love watching people fight. These fighters are trained and agile and need proper wear to perform. One article of MMA-wear is shorts. MMA shorts have a lot of plates to balance at one time. They have to be durable, but not get in the way of the wearer. They have to absorb sweat without becoming too baggy because of it, but most importantly, they cannot under any circumstances limit the wearer's movements. A lesson that the 10 on this list more than take to heart. So, if you're in need of a new pair of MMA shorts, and you won't settle for anything less than the best, consider these ten overachievers.
This is the best product on our list that is currently in stock: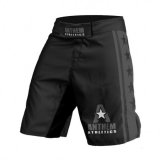 Anthem Athletics
Why is it better?
Side slits and stretch crotch makes for more movement
Powerful, aggressive fabric is almost impossible to tear
Cheap
In a
Hurry? Editors choice: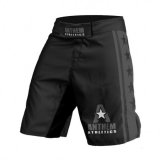 Test Winner: Anthem Athletics

3
Researched Sources
9k
Reviews Considered
11
Hours Researching
10
Products Evaluated
Durability
Brand
Materials
Comfort
Value
By Default
10 Best MMA Shorts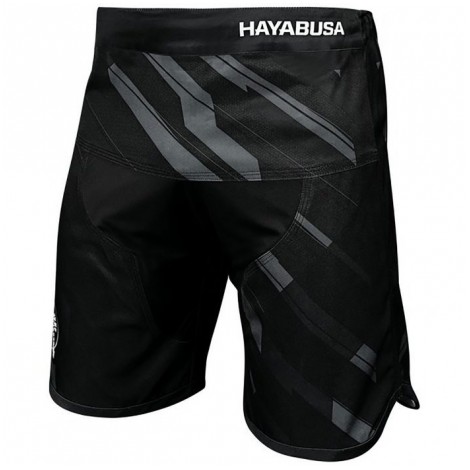 Strong stitching
Simultaneously uses stretch fabric and split side seams for extra flexibility
Innovative tie system
Not the shorts for someone on a budget
If you want to talk high-quality MMA shorts, ones that make you feel like the star of an action movie, then that conversation must inevitably turn to Hayabusa. While fairly recently established as a company, only appearing in 2005, they've very quickly made a name for themselves as one of the top manufacturers of MMA clothing in the U.S. And the best of this entire lineup was the one and only Metaru.
Reinforced stitching
If there's any part of a pair of pants that you want to stay together, it's the stitching. You can sew shut a hole or tear, but when the stitching comes loose, it's all over. Which is why Hayabusa puts so much effort into reinforcing the stitching of their MMA shorts. These shorts can take all the punishment the worst MMA bout in the world can dish out, without the stitching coming loose by a single thread.
Stretch fabric and split side seams
Whereas other MMA shorts go one way or the other, either using split side seams of more flexible fabrics, the Metaru opts to go for both, resulting in easily one of the most flexible shorts on the market.
Cost and Value
While the Metaru isn't the cheapest thing out there, it's far from the most expensive. This pair of MMA shorts won't drain your wallet, but it will be lightened.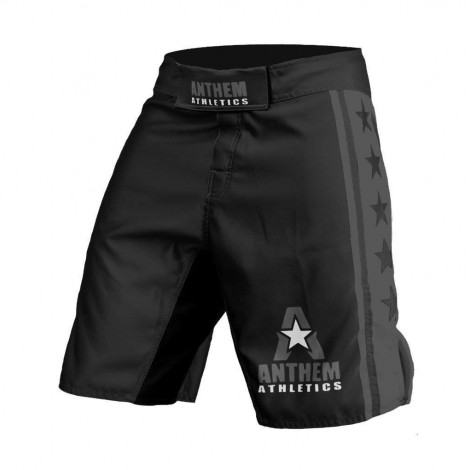 Side slits and stretch crotch makes for more movement
Powerful, aggressive fabric is almost impossible to tear
Cheap
You need to make sure to order in your exact size. Otherwise, the pants won't work as well for you
Second comes one of the larger MMA companies, Anthem Athletics. And there's no better way to start off than by showcasing one of their top of the line shorts, the Resilience line. These shorts strike the perfect balance between durable and flexible, guaranteeing a long lifespan, even under the most intense of MMA bouts.
Advanced fabric
The fabric that makes up this product is both tear-resistant and fast-drying, both fantastic qualities to have in a pair of MMA shorts. They are made with high-quality graphics that, no matter what this fabric goes through in terms of stress, will never crack or peel.
Optimal movement
Lots of MMA shorts have little innovations to get around the inevitable constrictions imposed by wearing shorts. Anthem Athletics innovation was to implement very aggressive side slits into the pant legs. Add onto that a 4-way stretching crotch area, and you have a pair of shorts that any fighter will be able to move freely within.
Cost and value
You will find that you won't be paying anywhere near as much for these shorts as with other brands. These should serve you just fine for a price tag that won't break the bank.
3

. Clinch Gear Performance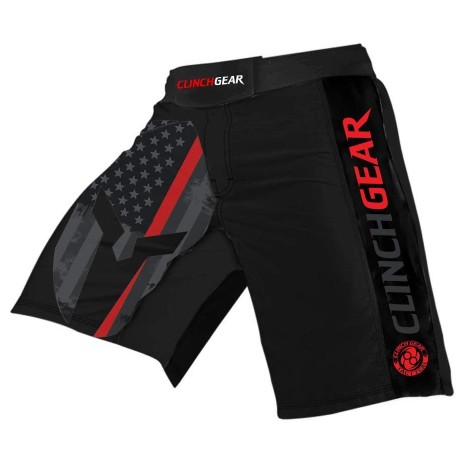 Flexible
Microfiber fabric that feels like you're not wearing anything at all
Made from the same materials used in spec ops uniforms, can withstand even the toughest punishment
Ask any pro-MMA fighter what their favorite brands of shorts are, and one of the first brands to leave their mouths will be clinch gear. It's simply undeniable the quality of clinch gear's work, which brings us nicely to by far their best product, the Performance.
Elite construction
Easily the most famous part about Clinch Gears' shorts is how they're constructed. The Performance is made from suede microfiber fabric. This material is one of the masterclasses of comfort and performance, with a superb weight to boot. And on top of that, as to be expected from microfiber, it feels soft to the touch and is a breeze to wear.
Superstretch
Not only is the material used to make these shorts soft and feels almost non-existent, but it's also extremely flexible, allowing you full-body movement while wearing them. And leaves you feeling light as a feather.
Cost and Value
These will cost you quite the pretty penny. However, when you think about what they have to offer you, then it should be considered to be more than worth the price.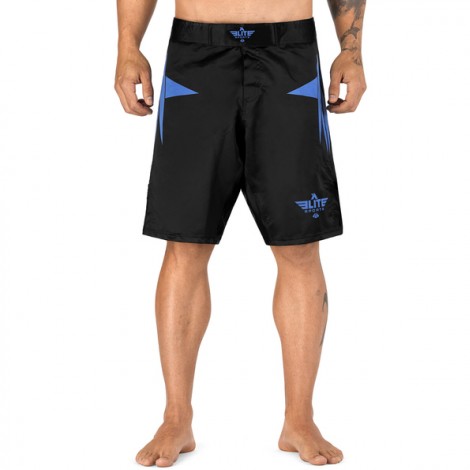 Secure and comfortable to wear
Versatile
Cheap
Can be too small for some people
Coming in at #4 we have the Sublimation FightShorts from Elite Sports. While not as well known, that does not take away the quality of these shorts. Elite Sports lives up to the pedigree of such a name by making MMA shorts that will pull you through even the toughest fights, while also being comfortable enough to wear around the house.
Secure and comfortable
The most comfortable clothing, regardless of its primary purpose, should be so comfortable that you have no qualms about wearing it on a lazy Sunday, lounging around watching T.V. With the Sublimation Fight Shorts, that's exactly what you get. The non-chafing velcro waistband coupled with an interior drawstring also helps to keep the shorts on you no matter what.
Versatile
Most fight shorts are made with certain martial arts in mind and only those martial arts. And of course, no two martial arts are alike, so any clothes only made for Jiu-Jitsu, are only going to be good for a body practicing Jiu-Jitsu. Luckily, that is not a problem with the Sublimation Fight Shorts, which are built for a wide variety of fighting styles, including Jiu-Jitsu, Krav Maga, Kickboxing, UFC and more.
Cost and Value
This is actually one of the cheapest models of fight shorts you can find on the retailer market. Most shoppers of this kind of clothing will attest that this price is more than reasonable.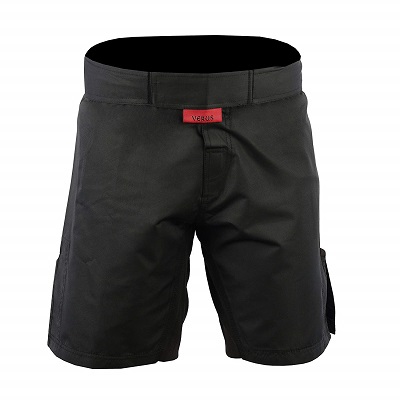 Top-quality fabric
High-quality W3 stitching that's both flexible and strong
Cheap
Verus is a rather small brand, but the shorts they put out are far from below average. With high-quality fabric, specially designed to fit anyone who puts them on to the best of their ability, these shorts are far from useless.
High-quality fabric
Made from 100% polyester fabric, the material that makes up these shorts is lightweight, comfortable, yet flexible and strong, able to take serious punishment.
High-quality stitching
The stitching that makes up these shorts is specialized W3 stitching. Which means that these shorts are not only strong and able to hold the shorts together, they also lend themselves to high maneuverability.
Cost and value
You will find that these MMA shorts are both of high quality as well as good, affordable price.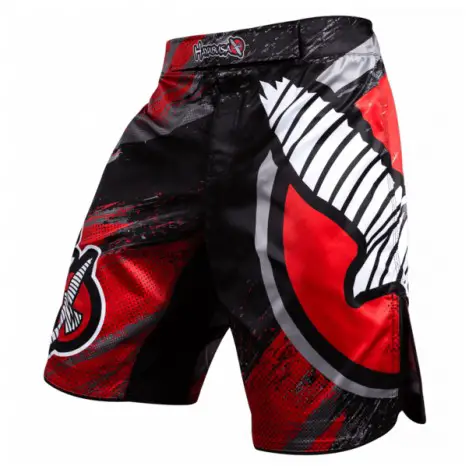 Sublimated dyes add years to the brightness of the designs
Webbed backing adds to the fit of the shorts
More than worth the price
Still very pricey, however
Here we have another entry from Hayabusa, the Hayabusa Chikara Fight Shorts. Seeing as how their reputation stems from their willingness to innovate when it comes to their products, and that's no different here. While not Metaru level, the Chikara is still a worthy entry in the lineup of quality Hayabusa content.
Webbed Backing
The webbing that makes up the interior of the Chikara could almost be called indestructible. Even with exaggerations aside, the webbed backing of the Chikara is still incredibly sturdy, ensuring a snug, powerful fit for the wearer.
Sublimated dyes
Ask anyone who loves to wear pants with cool designs, and they'll tell you that the biggest issue they face with their love is keeping the designs and colors from fading over years of wearing them. Which is why Hayabusa made sure the Chikara was given special sublimated dyes that keep the colors and designs as bright and as lively as the day you bought them, no matter how long you have them.
Cost and Value
The biggest issue you're likely to face for these shorts is simply being able to pay for them. They do have a pretty high price tag but the quality is there so it is worth it.
7

. Clinch Gear Crossover 3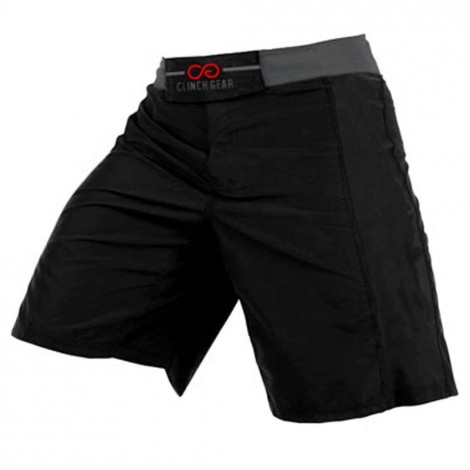 Military grade fabric equals unbelievable durability
Omnidirectional stretch
Incredible comfort when worn
Clinch Gear may only have 2 entries on this list, but they're both in the top of their market in this top ten list of the best of the best, and that's nothing to be ashamed of. The Clinch Gear crossover is just slightly less impressive than the Performance, but it still ranks among Clinch Gears' finest work.
Omni-directional stretch
Any pair of MMA shorts worth their salt should at least be somewhat stretchy, as that's the price of admission for most MMA fighters to even consider your pants. However, the Crossover is special, in that it features super-stretch fabrics that stretch in pretty much any direction you need to stretch in. Even in an area that legs don't normally move in, just to add to the effect.
Durability like no other
One of the things that set all Clinch Gear shorts apart is that they use the exact same materials used by the United States Special Forces in their uniforms. As such, the shorts made by Clinch Gear are not only durable, but they're also flexible, and insanely hard to tear.
Cost and Value
This product is about the middle of the line in terms of price in comparison to other options on our top ten list. What sets it apart from the other products found here is its fantastic durability. You won't need to head out to purchase another pair any time soon.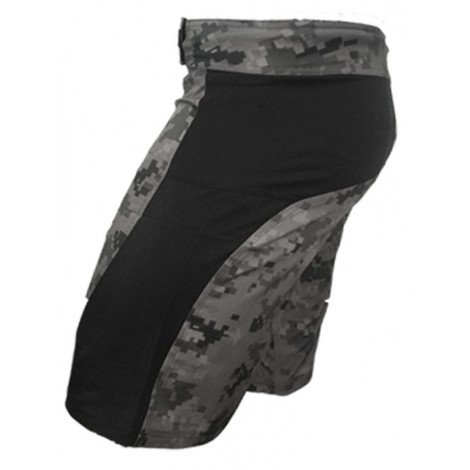 Spandex crotch
Double velcro closure
Cheap
Nothing significant beyond that
Here we have Epic MMA Gear with their Blank MMA Shorts. While not a bad product, by any stretch, the biggest issue with them is that there's not really anything spectacular about them. Not to say they don't work, because they very much do.
Spandex crotch
The reason that so many athletic uniforms use spandex is that they're easy to move around in, don't get in the way of the wearer's movements, and yet stay tightly fit around the body. Which are all the reasons why the crotch areas of these MMA shorts are made of spandex.
Double velcro closure
Velcro doesn't seem like much, but that's because the ways in which it's implemented by most clothing manufacturers is incredibly wrongheaded. Velcro works more in this case, with these shorts' double velcro closure. Now, the velcro is reinforced, and harder to open.
Cost and value
At a very affordable price tag, this line of MMA shorts is not only functional; it's incredibly affordable.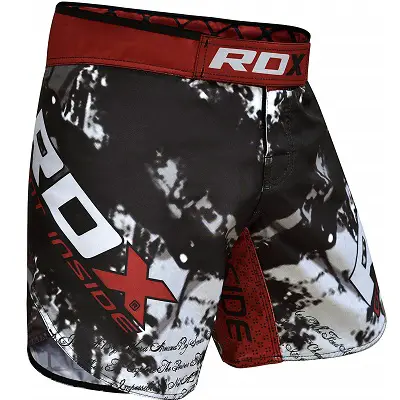 Ergonomically designed
Excellent waistline provides a secure fit
Cheap
The cord has been reported to start fraying after multiple washes
RDX isn't necessarily as well-known as Anthem Athletics and definitely not as well-known as Clinch Gear, but they are still one of the leading brands in MMA clothing today. And if you want proof of the power of their clothing line, look no further than their line of MMA shorts.
Strong grip
When you're wrestling a full-grown man or woman to the ground with the full force of your body, the last thing you want to add to that scenario is for your pants to fall down accidentally. Luckily, RDX has you covered, with their improved waistbands. The waistbands of these pants are guaranteed to stay tight on your waist, even under the most compromising of situations.
Ergonomic design
RDX's solution to the problem of mobility is to design the pants to be more ergonomic. Meaning that every step in the design phase of these shorts was made with the question of "how can we design this so as to not hinder the wearer?" at the forefront.
Cost and Value
These shorts are not only well designed, but they're also incredibly affordable as well.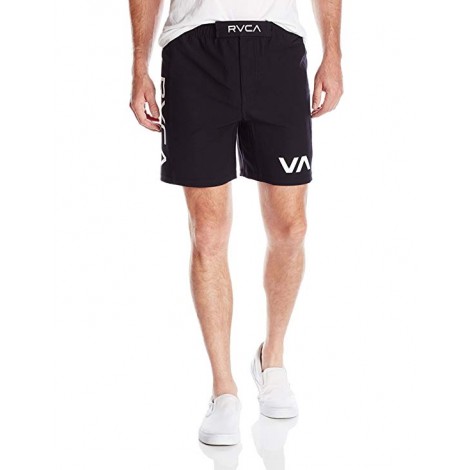 Mouthguard pocket
Made of superior materials compared to most other shorts
A patented waist tightening system
RVCA is another top-shelf name in the world of MMA gear manufacturing. And their line of grappler shorts is among their best work yet. When you see these same types of shorts wrapped around the waists of top-tier MMA fighters, you know you're buying top quality gear.
Superior material
The material that makes up these shorts is supremely durable, perfect for training for or competing in pro-MMA. Not only are they comfortable, but the material is especially good at moisture wicking and breathe wonderfully.
Mouthguard pocket
So, you're taking a sip of water after a tough bout, but you look down at the only surfaces that you can place your mouthguard when you take it out to take that sip. Your only options are sweat glazed metal and ceramic floors that have been stepped on by greasy, sweaty feet all day long. And then you have to put it back in your mouth afterward. And everything that your mouthguard picked up on the way. These shorts have a mouthguard pocket. Many athletes appreciate this choice.
Cost and Value
Whereas other shorts have varying costs, RVCA shorts have a very set cost. And unfortunately, it's a hefty one. It's more than worth it, of course, but it will ask for a lot of your money.
Criteria Used for Evaluation

Durability
It goes without saying that a pair of pants meant to be used in MMA fights would need to be made of stronger stuff than your run of the mill exercise shorts. They need to be able to handle some of the most intense physical confrontations that the wearer will ever be subjected to. Lesser pants in the same scenario will rip, tear, buckle, or just wear out before either participant does.
Which is why MMA shorts are often made of such high-quality material, with Clinch Gear, in particular, using the same materials used by the United States Special Forces in their combat uniforms. So, when you come out to find a new pair of MMA shorts, and you're looking at the selection, as yourself "which of these do I trust to handle the force of a full-grown man in his prime grabbing onto them, desperate for any kind of foothold, and pulling on them to upset my balance?"

Brand
Yes, brand name material isn't always as good as independent stuff, but in terms of MMA gear, it's actually the opposite for the most part. Brand name gear has more experimentation behind it, more thought, and the money to bring about more ingenuity.
In short, there is a canyon of difference between brand-name MMA shorts such as Hayabusa, Clinch Gear, and RVCA and that of no-name brands or independents. One side has teams of researchers, access to military-grade fabric, and more resources to play with; the other doesn't. The difference speaks for itself when you put them on.

Materials
Not every brand has access to military-grade fabric, however, but they seem to get along just fine. That's because they have access to folks who know how to ingeniously weave together simpler fabrics and materials. The materials mainly used in MMA shorts are nylon, polyester, and spandex. Nylon is usually kept to smaller amounts, mainly there as a means of holding the other fabrics together, since it's less flexible but definitely stronger.
Meanwhile, polyester and spandex are slightly weaker but make up for it with superior elasticity and flexibility. So polyester and spandex are what makes up the majority of MMA pants, with some extra fabrics thrown into the mix that gives it that extra wick, to help keep moisture off of you.

Comfort
But of course, these are still shorts. When you wear them, you don't want to feel like your hips are being squeezed by a very oddly shaped boa constrictor. The best MMA shorts are the ones that you barely even feel at all, but in lesser cases, comfort would suffice. A good quality pair of MMA shorts should be comfortable enough for you to wear around the house without thinking twice about it, yet you can still walk into the ring with them and have them work just fine. Quality, craftsmanship, all of these are important, but they're still shorts, and you're going to be put through the wringer while wearing them. So, comfort is still a priority.

Value
In general, when it comes to MMA shorts, you have two options: you can either go for the cheaper options, which range between $20-30, or you can go for the expensive ones which range around $70 give or take. It should be obvious from that night and day difference alone, but if you want the quality MMA shorts, you need to go for the expensive ones.
The prices are high, yes, but they're more than balanced out by the sheer quality of the shorts being offered. Not to say that quality shorts can't be for cheap, if you know where you're looking, you can definitely find quality MMA shorts for reasonable prices. However, in general, if you want the best MMA shorts that money can buy, you're going to need a lot of that money in order to buy it.
Expert Interviews & Opinions
Most Important Criteria
(According to our experts opinion)
Experts Opinion
Editors Opinion
Users Opinion
By Default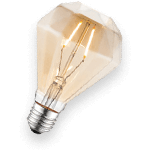 Specific to the task
A lot of people think MMA shorts are the same as any other kind of workout shorts, but that is demonstrably untrue. MMA shorts, indeed any pair of fighting shorts, need to do a lot of different things for the wearer compared to traditional workout clothes. They need to be strong, yet flexible enough for people to move around in. They need to be onto their wearer tight, never to let go, but not constrictive so as to not deprive the wearer of much-needed breaths of air. They have to be durable, but also comfortable enough that the wearer may just wear them around the house.
Other Factors to Consider

Features
Stitching
But it doesn't matter how well the manufacturers choose the fabrics themselves if they're not stitched together well. Stitching might just be the most important part of all of this, because if a pair of pants, or indeed any kind of clothing, is stitched together incorrectly, then the whole thing risks falling apart when under any kind of physical activity. MMA shorts need not only good but phenomenal stitching because the very nature of the job these shorts will find themselves in demands nothing less than the best in durability.
Pockets
Man or woman, everyone wants their pants to have some dang pockets. A pox on the man who dares to say otherwise. Luckily, MMA shorts manufacturers, for the most part, have long since caught onto this, and have thus sought to better outfit their shorts with pockets and other places to hold important equipment during rest periods. As we've gone over, there's not really anywhere sanitary to put a thing like gloves or mouthguards when you're in the ring, even for just a second while you go to get a drink.
There's sweat, even blood (depending on how hard the last guy just got punched) all over everything, there's this sheen on every object that makes it look just a little bit unsanitary, and in general, it's nowhere you want to put your mouthguard. Which is why it's important, if this is a priority for you, to find a pair of shorts with mouthguard pockets. It'll pay for itself, rest assured.
Frequently Asked Questions
q:

Okay I know about MMA shorts, but why are they so necessary? Wouldn't other types of shorts work fine?

a:

On a basic level, yeah. However, in practice, you may find this not to be as desirable an idea as it seems. This is mostly because of the materials used to make MMA shorts. Nylon, spandex, and polyester all have one thing in common; they are good at wicking away moisture, particularly sweat.

Basketball shorts, and other sportswear? They're made from cotton. Cotton is not good at wicking away moisture. In fact, it's very good at the exact opposite, absorbing and holding in sweat. So, after your warm-up, you step into the ring, and your opponent goes for a leg lock or full mount and then is greeted by the feeling of all the sweat you've accumulated from your warm-up being smeared all over them.

But the omniscient narrator, you may ask, isn't that a good thing? It'll throw them off their game, and I can get the upper hand. Well yes, but it's considered very rude and unsportsmanlike, so don't do it.
q:

Okay you've listed all the criteria, but what among them should I look for above all else?

a:

Comfort. Above all else, comfort. Obviously, aesthetics, durability, stitching, and everything else are important and vital too, but comfort is what you need to be looking for, and it fits into several different areas of this.

For one, it's not just comfortability when wearing them; comfort also refers to how well the shorts fit onto you. The absolute last thing you want when grappling someone in an intense MMA fight is for your pants to start falling off. More than being flat out awkward, it also hinders your movements depending on how far down your legs they sag.

Next, there's comfortability in movement. You want MMA shorts that just feel good to move around in. This is especially important as you develop your kicking game and continue to develop your abilities to kick in the ring. This is why certain things like side slits are so important. The more you can free up space for your legs to move around, the better.

Finally, there's regular old comfort. You want to get MMA shorts that you can wear around the house without thinking twice about the action. It should barely feel like you're wearing anything at all. Be sure to track down shorts made of polyester or nylon for this purpose, as they're not only good at wicking sweat as well as just being durable and flexible, but they're also just good comfortable materials that feel good to wear.

Comfort should be at the forefront of your mind when looking for good MMA shorts.
q:

Any brands that you recommend starting out with?

a:

Hayabusa will generally do what you're looking for as a good beginner's MMA shorts. You may want something a bit cheaper, but if you're looking for good quality MMA shorts to start out with, then you should turn your eye to Hayabusa. They're world renown, are always pushing the boundaries of what can/can't be done with MMA shorts, and may just end up being the only brand you stick with for a very long time until another brand makes a type of shorts that you like better.
q:

So, does that mean if I want any kind of quality with my MMA shorts, I need to dump my paycheck into them? There are no cheaper brands?

a:

Not necessarily, you just have to know the right people or have eBay/Amazon browsing down to a science. If you look hard enough, you'll find just about anything online being sold for a fair price.
q:

Do MMA shorts come in different styles?

a:

Yep! And those styles are:

Board Shorts
As the name suggests, these are modeled after swim shorts that you normally find worn by surfers on the beach. This style is usually knee-length and comes equipped with a velcro strap around the waist, coupled with an internal drawstring and elasticated waist to keep the shorts snug and secured to your waist.

Vale Tudo Shorts
Back when Vale Tudo was the go-to style for MMA fighters, these types of shorts were all the rage. These are lycra shorts that are as bare-bones as possible, with no excess material to weigh it down. It's essentially like wearing compression shorts, but with nothing else on top. They offer less friction, allowing you to move faster, but be careful. There's no excess, meaning there's no padding. Wear these at your own peril.

Hybrid Design Shorts
Finally, there's the hybrid. These are the result of MMA shorts companies attempting to find the perfect balance between the form factor of vale tudo shorts and the style and flair of board shorts. When wearing them, you'll notice very quickly how high cut the thighs are, as well as the elasticated waist. These shorts are tight-fitting but also padded enough to provide some amount of protection.
Subscribe to our Newsletter