Best Mouthguards Reviewed & Rated for Quality
Contact sports such as football, hockey, soccer, lacrosse, and basketball can cause injury to the mouth, gums and teeth. Mouth guards help to protect dental alignments. Sports impact can leave devastating effects on the players, especially if it causes injuries to the face. With a properly fitted appliance, athletes can be able to avoid injury caused by impact force when collisions occur during sporting events, as this could cause oral trauma.
Featured Recommendations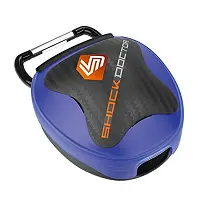 Shock Doctor

Our rating
Heavy-duty Ventilated Case
Price:

See Here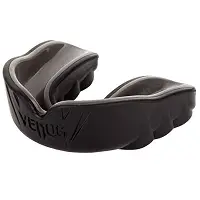 Venum Challenger

Our rating
Gel Frame
Price:

See Here

Shock Doctor Max

Our rating
Superior Mouthguard Technology
Price:

See Here

The dentition of some children may change over time. Their parents may have to spend some money on good mouth guards to help protect their dentition. A custom appliance can be expensive, but many parents may opt for affordable boil-and-bite mouth guards to help protect their children's mouth, teeth, and gums. Mouth guards serve different purposes besides protecting the mouth against impact force during games, including preventing the grinding of teeth and snoring while sleeping. If you are actively involved in contact sports or other recreational activities, it is advisable to invest in reliable mouth guards to help protect the mouth, gums, and teeth against possible injury. However, these mouth guards should fit well and allow the user to breathe easily. In addition, cleaning them should be very easy so that there is no buildup of bacteria. Regardless, with so many mouth guards on the market, it has become increasingly difficult to choose the right one to provide the much-needed protection to the athletes to enable them worry-less about injury and focus more on performance to win the game. Below is a list of best mouth guards reviewed for quality.
10 Best Mouth Guards
1. Shock Doctor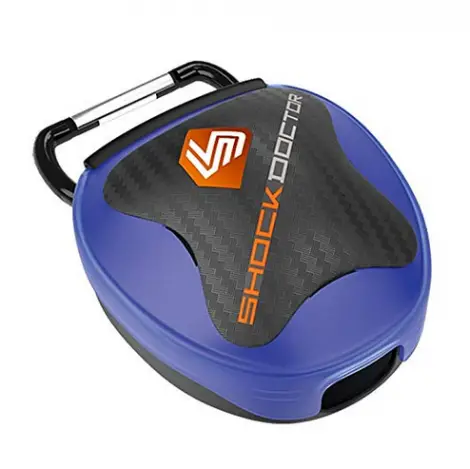 Shock Doctor is a dependable mouth guard with heavy-duty, ventilated case to help provide protection to your mouth guard. It also comes with an athletic bag attachment system for clean and secure mouthguard storage so that dirt and debris stay away. Since athletes carry gym bags to their training, this product features Carabiner clip for easy attachment to gym bag. The ventilated case helps facilitate fast drying anti-bacteria treatment.
Expand to see more
Heavy-duty Ventilated Case

This product features a tough ventilated case to ensure that your mouth guard is fully protected from the harsh elements found in the atmosphere. It will facilitate fast drying of your mouth guard and ensure less stinking.

Carabiner Clip

The package comes with a Carabiner clip to allow users to attach the case to keys or gym bags and get ready to hit the gym. You can take your mouth guard with you anywhere you go.

Cost and Value

With heavy-duty ventilated case to ensure dry and protected mouth guard and Carabiner clip to make it easy for athletes to attach it to their gym bags, this mouth guard can be reliable. It is affordable too.

Heavy-duty ventilated case for fast-drying mouth guard
Carabiner clip for easy attachment to gym bag
Enough space for two mouth guards
Bacteria-free environment to maintain clean mouth guard
Can be too bulky
Colors may not meet expectations
2. Venum Challenger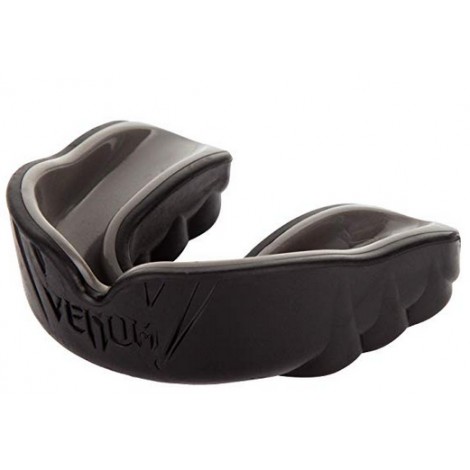 Intense training and sports require intense protection. The improved design of this mouth guard will provide a perfect custom fit to ensure you remain safe during your workouts or training sessions. Everything in the mouth will remain intact while wearing this mouth guard. Specifically designed to minimize injuries to the teeth, gums, and lips, this mouth guard will meet and exceed your expectations.
Expand to see more
Gel Frame

The mouth guard features a gel frame for more comfort. The user will be able to adjust the mouth guard to provide a better fit regardless of the size of mouth or gums.

High-density Rubber Frame

This item boasts of a heavy-duty rubber frame to provide better shock management to the mouth and gums. It can take impact during contact sports training and game.

Cost and Value

If you want an advanced design for better breathing during your sports event and better shock management in case of impact, this mouth guard has it all. The price is fair.

Comes with a sturdy protective case to enhance hygiene
Designed to provide better breathing during martial arts tournaments
Gel frame allows easy adjustment to provide comfort
Heavy duty rubber frame delivers optimal shock management
The inner lining may present a choking hazard if it starts to come off
May not mold right for everyone
3. Shock Doctor Max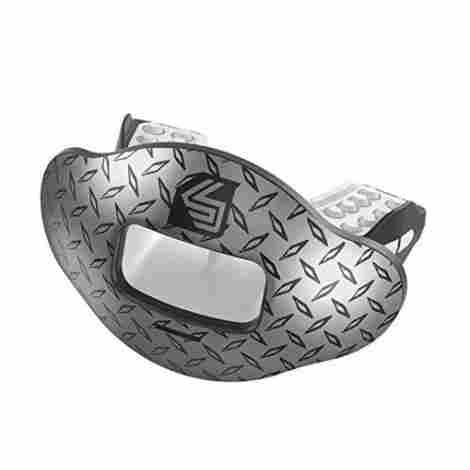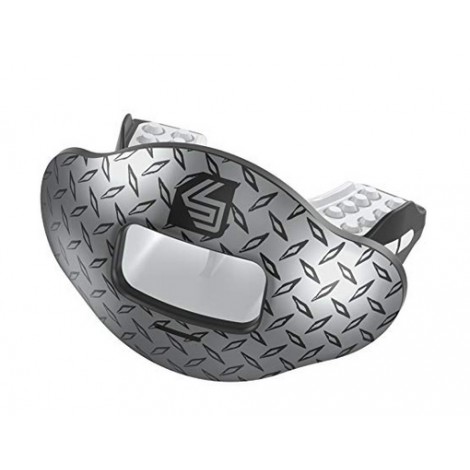 This lip guard/ mouth guard provides utmost comfort while protecting your mouth and lips. This "no-mold" mouth guard boasts ultra-comfort and will fit lips instantly. Crafted from medical-grade silicone, it retains its flexibility and resilience regardless of condition or how you place it. The large airflow breathing channel ensures your air intake remains intact, especially because athletes need the air to allow them to accomplish their training goals or succeed in sports.
Expand to see more
Superior Mouthguard Technology

The airflow channel is large enough to provide sufficient air to enable the athlete to achieve their goals. Instant fit lip guard provides the perfect fit to make the user feel comfortable.

I-Beam Stability

This mouth guard supports the airflow channel's shape. It also supports incisor bite in the event that the user experiences a downward bite impact.

Cost and Value

This integrated lip guard is designed to protect both the upper and lower lips from any impact. Instant fit shape ensures it feels comfortable in the mouth. The price is pocket-friendly.

This mouth guard is great for all contact sports, including football, MMA, boxing, basketball, and jiu jitsu.
No-mold instant fit design provides extra comfort, thanks to its low profile bite
The breathing channel is large enough to provide maximum airflow for maximum performance
Protects both upper and low lips from impact
Mouth guard may not consistently conform to the mouth
Not everyone will like the taste of the mouth guard in the mouth
4. Battle Fang-Edition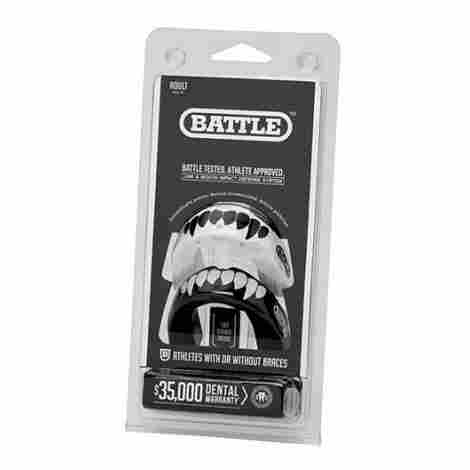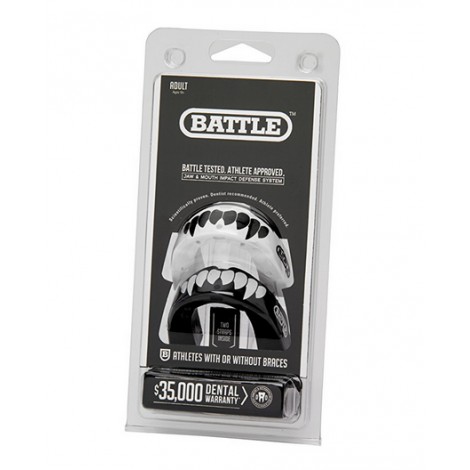 This mouth guard applies advanced mouth protection, with safety and performance that rivals that of custom-molded mouth guards, for only a small price. Leaning on the company's patent-pending ever-mold composite, these mouth guards can be repeatedly remolded and re-boiled and will still achieve the perfect fit. There is a dental warranty worth $ 35, 000 with every purchase of Battle 2-Pack Mouthguard.
Expand to see more
Unlimited Defective Guarantee

Battle Fang-Edition mouthguards are designed to last a lifetime. With a dental warranty of $ 35, 000, you can believe in the durability of these mouthguards just as much as the manufacturer does.

Different Sizes

The mouth guard is designed for a wide range of age groups. It will fit both adults as well as children of 12 years and above. You can gift it to your snoring child.

Cost and Value

Designed for both adults and youth users and with a dental warranty, the mouthguard will last a lifetime while appealing to a wider audience. They will also get value for money.

Re-boiled and re-molded several times but retains shape
Different sizes for adults and adolescents
Unlimited defective guarantee
Works well with braces
The product may shrink too much after repeated boiling
May not perfectly fit some teeth sizes
5. SISU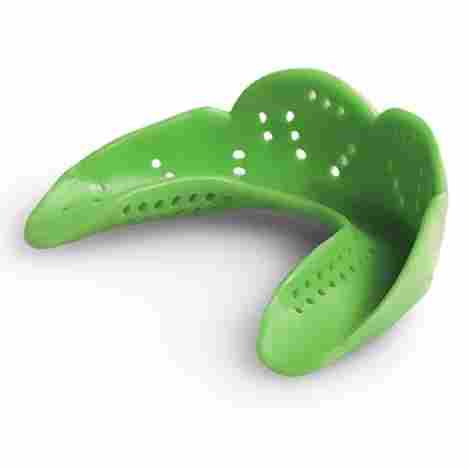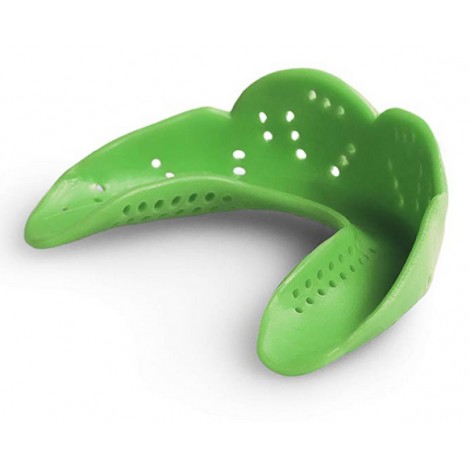 The SISU Junior delivers more protection to the mouth with less mouth guard. Designed for younger sports enthusiasts aged between 7 and 10 years, these mouth guards will fit the mouth of your child in a comfortable manner that ensures performance. Made for high-impact team sports, they are ideal for playing basketball, football, soccer, hockey, and even lacrosse. This improved design provides a wider bite pad, enhanced mold-ability, and rounded edges to ensure maximum comfort.
Expand to see more
Diffusix Technology

This mouth guard features unique Diffusix Technology to distribute the sport's impact force over larger areas to greatly minimize the risk of dental injury, allowing the child to worry less about an injury and focus more on winning the game.

Conventional Mouthguards

SISU mouthguards are conventional and crafted from a soft material to provide full protection to the teeth in case an impact is aimed at the mouth.

Cost and Value

This mouthguard applies unique impact diffusion technology to distribute force over other areas and minimize a risk of mouth injury. The soft material will also offer maximum protection, all at a fair price.

1.6mm thickness make it perfect for junior athletes
Diffusix Technology applies science to distribute force during impact from contact games
Improved design for better performance
Soft material to offer better protection
May shrink upon molding
May not be soft enough for some kids
6. Vandora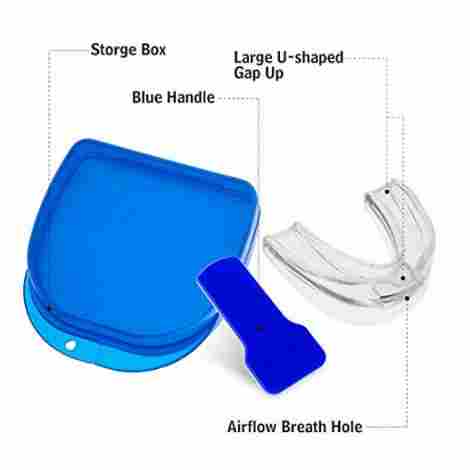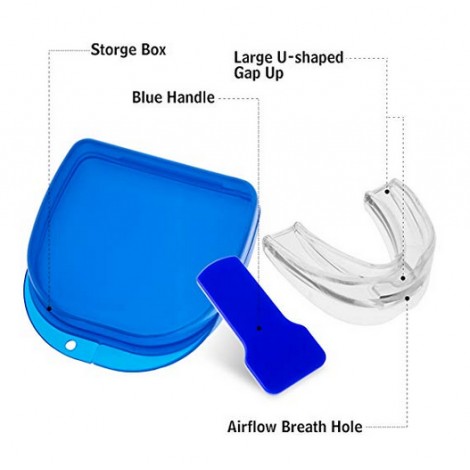 This mouth guard is great for wearing at night while you sleep, as those who snore will find it particularly helpful. Not only is it odor free, but the high-quality medical silicone ensures you never have to worry yourself over your health as you sleep. These multi-use mouth guards may be used for protecting the mouth against grinding teeth at night and contact sports injuries to the mouth. They are also are a perfect whitening tray.
Expand to see more
Odor Free

The top quality medical-grade silicone used to make these mouth guards ensures they are odor free. Therefore, you can wear them at night and stress less about your health.

Multiple Uses

The multi-use mouth guard provides 3 in 1 protection. It can be perfect for protecting the teeth during contact sports, can prevent teeth grinding while sleeping at night, and can be used as a whitening tray.

Cost and Value

The multi-use mouth guards provide real value money because they are versatile and can provide 3 in 1 mouth protection. In addition, they are odor free and will feel comfortable to wear.

Odor free to ensure you stop worrying about your health
3 in 1 protector to offer protection under three different circumstances
Allows easy breathing through the mouth
Effectively relieves snoring
Small foam roller can fit too tight inside the big foam roller to make it difficult to get it out
Some users can find it a bit shorter
7. Retain-it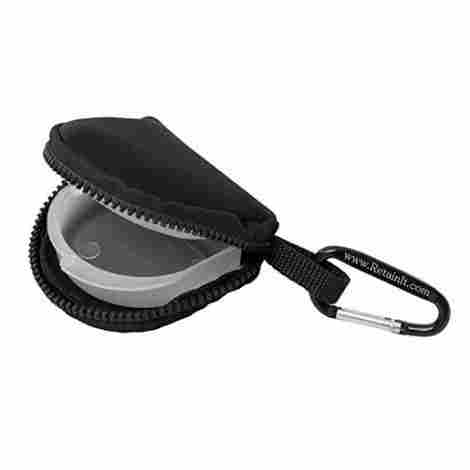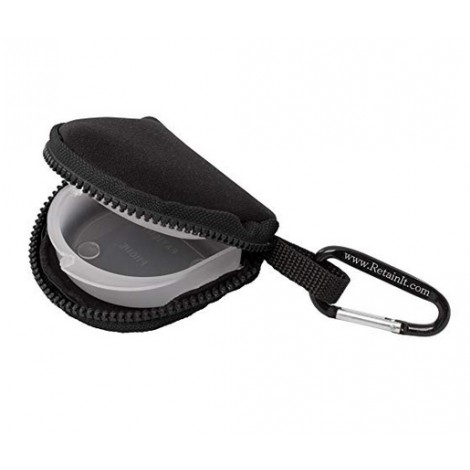 Just as the name suggests, the case retains the mouth guard in a tight case to avoid losing your mouth protector. All you have to do is slip your mouth guard, zip it and clip it to your gym bag and you are ready for your next workout. You can also use the storage bag for your whitening trays while at home or traveling.
Expand to see more
Patented Plastic Clam-shell

This mouth guard comes with patented plastic clam-shell to provide complete protection to your mouth guard. You will be able to store and securely hold it in the Retain-It case for future use.

Safe & Secure Storage

The package comes with secure and safe storage for your sports mouth guards, whitening trays, retainers, and a range of other dental appliances commonly used by athletes during their training.

Cost and Value

This mouth guard is easy to clean, machine washable and should be dried in the air to reduce chances of bacterial infection. The tough clam-shell secures the storage of the mouth guard and is affordable.

Lightweight storage case to secure the mouth guard
Case clips attach to backpacks and gym bags
Perfect storage for whitening trays, retainers and various dental appliances
Plastic clam-shell to securely hold mouth guard inside
Zippers and metal clips may break over time
May not be great for invisalign
8. ProDental Sports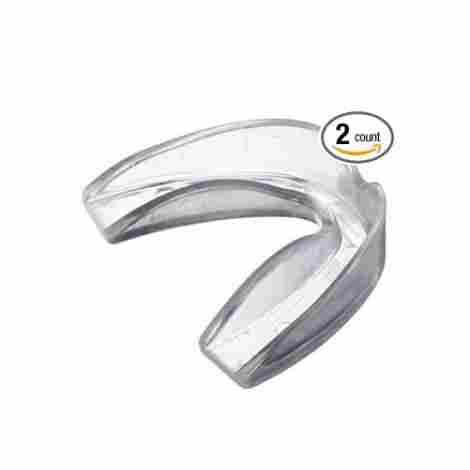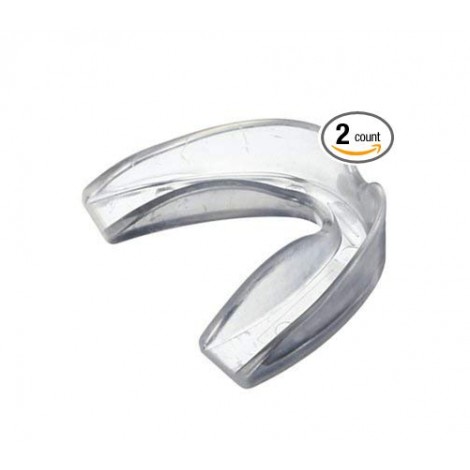 For every purchase of this product, the user gets 2 quality mouthpieces to provide the ultimate protection required to perform various sporting activities. If you have been looking for the perfect mouth guard, then your search is over. This mouth guard will perfectly fit any mouth, including the smallest ones. They can also be custom-molded for a precise fit, easily adapting to various teeth alignments where necessary.
Expand to see more
Custom Molded

This mouth guard gives you the option to custom-mold it for a precise fit. With ProDental Sports mouthguard products, there is no one-size-fits-all. You can create what you feel will fit you perfectly.

Easily Adapted

The mouthguard is specially designed to fit various tooth sizes and teeth alignments, regardless of the shape of the mouth. They will give you the optimal retention for a secure fit.

Cost and Value

Designed for any mouth size, these mouthguards will fit perfectly well. You can also custom-mold to achieve a precise fit, and they can easily adapt to fit different mouth and tooth size, including different teeth alignments. The price is also quite fair.

Easily adapts to different tooth sizes and alignments
You can custom mold for a desired fit
Trimmed to provide a perfect fit to any mouth
Thick 3mm base for extra cushion
May not perfectly fit some teeth
May not mold correctly
9. Vettex Double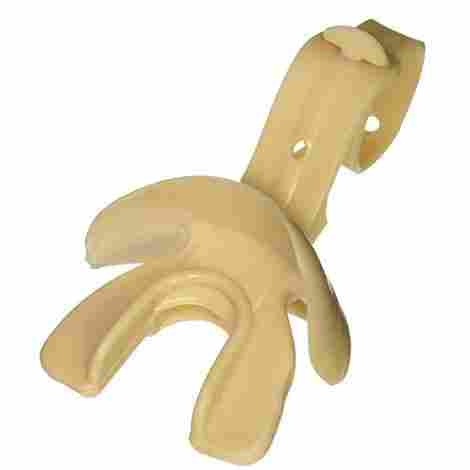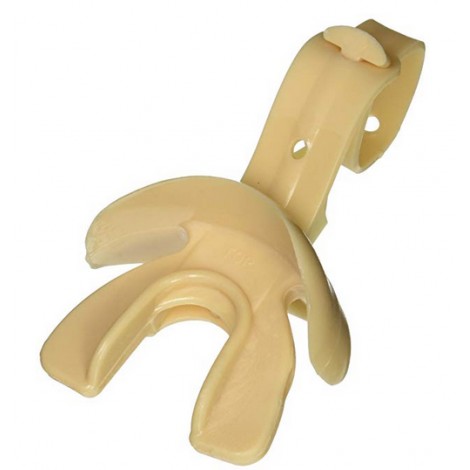 This mouth guard also offers reliable lip protection. It will feel comfortable in the mouth whether you are wearing it to protect against snoring or grinding teeth while sleeping. Designed with the flesh color, it will feel like a part of you. Wearing this mouth guard eliminates the worry of players accidentally biting their tongue while playing basketball with friends in the backyard.
Expand to see more
Flesh Color

The mouth guard is designed to resemble the human flesh and you won't even notice it there. The color compliments your flesh to make it feel like a part of you.

Double Guard

The mouth guard is designed to offer the utmost protection to the mouth as well as lips. You will never have to worry about sustaining an injury to the lips or gums once you wear this guard with lip protection.

Cost and Value

With double guard that includes lip protection to ensure lips are safe and the flesh color that compliments your skin, you will enjoy using this mouth guard. The price is also more affordable than most other mouth guards.

Flesh colored to compliment your skin
Breathing channels to supply air for proper breathing
Includes lip protection to guard the lips against impact
Designed for adults and children over 12 years of age
The design and look may not be appealing
May not mold perfectly
10. OPRO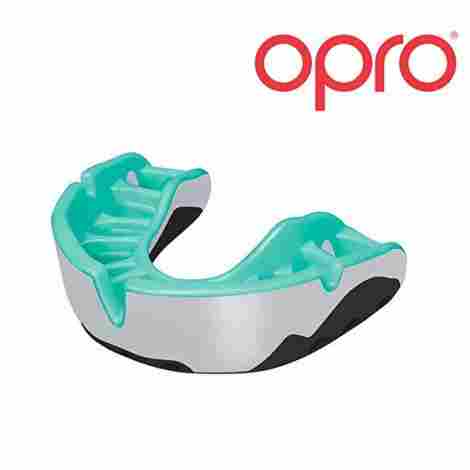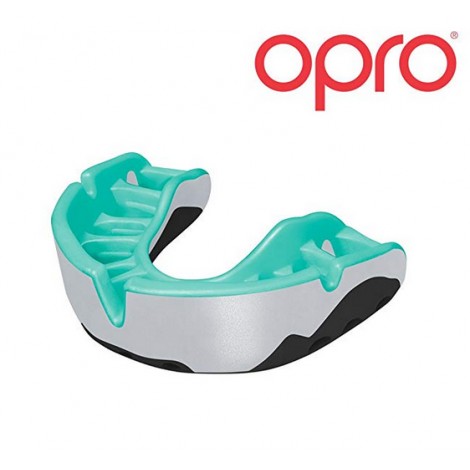 The OPRO platinum mouthguard features advanced self-fit properties to safeguard players of contact sports like rugby, soccer, hockey, football, boxing, MMA, and lacrosse. It stretches to fit any mouth size, thanks to the OPRO Self-Fit feature. The antibacterial protection works by inhibiting bacterial growth by up to 99.99 percent. They were specially designed in partnership with American Youth Football.
Expand to see more
Biomaster Anti-microbial Additive

The mouthguard protects itself against disease-causing bacteria and harmful molds. The additive used to provide anti-bacterial protection is both taste-free and odorless. You can enjoy up to 99.99% protection.

Perfect, Highly Retentive Fit

Biting into this patented fin gives you a snug fit to protect your teeth against impact. They provide the perfect, retentive fit needed to perform during sports, worry-free.

Cost and Value

With 99.99 percent protection against bacteria and patented fin to provide a snug fit, you can be sure that you will be giving ultimate protection to your gums, mouth, and teeth.

Provides a snug fit around the teeth
Patented fins provide a perfect fit
Maximum protection against bacteria
Suitable for all types of contact sport
May not fit every mouth
Maybe not feel comfortable in the mouth
Mouth guards have become an important part of today's contact sports world. Virtually all kinds of team sports require mouth guards to enhance safety and allow the athlete to perform without worries. All forms of martial arts, including mixed martial arts, require mouth guards to enable the athlete to perform safely and avoid unnecessary injuries. However, the use of this gadget extends beyond organized sports. It will also come in handy in various forms of impact-based recreational activities. Even skating, skiing, cycling, and skateboarding may require use of mouth guards for complete protection in the event of an accident.
Criteria Used in Choosing the Best Mouth Guards
While many people are deluded into thinking that mouth guards are the same, they are ideally very different in shape, size, and functionality. These features and functionalities have to be considered when shopping for a good mouth guard. They work differently to suit individual needs. The person who is going to use the mouth guard should also be considered, as different people have different mouth and tooth sizes. In particular, if you are buying mouth guards for your children, you should look for small-size mouth guards to fit the size of their mouth. Other factors to consider include comfort, nature of sport, braces, personalization, and so on. Below are the criteria for evaluating the best mouth guards.
Protection
The most important reason for buying mouth guards is to protect the mouth, teeth, and gums. Taking boxing and kickboxing classes could raise the chances of getting mouth injuries. A punch or a kick in the face could disorient athletes and even cause them to lose confidence in their abilities, especially if it is aimed at the mouth and consequently causes injury. In this regard, you should look for a mouth guard made of material that easily absorbs and diffuses any impact force directed at the mouth. This helps to distribute the force throughout the mouth guard, and therefore less impact is ultimately transferred to the teeth. Distributing this impact force over larger areas reduces the risk of injury to the mouth and teeth during competition.
Some mouth guards come with extended lip guard to help protect both the upper and lower lips in the event that an impact force is directed to the lips. On the other hand, some mouth guards come with a dental warranty to give the user the much-needed peace of mind required to focus on a game and win the competition. If you are looking for assurance that the mouth guard will provide the level of protection you need to win the game without fail, then you might want to consider mouth guards backed by a dental warranty.
Size, Comfort, and Fit
A mouth guard is placed in the mouth and should feel comfortable to allow the athlete to focus on performance and not worry about the mouthpiece itself. Products made from medical grade silicone are generally comfortable, more flexible and fit easily in the mouth. If you want a mouth guard that is resilient in any condition and feels comfortable to wear, you should perhaps consider mouth guards made of flexible medical-grade silicone. Bite pads with low profile design are generally more comfortable to wear.
Mouth guards are generally made of different materials and come in different shapes and sizes. If you are going to shop for a mouth guard for your child, you should consider the size to determine whether it will fit your child's mouth. There are instant fit mouth guards that are "buy and wear" and do not require any molding or boiling. However, they come in different sizes, but there are those specifically meant for children. They are mostly smaller and thinner to fit perfectly in the mouth of junior athletes. Regardless, you can also opt for custom-mold mouth guards that are custom-made for you, but a custom appliance can be more expensive than a boil-and-bite mouth guard. Depending on your budget and needs, you can choose a mouth guard you feel will be suitable for the specific purpose you intend to use it.
Ventilation and Airflow
Being able to breathe properly when performing breath-taking physical activities is important because it can make all the difference between delivering good results and failing to win the competition. Remember you will be wearing the mouth guard in your mouth as you participate in the competition, and this makes it even more important to be able to breathe comfortably with the piece in your mouth. Good mouth guards have large airflow channels to facilitate breathing. The mouth guard should not inhibit the airflow or air intake required to take a sprinter to the finish line. Whether you will be using the mouth guard for training or competition, you should be able to get sufficient air to enable you perform better. Therefore, mouth guards that allow for maximum breathing are generally better when it comes to selecting a mouth guard to use for competition.
Case
The case you will use to carry or store your mouth guard is as important as the mouth guard itself. Mouth guards should be cleaned and stored in a convenient case after use, where they will stay until the next time they need to be used. Proper storage ensures your mouth guards are free from disease-causing bacteria so you don't have to worry about your health when using the mouth guards. A mouth guard with a heavy-duty ventilated case to provide easy and convenient storage is generally preferred, as the case will ensure clean and storage for your mouth guard. Some of these cases come with a Carabiner clip to allow users to easily attach to their athletic bags or gym bags.
In addition, sturdy and well-ventilated carry case speeds up the process of drying to discourage the growth and spread of bacteria. Fast-drying and ventilated mouth guard case also ensures your mouthpiece does not stink. Others feature anti-bacterial treatment to help ensure a clean storage place for the mouth guard. A clip allows you to attach your mouth guard to your keys or any other convenient carry case so that you can take it with you wherever you go. Some mouthguard cases come with sufficient room for two mouth guards or one lip guard to give you the option of carrying your lip guard when you feel like using it for a specific event. Regardless, the case should provide your mouth guard with a bacteria-free environment and proper ventilation for your mouth guard.
Purpose or Use
While all mouth guards are worn in the mouth, they perform different functions. Some people wear them for protection against the potential harm caused by impact sport, but others may need mouth guards to prevent grinding of teeth or snoring while sleeping. Clearly, mouth guards used for contact sports should be made of a specially designed material that can distribute impact force across the rest of the mouth guard and perhaps reduce the potential effects of impact force, including injury to the mouth, gums, and teeth. Therefore, heavy duty material scientifically designed to absorb shock can be great for protecting the athletes that play in team sports such as football, soccer, hockey, and basketball. Other single participant contact sports that may require shock-absorbing mouth guard to be able to distribute the force to larger areas and avoid injury include mixed martial arts, boxing, karate, Tae Kwon Do, jiu-jitsu, and kickboxing. If you want for protection for the lips as well, you should look for a mouth guard with a lip guard to ensure your lips are also fully protected against impact force that could cause injury.
On the other hand, if you wear braces or Invisalign, you might want to look for mouth guards that are Invisalign or braces compatible to help protect your mouth and teeth, including your orthodontic investment. Similarly, 3 in1 protectors allow the user to use them as athletic mouth guards to protect their mouth when performing in a competition, prevent their teeth from grinding while sleeping at night, and as a whitening tray. Therefore, the purpose for which you intend to use the mouth protector should be very clear to enable you to choose a mouth guard that will serve that purpose beyond your expectations. You may opt for a 3 in 1 versatile mouth guard if you intend to use it for all of the purposes listed above, but you can also buy mouth guards that serve only one purpose you have already identified.
FAQ
Frequently Asked Questions
Q: What are mouth guards?
A: A mouth guard is a mouthpiece especially designed to cover the mouth, teeth, and gums to offer protection against possible injuries. These protective devices have become very popular among sportspersons and athletes, especially those in team games or contact sports.
Q: Who uses mouth guards?
A: Mouth guards are mostly used by athletes who intend to protect their mouth and teeth from injuries that could potentially arise from coming into contact with a fellow player during a game. They are also used by individuals who would like to prevent their teeth from grinding when sleeping at night or avoid snoring when in deep slumber.
Q: Which sports require the use mouth guards?
A: Several types of sports may require athletes to have mouth guards to enhance their safety while training or playing in a competition. Team games generally require the use of mouth guards, including soccer, football, basketball, hockey, and more. These sports have much contact between opponents and even fellow teammates, and collision could have devastating effects on the player. To be safe in the event that a player collides with another during the game, athletes are advised to wear protective mouth guards for their own safety. Other contact sports that may require use of mouth guards include mixed martial arts, karate, Tae Kwon Do, boxing, kickboxing, jiu-jitsu, and more. However, mouth guards are not restricted to contact sports only, they can also be used by long-distance runners or marathoners, sprinters, decathlon athletes, and several others, as falling by the mouth could cause great injury to the gums and teeth. The essence of mouth guards is to offer protection to the mouth irrespective of the event or sport.
Q: Can I use a mouth guard if I am not an athlete?
A: Yes. While athletes require mouth guards the most, anyone else can wear them to protect the gums or for any other purpose. You can use them to avoid snoring at night or prevent yourself from snoring while sleeping.
Q: What is the best mouth guard?
A: The essence of wearing a mouth guard is for the sole purpose of protection. A good mouth guard should be able to offer this protection to enable you to focus on performance and winning instead of constantly worrying about your safety. Features of a good mouth guard may include superior protection against impact force targeted at the mouth, provide sufficient breathing to allow the athlete to perform better, perfectly fitting and comfortable to wear, right size, medical grade silicone for flexibility and comfort fit, anti-bacterial to keep germs away, convenient case to store the mouth guard, and easy to clean to reduce the chances of infection.
Q: Where can I get good mouth guards?
A: You can find mouth guards at sports centers and convenient stores. You can visit any departmental store across the country for a wide range of mouth guard products. You may also contact the manufacturer for custom appliances that fit perfectly and offer the level of protection required to perform the specific sport. However, the most convenient place is online stores and e-commerce platforms, where you can find a range of items. Just log onto your computer and visit popular e-commerce platforms for a wide range of options. In fact, you can choose one and have it delivered to your convenient location.
Q: How much is a mouth guard?
A: Mouth guards have become very affordable. Different manufacturers set different prices for their products, but boil-and-bite mouth guards are generally more affordable than a custom appliance.
Q: How do I clean my mouthguard?
A: Mouth guards are generally easy to clean. Some are machine washable and come with cleaning instructions, while others are boil-and-bite. You can easily mold and wear mouth guards. Others come with anti-bacterial protection to keep the bacteria away.
Sources
Colgate, Why Do You Need a Mouthguard?
Colgate, Mouthguard for Teeth Grinding
Know Your Teeth, What is a Mouthguard