Best Sauna Suits Reviewed & Rated for Quality
In a Hurry? Editors choice: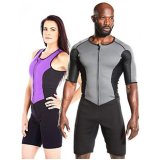 Test Winner: Kutting Weight Sauna Suit

We all sweat--some of us more than others. And while some of us would like to keep the sweat from dripping down our...backs, there are some major benefits to
ramping up the sweat during workouts
. Whether you're an MMA fighter
looking to drop weight
before a weigh in, or you're simply trying to fight that stubborn cellulite and the spare tire around your waist, the suits on this list will serve you well.
These products are designed to lock heat in during activity so that your core temperature ramps up and stays up. Why? The longer your core temperate remains elevated, the higher your metabolism rate and the more post-workout weight you stand to lose. While most of this is water weight, wearing a suit trains your body to burn calories and also rids your body of toxins and waste.
So don't sweat it
!
Standout Picks
Criteria Used for Evaluation
Comfort
When compiling our list, we took a good look at comfort. We like products that are lined with softer materials to prevent chafing. We also like products that are easier to get in and out of because the hardest part of your workout shouldn't be getting in and out of your clothes. Finally, we considered how itchy products were. Because you're likely to be moving around a lot and you're definitely going to be sweating, we feature products that are made from materials that won't irritate the skin.
Effectiveness
If a sauna suit doesn't raise your core temperature and keep it elevated, causing you to sweat buckets--it's not a sauna suit. We only feature products that really get you sweating. While our products do this in different ways (and some better than others), every single item on our list is guaranteed to have you drenched no matter what.
Materials
Most of the products on our list are made of neoprene, though the density of the neoprene varies between 1 and 3mm. We love products that have multiple layers to keep the layer closest to the skin softer and prevent chafing. We also feature some two-piece suits that are made from coated nylon and PVC to trap heat in and provide a waterproof layer so that all of the sweat you've trapped inside doesn't leak in a trail behind you at the gym.
Style
Of course, we considered style. We know it's not a fashion show, but it feels good to look good. That's why we feature some suits that double as shapers as well (for both men and women) so that you can feel confident about the way you look. That's also why we included such a variety of different looks in this list.
Value
We love the value of the suits on this list. Most are super affordable, durable, and meant to sustain heavy use during heavy workouts. Plus, we love that so many of the companies we highlight have the consumers interest at heart and offer 100% satisfaction guarantees.
10 Best Sauna Suits
1

. Kutting Weight Sauna Suit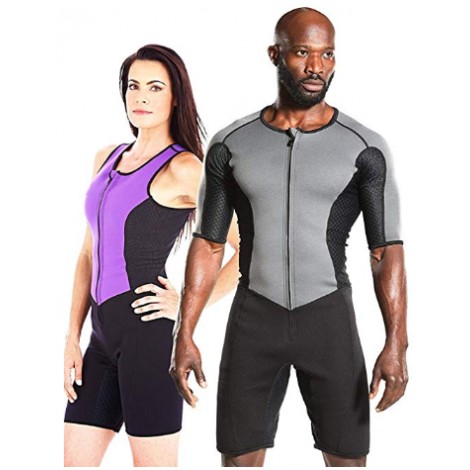 The Kutting Weight Sauna Suit is the first to make our list because people absolutely love this product. Whether you're looking to cut weight for a competition or you simply want to get a little more out of your weight lifting routine or yoga practice, this is the suit for you. Thousands of people have experienced success with this product and it boasts some serious results. It increases metabolism by about 20% as well as increasing post-workout weightloss by about 40%. Can you see why we're in love?
Made from Neoprene with SweatTech
The Kutting Weight Sauna Suit is made with your comfort in mind. Its 2.4mm Neoprene material with SweatTech technology makes the suit more flexible than others on the market and far more comfortable and softer to the touch as well. The suit is meant to keep your core temperature up so you can get that fat burning sweat, but it does feature mesh in the armpits and inner thighs to allow for breathability and more comfort during use. Thank you! This product also features triple stitching on all seams so you don't have to worry about busting through this skin-tight suit and putting on an unexpected show for fellow gym goers.
Men's and Women's Styles
The Kutting Weight Sauna Suit is designed for both men and women. The men's suit comes in all black or grey and black and comes down to the knees and elbows. The women's suit comes in purple and black with a tank style top that comes down to the mid-thigh. While you can easily layer the suit and wear your typical workout gear over it, you can also wear the suit by itself. Both suits feature a long front zipper that is covered by a zipper protector so you don't have to worry about snagging the zipping on gym equipment during your exercise. The suits also have a velcro pocket above the bottom so that you can conveniently store keys or your phone. Kutting Weight provides a detailed sizing chart so that you can get the right fit for you.
Cost and Value
The Kutting Weight Sauna Suit is the most expensive product on our list but you can't beat its efficacy, durability, and comfort. Plus, it's a full body suit and Kutting Weight guarantees your satisfaction or they will provide you with a full refund.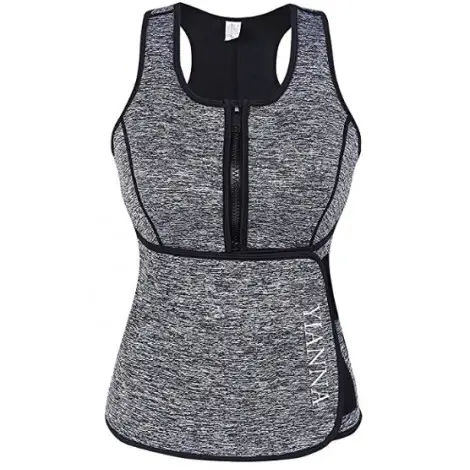 The YIANNA was designed specifically to snatch a woman's body right into shape. Not only is the YIANNA a sauna suit, but it is also a waist trainer and trimmer. This top is guaranteed to get you sweating and increase your metabolism all while defining your curves. While this is a great top for any woman looking to sweat, it is especially wonderful for getting that post-baby body back into shape.
Adjustable Velcro Waist Shaper
The YIANNA is made from 2mm single layer neoprene, spandex, and polyester. An interior lining of jersey mesh optimizes your comfort while using this vest. This product is basically like an all-in-one workout top. It features a racerback style sports bra that lifts the breasts and improves posture, and it also has an adjustable velcro waist shaper that can sinch as much as you can handle and will actually help to train your waist to be smaller over time. The thick front zipper makes the vest easy to put on and take off after use without having to wiggle around like a worm. Plus, the vest style allows your armpits to breath.
Interior Pocket for Convenient Storage
This product comes in black, rose, blue, pink, and grey (pictured). Because this vest is made specifically for women, sizes run true and you are able to take your bust into account. The zipper also gives some flexibility in sizing as you don't have to pull it over your head. We love that the waist is totally adjustable using the velcro shaper and that it accommodates most sizes. This vest also comes with a handy inner pocket for easy storage.
Cost and Value
The YIANNA rings up at the very bottom of our price range and we love its value because it's so affordable, it's super adjustable, and it functions as a bra and shaper as well.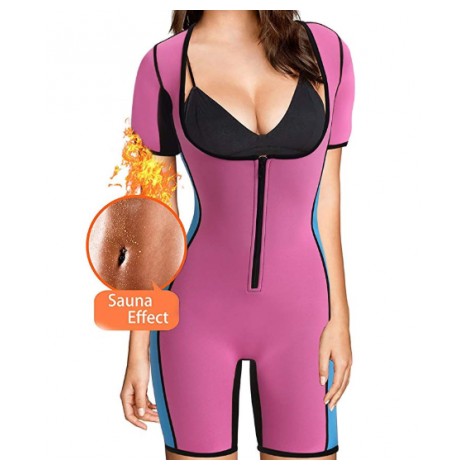 The BRABIC Neoprene Suit is made for women and it works. Whether you're training for MMA or looking to lose weight, the BRABIC has you covered.
Comfortable Enough for Daily Wear Around the House
The BRABIC Neoprene Suit is made from neoprene and other composite materials that allow the fabric to be stretchy and breathable while also being super strong. Because this suit is so flexible, you can use it while cycling or running, or simply around the house while doing chores or yard work. The long front zipper allows you to get in and out of the suit with more ease. And with mesh at the armpits and in the crotch, your suit will remain breathable and free of more unpleasant odors. In order to maintain the life of your suit, handwash in cold water and lay flat to dry.
Great Shaper for the Body
The BRABIC Neoprene Suit comes in pink and black, both with blue panels on the side for a slimming effect. The suit is designed to fit under the breast (you will need to wear a sports bra with this one). Its sleeves go midway down the arm and the suit stops midway down the thigh. This product helps to smooth bulges and give an hourglass shape to your figure.
Cost and Value
The BRABIC Neoprene Suit rings up at the low end of our price range and we love it because it's a full body suit that won't break the bank. Plus, BRABIC wants you to be totally satisfied or they'll refund all of your money.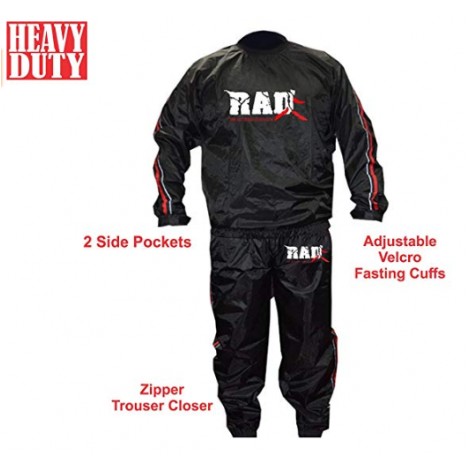 The RAD is a wonderful addition to your workout routine. If you're looking to sweat out nasty toxins and waste and you want to shed those unwanted pounds, then this is the full body suit for you. So pick this up in your size and watch cellulite, love handles, and tummy flab melt away. Clinical trials suggest that this suit will increase your metabolism by 20% which serves to increase post workout weight loss by 40% or more.
Made from EVA Nylon and PVC Coating
This item is made from EVA nylon materials that are coated in PVC for supreme heat locking technology. This suit is not designed to be breathable and it delivers on that promise. It really locks heat all the way in. Super durable elastic at the ankles, wrists, and waist lock heat in and keep it from escaping. This does allow the suit to be super flexible, however, so it moves with you nicely.
High Fashion Design With Real Results
The RAD Heavy Duty Sweat Suit looks super fashionable on the outside because all of the heavy-lifting materials that locks heat in are concealed on the inside. This is a full, all black suit that comes with a top and bottom and that is designed to be worn by men and women alike. The pullover design makes it super easy to put on, unlike other crazy tight tops that you have to wriggle in and out of. We love that it comes in an amazing array of sizes so that you can get the fit for you. Keep in mind that this suit is meant to be oversized so expect it to be a bit baggy when you're wearing it.
Cost and Value
This product rings up in the middle of our price range and we love its value because it's a full body suit--you get the top and the bottom--and because it works. We also love the look.



The Junlan is a great option for men who are looking to tone up, lose weight, and look good while they're doing it. The long sleeve design keeps in heat and promises to increase your core temp so that you can sweat away pounds.
Breathable Pits and Full Front Zipper
The Junlan is a neoprene sweat-er made with a smooth liner to eliminate chafing and discomfort and to allow for ease in movement. It comes equipt with mesh at the armpits to allow for breathability while still keeping your core temperature up. The full front zipper allows you to easily get in and out without having to force it over your head, and solid stitching means you can enjoy your suit for longer.
Long Sleeves
The Junlan Sauna Suit is styled after a woman's waist trainer but is meant for men. We love that a guy can slip into this long sleeve shirt and feel super confident when walking into the gym while also building tons of heat that helps to shed unwanted weight. The shirt is black with grey piping the seems and comes in sizes Small-4XL (thank you very much!). But reviewers tell us that this shirt runs a bit small so you may want to order 1-2 sizes up.
Cost and Value
The Junlan rings up in the mid to high end of our price range but we love it because it provides a sweat like no other and because it gives some form-shaping support that will make you feel great during your workout.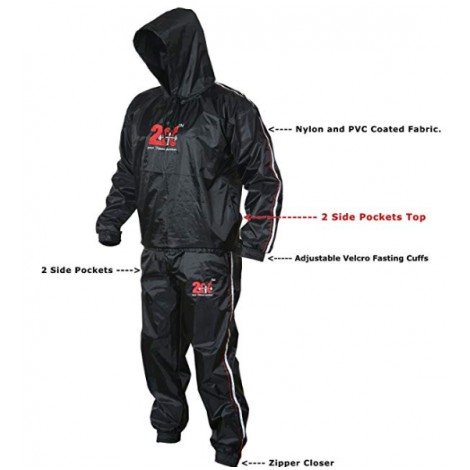 The 2Fit is a favorite or wrestlers and athletes. Designed to be super durable, this suit will keep your body sweating and your muscles warm. This is great for losing weight, but it also helps with minor muscle aches and pains as it works as a portable hot tub for your body.
Rubberized Lining for Maximum Durability
The 2Fit is another 2 piece suit that we love. It is made from fabric that has been coated in nylon and PVC for ultimate heat locking abilities. The rubberized interior lining holds up like no other and adds an additional layer of insulation so that you can get your sweat on. This suit provides very little breathability and means to keep all the hot air that you generate inside.
Pockets!
The 2Fit is an all black, two-piece set. Women and men can both enjoy this product and sizes range from Extra Small to 8XL--that's a larger array of sizing options than any other product on our list. It also comes with all of the storage that you could ask for. With two zipper pockets on the jacket and two more zipper pockets on the pants, you can store all of your essentials on your person and rest assured that they won't fall out. The elastic waist and adjustable velcro cuffs allow you to control your fit.
Cost and Value
The 2Fit rings up in the middle of our price range and we love it because it comes in so many different sizing options and because it's a two-piece set that costs less than half of what a luxury 1-piece top costs.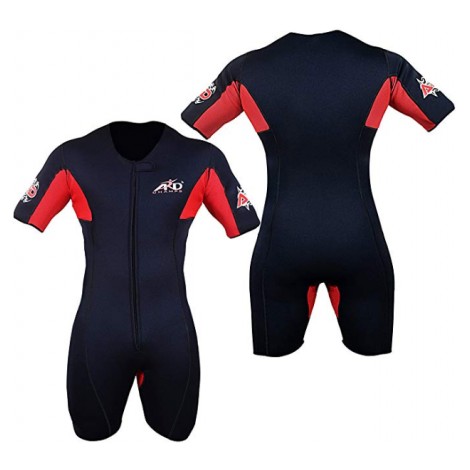 This option from 4Fit was designed specifically with MMA fighters in mind and is meant to allow for maximum flexibility while also guarding against floor rashes.
Made from Super Flexible 3mm Thick Neoprene
The 4Fit is made from some of the most heavy-duty neoprene fabric that is available on the market today. At 3mm thick, this fabric is designed to be flexible and durable, as well as to guard against nasty rashes from falls and drags on the floor. It features a full front zipper to make it easier to get in and out of the suit, and modified fabric in the armpits and between the legs to allow for a comfortable breeze.
Tough, Sleek Black and Red Design
The 4Fit is a partial body suit that is designed with fighters in mind. The top and bottom come down to the elbows and knees respectively, allowing for tons of free movement while still providing protection. The black and red design is tough looking and serves to conceal any skid markings from serious sparring.
Cost and Value
The 4Fit rings up in the mid to high end of our price range and we love it because it is made of thicker neoprene than other products on our list and it was designed to be durable with MMA fighters in mind.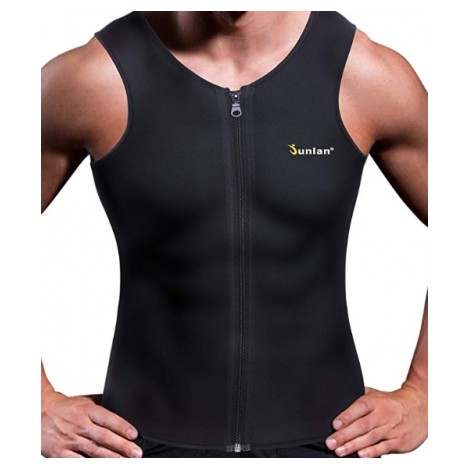 The Junlan is the second product by Junlan to make our list--the first was a long sleeve sweatshirt, while this shirt comes in short sleeve and tank options. This shirt is great for warmer weather, outdoor activities where a little extra breathability is desired.
3-Layered Fabric Design to Ramp Up the Heat
The Junlan is comprised of three layers of fabric to effectively lock more heat in while still providing comfort during wear. Smoother neoprene protects from chafing and the compression support helps to improve posture and relieve minor pain in the back. The tank option obviously offers a great deal of breathability as it doesn't have sleeves, but the short sleeve option also features breathable pits for airflow. The full front zipper with zipper guard helps ease the putting on and taking off process.
Short Sleeve and Tank Top Options
This comes in black and serves more than one purpose. This suit doubles as a compression vest and waist trainer. That means you can wear the suit to ramp up workouts but that you can also layer it under your everyday clothes to provide a nicer, smoother shape to your figure and to help with posture throughout the day. Reviewers report this shirt running small so you are advised to get a few sizes bigger than you typically would.
Cost and Value
This option rings up at the very bottom of our price range and we love it because it allows for more breathability in outdoor activities and because it is comprised of 3 layers to really keep that core temperature up. Plus, if you're not 100% satisfied, Junlan will refund your purchase.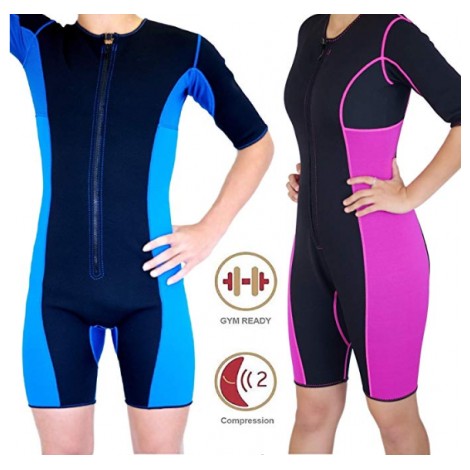 The Sisyama is a great option for men and women alike. Sisyama takes pride in its sizing and in creating products that are designed to fit real people--not just the unrealistic bodies of models.
Latch to Keep Suit Zipped
The Sisyama is made from neoprene to increase heat retention and get your core temperature up. The super breathable mesh at the armpits and groin allow for maximum airflow in those areas and help to decrease the buildup of odor over time. Plus, the quick-dry surface material helps to keep you comfortable during your workout as well. One of the things we love most about this product is the latching clasp above the zipper. Not only does this serve to make zipping up easier, but it also ensures that your zipper won't fly down during more serious exercise.
Men and Women Models with Slimming Waist
This is great for men and women alike. The pink suit is designed specifically for women and has a trimmer waist. The blue suit can be worn by men or women and has a slightly trimmed waist so it still provides shaping. Both suits come to the elbows and knees and feature a full front zipper for ease in getting in and out of the suit. Sisyama provides a super detailed fitting chart so check that out before making your purchase and you should have no problem in getting the right suit for your body.
Cost and Value
This product rings up in the middle of our price range and we like it because it was designed with real people's bodies in mind and because it comes in 2 different shapes with a latch above the zipper for added security.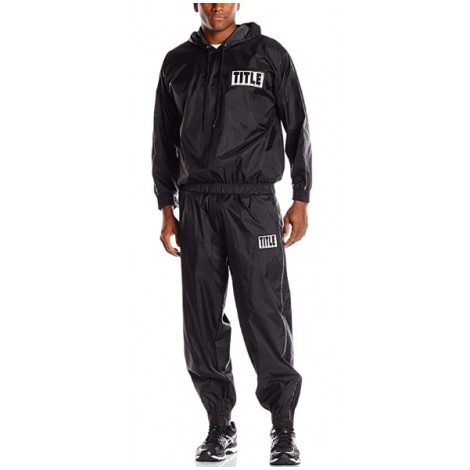 This item was designed and built for professionals. It is almost indestructible and can stand up to even the toughest workouts that you throw at it. Suitable for men and women alike, anyone looking for a deeper shred during their training need look no further.
Made of Nylon with Rip-Stop Technology
The TITLE is lightweight but made using double layer action to ramp up heat and keep it in. The first nylon layer has rip-stop technology which, as the name suggests, helps to prevent ripping even during the most intense workouts. The second PVC coated layer is waterproof and serves to keep all that heat and sweat inside the suit so you don't leave puddles all over the gym.
Adjustable Wrists and Ankles
This comes as a full black two-piece suit with each piece being fully separate from the other. The jacket has a drawstring hoodie, a 1.75-inch elastic waistband, and eye-latch wrist hooks for adjustability and comfort. The pants have 2 latching pockets, a 1.75-inch elastic waistband as well, and elastic ankles with zippers for even more control over fit. Because the suit is oversized, you can build even more heat and it is also ideal for both men and women to use.
Cost and Value
This item rings up towards the top of our price range and we like it because it comes as a full two-piece set that is a bit oversized for comfort and for greater flexibility.

Subscribe to our Newsletter