Best Medicine Balls Reviewed & Rated for Quality
In a
Hurry? Editors choice: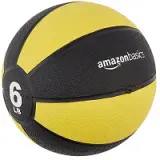 Test Winner: AmazonBasics

Medicine balls might appear to be a new concept, but these exercise aides have been around for a while. Modern medicine balls though are mostly made of synthetic-leather shells rather than animal skins and leather that were popular among the ancient populations. Medical balls' uses have also changed over time. Regardless, medicine balls have a wide range of applications as many people have held them between the thighs for a timed duration to help tone their inner thigh muscles while several others have continuously used them to perform squats and crunches.

Indeed, the options appear unlimited for a user who is open-minded and creative. Whether you're using them solo or with a training partner it might be time to incorporate one into your workout.
Standout Picks
Criteria Used for Evaluation
Materials
The outer skin is often made of different types of materials. While most manufacturers no longer use genuine leather to make the outer skin of their training aides, genuine leather has widely been used in the past to make this training equipment. In fact, it was the only material they could use. Leather is water resistant and can survive recurrent exposure to water without being ruined. However, prolonged exposure to water and moisture could significantly ruin the leather and render your medical equipment ineffective. Leather is more durable than most other fabrics and its use dates back to approximately 375 BCE when different materials could be stuffed into animal skins to create standard weighted balls. In particular, Hippocrates's patients were the major beneficiaries of these medical balls because they used them to manage their ailments. The durability of leather has remained unadulterated to this day. While you can still find genuine leather medical balls, they are difficult to find and require more intense care and maintenance than synthetic-leather and rubber fabrics.
Although genuine leather had been the primary material for the outer skin of medical balls, faux leather has since replaced it. Despite a tainted reputation, faux leather has developed popularity over time, most notably in the recent times. Faux leather may not be as strong or as durable as genuine leather, as it mimics the features of genuine leather but is easy-maintenance. You won't have to clean it as often and it's more affordable than genuine leather.
Textured rubber, on the other hand, is considered the most widespread medical ball exterior available today. Most products are made of this material because of its ability to withstand the harsh conditions that medical balls are frequently subjected to. Rubber makes the perfect exterior material regardless of the exercise equipment, and equipment that will have to stand up to various instances of abuse should that kind of exterior. While most of them are not engineered to take the intense hit associated with slamming, throwing them back and forth with a training partner, or hitting them against the wall while training solo, does not instantly damage them. However, consistent slamming may result in excessive wear and tear over time. In addition, rubber exterior medical balls have ultra-grip features to allow you to worry less about grip and focus more on the physical activity.
Weight
Weight and Weighted Location
Different medical balls are of different weights and may range from 2lbs to 12 lbs or even more. Weighted medical balls are made of different sizes and colors. Often, a company that makes medical balls assigns a different color to each weight category for easy identification or differentiation. Lighter weight medical balls are mostly used by beginners who advance to heavier weights as they become stronger and more skilled. Advanced athletes prefer to use heavier weights to add more resistance to their training sessions. Regardless of your skill level, you can still choose a weighted medical ball of any weight you are comfortable with for your crunches or other exercises.
The medical equipment is weighted differently. Most methods prefer to concentrate the weight of the ball in one or more spots, which can result in off-balance products that pose a serious health hazard. If the ball behaves contrary to the athlete's expectation, then injury is highly likely. Manufacturers of quality balls will often test their products to ensure they are balanced or meet specific set standards before they are released to the ultimate consumer. Only balls that are well-balanced and could not cause injury are packaged for consumption. Regardless, many companies have taken the necessary precaution to ensure their products are safe, as product safety has become a top priority in every company's quality assurance department. In addition, customers would not be willing to buy and use a product that poses a serious health risk.
Model
Most medical balls tend to deform or lose shape over time even if you use it properly. Many companies strive to take the necessary precaution to ensure their products avoid deformation and retain their shape for longer. While some company brands choose to design medicine balls with rigid exterior to get rid of some slack that may allow the internal contents of the ball to shift, some balls still end up with 'loose' contents. Others subject their designs through rigorous testing procedures before production to ascertain that the product would retain its form over time.
One of the most common challenges that athletes experience while using a medicine ball is the inability of some balls to retain their shape for longer. Most medicine balls are perfect spheres with equally distributed weight. However, these balls are stuffed with some material inside them to add the much-needed weight that adds resistance during training. Continued use of your exercise equipment may cause it to shift the stuffed weight inside. In particular, slamming and continuously hitting the ball hard against hard floors or walls tend to cause minor wear and tear that becomes more pronounced over time. Perhaps this is one of the major reasons why slamming of medical balls is often not recommended. Regardless, some people still find themselves slamming these balls despite knowing that they are not engineered to withstand the pressure of wear and tear that come with the activity.
Advanced Features
This is yet another important aspect of durability that companies use to make their medicine ball products last longer. Reinforced seams help to protect the ball's interior content by holding it together. In fact, the first thing any reasonable medical ball company would do to boost durability is to reinforce one or more seams of the exercise equipment. Many companies today design their products with double or sometimes triple reinforced seams for an extra layer of durability. This also strengthens a weak point on the fabric and prolongs the life of the exercise equipment because this reduces the chances that it will split at weak points along the seams.
When you are considering investing in a good medical ball that you intend to use for an extended period of time, durability becomes a priority. You do not want a product that will pop open within the first week of use after you spend several dollars on it. This is why the material used to craft the ball's exterior is as important as the weight of the ball. Exercise equipment with reinforced seams tends to outlast those without. Therefore, double or even triple reinforced seams might be a very significant factor to consider when shopping for your next training equipment. However, note that not all medical balls have double/ triple reinforced seams; it all depends on the material and design of the ball.
Bottom Line
The Difference Between Dumbbells and Medicine Balls
Being new at the gym may seem like an intimidating event. Not only are there multiple different exercise machines with countless different benefits but there are also free weights and medicine balls to chose from. Just like any other gym equipment, dumbbells and medicine balls both work to help you achieve your weight goals. However, although they may seem similar, they're actually quite different.
Dumbbells
Dumbbells have not only become a staple at the gym, but they are a key component of weight training. They traditionally come in a large variety of weight sizes and offer a short handle which is traditionally used one hand at a time while training. Some dumbbells come in different colors, styles, and even materials, but one thing that always remains the same is their ease of use. You do not need to know much about dumbbells in order to use them correctly. However, do not confuse dumbbells with barbells. Barbells offer a much longer handle with detachable weights at the very end and also require both hands when being used, whereas dumbbells do not.
Dumbbells can be used with an extensive list of exercises that center around strengthening the upper body, from common arm curls that specifically target your biceps to arm extensions that focus solely on your triceps. Furthermore, many gym-goers enjoy incorporating a dumbbell or two in each during aerobics, yoga, Zumba or even while jogging. It is also common to see dumbbells being used by boxers while shadow boxing in order to achieve more strength in their upper body.
Medicine Balls
Using medicine balls to exercise with is an ancient practice, yet it is now back in the spotlight as more people are seeking different ways of getting a full body workout in the least amount of time. Medicine balls are just that, they are balls filled with sand, and/or other components that add weight. Just like dumbbells, they come in numerous different sizes, which gives you the option to select which one is more comfortable for you.
Adding a medicine ball to your workout is an excellent way of building overall muscle. Due to its ease of use a medicine ball can be incorporated into almost all exercise routines from walking and carrying the ball back and forth to playing catch, the options are truly endless. Not only are there numerous ways to use a medicine ball to get a killer workout but using the ball helps create lean muscle. Lean muscle is always a good idea as it helps speed up your metabolism.
What are the differences between the two
The main difference between using a medicine ball and a dumbbell is where you would like to build the most muscle. For example; if you are interested in focusing on building upper body muscle you would prefer a dumbbell and gradually increase its weight, whereas if you are interested in building full body muscle you would want to incorporate one or two medicine balls instead.
Another difference to keep in mind is, it is easier to add two or more dumbbells to your routine then it is to add an additional medicine ball. The main reason being dumbbells were created mainly to be used with one hand, while medicine balls typically require the use of both. Additionally, considering your preferred exercise routine will help you select which tool will work best that day. Medicine balls work best for HIIT exercises as it adds another layer of strength training.
While both tools offer excellent options as to where they can be incorporated in, it truly comes down to you and your personal preference. We recommend trying both of them out and seeing which one works for can best. Furthermore, do not be afraid to ask a trainer questions about what will work best for you and your goals. Keep in mind, everyone at the gym is there with the same goal of becoming the very best version of themselves just like you.
10 Best Medicine Balls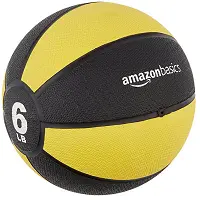 Just as the name suggests, this is a top Amazon brand. AmazonBasics is a valuable addition to your daily workouts if you want to improve your core strength and enhanced balance. The ball is also effective in cultivating coordination. It is great for anyone looking for effectively weighted strength training balls suitable for both upper and lower body workouts. Moreover, you can use it for both solo and partner training.
6 Pounds of Resistance
This weighted medicine ball delivers 6 pounds of resistance to your hands. The easy-grip resistance helps you derive the most out of your exercise regime, whether you are performing arm raises or doing sit-ups.
Double Construction
The sturdy rubber rugged design provides the grip required during exercise and enables the ball to bounce off hard surfaces. You can bounce it against the wall or hit the floor with it and it won't tear apart.
Cost and Value
Whether you are looking to perform gentle rehabilitation exercise or have a well thought out plan regarding how to develop explosive power for an upcoming competition, this Amazon innovation piece will promote your fitness training affordably.

2

. Valeo-Pound Medicine Ball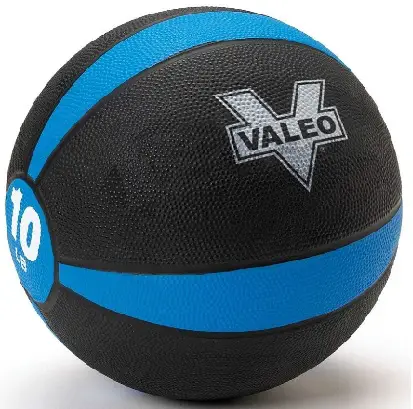 The essence of cross-training is to take advantage of innovation and variety. Valeo can transform your daily workouts into advanced cross-training with ease as the ball comes with a new innovative exercise wall chart to further elevate your fitness journey. Ranging from 4 to 10 pounds, Valeo allows you to select your preferred size while giving you the option of upgrading when you need a bit more of a challenge.
Durable and Sturdy
Medicine balls are designed to elevate traditional workouts by adding weight and helping create lean muscle. Additionally, they are traditionally used in a "rough manner," this is mainly due to most exercises involving throwing them around or slamming them on the ground. This ball offers a sturdy interior with a durable exterior for that classic strong feel.
Superior Grip
As stated above, the exterior of this ball is extremely durable, but what gives it that durability is its textured surface. Having that texture allows for superior grip for those times you are working out and sweating.
Cost and Value
The cost and value of this medicine ball are perfectly aligned; the ball comes with a well-organized exercise chart in order to further help users get the most out of their new purchase while being at an affordable price. Not only that, but Valeo offers free shipping as well.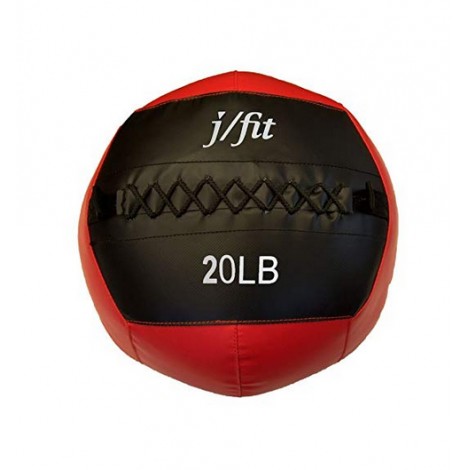 The medicine ball is specially designed with soft outer core for impact absorption to enable more explosive individual- or partner-training. Ideally, whether you are training alone or have a spotter to help you make challenging moves, this ball will help boost your overall strength. Beginners and advanced trainers alike will find this ball very useful.
New, Tougher Skin
The company has reinforced this medical ball's outer skin to make it thinker and tougher. The seams feature triple stitching to make the ball tougher and heavy duty.
Perfectly Balanced
Every ball is taken through a balance tunnel for quality assurance. Each ball has to roll straight and demonstrate a balanced weight before it is released into the market. No lopsided weight medicine balls are allowed to reach the customer.
Cost and Value
With the new beefed up outer skin, the ball's skin is thicker and tougher. This medicine ball is guaranteed to last longer to accommodate various explosive tossing drills. It is pocket-friendly.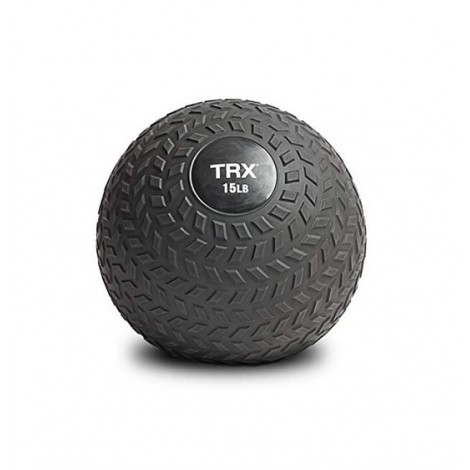 This slamming ball is specially designed to survive virtually any tough workout. Unleash your power and potential using this TRX Slam Ball with rugged texture for easy gripping. The thick rubber shell is ultra-durable and can absorb impact. This ball will handle any core-strengthening dead bounce. With it, you will be able to build strength and explosive power. Cardio workouts will also be more fun and enjoyable because of the added variations.
Easy-Grip Textured Surface
With the easy-grip textured surface, you will never have to worry about the ball slipping and interrupting your workout sessions. It ensures you get a good hold of the ball.
Ultra-Durable Rubber Shell
This TRX Training ball also features a thickened, ultra-durable rubber shell. It will absorb all the impact you throw at it. Whether it is a core-strengthening dead bounce or any other exercise variation, this ball will handle it all.
Cost and Value
This slam ball is built to withstand any core-strengthening dead bounce, thanks to its thick, ultra-durable rubber shell. You can also trust TRX for the easy-grip texture because you won't have to worry about the ball slipping after you invest a few dollars in this medicine ball.



Titan wall balls are generally ideal for developing muscle endurance, burning calories and working out the core. Throwing these medical balls against the wall helps to hit the required target. You will be able to hit multiple muscle groups and joints concurrently. If you are working solo, you can throw the ball straight up. However, if you have a workout partner you can hurl it at him or her.
A Wide Variety of Uses
The ball can be used in various ways, including throwing up or against the wall or hurling at your partner for a well-rounded workout. This helps to hit various target muscles such as those exercises through doing sit-ups and squats.
Durable
The synthetic-leather material on the outer shell of the ball is of high quality and therefore durable. It is closed and held together by tight double-stitching.
Cost and Value
The ball is made up of top quality synthetic-leather material, tightly double-stitched to hold it together. It is tough enough to withstand years of throwing. The ball is also quite affordable.

6

. Sports Research Performance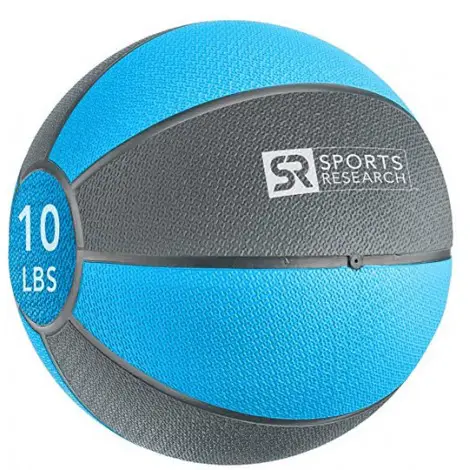 This premium medicine ball is designed to strengthen the core and develop coordination and balance. The ball is available in 5 distinct sizes and weights, including pink 4lbs, yellow 6lbs, green 8lbs, blue 10lbs, and black 12 lbs to provide a range of options. In addition, the sturdy rubber construction enables the ball to bounce off target or hard surfaces.
Sturdy Rubber Construction
This medicine ball comprises sturdy rubber construction for the outer shell to make it tough. The ball will bounce off walls, floors, and other hard surfaces without compromising durability.
Different Sizes and Weights
The ball exists in 5 different sizes and weights, which are available in different colors. A user can easily select a ball that matches his or her skill level and exercise goals.
Cost and Value
The ball boasts sturdy rubber construction to provide the toughness required to retain its durability as it bounces off hard surfaces. For just a few dollars, you can get this ball for your core strength training and development.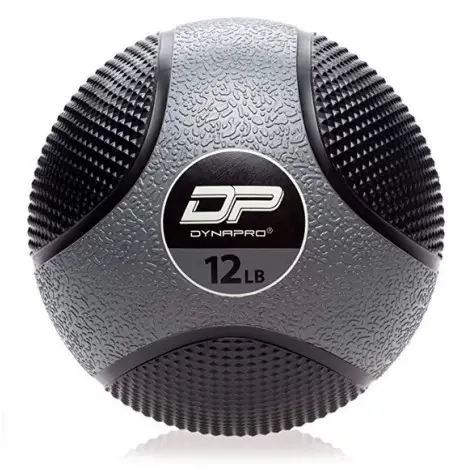 DYNAPRO Medicine Ball allows you to quickly transform your body using challenging exercise variations. It provides a creative way to deviate from the boring workout routine that your body is used to. It is no secret that free weights provide a limited range of motion, but this premium medicine ball introduces variety to your exercise schedule to make it fun and enjoyable. Develop powerful bursts of energy using every possible move provided by this medicine ball.
Durable Rubber Construction
DYNAPRO features long-lasting rubber construction to help you handle stress with ease. This product is designed to withstand the massive pressure associated with constant slamming of the ball. Burst-resistant durable rubber forms the casing of the ball to make it durable.
5 Weight Options
DYNAPRO Medicine Ball designers understand that people belong to different fitness levels. Therefore, they have designed the ball in a variety of weight sizes (6, 8, 10, and 12 lbs) to suit both beginner and seasoned athletes.
Cost and Value
The tough rubber casing makes the ball burst-resistant and durable. In addition, the ball is available in various weight sizes to match the needs and fitness level of every athlete. It is also affordable.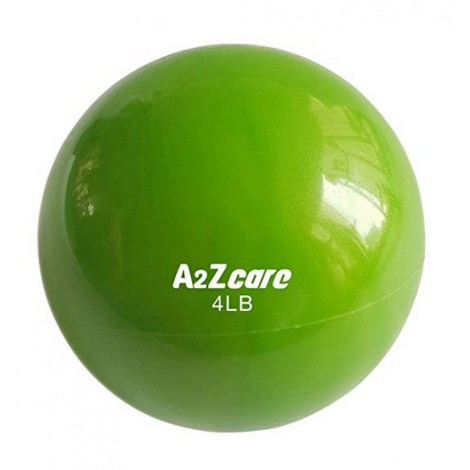 This toning ball will enhance your flexibility and boost your speed. Using it together with core improvement exercises can be very rewarding and satisfying. Use one of these products and experience the novelty you have always been looking for. Consistent use of this ball will eventually deliver positive effects and feelings of contentment. The shell comprises soft, comfortable material and free from heavy metals.
Comfortable Design
A2ZCare products are most comfortable for everyone. This medicine ball can easily fit in your palm. The small size of the ball makes it easy to grab and is convenient.
Various Color Choices
A2ZCare ball products come in a wide range of colors. They also have different distinct sizes, both in diameter and weight. Choosing the right ball size allows you to derive the most from your exercise schedule.
Cost and Value
This weight toning ball makes a great training partner and is suitable for performing pilates and yoga. It is lightweight and flexible. The ball also comes in various weight sizes and colors. It is very affordable as well.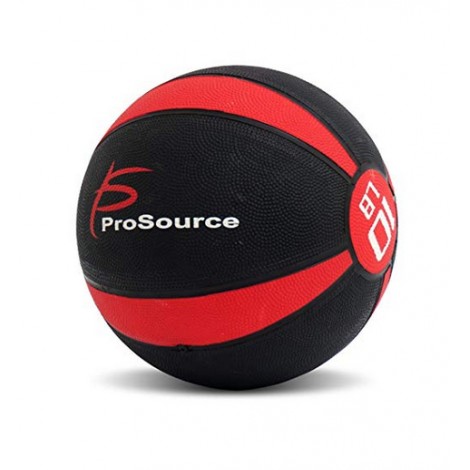 ProSource weighted ball allows you to take your workout regimes to a whole new different level. The durability of this ball, coupled with its comfortable grip, allows the user to hold and bounce the ball off floors and hard surfaces whilst providing a range of strength training exercises for enhanced strength, power and agility. ProSource Weighted Ball allows you to expand your range of motion and make your exercises more challenging.
Increased Strength & Power
Intensify your workouts using the dynamic challenge presented by ProSource Weighted Ball. Its strong material and unique shape enable sport-specific training that cannot be achieved with standard dumbbells. The wide range of weighted balls helps the user to adapt them to specific workouts to achieve specific results.
Functional Training
Unlock your training potential using the enhanced range of motion that this ball provides, as standard weight-training machines tend to limit movement. You can hold, toss or even slam to spice up your rotational movements.
Cost and Value
The ball will spice up your rotational movements because you'll be able to hold, toss and even slam it to strengthen your core. It also suits the needs of sports enthusiasts in rehabilitation following sports injuries, all for a modest price.

10

. POWER GUIDANCE Slam Ball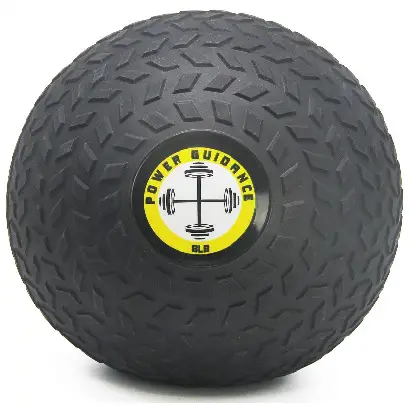 Developing strength and enhancing coordination is important for your physical health. Having a slam ball such as this one can help you achieve the core strength you have always longed for. This heavy-duty slam ball is constructed with a superior sand-filled interior and a grip enhanced textured exterior. Having both brings forth a comfortable, attractive ball with just the right amount of durability as its main attributes.
Heavy-Duty Rubber Shell
The ball's surface features a heavy-duty rubber shell for enhanced flexibility. It makes movement exercises easier. Furthermore, they offer little to no bounce in order to provide a classic slam ball feel.
Versatility
Power Guidance brings an option for all fitness levels by offering these slam balls in 7 different weight options, doing so allows you to select your preferred weight for your every need.
Cost and Value
Whether you want to add additional weight to your fitness routine or you want to focus on your core, these medicine balls are a great investment at a reasonable price. The price does depend on the size of the ball, but even if you purchase the largest size the price tag is still a steal.

Subscribe to our Newsletter